Rich, moist and utterly decadent this easy to make two-layer Gluten Free Vegan Chocolate Cake is sure to impress chocolate lovers everywhere! You don't even need to be a gluten free or vegan eater to enjoy a slice. This recipe is adapted from my regular gluten free chocolate cake. It uses aquafaba instead of eggs as a plant based alternative.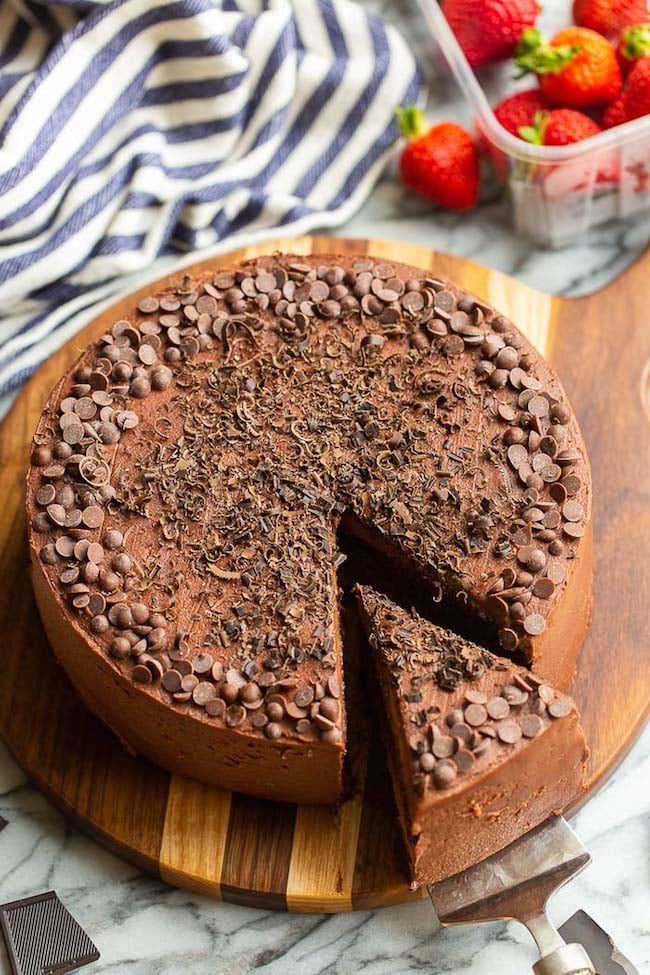 By the way, if you like this chocolate aquafaba cake you might also be interested in my vegan vanilla cake as well!
Listen. I think we can all agree that 2020 has been….challenging.
We're just about half way through the year and these past six or so months have felt like six or so years. I mean, what even is happening?
Don't worry though! I'm not going to go on about any of that here or now. Today, the only thing I want you worrying about is how big you want to cut your slices of cake.
So let's get to it!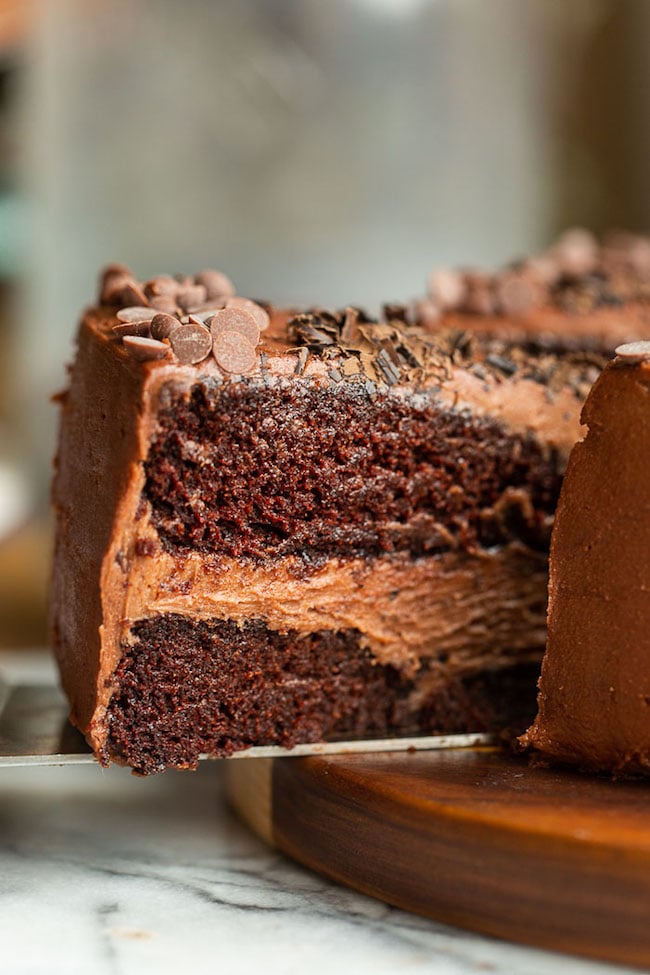 How to Make this Gluten Free Vegan Chocolate Cake
Each ingredient here serves an important role in coming together to make this gluten free vegan chocolate cake. Breaking it down bit by bit:
Gluten Free All Purpose Flour – use your favourite here. Any general GF all purpose blend will work here whether it's homemade or store bought will work. This makes up the foundation of this cake.
Starch – potato starch works best but arrowroot and tapioca starch are also great options. The additional starch is necessary in this recipe because it provides additional binding properties (that eggs typically provide) and it makes for a lighter, fluffier cake (also usually achieved from using eggs).
Unsweetened Cocoa Powder – provides the chocolate-y flavour
Sugar – just use a regular granulated or caster sugar
Baking Powder & Baking Soda – It's what makes this cake rise
Salt – Enhances overall flavour
Dairy Free Milk – Adds moisture
Oil – Adds moisture. Oil should be used instead of butter because it has a higher fat content which is important to use alongside the cocoa powder
Vanilla – Adds flavour
Hot Coffee – Hot liquids and coffee enhances chocolate flavours. Additionally, the hot liquid help dissolve the cocoa powder and coffee for a smoother batter
Aquafaba + Cream of Tartar – Aquafaba is used in place of eggs. The cream of tartar lightly whipped along with the aquafaba helps to stabilise the aquafaba and adds another element of leavening to the cake.
Altogether this aquafaba cake is fairly easy to make without too much effort required. It mostly just comes down to a few main steps of:
Whisking & sifting the dry ingredients together
Stirring in the wet ingredients

start with the oil, vanilla and milk
then the coffee
finally adding in the whisked aqaufaba

Dividing between cake tins & baking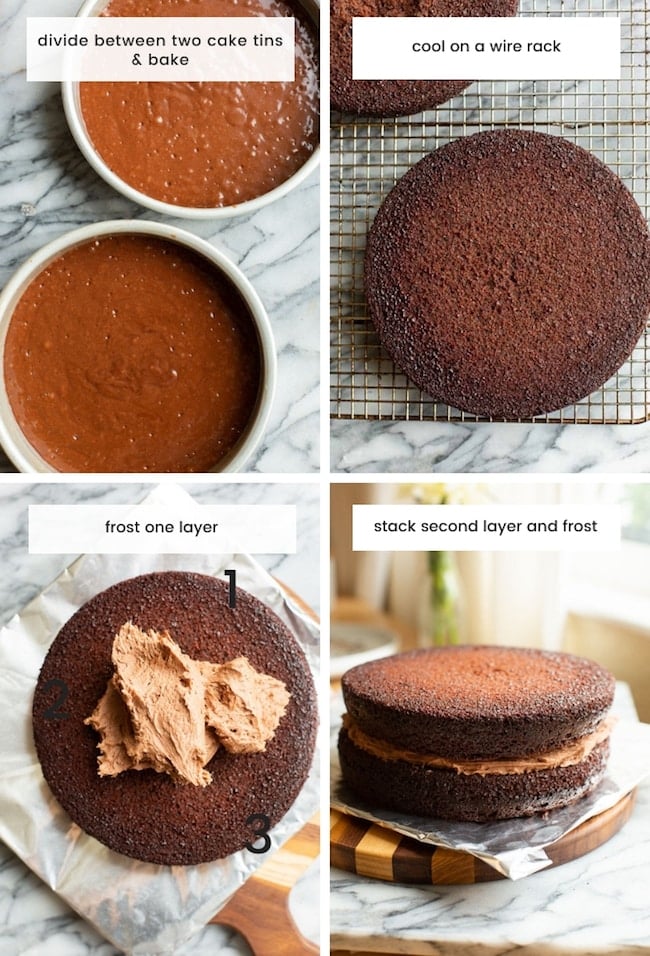 FAQ's & Tips
What is aquafaba? Aquafaba = bean water. It's the goopy water you find in cans of beans. It's starchy properties aren't too unlike egg whites make it a great alternative to eggs in baking like with this aquafaba cake. You can even make meringue with it.
Why sift? Sifting will help you eliminate any lumps and clumps of flour and cocoa and it will help aerate the dry ingredients making for a cake that is ultimately lighter.
How to sift? After mixing the dry ingredients together I use a measuring cup to scoop up the flour and pour it over a fine mesh strainer held over the mixing bowl. Lightly shake and tap the sides of the strainer until all of the flour mixture has gone through and that's it.
Cool on a piece of baking paper. The aquafaba will make the cake feel a little sticky at times. To prevent the cake from sticking to the cooling rack I recommend placing a sheet of baking paper down before the cake.
Cool the cakes fully before frosting. Make sure the cakes have fully cooled to room temperature before frosting or else the frosting will melt into the cake.
Make a crumb coating. Spread a thin layer of frosting all over your cake, then chill the cake for 10-15 minutes before frosting the rest. This will make for a smoother frosting layer with less crumbs mixed throughout.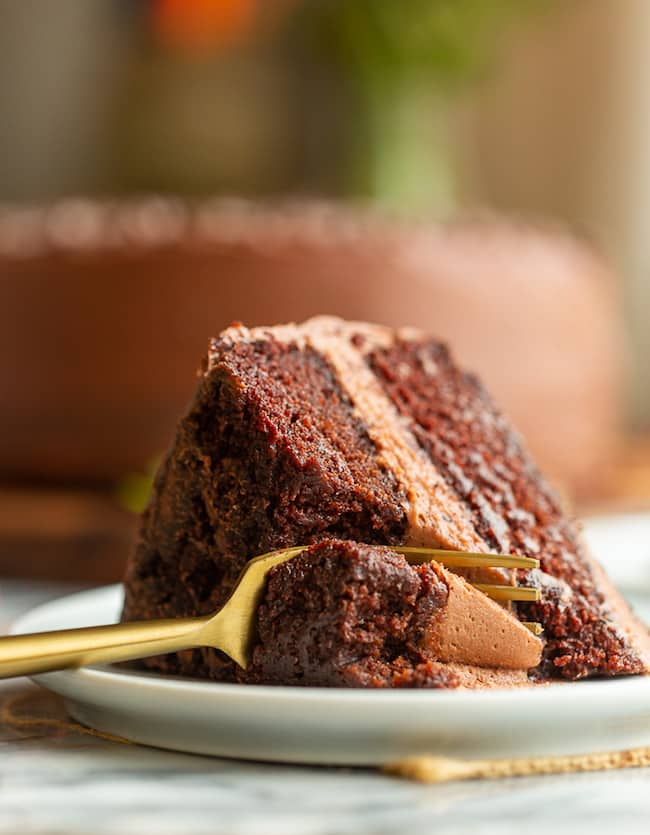 Enjoy!
FACEBOOK | INSTAGRAM | PINTEREST
Don't forget to #asaucykitchen on instagram if you try this Gluten Free Vegan Chocolate Cake! We love seeing what you make! You can also post your pictures to my facebook page!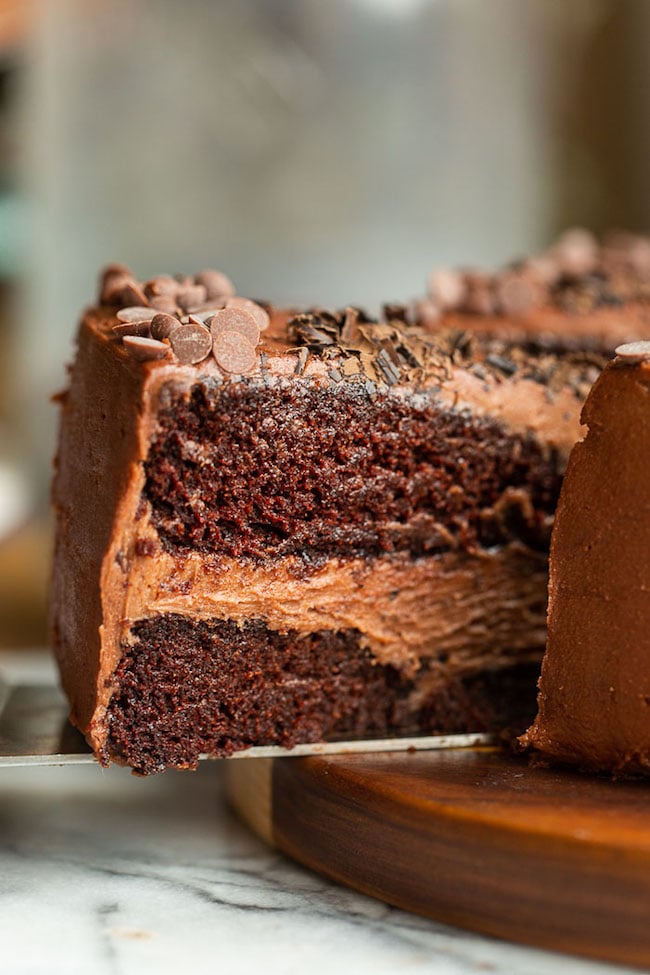 Recipe
Gluten Free Chocolate Cake (Vegan Option)
Yield:
2 Layer 8 inch cake
Prep Time:
10 minutes
Cook Time:
35 minutes
Total Time:
45 minutes
Rich, moist and utterly decadent this easy to make two-layer Gluten Free Vegan Chocolate Cake is sure to impress chocolate lovers everywhere! This recipe is adapted from my regular gluten free chocolate cake. It uses aquafaba instead of eggs as a plant based alternative.
Ingredients
1 3/4 cup (245 grams) gluten free flour blend*
1/4 cup potato starch (or arrowroot or tapioca starch)
1 teaspoon xanthan gum, (omit if your gf flour has xanthan)
2 cups sugar, (400 grams)
1/2 cup (60 grams) cocoa powder
1 1/2 teaspoon baking powder
1 1/2 teaspoon baking soda
1 teaspoon salt
1 cup (240 ml) dairy free milk (can be dairy free if needed)
1/2 cup (125 ml) vegetable oil*
2 teaspoons vanilla extract
1 cup (240 ml) hot coffee (or hot water)
6 tablespoons (90 ml) aqaufaba
1/4 teaspoon cream of tartar
Chocolate Buttercream (Use this frosting or another frosting of your choice)
1 cup (227 g) dairy free butter or margin (or regular butter if you don't need this to be dairy free)
4 cups (500 grams) powdered sugar/ icing sugar
3/4 cup (85 grams) cocoa powder
1 teaspoon vanilla extract
3-4 (45-60 ml) tablespoons dairy free milk
Dairy free chocolate chips for topping, optional
Instructions
Preheat your oven to 350°F/180°C. Grease two 8-inch cake pans. I recommend also lining the bottom of the cake pans with baking paper.
In a large mixing bowl, whisk together most of the dry ingredients: gluten free flour blend, starch, sugar, baking soda, baking powder, salt, and cocoa powder.
Sift the dry ingredients together with a fine mesh sieve.
Whisk in the milk, oil and vanilla until a thick, smooth batter forms.
Stir in the hot coffee and continue whisking until smooth and combined.
In a separate, small bowl add the aquafaba and cream of tartar. Whisk vigorously until frothy, about 30 seconds. This can be done by hand with a balloon with or with electric beaters.
Add the whisked aquafaba to the batter and mix until fully combined. The batter should be smooth, thin with small bubbles throughout from the aquafaba.
Evenly distribute the cake batter between the prepared cake pans. Place in the centre of the oven and bake for 32-35 minutes or until a tooth-pick/knife comes out clean when inserted into the centre.
Allow the cakes to cool in the pans for about 10 minutes before removing from the tins and and transferring to a cooling rack. Allow the cakes to cool completely before frosting.

Frosting

In a large mixing bowl beat the butter/margarin for 1 minute. Add in the cocoa and vanilla. Begin adding the powdered sugar and cocoa one at a time, alternating between one cup of sugar and one tablespoon of milk. Beat on medium speed until light and fluffy. Keep covered and stored in the refrigerator until ready to use.
Notes
Cool the cakes on a piece of baking paper on top of the wire racks to keep them from sticking to the racks.
Don't omit the xanthan gum unless your gluten free all purpose flour already has xanthan in it.
Keep the cake stored in the fridge.
This website provides approximate nutrition information for convenience and as a courtesy only. Nutrition data is gathered primarily from the USDA Food Composition Database, whenever available, or otherwise other online calculators.
More Aquafaba Baking You Might Enjoy