These fried vermicelli noodles are proof that good food can be made simply with few ingredients and little time! Fried onion, garlic and chili peppers make up the base flavors that are enhanced with a touch of curry powder and turmeric. Crack a few eggs into the pan for a quick scramble, then mix in thin rice noodles, fresh cilantro and a squeeze of lemon juice to finish it off. Fast, easy and delicious!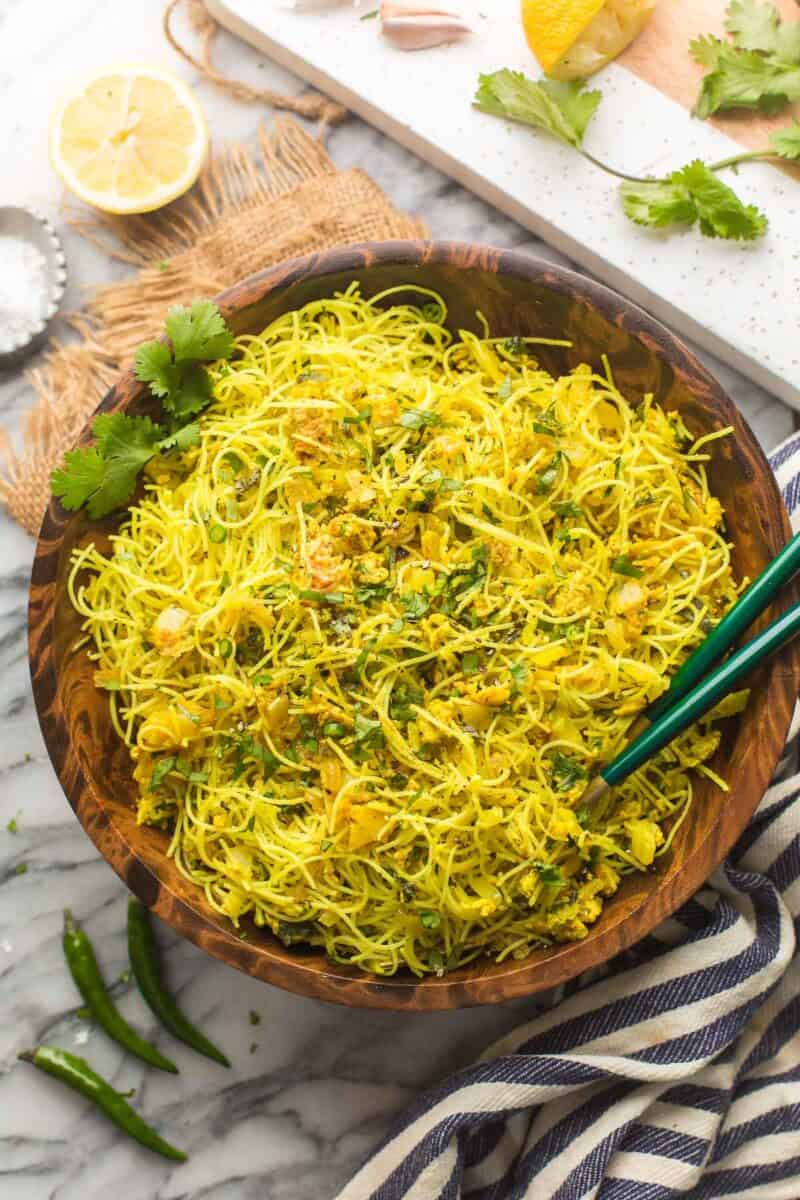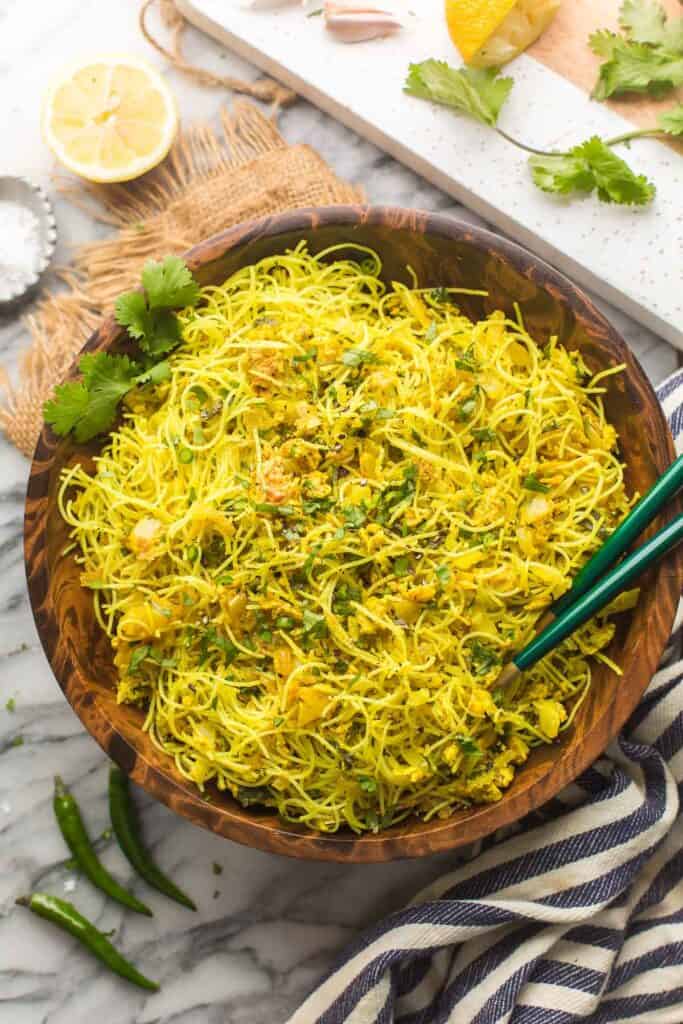 Shout out to Dan Toombs (aka The Curry Guy)!
I originally just checked out one of his books from the library a while back (The Curry Guy Easy but ended up buying a copy to own after enjoying so many recipe from it.
Among the many delicious recipes from that book was this Bangladeshi Vermicelli recipe and I can't count the number of times I've made it since.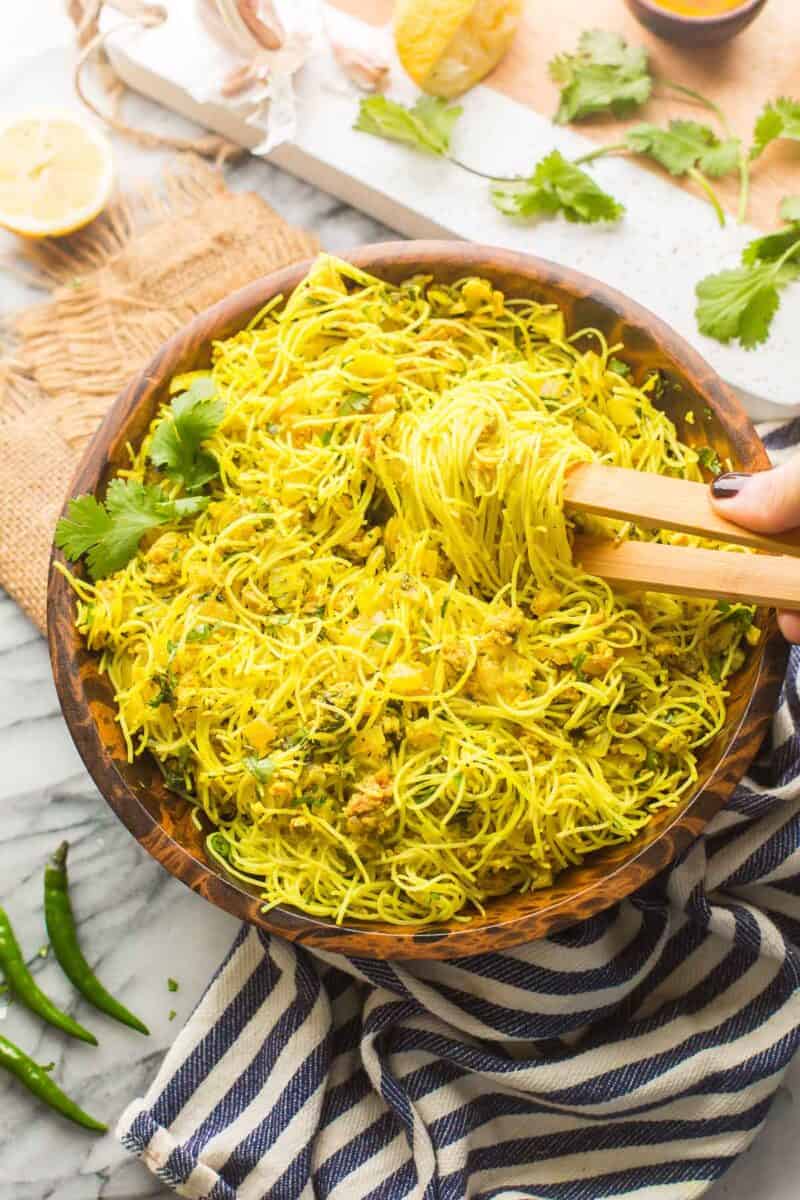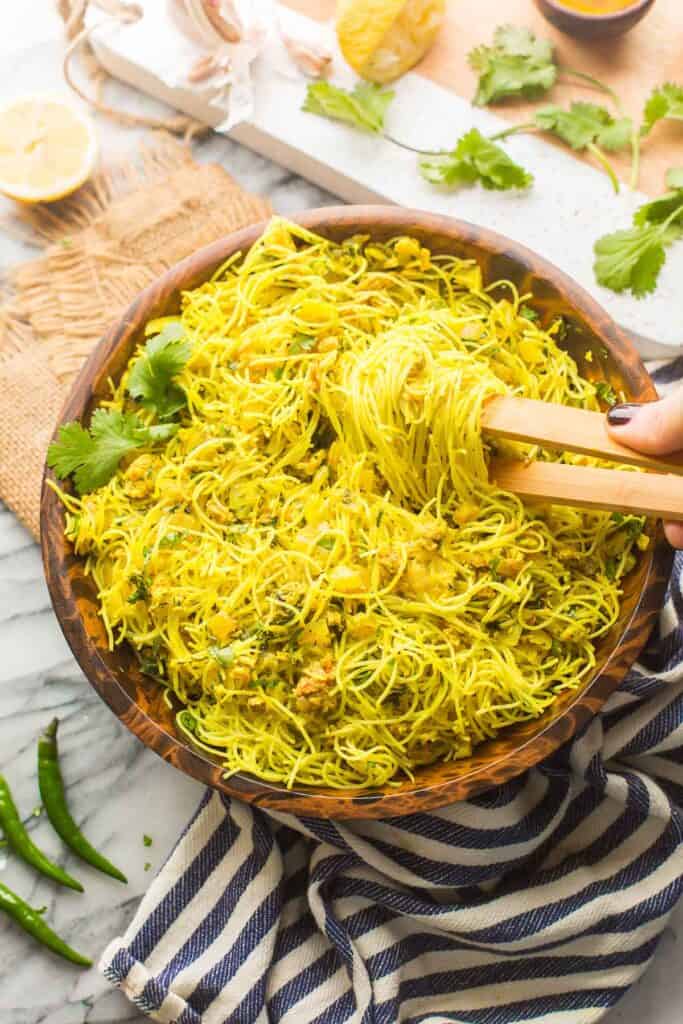 How to Make this Bangladesh Style Fried Vermicelli Noodle Dish
My recipe written below is very similar to his with just a few changes. Mostly I just increased some of the ingredient amounts to boost up the flavor and specified other amounts that were more or less left for interpretation.
The end result? A simple, yet delicious noodle dish you can enjoy as a side or a main depending on how much you want.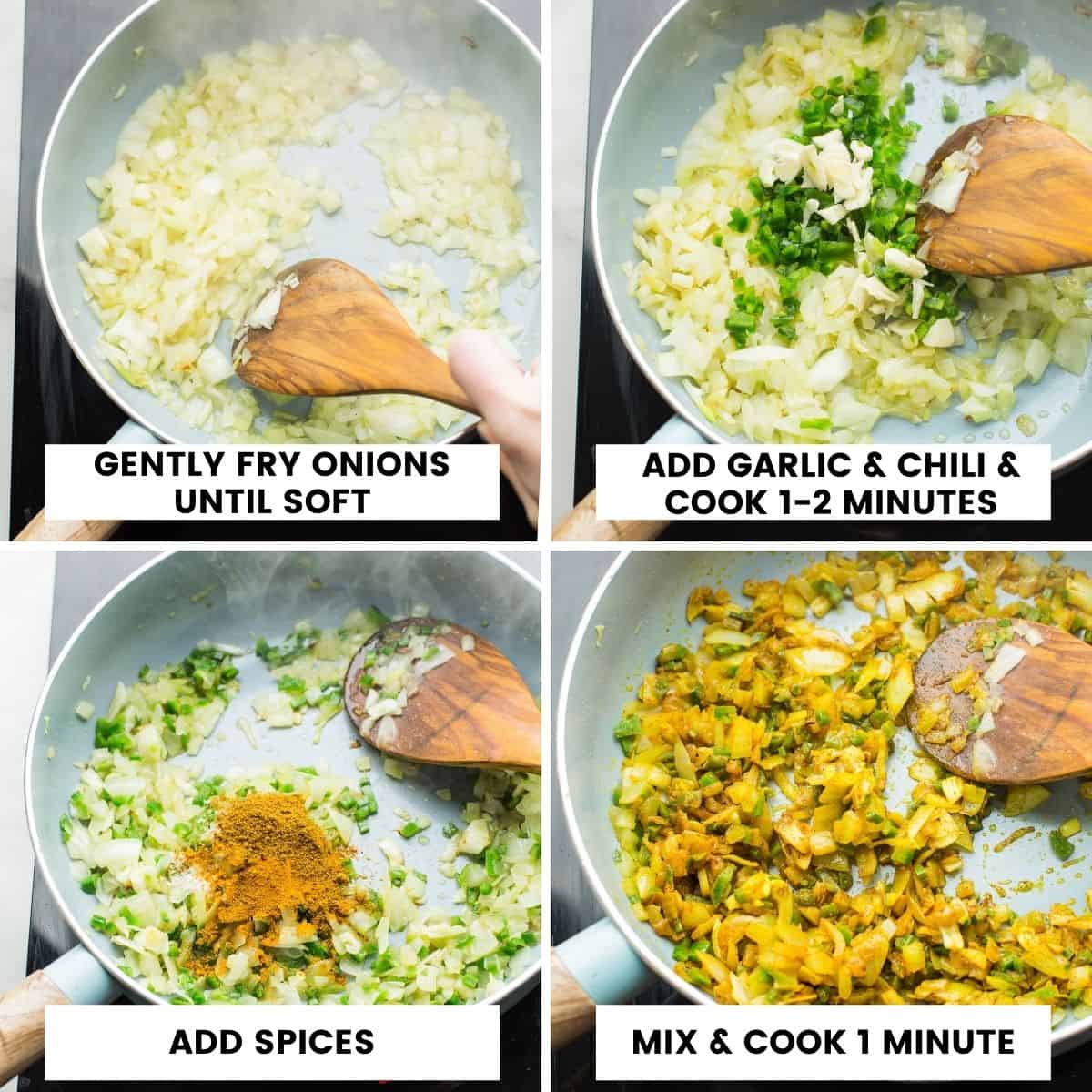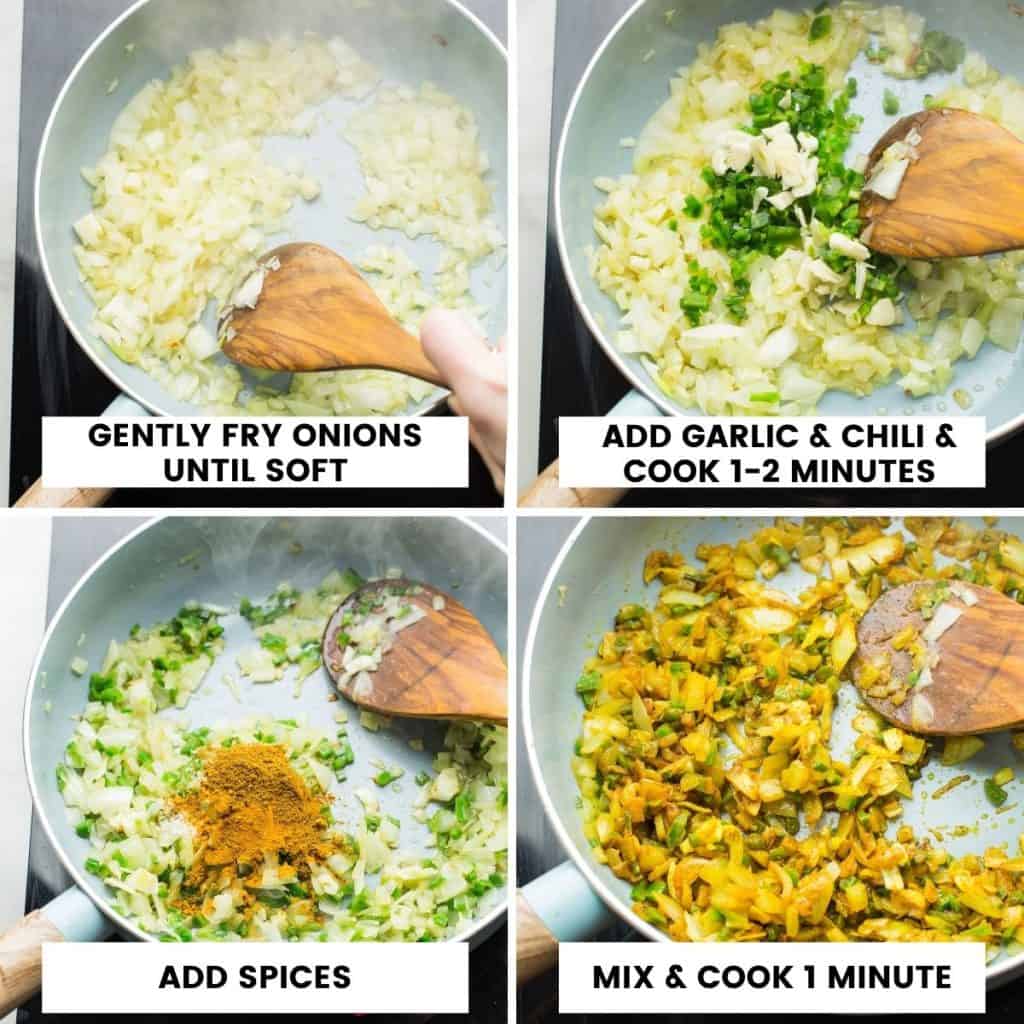 The Steps
Prepare the noodles: Make sure to check the instruction on your noodles, but typically rice noodles cook within about 3-5 minutes in boiling water. Once cooked, drain the noodles and set aside until needed.
Fry the onion, garlic and chili: Start by frying the onion on its own in a couple tablespoons of oil. Cook a few minutes to soften then add the garlic and chili and let fry 1-2 minutes.
Add the spices: Stir the ground turmeric and curry powder into the veg along with the final 1 tablespoon of oil.
Scramble the eggs: Crack the eggs directly into the pan and use a wooden spoon (or silicon spatula – something that won't damage the pan) and scramble the eggs into the fried veggies.
Mix in the noodles and fresh herbs: Finally, bring it all together by adding in the cooked noodles, salt, fresh herbs and lemon juice. Give it all a good mix until fully combined and that's it!
Season and serve: Finish off by seasoning the noodles to taste. You might enjoy your noodles bit more salt, citrus or herbs added – it's up to you!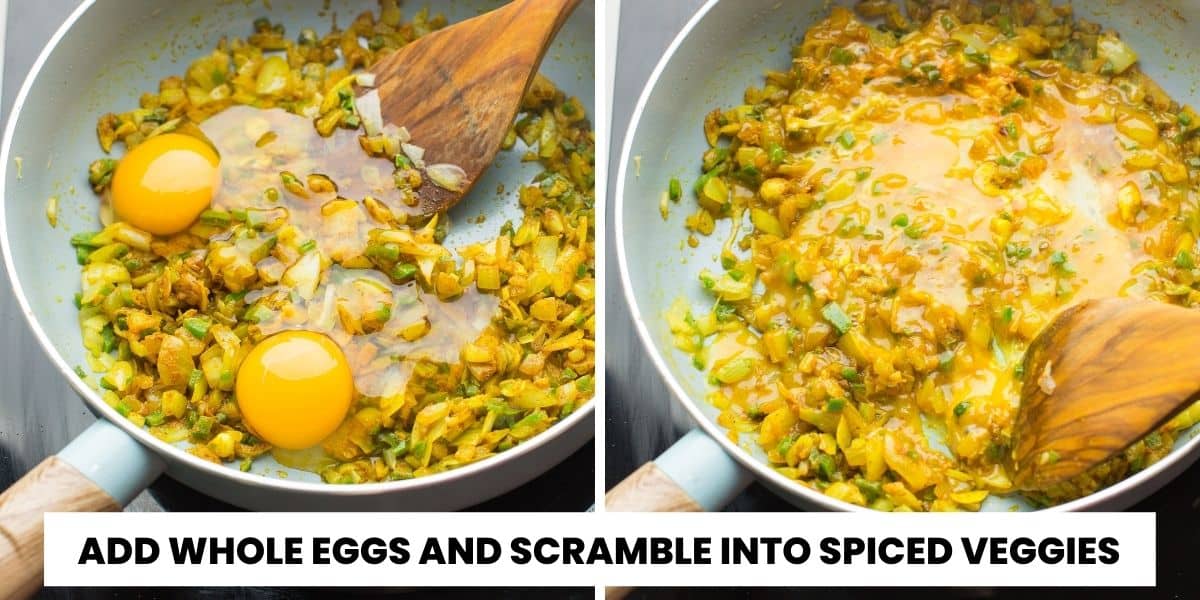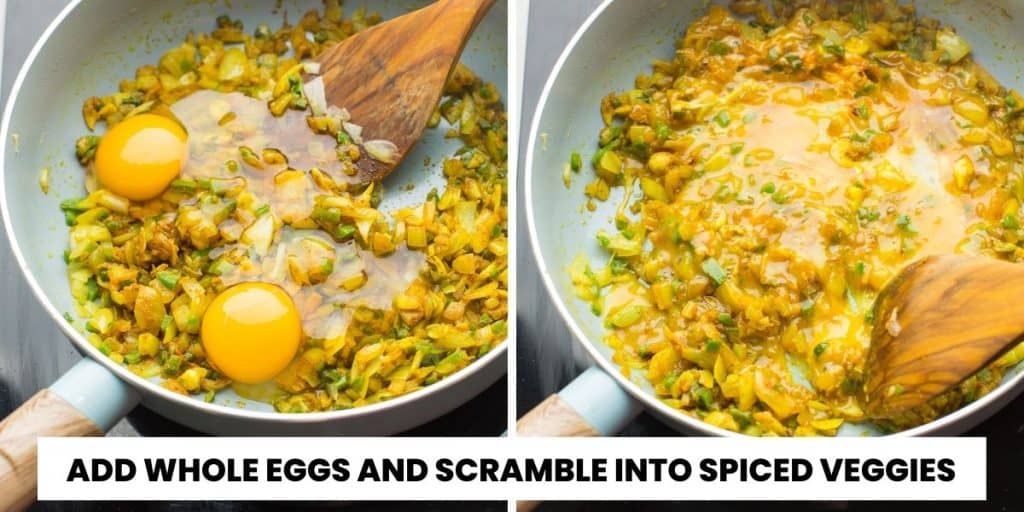 Final Tips & Notes
As is – this recipe is a great one to make when you're hungry in a hurry. There's not much needed ingredient-wise and it comes together in little time. That being said, this dish is flexible and easy to play around with.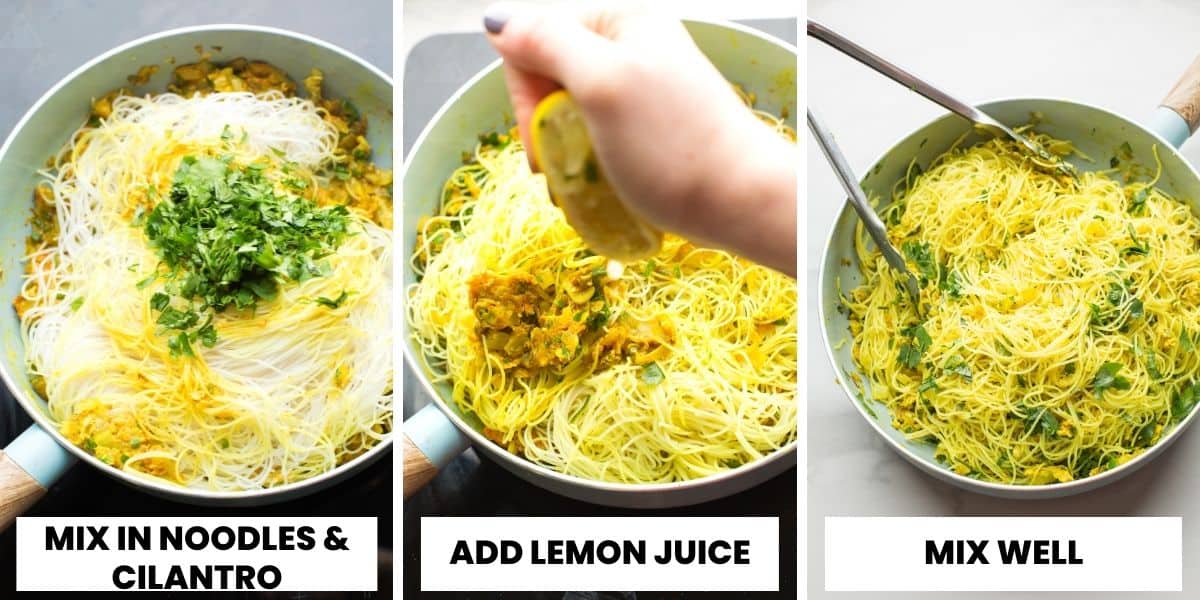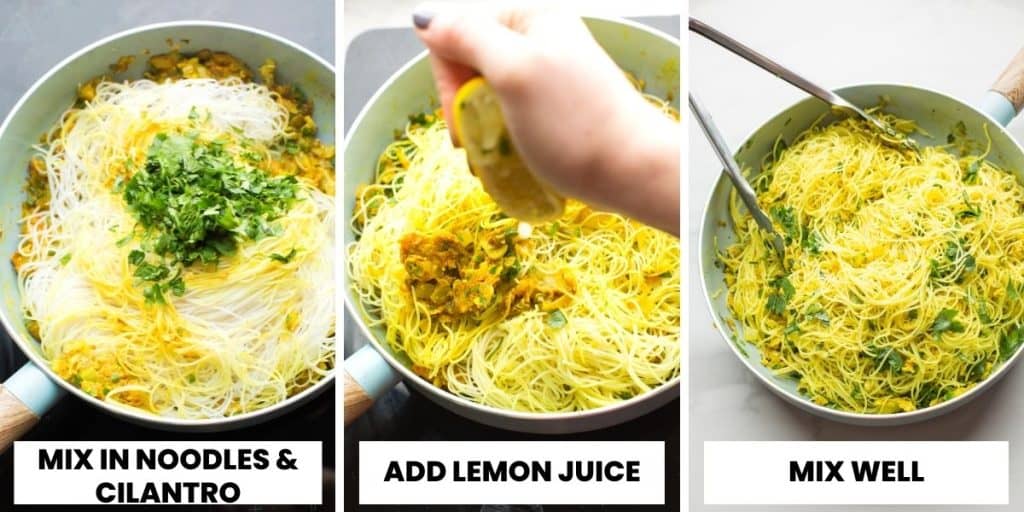 Additions and Substitutions
Feel free to spruce up these noodles by adding more veggies or spices as you like! Every time I make these noodles I do something slightly different. A few ideas you can try out:
Use lime juice instead of lemon.
Add more veggies:

shallots instead of onions
sauté some mushrooms, sliced peppers or shredded cabbage (same time as onions)

ginger or grated carrot (same time as garlic and chili)

Add more spices:

ground cumin
garam masala
ground black pepper
ground fenugreek

Add protein:

Bulk out these noodles for a more filling main by adding something cooked chicken or shrimp.

Add Sauces:

A small dash or gluten free soy sauce or tamari always goes a long way in adding flavor to a dish.
Serve with hot sauce/sriracha.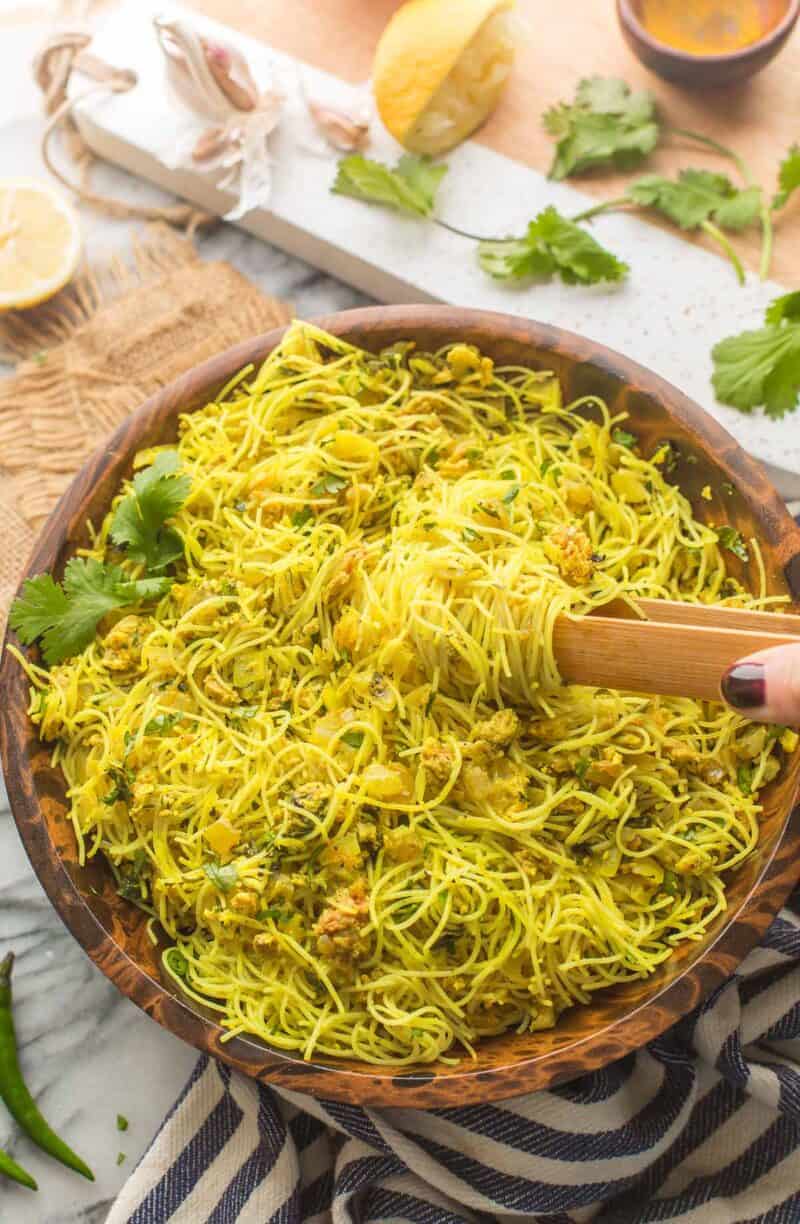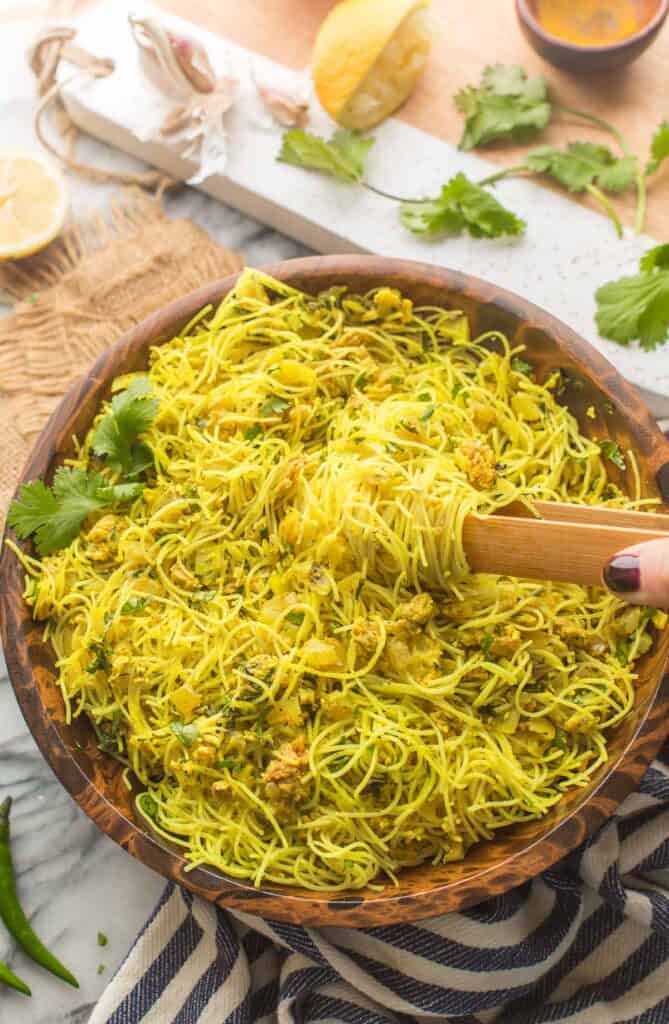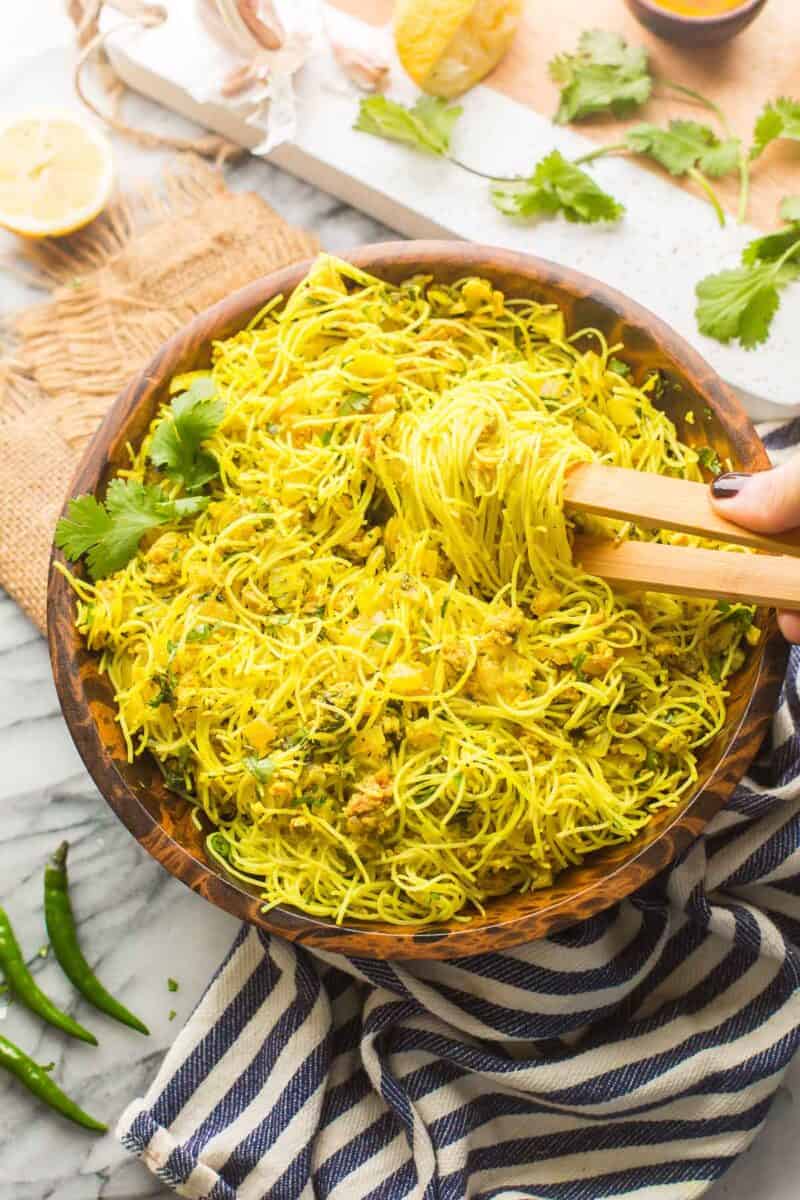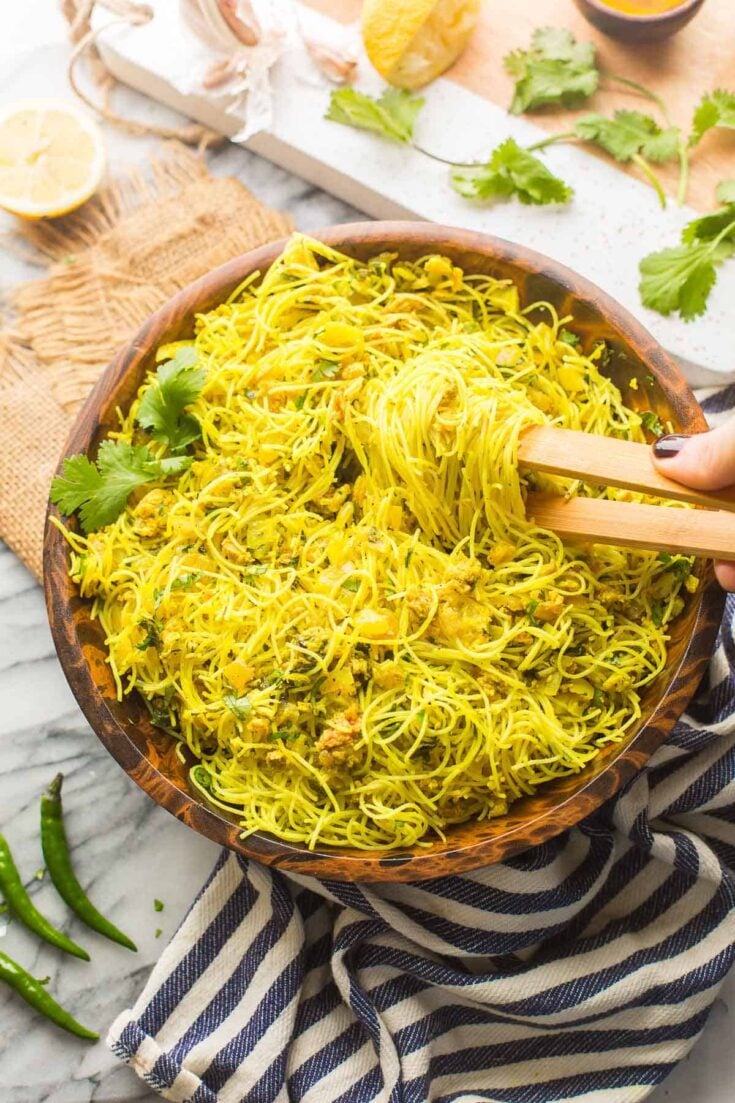 Recipe
Bangladishi Noodles
Yield:
4 servings
Prep Time:
10 minutes
Cook Time:
15 minutes
Total Time:
25 minutes
These fried vermicelli noodles are proof that good food can be made simply with few ingredients and little time!
Ingredients
150g thin vermicelli rice noodles
3 tablespoons oil, divided
2 cloves finely sliced garlic
1 onion, finely chopped
2 green chillies, finely chopped
1 teaspoon turmeric
1 teaspoon curry powder
2 eggs
1 teaspoon salt (or to taste)
1/4 cup chopped cilantro + more for serving
1 tablespoon fresh lemon juice + more to serve
Instructions
Bring a pot of water to a boil and then add the vermicelli. It only needs to cook for 3 - 4 minutes as it is so thin. When cooked, pour it into a colander and rinse with cold water.
Heat 2 tablespoons of the oil in the pan you used to cook the vermicelli over medium high heat. When visibly hot, add the chopped onion and fry until soft and lightly browned. Add the green chillies and garlic slivers and fry for a further minute or so.
Add the turmeric and curry powder along with the final 1 tablespoon of oil. Stir into the onion mixture and cook about 1 minute.
Crack the eggs directly into the pan and use a wooden spoon or silicon spatula to scramble.
Add the cooked noodles to the pan along with the salt, chopped cilantro and lemon juice. Toss it around until well mixed and heated through.
Season with additional salt to taste and top with more cilantro and lemon wedges (if desired) and enjoy.
Keep leftovers stored in an airtight container in the fridge for 4-5 days. You can reheat the noodles to serve warm or enjoy them cold straight out of the fridge.
Notes
I used bird's eye chilis here which have a fair amount of heat to them. If you're not into spicy flavours you can use only one chili pepper or use something like a jalapeno pepper instead (or a preferred pepper of your choice).
The lemon juice and salt really make a difference in this recipe so try not to hold back too much. If you feel like your noodles are a bit bland, add more lemon and/or salt in small increments (making sure to taste as you go) and that really should make them pop.
This website provides approximate nutrition information for convenience and as a courtesy only. Nutrition data is gathered primarily from the USDA Food Composition Database, whenever available, or otherwise other online calculators.
Similar Recipes You Might Like