Get all the delicious and comforting goodness of carrot cake without the hassle and at a fraction of the calories with this delicious carrot cake loaf recipe! With warming spices, speckled bits of carrot and moist crumbs – this loaf cake is simple, yet satisfying. Settle in with a thick and tender slice of cake and enjoy! | Gluten Free + Vegan Options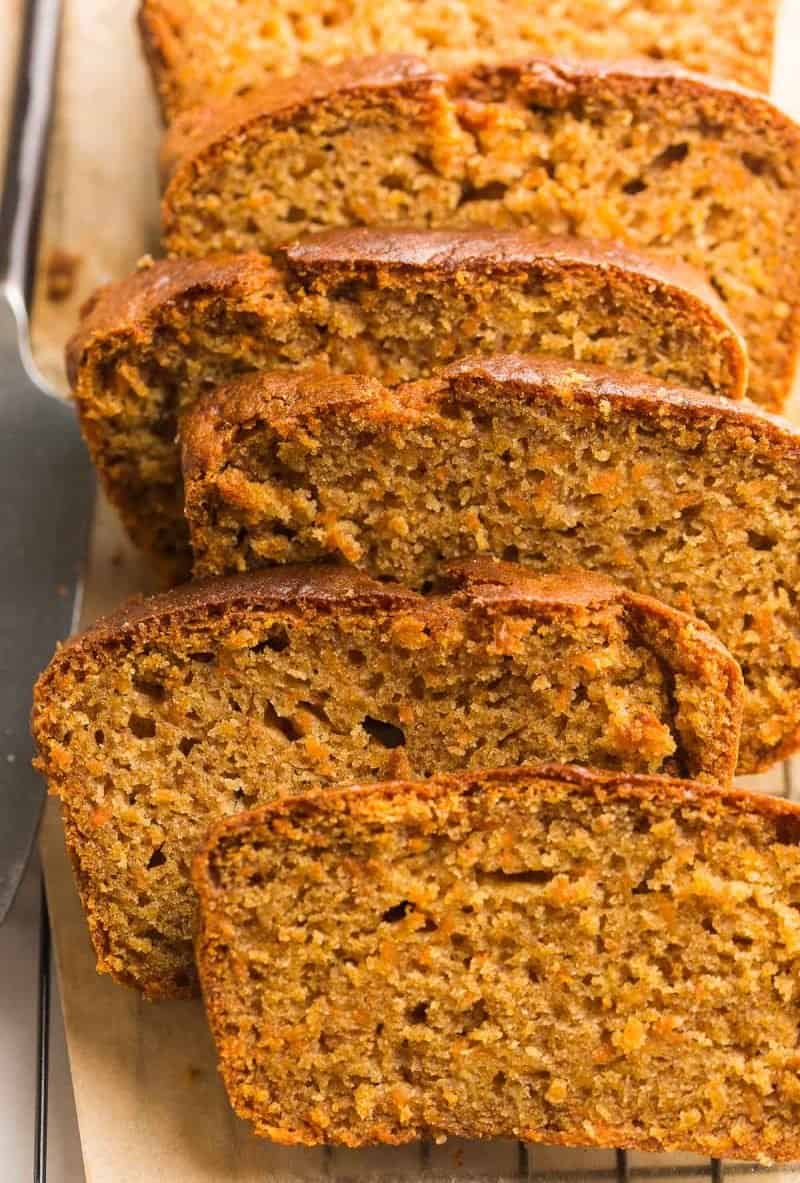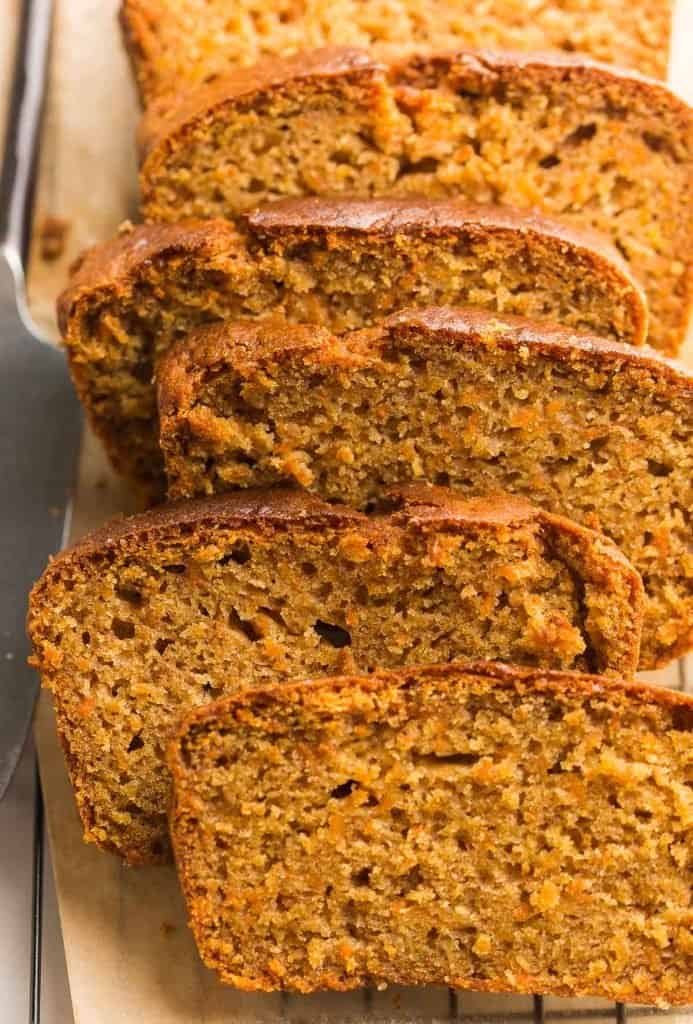 Reasons to make this gluten free carrot cake loaf (as if you need any!):
Here's why you'll love it:
This cake is made with basic, gluten free ingredients.
Yoghurt is used in addition to oil (or butter) to cut down on calories while also making for improved texture.
It's gently seasoned with a hum of cinnamon, ginger and nutmeg.
You can spruce up your loaf with nuts, dried fruit and/or chocolate chips!
I tested this recipe in a ton of ways to make sure it's adaptable to difference diets, lifestyles and preferences.
Most importantly – it's delicious!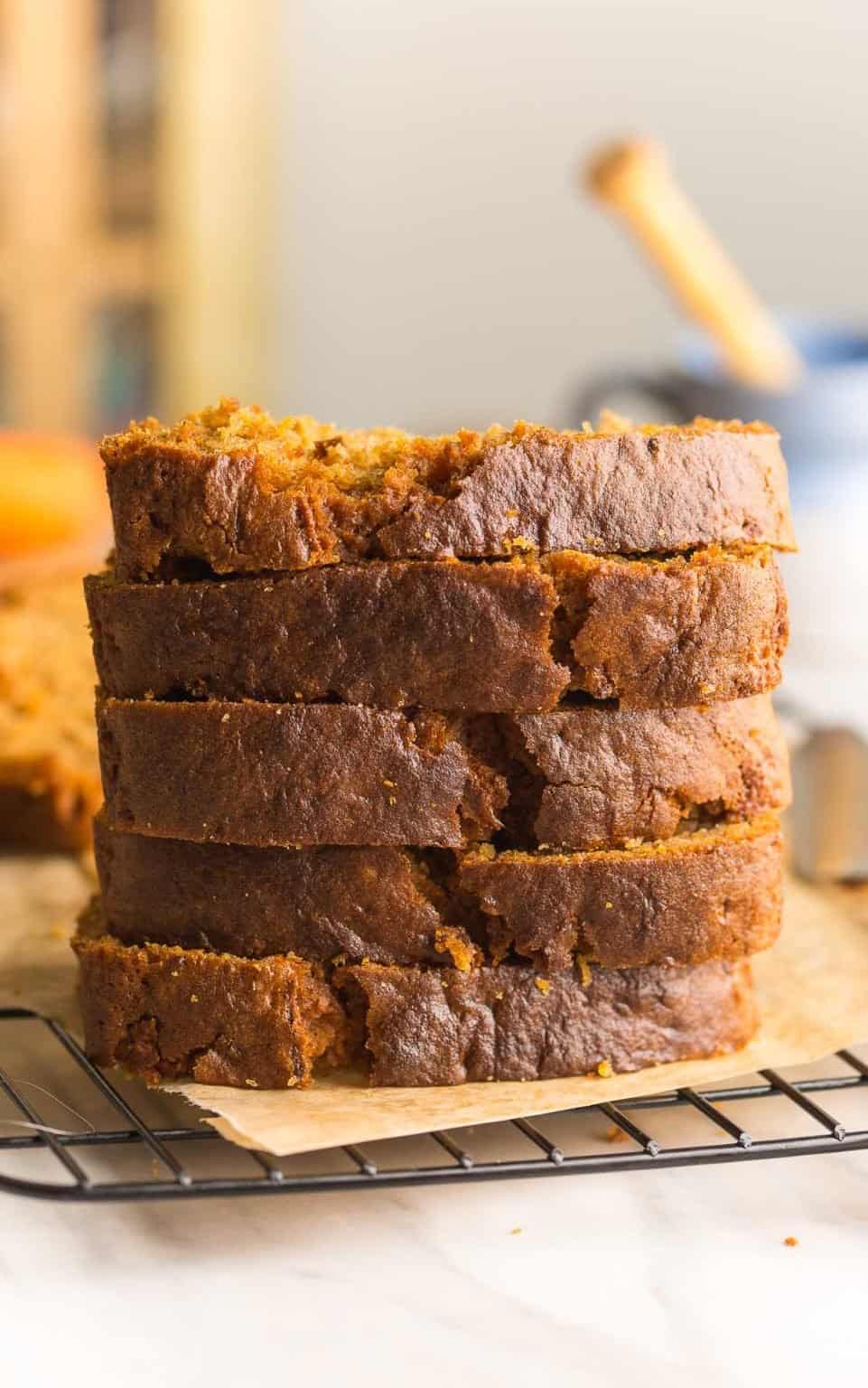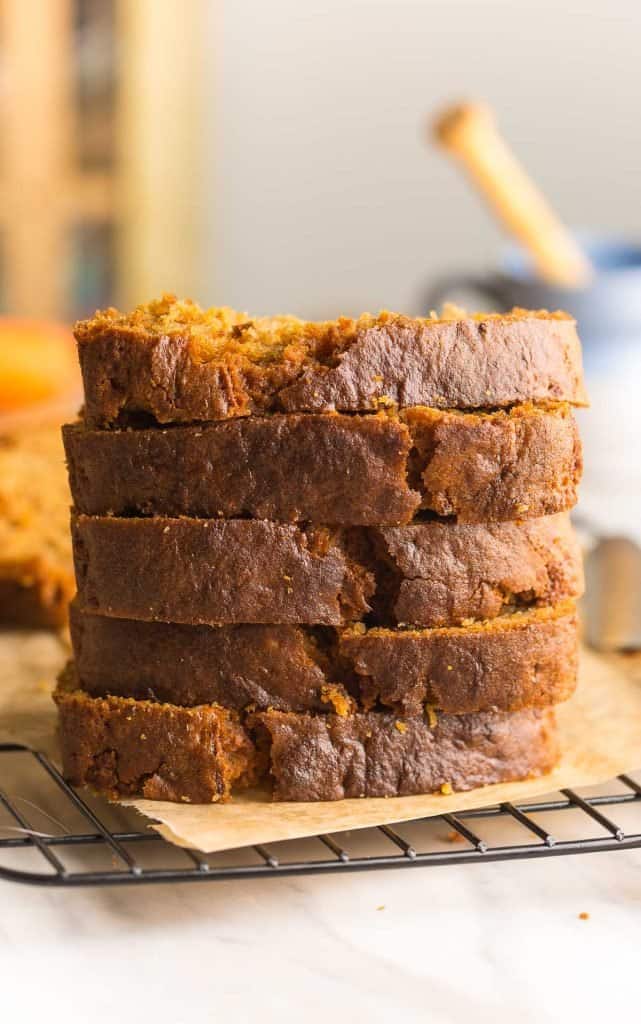 Homemade Gluten-Free Carrot Cake Loaf
There's not much needed to make this recipe and very little equipment required. For the prep all you need is a couple of mixing bowls, a whisk and a box grater to grate the carrots.
I based this recipe off of my regular gluten free carrot cake. The original recipe makes a 2 layer cake compete with a cream cheese frosting. This recipe takes the basics of that recipe and transforms it into a lighter, simpler, loaf cake for the times when you don't want to go all out.
To prepare the cake batter:
Mix the wet ingredients (plus brown sugar): In a medium bowl, combine the oil, yogurt, vanilla extract, eggs and brown sugar. Whisk everything into a thin, smooth consistency, then add the grated carrots.

Coconut oil tip: Make sure that you give the yoghurt and eggs time to warm up to room temperature. Coconut oil solidifies quickly and easily. If you add cold yoghurt from the fridge straight to the warmed/melted oil it will harden in little chunks and make the mixing process more tedious. If this does happen, add the mixture to a small sauce pan and warm gently over a medium heat until the chunks have melted then proceed with the recipe.

Add the dry ingredients: In another larger bowl, add the gluten-free flour blend, baking powder, baking soda, cinnamon, ginger nutmeg, salt and xanthan gum. Whisk together.
Combine wet & dry: Pour the wet ingredients into the dry ingredients and mix until fully combined.
Bake: Once combined, spoon the batter in a prepared pan that has been greased or line with parchment paper. Then bake for about 50-50 minutes until the bread has risen and the inside has fully cooked.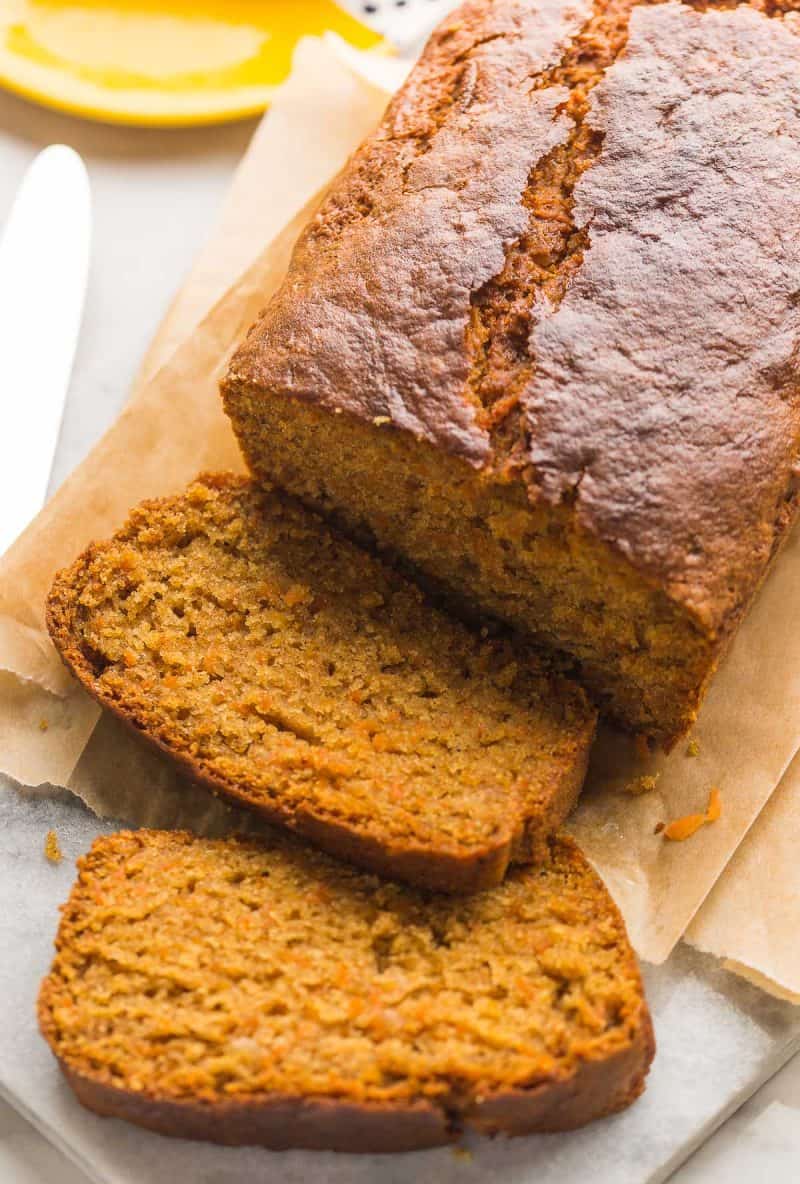 Recipe Tips & notes
Save your finger tips by using a food processor to grate the carrots quickly and easily.
A hand mixer or stand mixer can be used if you don't want to mix everything by hand.
For best results I recommend you use a kitchen scale to weigh your ingredients.
Use room temperature yogurt and eggs for easier mixing that's less likely to clump.
Make muffins instead of loaf cake: fill your muffins tins 2/3 full and bake for about 20-22 minutes.
Add up to 1/2 cup nuts, dried fruits or chocolate chips to spruce up your cake.
Quick Questions
Do I have to add xanthan gum?
I highly recommend it for this recipe. When I tested this bread without xanthan it came out fairly well, but it crumbled far too easily. Xanthan gum is an important ingredient in this recipe because it really helps create structural support and binding that you'd normally get from gluten.
If you're averse to xanthan gum I recommend checking out my post on xanthan gum and gluten free baking. You might be able to try one of the recommended substitutes like guar gum or potato starch that works for you.

Can I Use Different Flours?
No. This recipe was created and tested to be one that uses any generic gluten free all purpose flour blend. If you want to play around with the flour you're welcome to it, but I can't guarantee any results. If you're looking for a healthy carrot cake recipe made with grain free flours I can recommend my paleo carrot cake recipe, vegan carrot cake bars, and my paleo carrot loaf cake.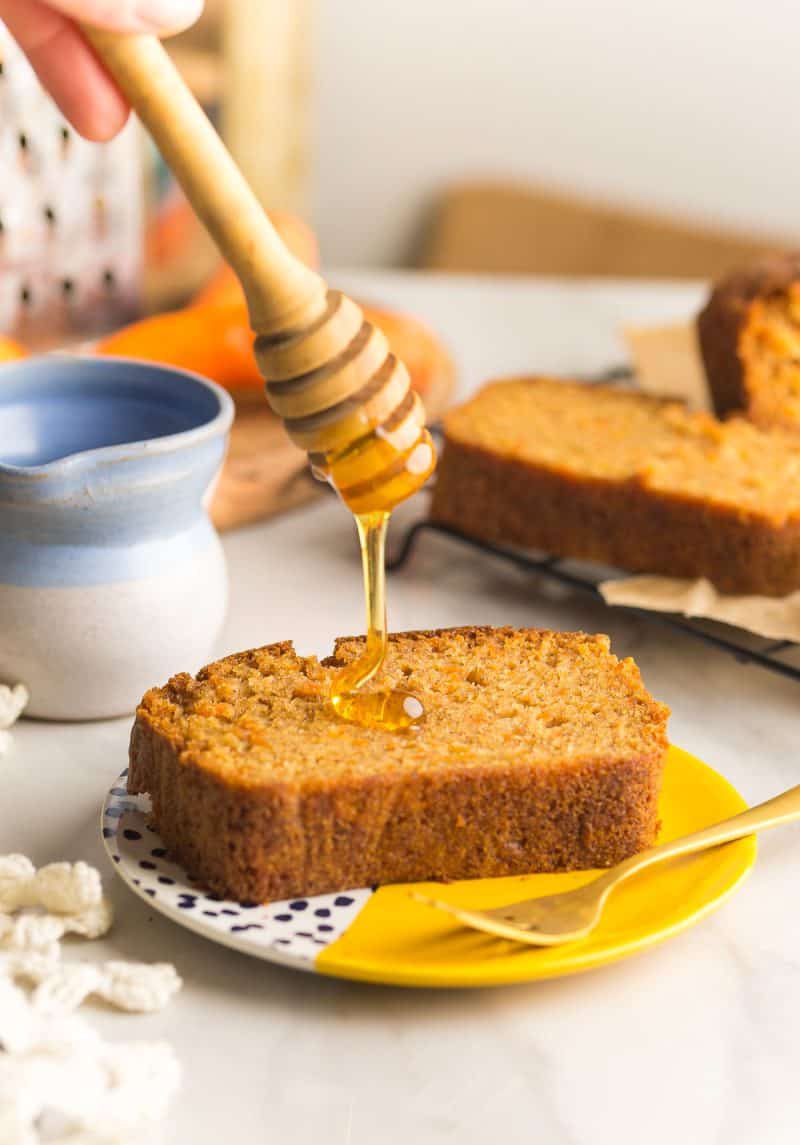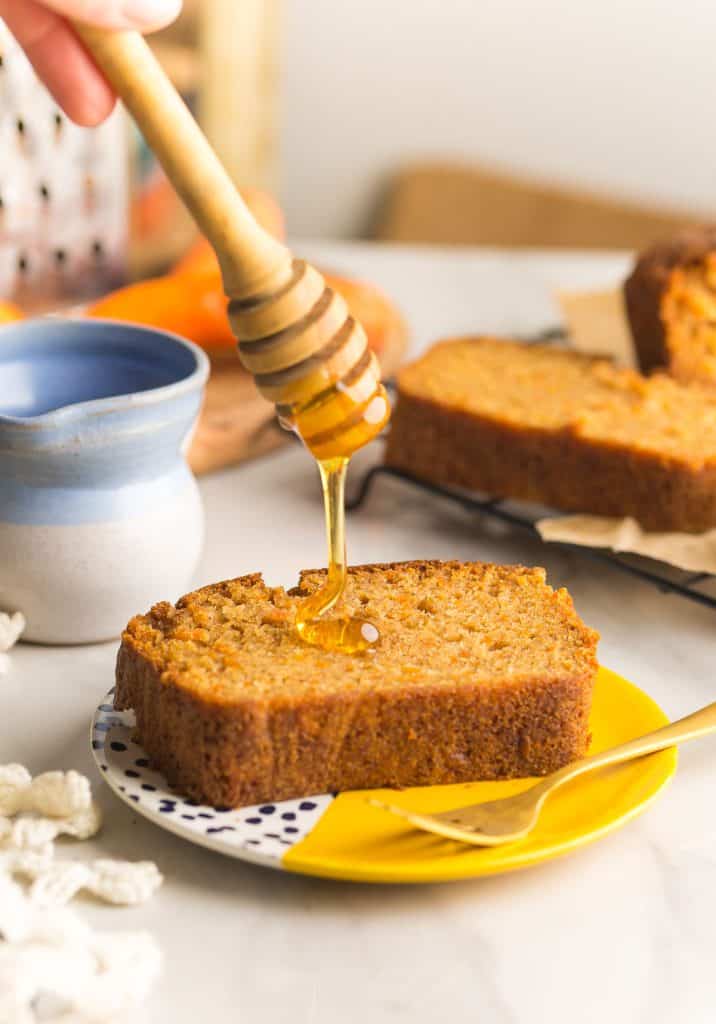 Freeze for Later
After baking, let your loaf cool completely on a wire rack. Once fully cooled, wrap up your carrot cake loaf in plastic wrap and foil, then store in the freezer for up to three months. To defrost: transfer the frozen loaf to the fridge and let thaw overnight, then let it come to room temperature before slicing and serving.
Make It Vegan!
Easy enough! Swap out the Greek yoghurt for a dairy free/vegan yoghurt and replace the eggs with two flax eggs. Chia seeds should also work similarly as an egg replacer here. Vegan versions of this carrot cake loaf won't rise as much and they will have a slightly chewier texture, but are still absolutely delicious!
Sugar Swap
You can use pure maple syrup or honey in place of the brown sugar for a refined sugar free option. Instead of one full cup brown sugar you can use 3/4 cup maple syrup (237g) or 2/3 cup honey (227g). Loaf cakes made with honey or maple may need an extra 5 minutes in the oven.
I did not test this recipe with coconut sugar, but it should work as well. Keep in mind that coconut sugar usually imparts a smokier, caramel flavor in baked goods.
White sugar can be used in place of brown sugar, but I do recommend brown sugar for it's added moisture. Light brown sugar and dark brown sugar both work. Just remember that dark dark sugar contains more molasses so it will make for a sweeter cake.
Other Swaps
In place of yoghurt: apple sauce, chopped pineapple and mashed banana. Sour cream will also probably work, but I have not tested this recipe using sour cream yet.
In place of melted coconut oil: I find oil is better in carrot cake recipes because it makes for a moister, more tender cake but you can absolutely use melted butter (dairy free if needed) instead. Avocado oil, vegetable oil and canola oil all work as well.

I found that my loaves made with olive oil didn't not rise quite as much as the ones made with coconut oil and vegetable oil. It wasn't too noticeable, but that might be useful info for you to keep in mind. As for the taste – I could just barely taste the olive oil, but in side by side comparisons, none of my family or friends could tell the difference between the cake made with olive oil and the one made with coconut oil.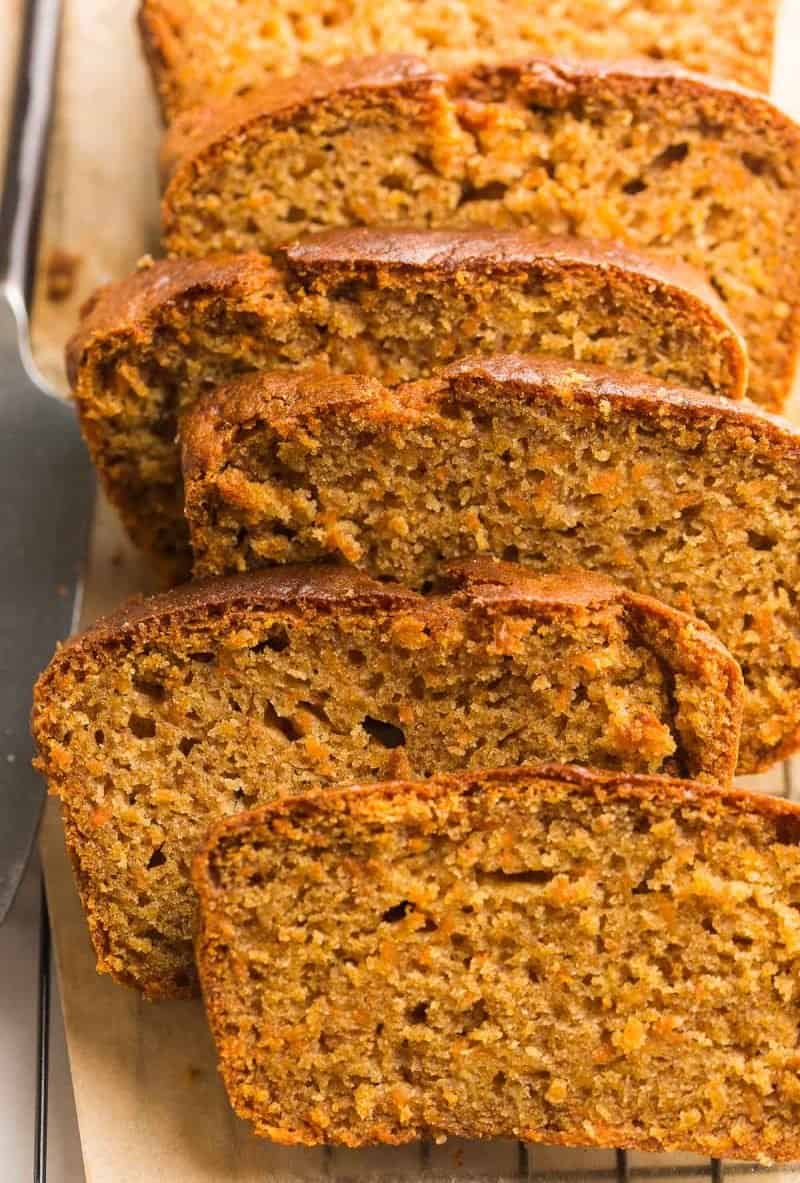 Recipe
Gluten Free Carrot Cake Loaf
Yield:
9 slices
Prep Time:
10 minutes
Cook Time:
55 minutes
Total Time:
1 hour
5 minutes
With warming spices, speckled bits of carrot and moist crumbs - this gluten free carrot loaf cake is simple, yet satisfying.
Ingredients
1 1/2 cup | 210 grams gluten free all purpose flour blend
2 teaspoons baking powder
1 teaspoon baking soda
3/4 teaspoon xanthan gum
1 teaspoon cinnamon
1/2 teaspoon ground ginger
1/4 teaspoon ground nutmeg
1/2 teaspoon salt
1 3/4 cups (200 g) peeled and grated carrots (about 2 large carrots)
1 cup | 210 grams brown sugar or coconut sugar
1/2 cup | 113 grams melted coconut oil, vegetable oil, olive oil or butter
1/3 cup (80g) yoghurt
2 eggs
1 teaspoon vanilla extract
1/2 cup mixed nuts or raisins (optional)
Instructions
Preheat oven to 350°F/180°C. Lightly grease or line a 9x5 inch loaf pan with parchment paper and set aside.
In a large mixing bowl whisk together the flour, cinnamon, baking powder and salt.
In a medium sized mixing bowl mix the sugar, oil, eggs, yoghurt and vanilla extract. Stir in the grated carrot.
Pour the carrot mixture into the flour mixture. Mix well until little to no flour lumps remain. Fold in the chopped nuts or raisins if using.
Pour the batter into your prepared loaf tin, place in the oven and bake for 55-60 minutes or until cooked through.
Transfer to a wire cooling rack and let cool about 10 minutes before slicing and serving. Enjoy!
Keep this bread wrapped up at room temperature for about 4-5 days or in an airtight container in the fridge for about a week.
Notes
Make it Egg Free: Use flax or chia eggs in place of chicken eggs. To make a flax/chia egg: Combine 2 tablespoons ground flax seed (or chia seeds) with 5 tablespoons cold water. Whisk until combined and place in the fridge for at least 5 minutes while you prep the cookies. When the 'egg' has thickened and gelled up it's ready to use.
Bake into muffins: Prepare a 12 cup muffin pan and fill the muffin cups about 2/3 of the way full. Bake for about 20-22 minutes.
Refined Sugar Free: You can use pure maple syrup or honey in place of the brown sugar for a refined sugar free option. Instead of one full cup brown sugar you can use 3/4 cup maple syrup (237g) or 2/3 cup honey (227g). Loaf cakes made with honey or maple may need an extra 5 minutes in the oven.
Nutrition Information
Yield:

9
Serving Size:
1 slice
Calories:

291
Total Fat:

13g
Saturated Fat:

10g
Trans Fat:

1g
Unsaturated Fat:

0g
Cholesterol:

42mg
Sodium:

379mg
Carbohydrates:

43g
Fiber:

1g
Sugar:

22g
Protein:

3g
This website provides approximate nutrition information for convenience and as a courtesy only. Nutrition data is gathered primarily from the USDA Food Composition Database, whenever available, or otherwise other online calculators.
More Recipes for Carrot Cake Lovers