Nut Free Paleo Carrot Cake | A healthier, gluten free and dairy free alternative to carrot cake!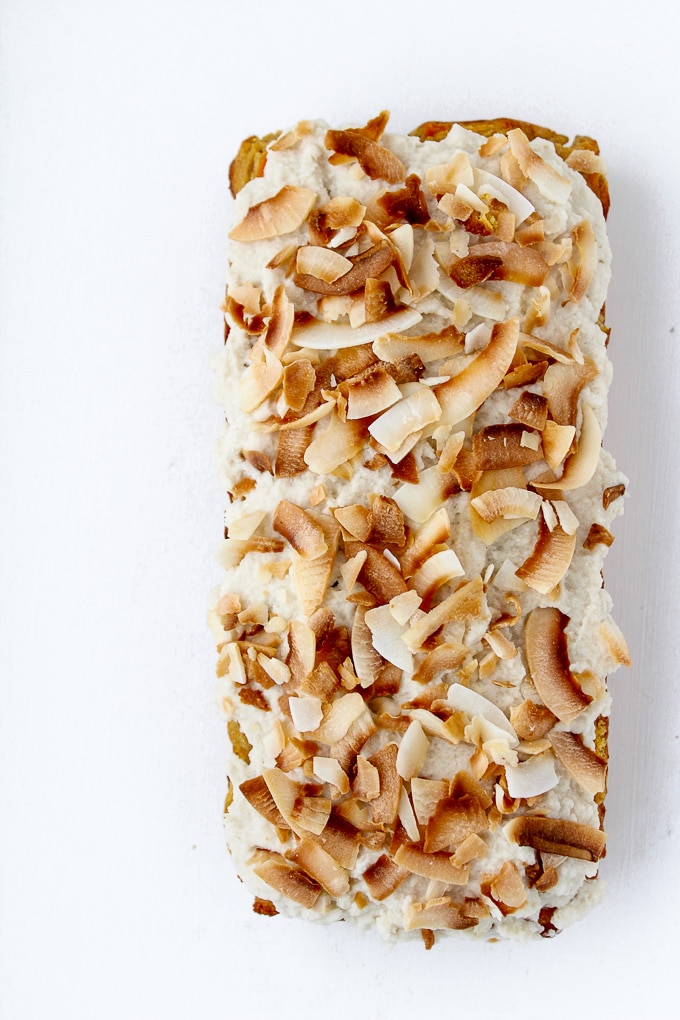 What would you call this? Carrot Cake? Carrot Loaf? Carrot Bread? Carrot Cake Loaf Bread? Is that too much? I don't even know. All I know is that I've made this recipe at least five times in the past two weeks and I'm not bored of it yet. Even Mike's eating it and he's usually not interested in any dessert that isn't chocolate.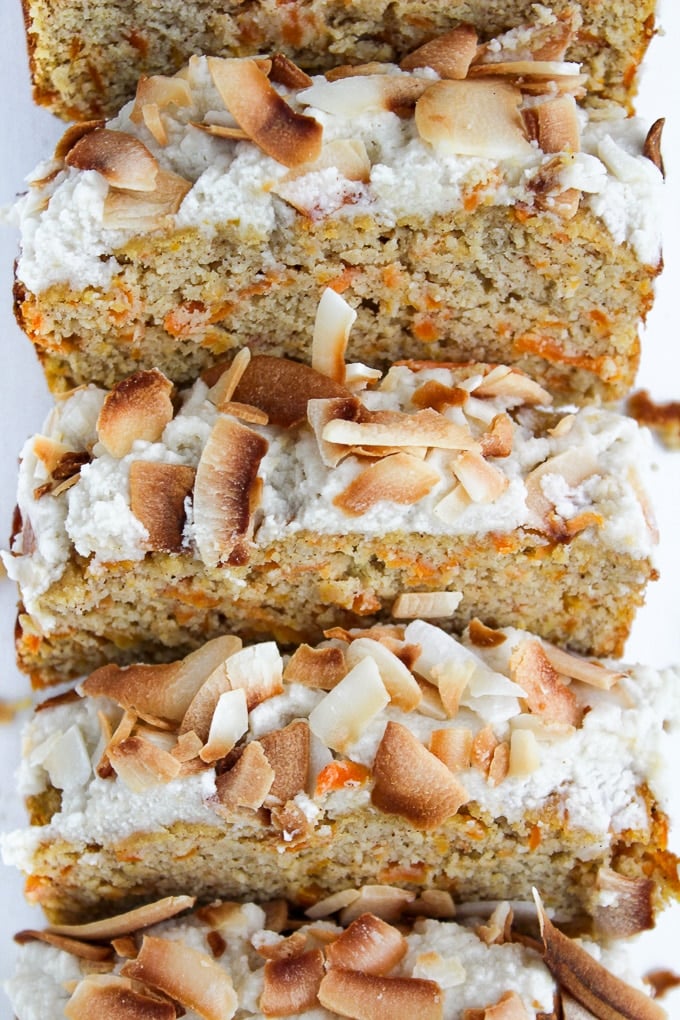 Considering that this is a coconut flour based recipe I'd say that's even more impressive. Coconut flour and I have a rocky relationship in the past given its finicky nature. If not used properly you just end up with sad, dense, clumpy baked goods that somehow manages to be eggy and dry at the same time. How is that even possible? And based on what I hear from most people experimenting with grain free/nut free paleo baking I'm not alone in that experience.
Fortunately over time I've got to play around more and more with coconut flour. Given everything I just mentioned I really do love it as an alternative to grain based flours. It's got a  rich nutrient profile ideal in any diet – what's not to love? Not to mention it's soooo much cheaper than almond flour and it goes so much farther. Since I've started playing around with it more it's actually become one of my favorite flours to work with. I think the main things you need to keep in mind when baking with coconut flour is to
a) make sure to use enough liquid, and
b) a little goes a long way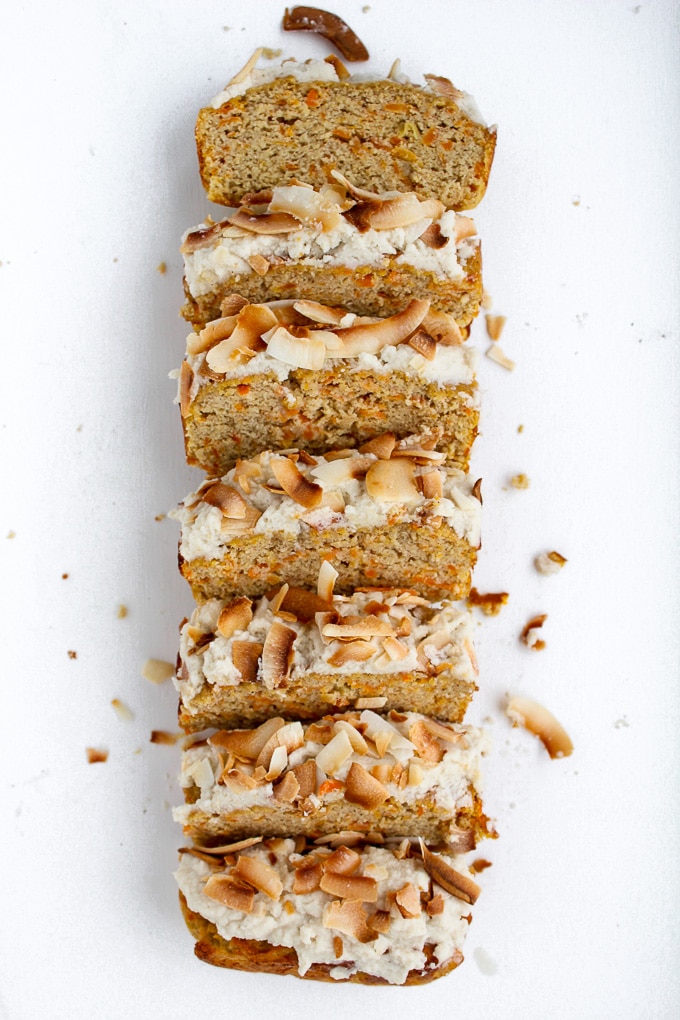 I didn't even like carrot cake as a kid. I looooved carrots. I loooooved cakes. I hated carrot cake. Raisins? Nuts? Pineapple chunks? Gross. Perfect way to ruin a good thing in my adolescent opinion.
While I've made my peace with nuts and pineapple, I still think raisins have no business being in or around my face. No thanks.
If however you're not quite as picky discerning as I am when it comes to dried fruit, feel free to add in a handful or two to spruce this up to your own preferences. A handful of pecans would also be good providing you're not in need of a nut free paleo carrot cake.
Instead of the usual cream cheese frosting to top off the cake I decided to go with my tried and true whipped coconut milk frosting instead for a dairy/refined sugar free alternative. So.Much.Better. Make sure to pop a can of coconut milk in the refrigerator overnight so that the coconut cream is easy to scoop out when you need it. I know that whipped coconut frosting can be a tricky thing to get right – the end result mostly relies on the quality of your coconut milk and the stabilizers that were added to it. If you end up with a curdled looking frosting the chances are that it wasn't your fault. The bright side:  it doesn't even matter because we're going to top the whole thing off with toasted coconut flakes and it will still taste great! Cool?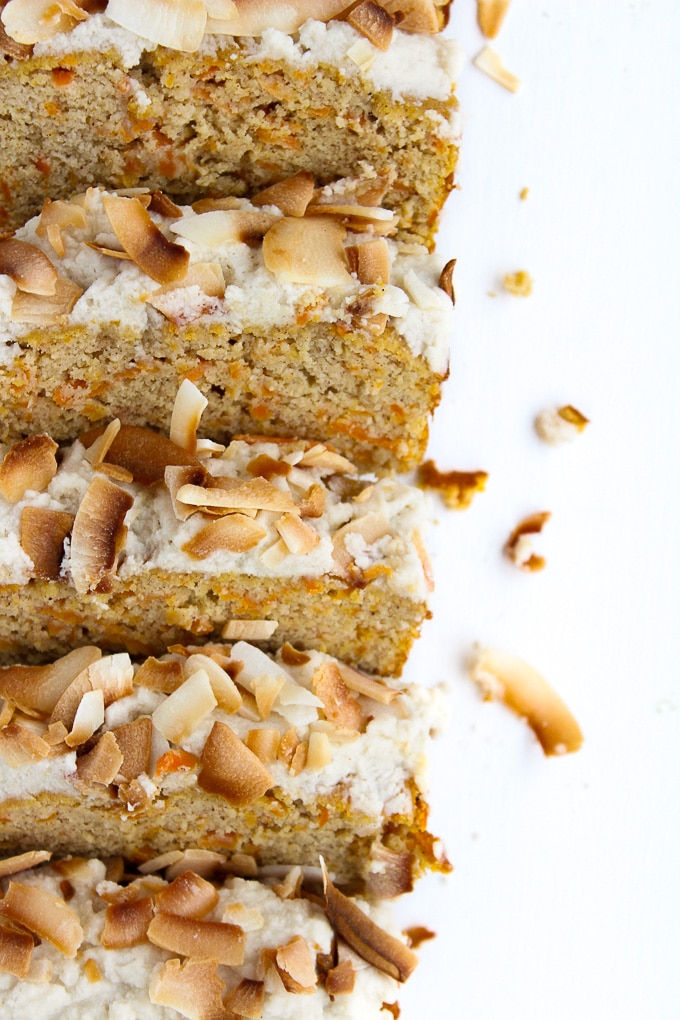 Now excuse me while I go have a slice of this cake with my morning coffee!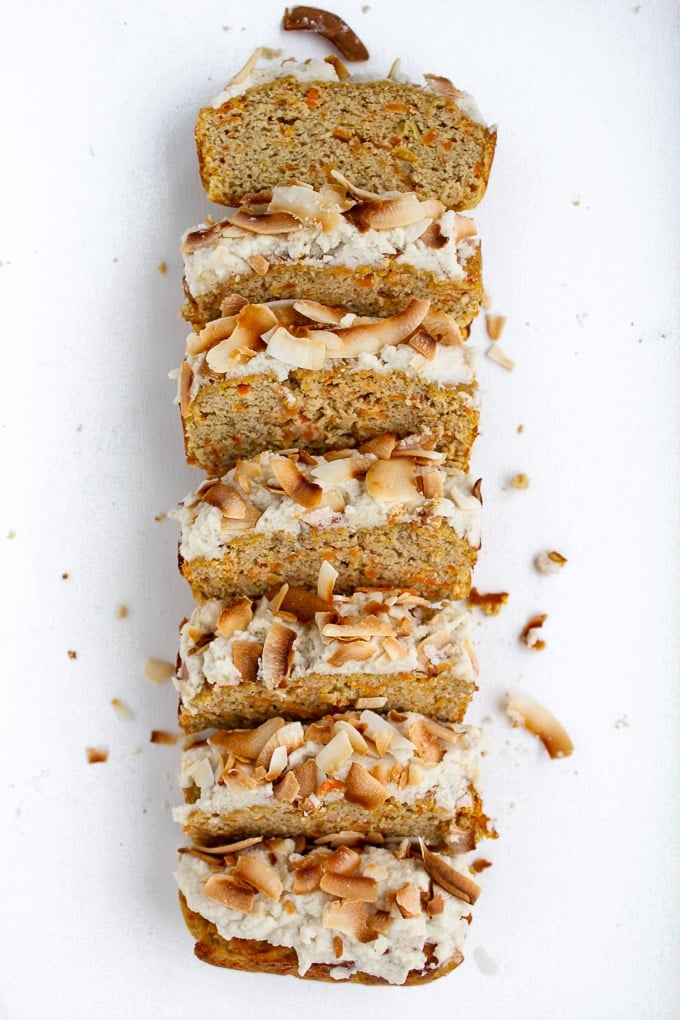 Recipe
Nut Free Paleo Carrot Cake
Yield:
8 slices
Prep Time:
10 minutes
Cook Time:
40 minutes
Total Time:
50 minutes
Nut Free Paleo Carrot Cake | A healthier, gluten free and dairy free alternative to carrot cake!
Ingredients
Cake
1/2 cup coconut flour, 56 grams
1/2 teaspoon cinnamon
1/4 teaspoon nutmeg
1/2 teaspoon salt
1 teaspoon baking soda
4 eggs
1/4 cup melted coconut oil, 52 grams
2 tablespoons maple syrup or honey
2 teaspoons lemon juice
1 tablespoon fresh grated ginger
1 cup grated carrots, loosely packed
Frosting
1 can full fat coconut milk refrigerated overnight
2 tablespoon maple syrup
1 teaspoon vanilla extract
2 tablespoon melted and cooled coconut oil
small handful toasted coconut flakes
Instructions
Preheat the oven to 350°F/180°C. Line or grease an 9x5 inch loaf tin and set aside for later.
In a large bowl mix together the coconut flour, cinnamon, nutmeg, salt, and baking soda.
Add the eggs, melted coconut oil, maple syrup or honey, and lemon juice and beat with an electric mixer until smooth.
Mix in the grated carrots and fresh ginger until completely combined.
Spoon the batter into the greased/lined loaf tin. It will be a thick batter so you may need to smooth the batter down so that it's even on all sides.
Bake for 35-40 minutes or until a knife comes out clean when inserted in the center. All the cake to cool completely before frosting.
To make the frosting
Scoop the coconut cream out of the can leaving behind the liquid* and add it to a medium sized mixing bowl along with the rest of the frosting ingredients. Using an electric handheld mixer beat on high. Whip until smooth. Once the cake has cooled completely frost the cake and sprinkle coconut flakes over the top.
Notes
*You can save the liquid from the cans to use in smoothies If you frost with the coconut cream frosting make sure to store this cake in the fridge.
Nutrition Information
Yield:

8
Serving Size:
slice
Calories:

303
Saturated Fat:

21g
Cholesterol:

81mg
Sodium:

348mg
Carbohydrates:

15g
Fiber:

4g
Sugar:

9g
Protein:

5g
This website provides approximate nutrition information for convenience and as a courtesy only. Nutrition data is gathered primarily from the USDA Food Composition Database, whenever available, or otherwise other online calculators.
Cake adapted from Detoxinista