Made with a combination of roasted hazelnuts, blended dates, unsweetened cocoa powder and a pinch of salt – these Chocolate Hazelnut Date Balls are simple, satisfying and delicious! Like a healthy Ferrero Rocher Truffle without all the added junk! Enjoy as is or finish off with a chocolate drizzle of dusting of cocoa powder! | Paleo + Vegan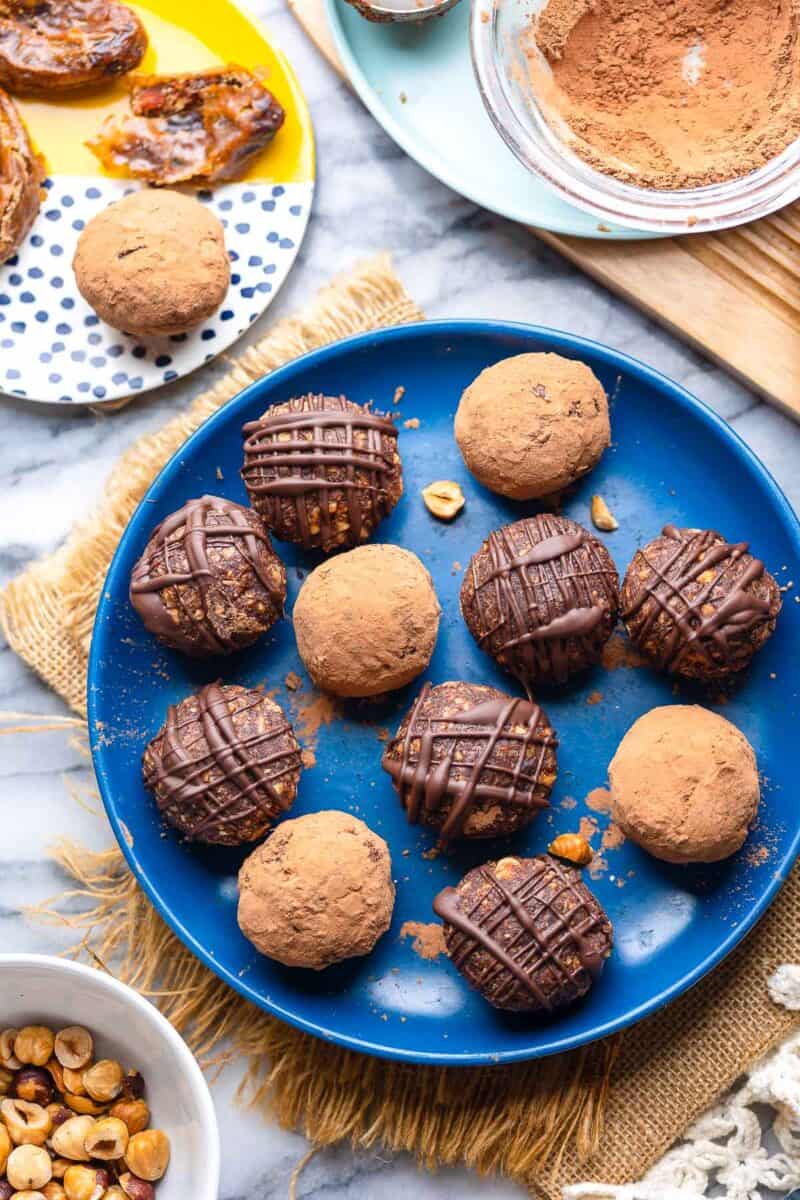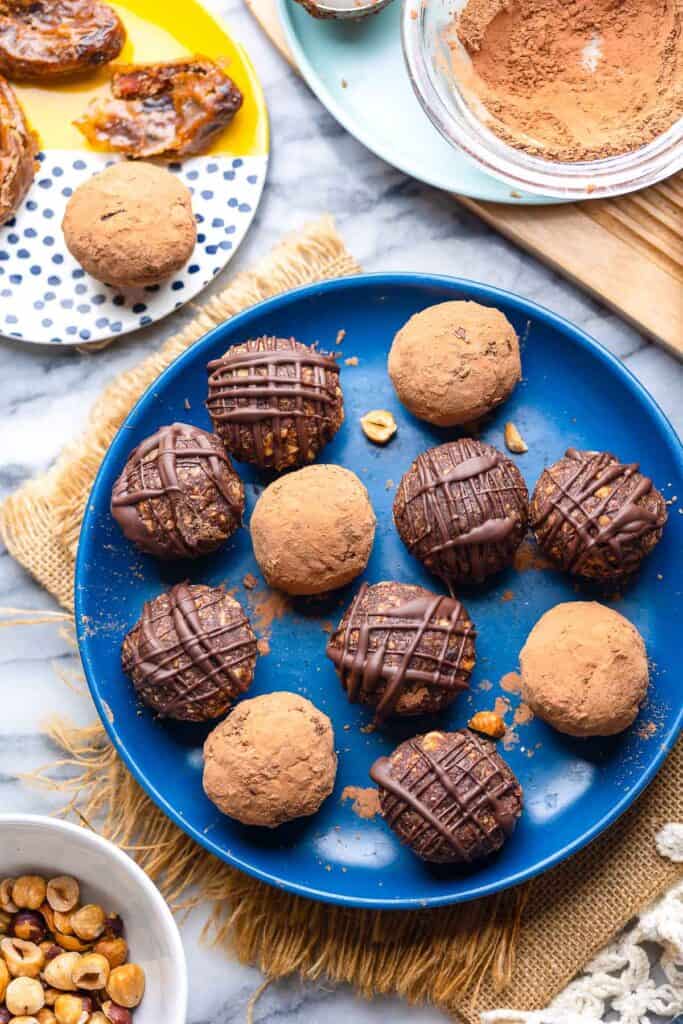 Blended nuts and medjool dates make for such a great combo it almost feels like cheating and these Chocolatey Hazelnut Date Balls are no exception!
You honestly don't need much more than the two to make for a quick and easy snack that's as enjoyable as it simple. See my Two-Ingredient Nut & Date Balls for proof!
That said, with a little more time and effort you can transform those humble energy bites to a healthified chocolate truffle like that!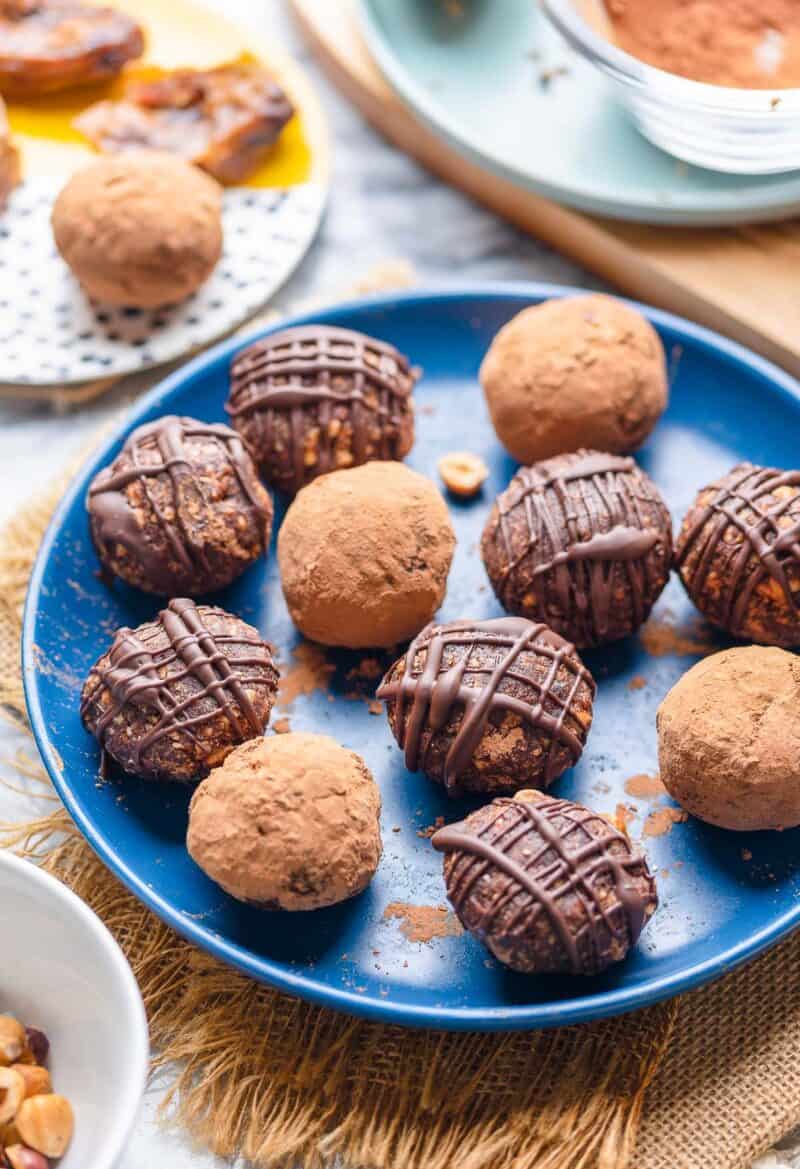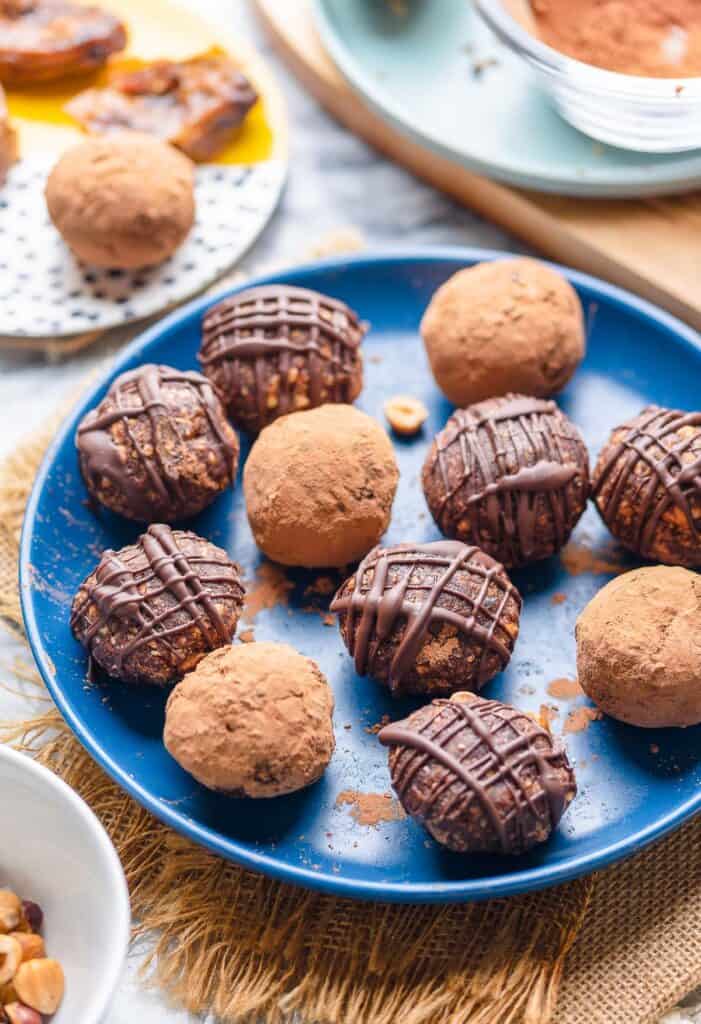 Chocolatey Hazelnut Date Balls Ingredients
All you need is five simple ingredients (plus chocolate for drizzling if desired) to make these chocolate and hazelnut date energy balls!
Hazelnuts: Roasted hazelnuts are a must! Unroasted hazelnuts are quite mild in flavor and soft in texture. Roasted hazelnuts on the other hand are rich, buttery and sweeter in flavor. They're also much more crispy and crunchy which makes for a more satiating texture.
Medjool Dates: Medjool dates are nature's candy! They're large, soft and naturally sweet. They're an ideal addition to many healthy snack recipes because they're provide a satisfying, chewy texture and a caramel-like taste. Not to mention, medjool dates are a rich source of fiber, vitamins and minerals.
Cocoa Powder: A touch of cocoa adds not only the rich, chocolate flavor but a bit of balance to the naturally sweet dates. Feel free to add more cocoa here if you prefer a darker chocolate flavor. If your date mixture ends up too dry you can always add a tablespoon or so of water to make it sticky again.
Salt: Never under estimate the power of a pinch of salt! It's a basic food enhancer that brings out the inherent flavor of what it's paired with. Sprinkle a bit over the nuts before roasting to enhance both flavor and texture.
Vanilla Extract: Vanilla acts as another flavor enhancer to allow the nuts and cocoa to shine. While it's not necessarily sweet on its own, a tiny bit adds rich, creamy aroma to these snack bites.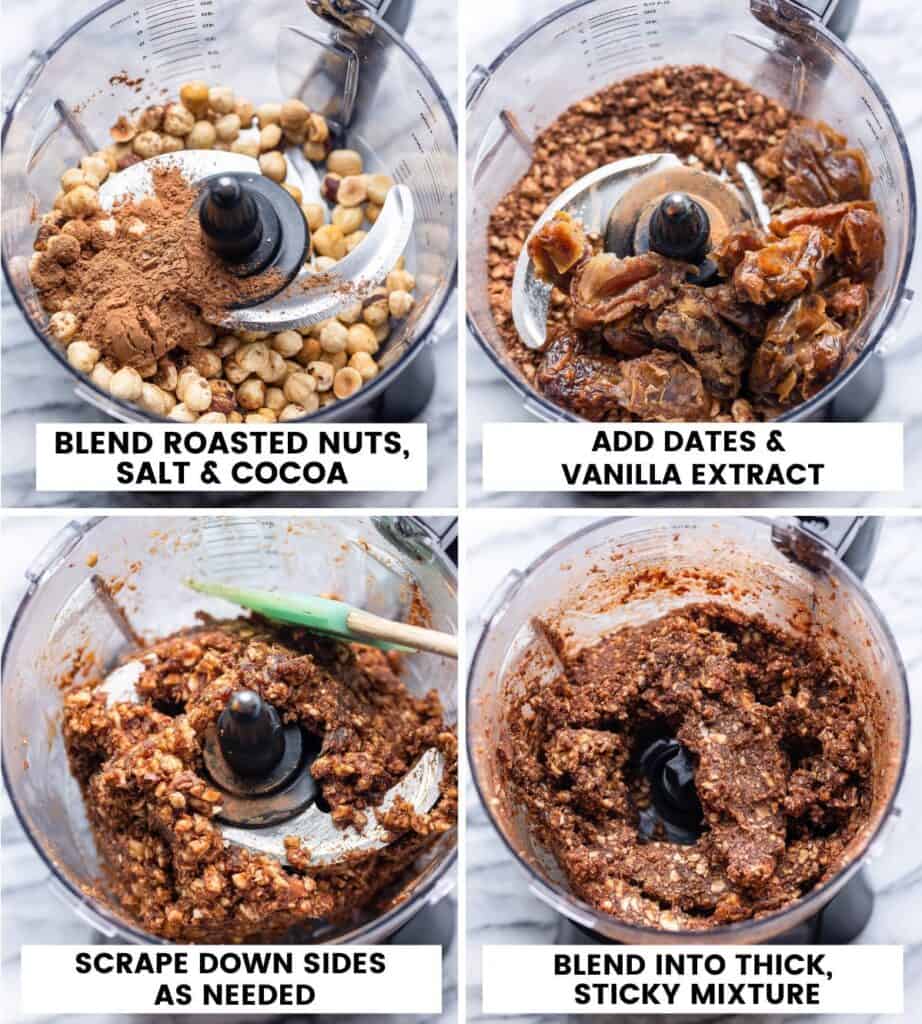 Steps
Simple and straightforward, these Chocolatey Hazelnut Date Balls come together in no time!
Roast the hazelnuts. Spread across a large baking sheet with a pinch of salt and roast for about 12-14 minutes. Make sure to shake the pan about halfway through to ensure an even roast.

Remove the skins if needed. If your hazelnuts come with the skin on, wrap up the warm nuts in a clean town and gently rub together. The heat and friction should make the skins easily peel off. If some skins are left on it's no problem at all!

Blend the nuts and cocoa power. Add the roasted nuts and cocoa to a high powdered blender or food processor and blend until mostly broken up.
Blend in the dates and vanilla. Blend until you end up with thick mixture that comes together if pressed. I like leaving larger bits of nuts intact for the texture, but you can keep blending into a smoother consistency if desired.
Scoop and roll. Scoop out about 2 tablespoons worth of the mixture (about 40 grams worth) and roll into little balls. You should be able to get 12 even balls this way.

Optional: Press a nut into the center of each ball.

Enjoy as is or finish with a cocoa dusting or chocolate drizzle. These balls are good enough to enjoy as is at this stage, but you can also spruce them up with extra chocolate for an extra special treat!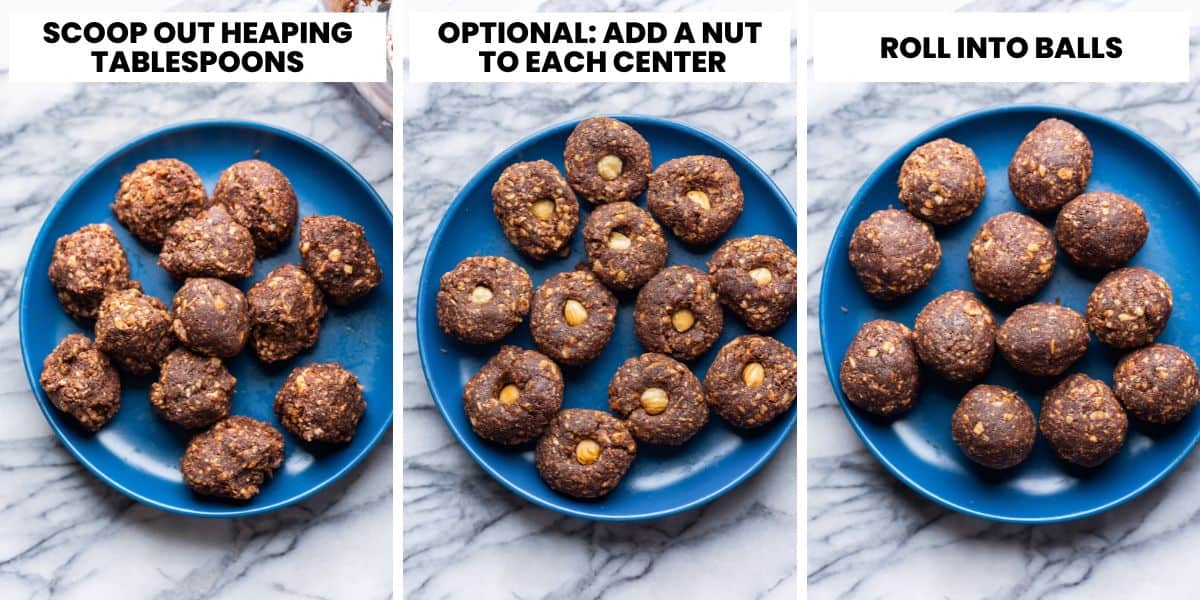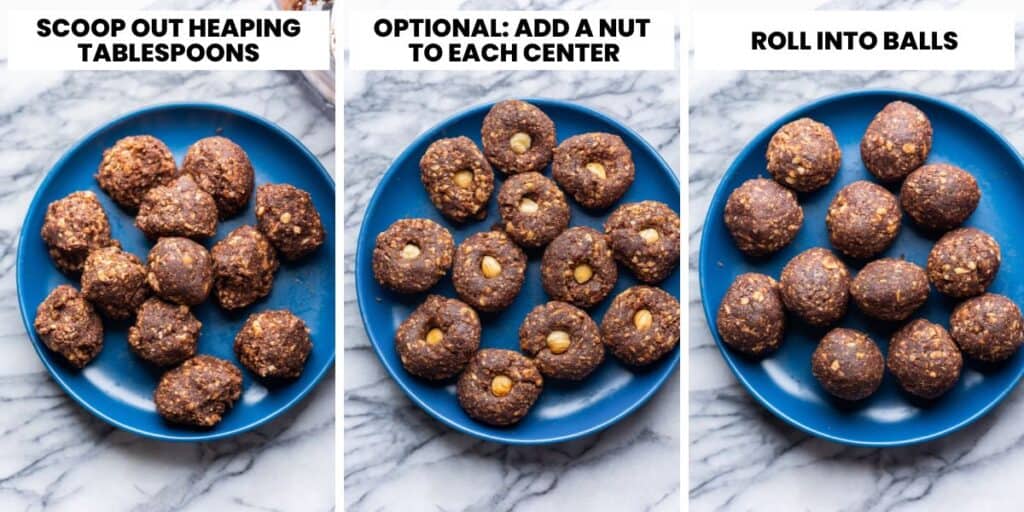 Final Tips & Recipe Notes
Can I still use dates that have white spots on them?
Yes! Dates have a low moisture content which means that will dehydrate naturally over time. As they age and the moisture evaporates you'll notice they start to form white spots on the surface. These white spots are just sugar so they're still good and safe to enjoy.
What If My Dates Are Dry?
As mentioned above, dates will naturally dehydrate over time and loose moisture. If this happens you can easily rehydrate before blending. Simple cover the dates in boiling/hot water for 5-10 minutes to soften. Once softened enough, drain the water and they're ready to use.
Can I Use Another Type Of Date?
Yes, but I don't recommend it.
Not all dates taste and feel the same. Medjool dates are perfect for no bake snacks like this because they're large, naturally sweet and soft – perfect for blending.
Deglet Noor dates on the other hand are smaller and not as sweet. Because of this you would need more deglet noor dates to properly blend this together and you may even need to adjust other recipe ingredients to make up for the change.
If you're up for experimenting then go for it, otherwise I recommend sticking with medjool dates here.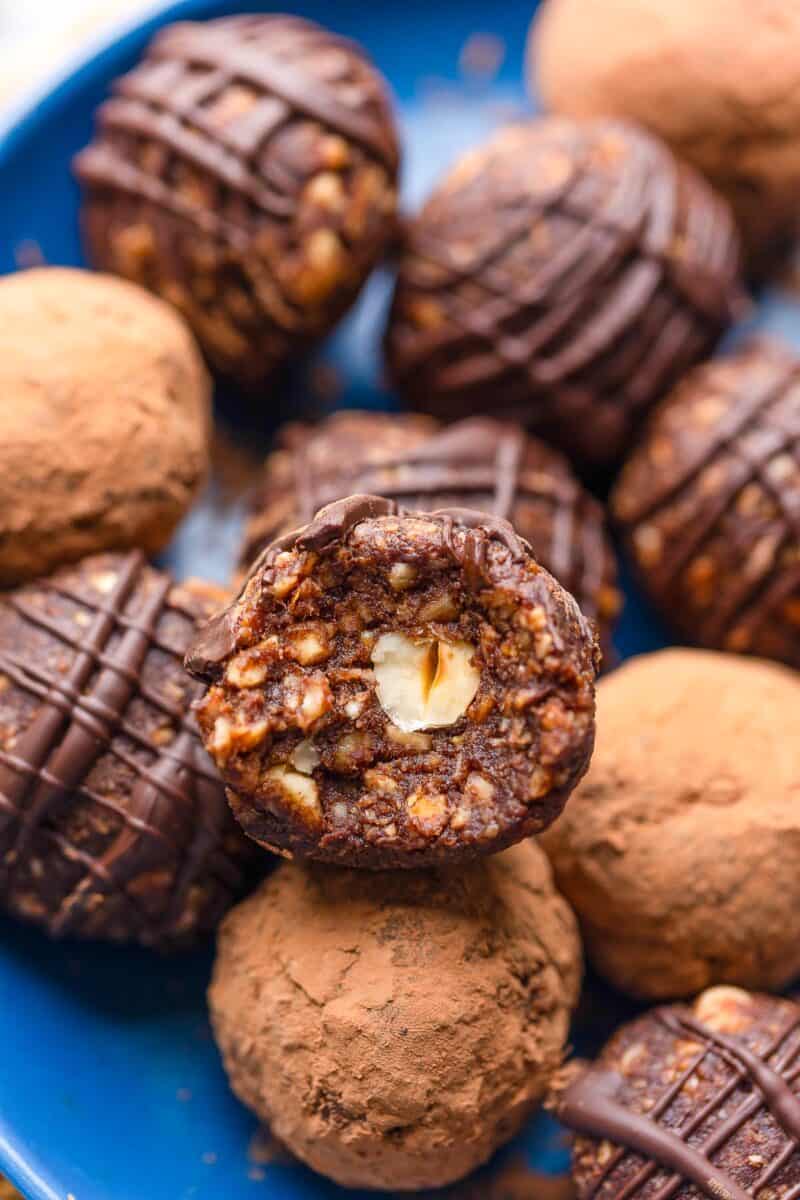 If you like chocolate and dates together, make sure you also check out my chocolate covered dates!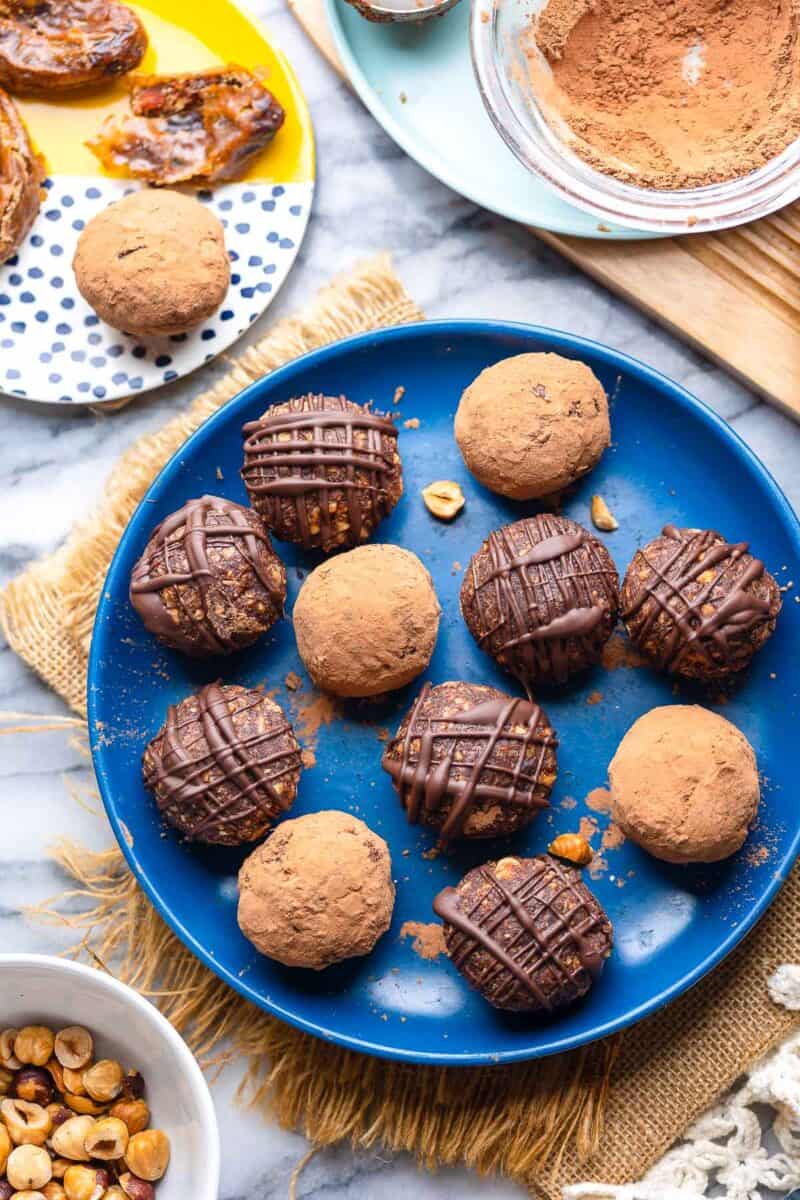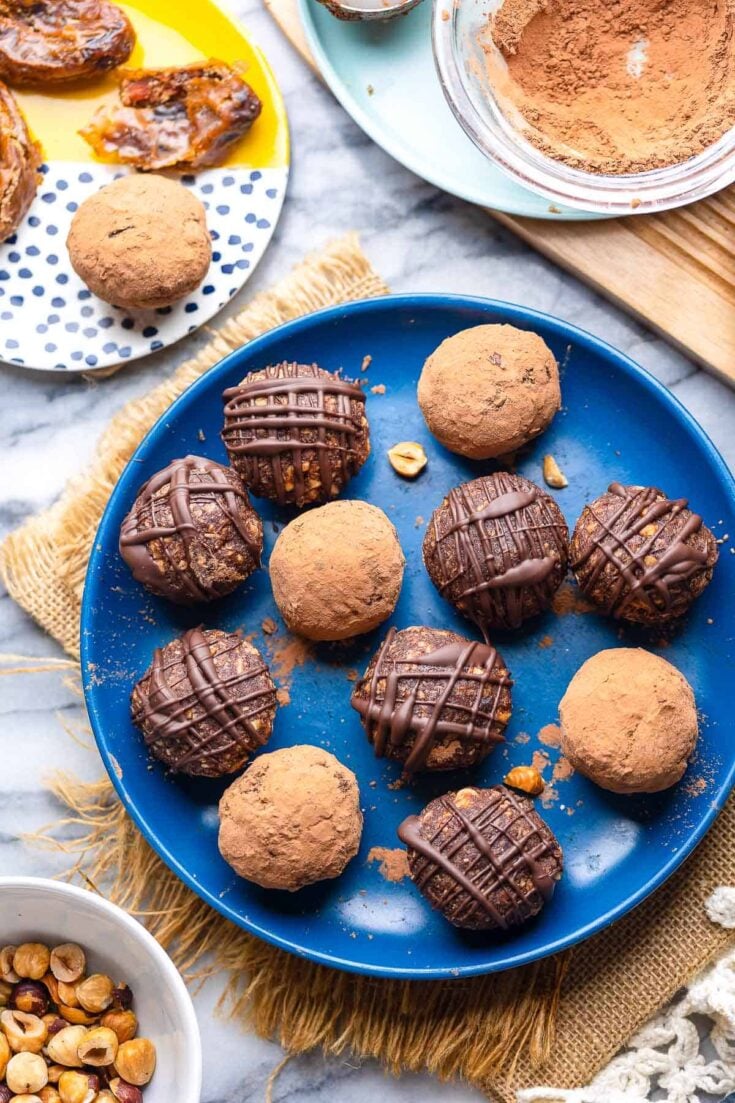 Recipe
Chocolatey Hazelnut Date Balls
Yield:
12 balls
Prep Time:
10 minutes
Cook Time:
15 minutes
Total Time:
25 minutes
Like a healthy Ferrero Rocher Truffle without all the added junk! Enjoy as is or finish off with a chocolate drizzle of dusting of cocoa powder! | Paleo + Vegan
Ingredients
2 cups raw hazlenuts, whole (270g)
pinch of kosher salt
3 tablespoons unsweetened cocoa powder (20 g)
12 medjool dates, pits removed
1/2 teaspoon vanilla extract
Optional Topping
1/4 cup cocoa powder for rolling (30 g)
1/3 cup dairy free chocolate chips or chopped chunks (60 g)
1 teaspoon coconut oil
Instructions
Roast

Preheat oven to 350°F (180°C).
Add the hazelnuts to a large baking sheet and toss with a pinch of salt. Spread out in a single layer then place in the middle of the oven and roast for 10-12 minutes. About 5-6 minutes through the roasting, take the pan out and give it a gentle shake to shift the nuts around. When the hazelnuts are done, they should smell fragrant and toast-y. Keep an eye on the oven in the final few minutes to make sure nuts don't darken and burn too much.
Remove from the oven, place the nuts in the middle of a clean kitchen towel and wrap up for a minute to steam. Rub the nuts in the towel to loosen the skins. Some skin may be left intact - that's ok! Optional: Save 10 nuts to press into the balls when rolling.

Blend

Add the roasted nuts and cocoa powder to a high powered blender or food processor. Pulse together for about 30-60 seconds or until the nuts have broken down into a gritty texture.
Add the dates and blend again until the dates have broken down and blended into the nut mixture. You should end up with a crumbly looking mixture that sticks together when pressed.If the mixture is too dry and doesn't stick, add a tablespoon or two of water until it does stick. If it's too wet, add a tablespoon or two of cocoa powder to balance it out.
Scoop out heaping tablespoons worth of dough (about 40 grams) and roll into balls. Optional: press 1 hazelnut into the center of each ball.

Finish (optional)

With cocoa powder: add the cocoa to a small, shallow bowl then roll the date balls in the cocoa.
With a chocolate drizzle: Place chocolate and coconut oil in a microwave safe bowl. Melt in 30 second increments whisking after each segment until the chocolate is completely melted and smooth. Cool to room temperature the dip the balls in chocolate or use a spoon/fork to drizzle over the top of the balls. Place on a piece of baking paper until the chocolate is set and enjoy.
This website provides approximate nutrition information for convenience and as a courtesy only. Nutrition data is gathered primarily from the USDA Food Composition Database, whenever available, or otherwise other online calculators.
Enjoy!
I hope you enjoy these Chocolatey Hazelnut Date Balls as much as we have!
If you're interested in more easy snack ball recipes, you may want to check out some of my other recipes below: