Easy to make, yet deliciously indulgent! Chocolate covered dates make for a rewarding treat few ingredients and little effort. Spruce them up with added nuts, seeds, butters, and additional flavors or keep it simple with the chocolate coating.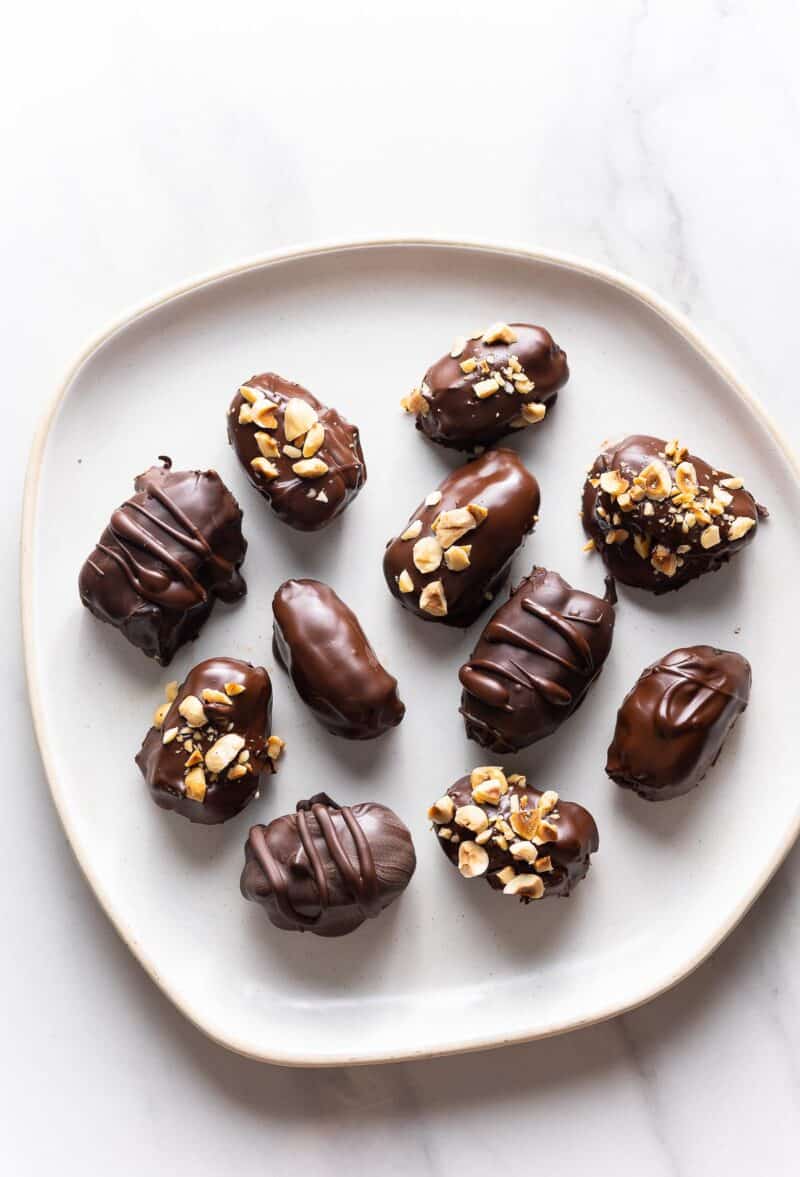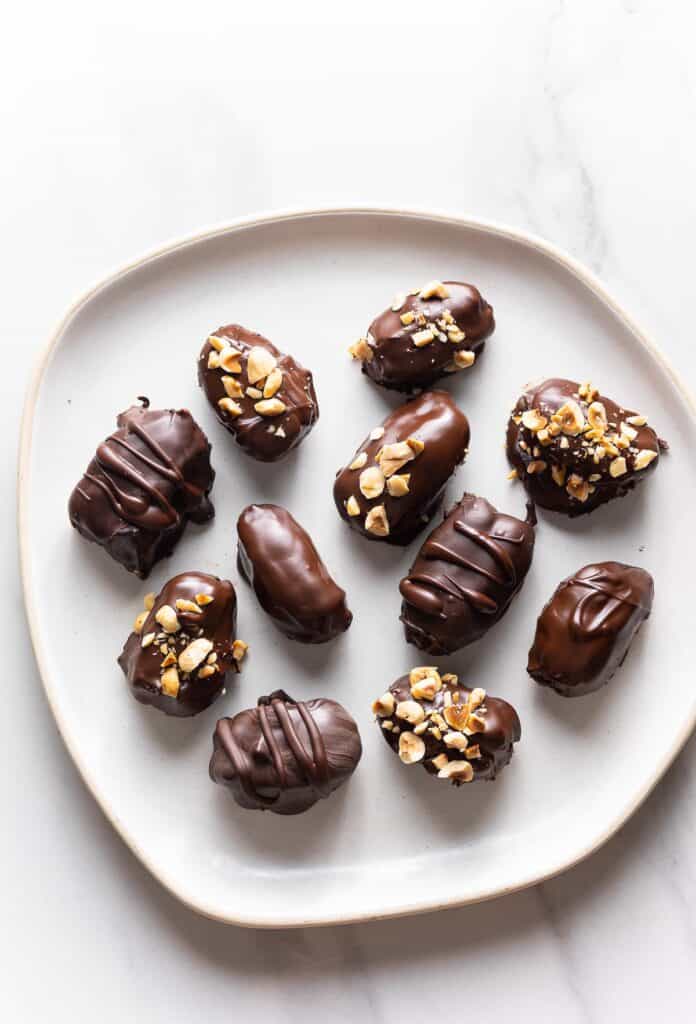 ❤️Chocolate Covered Dates❤️
There are so many things to love about chocolate covered dates! Let's list a few here:
Simple ingredients: You only really need 2 ingredients to make these chocolate dates. The fillings and toppings take the dates to a new level, but they really are fantastic all on their own!
A delicious treat with a healthy spin: Dates are nature's candy. They're soft, sweet and naturally sweet. Medjool dates are a rich source of fiber and are linked with a number of different health benefits.
Easy, no bake treat: Aside from melting a bit of chocolate these dates come together quickly and easily in little time and effort.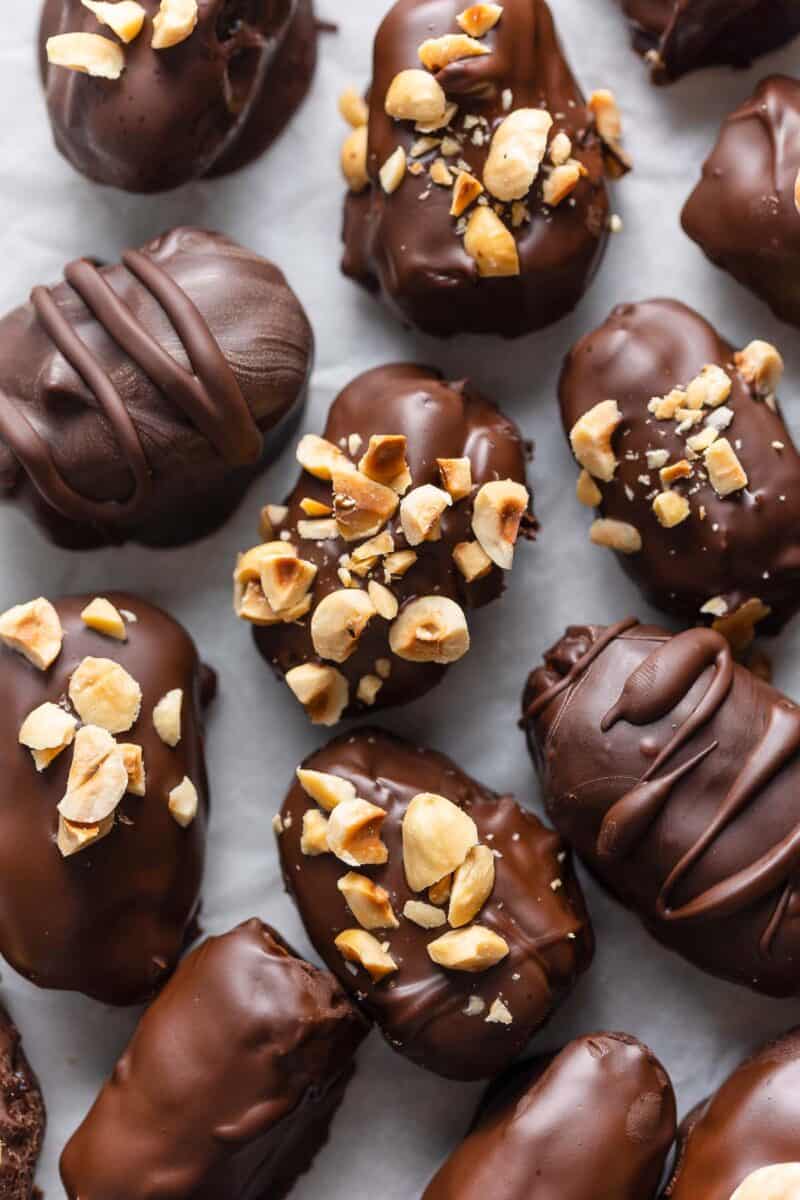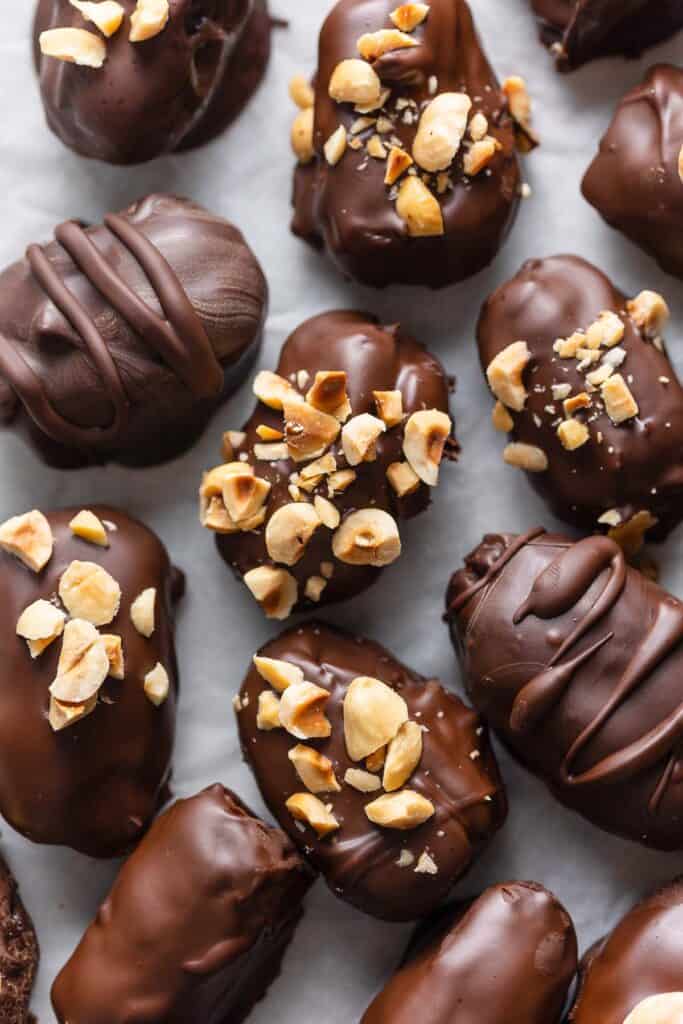 What to Do
Summed up in simple steps:
Melt the chocolate.
Line a baking with with parchment paper then set aside.
Cut the dates in down the middle and remove the seeds.
Add your choice of stuffing or leave empty then dip into melted chocolate.
Transfer dates to the lined baking sheet and rest until the chocolate solidifies.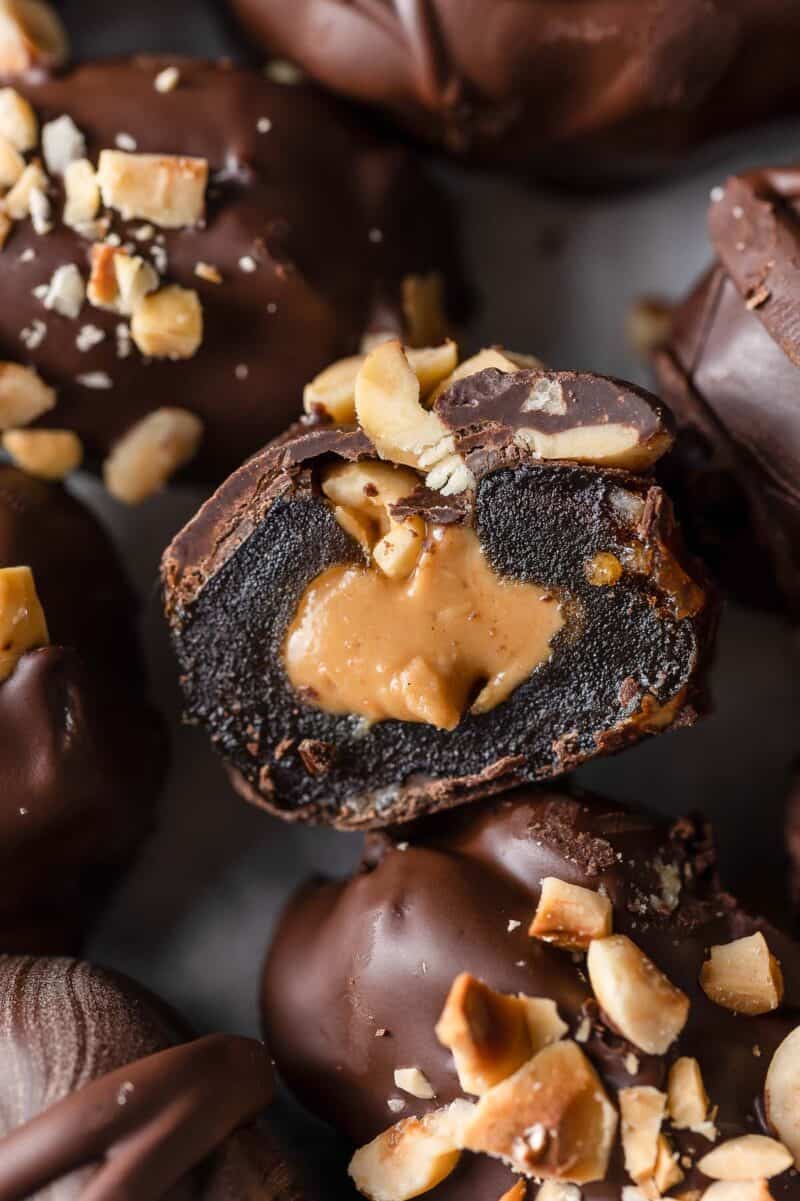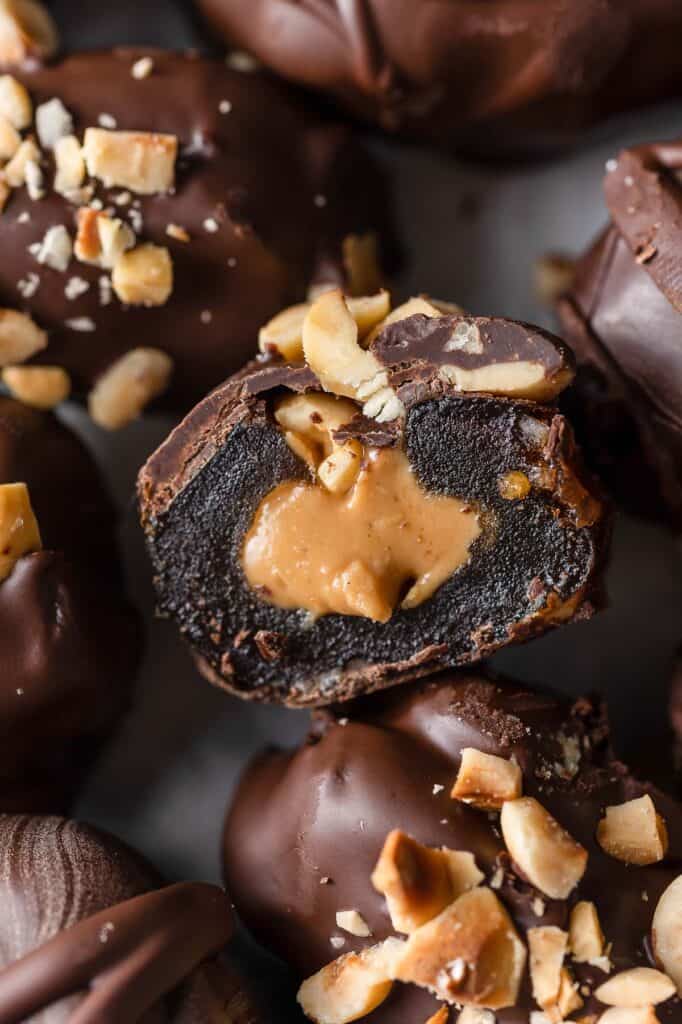 How to Melt Chocolate
| Microwave | Double Broil |
| --- | --- |
| Place chopped chocolate or chocolate chips in a microwave-safe bowl. | Fill a small pot with 1-2 inches of water. Place a heat-safe bowl over the pot. Make sure the sides of the bowl form a seal with the sides of the pot and the water does not touch the bottom of the bowl. |
| Microwave for 30 seconds then stop and stir. | Warm over a medium heat. Stir the chocolate as it starts to melt until fully melted. |
| Continue microwaving and stirring in 10 second intervals, internal until fully melted. | Remove the bowl from the heat. Wipe off condensation around the sides. |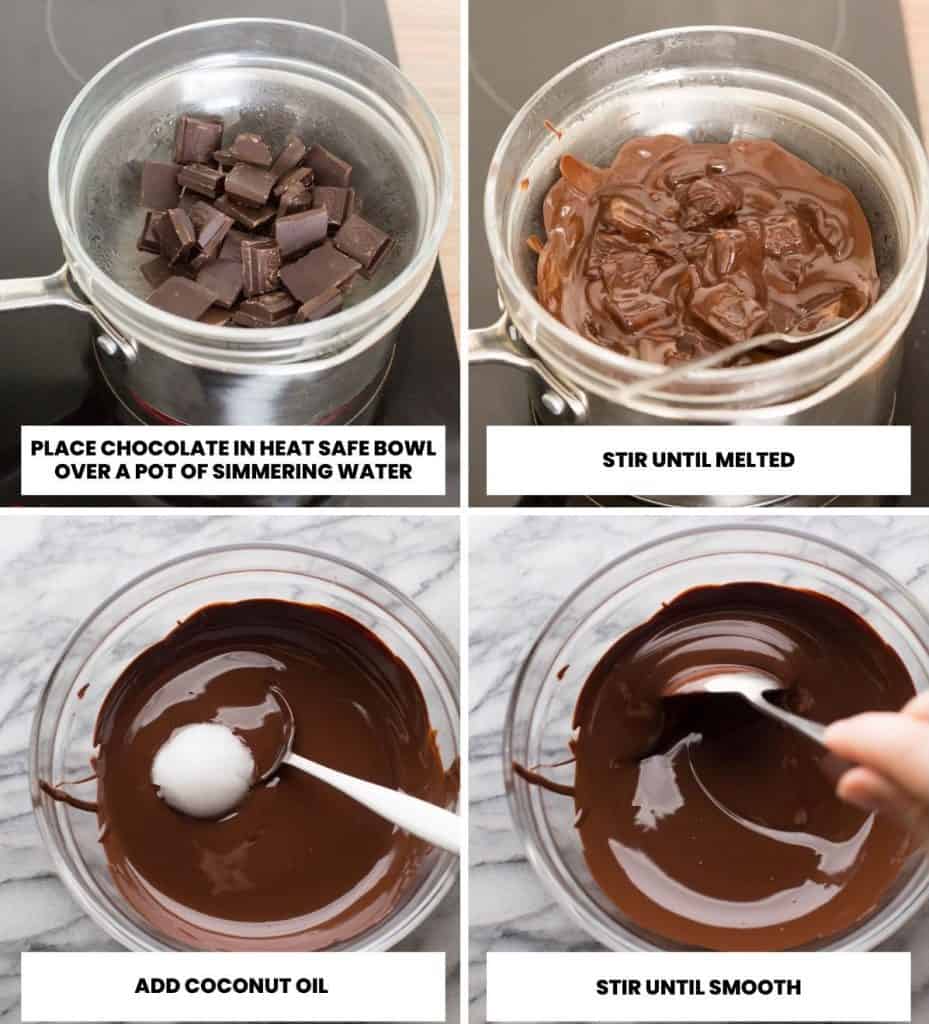 Dates
Use large medjool dates if you can.
They are bigger, softer and chewier than most other types of dates. The size makes medjool dates easier to stuff and the softness makes them easier to eat as a no-bake snack.
If medjool dates aren't available, try Deglet Noor dates. They're smaller, slimmer and not as soft, but the deep caramel flavor works great here.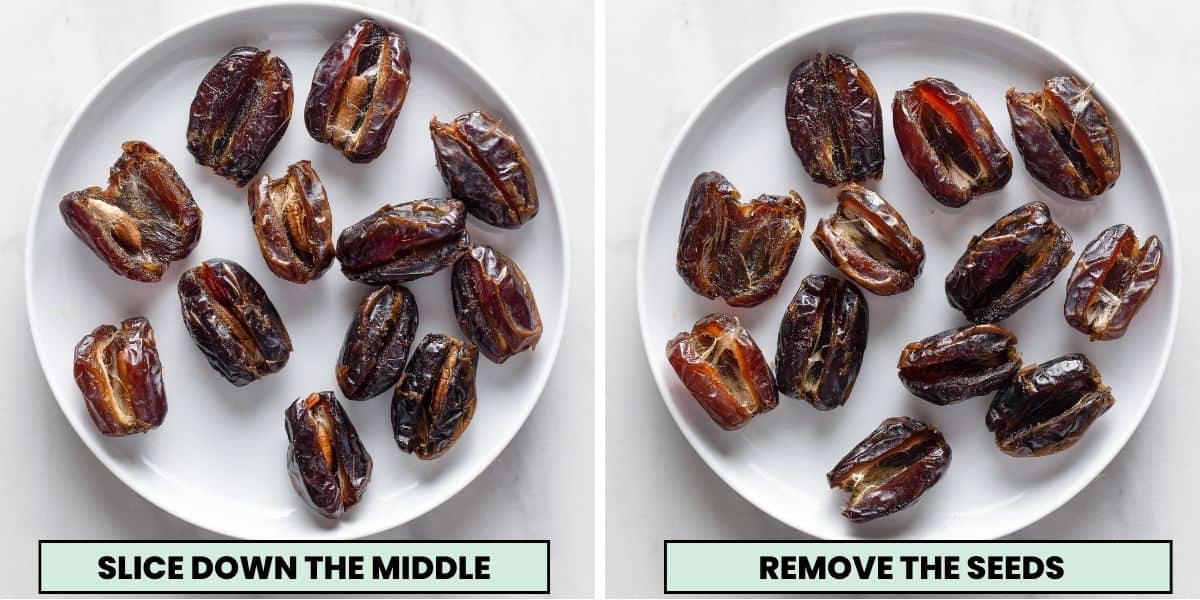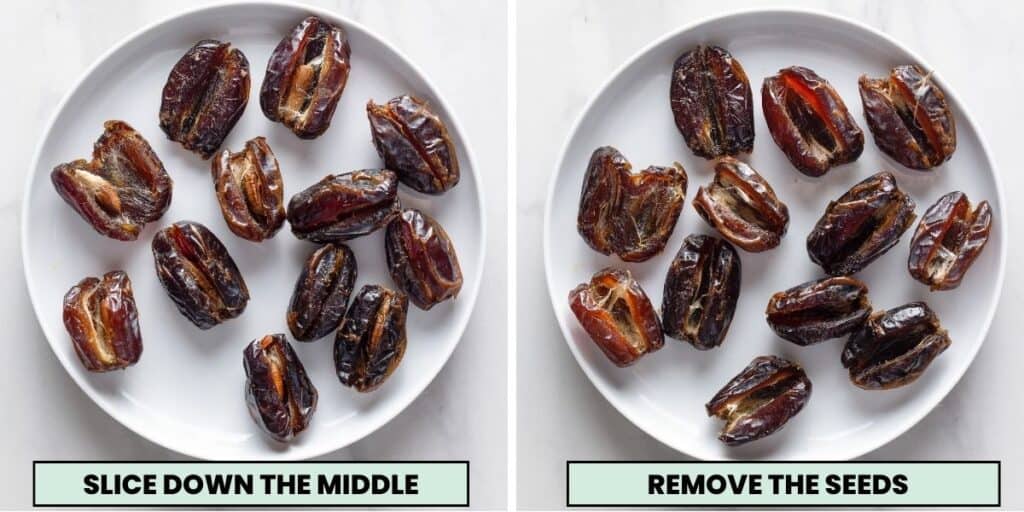 Ideas for More Fillings & Flavors
This is where you can get as creative as you'd like with your chocolate-covered dates! Fill them up with nuts, nut butters and all sorts, or keep it simple with just a chocolate shell.
Snickers Bar: Stuff dates with peanut butter and chopped peanuts.
Healthy Ferrero Rocher: Add a hazelnut butter and whole hazelnut to the middle. Sprinkle the top with chopped hazelnuts.
Chocolate Orange: Add orange extract or food grade orange oil (1/4 tsp) or finely grated orange zest to the melted chocolate. This flavor is great with almond butter and/or whole almonds in the middle.
White Chocolate: Use in place of semi-sweet/ dark chocolate or melt a little extra to drizzle over the top for a tuxedo-like look. Any type of chocolate will work.
Nut Free: Swap the nut butter for sunflower seed butter, pumpkin seed butter and omit the nuts if you have a nut allergy.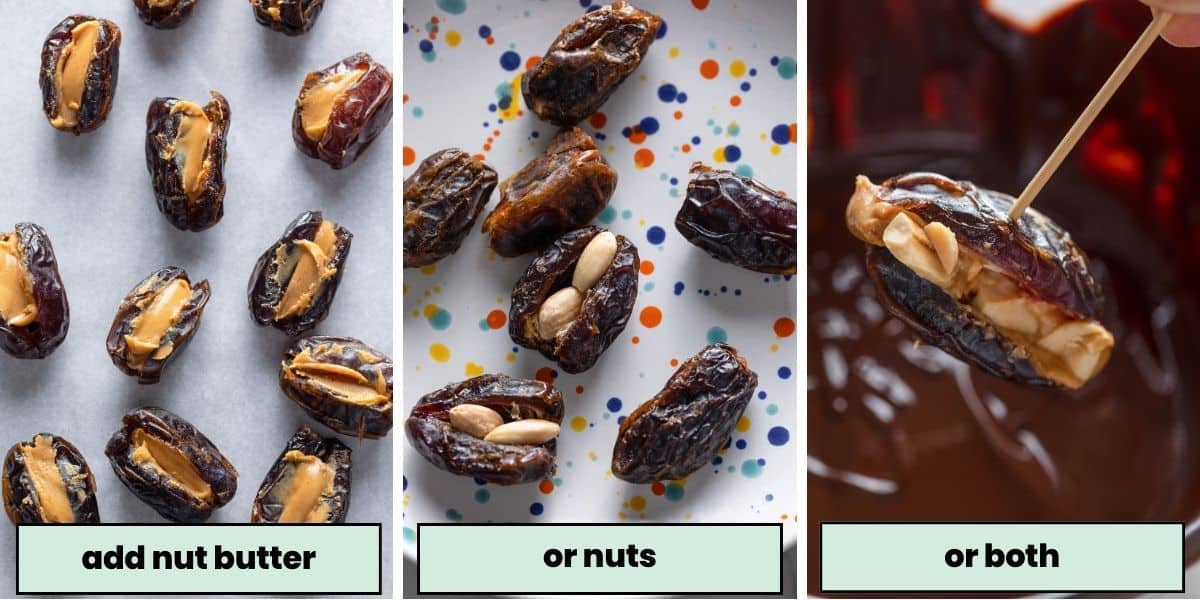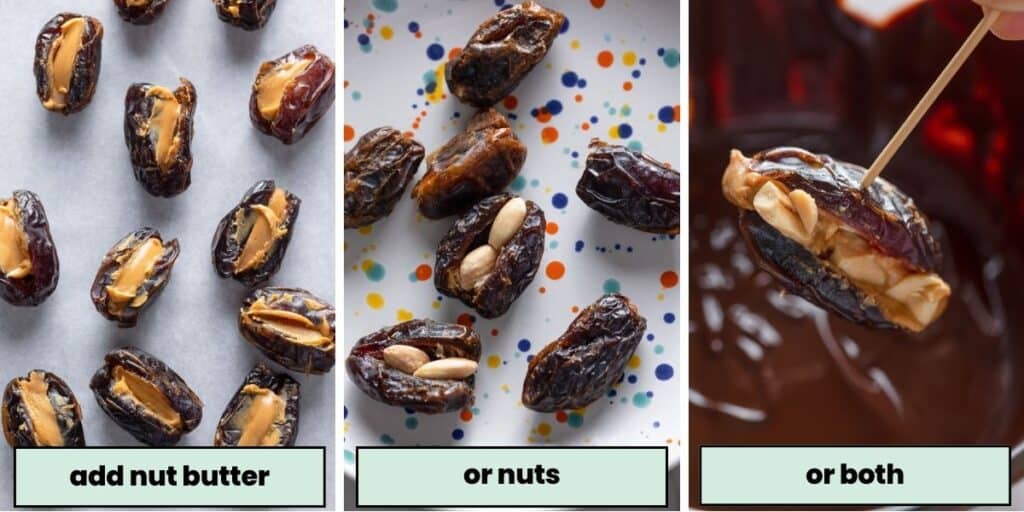 Storage & Freezing
Once dried, pack the dates up in an airtight container and store in the fridge for about a week.
You can freeze the chocolate covered dates to keep even longer.
Simply freeze the baking sheet for about 30 minutes until solid, then place them in a freezer-safe bag. Dates will keep in the freezer up to three months. Let them defrost in the fridge a few hours before biting into them.
Keep in mind that defrosted chocolate will 'sweat' as it defrosts as the water and condensation comes to the surface. It might not look as good, but it's still totally fine to eat!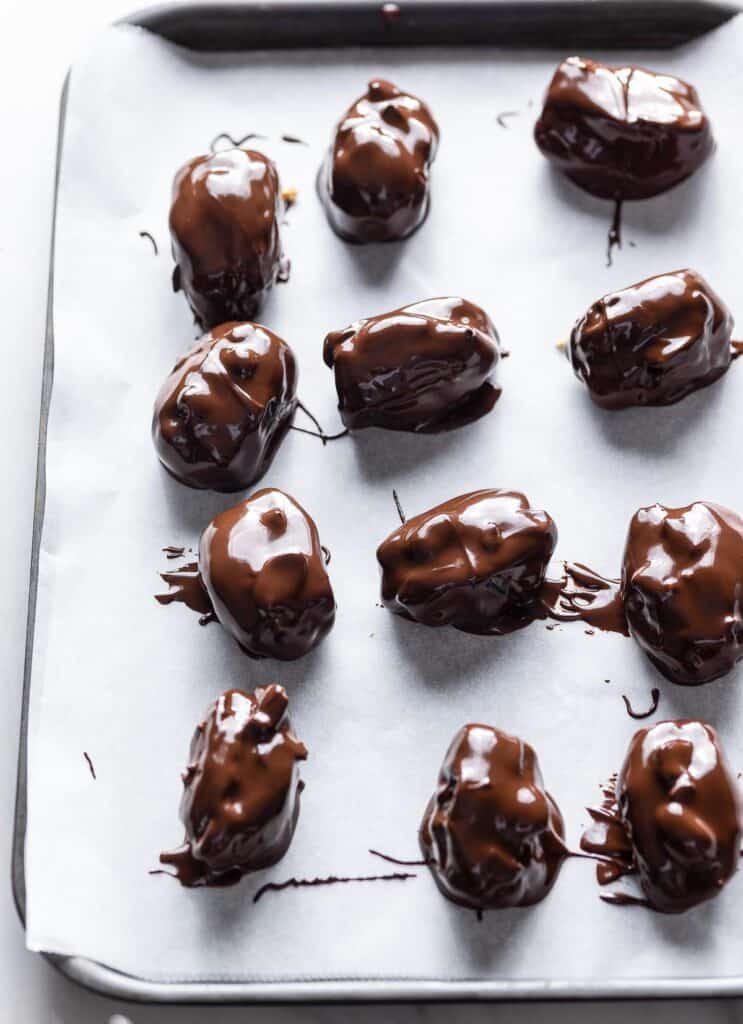 More Date Recipes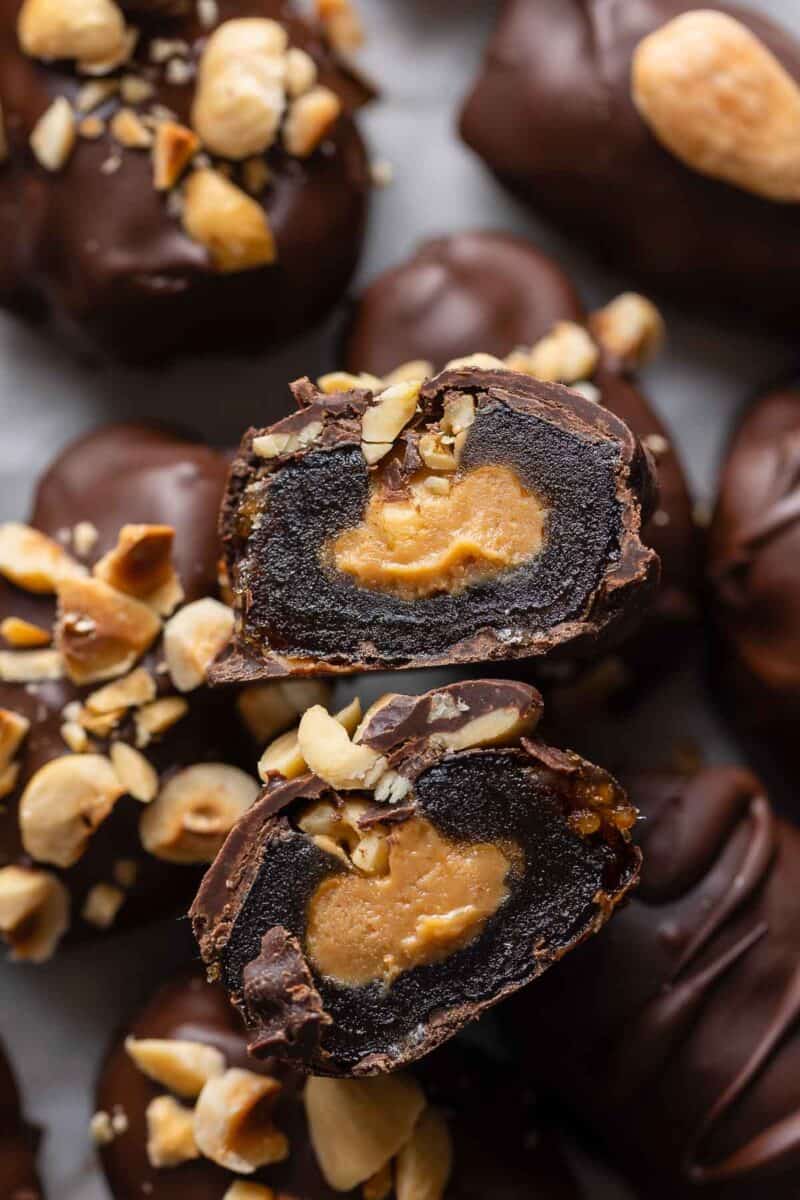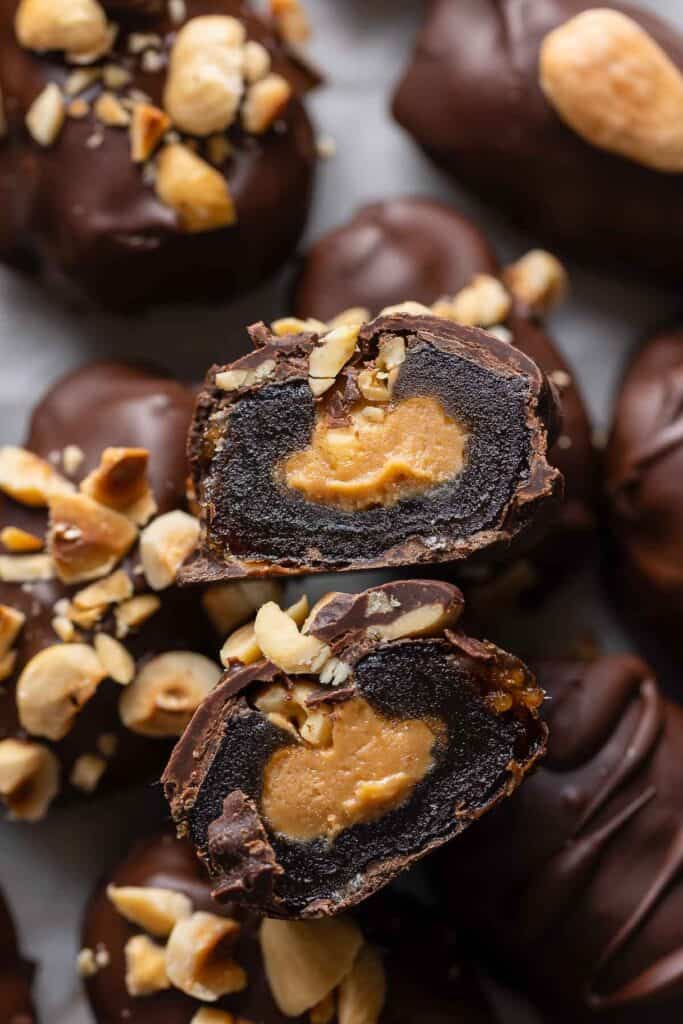 Enjoy!
Let me know if you try these Chocolate Covered Dates! Leave a comment and review with your thoughts. I always appreciate the feedback and serving suggestions that you come up with!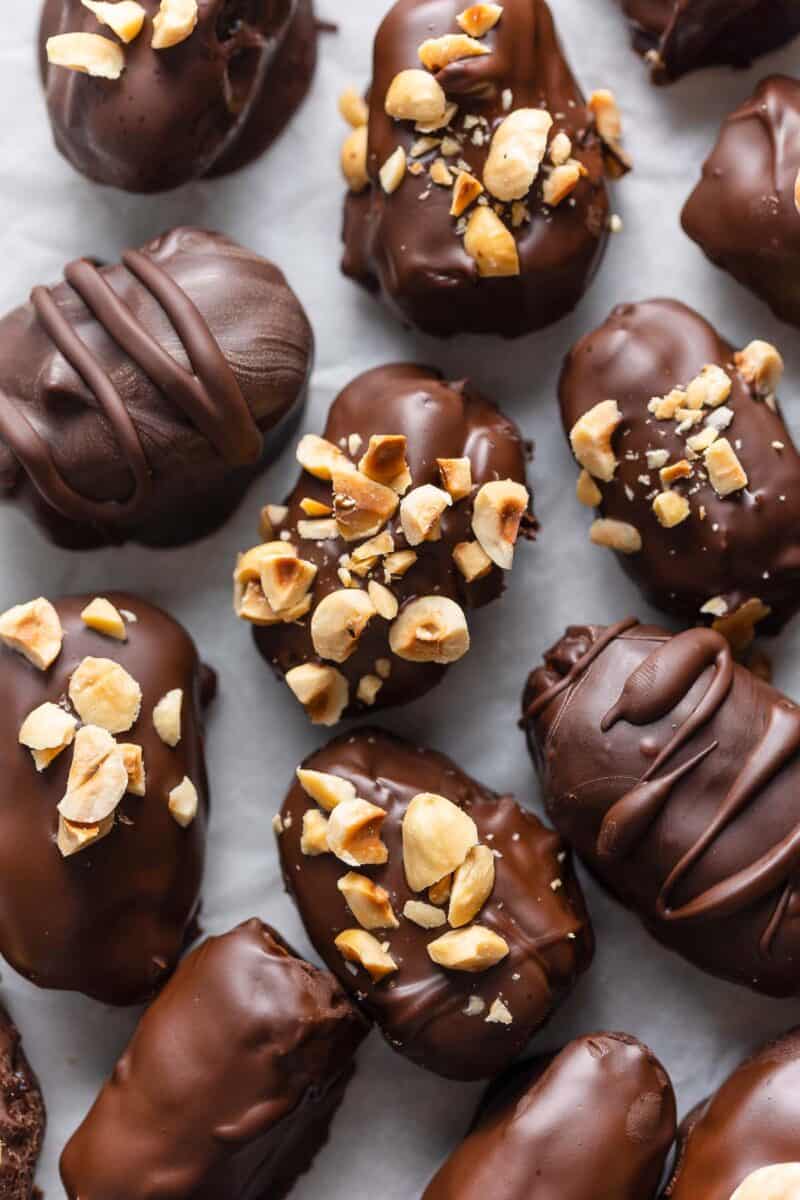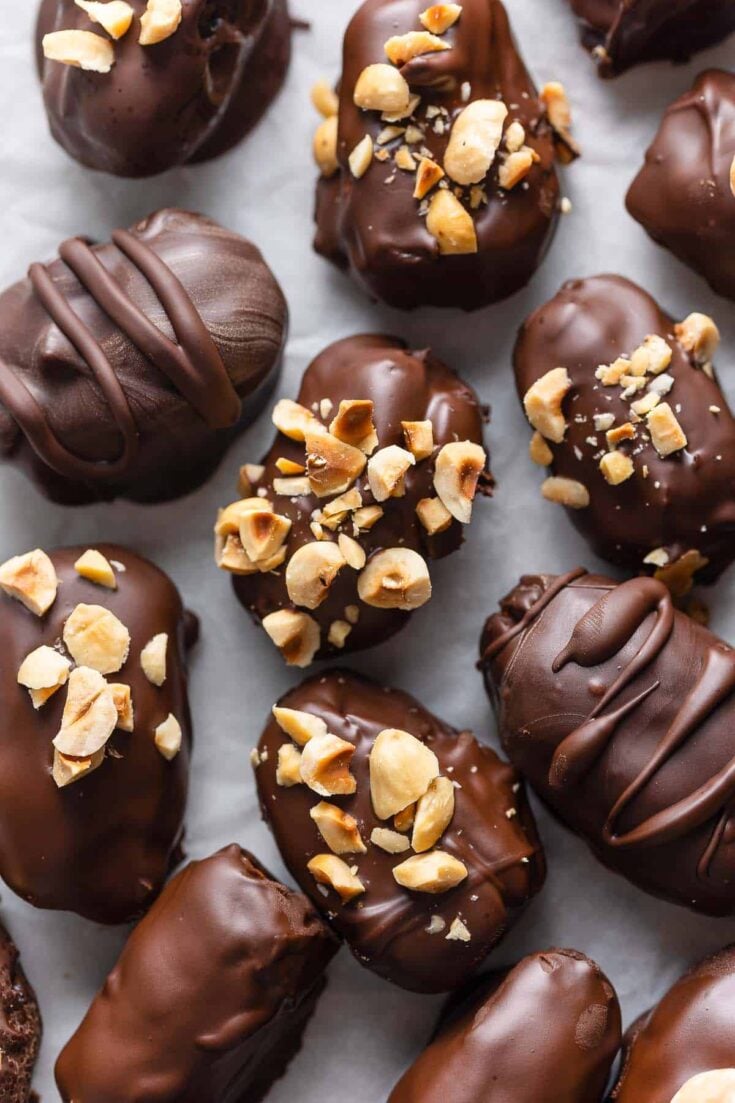 Recipe
Chocolate Covered Dates
Yield:
12 dates
Prep Time:
20 minutes
Cook Time:
5 minutes
Additional Time:
30 minutes
Total Time:
55 minutes
Spruce them up with added nuts, seeds, butters, etc or keep it simple with the chocolate coating.
Ingredients
6 ounces dark chocolate, chopped or chips
1 teaspoon coconut oil
12 medjool dates
Optional Fillings
1/4 cup nut butter (peanut, hazelnut, almond, etc)
1/4 cup nuts or seeds (roasted nuts are ideal)
Instructions
Melt Chocolate
Place a small or medium sauce pan with 1-2 inches water on the stove top.
Place a heat proof-bowl over the top of the pan. The bowl should fit over the top and not fall into the pot. Make sure the bottom of the bowl doesn't touch the water. Add chocolate.
Warm over a medium heat. Stir often as the chocolate melts until completely melted then remove the bowl from the pan. Use a kitchen towel to wipe the condensation off the bottom and sides.
Stir in coconut oil then set aside to cool as you prepare the dates.
Dates
Line a small baking sheet with a piece of parchment paper. Set aside.
Cut a slice down the length of each date. Remove and discard the seeds. Set aside.
Add 1/4 teaspoon nut butter to the middle of each date. Press 1 or 2 nuts into the butter (if using) then gently pinch the dates together to hold the filling.
One at a time, lower a date into the melted chocolate on a fork. Use a spoon to pour chocolate over the top until fully coated. Lift up and let the excess chocolate drip back into the bowl. Transfer to the lined baking sheet. Repeat with remaining dates.
Optional: Sprinkle a few chopped nuts over the top of the dates while the chocolate is still wet. If there is excess chocolate still in the bowl, drizzle it over the dates as they cool.
Place the baking sheet in the fridge for about 30 minutes until the chocolate has set.
Enjoy right away or transfer to an airtight container. Keep in the fridge up to a week or freeze up to three months.
Notes
Make sure not to let any water come in contact with the chocolate or it will 'sieze' up and become gritty.
I recommend using toasted nuts over raw.
I prefer dark chocolate here as the dates are sweet already, but feel free to use whatever kind of chocolate you like: milk chocolate, white, semi-sweet chocolate chips, etc.
This website provides approximate nutrition information for convenience and as a courtesy only. Nutrition data is gathered primarily from the USDA Food Composition Database, whenever available, or otherwise other online calculators.