Oven cooked sweet and savory Balsamic Glazed Chicken Legs with hints of fresh rosemary. Paleo & Low FODMAP.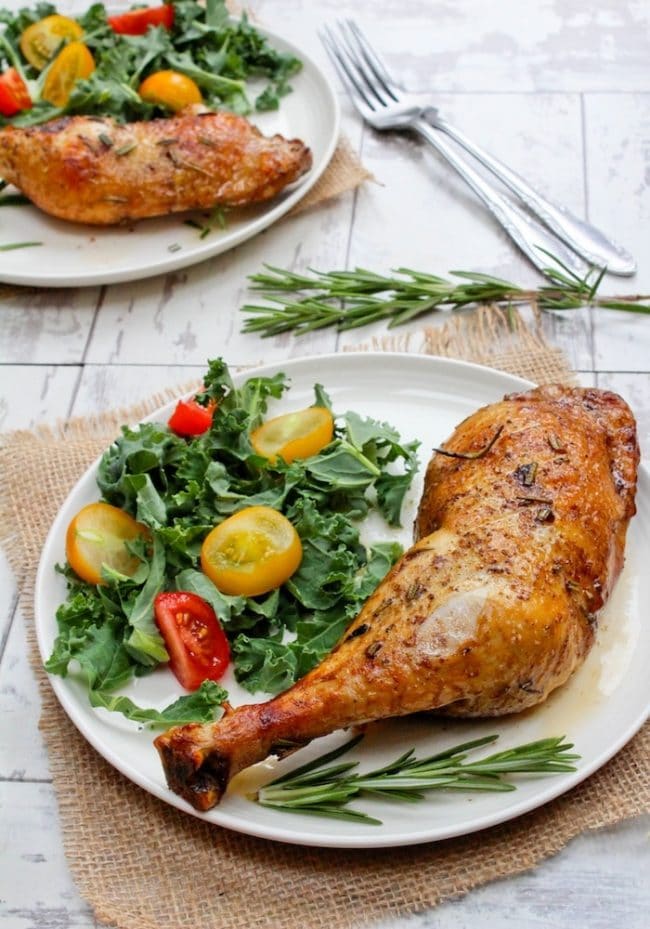 Food allergies are a total bitch. I'm just going to go ahead and say it because there are no two ways about it. #sorrynotsorry. And I'm not even the one who has any sort of food intolerance- Mike is.
It's one thing to eat gluten free but it's another beast entirely to eat low FODMAP. Life was so much easier when gluten was the only thing that I needed to worry about when I cooked. It wasn't until he had to take a round of strong antibiotics that his stomach officially decided to hate him. After that point there was a period of about six months where meat and potatoes were basically the only foods that Mike could eat without causing physical pain. No vegetables. No fruit. No dairy. No nothing. It stresses me out just thinking that anyone could go that long without eating something green, but that was where we were at.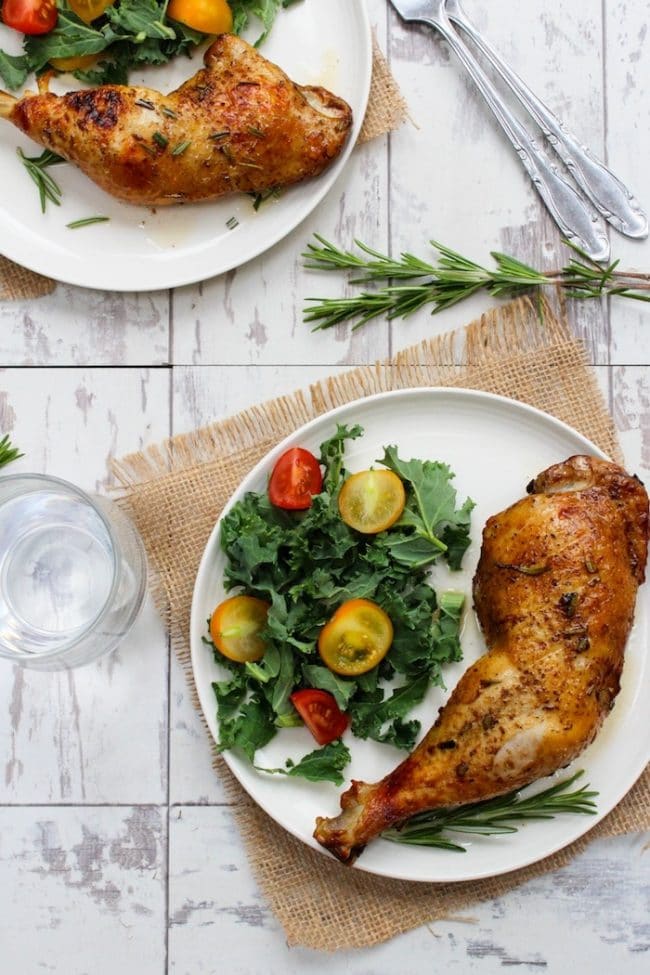 It's wasn't until he started taking a medical grade probiotic called VSL#3 that has helped to repopulate the good bacteria in his gut that he could start introducing regular foods back into his diet again. That has helped immensely, but we've also since adopted a Low FODMAP diet to help speed up the whole gut healing process. I'm not going to pretend to be an expert about the diet, so you can head on over to this website here if you want to read more about it. Basically what you should know is that about 70% of people with IBS improve their symptoms after trying it. Also that it sucks because there are so many foods that are off limits because they are high FODMAP. Boo. HOWEVER it's not a forever diet and usually the fact that you feel better for it makes up for the fact that avocados are a no go for a while.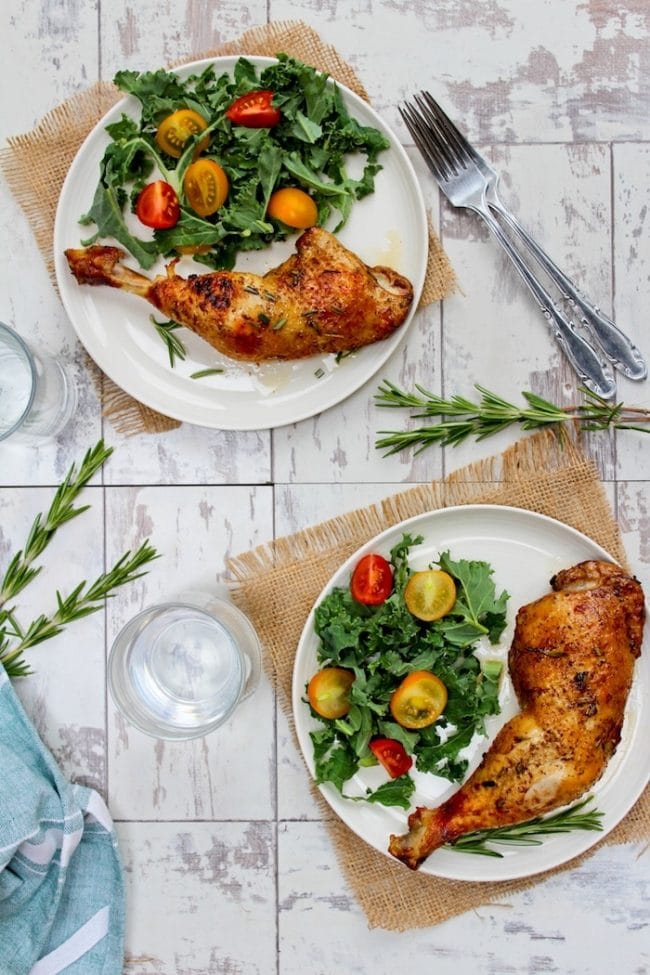 So why am I telling you all of this? Well. As I mentioned earlier – food intolerances are a major pain in the you-know-what. I feel like there are so many times when simple recipes get over complicated because I try to make it FODMAP friendly (and usually Paleo too). Making dinner can be stressful enough without tacking on a laundry list of things that it should not include.
What I love about this recipe for Balsamic Glazed Chicken Legs is that it is simple, yet delicious. Chicken legs (and thighs) are like the unsung heros of the poultry realm. They're cheap, versatile, and difficult to get wrong. Did I mention they make for delicious meals?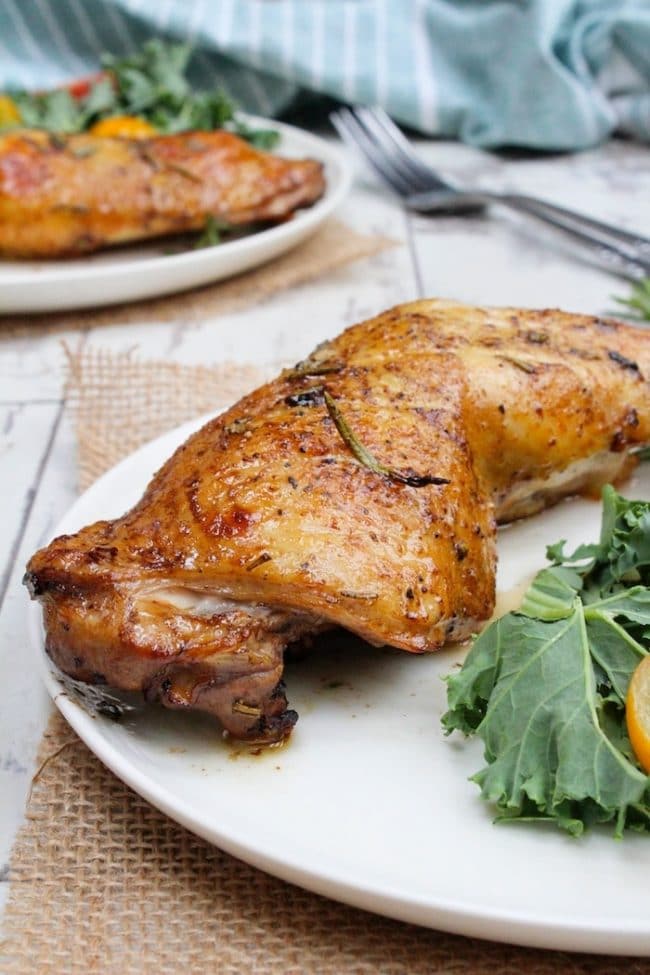 The hands on prep for these chicken legs is almost nothing – just enough time to quickly mix the glaze, seal everything off in a plastic bag so that it can marinate for 30 minutes, and then place it on a baking rack to cool. That's it – you're done.
Say hello to our new weekly staple of Balsamic Glazed Chicken Legs. These are too good to have just once!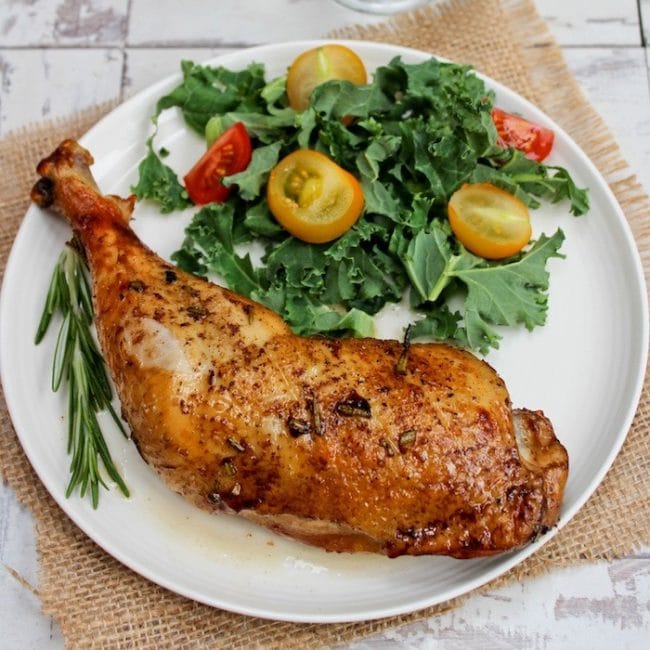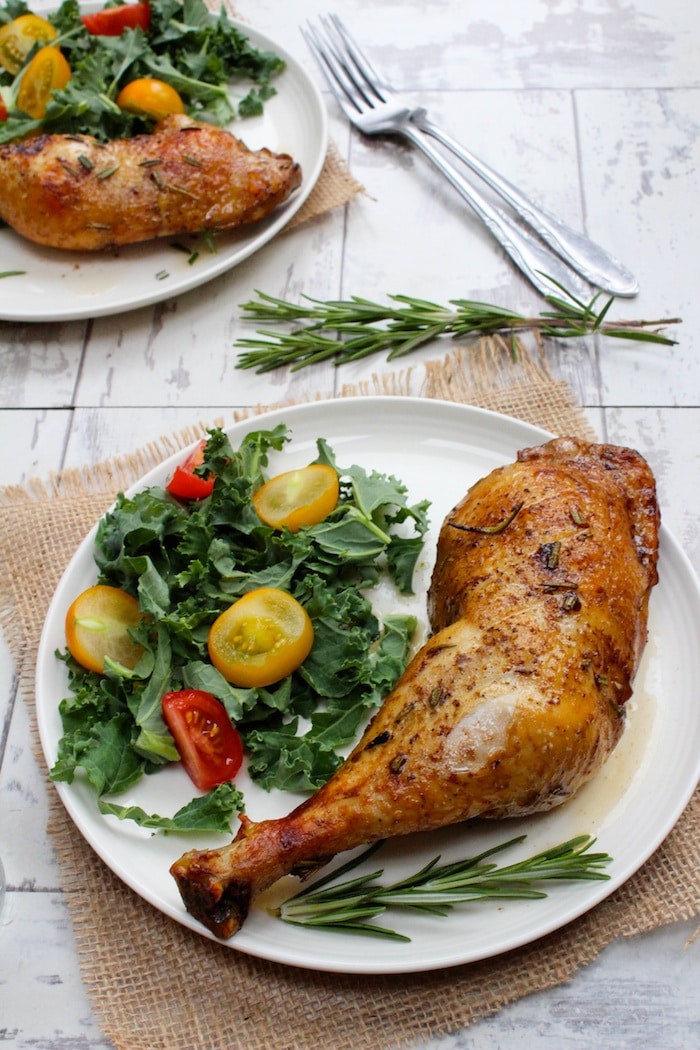 Recipe
Balsamic Glazed Chicken Legs
Yield:
2 servings
Prep Time:
5 minutes
Cook Time:
45 minutes
Total Time:
50 minutes
Oven cooked sweet and savory Balsamic Glazed Chicken Legs with hints of fresh rosemary. Paleo & Low FODMAP.
Ingredients
2 Bone in Skin on Chicken Legs, (or 4 drumsticks/thighs)
1/2 cup garlic infused olive oil*
1/4 cup balsamic vinegar
1 tablespoon mustard, (make sure it's gluten free)
1 tablespoon maple syrup
1 tablespoon freshly chopped rosemary
salt & pepper to your taste
Instructions
In a small mixing bowl combine everything except for the chicken and mix together until the oil and vinegar are combined.
Place the chicken legs in a large ziplock bag, pour the marinade on top and seal the bag. Gently toss the mixture in the bag to ensure that everything is coated. Refrigerate for at least 30 minutes.
Preheat the oven to 400°F/200°C. Place a wire rack on top of a cookie sheet, then place the chicken legs onto the rack skin side down. Bake for about 25 minutes then flip the legs and bake an additional 20 minutes or until the internal temperature is 165°F/75°C.
Allow the chicken to cool slightly and then enjoy.
Notes
* If you don't need to eat Low Fodmap/don't have garlic infused oil you can just use regular olive oil and add one clove of crushed garlic instead
Nutrition Information
Yield:

2
Serving Size:
g
Calories:

709
Saturated Fat:

7g
Sodium:

94mg
Carbohydrates:

43g
Fiber:

3g
Sugar:

14g
Protein:

3g
This website provides approximate nutrition information for convenience and as a courtesy only. Nutrition data is gathered primarily from the USDA Food Composition Database, whenever available, or otherwise other online calculators.