Simple ingredients come together to make the BEST Cilantro Lime Marinated Chicken. It's bright, zesty and mouthwatering delicious!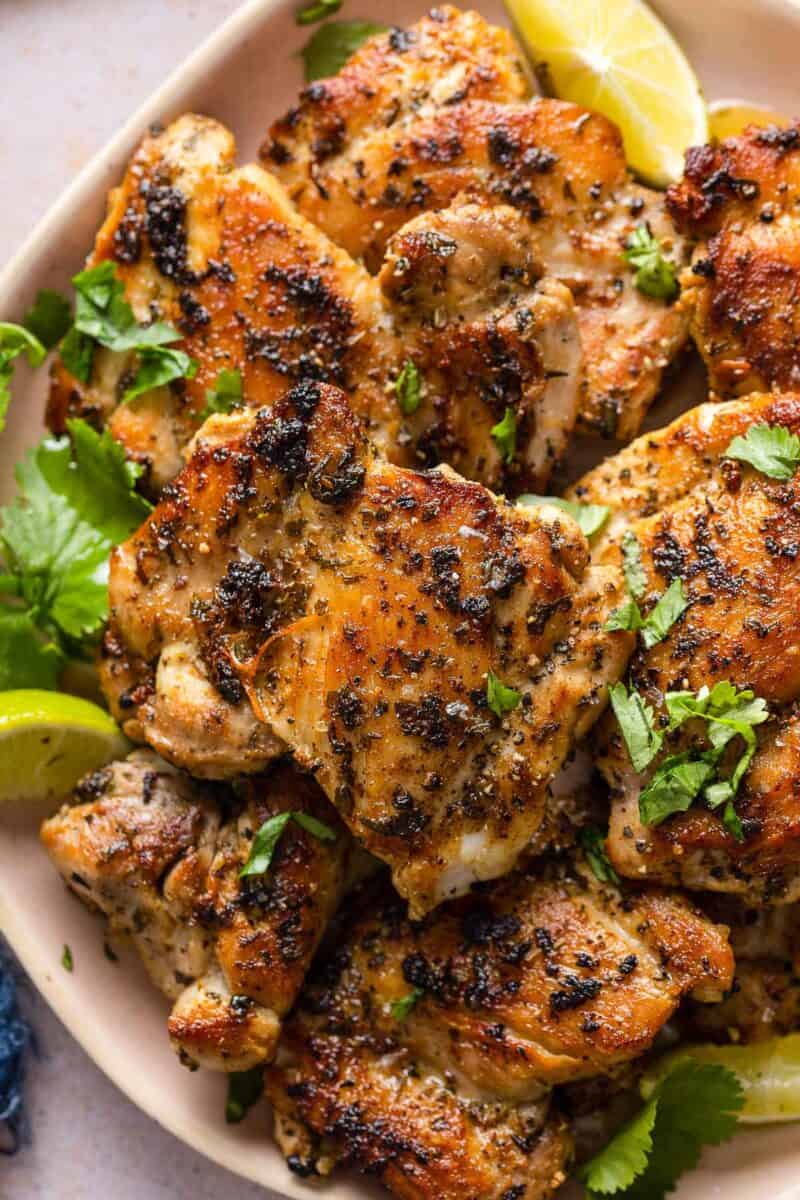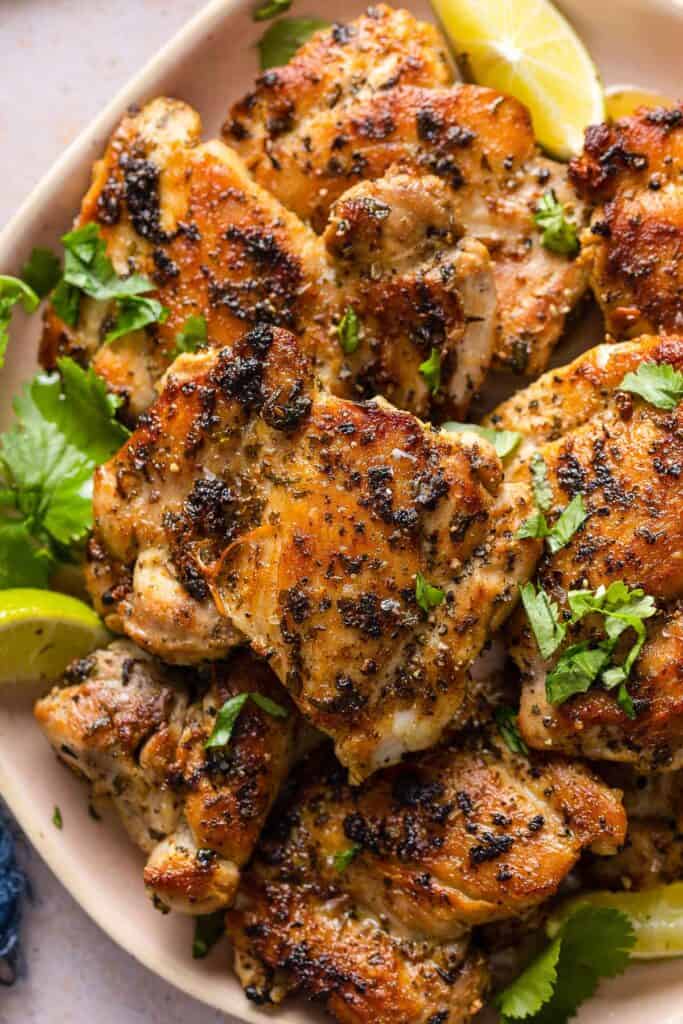 Cilantro Lime Marinated Chicken
Altogether this is a super simple recipe made with barely more than a handful of ingredients and yet it still manages to pack in a tons of flavor!
Marinade Ingredients
Extra-Virgin Olive Oil
Fresh Lime Juice
Fresh Cilantro
Cumin
Oregano
Salt & Pepper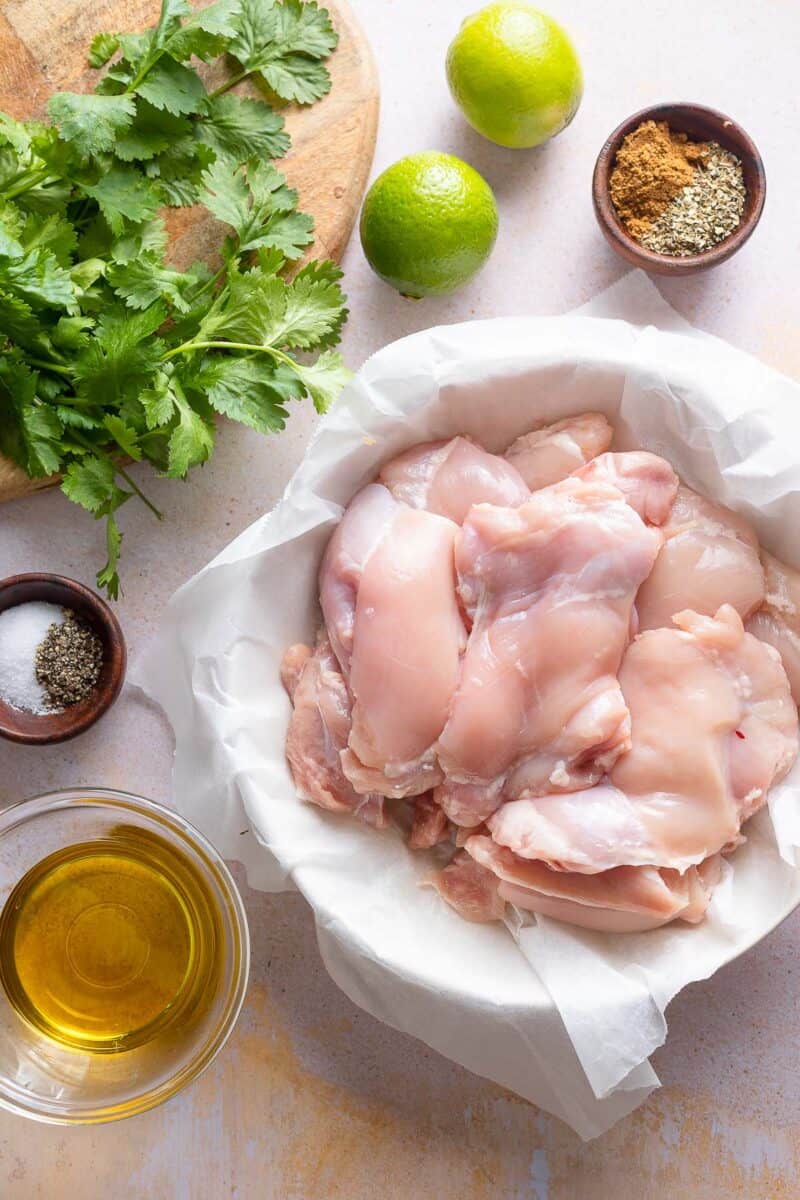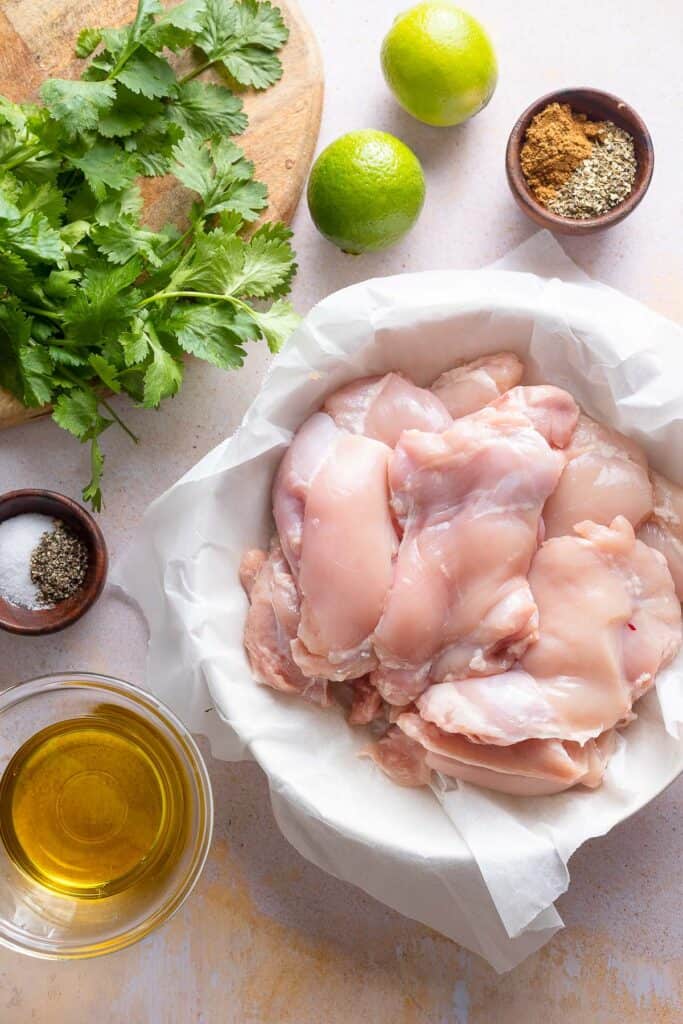 Marinade Prep
Combine marinade ingredients in a large bowl or ziplock bag.
Add raw chicken and toss to fully coat then cover and marinate.
If marinating longer than 30 minutes keep in the fridge. Make sure to let the chicken rest about 15 minutes before cooking so it gets up to room temp.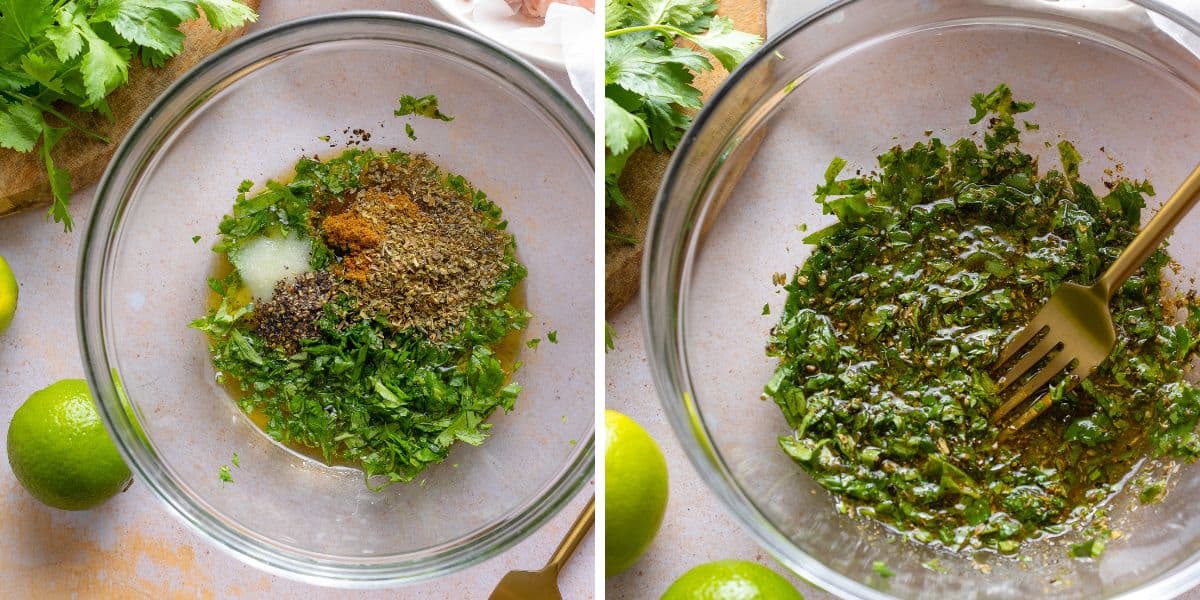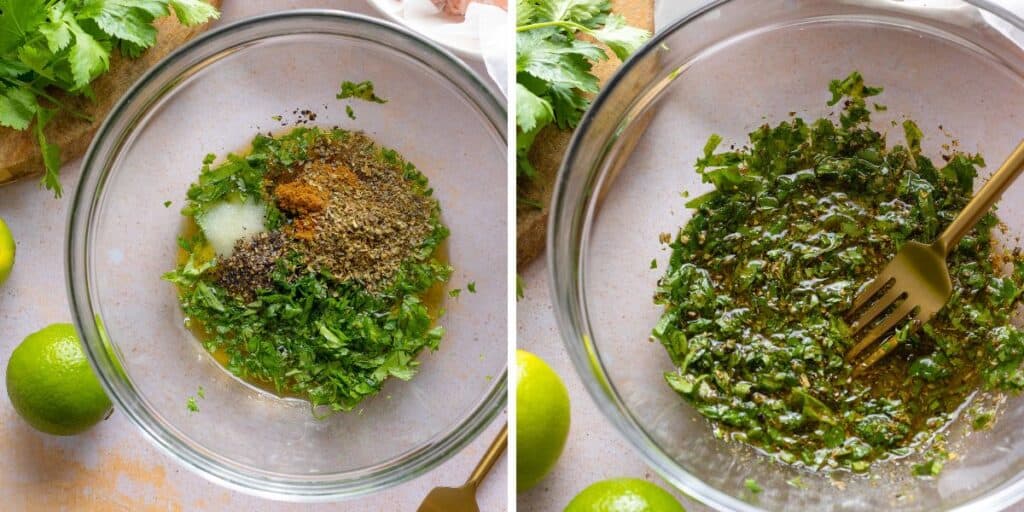 How Long To Marinate?
At a minimum: 30 minutes. At a maximum: 6 hours
Max time depends on type of chicken. White meat (breast) will need less than time dark meat (thighs, wings and legs).
chicken breast: 30 minutes to 2 hours
chicken legs, thighs, drumsticks, wings: 30 minutes to 4 hours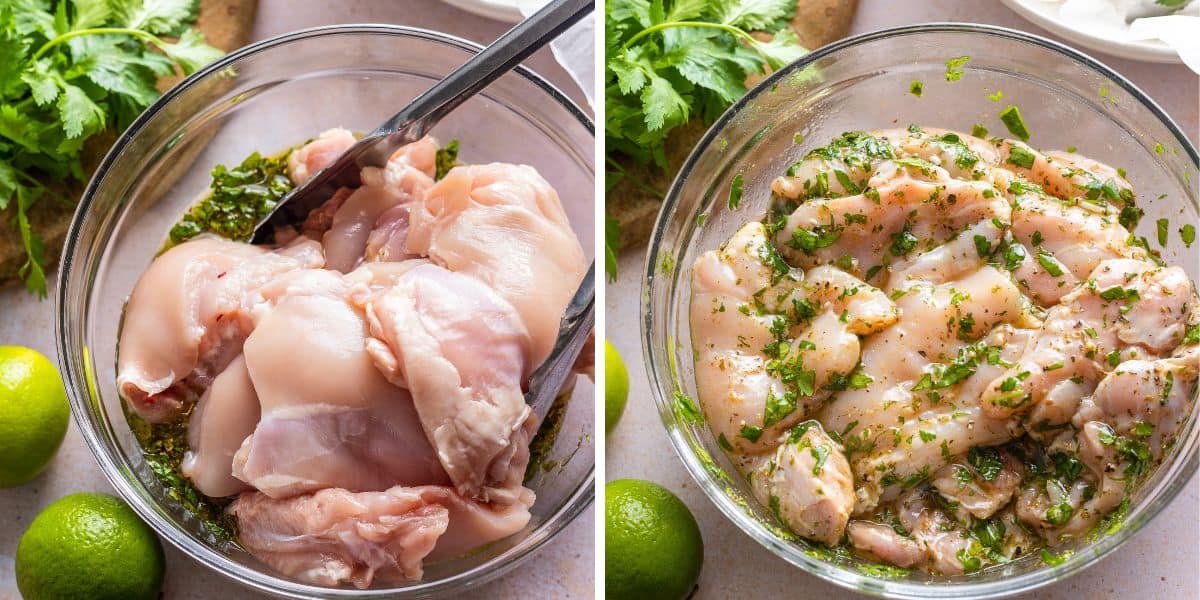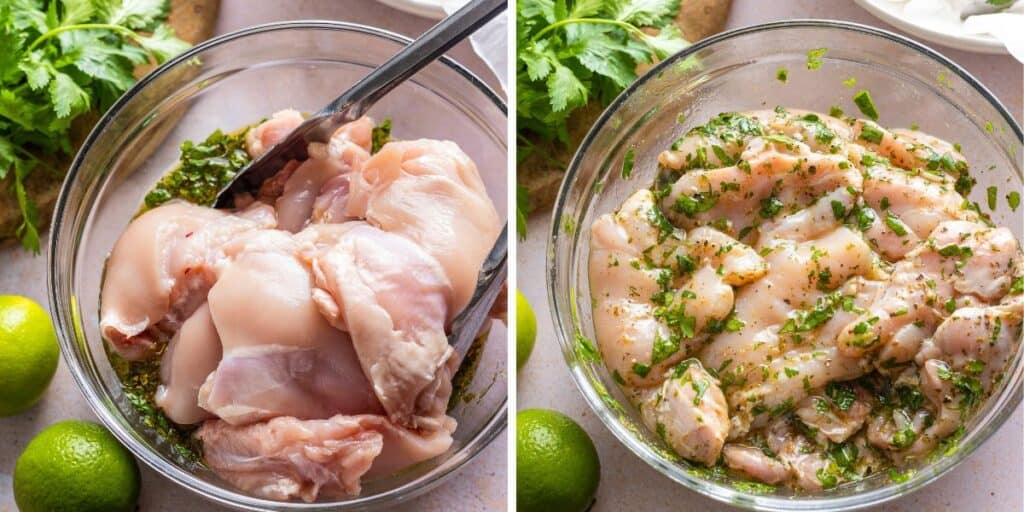 Grill, Bake or Fry It
Outdoor Grill
Cook time will vary depending on grill, style and chef, so use your go to methods depending on your cut of meat.
If using boneless cuts of chicken, flatten the meat to an even thickness before marinating so it cooks evenly on the grill.
Bake
Boneless thighs: Bake at 400°/200°C for about 30 minutes or until cooked through.
Bone-in chicken thighs and drumsticks: Bake at 400°/200°C 40-45 minutes.
Chicken breast: Bake at 400°/200°C 20-25 minutes.
For skin on thighs: Broil 1-2 minutes at the end for crispy skin.
Stove Top
Use a well seasoned cast iron pan for a nice char.
Make sure your frying pan is fully heated to a medium-high heat before adding the meat to get a nice sear on the outside.
For skin-on chicken, place the meat, skin side down first. Leave space in between chicken pieces so the skin has room to crisp up.
Use a grill pan if you want to have grill marks, but make sure it's well oiled.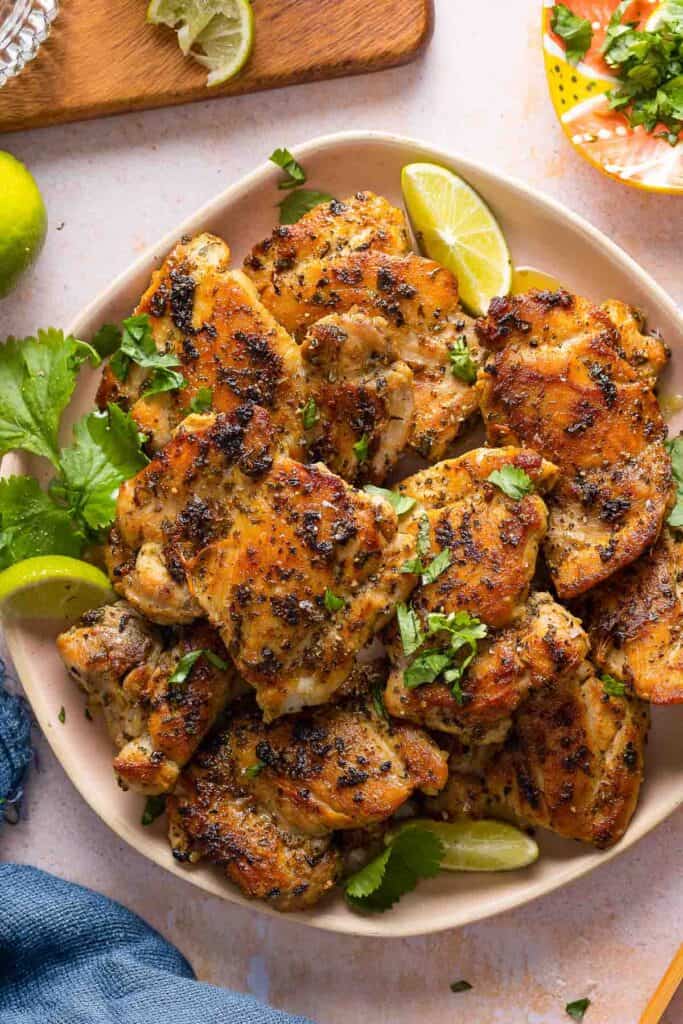 Recipe Tip:
Invest in an instant-read thermometer.

For best results, use a meat thermometer will ensure juicy chicken that's cooked just right. Always make sure to check at the thickest part of the the thigh or breast.

Chicken breast internal temperature should be 165°F (74°C).
Chicken thighs are best around 195°F (190°C).
Temperature Guidelines for Chicken Thighs & Drumsticks
| Temperature | Quality | Notes |
| --- | --- | --- |
| 165°F (74°C) | Good | Minimum temperature recommended for poultry by the USDA. |
| 175°F (80°C) | Better | Tender and cooked through, but still clings to the bone. |
| 195°F (90°C) | Best | Meat is juicy, succulent and easily comes off the bone. |
| +210°F (99°C) | Too Much | Past this temperature the chicken becomes stringy and flavors diminishes. |
More Easy Chicken Recipes to Check out
Still on the lookout for easy weeknight dinners? Take a look at these recipes next!
Enjoy!
Add to burrito bowls, in a salad, with a side of black beans, tucked into a fresh tortilla, or simply over a bed of white rice. There are so many different ways to enjoy this recipe!
Let me know if you try this cilantro lime chicken recipe! Leave a comment and review with your thoughts. I always appreciate the feedback and serving suggestions that you come up with!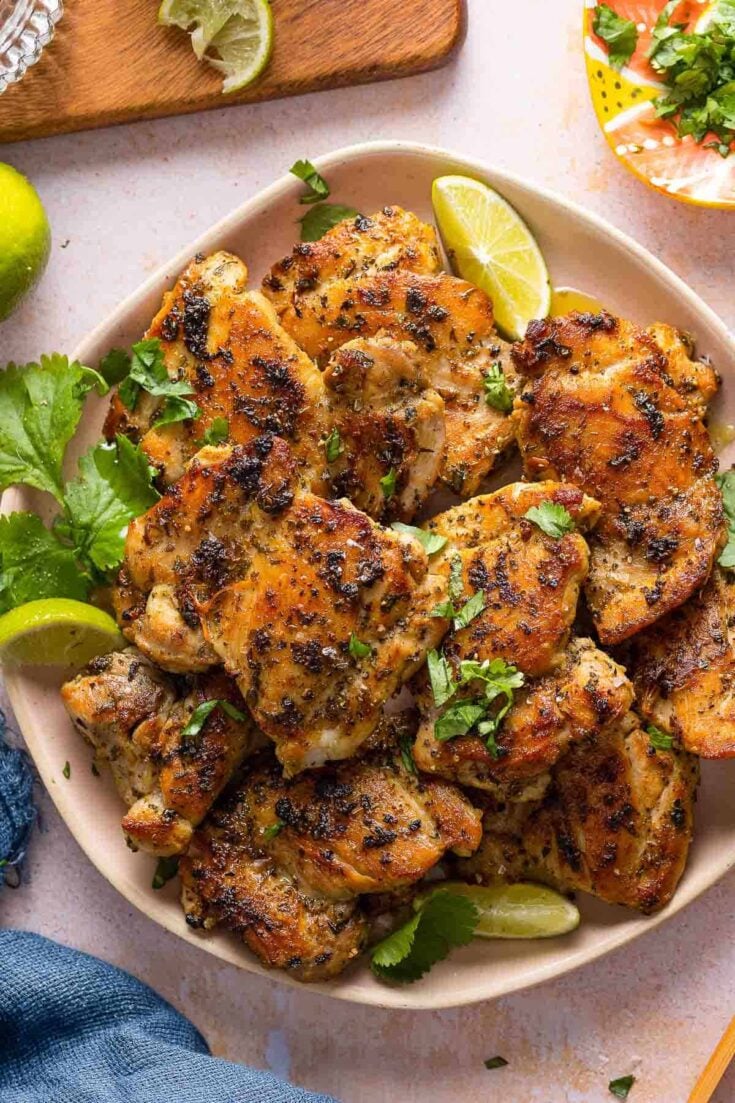 Recipe
Cilantro Lime Marinated Chicken
Yield:
8 servings
Prep Time:
10 minutes
Cook Time:
20 minutes
Additional Time:
30 minutes
Total Time:
30 minutes
Juicy chicken thighs marinated in a bright and zesty cilantro lime marinade.
Ingredients
3 extra virgin olive oil (45ml)
3 tablespoons fresh lime juice (45ml)
1/4 cup fresh cilantro, chopped
1 teaspoon salt, cumin and oregano, each
1/2 teaspoon black pepper
2-3 pounds boneless, skinless chicken thighs, (see notes for cooking breasts or bone-in thighs)
Instructions
Whisk together all of the ingredients (except chicken) in a large bowl or zip-lock bag until combined.
Add the chicken and mix until fully coated in marinade. Cover bowl or seal zip top bag. Let marinate for at least 30 minutes and up to 6 hours. If marinating longer than 30 minutes, place in the fridge until needed.
Warm a large skillet or cast iron pan over a medium-high heat. Add enough cooking oil to coat the bottom of the pan.
When the oil is hot, add the chicken. Let cook, undisturbed for about 8-10 minutes. Flip over each thigh and cook on the other side for another 10-12 minutes or until the chicken is cooked through (internal temp should be at least 165°F/74°C).
Remove from the pan. Let the chicken rest a few minutes before serving and enjoy. Serve with fresh cilantro and lime wedges on the side if desired.
Cool leftover chicken to room temperature then store in an airtight container in the fridge. Keeps up to 3 days.
Notes
If you're leaving the chicken to marinate in the refrigerator, make sure to take it out of the fridge about 20 minutes before cooking to let it come up to room temperature.
Internal Temperature: 165°F/74°C is the minimum temperature required for food safety, but for dark meat like thighs and legs, aim for 195°F/90°C for a richer flavor.
Make it with chicken breasts: cook about 7-8 minutes on one side without flipping until browned, then flip and cook about 5-7 minutes until cooked through. Or bake in oven for 20-25 minutes at 400°F/200°C.
Bake boneless, thighs in oven: Spread across a large baking dish and bake at 400°F/200°C for about 30-35 minutes or until cooked through.
Bake bone-in, thighs in oven: Spread across a large baking dish and bake at 400°F/200°C for about 25-30 minutes then flip over and bake another 20 minutes or until cooked through. If skin is on, bake skin-side down first, then flip over halfway through.
This website provides approximate nutrition information for convenience and as a courtesy only. Nutrition data is gathered primarily from the USDA Food Composition Database, whenever available, or otherwise other online calculators.