Simple ingredients and classic Greek flavors make for a mouthwateringly delicious flavor and a marinade you can whip up in no time! Made with bright and zesty lemon, punchy garlic and a few herbs and spices. You'll love this easy Greek Marinated Chicken recipe!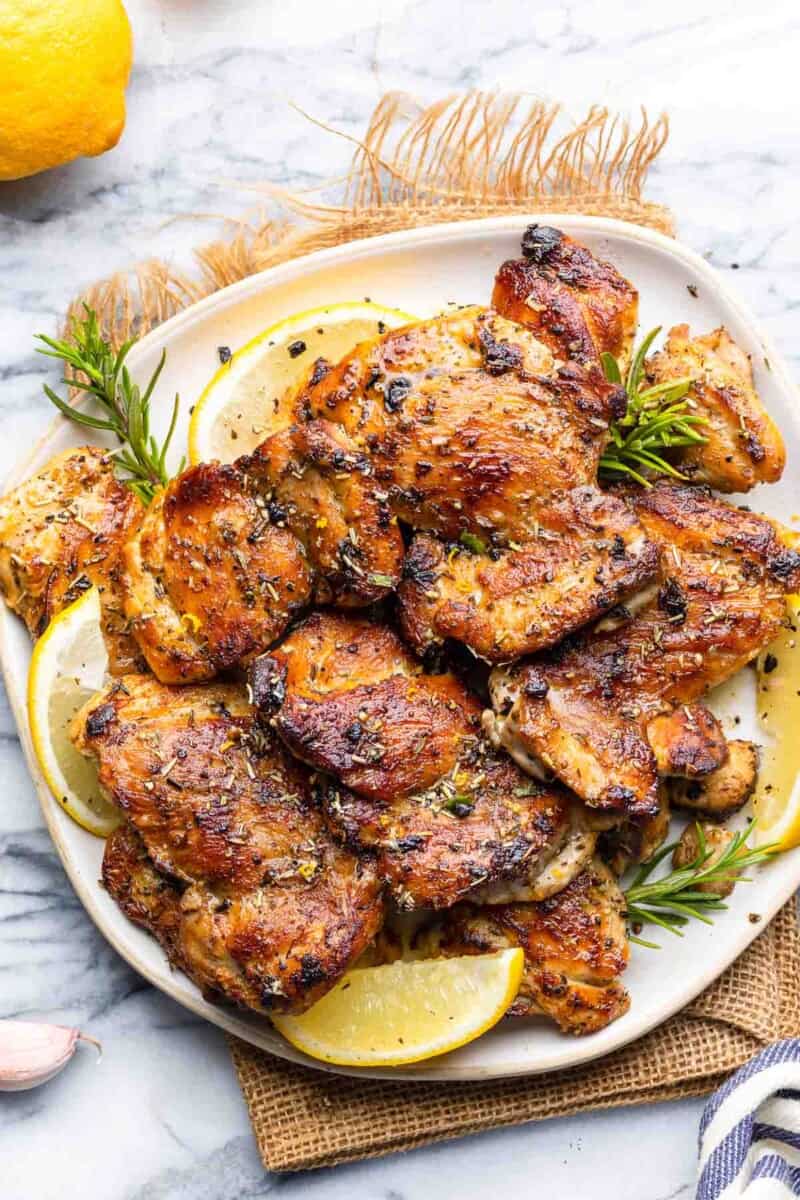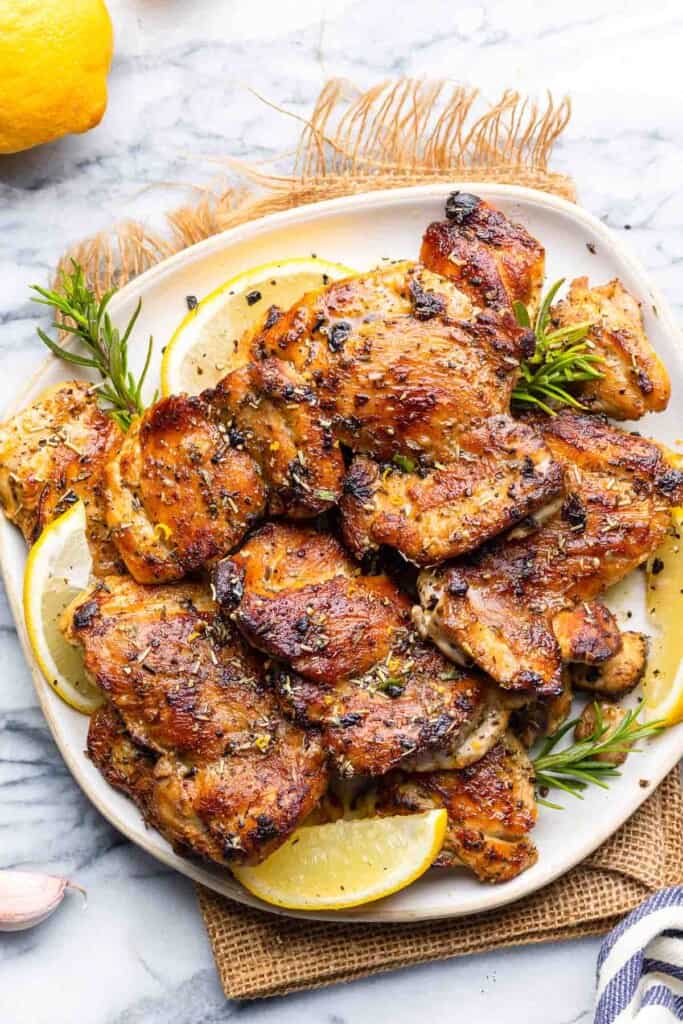 Greek Marinated Chicken
Enjoy an easy weeknight dinner after a quick soak in the marinade, or give it a couple of hours before throwing it on the grill during a summer cookout.
Use on breasts, thighs, wings or chicken drumsticks – this Greek chicken marinade recipe is not only easy and delicious, but super versatile. Use it on other cuts of meat and protein too!
Marinade Ingredients
Lemons: Use fresh citrus. You need both the fresh lemon juice and lemon zest. The juice provides the punchy, acidic flavor for this marinade while the zest enhances the overall lemon flavor. You'll need about 2 lemons to get 1/3 cup of lemon juice.
Garlic: Fresh garlic cloves are punchy, spicy and incredibly fragrant. Garlic powder has its place, but it may as well be considered an entirely different thing altogether.
Herbs & Spices: I tried to keep the herbs to ones you likely already have on hand while also being true to flavors commonly found in Greek cuisine: oregano, rosemary, thyme and nutmeg. Use fresh herbs if you have it on hand, otherwise dried herbs are great!
Olive Oil: Extra virgin olive oil will impart a bit more flavor into your chicken, but feel free to use more refined, heat stable olive oil for the cooking.
Salt & Pepper: Add at least 1 1/2 teaspoon salt to start out with, then taste and add more as you go. Salt really makes a difference in allowing the flavors to pop.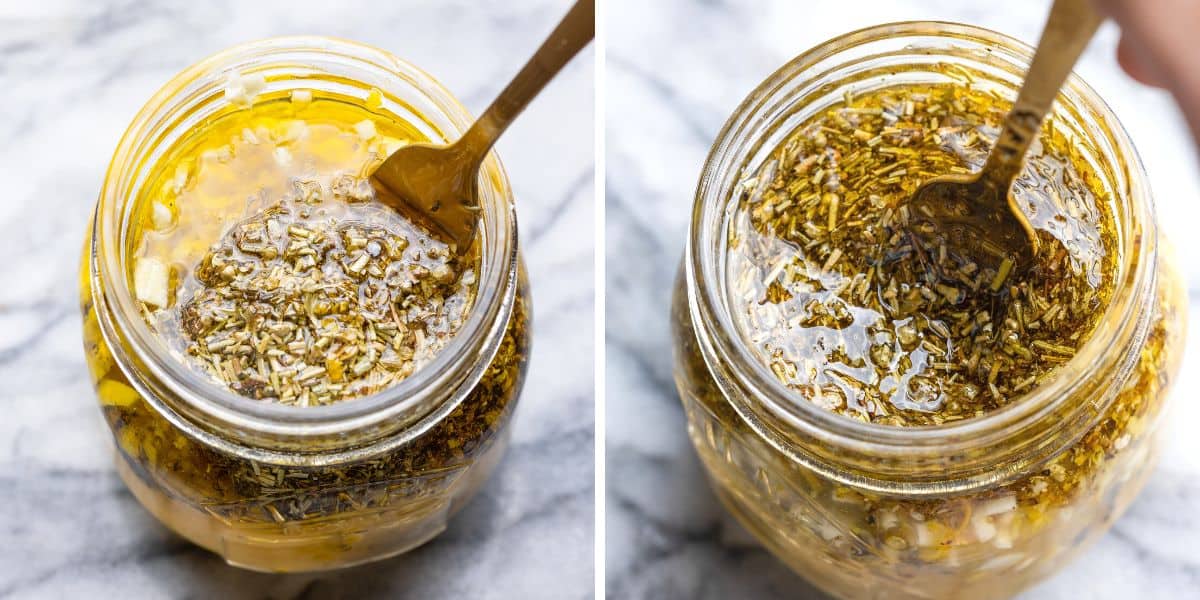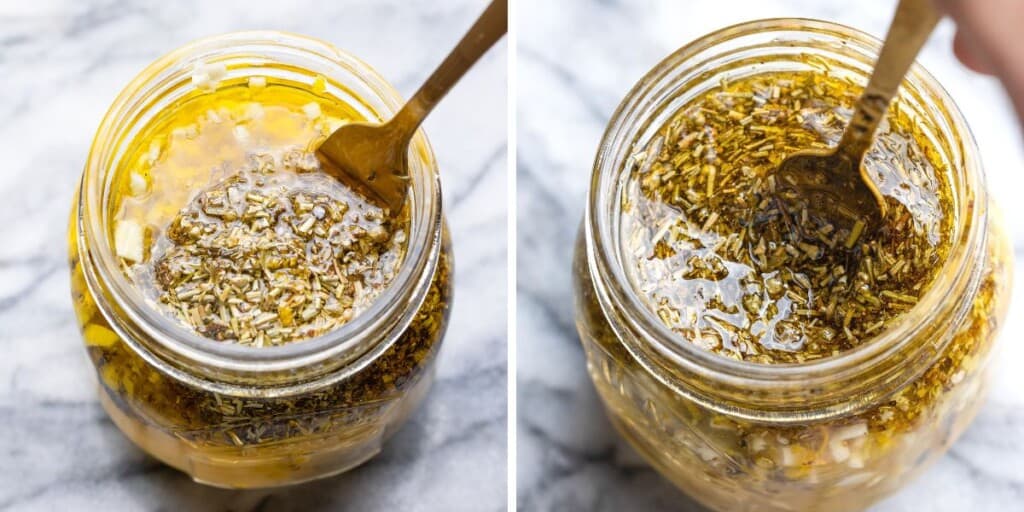 How Long to Marinate Chicken?
Since this is an acid based marinade, you really don't need much time to marinate. The enzymes in the acid (in this case lemon) break down the surface texture of the meat. If left too long, this can transform the texture of the chicken too much. With that being said, time needed to marinate really depends on the cut of chicken used.
chicken breast: 30 minutes to 2 hours
chicken legs, thighs, drumsticks, wings: 30 minutes to 4 hours
At a minimum: 30 minutes. At a maximum: 6 hours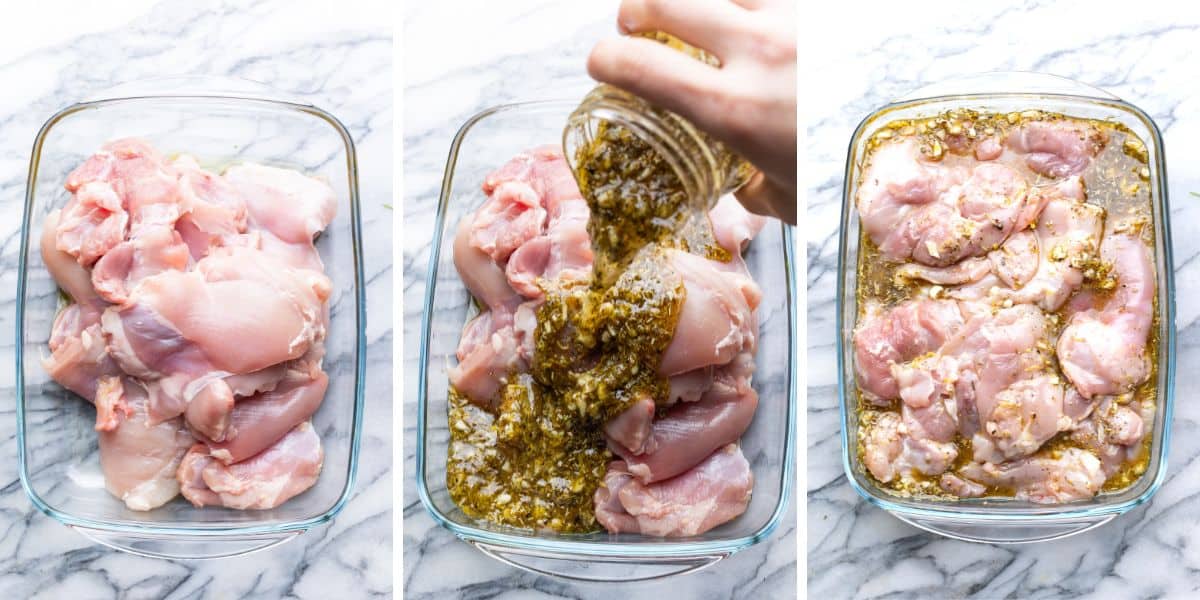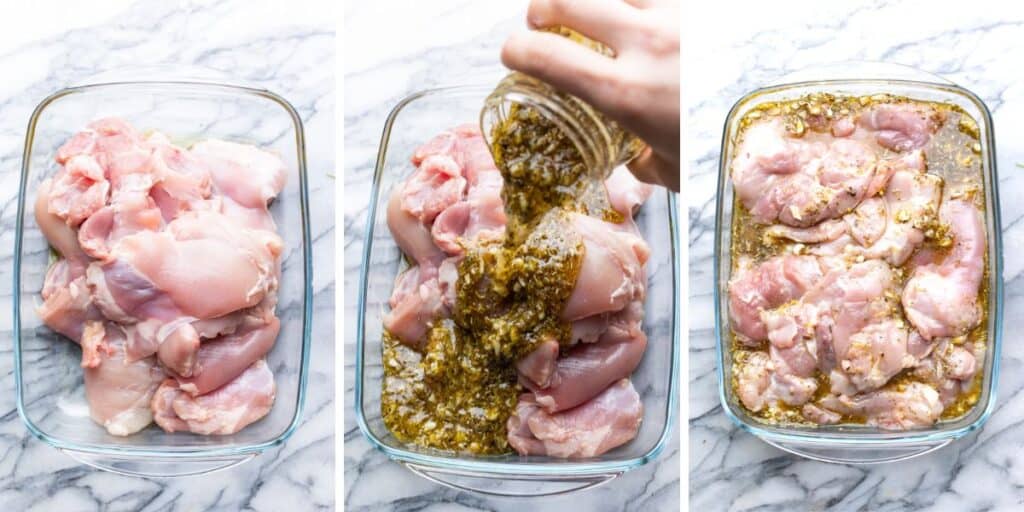 Cooking Methods
Outdoor Grill: The easy marinade makes this a great option for summer BBQ's.

Grills and grilling methods differ quite a bit depending on preference and chef, so use your go to methods depending on your cut of meat.
If using boneless cuts of chicken, flatten the meat before marinating so it cooks evenly on the grill.

Bake: I love this as an easy, hands-off dinner.

Boneless thighs: Bake at 400°/200°C for about 30 minutes or until cooked through.
Bone-in chicken thighs and drumsticks: Bake at 400°/200°C 40-45 minutes.
Chicken breast: Bake at 400°/200°C 20-25 minutes.

Stove Top: A cast iron skillet is a great option for something fast and easy if you don't want to heat up a grill outside.

Make sure your pan is fully heated to a medium-high before adding the meat to get a nice sear on the outside.
For skin-on chicken, place the meat, skin side down first. Leave space in between chicken pieces so the skin has room to crisp up.
Serving Suggestions
In case you need a few ideas, here are some of my favorite ways to serve this Greek Marinated Chicken: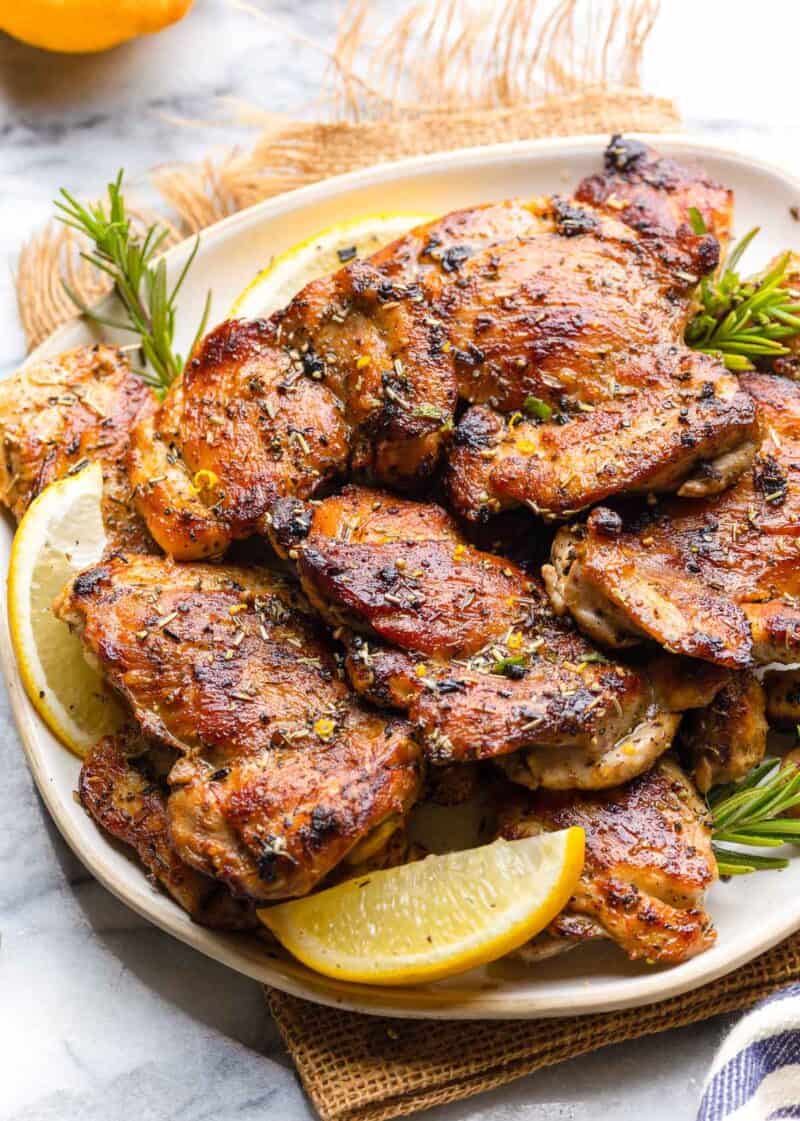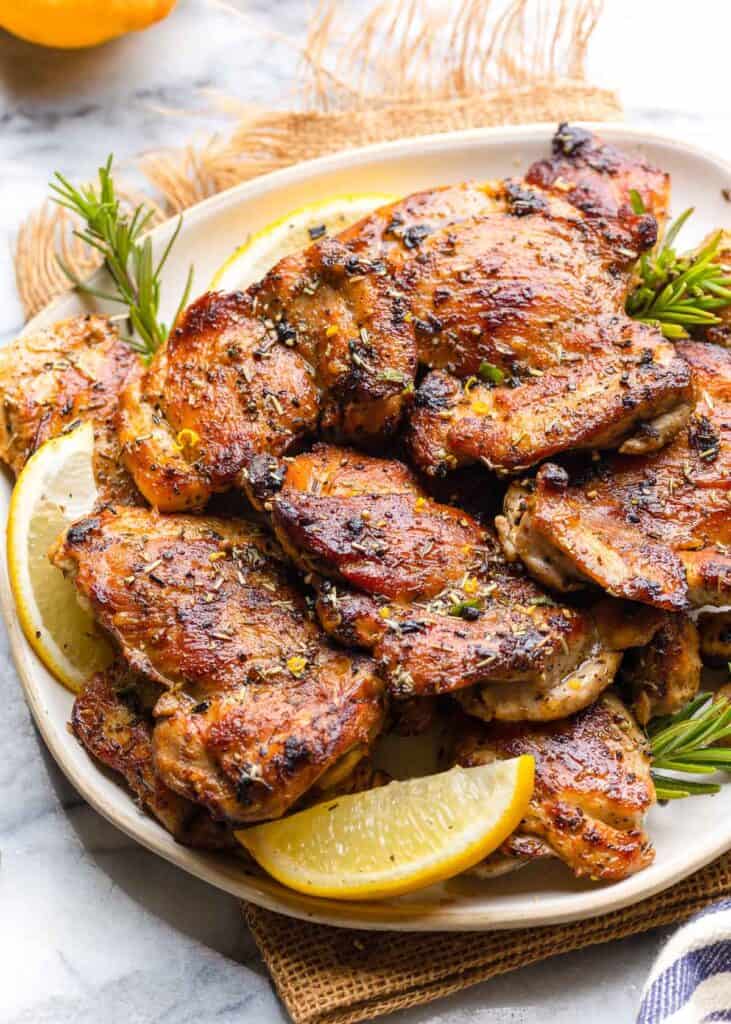 Enjoy!
Don't forget to rate the recipe and leave a comment below if you try it out. I always appreciate the feedback – especially when you share what changes you may have made. It also helps future readers who are thinking of making the recipe!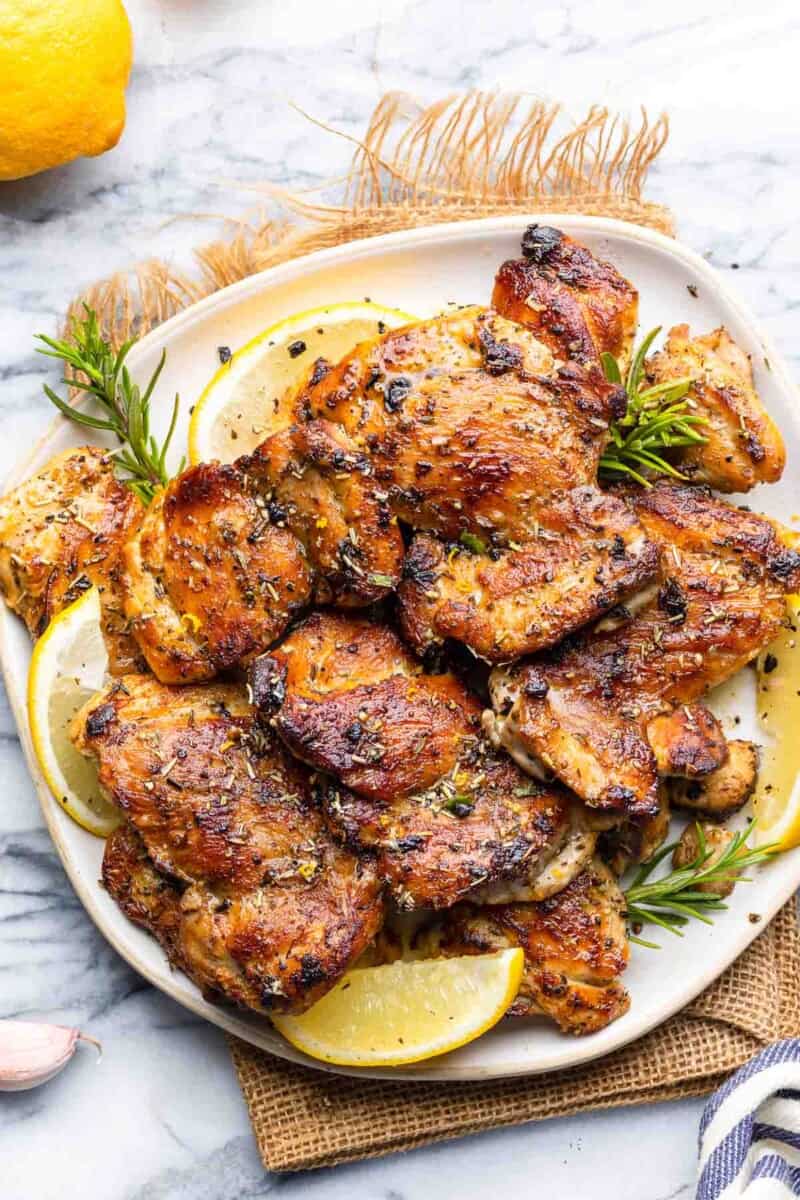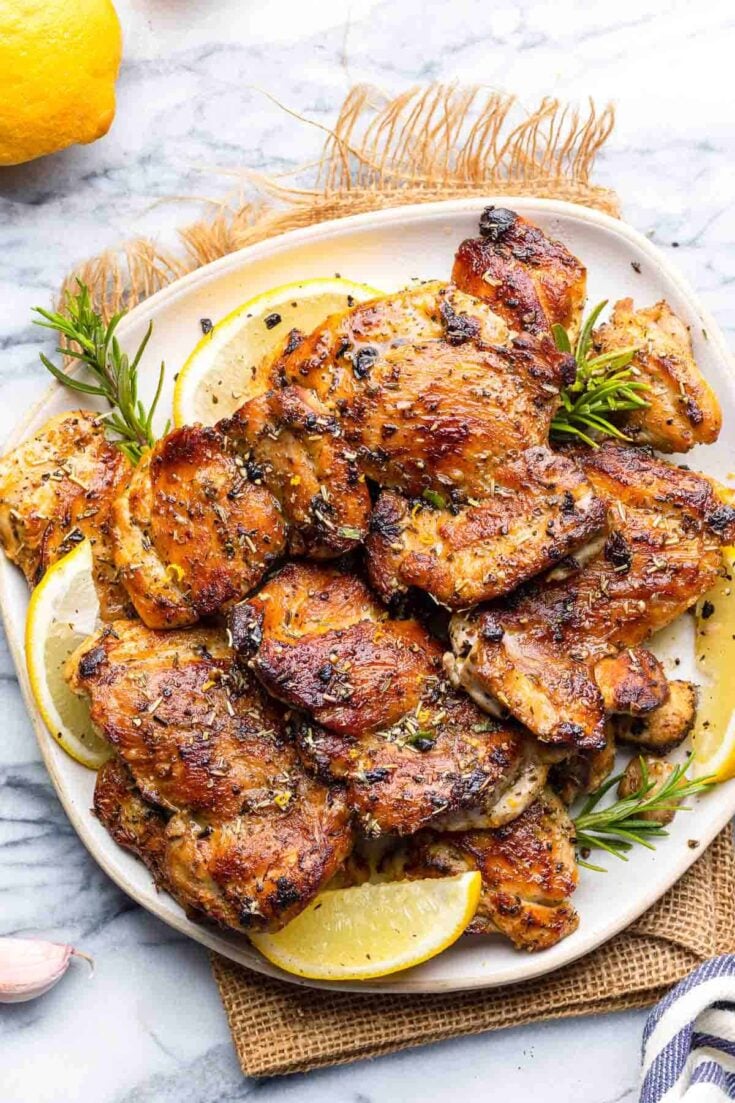 Recipe
Lemon & Garlic Greek Marinated Chicken
Yield:
8 servings
Prep Time:
10 minutes
Cook Time:
20 minutes
Additional Time:
30 minutes
Total Time:
1 hour
Made with bright and zesty lemon, punchy garlic and a few herbs and spices.
Ingredients
1/2 cup extra-virgin olive oil (120 ml)
1/3 cup lemon juice (80 ml)
1 tablespoon fresh lemon zest
6 large garlic cloves, minced
2 teaspoons dried oregano or 2 tablespoons fresh
1 teaspoon dried rosemary or 1 tablespoon fresh
1 teaspoon dried thyme or 1 tablespoon fresh
1 1/2 teaspoons sea salt
1/2 teaspoon ground black pepper
1/4 teaspoon ground nutmeg (optional)
2-3 pounds boneless, skinless chicken thighs
Instructions
Whisk together all of the ingredients (except chicken) in a large bowl or zip-lock bag until combined.
Add the chicken and mix until fully coated in marinade. Cover bowl or seal zip top bag. Let marinate for at least 30 minutes and up to 6 hours. If marinating longer than 30 minutes, place in the fridge until needed.
About 20-30 minutes before cooking, take the chicken out of the fridge and let sit at room temperature.
When you're ready to cook: Warm a large skillet or cast iron pan over a medium-high heat. Add enough cooking oil to lightly coat the pan.
When the oil is hot, add the chicken. It's ok to crowd at this point as the chicken will shrink as it cooks.
Let the chicken cook, undisturbed for about 8-10 minutes. Flip over each thigh and cook on the other side for another 10-12 minutes or until the chicken is cooked through (internal temp should be 165°F/74°C).
Remove from the pan. Let the chicken rest a few minutes before serving and enjoy. Serve with fresh chopped herbs over the top and lemon wedges on the side if desired.
Allow leftover chicken to cool to room temperature before storing in an airtight container in the fridge. Keeps up to 3 days.
Notes
Internal Temperature: 165°F/74°C is the minimum temperature required for food safety, but for dark meat like thighs and legs, aim for 195°F/90°C for a richer flavor.
Make it with chicken breasts: cook about 7-8 minutes on one side without flipping until browned, then flip and cook about 5-7 minutes until cooked through. Or bake in oven for 20-25 minutes at 400°F/200°C.
Bake boneless, thighs in oven: Spread across a large baking dish and bake at 400°F/200°C for about 30-35 minutes or until cooked through.
Bake bone-in, thighs in oven: Spread across a large baking dish and bake at 400°F/200°C for about 25-30 minutes then flip over and bake another 20 minutes or until cooked through. If skin is on, bake skin-side down first, then flip over halfway through.
This website provides approximate nutrition information for convenience and as a courtesy only. Nutrition data is gathered primarily from the USDA Food Composition Database, whenever available, or otherwise other online calculators.
More Easy Chicken Dinners