Salty bacon pieces, crisp chopped lettuce and juicy cherry tomatoes make up the foundation of a classic sandwich AND this simple, yet delicious BLT Salad! Mix it all together with diced Swiss cheese, toasted almond slivers and homemade gluten free croutons then toss in a bright and tangy lemon-garlic vinaigrette. One bite will be enough to solidify this salad as an instant staple in your kitchen!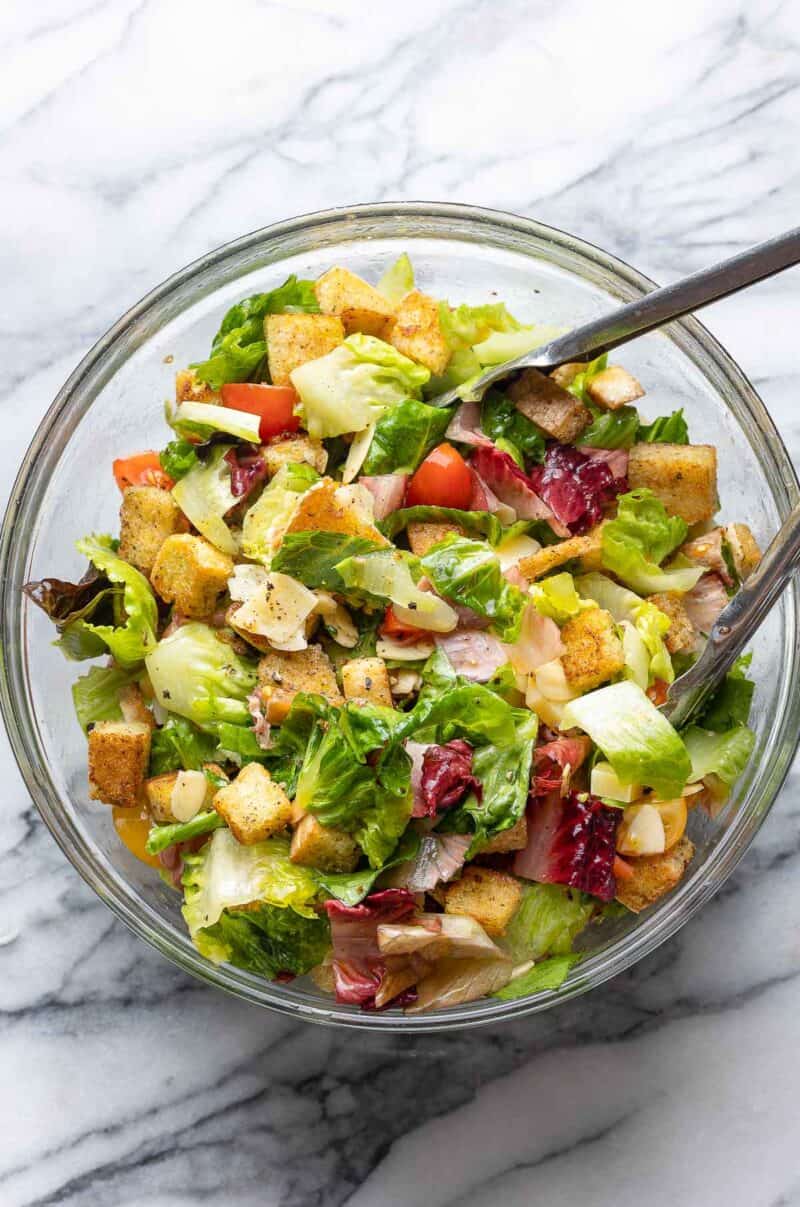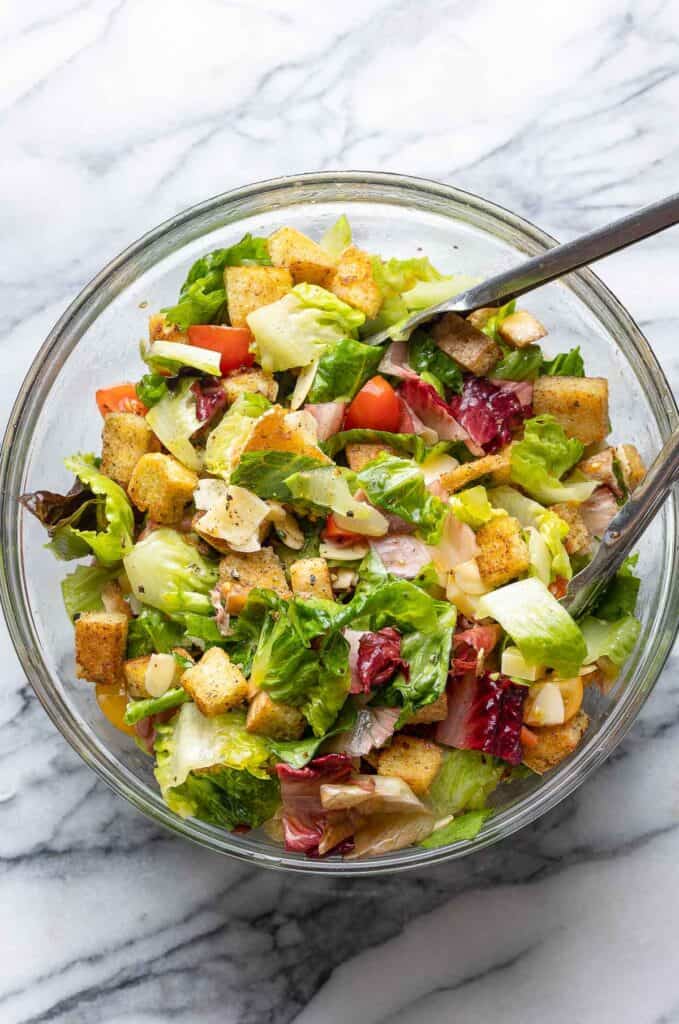 The Ultimate Staple Salad
My mom has been serving this salad to my family for years. She originally found the recipe in an old Taste of Home Cookbook and its been a family favorite salad ever since.
It's come out for holidays, birthdays, summer BBQ's and random weeknight dinners. Despite how much of a staple it's become, it never disappoints.
It's just a really solid recipe! It's the kind of side dish that you can serve alongside pretty much any main course.
Of course, like all the the other earmarked recipes in the old cookbooks, the original recipe wasn't totally gluten free due to the caesar seasoned croutons.
While gluten free croutons do seem to be much easier to find in the US, I've yet to see a UK grocery store sell them. Fortunately for us, making them from scratch is a total no brainer!
Not to mention it's also a great way to use up stale bread if you have any. Wins all around!
What's in this BLT Salad
This BLT salad breaks down into 3 main components:
homemade croutons: melted butter or oil, dried herbs and grated parmesan
lemon garlic vinaigrette: olive oil, lemon juice, minced garlic, salt and pepper
salad ingredients: fresh lettuce, cooked bacon, juicy tomatoes, toasted almonds and diced cheese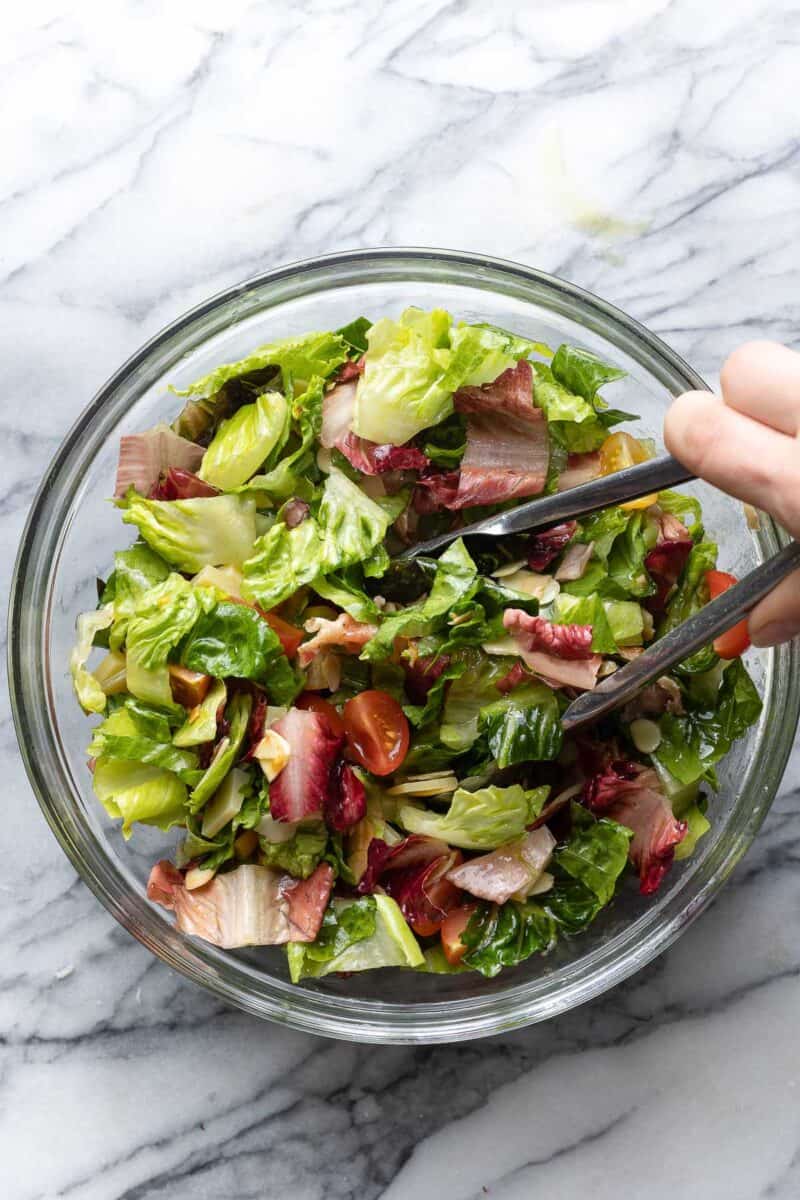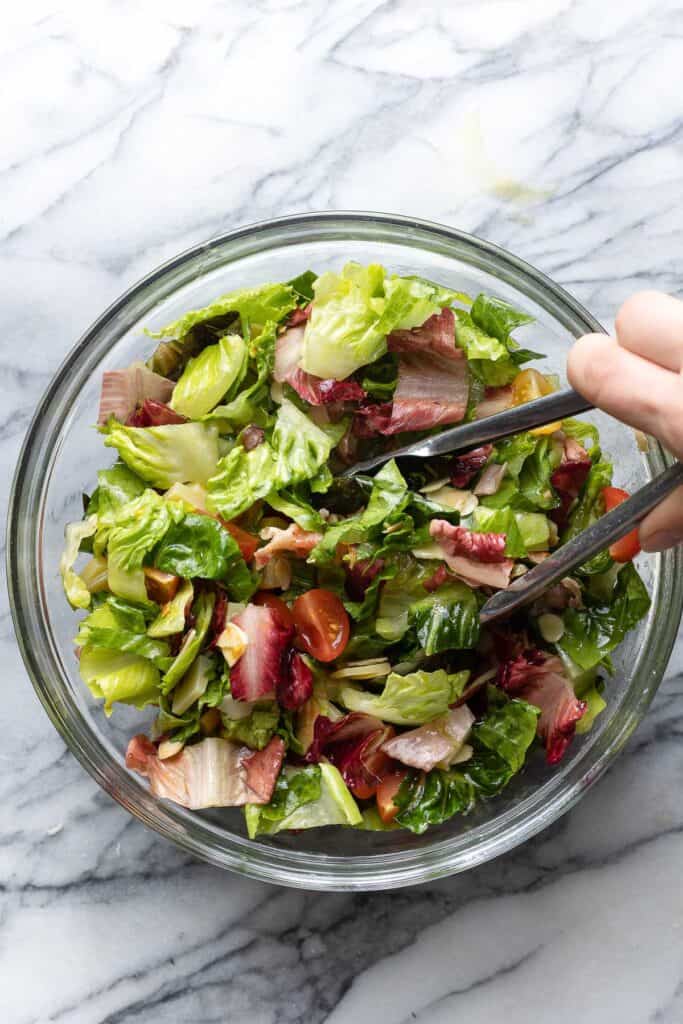 Parmesan Croutons
If you've never tried making your own homemade croutons – start here!
They're easy to make and could be an addition to so many more delicious salads.
I've got a dedicated recipe already for making gluten free croutons from scratch. That post also provides an option to bake the croutons in the oven instead of frying them on the stove top. Check it out if you'd prefer an option that uses less oil.
Steps
Chop bread into small, bite-sized pieces then add to a large bowl.
Combine melted butter or oil in a small bowl with the garlic powder, dried herbs and parmesan.
Pour the butter/oil mixture over the bread then toss to combine.
Add the seasoned bread to a large, oiled pan or cast-iron skillet.
Let fry a few minutes (no stirring) until golden brown on the bottom.
Flip bread and repeat on all sides.
Try not to eat all the croutons before adding them to the salad.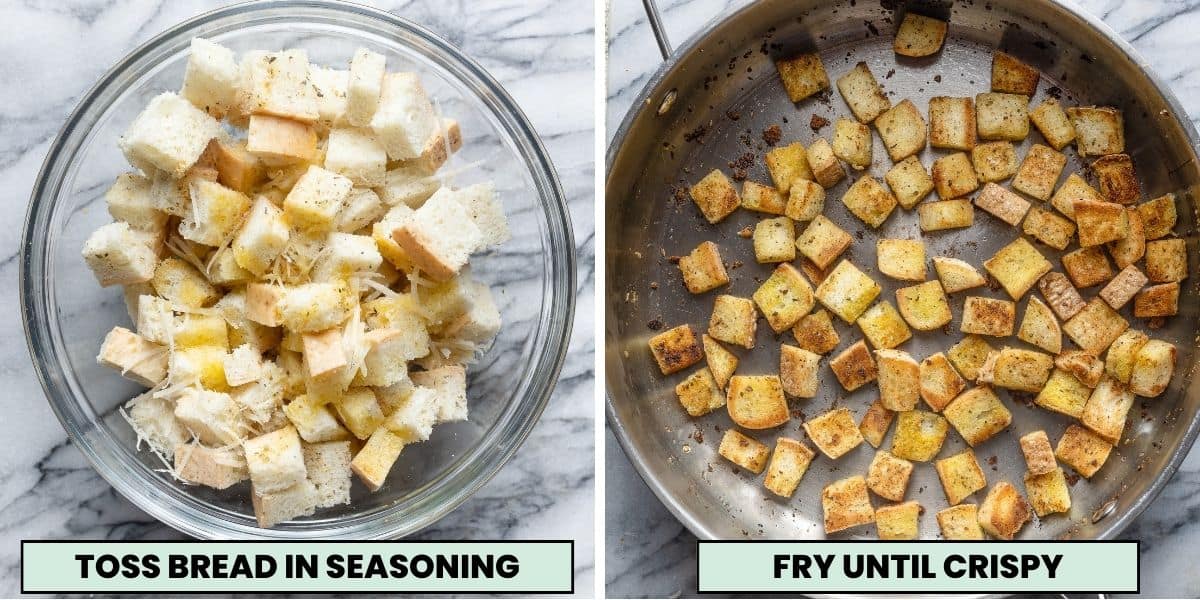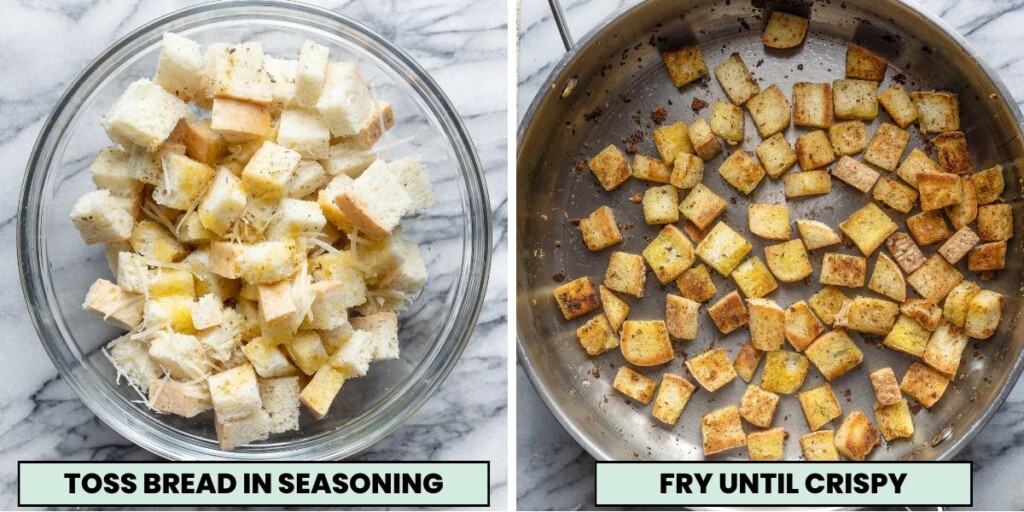 Vinaigrette & Salad Prep
Add the vinaigrette ingredients to a mason jar or container with a fitted lid.
Fasten the lid then shake until fully combined then set aside.
Add the remaining salad ingredients to a large salad bowl then toss together.
Pour the vinaigrette over the salad and toss once more.
Add the parmesan croutons.
Serve and enjoy!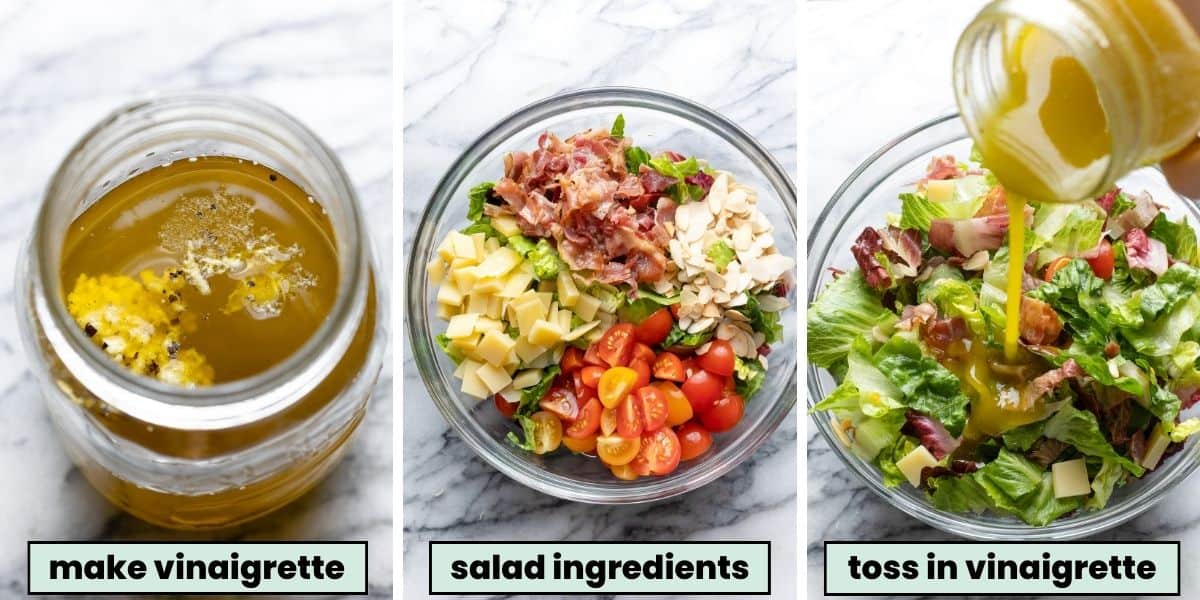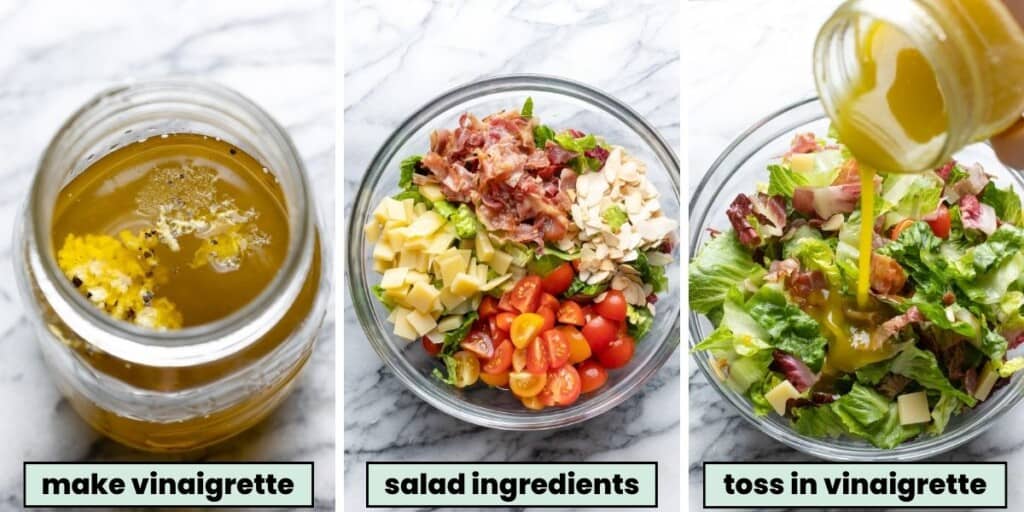 What Type Of Lettuce Is Best?
Ultimately the choice is yours and depends on what you like.
A few great options you might like:
Romaine lettuce (my usual go to): Romaine is a good middle ground for iceberg and butter lettuce varieties. They are crunchy near the bottom and softer higher up.
Butter Lettuce (includes bib lettuce and butter lettuce): These leaves are much softer and more flexible than iceberg.
Iceberg Lettuce: Ideal if you want to add a bit more crunch. It does break easily though so you may want to double up the leaves.
BLT Salad Substitutions and Variations
Tomatoes: I used cherry tomatoes, but you can use any ripe tomatoes will work!
Bacon: Swap out the regular pork bacon for turkey bacon to cut down on calories.
Cheese: Try it with cheddar cheese if you're not a fan of Swiss.
Almonds: Pine nuts are a great alternative if you can't do almonds!
Dressing: This will totally change the tone of this salad, but if you want to lean more into the classic BLT sandwich inspiration, swap out the homemade vinaigrette with a creamy ranch dressing.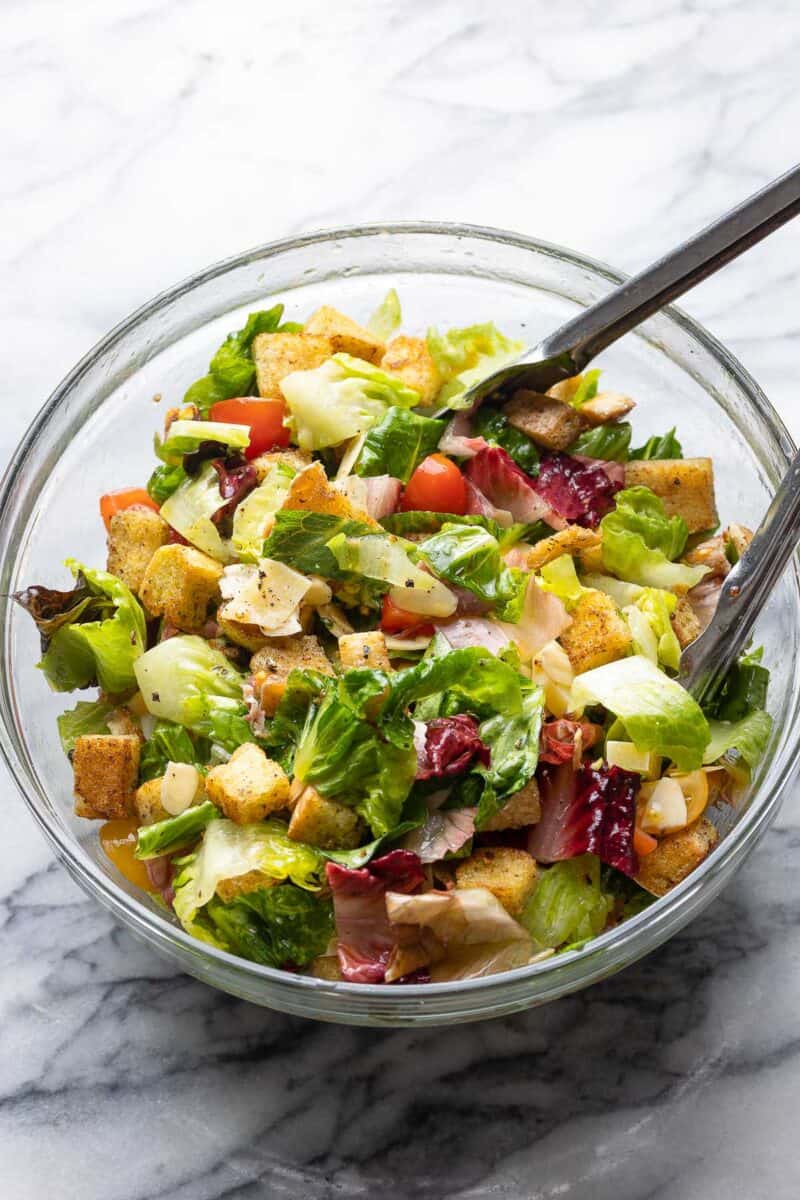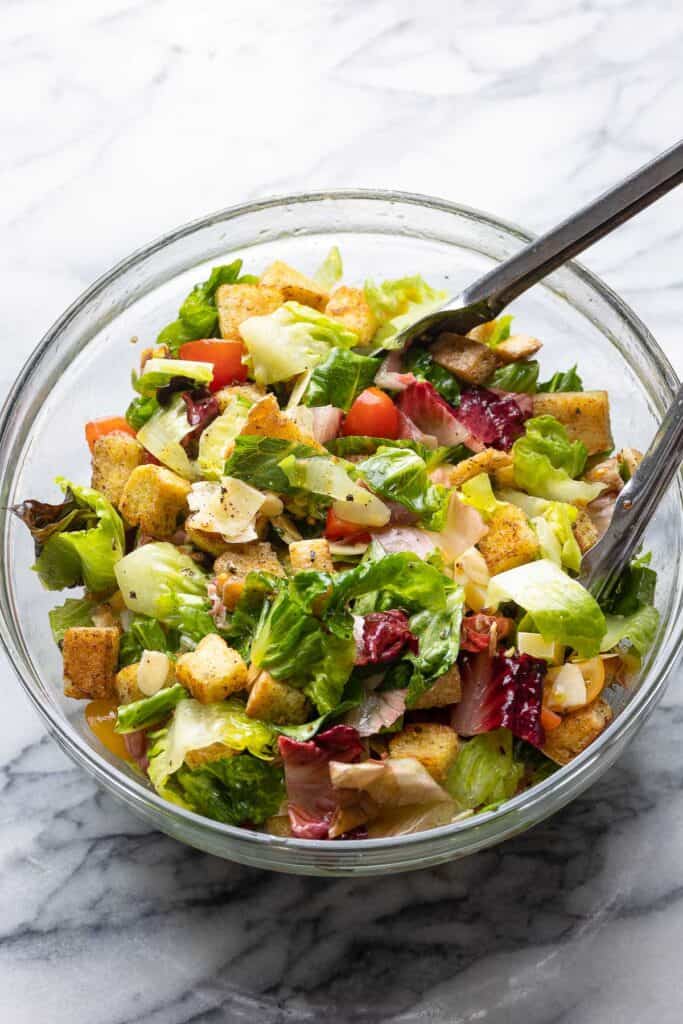 Enjoy!
If you do try this bacon lettuce and tomato salad, please leave a comment and let me know how it went! I always love hearing what you try and how it works out!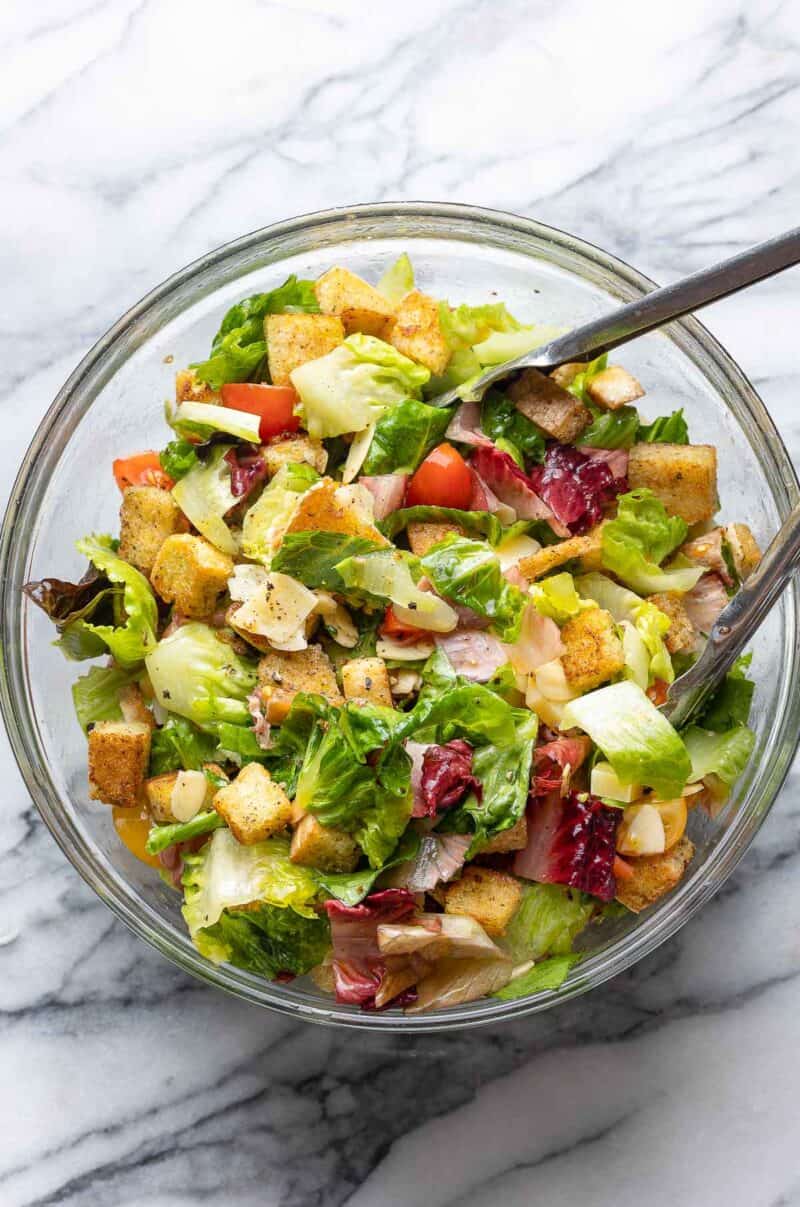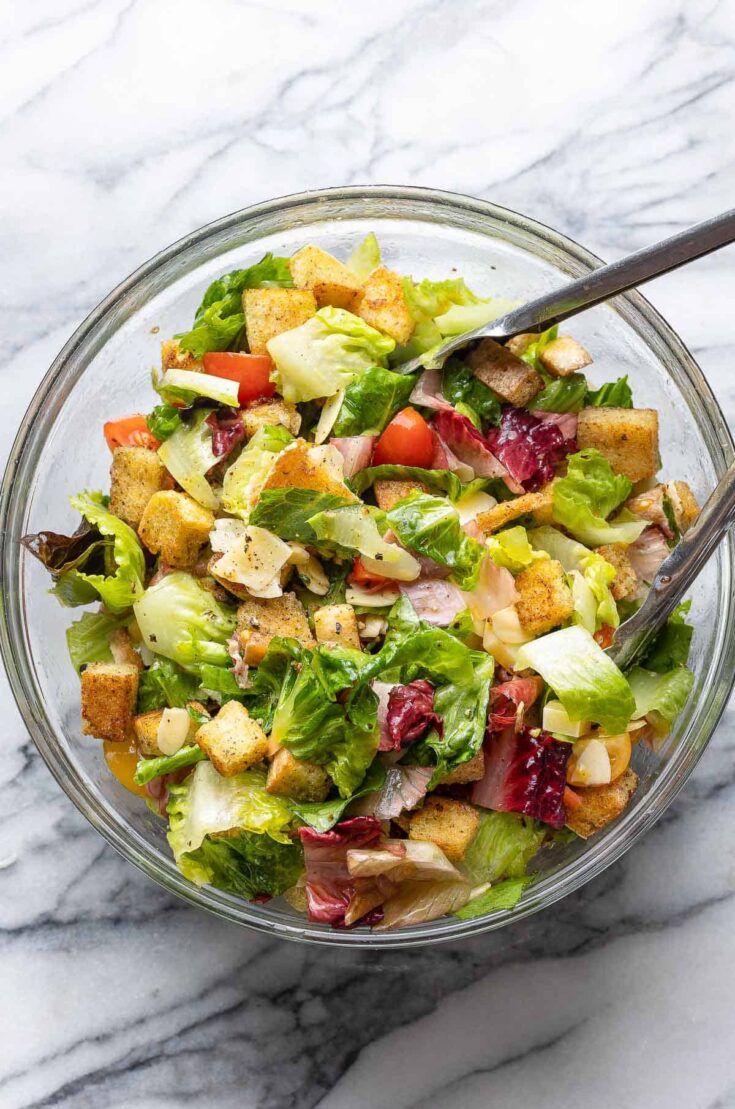 Prep Time:
15 minutes
Cook Time:
20 minutes
Total Time:
35 minutes
Salty bacon pieces, crisp chopped lettuce and juicy cherry tomatoes make up the foundation of this simple, yet delicious BTL Salad!
Ingredients
Croutons
4 sliced gluten free bread, diced into small pieces
2 tablespoons melted butter or olive oil (30 ml)
1 tablespoon grated parmesan cheese
1 teaspoon dried Italian herbs
1/2 teaspoon garlic powder
Vinaigrette
3/4 cup extra virgin oil (180ml)
1/4 cup lemon juice (60ml)
2 garlic cloves, minced
3/4 teaspoon salt
1/2 teaspoon black pepper
Salad
2 bunches (1 pound each) romaine, torn
2 cups cherry tomatoes, halved
1/2 cup Swiss cheese, diced into small pieces (3 oz | 85 g)
2/3 cup slivered almonds, toasted (60 g)
8 bacon strips, cooked and chopped
Instructions
Croutons
In a small bowl combine the melted butter or oil, parmesan, Italian herbs and garlic powder.
Add the diced bread pieces to a large bowl. Pour the butter/oil mixture over the bread and toss to combine.
Heat a large skillet over a medium heat on the stove top with enough oil to coat the bottom of the pan.
When the oil is hot, add the chopped bread pieces to the pan. Spread out in an even layer. Try not to crowd the pan too much. If needed, fry the croutons in two batches.
Let the bread fry without stirring for about 3-4 minutes or until the bottoms are golden brown. The flip and repeat on the remains sides until all sides are toasted.
Remove from the pan and set aside.
Vinaigrette
In a small cup or jar combine the dressing ingredients. Whisk together until fully combined. Set aside while you prepare the salad.
Salad
In a large salad bowl combine the lettuce, tomatoes, cheese, almond and bacon. Toss to combine.
Pour the dressing over the salad. Toss again to coat everything in the vinaigrette.
Top with croutons. Taste and season with additional salt and pepper for good measure if needed. Serve immediately and enjoy.
This website provides approximate nutrition information for convenience and as a courtesy only. Nutrition data is gathered primarily from the USDA Food Composition Database, whenever available, or otherwise other online calculators.
More Delicious Salads