This bright and colorful Apple and Red Cabbage Salad is simple, healthy and exceptionally vibrant! It's made up of crunchy cabbage, apples, red onion with with chilli-roasted cashews and fresh herbs, tossed in a spicy-sour Thai inspired dressing.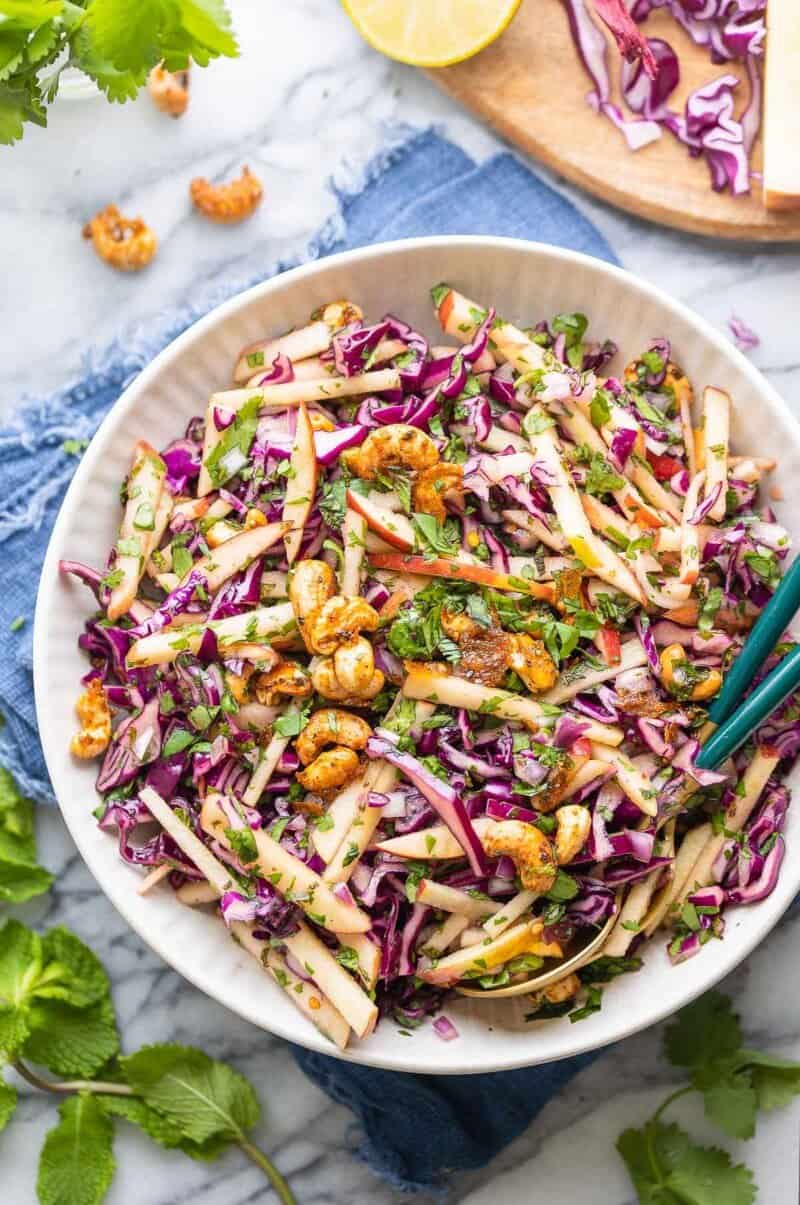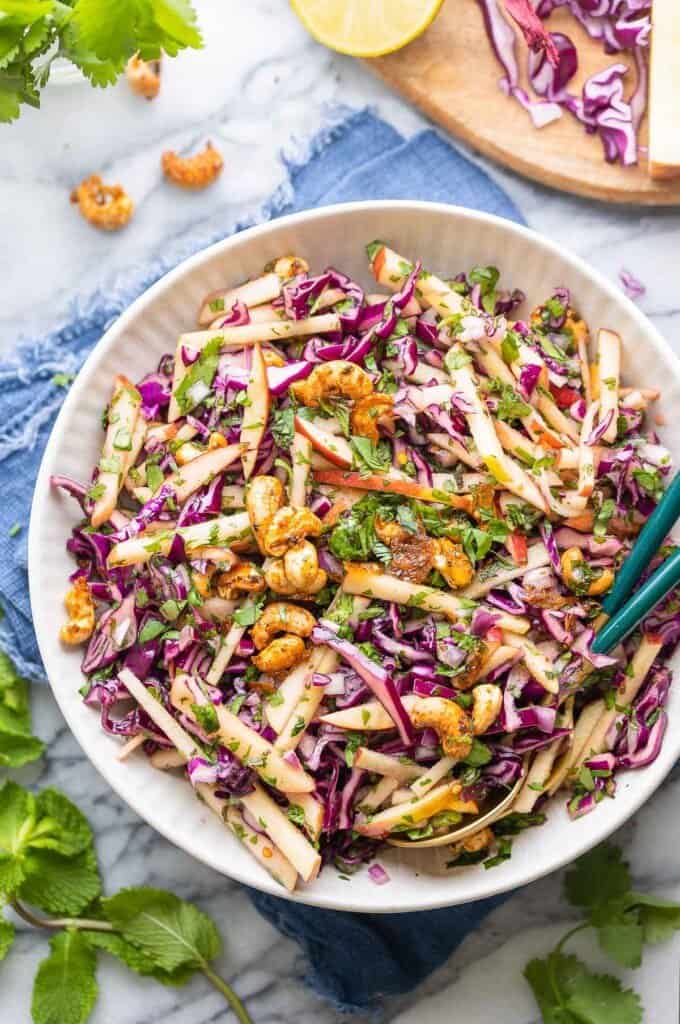 Inspiration for this apple & red cabbage salad comes from Dominique's Kitchen by Dominique Woolf. One look at the cover tagline 'Everyday Asian Inspired Food' and a quick skim through the book was enough to convince Mike that he absolutely needed to buy it.
It's only been a week or two, but we've already made a good handful of recipes from the book & we've plenty more earmarked pages to go through.
This recipe is actually a combination of a couple of recipes from the book (one for the cashews and one for the salad) with a few minor tweaks of our own.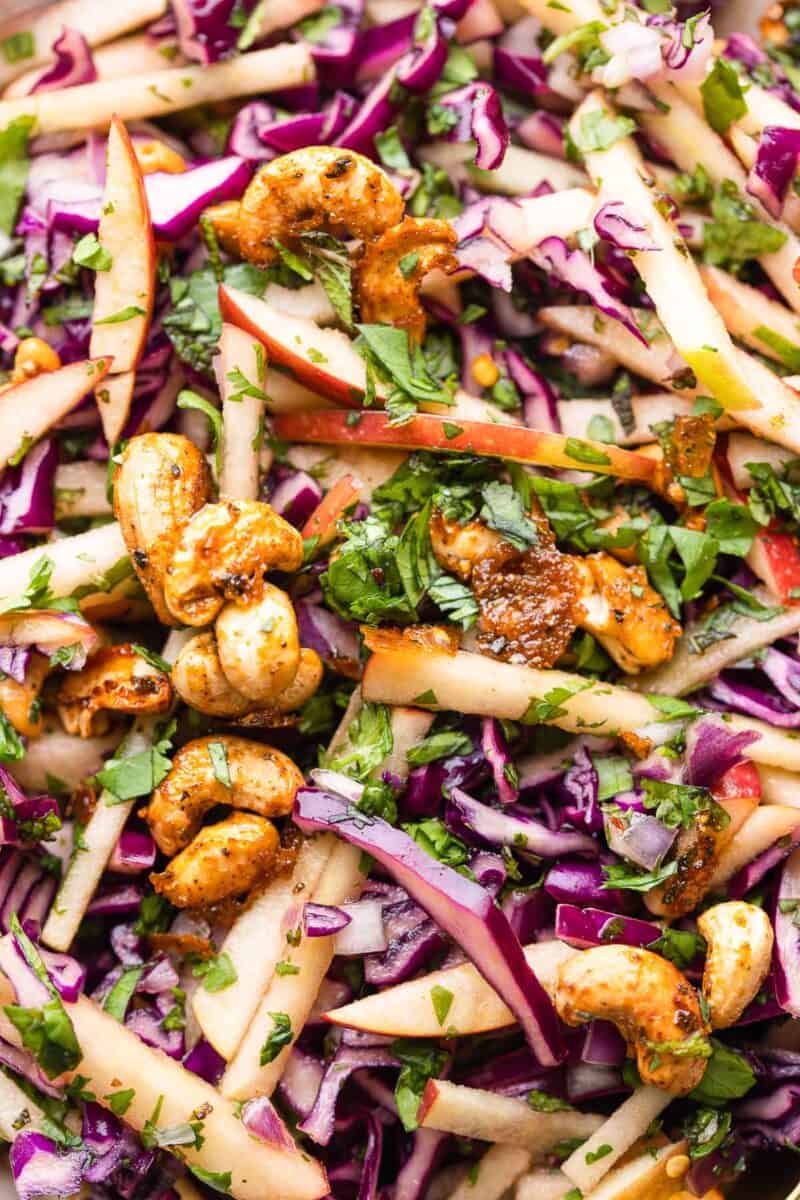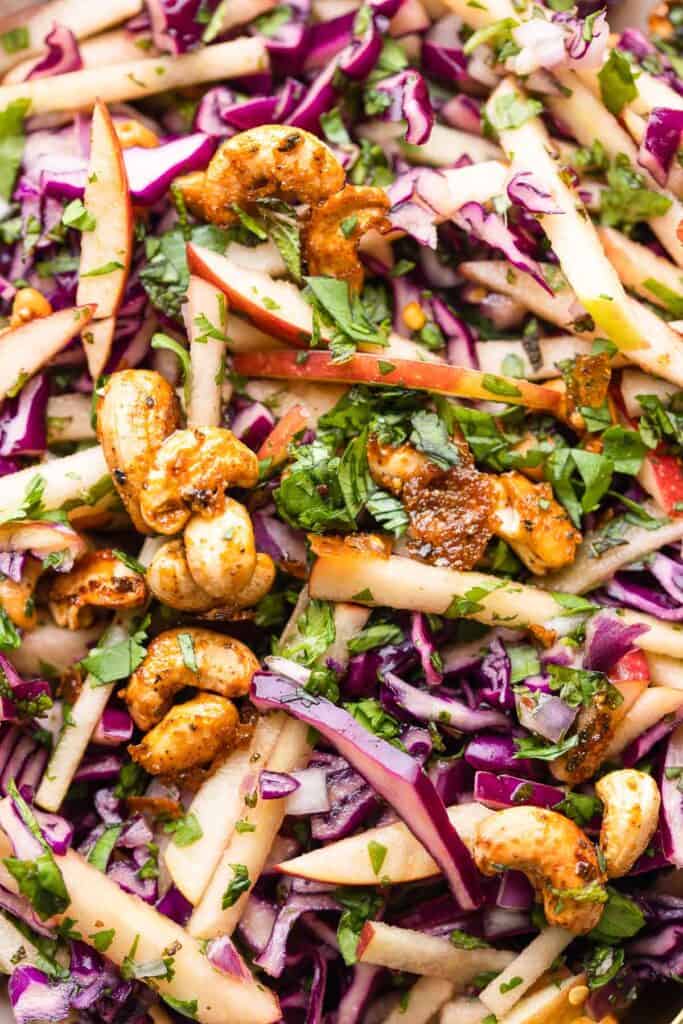 What is This Apple and Red Cabbage Salad like?
Fresh, zesty, spicy, sour – this red cabbage salad recipe has a LOT going on and I am here for it.
I guess you could say it's a bit like an Asian coleslaw. Instead of a creamy dressing made of mayo, it's tossed in a light and sour Thai-style vinaigrette. In fact, the flavors from the original recipe are actually based off of a Green Papaya Salad (som tam – pounded sour).
Green Papaya Salad is known for its spicy, punchy flavors. While this purple cabbage salad doesn't have any green papaya, the flavor profile is still bright, vibrant and zesty in its own right thanks to the tangy dressing.
Mixed in with the sliced apple and diced red onion, the salad is as crunchy as it is colorful! Even more so thanks to the sweet and spicy chilli roasted cashews.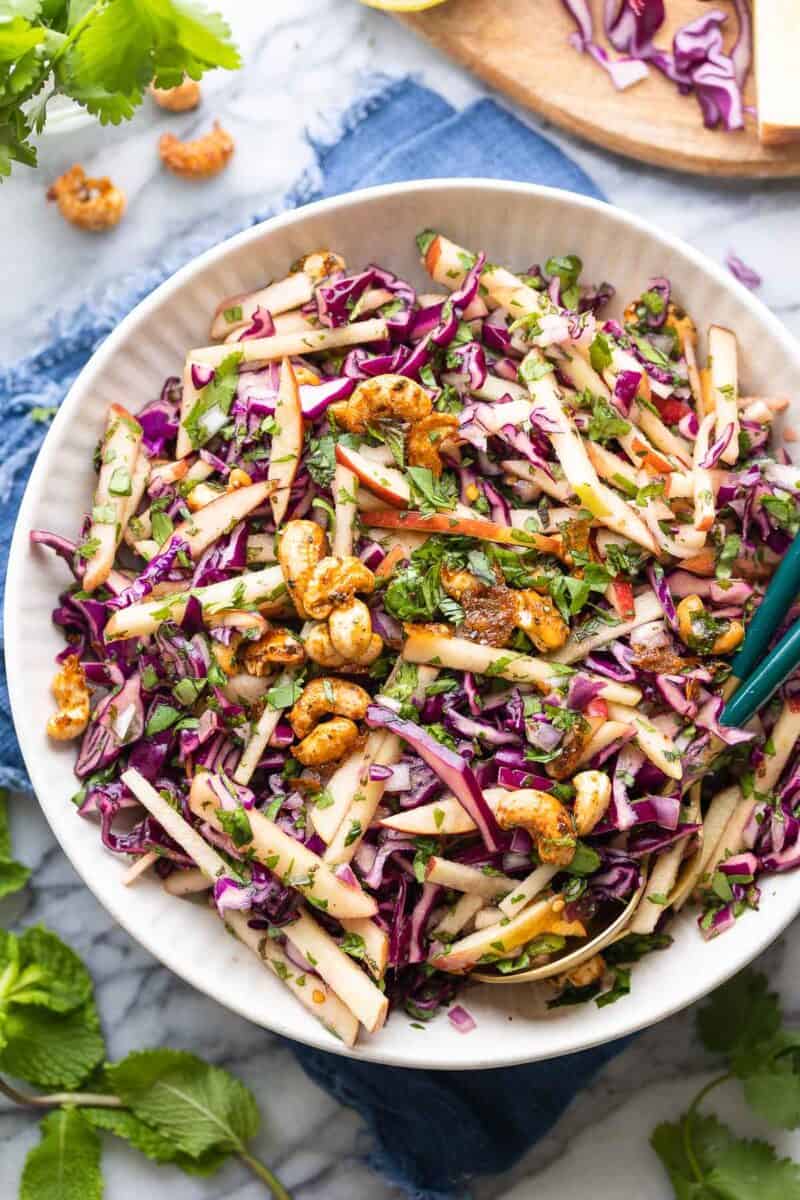 Steps
Preparation for this salad should be broken up into a few main steps:
Coat and roast the cashews in a simple maple-chilli spice mixture.
Mix the dressing in a small cup or jar.
Shred, slice and dice the salad ingredients then mix together in a large bowl.
Bring it all together: add the roasted nuts to the salad bowl and toss in the dressing.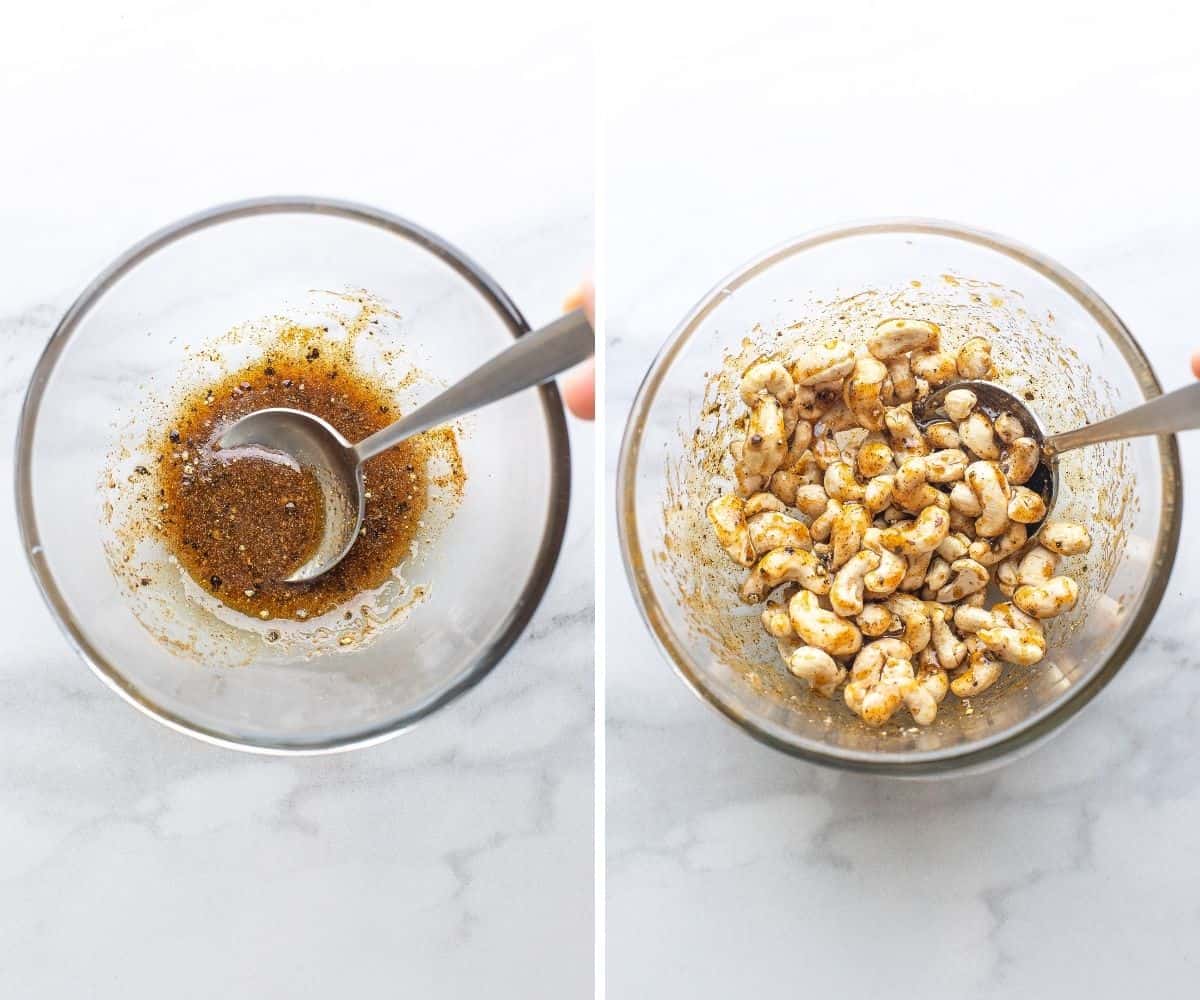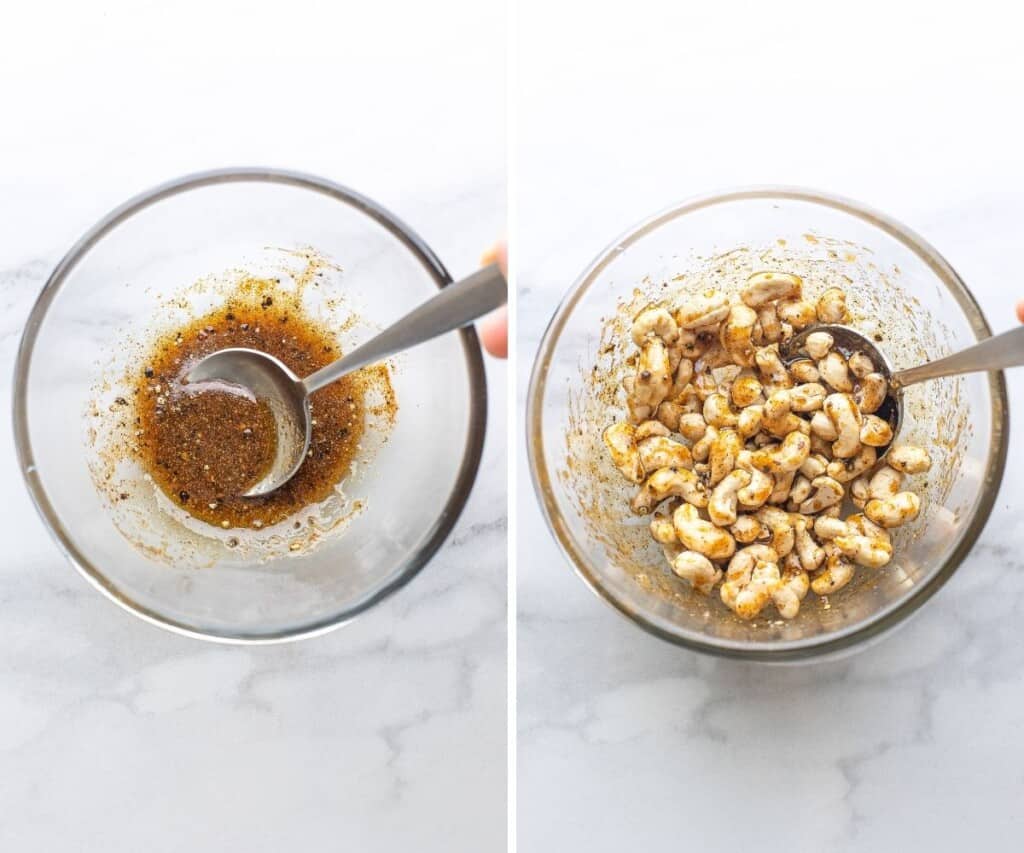 Roasted Cashews
While they are sweet and spicy, the roasted cashews add a little bit of creaminess to counter the other sharp and tangy flavors.
Preparation is quick and easy. Simply mix together the maple chilli spice mixture in a small bowl, then add the cashews and mix it all together.
Spread the cashews out across a baking sheet in an even layer and bake for about 10 minutes. The maple mixture coating the cashews will look thick and caramelized & the cashews will turn golden.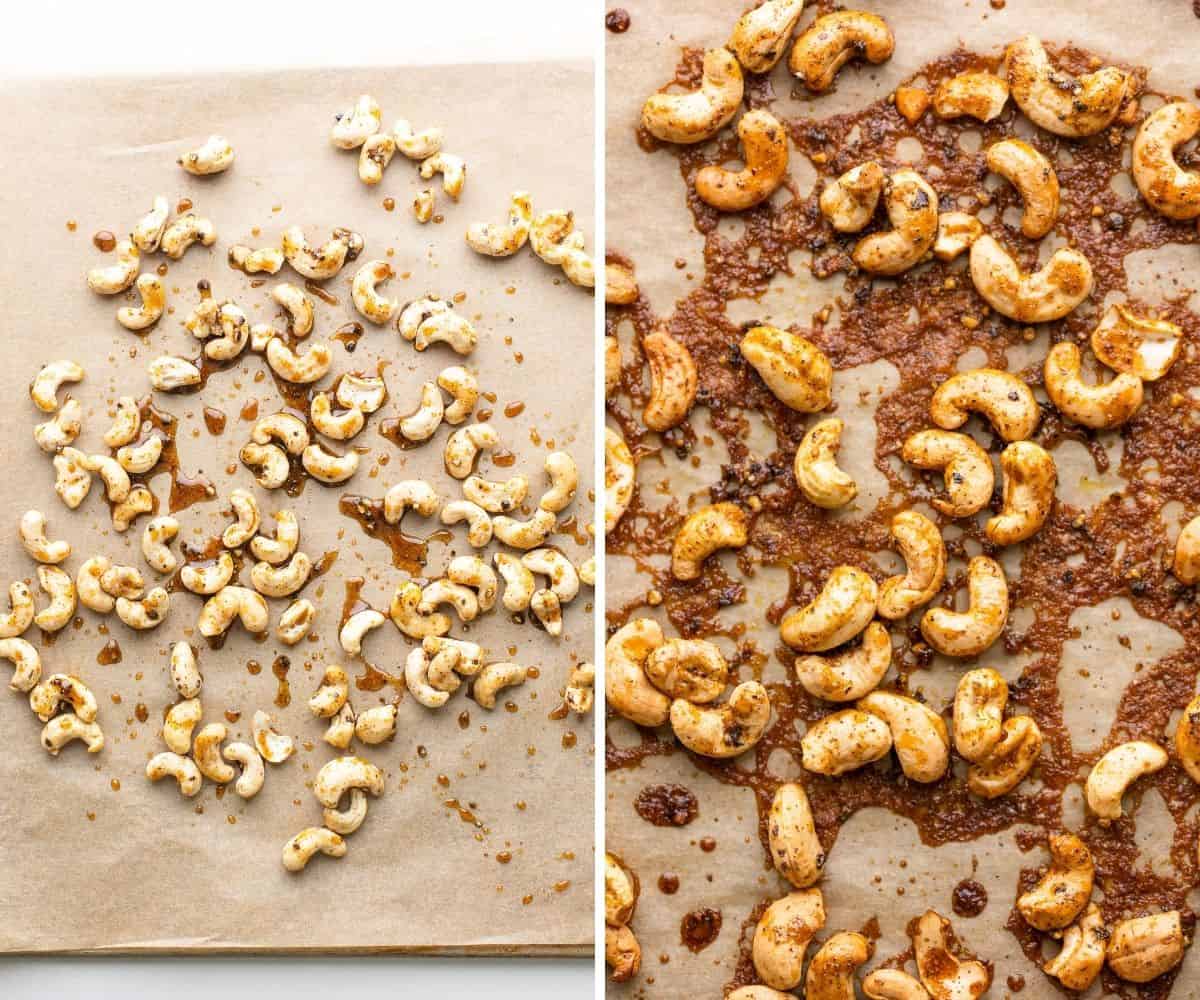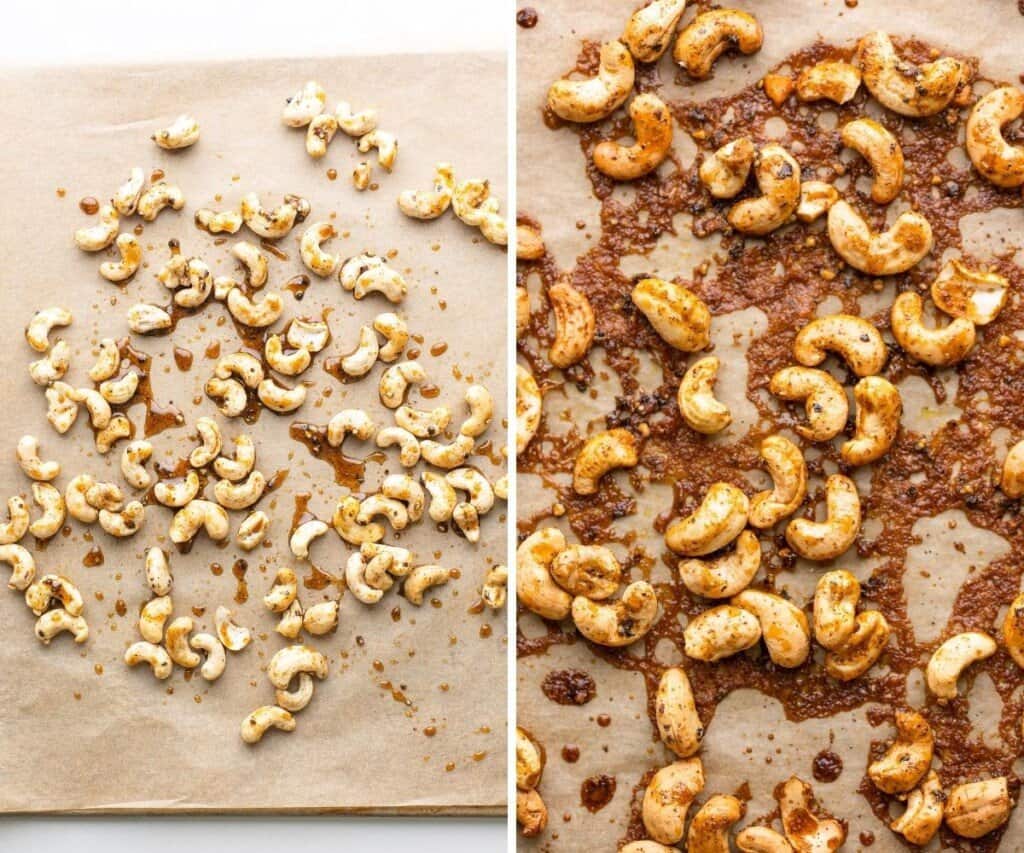 Salad Prep
While the cashews roast, get on to prepping the salad ingredients. The prep here is also fairly easy and straight forward though it may take a bit more time slicing and dicing all the ingredients as needed.
All you need is a cutting board and sharp knife to see you through.
Red Cabbage:  I used about 1/3 of a head of cabbage. When it comes to cabbage types and their health benefits, red cabbage (also called purple cabbage) has an edge over regular white cabbage and green cabbage. It has higher levels and Vitamin C, Vitamin A, Iron and many more potent antioxidants.
Apple: Tart apples like granny smith, golden delicious, pink lady and braeburn apples are best here. However, you can absolutely use a sweeter variety or whatever you have on hand.
Red Onion: Chop your onion up into small pieces to make it more easily mixed throughout the salad in every bite.
Fresh Herbs: The fresh coriander (cilantro) and fresh mint go a long way in mellowing out the more punchy flavors from the fish sauce dressing.
Tip!
Use a food processor with a grating attachment to quickly shred the cabbage in much less time!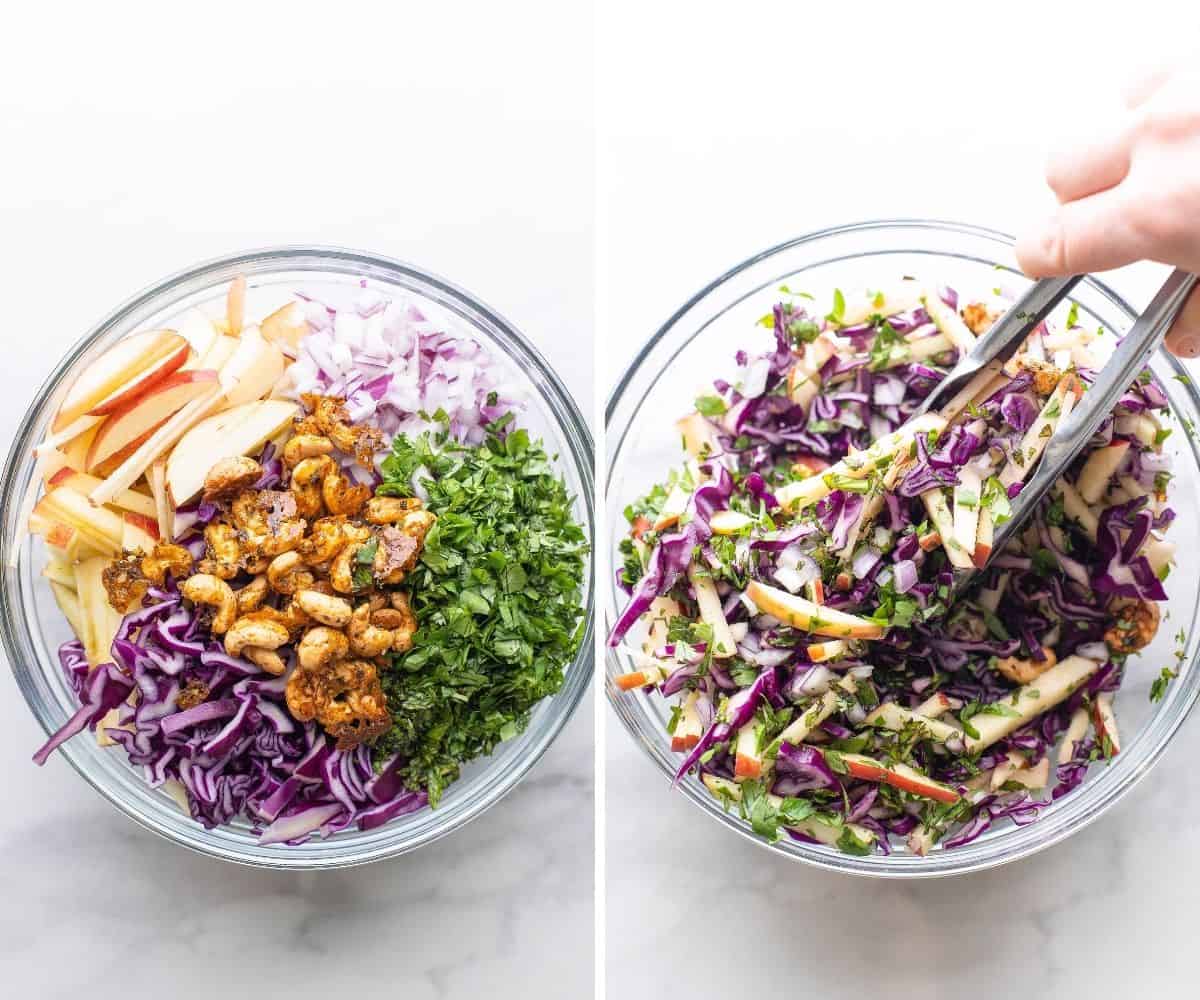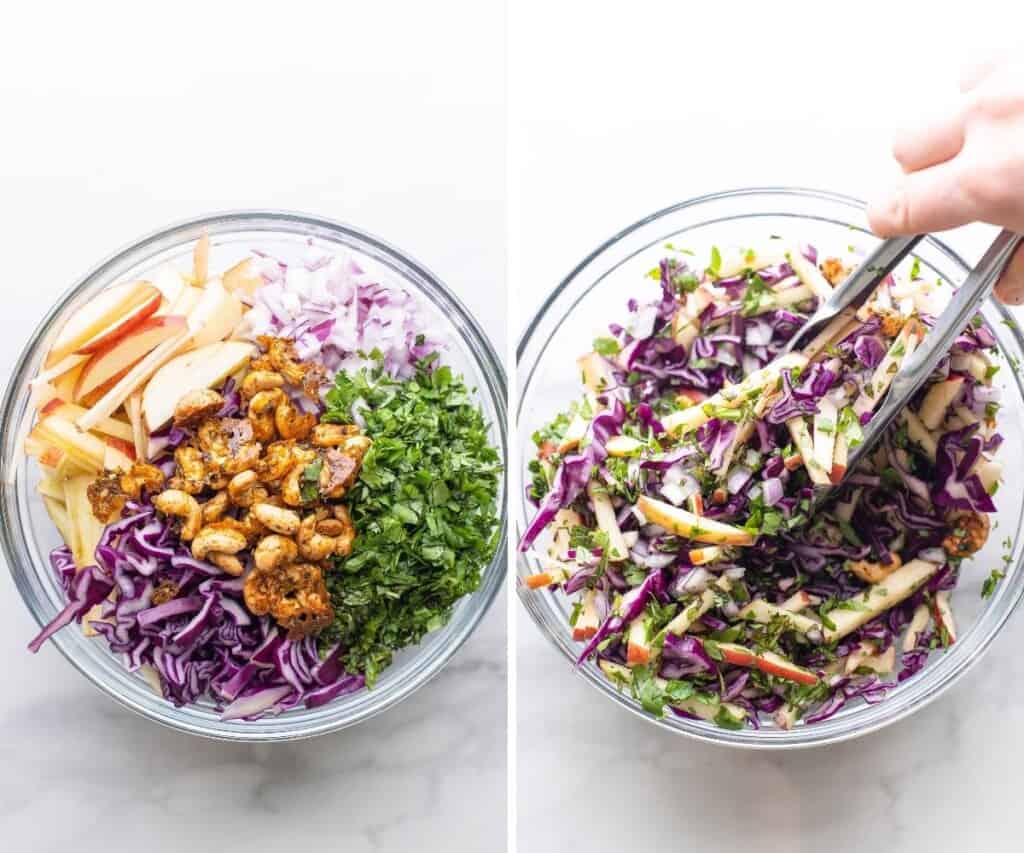 Dressing Prep
This can be done in minutes – simple mix and combine the dressing ingredients in a small cup or jar and that's it!
As always, I recommend you taste and season your dressing to suit you and your personal tastes. Add more lime for extra punch, more maple to tone down the acid or more fish sauce or a pinch of salt for balance.
Once everything is prepared and ready to go, toss it all together in a large mixing bowl until combined and that's it!
Fish Sauce
Depending on the brand and processing, some fish sauce does contain gluten. Make sure to check the labels to ensure it's gluten free if needed!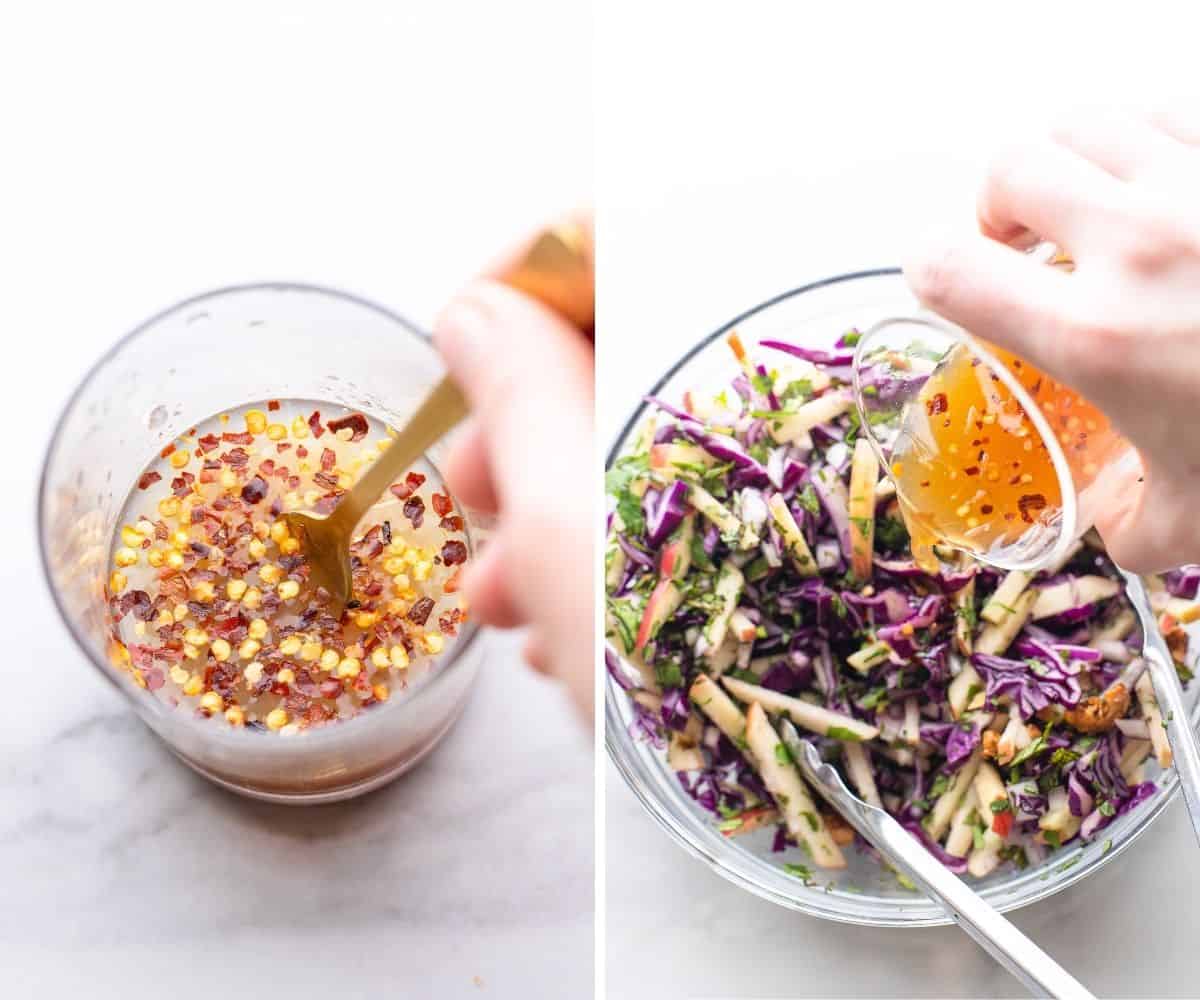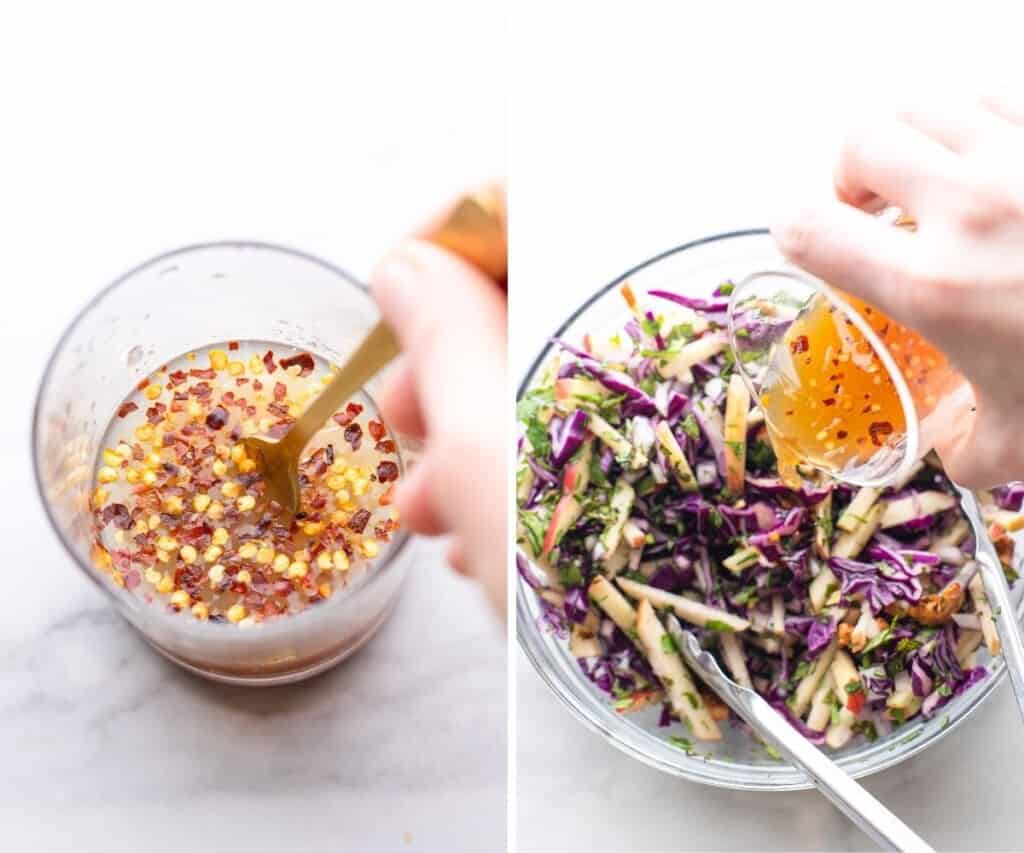 Substitutions, Additions And Ways To Make It Your Own
I do recommend trying this red cabbage salad as written at least once. However, I'm always happy to suggest ideas and ways to play around with the ingredients to suit your personal tastes.
Here are a few ways you can deviate without straying too far from how it should turn out:
Substitutions
Use white or green cabbage instead of red cabbage.

Green and white cabbage are great options if you don't have any red. You can use all green/white or a mix of green, red and/or white.
Chinese cabbage (also known as napa cabbage) will also work. It has a more mild in flavor so it could be a good option for picky eaters.
Savoy cabbage has softer leaves than all the rest. It's typically best when cooked in stews or roasted. For this reason, I don't recommend its use in a raw cabbage salad like this.

Use unroasted or pre roasted nuts instead of the chilli spiced cashews.

To cut down on time and effort you can opt to use raw cashews or plain, roasted cashews. While the chilli spices nuts are excellent and add an extra punch of spice, this salad has enough going on in other ways, you can cut back in this area with plain nuts.
Feel free to use a different type of nut here altogether. The original recipe from the book called for roasted hazelnuts. I think salted peanuts would also make for a great option here.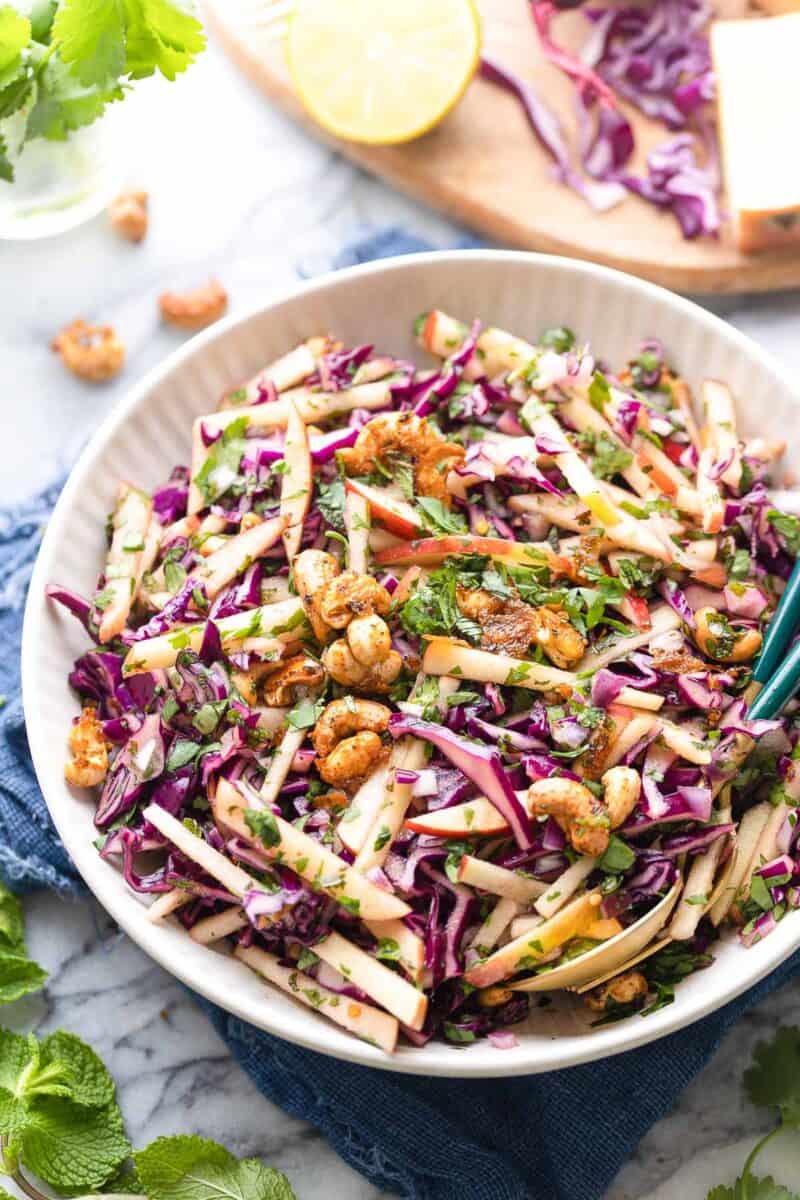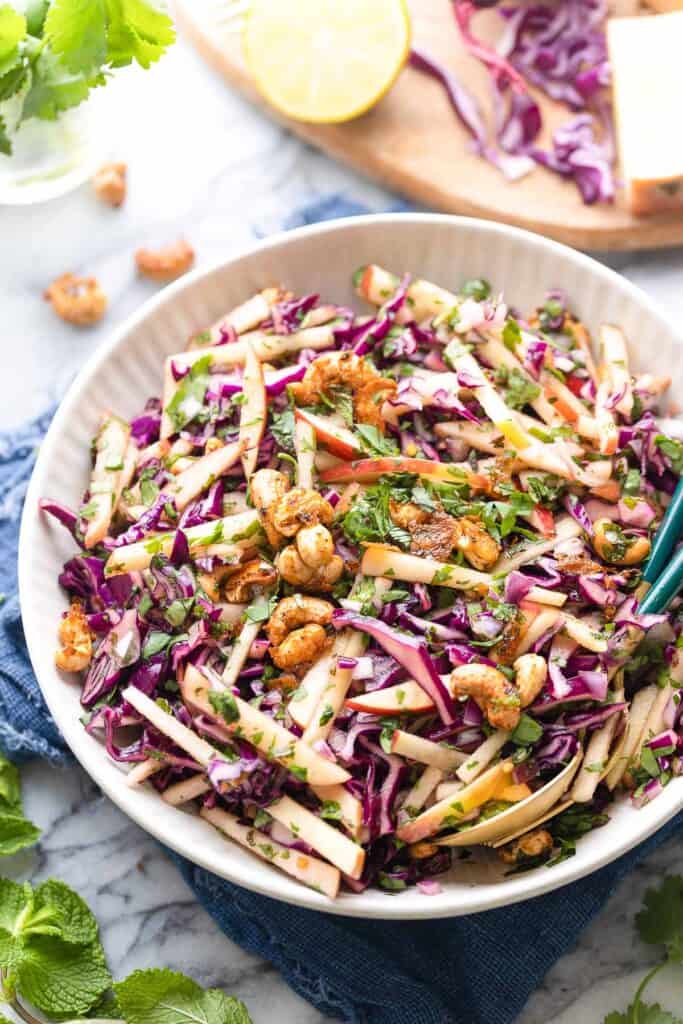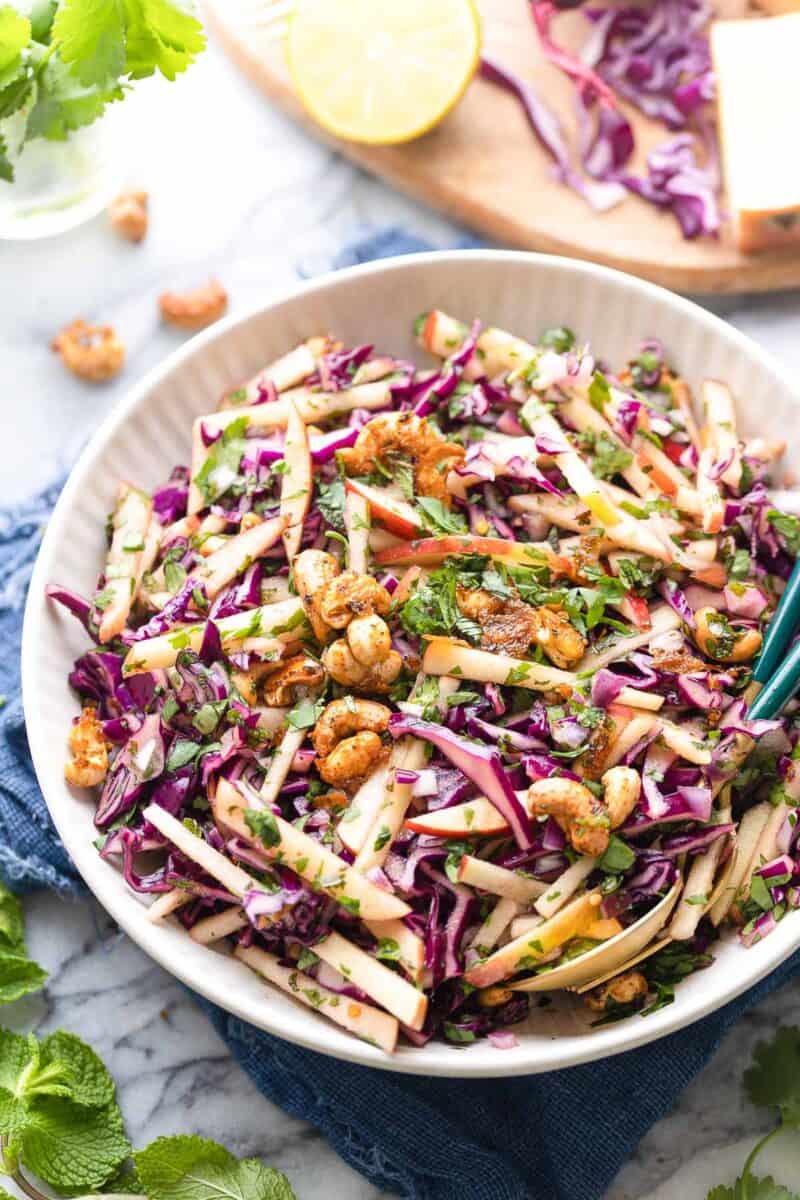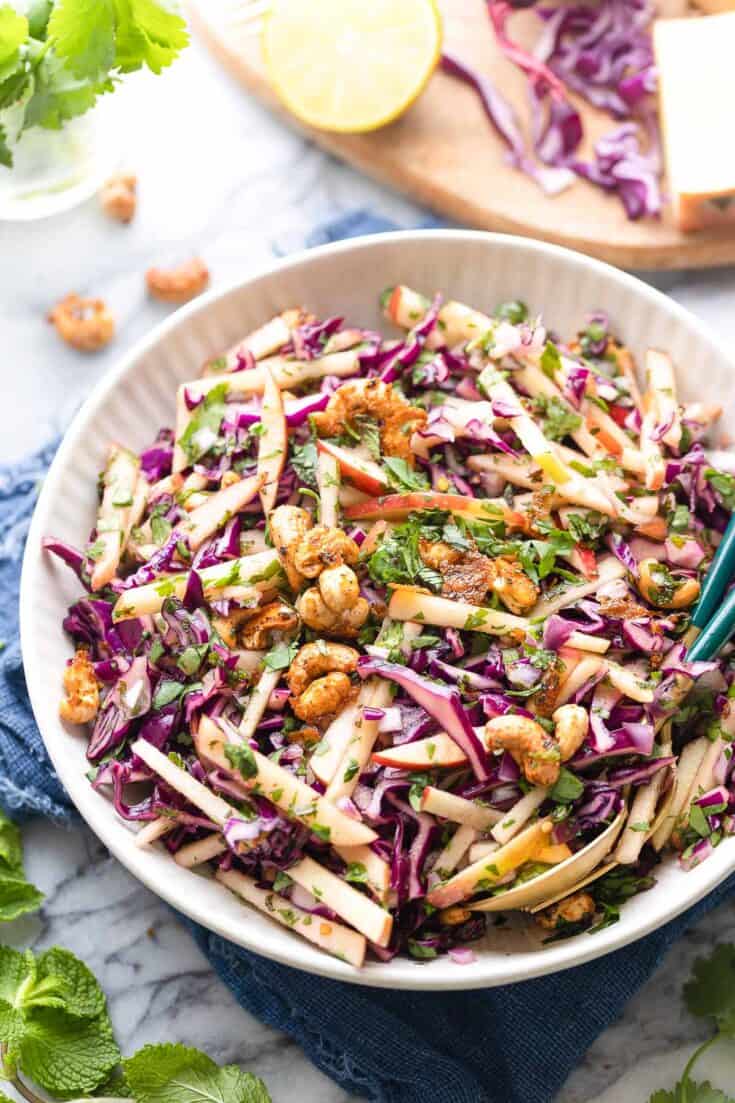 Recipe
Apple and Red Cabbage Salad with Chili Cashews
Yield:
4 servings
Prep Time:
15 minutes
Cook Time:
10 minutes
Total Time:
25 minutes
This Apple and Red Cabbage Salad is a bright and fragrant medley of crunchy veggies and caramelized nuts mixed into a simple sweet, spicy and sour dressing!
Ingredients
Cashews
3/4 cup (105g) raw cashews
2 teaspoons neutral flavored oil
1 tablespoon (20 g) maple syrup
1/2 teaspoon mild chilli powder, or to taste
1/2 teaspoon black pepper
1/2 teaspoon fine salt
Dressing
3 tablespoons (45 ml) lime juice
1 tablespoon (15 ml) fish sauce, ensure gluten free
2 tablespoons (40 g) maple syrup (can sub with brown sugar)
1/4 teaspoon dried chili flakes, or to taste
Salad:
2 1/2 cups (about 200 g) red cabbage, thinly sliced or shredded
2 apples, cut into match sticks
1/2 red onion, diced
1 cup (25 g) loosely packed cilantro chopped
1/2 cup (12 g) loosely packed mint leaves, chopped
Instructions
Cashews
Preheat the oven to 375°F/170°C. Line a baking sheet with parchment paper or foil. Set aside.
In a small mixing bowl: combine the oil, maple, chilli powder, black, pepper and salt. Mix together. Add the cashews to the bowl and toss well until the cashews are fully coated in the mixture.
Spread across the lined baking sheet in an even layer. Bake for 9-10 minutes, or until the cashews are golden brown and the maple syrup has caramelized. Once golden, remove from the oven and set aside to cool.
Salad
Dressing Prep: Mix the ingredients together in a small bowl, ensuring they're properly combined. Set aside.
In a large bowl: add all of the salad ingredients along with the roasted nuts and mix together.
Pour the dressing over the salad and toss well until fully combined.
Serve and enjoy!


Notes
This salad is best enjoyed fresh . If you want to prepare it in advance I recommend you wait to add the dressing until just before serving.
This website provides approximate nutrition information for convenience and as a courtesy only. Nutrition data is gathered primarily from the USDA Food Composition Database, whenever available, or otherwise other online calculators.
More Recipes Thai Inspired Recipes You Might Enjoy