Spicy Thai Basil Chicken (also known as Pad Krapow Gai or Phat kaphrao) – is everything you want from a stir-fry. It's simple, speedy and straight-up satisfying! It's no wonder that Pad Krapow Gai is an extremely popular Thai street food dish and a staple in Thai cooking in general. Make this easy stir-fry in about 15 minutes, serve over a bed of rice and enjoy!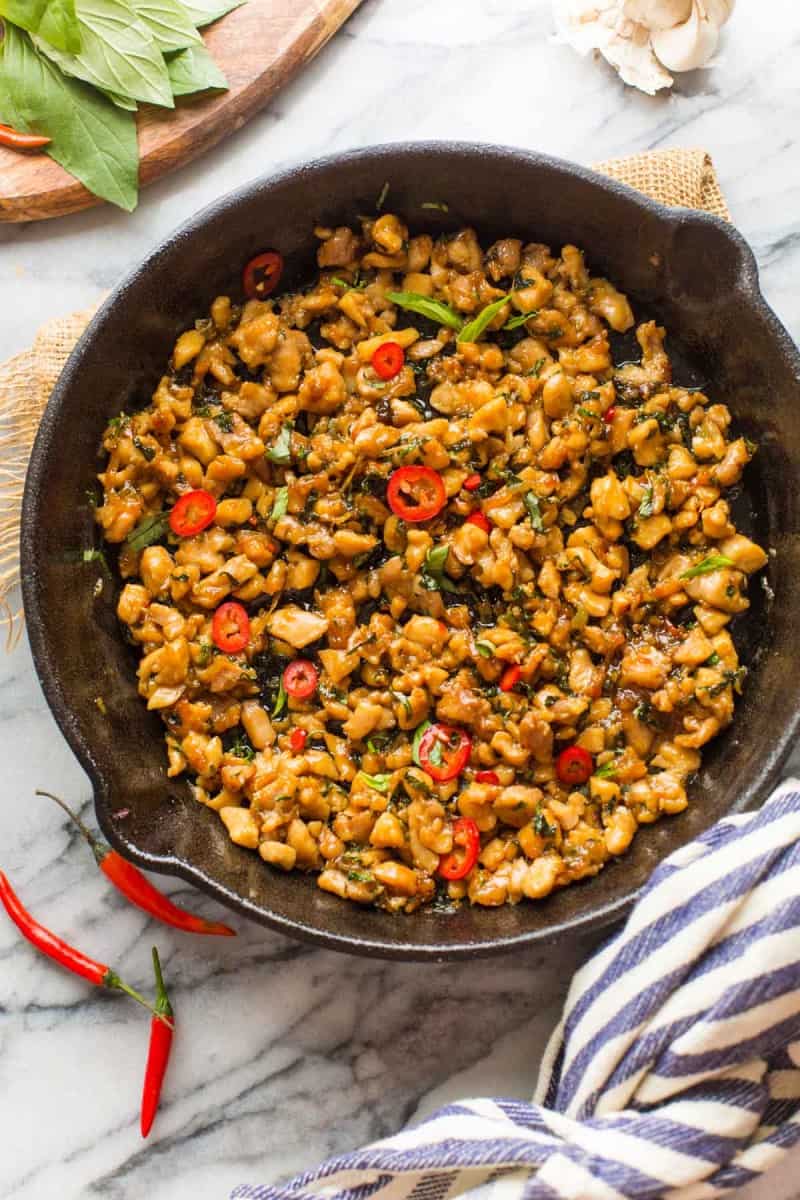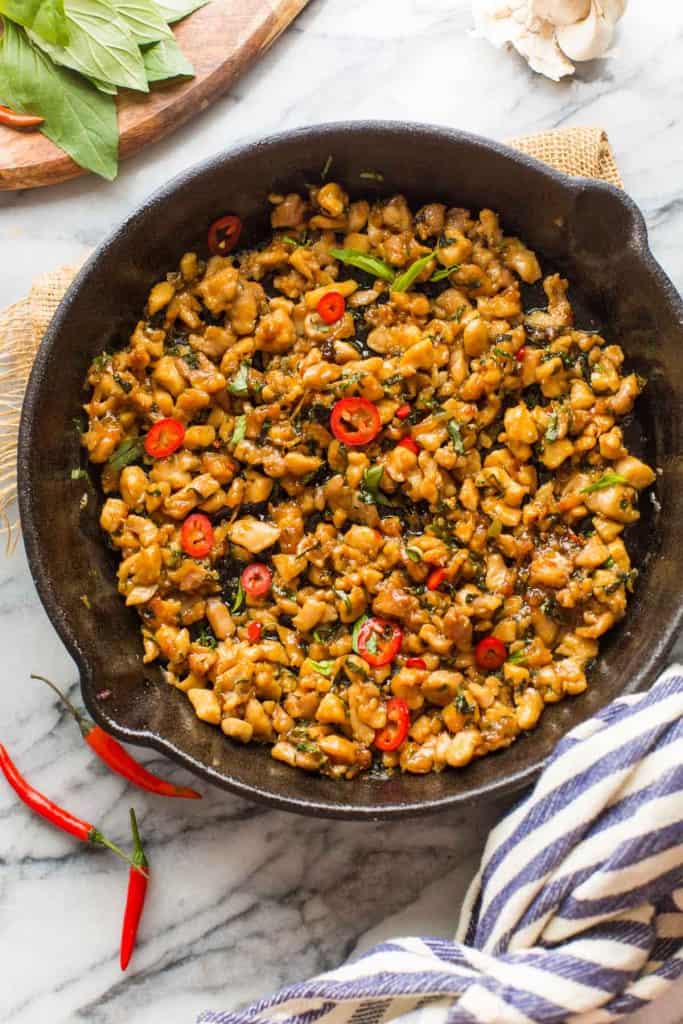 What is Pad Krapow Gai?
Breaking it down piece by piece:
Pad is the Thai word for 'stir fry'
Kapow translates to 'holy basil'
Gai means 'chicken'
So essentially, Pad Krapow Gai translates into stir fried holy basil chicken.
In Thai cooking, Pad Krapow has become somewhat of a staple dish in Thai cuisine, a gold standard easy stir-fry. While chicken is a popular iteration of this stir fry, it's also common to see the chicken replaced with other proteins like beef, pork, prawns and seafood. I have a beef version of this recipe: Thai Basil Beef (Pad Gra Prow) if you're interested!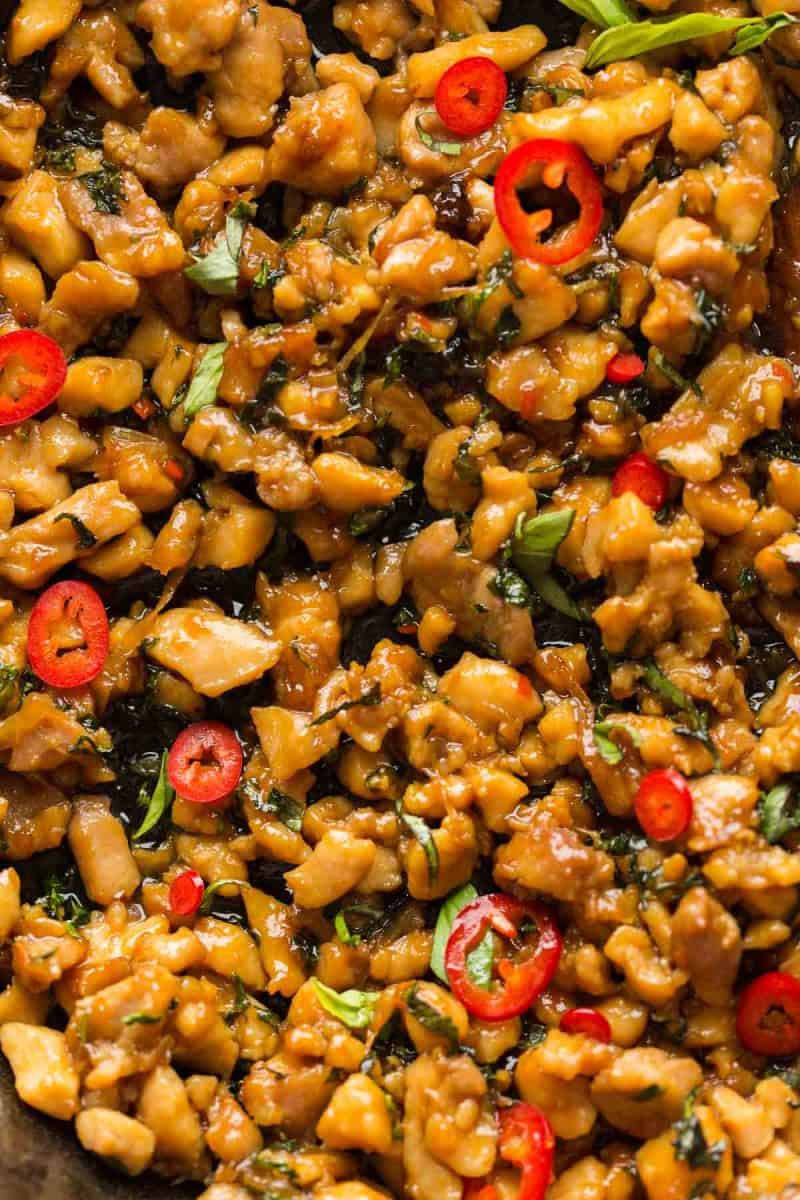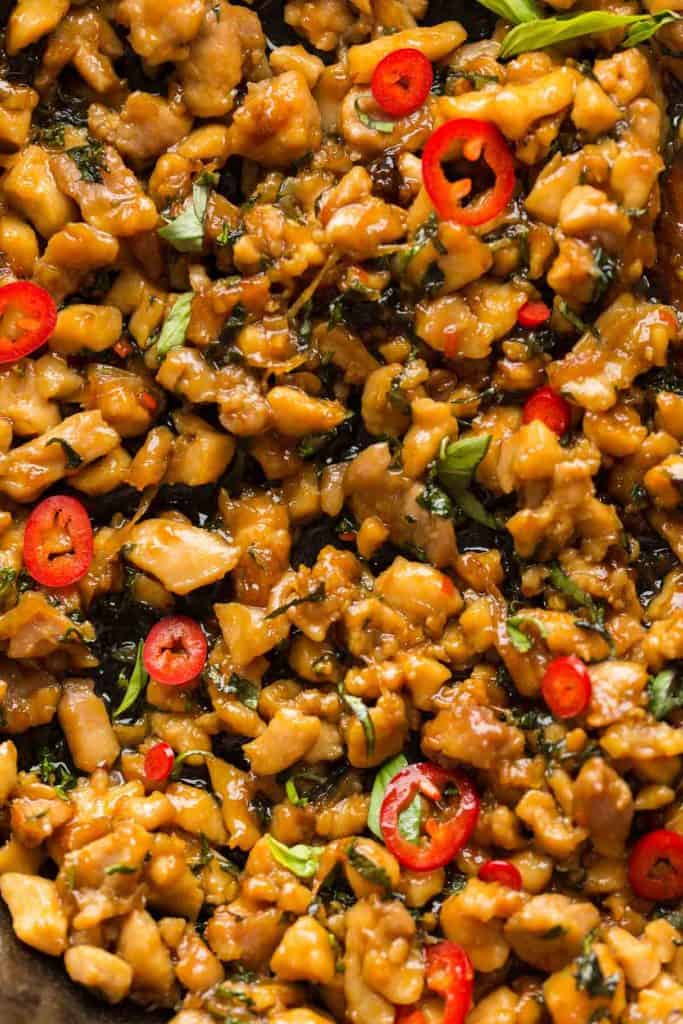 Main Ingredients
Sauce Ingredients:
Gluten-Free Soy Sauce or Tamari (or regular soy sauce if you're not gluten free)- You can use coconut aminos here if you'd prefer a soy-free option but I do recommend adding extra salt to your sauce to make up for the missing umami.
Oyster Sauce – This is often times an optional addition to gai pad krapow but it's one that's work adding if you can. It's a savoury sauce that adds an extra layer of flavour that's slightly sweet and rich in umami. It also adds a lovely dark colour to your sauce that's generally more appealing.
Where to Find Gluten Free Oyster Sauce
You'll need to double check and guarantee that the oyster sauce is gluten free as many do contain gluten. I've found that a lot of healthy food stores like Sprouts and Whole Foods usually carry gluten free oyster sauce, but if you're struggling to find any then Amazon is always a great place to look.
Fish Sauce – Technically, an authentic recipe would require a Thai fish sauce, but this recipe isn't exactly authentic anyway. Many countries in Southeast Asia will manufacture their own fish sauce. Thai and Vietnamese sauces are the most popular. Vietnamese fish sauce (usually lighter and more clean) has a more delicate flavour while Thai fish sauce (dark in colour) is more pungent. Either will work so don't sweat it!
Honey – Honey helps make this sauce nice and thick, more like a glaze. Feel free to use more easy to find sugar substitutes like white or brown sugar if you prefer. Palm sugar is ideal for a more authentic recipe.
Chicken Stock – Chicken stock (can be from a carton, homemade or mixed from a bullion cube) adds salt and umami to our sauce.
Stir Fry Ingredients:
Boneless, skinless chicken thighs or Ground Chicken – Chicken thighs chopped into small pieces makes for a better flavour and textured dish, but minced meat will work too!
Shallots – Finely slice 2-3 shallots to get about 1/2 cups worth.
Garlic – Grate or finely mince your garlic.
Thai Chilies (also known as Bird's Eye Chilis) – Thai chilies can be spicy for more sensitive pallets. Only use one (maybe) two chilies if you're particularly sensitive to spicy food. If you're taste buds aren't so sensitive use two, three or even more.
Thai Basil Leaves – Thai Holy Basil has a natural anise flavor you might recognise from liquorice. If you can't find this type of basil easily in your usual grocery stores you might have better luck looking through your local asian market for the basil, chilies and fish sauce.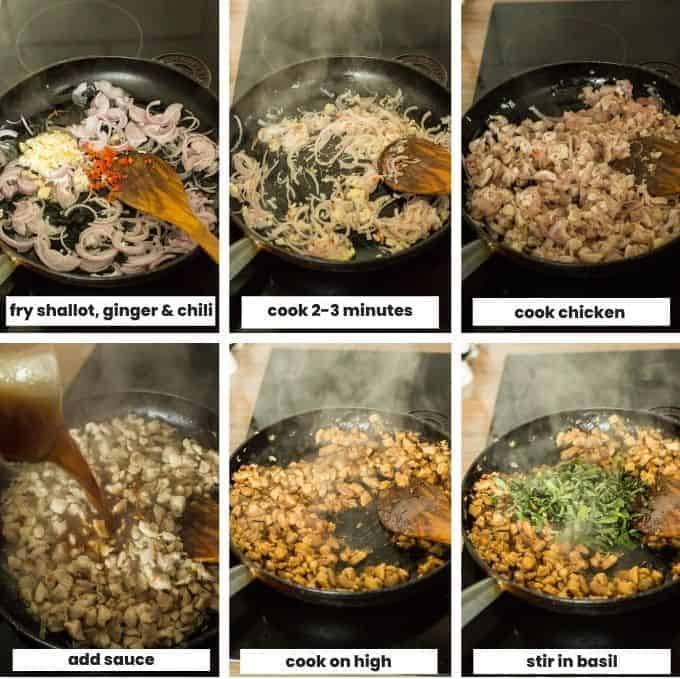 How to Make Thai Basil Chicken
As mentioned above, this recipe is extremely speedy and easy to make. Because things cook at such a fast rate it's important that you have all of your ingredients prepare before you begin.
In a small cup or bowl: combine the sauce ingredients and mix together. Set aside.
Warm a large skillet over a medium heat. Add the shallots, ginger and chilies. Fry 2-3 minutes to soften the aromatics.
Add the finely chopped chicken pieces (or ground chicken). Continue to cook another 4-5 minutes until no longer pink.
Add the previously mixed sauce to the chicken. Cook on high for a few minutes. Stir often and cook until the sauce reduces down into a thick glaze.
Stir in the fresh basil leaves. Taste, season and that's it!
Substations
Shallots >> White Onion – Sub out the shallots with 1/2 cup thinly sliced white onion. I haven't tried it yet, but I think spring onions would also work well here.
Bird's Eye Chilis >> Other Chilis – If you can't find Thai chilis, feel free to use different chili peppers here instead. A fresh cayenne pepper will provide a similar type of heat as Thai chilis. If you'd prefer a less spicy option you can use a serrano pepper or a mild jalapeno pepper.
Thai Holy Basil >> Regular Sweet Basil – Standard Italian basil might not have the same anise flavour as holy basil, but it's still an excellent herb to use in this context. Don't let not having Thai basil hold you back here!
Chicken Thighs >> Pork or Beef – You can very easily swap out the chicken for ground chicken or another type of protein!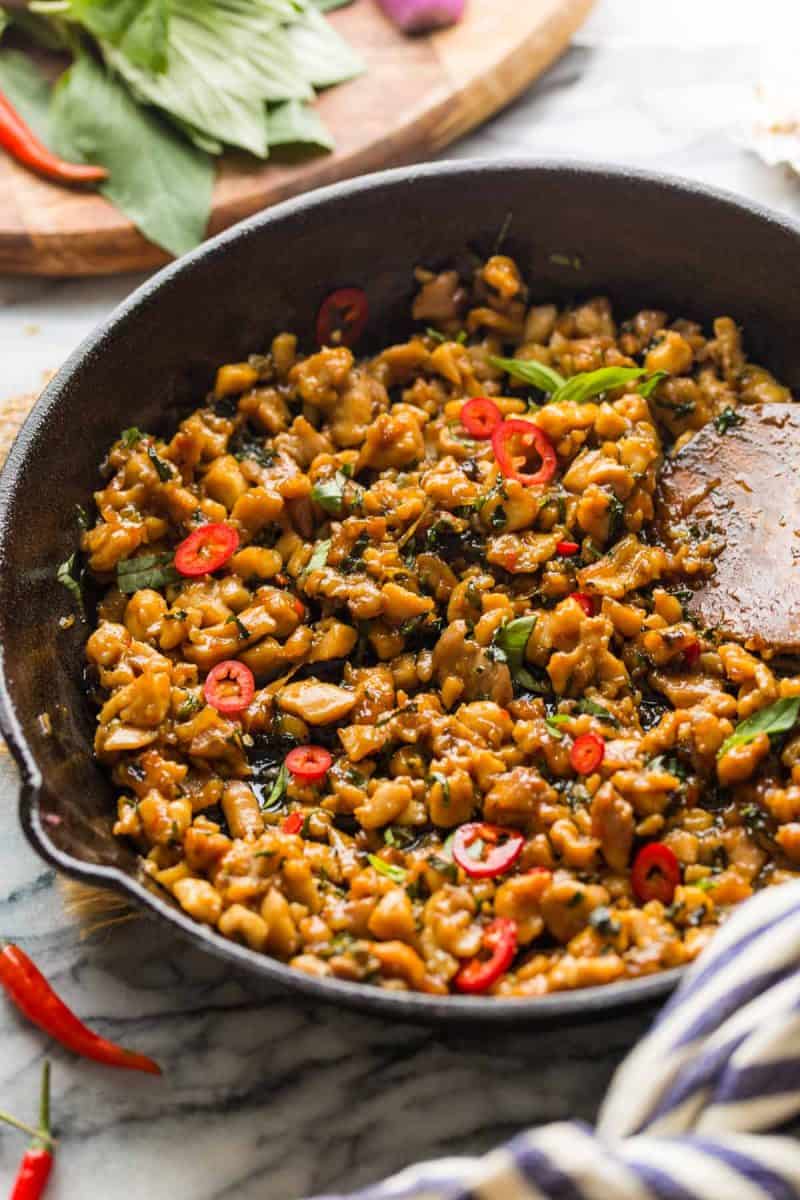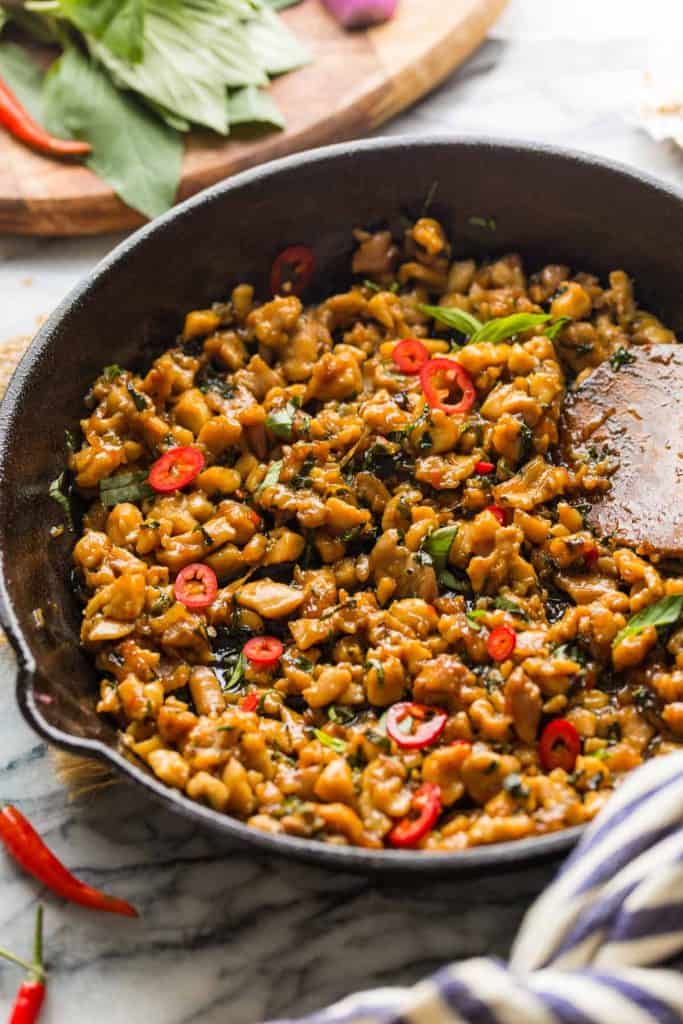 Serving
Thai Basil Chicken is typically served over a bed of Jasmin rice, though any type of rice will do whether it's white rice or brown rice. Many foodies will recommend throwing a fried egg on top.
If you're looking to cut back on carbs you can also enjoy this mixed in cauliflower rice. It's not Thai, but my Cauliflower Fried Rice does go well with this particular dish.
You can also enjoy the chicken spoon into lettuce wraps making for a light, crisp and healthy lunch or dinner.
As for garnishes, a sprinkle of sesame seeds and some fresh herbs never hurt!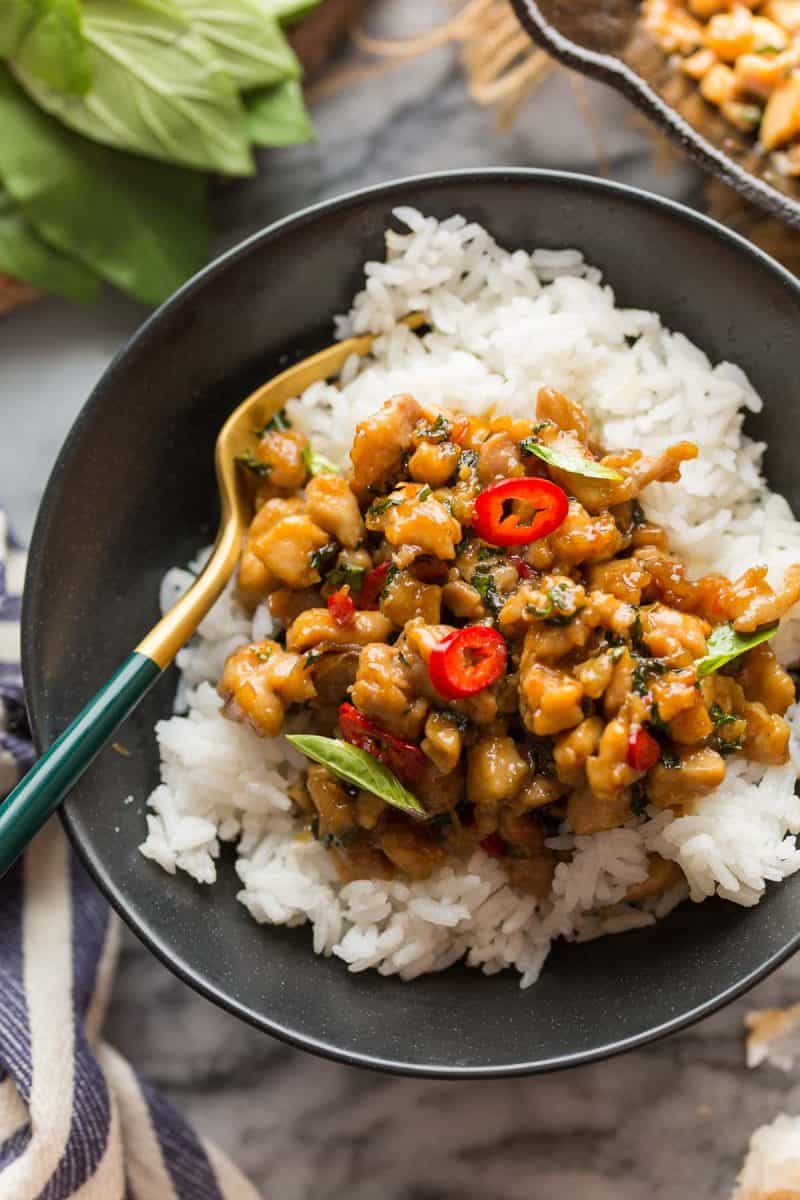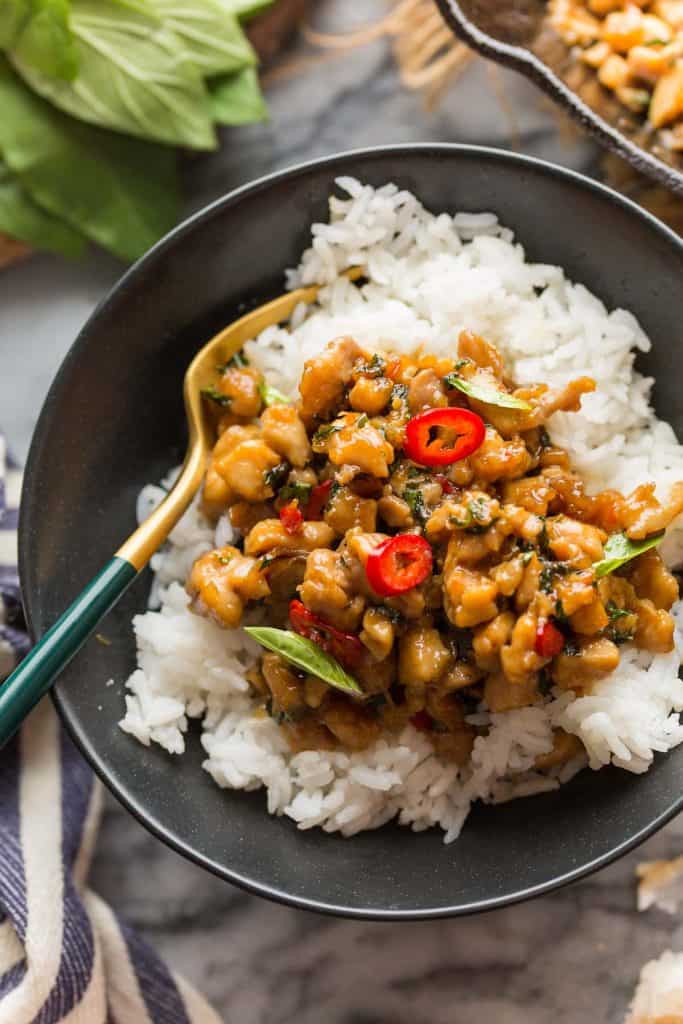 More Stir Fry Recipes You Might Enjoy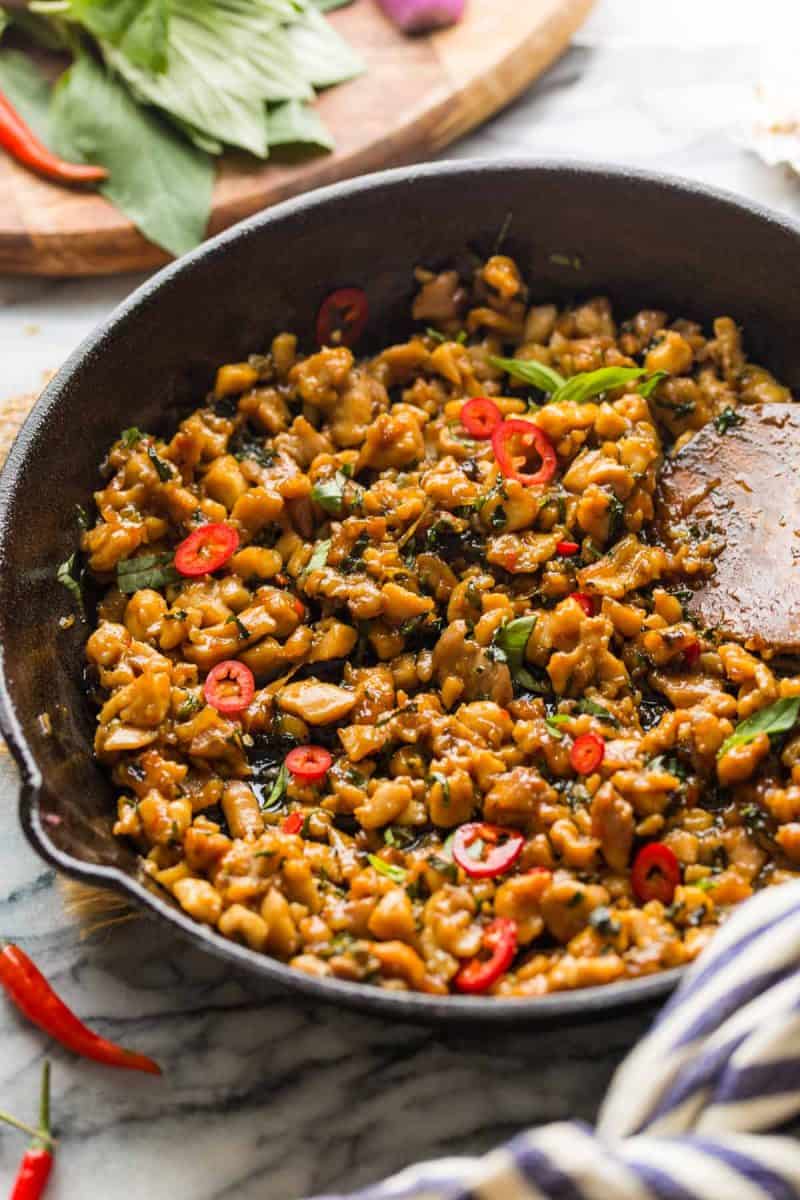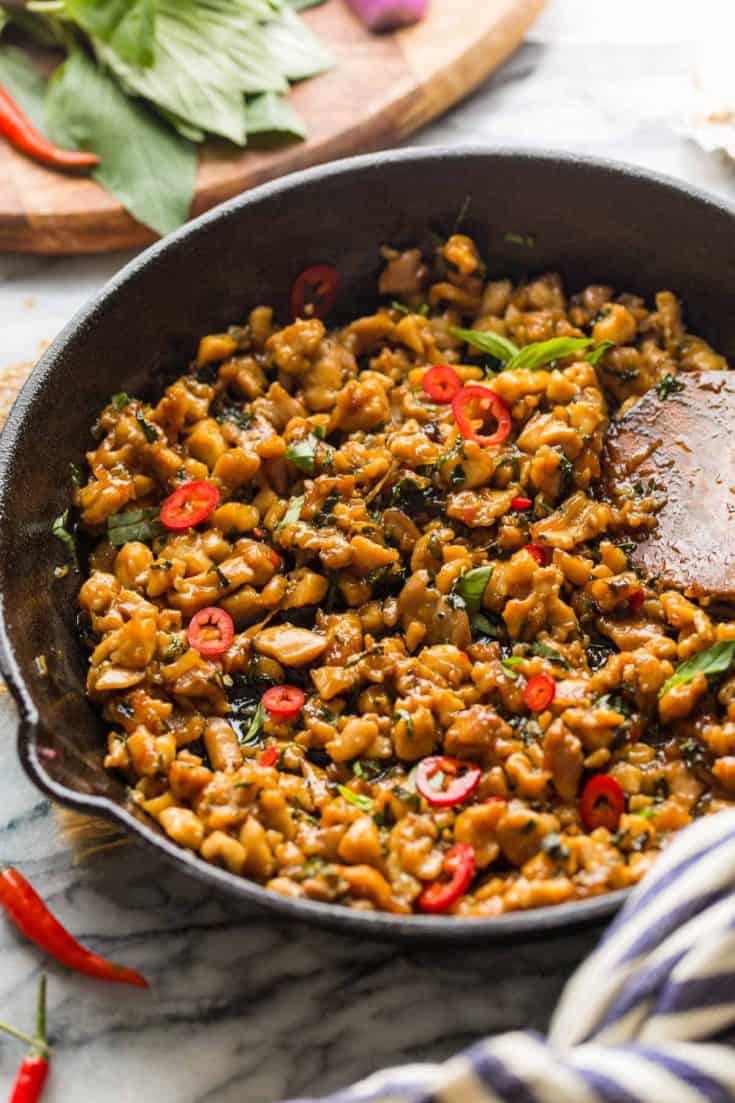 Recipe
Thai Basil Chicken (Pad Krapow Gai)
Yield:
2-3
Prep Time:
10 minutes
Cook Time:
15 minutes
Total Time:
25 minutes
Spicy Thai Basil Chicken (also known as Pad Krapow Gai or Phat kaphrao) - is everything you want from a stir-fry. It's simple, speedy, straight satisfying! I
Ingredients
Sauce
1/3 cup | 80 ml chicken stock
2 teaspoons honey (or sugar)
2 tablespoons gluten free soy sauce or tamari
1 tablespoon oyster sauce
1 tablespoon fish sauce
Chicken
1 tablespoon oil
2-3 Thai Chilies, deseeded and diced
1/2 cup, about 2-3 shallots thinly sliced
4 cloves garlic, minced
1 pound boneless, skinless chicken thighs, chopped into very small pieces OR pre-ground chicken
1 cup Thai basil leaves, sliced
Instructions
In a small cup or bowl whisk together the chicken stock, honey, soy sauce and fish sauce. Set aside.
Warm the oil in a large skillet over a medium heat. Add the chilies, shallots and garlic. Sauté for 2-3 minutes.
Add the ground chicken and cook, stirring often for 4-5 minutes until no pink remains.
Adjust to a high heat and add the sauce. Cook another 2-3 minutes stirring often. Cook until most of the liquid has evaporated. The sauce transform into a sticky glaze.
Stir in the basil. Taste and season as needed.
Serve over a bed of rice or cauliflower rice and enjoy.
Notes
Thai Chiles (also known as bird's eye chilis) are fairly spicy so use with caution if you're sensitive to spice. They can be replaced with other, more accessible chili peppers if needed. Cayenne peppers will add a similar, spice. For a less spicy dish, use a mild chili like serrano peppers.
Thai Basil can be replaced with sweet Italian Basil.
TIP: This recipe cooks fast so it's important that you make sure your prep all of your ingredients before you turn on your stove.
This website provides approximate nutrition information for convenience and as a courtesy only. Nutrition data is gathered primarily from the USDA Food Composition Database, whenever available, or otherwise other online calculators.
More Recipes Thai Inspired Recipes You Might Enjoy