Fresh and zesty Thai Salmon Fish Cakes loaded with smashed potatoes, ginger, chili, lemongrass and more. These fish cakes are crispy on the outside, juicy on the inside and well worth the effort!| Gluten Free + Dairy Free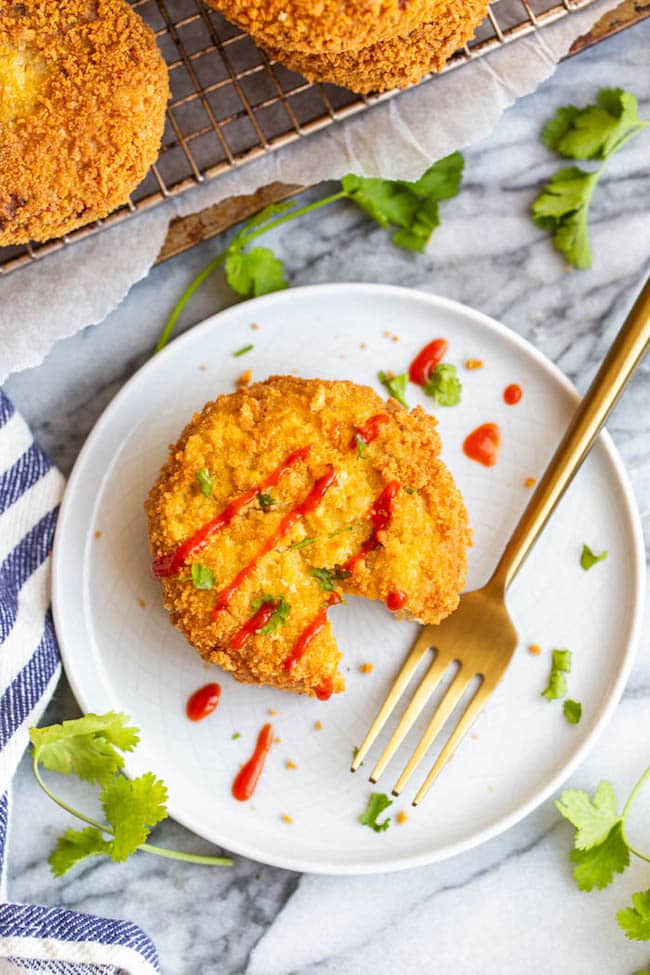 How to Make these Gluten Free Thai Salmon Cakes
The whole process can be broken down into three main steps:
Making the patties
Breading the patties
Frying the patties.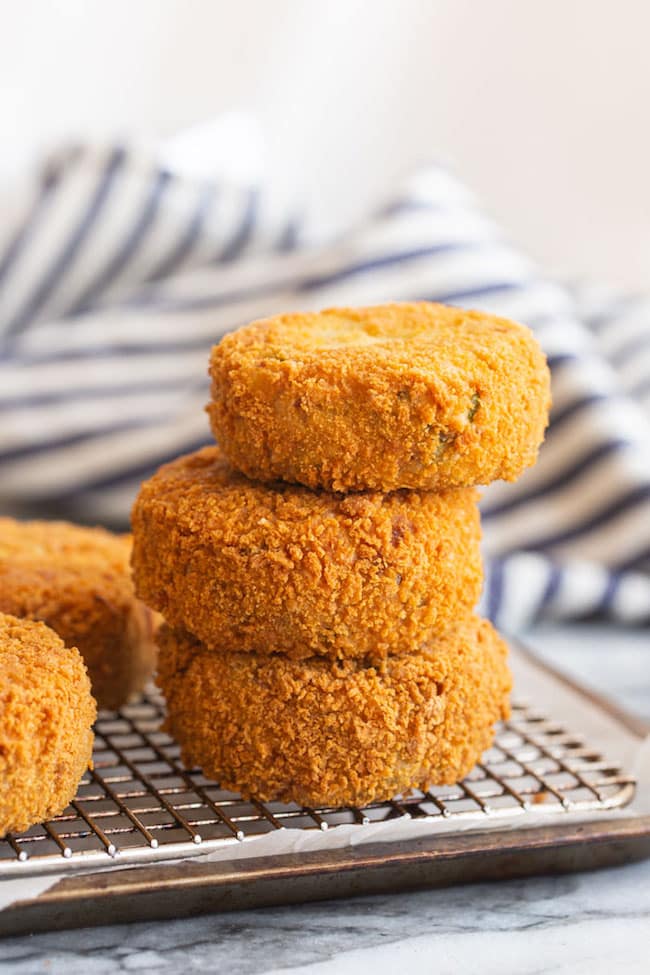 Making the patties is fairly easy. The most time consuming part of this process is boiling the potatoes so that they're soft enough to mash. I recommend dicing the potato into smallish chunks so that it cooks faster. Once the potatoes are fork tender, drain away the water and mash with a fork or potato masher. After you've sufficiently mashed the potatoes all you need to do is add the remaining ingredients and mix together until well combined.
Finally, scoop out the batter about 1/2 cup at a time and form into round discs, about 3 inches wide and 1 inch tall. Set aside on a plate as you prepare the breading process.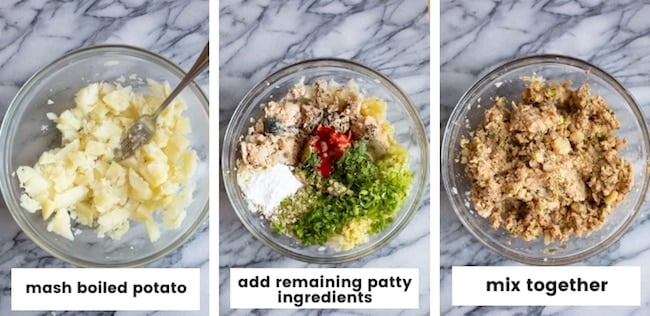 Breading & Battering
I recommend laying out a large piece of foil to place on your surface as you work for easy clean up.
To begin the breading, set up an assembly line for easy battering. Place the flour in one bowl, whisked eggs in a second bowl and bread crumbs in a third bowl. You'll dip the salmon cakes in each bowl coating in flour, egg and and finally breadcrumbs. Set aside each cake on a piece of foil until each one is fully coated and ready for frying.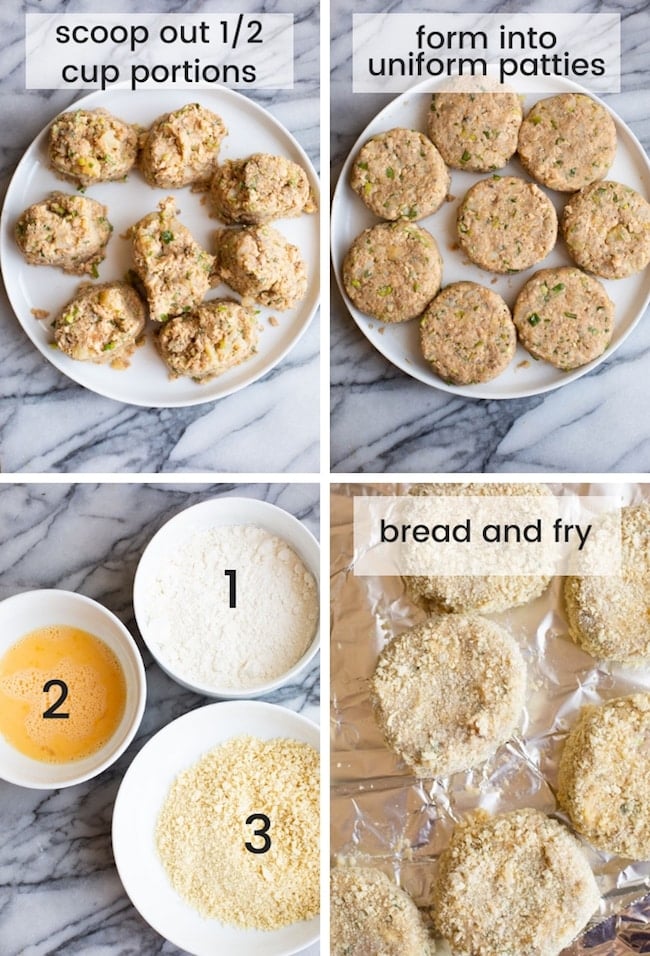 Gluten Free Salmon Cakes Q&A's
Deep Frying Vs Shallow Frying
Deep frying is when food cooks as it is fully submerged in oil. Shallow frying is when food is only partially submerged as it cooks.
You can use either method here, each method has its own pros and cons.

Deep frying: The fish cakes will have a crispier exterior with a juicier interior and cook in minutes. You will need to use more oil.
Shallow frying: You'll use less oil and will have slightly healthier fish cakes but it will take a little more time to cook as you'll need to flip the cakes over as they cook.

Whichever method you use is up to you and your preferences. I've made these gluten free salmon cakes both ways and I personally enjoy the deep fried ones more.
What type of oil to use?
Ideally you want to use an neutral-tasting oil with a high smoking point like rapeseed, vegetable or peanut. Extra virgin olive oil and coconut oil are not suitable for frying because of their low smoke point.
How to substitute lemongrass?
Depending on where you live, lemongrass can be a tricky ingredient to find. If it's not easy to come by you can use lemon zest in its place in a pinch. It's not the exact same, but lemon zest will still offer up a similar herbal, citrusy kind of flavour that will do the job.
FACEBOOK | INSTAGRAM | PINTEREST
Don't forget to @asaucykitchen on instagram if you try these gluten free salmon cakes! We love seeing what you make! You can also post your pictures to my facebook page!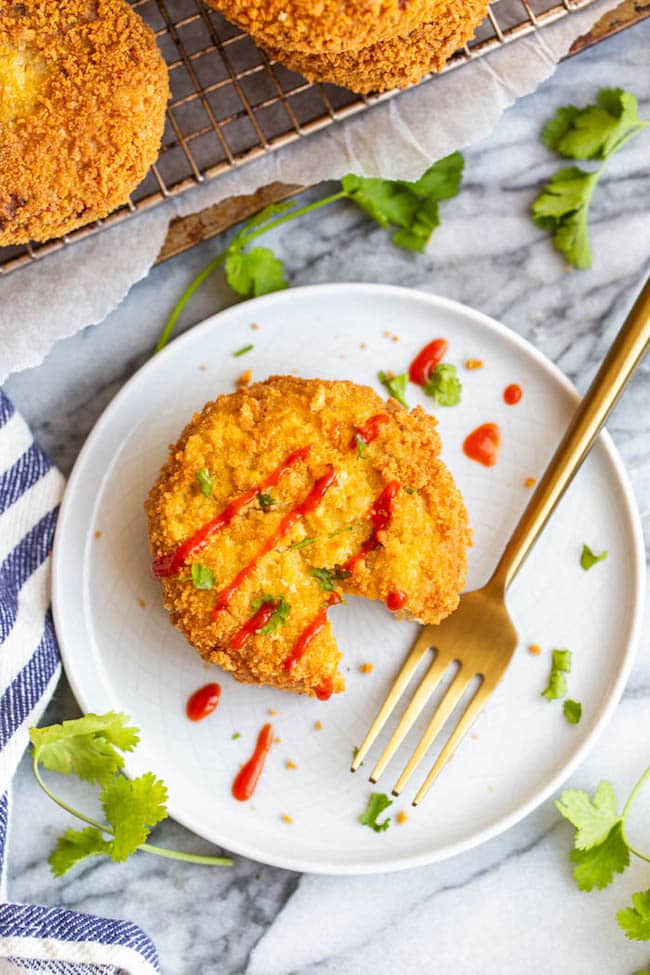 Recipe
Gluten Free Salmon Cakes
Yield:
8 cakes
Prep Time:
30 minutes
Cook Time:
15 minutes
Total Time:
45 minutes
Fresh and zesty Thai Salmon Fish Cakes loaded with mashed potatoes, ginger, chili, lemongrass and more. These fish cakes are crispy on the outside, juicy on the inside and well worth the effort!| Gluten Free + Dairy Free
Ingredients
Salmon Patties
400 grams white potato, peeled and cut roughly diced
2 (212g or 7.5 oz) cans salmon*
1 lemon grass stalk, finely chopped
1 green chili, deseeded and finely chopped
1 tbsp ginger, finely chopped
2 tbsp fresh cilantro or parsley, measured after chopped
1 tbsp sriracha
1 tbsp (15 ml) gluten free soy sauce or tamari (use coconut aminos for soy free alternative
1 tsp honey or sugar
1 egg, whisked
2 tbsp (18 g) gluten free all purpose flour or corn starch
Breading
2 eggs, whisked
1 cup (140 g) gluten free all purpose flour or corn starch
1 cup (125 g) gluten free bread crumbs
Oil for frying
Instructions
Patties
Place the potatoes in a medium sized pot, cover with boiling water and boil for 7-10 minutes until the potatoes are fork tender. Turn off the heat. Once tender, drain the water and leave the potatoes in the hot pot for a minute or two to dry out further.
Place the potatoes in a large mixing bowl and mash using a fork or potato masher. Leave a few chunks in tact.
Add the remaining patty ingredients to the bowl: lemon grass, chili, ginger, chopped herbs, sriracha, soy sauce, honey/sugar, egg and flour. Mix well until fully combined. I found it easier to use my hands to mix in this stage.
Once mixed, use a 1/2 cup measuring cup to scoop out and divide the patties into equal pieces. You should end up with about 8 mounds. Form into patties about 3 inches wide and 1 inch tall. Set aside.
Breading & Frying
Add your frying oil to a large skillet or pot so that it's about 1 inch deep. Turn the heat to medium-high and let the oil get hot as your prep the patties.
For easy clean up, lay out a large sheet of aluminium foil to work on.
Add the flour/starch to another shallow bowl or plate. Whisk your eggs in one small bowl. Add the breadcrumbs to another shallow bowl or plate.
One at a time, take your formed patties and lightly dredge in the flour. Lightly shake off the excess and dip into the whisked eggs. Shake off excess egg and then dip the patties into the breadcrumbs lightly coating the sides. Gently press the breadcrumbs into the patties and then set aside on the foil. Repeat with every patty until each one has been coated.
After the oil has heated fully (ideally around 350-375°F or 175°C-190°C) add the patties to the oil to fry. I recommend placing the fish cakes on a metal spatula and gently lowering directly into the oil to avoid splashing the hot oil.
Add as many fish cakes into the pot as you can fit while still leaving about 1-2 inch of space in between each patty. Fry for about 2-3 minutes or until the outside breading has goldened. If your fish cakes don't fully submerge in oil, flip them over and cook 1-2 minute to fry the top side.
Once cooked, scoop out the fish cakes and transfer to a wire cooling rack to drain off excess oil as it cools. Let cool at least 5 minutes and enjoy.

Notes
I used wild pacific salmon that included bones and skin but you can use boneless/skinless if you prefer.
You can use 1 teaspoon grated lemon zest in place of lemongrass.
This website provides approximate nutrition information for convenience and as a courtesy only. Nutrition data is gathered primarily from the USDA Food Composition Database, whenever available, or otherwise other online calculators.
More Recipes Thai Inspired Recipes You Might Enjoy