Making enchiladas entirely from scratch is easier than you might think with these Chicken and Black Bean Gluten Free Enchiladas! The enchilada sauce comes together with basic pantry staples in a matter of minutes and the crepe-like tortillas and made with only three ingredients and take very little time to prepare. Make this dish even faster and with less effort by simply using your favorite pre-made ingredients!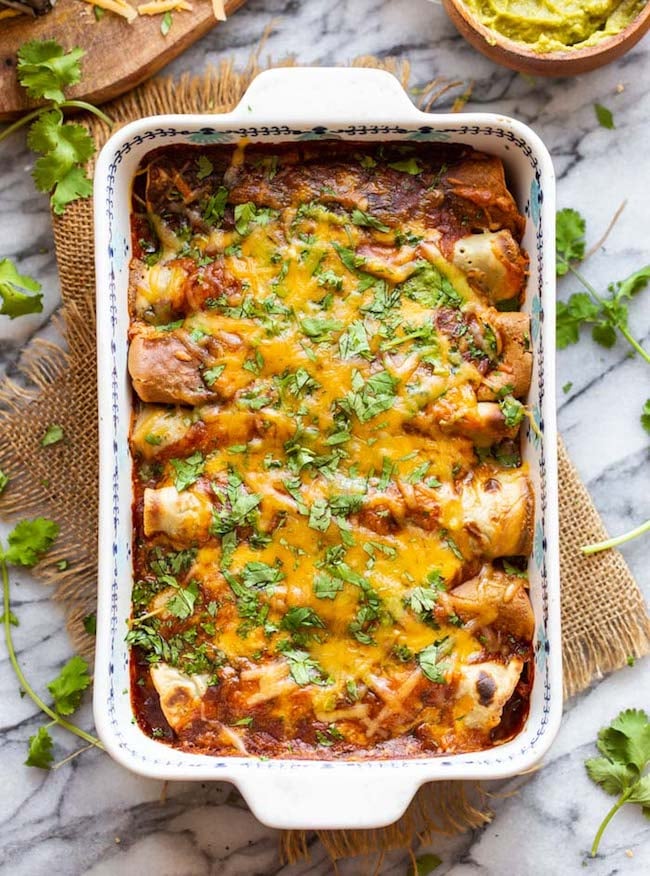 Cooking these past couple of months has been…interesting. It's a feeling I'm sure we can all relate to right now.
I try to plan ahead and schedule meals out in advance so that we never run out, but that doesn't always go to plan. There's always a day or two before our next grocery delivery where we run low on ingredients. It's those days when I have to start getting a little more creative with our meals. And that is exactly how I ended up with these chicken & black bean enchiladas.
How to Make Gluten Free Enchiladas From Scratch
These enchiladas are made with homemade tortillas, homemade sauce, and a fairly basic enchilada filling. Given the 'from scratch' nature of these enchiladas this does take a little time to make, but altogether it's actually quite easy. That being said, you can absolutely swap out the homemade sauce/tortillas for store bought alternatives!
The Sauce
This sauce is my go-to last minute enchilada sauce. I don't often keep jars of enchilada sauce on hand. It takes up space and they usually contain gluten anyway. I much prefer just whipping up a quick sauce to use when I need. It's made up of ingredients that you probably already have on hand, and it's easy to customise to better suite your tastes.
The sauce comes together in about 10 minutes. To make it, start out by whisking together a little bit of flour and oil in a pan along with a few spices. Mix into a thick paste, then add tomato paste. Finally, mix in some chicken stock and then bring to a simmer and cook about 7-10 minutes until you have a thick, silky sauce and that's it!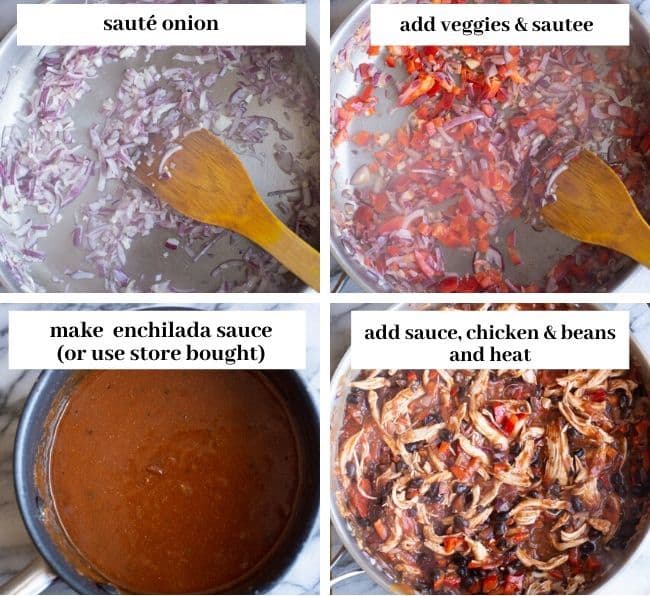 The Filling
Prepping the filling is easy once your enchilada sauce is made. Simply start out by sautéing your onion in a little oil until soft. Add the bell pepper and garlic and cook another few minutes letting the veg caramelise slightly and become fragrant.
Next, add the enchilada sauce, tomatoes, chicken and black beans. Cook and bring the mixture to a gentle simmer. Make sure to taste and season your filling with salt and pepper as needed.
The Tortillas
I used my 3 ingredient grain free wraps in place of standard corn or flour tortillas here. They're super easy to make and taste great in these enchiladas. They're made with a combination of chickpea flour, tapioca flour and milk. Simply whisk everything together and pour into a pan like a pancake and cook for a minute or two until cooked.
Feel free to use store bought tortillas instead! As much as I enjoyed my homemade ones in this context, I will usually just use store bought tortillas for the ease.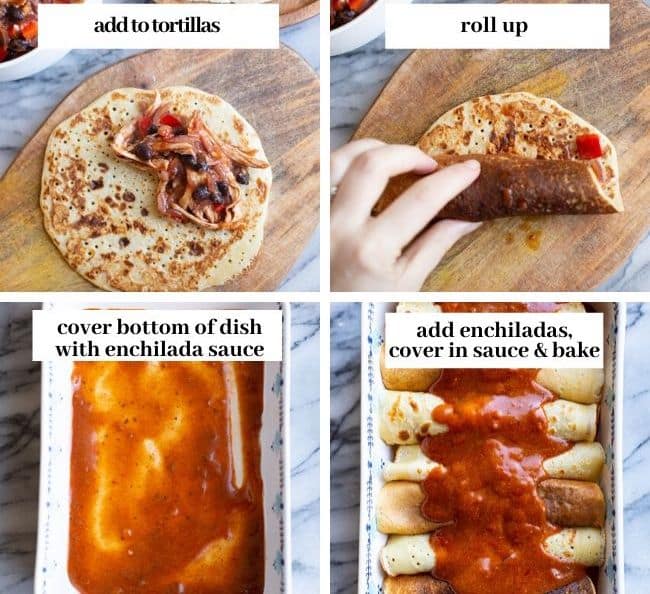 Once you've got everything prepped and ready to go it's time to fill, roll and bake. Make sure to place the rolled enchiladas seam side down in your baking dish to prevent them from opening up and spilling out.
Just before baking top with shredded cheese and that's it! Bake, uncovered for about 20 minutes until the cheese is bubbly, the edges of the tortillas are slightly crunchy and the filling has heated through.
Top off with from fresh cilantro, a dollop of guacamole and maybe a spoon of salsa and you're off to a good night!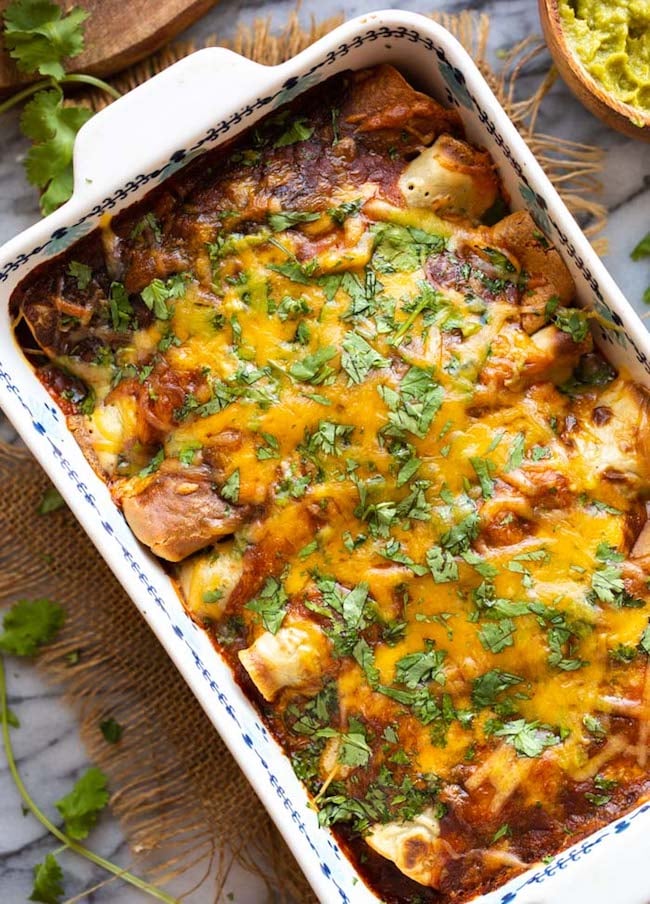 FACEBOOK | INSTAGRAM | PINTEREST
Don't forget to @asaucykitchen on instagram if you try these gluten free enchiladas! We love seeing what you make! You can also post your pictures to my facebook page!
Yield: 8-10 enchiladas
Chicken and Black Bean Enchiladas with Chickpea Flour Wraps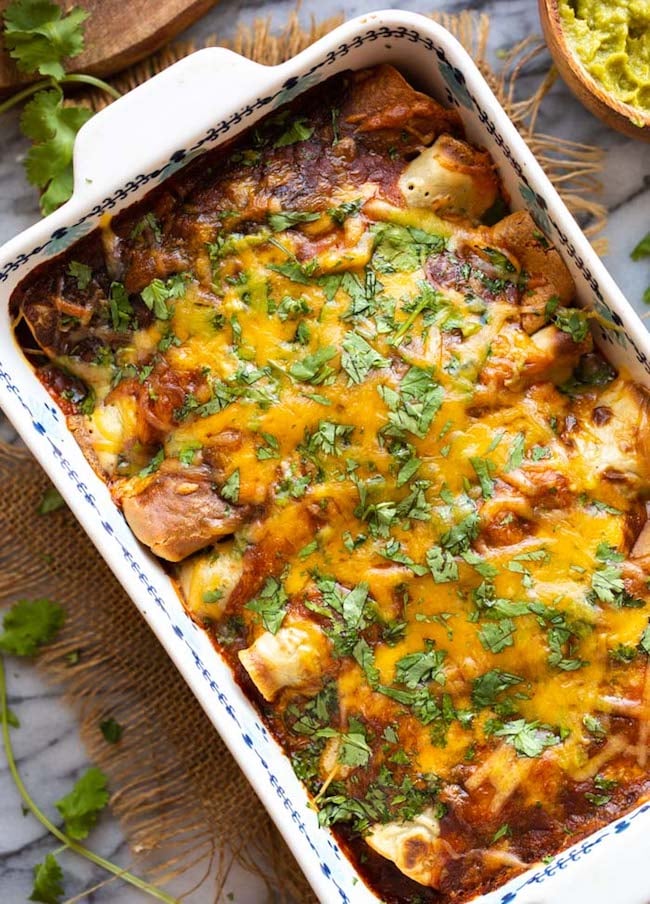 The enchilada sauce comes together with basic pantry staples in a matter of minutes and the crepe-like tortillas and made with only three ingredients take very little time to prepare. Make this dish even faster and with less effort by simply using your favorite pre-made ingredients! 
Total Time
1 hour
15 minutes
Ingredients
QUICK ENCHILADA SAUCE
1 tablespoon olive oil
1 tablespoon gluten free flour
2 tablespoons chili powder (mild, medium or hot depending on your spice preference)
1/2 teaspoon garlic powder
1/4 teaspoon ground cumin
1/4 teaspoon dried oregano
1 tablespoon tomato paste
1 1/2 cups (360 ml) chicken stock
OR use 1 1/2 cups of your favourite enchilada sauce, homemade or store bought
ENCHILADAS
2 tbsp (30 ml) olive oil
1 large red or yellow onion, diced
3 large cloves garlic, minced
1 bell pepper, seeds removed and diced (any colour)
1/2 cup crushed or diced tomatoes from a can
2 medium/large boneless, skinless chicken breasts cooked and shredded or chopped (about 2 cups shredded or 10 oz)
1 15 oz can black beans, drained and rinsed
1 cup grated cheddar or Mexican-blend cheese
Optional Garnishes & Sides
Instructions
ENCHILADA SAUCE
In a small sauce pot warm the olive oil. Add the flour and seasonings to the oil and stir together to form a roux. Add the stock and whisk it all together to remove any lumps in the sauce.
Let the sauce simmer on the stove for 7-10 minutes. Remove from the heat until you're ready to add it to your enchiladas or store it in an air tight container in the fridge. Use it within 3 days.
ENCHILADA FILLING
Preheat your oven to 350°F/175°C and lightly grease a 13x9inch casserole dish. Set aside.
Add the oil to a large skillet or pan and warm on a medium heat. When the oil is hot add the onions and and salt and sauté for a 4-5 minutes until the onions are tender. Add the garlic and bell peppers and cook another 3-4 minutes.
Stir in the chopped tomatoes and 1 cup of the enchilada sauce. Bring the mixture to a gentle simmer for a couple of minutes. Stir in the chicken and black beans until well combined. Taste and season with salt as needed.
Assembly
Spread 1/4 cup of the enchilada sauce in a thin layer along the bottom of the casserole dish.
Lay your tortillas out on a flat surface. Add about 1/4 cup of the filling mixture along one side of the tortilla. Roll the tortilla up and then transfer to the casserole dish with seam facing down so the tortillas don't unwrap. Repeat with the remaining tortillas. You should end up with 8-10 enchiladas in the end.
Pour the remaining enchilada sauce over the top of the tortillas. Use the back of a spoon to spread the sauce around. Sprinkle the cheese over the top and then bake on the middle in the oven for 20-25 minutes.
Remove from the oven and let cool for a few minutes before serving. Top with your preferred garnishes and enjoy.





Notes
Leftovers can be kept in the fridge for 4-5 days or sealed in an airtight container in the freezer for 3 months.
Prep time will vary depending on whether or not you use store bought or homemade ingredients.
For a meat free version you can use 2 cups cooked green lentils in place of the chicken