A little sweet, a lot of spice and an incredible amount of delicious flavor all packed into this Thai Basil Beef dish! Make this takeout, street food favorite in your own kitchen with just one pan and less than 30 minutes. It's simple, speedy and super satisfying! | Gluten Free + Dairy Free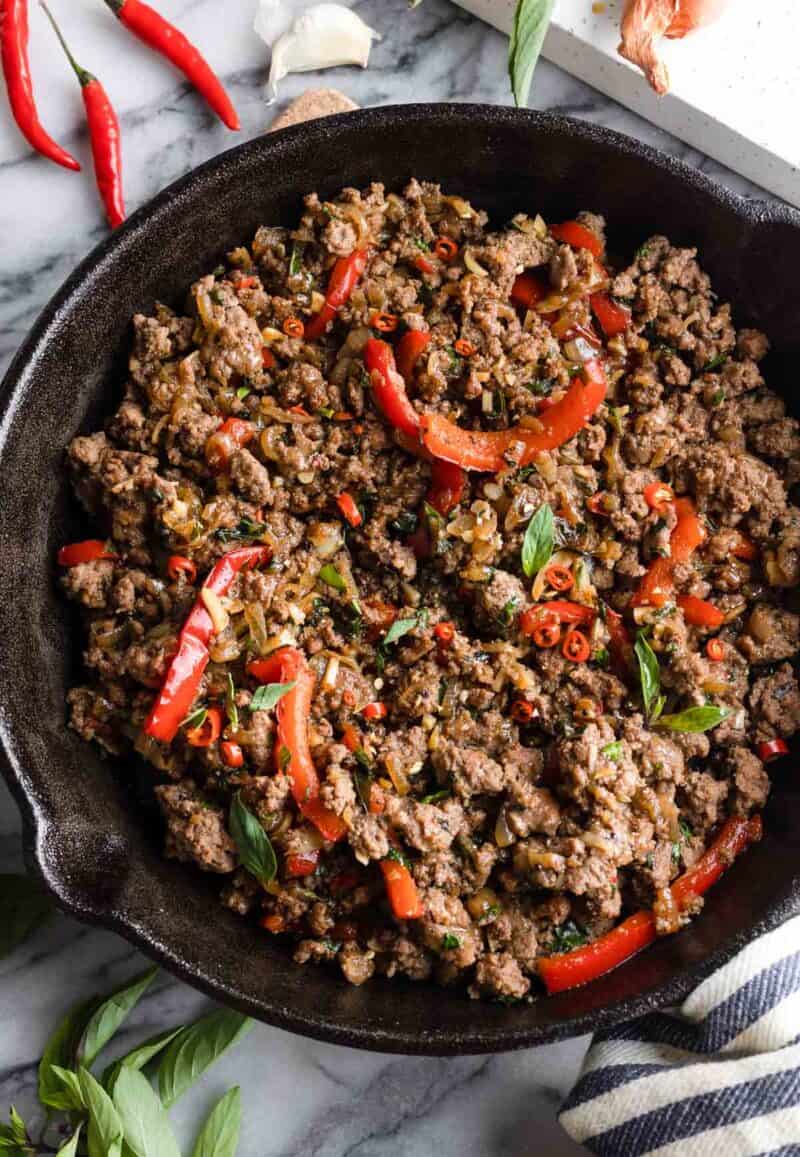 Pad Krapow is a staple dish in Thai cuisine that basically translates to holy basil stir fry.
Thanks to its simple, yet incredibly flavorful ingredients – it cooks quickly and easily in little time. You can find some version of pad krapow sold as street food, in restaurants and in home kitchens.
Typical ingredients include some variation of protein cooked with garlic, chili, onion and of course Thai holy basil cooked in a savory sauce.
While Thai Basil Chicken (Pad Krapow Gai) is a popular iteration, beef (aka pad gra prow), pork, tofu and seafood versions are popular too!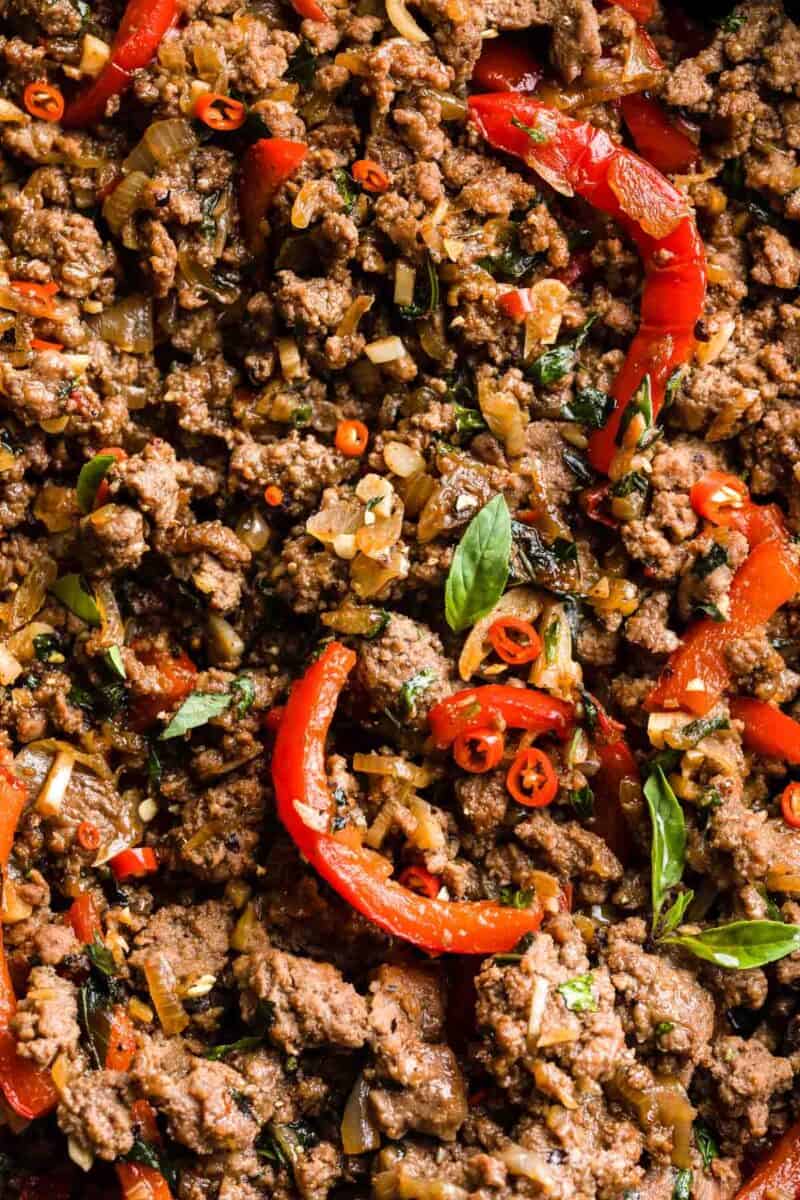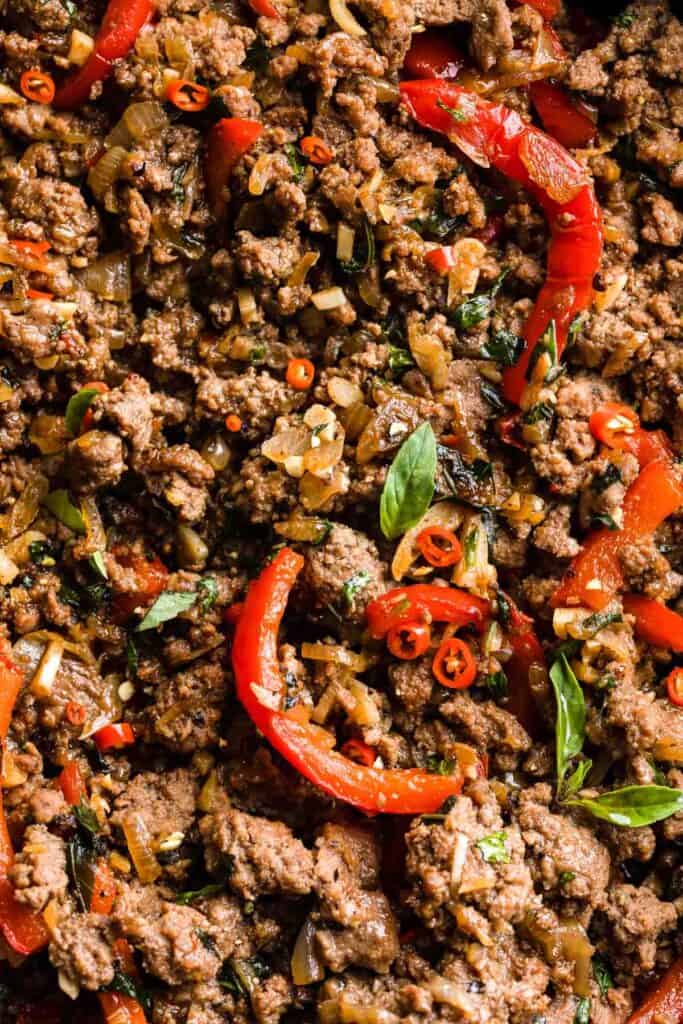 Thai Basil Beef Ingredients
Sauce Ingredients
Gluten-Free Soy Sauce or Tamari: Salty, savory and umami packed. To reduce the soy content you can use coconut aminos instead, but you will need to add at least 1 teaspoon salt to make up for the missing sodium.
Oyster Sauce: Oyster sauce is also savory and salty, but it has a richer, sweeter flavor to it. Make sure to use a gluten free oyster sauce if needed!
Fish Sauce: It's fishy, funky, salty – sounds weird, but it's worth it!

Technically, you should use a Thai fish sauce – it's usually darker and more pungent than other varieties. However, feel free to use whatever variety you can manage to find!

Honey (or Sugar): The sweet helps balance out the spicy chilis in the stir fry. Cane sugar and brown sugar work too.
Water: This mostly helps the sauce mix together and go farther.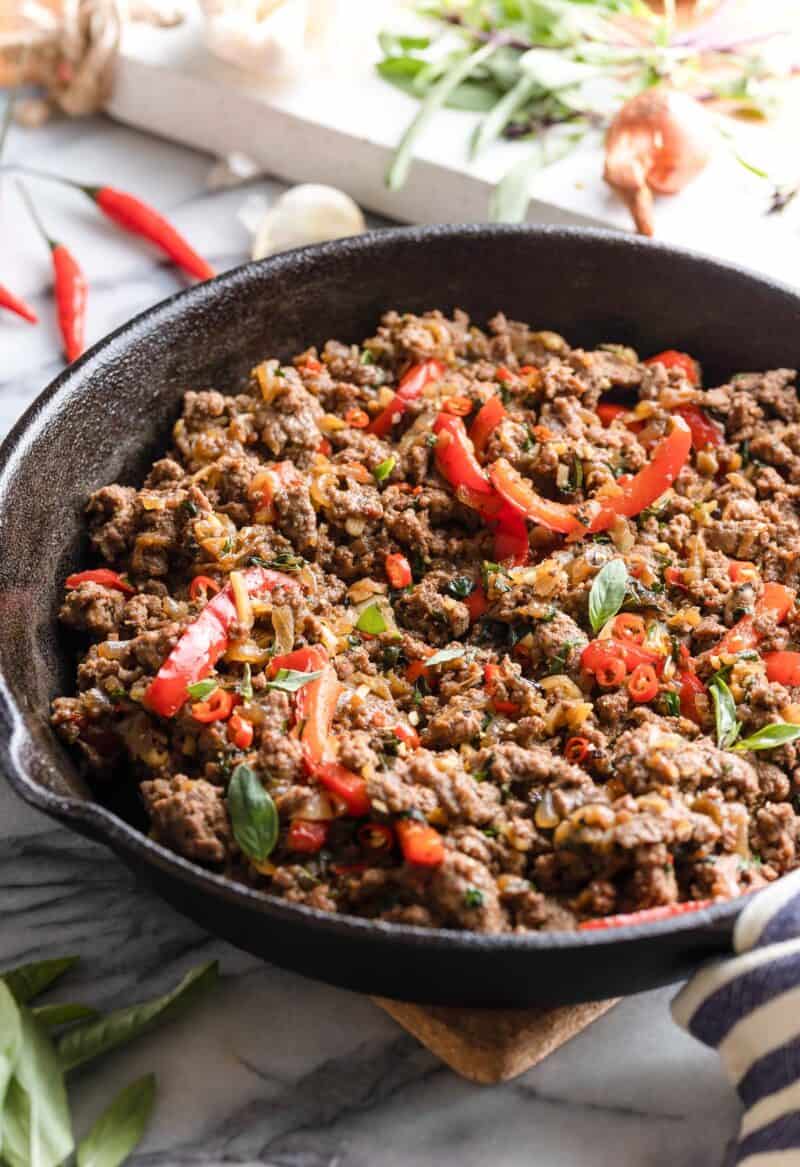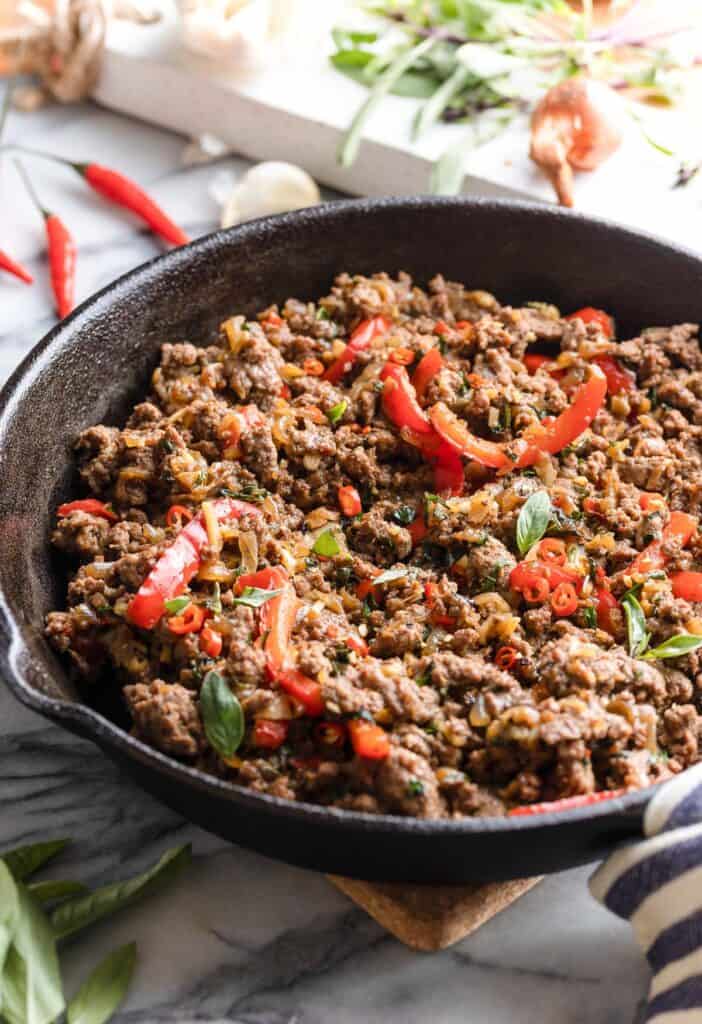 Stir Fry Ingredients
Red Bell Pepper: Bell pepper and beef just go hand in hand.
Shallots: If needed, you can use 1/2 an onion here instead.
Ground Beef: I used a lean 5% beef mince here, but you can choose a higher fat content if you like.
Garlic: Grate, mince or slice to prepare.
Thai Chili: Thai chilies are spicy. If you're sensitive to spice, use one chili – two at most. Also make sure to remove the white inner membrane and seeds to further reduce the heat.
Thai Holy Basil: The star ingredient! Thai Basil has a natural, anise flavor – think liquorice.

Visually, it looks similar to the regular Italian basil you'll likely find in major grocery store chains. Look for the basil with purple stems. If you can't find this type of basil easily in your local grocery store you may have better luck checking out any nearby asian markets.
How to Make this Thai Basil Beef Recipe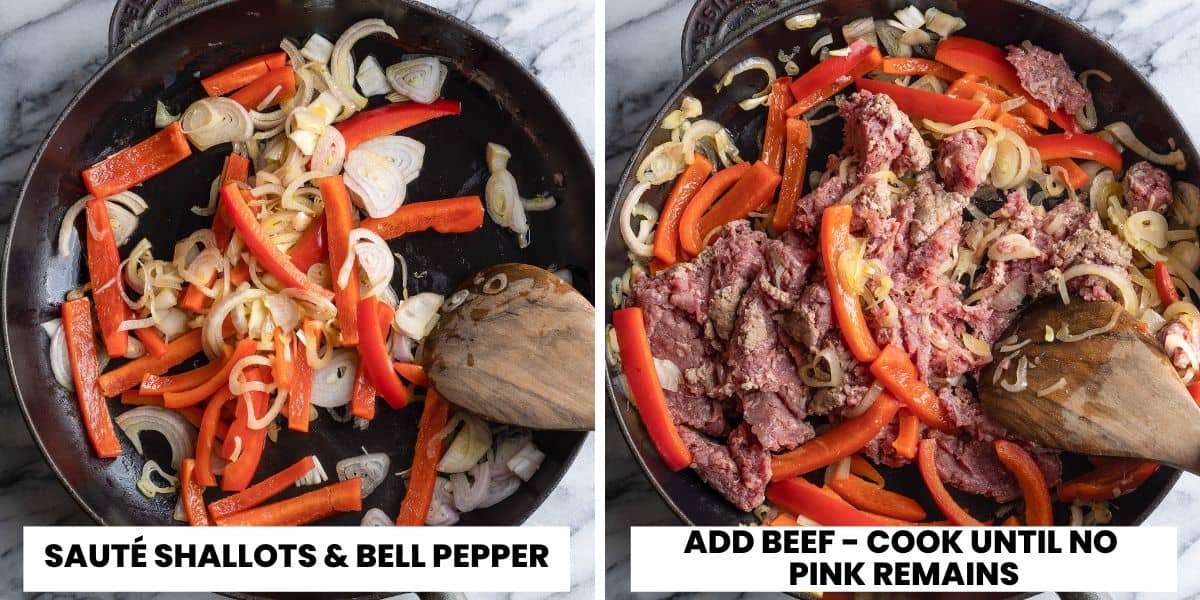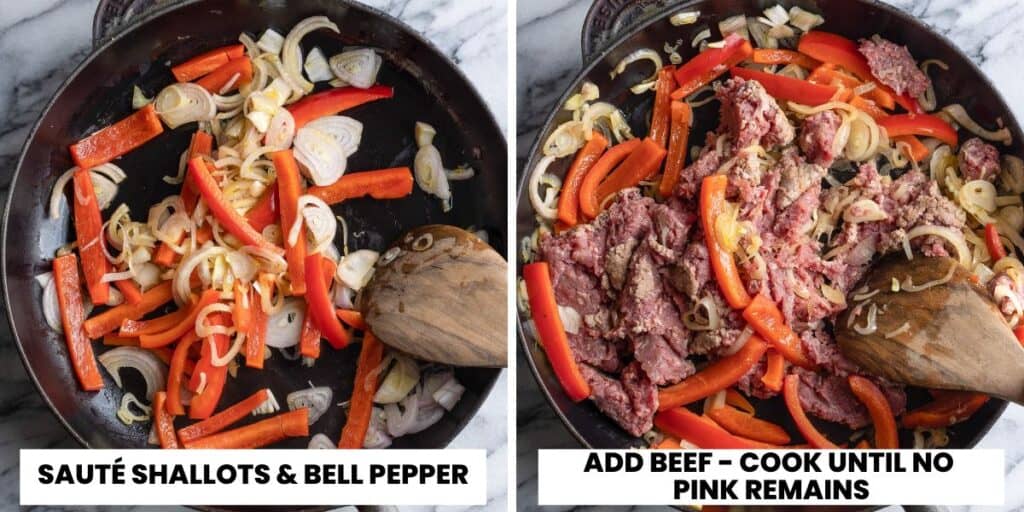 All you need is one big pan and less than 30 minutes to make this recipe!
Make the homemade sauce: in a small bowl, whisk together the sauce ingredients then set aside.
Sauté the shallots and peppers: Heat a large pan over a medium heat with a tablespoon of oil and a big pinch of salt. Cook a few minutes to soften the onions and steam the peppers.
Brown the meat: Adjust the temperature to a medium high heat. Add the beef mince to the pan. Break it up with a wooden spoon then spread it out so most of the beef is in contact with the hot pan. Cook until no pink remains.
Add garlic and chili: Stir into the beef mixture and cook a minute or two until fragrant.
Mix in the sauce: Pour the previously mixed sauce into the pan. Mix into the beef and cook over a high heat for a few minutes until the liquid has mostly evaporated and thickened into a glaze-like sauce coating the beef.
Stir in basil: Finally, mix in the Thai basil at the very end, taste and season with salt and pepper as you see fit.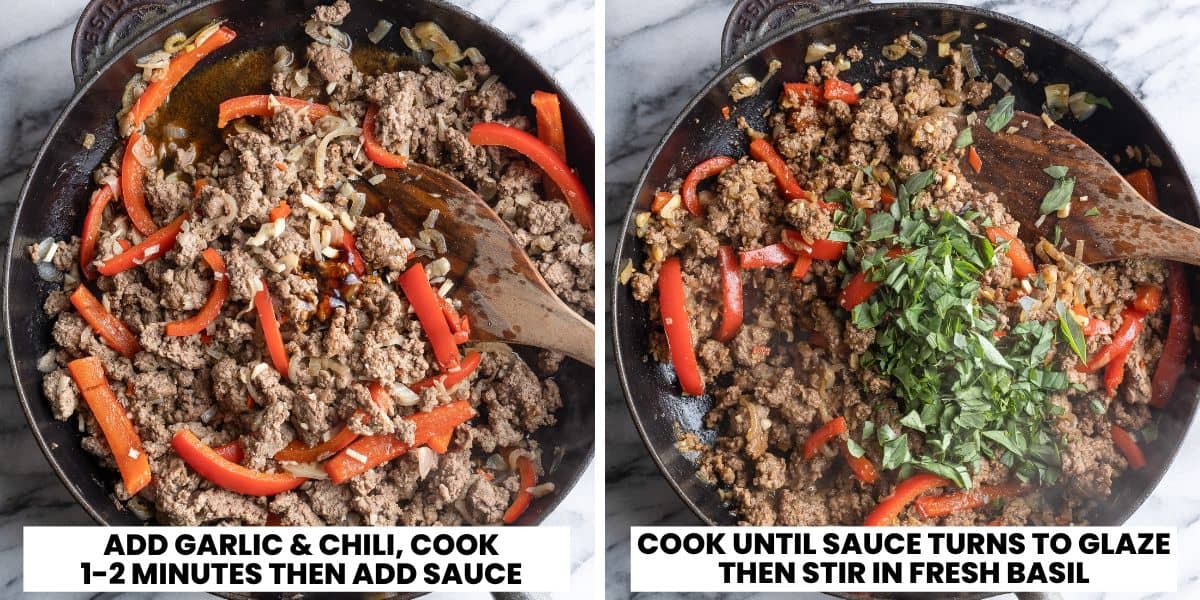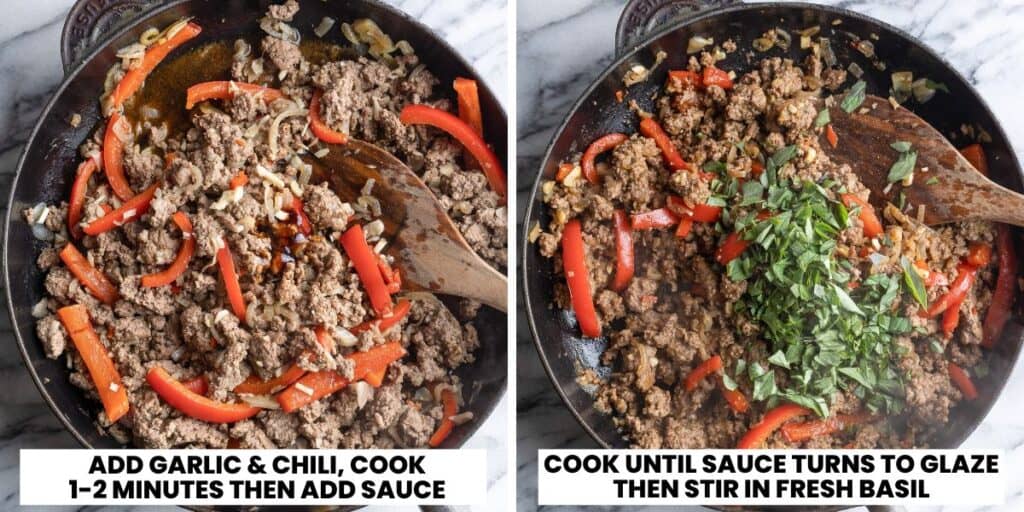 Popular Additions or Substitutions
Switch up the protein.

Instead of ground meat, many other popular Thai beef recipes use skirt steak, flank steak, chuck steak, etc. I like ground beef for its ease and affordability, but opting for a steak stir fry is never a bad choice!
Feel free to use other types of protein/ground meat as well! I have a popular Thai basil chicken version of this recipe already, but ground turkey and pork are great options. For a meat-free alternative, try tofu instead.

Swap the veggies.

Shallots >> sweet onions, use about 1/2 a yellow/white onion
Red pepper >> orange, yellow or green pepper work too!

Thai Basil >> Sweet Basil + Mint

If possible, it's worth using thai basil here. If you can't find it you can make do with a combination of sweet basil (the Italian variety) and fresh mint. It's not quite the same, but it does make for a tasty substitute in a pinch!

Add veggies.

Bulk up the nutrients with more veggies like sliced mushrooms, more peppers or grated carrot.

Garnish.

Sliced green onions, a squeeze of fresh lime juice, more fresh thai basil are great options. I've also seen many Thai basil stir fries serve this with a fried egg on top.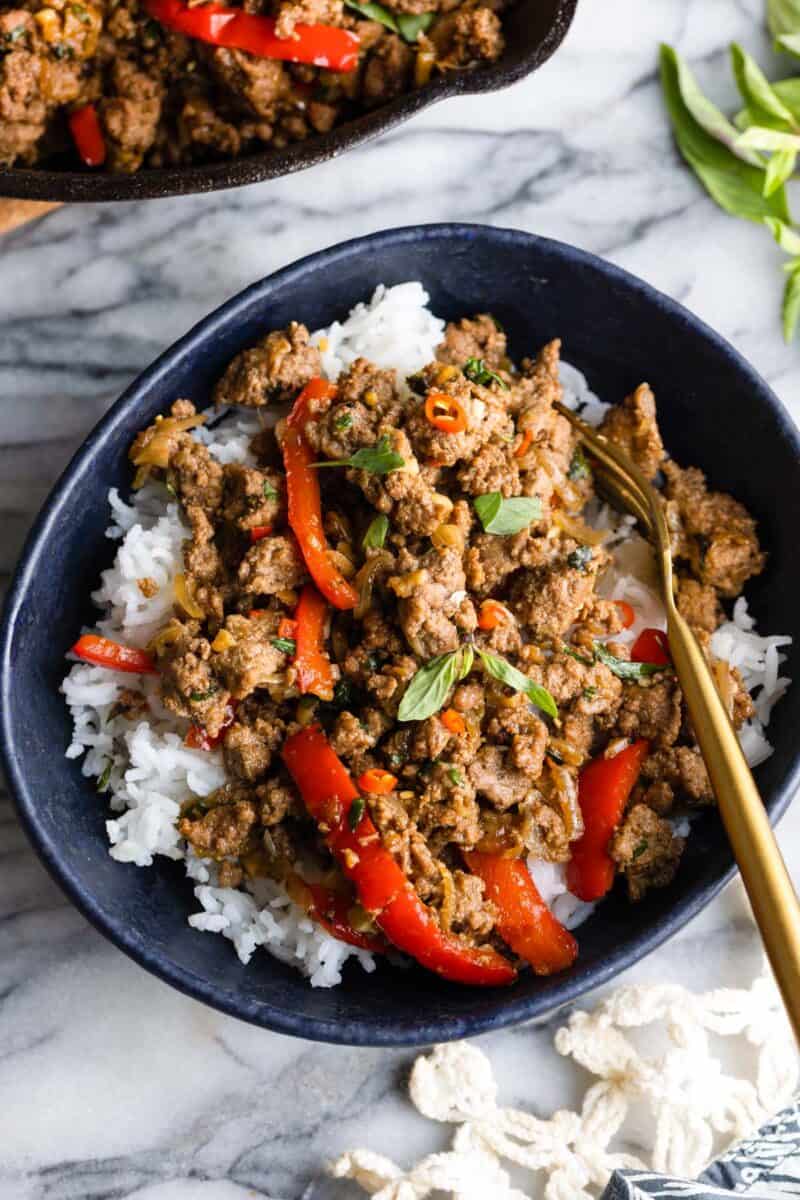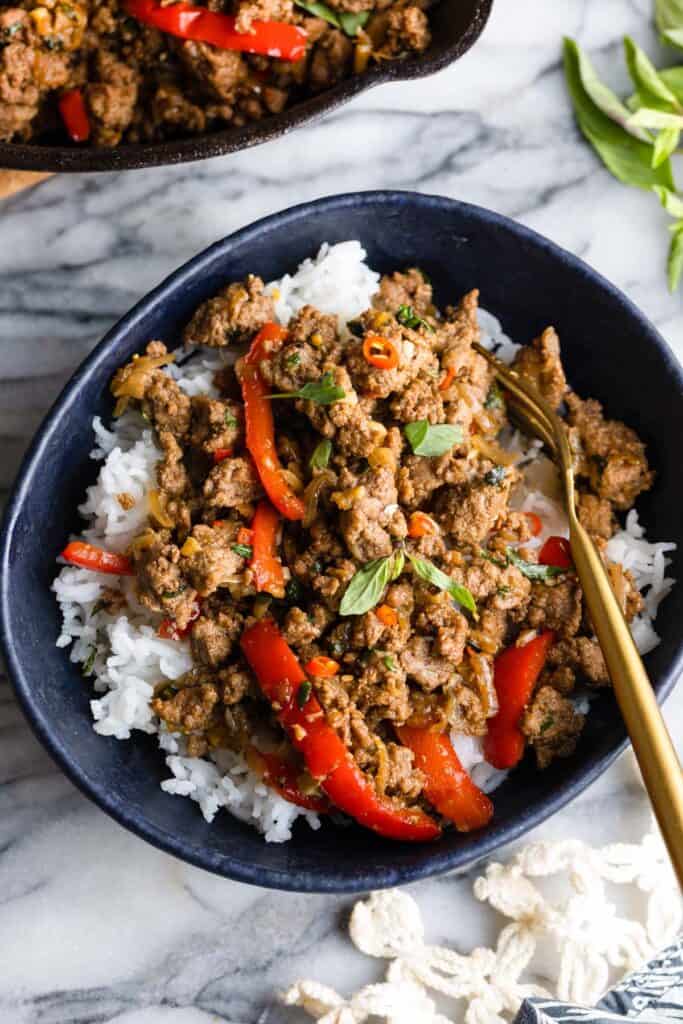 Leftovers & Storage
Store leftovers in an airtight container in the fridge for up to four days.
Reheat on the stove top or in the microwave until heated through. Add a bit of oil to the pan when reheating on the stove top to keep the beef from drying out. You can also add a bit of water or chicken/beef stock if needed. One to two tablespoons should be plenty.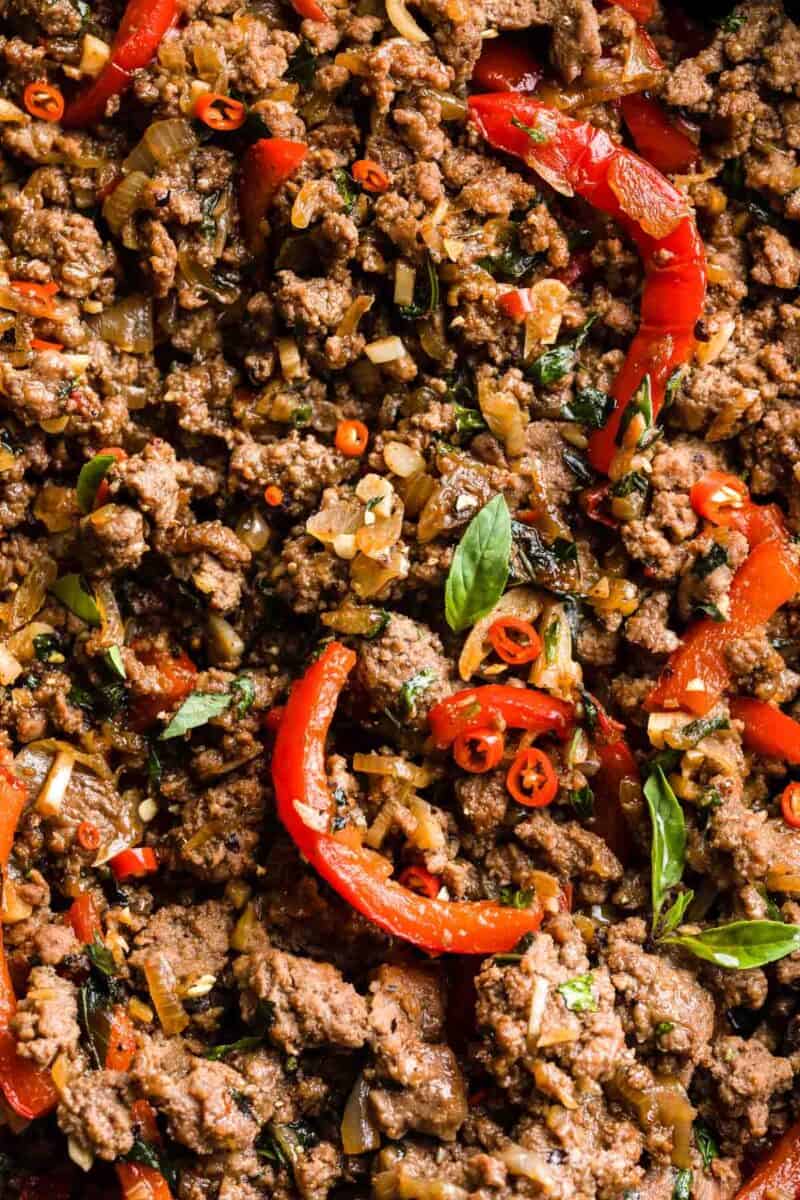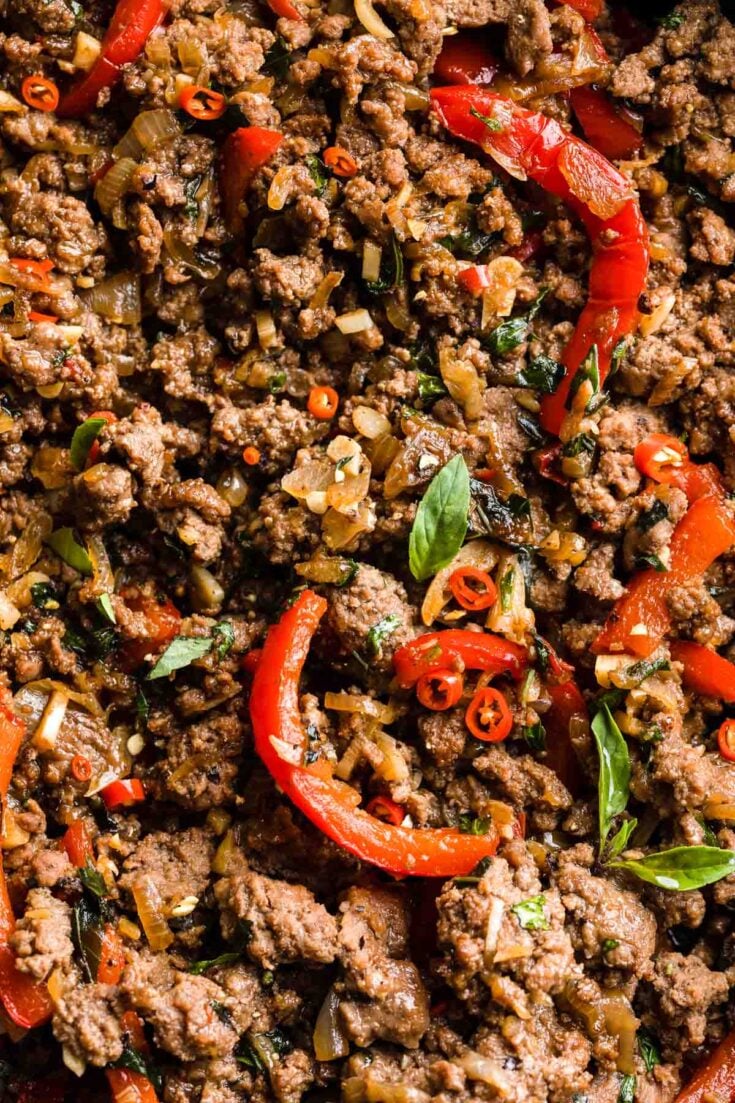 Yield:
4 servings
Prep Time:
10 minutes
Cook Time:
20 minutes
Total Time:
20 minutes
A simple and speedy weeknight stir fry made with ground beef, peppers, shallots, garlic and delicious savory sauce!
Ingredients
Sauce
1/4 cup water (60 ml)
2 teaspoons honey (or sugar)
2 tablespoons gluten free soy sauce or tamari
1 tablespoon oyster sauce
1 tablespoon fish sauce
Stir Fry
1 tablespoon cooking oil
1/2 cup, about 2-3 shallots thinly sliced
1 red bell pepper, thinly sliced
1 pound lean ground beef, about 5-10% fat (450 g)
5 cloves garlic, minced
2-3 Thai Chilies, deseeded and diced
1 cup or a large handful Thai basil leaves, sliced
Instructions
In a small bowl or cup whisk together the water, honey (or sugar), soy sauce and fish sauce. Set aside.
Warm the oil in a large skillet over a medium heat. Add the shallots and bell pepper and a big pinch of salt. Sauté for 2-3 minutes to soften.
Turn to a medium-high heat. Add the beef mince to the pan. Break up the beef with a wooden spoon into and cook 5-7 minutes until the beef has browned.
Add the garlic and chilies to the beef. Cook and stir 2-3 minutes.
Adjust to a high heat and add the sauce. Cook another 2-3 minutes stirring often. Cook until most of the liquid has evaporated. The sauce will transform into a sticky glaze.
Stir in the basil. Taste and season as needed.
Serve over a bed of rice, cauliflower rice or noodles and enjoy.
Notes
Make sure to double check the oyster sauce and fish sauce are gluten free, if needed!
Instead of honey, you can use 1 tablespoon brown sugar or white cane sugar.
Nutrition Information
Yield:

4
Serving Size:
about 4 ounces
Calories:

260
Total Fat:

14g
Saturated Fat:

4g
Cholesterol:

70mg
Sodium:

1141mg
Carbohydrates:

9g
Fiber:

1g
Sugar:

6g
Protein:

26g
This website provides approximate nutrition information for convenience and as a courtesy only. Nutrition data is gathered primarily from the USDA Food Composition Database, whenever available, or otherwise other online calculators.
Shop this Post
As an Amazon Associate and member of other affiliate programs, I earn from qualifying purchases.
More Stir Fry recipes You Might Like