Naturally sweetened & dairy free Chocolate and Coffee Smoothie – thick, creamy, chocolatey indulgence! Paleo & Vegan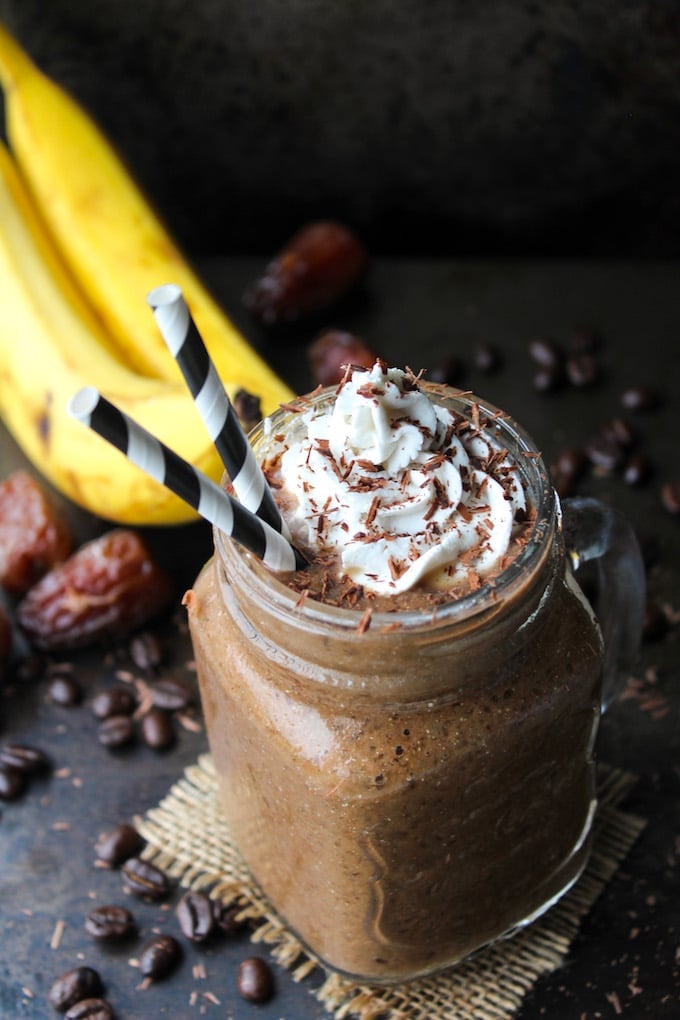 I hate to sound like a Folger's commercial, but I'm 100% serious when I say that my morning coffee is one of my favorite parts of my day.
Who cares about bright copper kettles. If I were Julie Andrews singing about my favorite things it would be all about coffee, cuddles, sunshine, and that moment at the end of the day when I can finally take my bra off. Pure. Bliss.
I'd also keep the whiskers on kittens bit too because how could you not? I mean, just look at those things.
It's not even that I feel addicted to coffee or I need it to feel energized. I can drink caffeine around the clock and still sleep like a baby at night. I just really love the simple ritual of making and enjoying a cup of coffee. And the smell! Even if you don't care for the taste of coffee, I bet you love the smell. Half of the enjoyment comes from the aroma alone.
Despite my 6 month stint working as a Barista for Starbucks and coming face to face with some of the worst people I've ever had the displeasure of meeting (people be crazy over their coffee) I've got a lot of positive memories surrounding coffee. Coffee dates with friends, lazy mornings with my family brewing up a pot – what's not to love.
Chocolate Coffee Smoothie
I love this  smoothie as a midday snack – something to fill the void and keep me going until it's time to break for lunch.
If however you're someone who needs a little kick in the pants to get up and go then this smoothie is for you. It's naturally sweetened with banana and dates, so you're at least you're getting a little fiber to balance out the natural sugars. Speaking of fiber – this recipe also calls for chia seeds for extra doses of fiber, antioxidants, protein, and healthy fats. Are we feeling healthy yet?
You do need cooled coffee to make this, so I recommend brewing a little extra in the morning so that it's cooled and ready to go. If you're extra organized and want this as your morning coffee replacement then make a pot the night before and store it in the fridge to be ready in the morning.
And if you're feeling extra decadent, then I'd definitely recommend that you commit to the indulgence and top it off with a dollop of coconut whipped cream. And chocolate shavings. Chocolate shavings are always a good idea.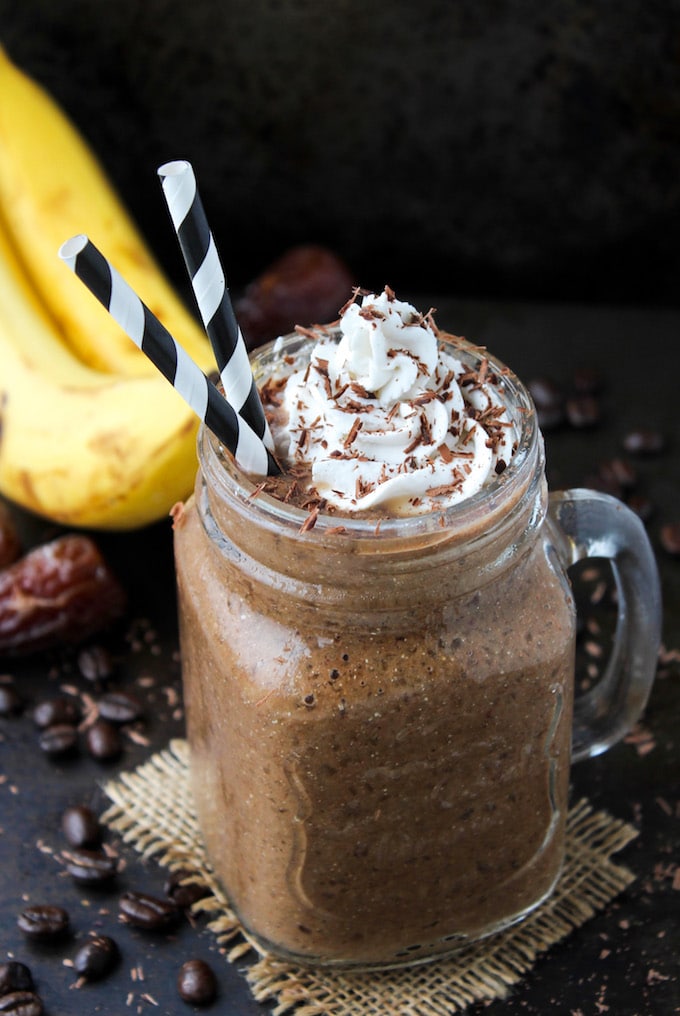 FACEBOOK | INSTAGRAM | PINTEREST  
Don't forget to #asaucykitchen on instagram if you try this chocolate coffee smoothie! I love seeing what you make!  You can also post your pictures to my facebook page!
Yield: 2 servings
Chocolate Coffee Smoothie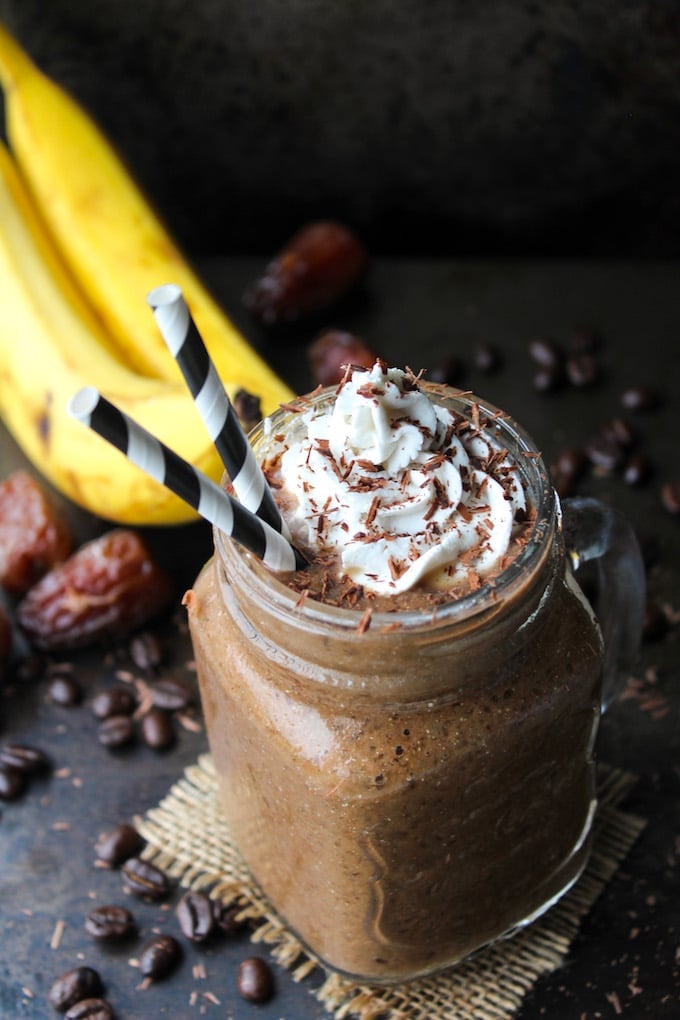 Naturally sweetened & dairy free chocolate and coffee smoothie - thick, creamy, chocolatey indulgence! Paleo & Vegan
Ingredients
1 frozen banana
1 date, pit removed
2 tablespoons chia seeds
1/2 cup cold coffee
1/2 cup almond milk, or dairy free milk of your choice
2 tablespoons unsweetened cocoa powder
1 cup ice
optional toppings
coconut whipped cream
shaved chocolate
Instructions
Add all of your ingredients to a blender and process until smooth. For a sweeter tasting smoothie add 1-2 more dates.
Nutrition Information:
Yield:
2
Serving Size:
cup
Amount Per Serving:
Calories:

141
Sodium:

86mg
Carbohydrates:

24g
Fiber:

7g
Sugar:

9g
Protein:

4g