Pistou (also known as a pistou sauce) is the French answer to the more commonly known Ligurian pesto. It's a simple, fragrant basil sauce made with fresh basil leaves, garlic, olive oil and salt.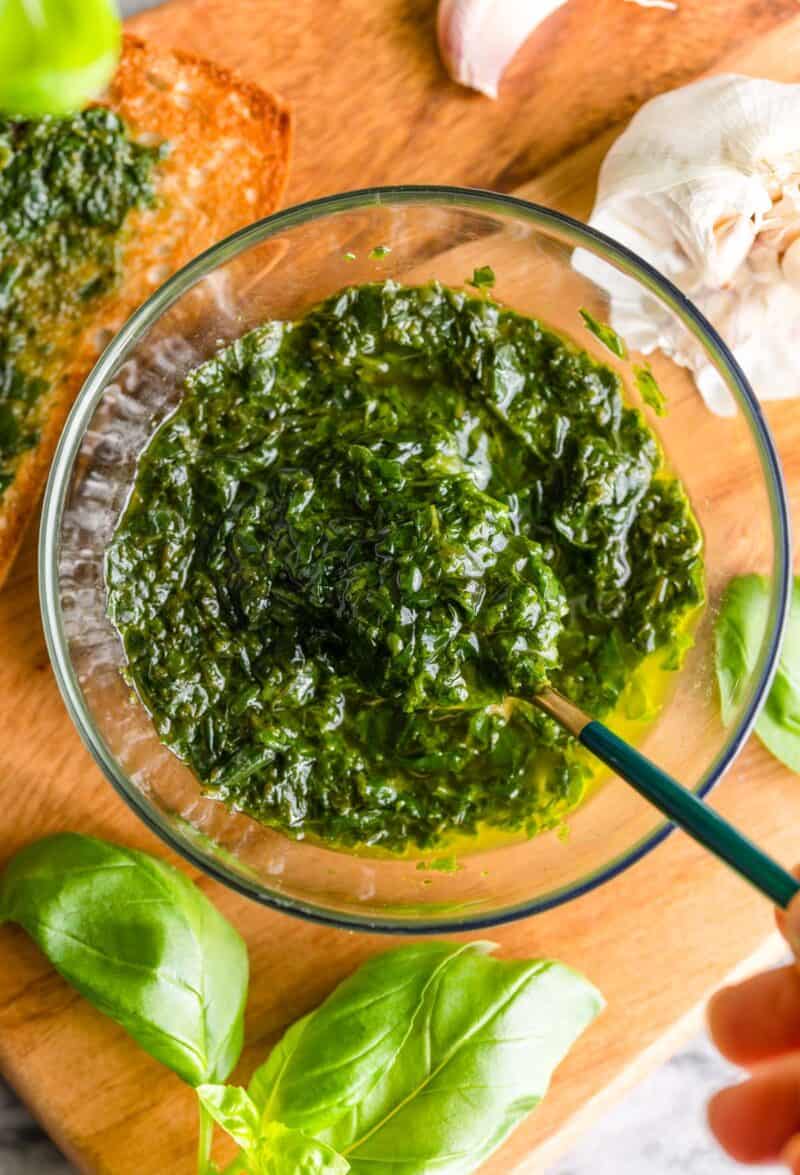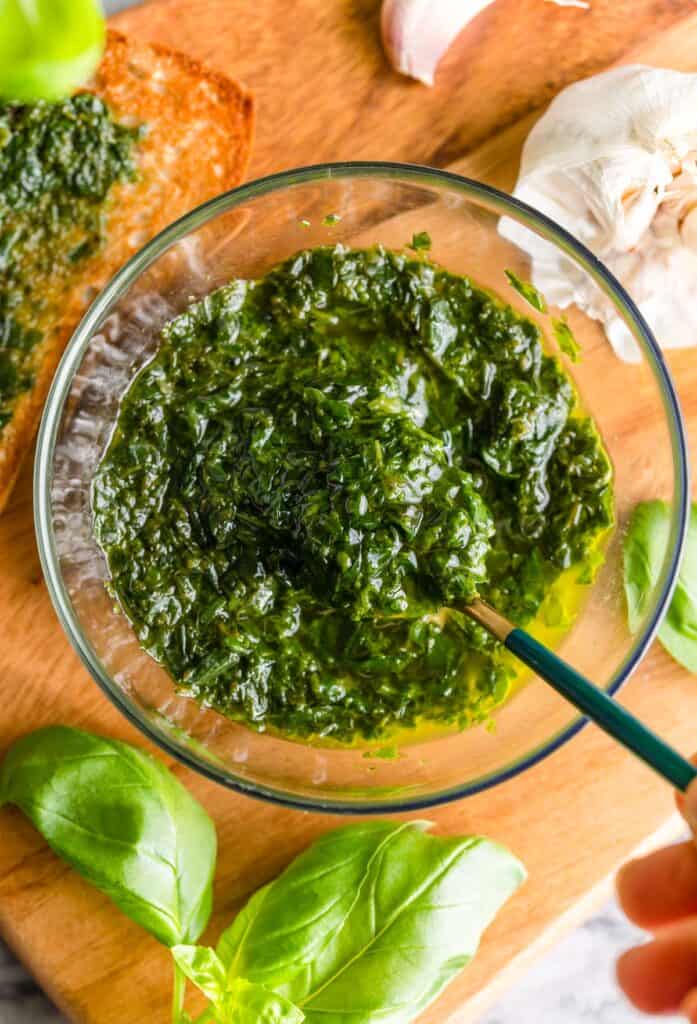 What is Pistou?
Pistou is French word that derives from the Latin word pestare which means 'to pound'. It's a fitting name as pistou is traditionally made by pounding all the ingredients together using a mortar and pestle.
Is Pistou the same as Pesto?
Pistou is quite similar to a traditional Italian pesto. The main difference between pesto and pistou is that pesto usually contains cheese and pine nuts while a pistou does not.
That being said, many modern recipes for pistou do sometimes include hard cheese grated into the mix. Traditional recipes, on the other hand, keep it simple with fresh basil leaves, garlic cloves, olive oil and salt.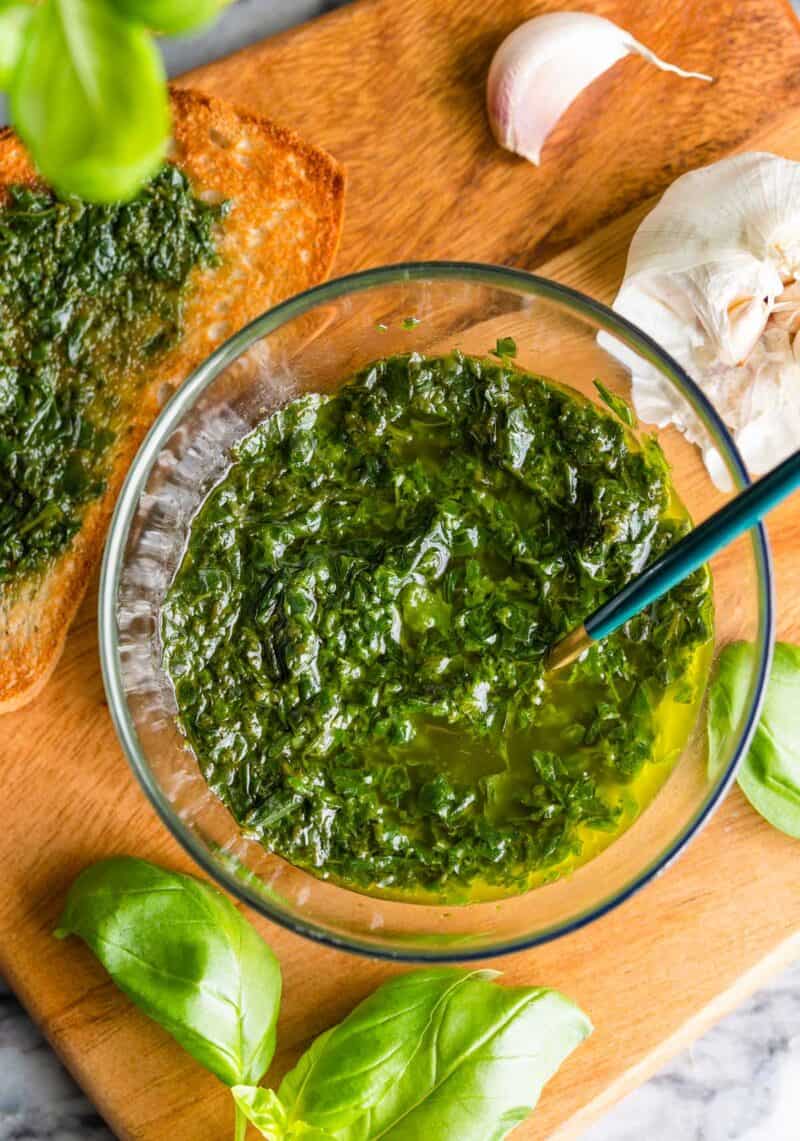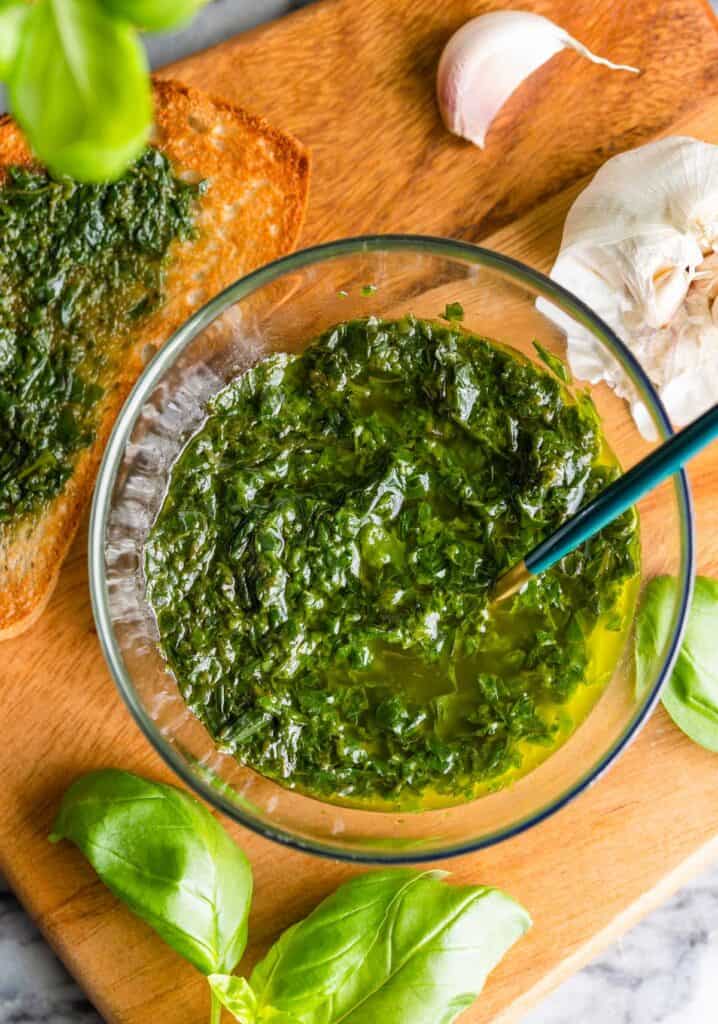 Pistou Ingredients
Basil – Use fresh basil leaves with the stems removed.
Garlic – Use 1-2 cloves of garlic. You don't want to overpower the basil with too much garlic.
Salt – Flaky sea salt is ideal. Kosher salt is also a good option.
Olive Oil – Choose a good quality extra-virgin olive as you will taste it!
How to Make a French Pistou Sauce
Step One:
Bash the garlic and salt.
In a large mortar, add 1-2 garlic cloves along with a big pinch of salt. Use a pestle to bash the garlic and salt together until it turns into a creamy mixture.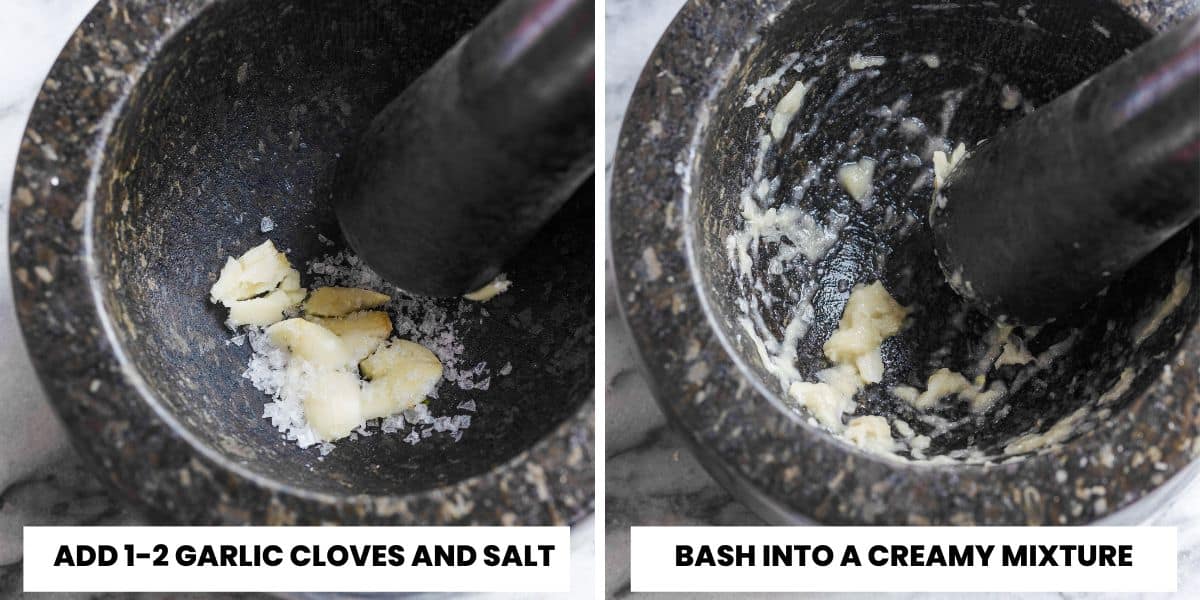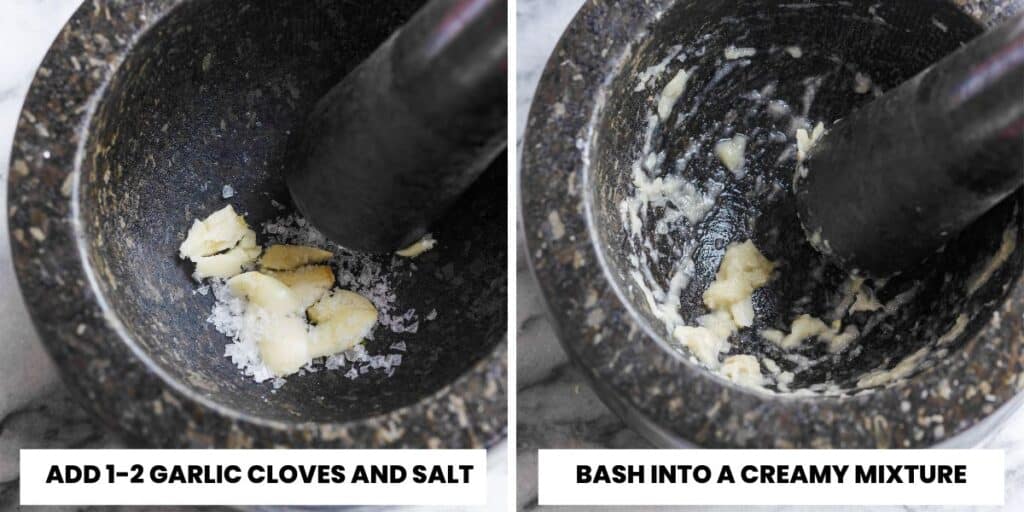 Step Two:
Tear or slice the basil leaves then bash into the garlic.
Before you add the basil to the mortar, you need to break the leaves down into smaller pieces. This will help speed up the process of turning the whole leaves into a basil-like paste.
The Great Debate: Tear vs Slice
Traditionalist and kitchen purists will insist that tearing is the only right answer here. The logic? Slicing basil leaves with a sharp knife breaks down the cell walls in the leaves too quickly which leads to discolouration and quicker flavor loss.
While I personally do think there is merit to this idea, I do think there is enough basil in this recipe to taste. If you're already making a homemade pistou, I won't tell anyone if you decide to take a little short cut here and make use of your kitchen knives!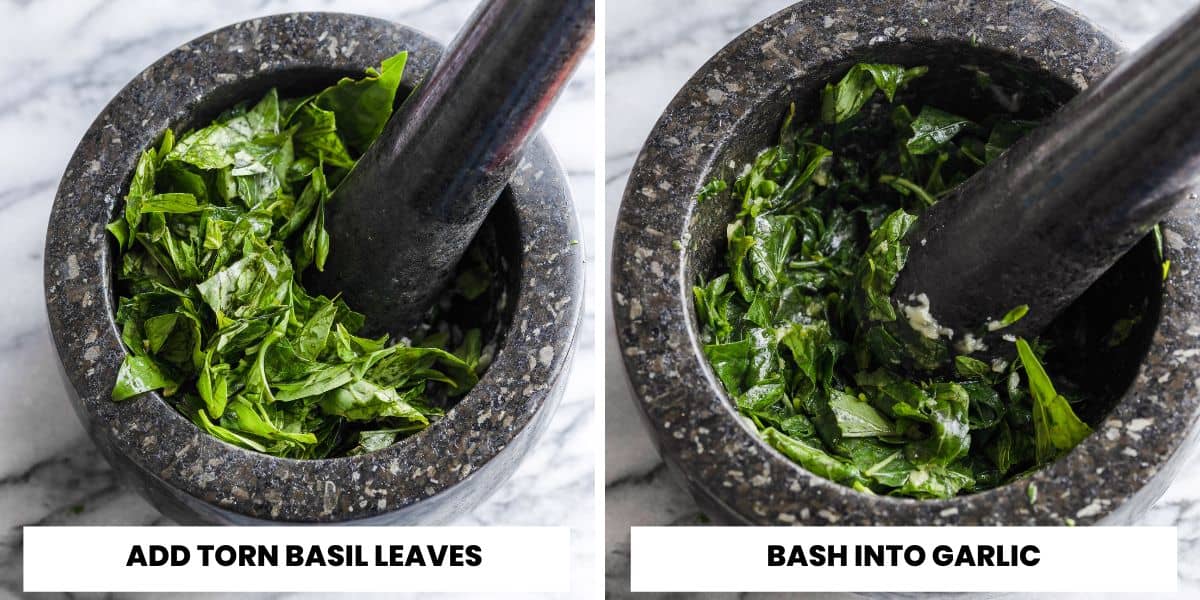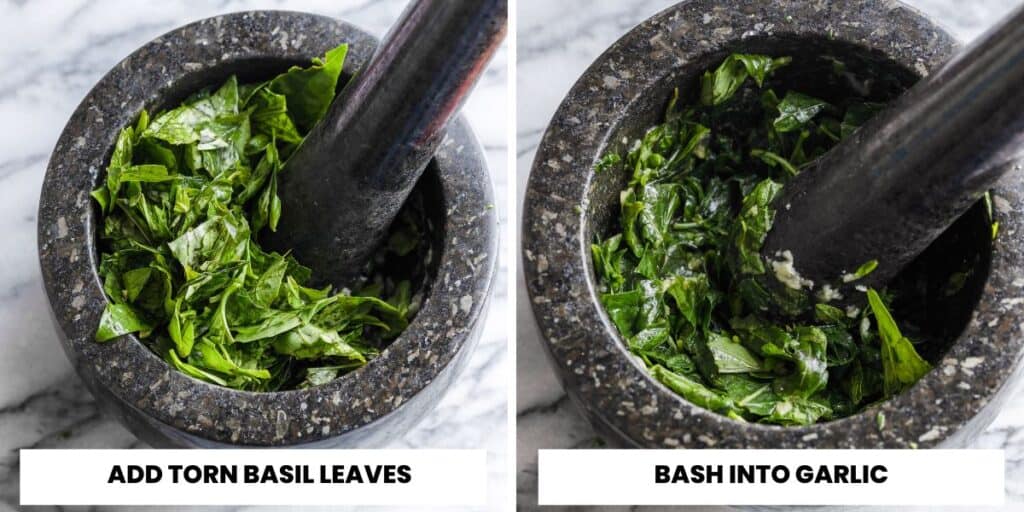 Step Three:
Gradually add oil until you reach your desired consistency.
Once you've properly pounded the basil into a paste-like consistency, begin gradually adding olive oil to the mortar, one tablespoon at a time. Continue adding until you reach your desired consistency.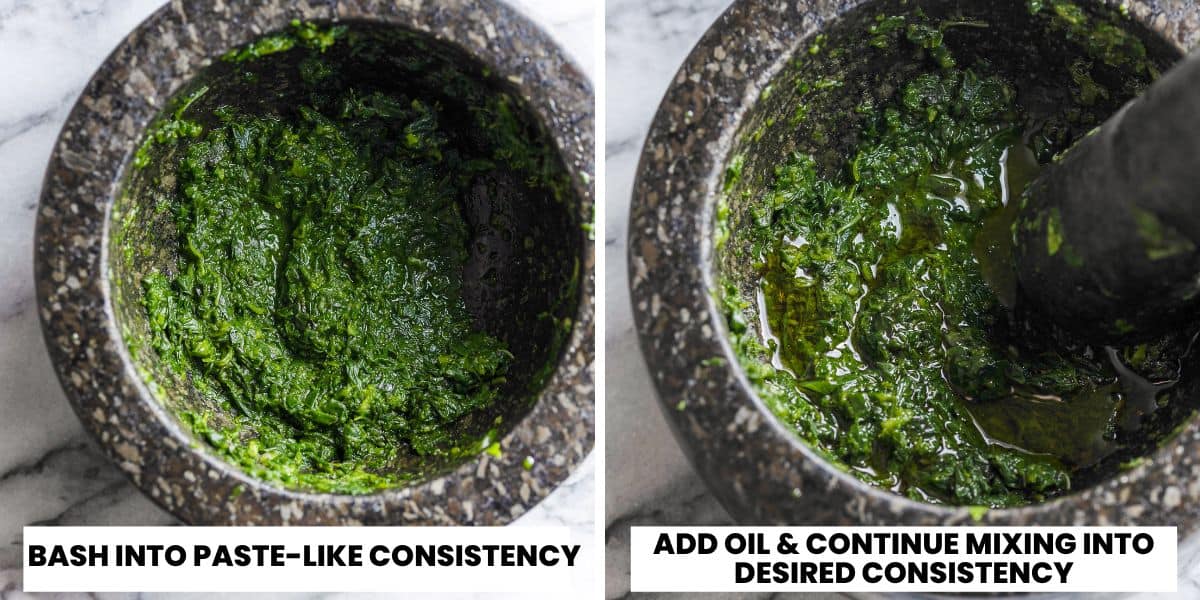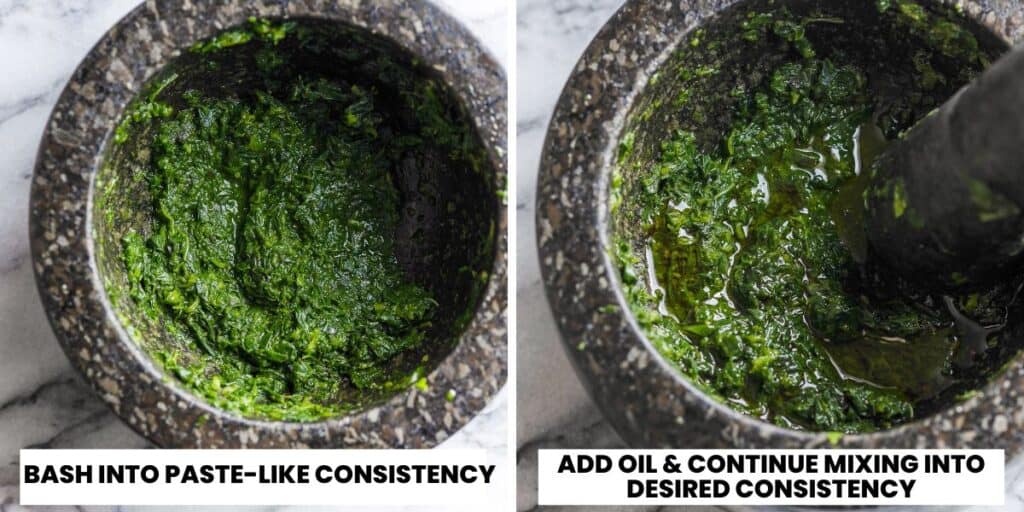 How to Make Pistou in the Food Processor
While a mortar and pestle may be the traditional way to make pistou, you can absolutely make this in a food processor or blender to save you a bit of time and effort!
Pulse basil, garlic and salt until basil leaves and garlic cloves break down.
Drizzle olive oil into the food processor with the engine running until combined.
Taste, season and enjoy!
Variations: Additions & Substitutions
You can't go wrong following the recipe written as is, but I'm always one to encourage a little creativity in the kitchen. Feel free to use this as a template recipe to play around with! Here are a few ideas to get you started:
Lemon Juice: Brighten up this pistou with a squeeze of fresh lemon juice at the end!
Cheese: Many modern day recipes include gruyere cheese, gouda or parmesan cheese for a little extra umami.
More Herbs: Play around with the flavors by adding fresh herbs like parsley, oregano, mint, etc.
Chili: Add a little heat to your pistou with fresh chili or chili flakes.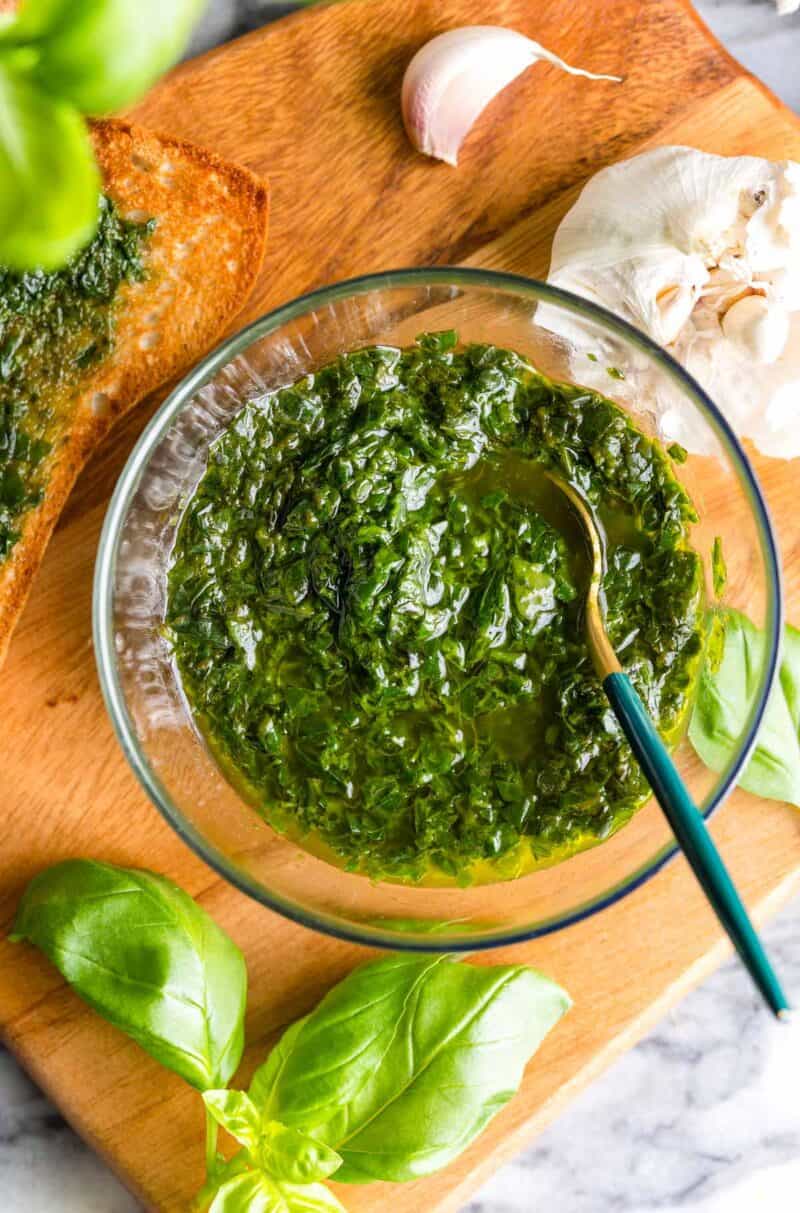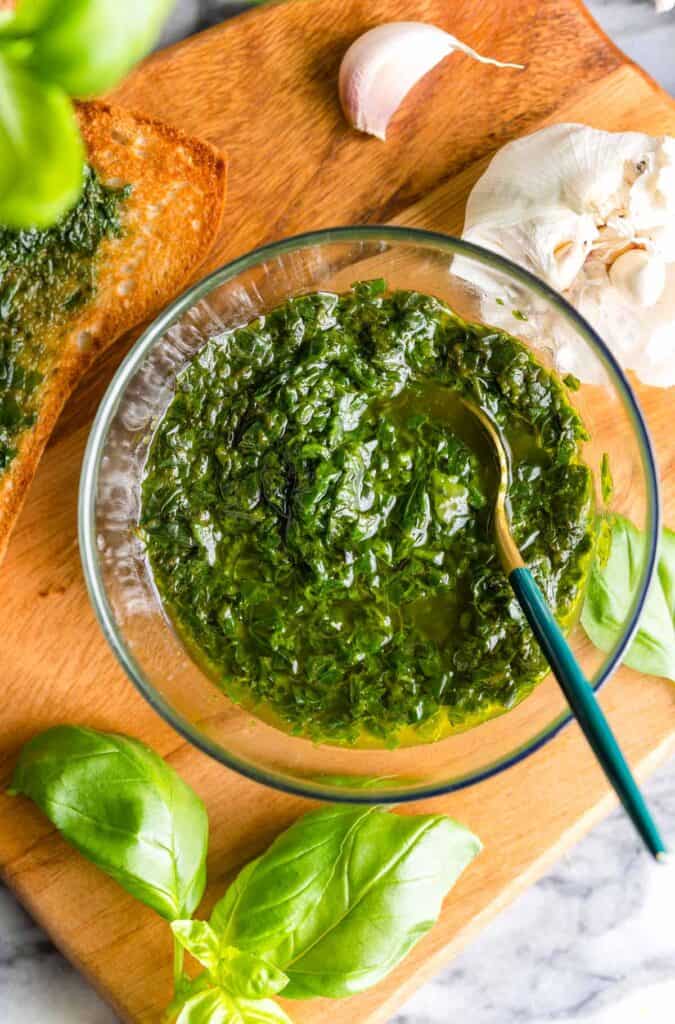 What to make with pistou?
Use this pistou recipe anywhere you'd normally use pesto. A dollop of pistou will go a long way in brightening up pastas, salads, soups, sandwiches and more!
And that's it! A simple yet incredibly fragrant and delicious basil sauce made with less than a handful on ingredients.
Bon appétit!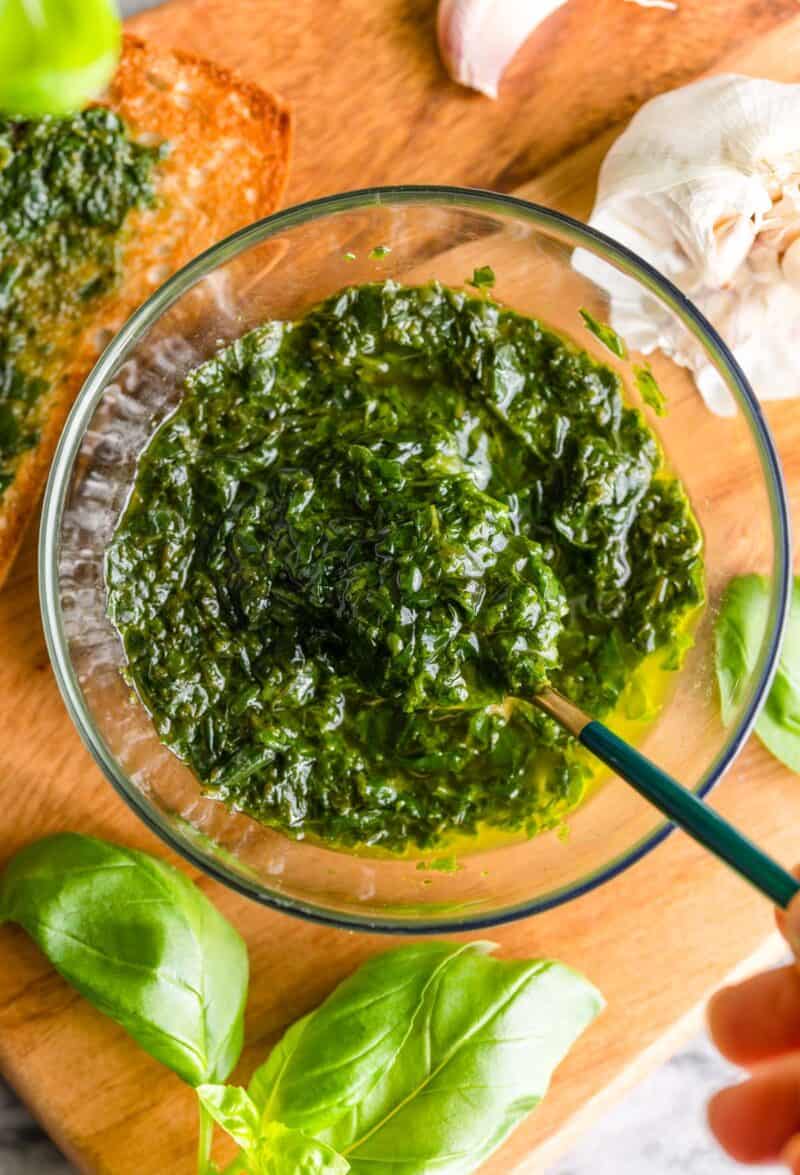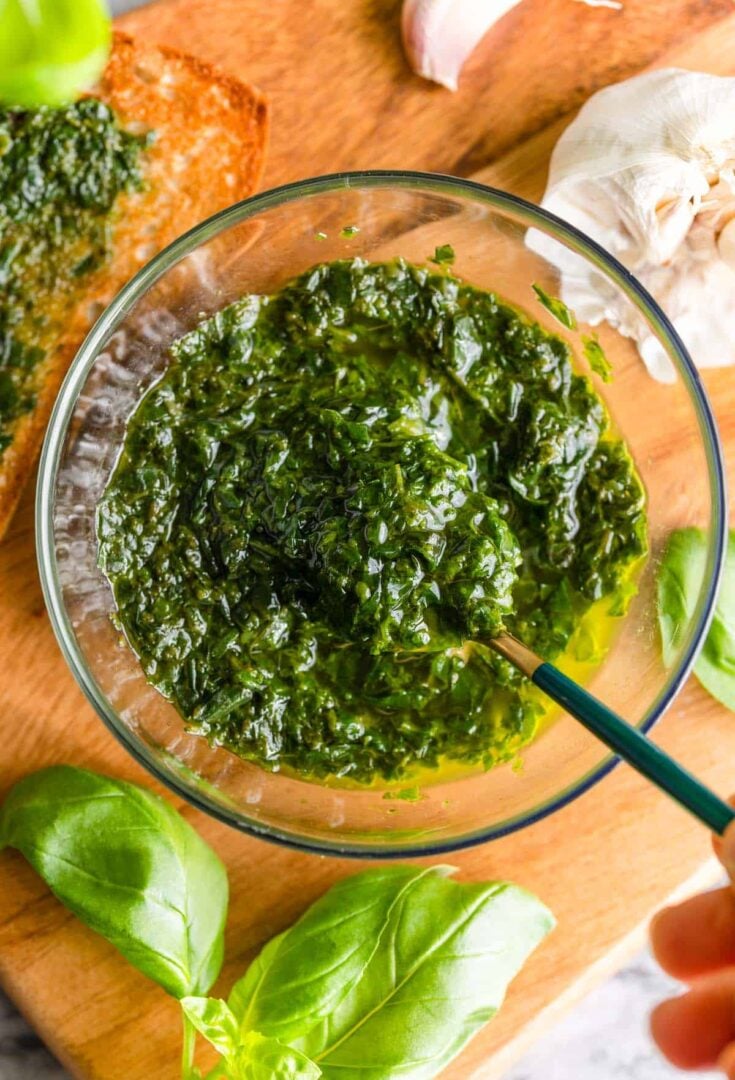 Recipe
Pistou Sauce (A Provençal Pesto)
Yield:
1/2 cup
Prep Time:
15 minutes
Total Time:
15 minutes
It's like a French pesto made fresh basil leaves, garlic, olive oil and salt.
Ingredients
1-2 cloves garlic
1/2 teaspoon sea salt + more to taste
2 cups fresh basil leaves
1/3 cup extra-virgin olive oil (80 ml)
Half a lemon, optional
Instructions
Mortar & Pestle
Add the garlic and salt to a large mortar. Use the pestle to bash the garlic and salt together to make a mostly smooth, creamy consistency.
Tear the basil leaves by hand or roughly chop into small pieces. Add to the mortar and bash into the garlic and salt mixture. Keep mixing and bashing until a paste forms.
Add the olive oil, 1 tablespoon at a time. Mix in between each addition. Keep adding oil and mixing until a sauce forms. Depending on your desired consistency you may find you want to add a little more or less than the 1/3 cup (80ml) called for here.
Taste and season the pistou as you see fit. Add an extra pinch of salt or maybe a squeeze of lemon juice and enjoy.
Food Processor
Add the garlic, salt and basil leaves to the bowl of a food processor. Pulse the mixture a few times to break down the leaves and garlic.
While the machine is running, drizzle the olive oil into the processor 1 tablespoon at a time. Keep adding the oil to get a sauce-like consistency.T
Taste and season the pistou as you see fit. Add an extra pinch of salt or maybe a squeeze of lemon juice and enjoy.
Notes
Store leftover pistou in an airtight container and keep in the fridge up to two weeks.
Freeze it: pour leftover sauce into icecube trays and freeze until solid. Once frozen, pop the pistou out of the tray, transfer to a freeze safe storage bag or container and keep frozen up to three months.
If you're making this pistou in a food processor, you can leave the stems intact as they'll blend up easily into the sauce.
Nutrition Information
Yield:

8
Serving Size:
1 tablespoon
Calories:

90
Total Fat:

9g
Saturated Fat:

1g
Unsaturated Fat:

10g
Cholesterol:

0mg
Sodium:

146mg
Carbohydrates:

1g
Fiber:

0g
Sugar:

0g
Protein:

0g
This website provides approximate nutrition information for convenience and as a courtesy only. Nutrition data is gathered primarily from the USDA Food Composition Database, whenever available, or otherwise other online calculators.