Fresh ingredients, plant-based protein and Mediterranean inspired flavors come together to make these delicious Sun Dried Tomato Chickpea Burgers! Simply blend, shape then bake (or fry!) into your very own homemade veggie burgers. Load up with your favorite burger toppings and enjoy! | Gluten Free + Vegan + Grain Free Option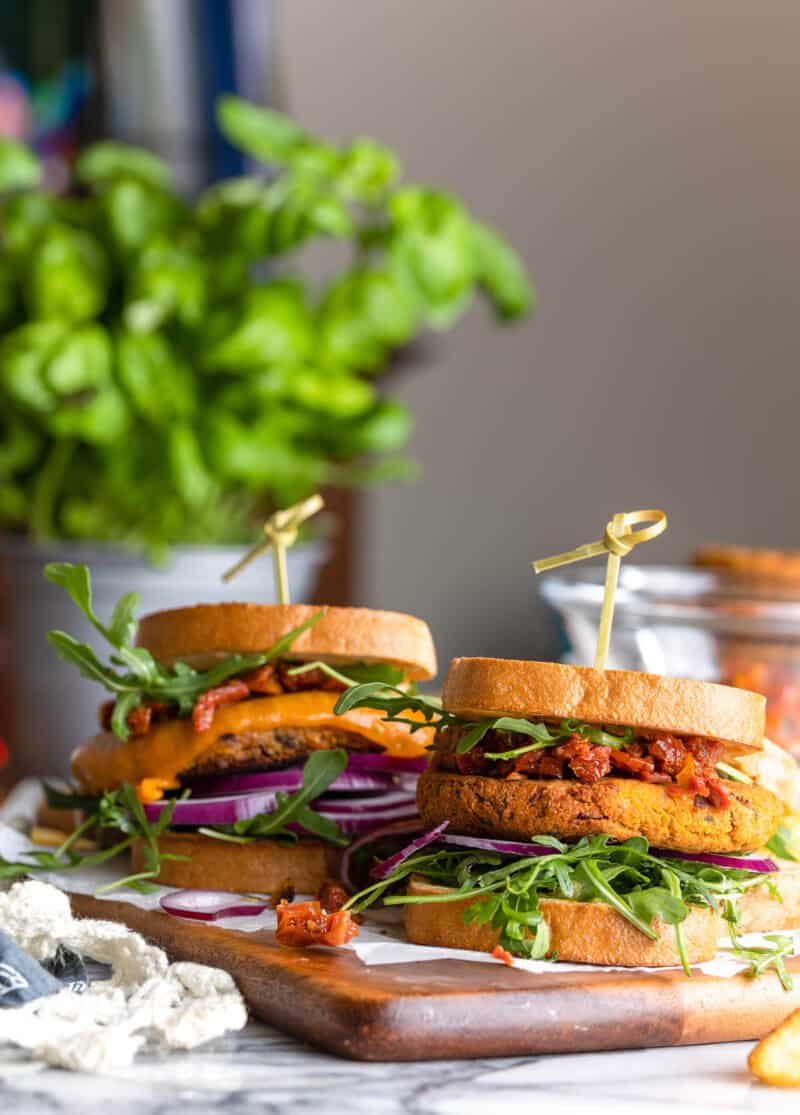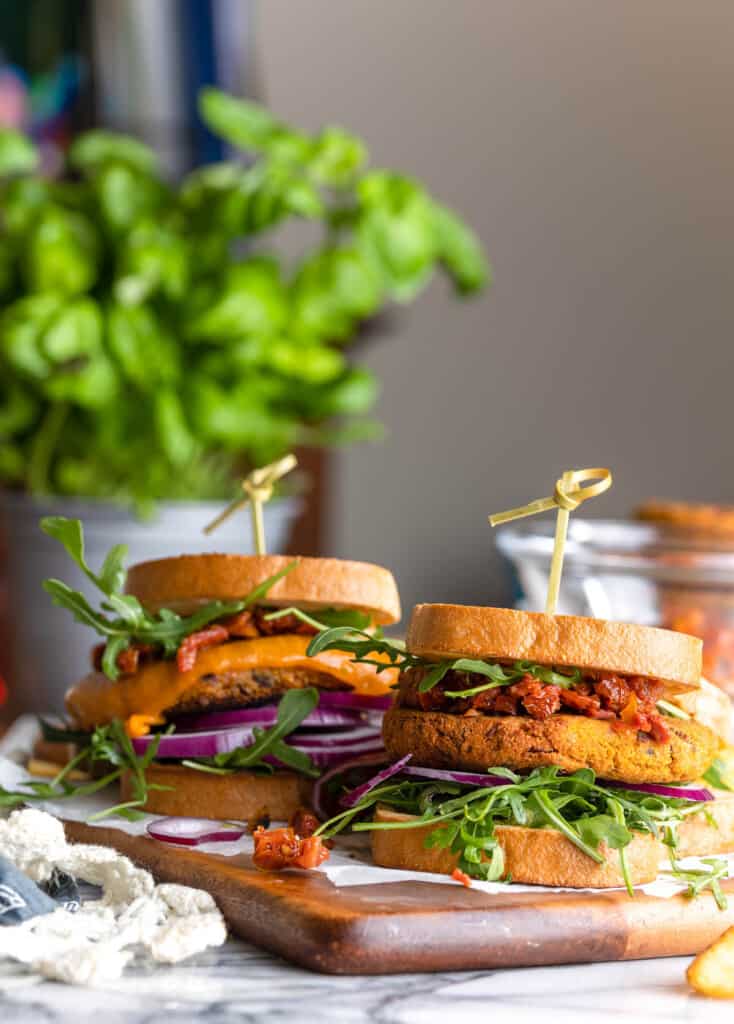 Originally shared this recipe on May 23, 2016 – updated February 28, 2023 with improved photos, recipe, tips and ingredient explanations.
Reasons To Love These Vegetarian Chickpea Burgers
They're easy to make! Preparation is super simple and mostly done with the help of a food processor.
You can oven bake or pan fry the burgers! Bake the burgers to cut down on excess oil or cook them in a frying pan if you're hungry and in a hurry.
They're filling, delicious and made with wholesome ingredients! These burgers are loaded up with fiber, protein and complex carbohydrates, meaning that they'll fill you up and keep you satiated for longer.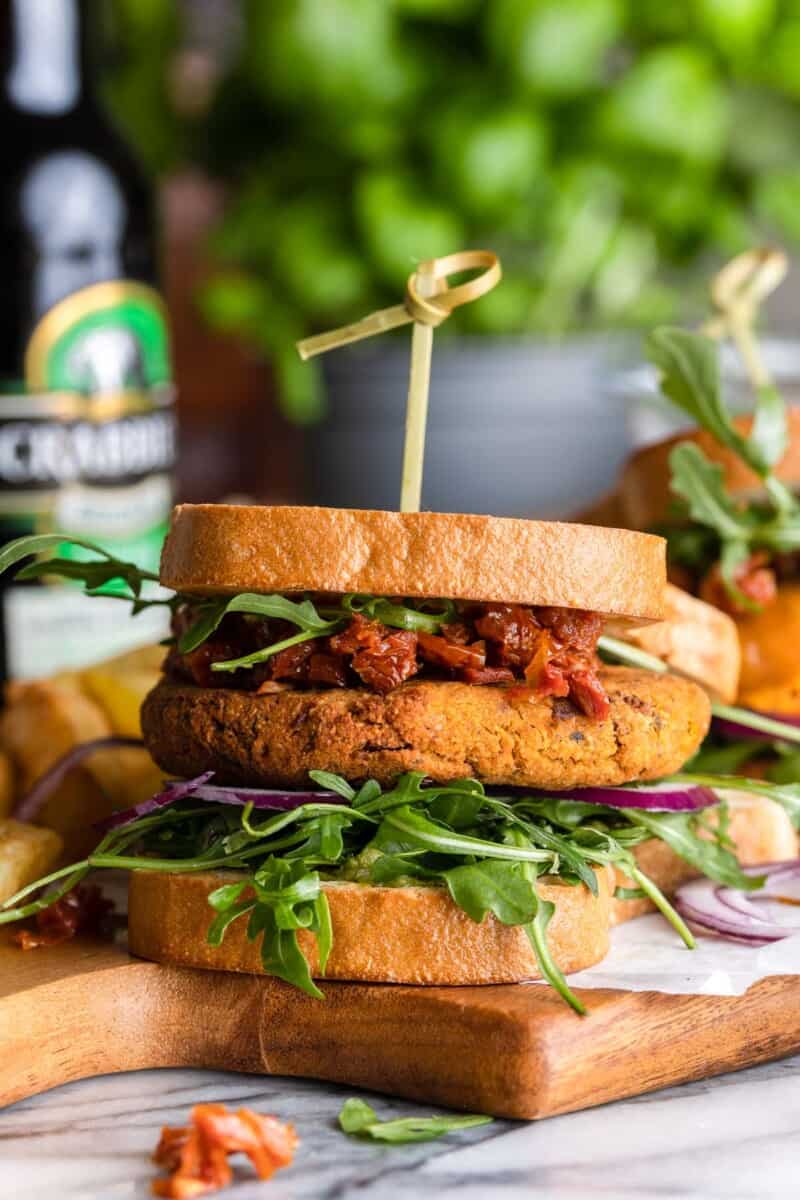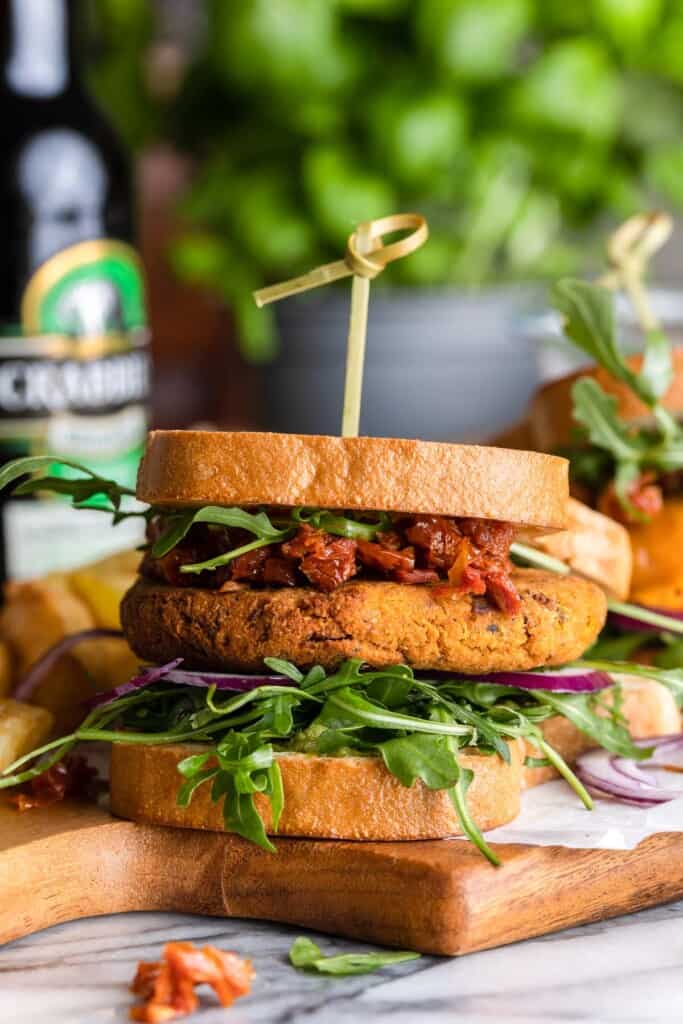 Chickpea Veggie Burger Recipe Steps
Mix fresh ingredients: Add the canned chickpeas, aquafaba, tomatoes, basil, onion, garlic and spices to a food processor bowl. Blend into a thick, chunky mixture.
Mix in dry ingredients: Add the almond flour and starch. Blend until fully combined. The resulting mixture should be thick, slightly sticky and almost paste-like.
Divide, shape and chill: Divide the chickpea mixture into 6 portions (about 100 grams or 1/2 cup each) then shape into burgers. Transfer to a plate lined with baking paper, cover and refrigerate at least 1 hour.
Cook: Bake in the oven for about or pan fry on the stove top.
Enjoy: Add to gluten-free buns along with your favorite toppings and enjoy!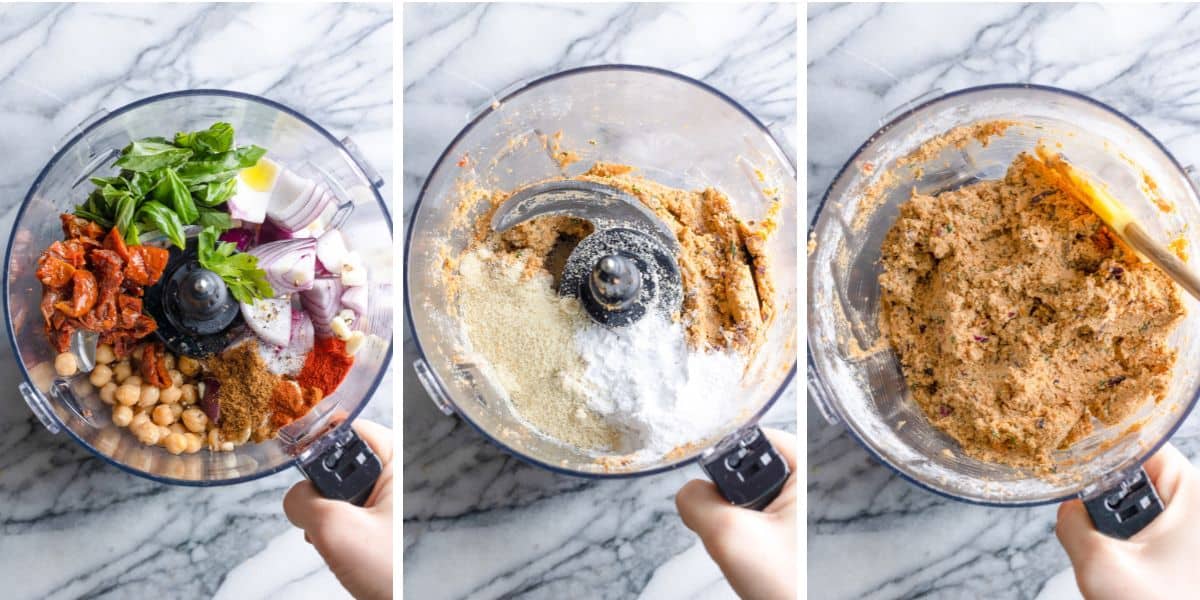 Tips for Frying
I recommend you bake these patties for a more fool-proof experience. It's much easier as a hands off approach, and the burgers end up a bit more sturdy in the end as they lose some excess moisture in the oven.
That being said, you can absolutely pan fry to success with a bit of patience and a few quick tips!
Don't make them too big! The thicker the burgers, the longer it will take to cook the middles. Thick burgers will also be much harder to flip and more prone to falling apart.
Make sure to use a nonstick skillet or well oiled pan! If you're not into teflon/non stick frying pans, make sure to use a properly seasoned cast iron pan (it's what I used) or bake your burgers. If the patties stick to the pan you risk them falling apart before they have a chance to cook through.
Don't flip too early! Set a timer and wait at least 5 minutes before you attempt to flip (unless you can tell from the edges that they're ready to go). The burger patties will be quite delicate until they're fully cooked so be patient.
Make sure the pan and oil are fully heated before you add the patties! You want the patties to sizzle when they hit the pan. This will help them form a nice, golden crust on outside which makes for a better flavor and texture.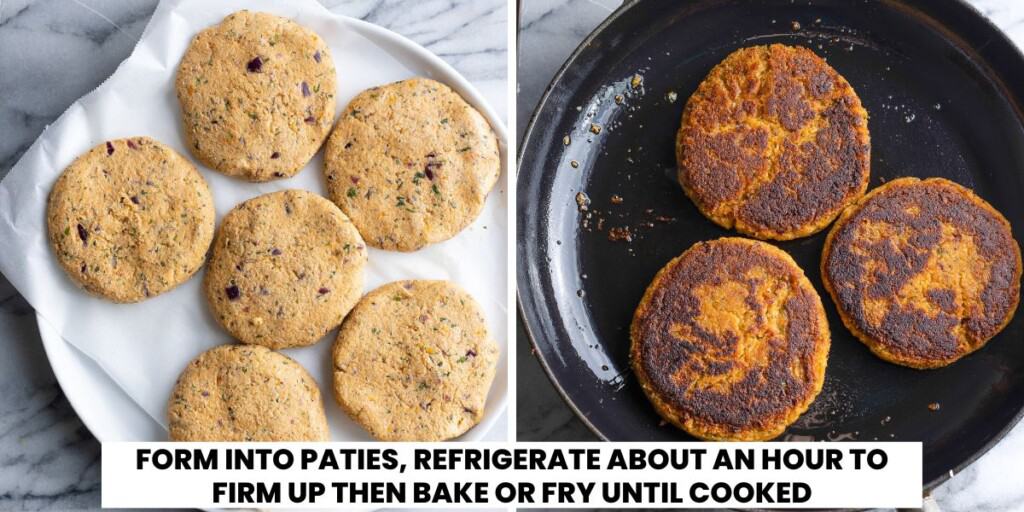 Key Ingredients
Chickpeas + Aquafaba: Drain the chickpea liquid (aka 'aquafaba') from the beans, but save about 3 tablespoons of the liquid to add to the burger mixture.
Sun dried tomatoes: Sundried tomatoes are slightly sweet and tangy yet incredibly savory. The umami flavor they provide makes them a popular choice in Mediterranean cuisine and an excellent ingredient to use in plant based cooking.
Onion & Garlic: Fresh onion and a couple cloves of garlic pack in a punch of flavor without overdoing it. I recommend red onion for both the color and flavor, but yellow onions works in a pinch.
Fresh Basil: Sweet, peppery and a bit minty – basil adds a lovely, delicate flavor that plays well with the tomato and garlic flavors. If needed or preferred, parsley is another good option. You can use parsley as a sub or a mix of the two fresh herbs.
Almond Flour + Starch: The almond flour/almond meal and starch help to bind the ingredients together and retain moisture. My original recipe relied purely on almond flour as the binder. I've since added starch as an ingredient for a little extra binding help.
Herbs & Spices: I recommend salt, pepper, ground cumin, paprika and cayenne pepper but you can play around with the spices here if you like!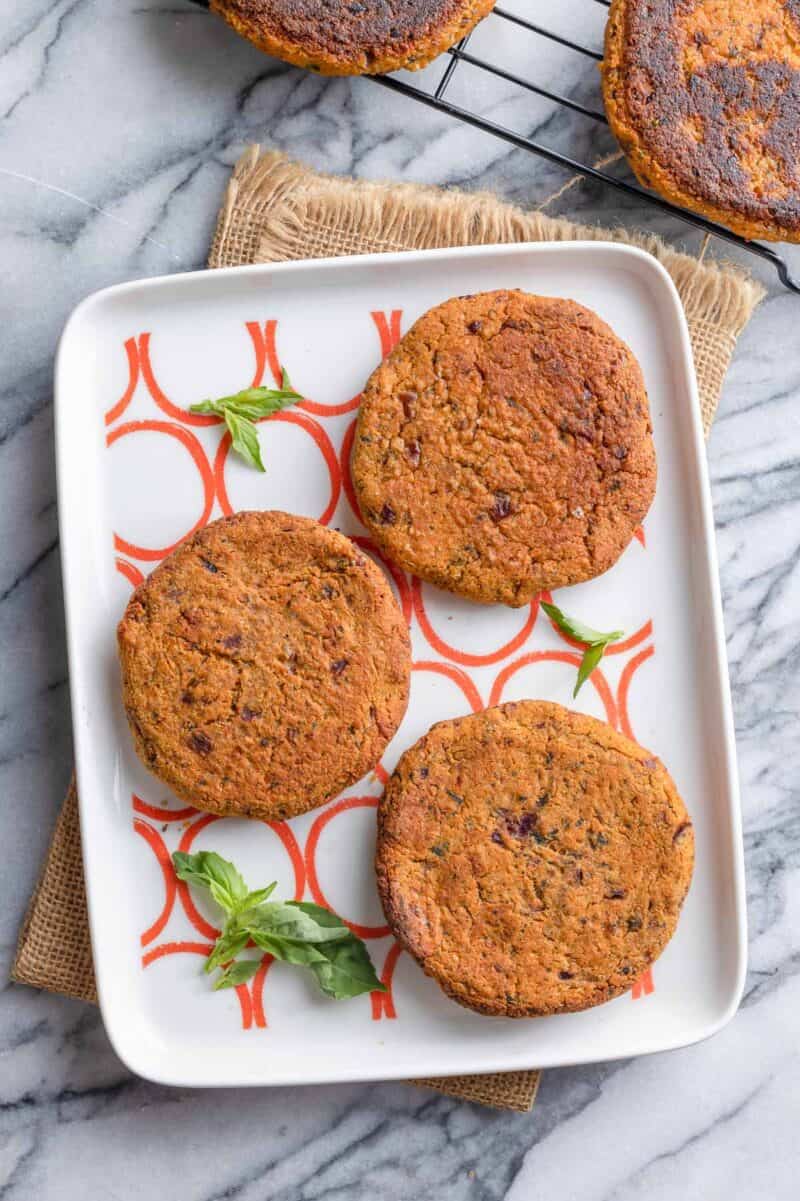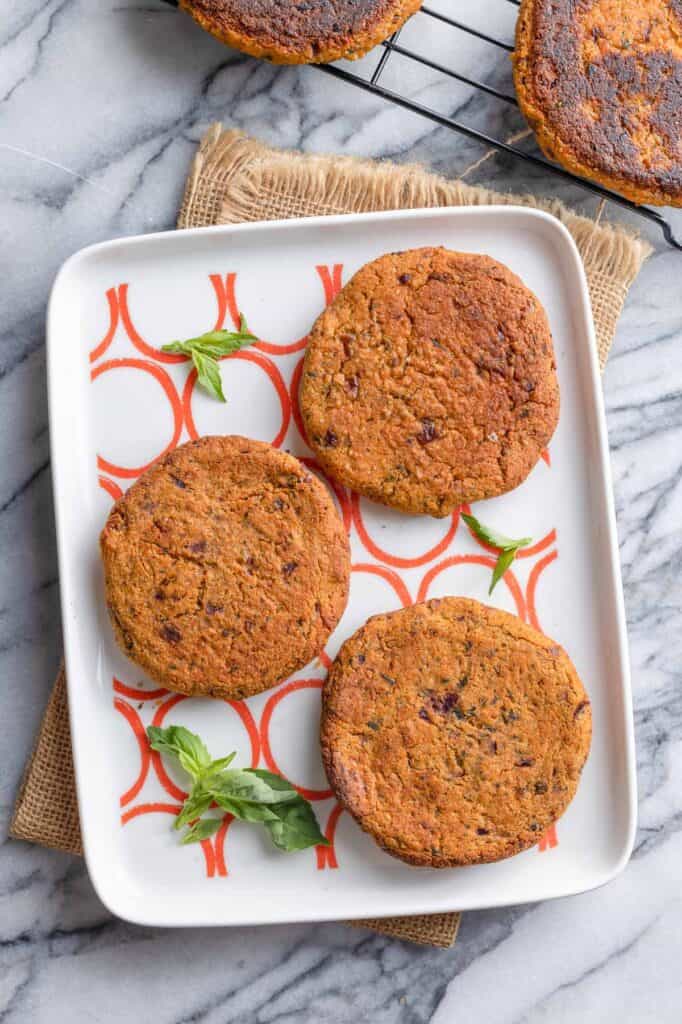 Serving Suggestions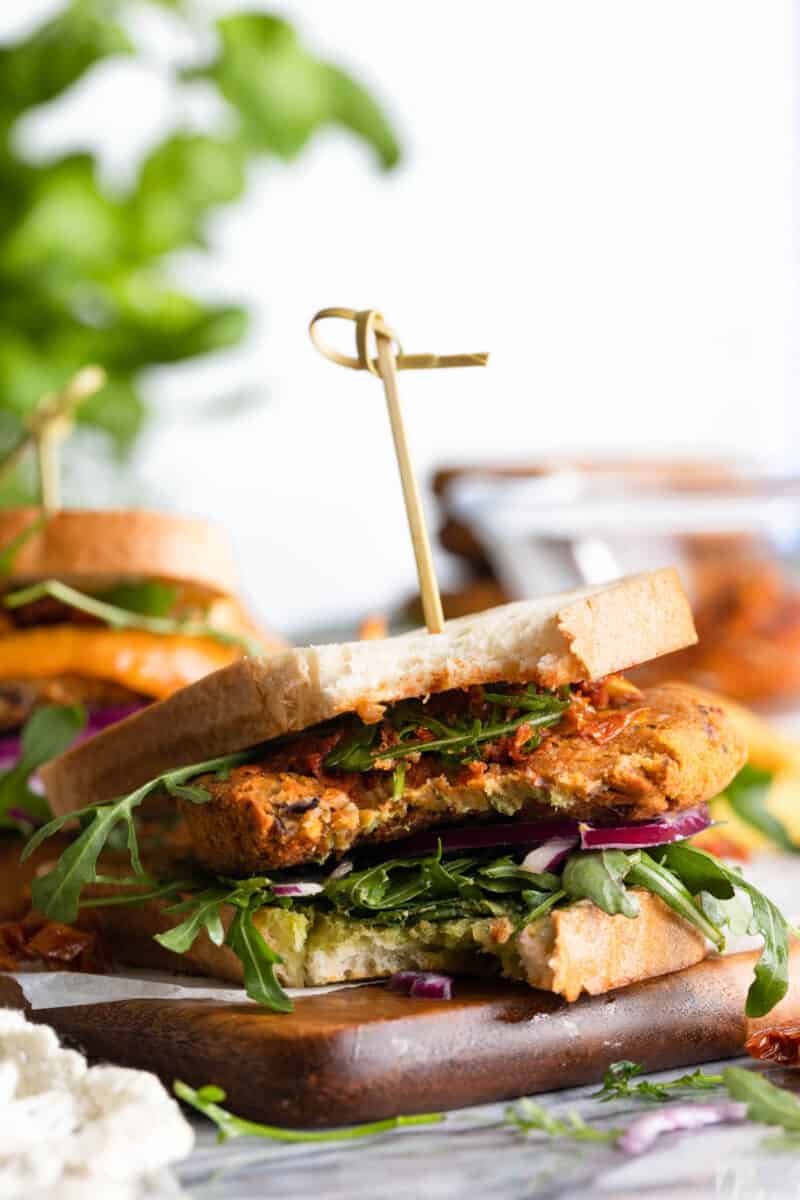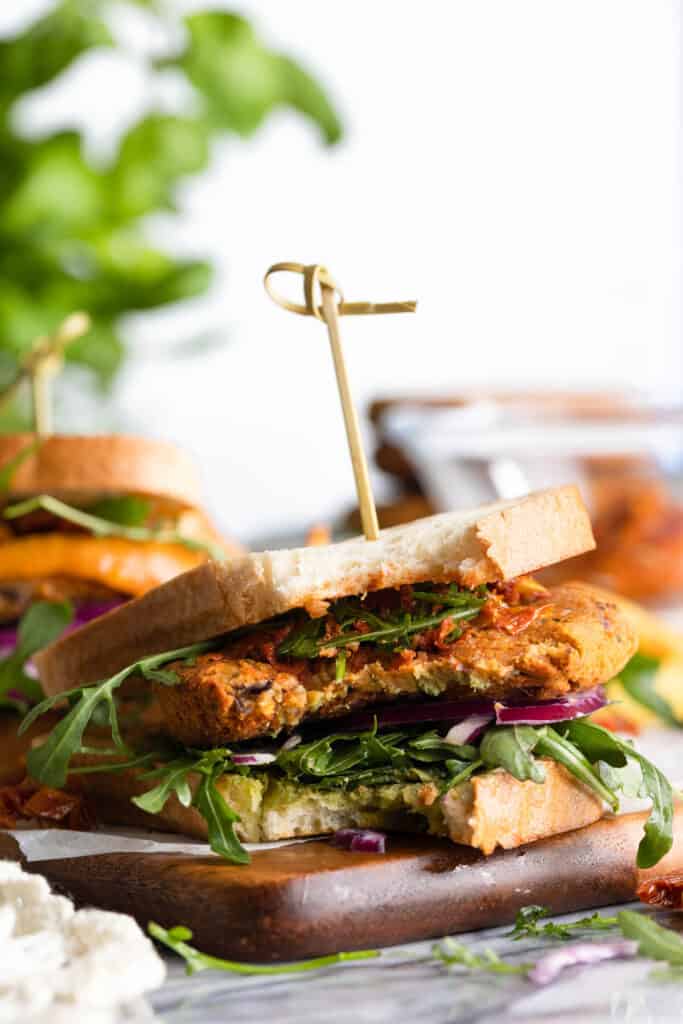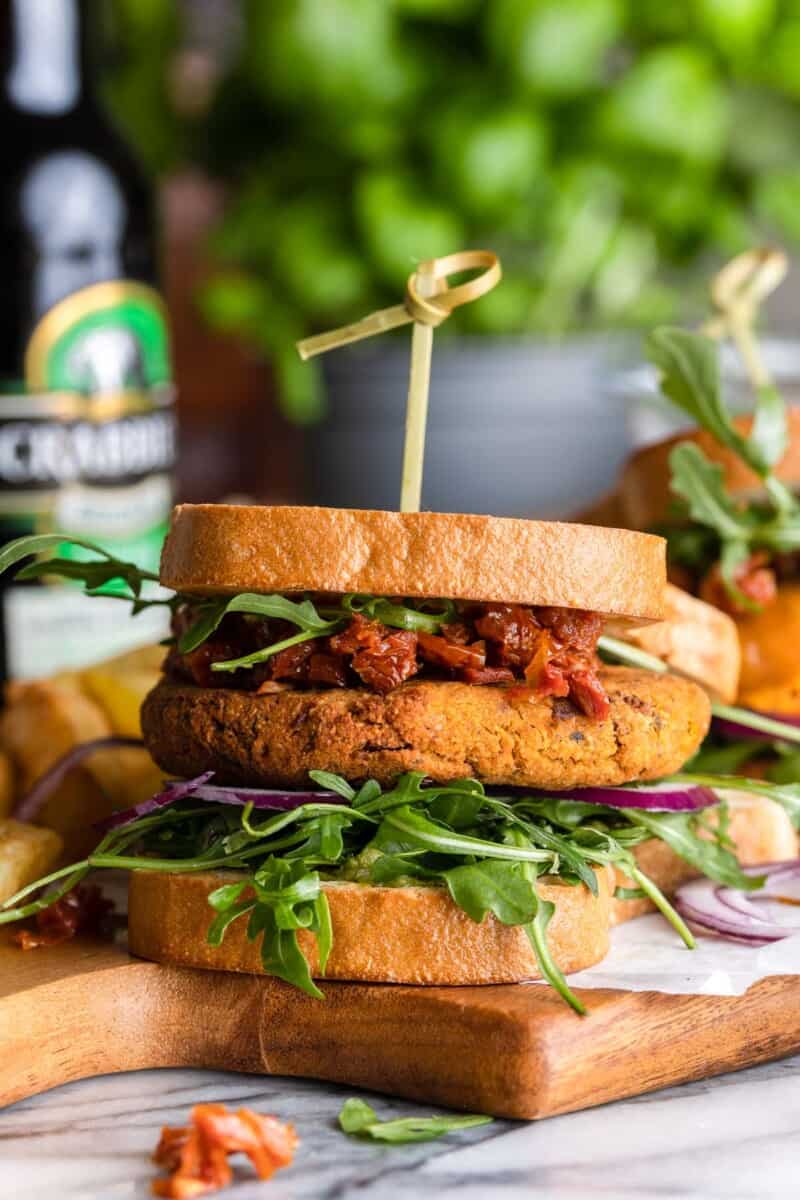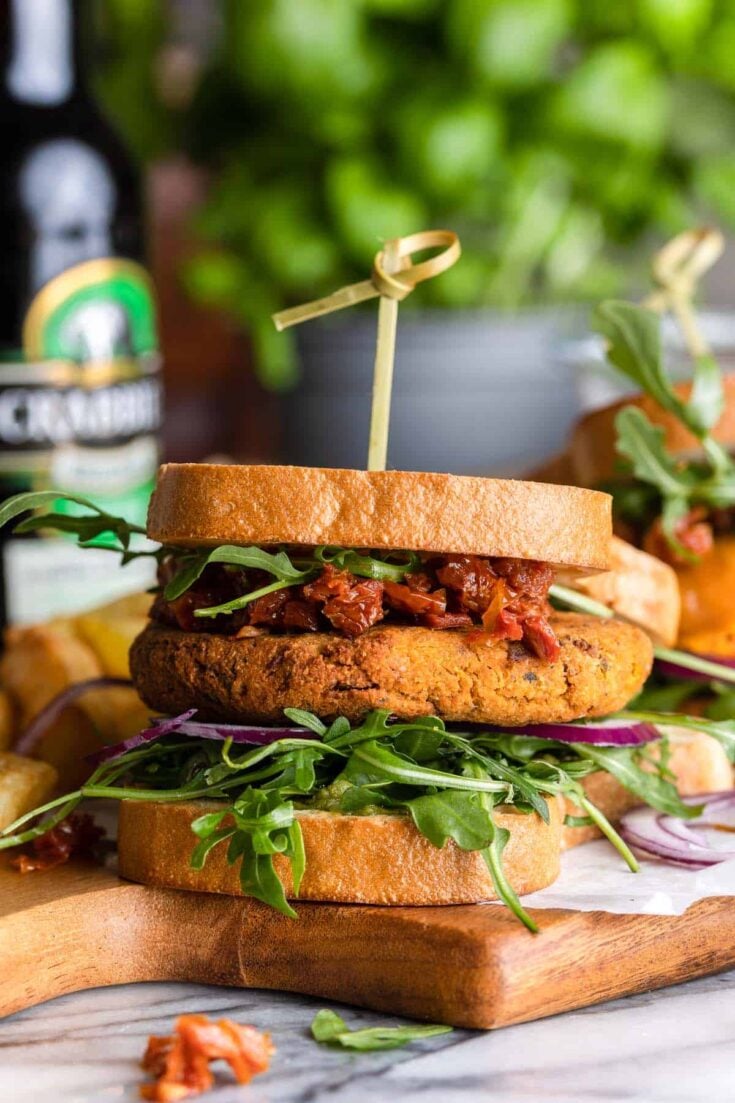 Recipe
Sun Dried Tomato Chickpea Burgers
Yield:
6 burgers
Prep Time:
15 minutes
Cook Time:
35 minutes
Additional Time:
1 hour
Total Time:
1 hour
50 minutes
Fresh ingredients, plant-based protein and Mediterranean flavors blend together in Sun Dried Tomato Chickpea Burgers! Gluten Free + Vegan
Ingredients
1 (15 oz | 400g) can of chickpeas, drained (save 3 tablespoons of the liquid 'aquafaba' from the can)
1 medium red onion, roughly chopped
2 cloves garlic, crushed
6 sun dried tomatoes packed in oil, lightly patted dry
1 cup loosely packed fresh, basil, stalks + stems
1/2 teaspoon salt plus more to taste
1 teaspoon ground cumin
1/2 teaspoon paprika
1/2 teaspoon black pepper
1/4 teaspoon cayenne (optional)
1 1/4 cup almond flour or almond meal (120 g)
1/4 cup tapioca flour or cornstarch (30g) or just use more almond flour
Instructions
Add the chickpeas, aquafaba, onion, garlic, tomatoes, basil, salt, cumin, paprika, cayenne and pepper to the bowl of a food processor. Blitz into a thick, chunky paste.
Add the almond flour and starch to the bowl. Blend into a thick, soft and slightly sticky paste-like mixture.
Scoop out about 1/2 cup of the mixture (about 100 grams worth) and form into six patties - about 1/2 inch thick and 4 inches wide.
Line a big plate or small baking sheet with parchment paper and add the shaped patties in a single layer. Cover and place in the fridge and chill for at least an hour to firm up.
Baking Instructions
Preheat oven to 400°F/200°C. Grease or line a large baking sheet. Add the uncooked patties to the baking sheet. Lightly spray the patties with cooking spray or brush with a little bit of oil.
Bake for 30-35 minutes until burgers a firm and golden brown on top. Halfway though the cook time, flip the patties over and spray/brush with oil.
Remove from oven, assemble into burgers and enjoy!
Stove Top Instructions
Heat a large skillet (nonstick/well seasoned) over a medium-high heat. Add enough oil to coat the bottom of the pan. When the oil is hot, gently add the patties to the pan. Cook three patties at a time so you have enough room to flip.
Let cook about 5-7 minutes on the first side with moving. Use a spatula to gently flip and cook about 5-6 minutes on the other side. If needed, add more oil to the pan.
Remove the cooked patties from the skillet and transfer to a wire rack. Wipe down the pan if needed, add more oil and cook the remaining burgers.
Assemble into burgers and enjoy!
Notes
Store leftover leftover chickpea burgers in an airtight container in the fridge up to four days.
If the canned chickpeas are in a salted brine (check the label if you're not sure), rinse the chickpeas before blending.
If using dried then cooked chickpeas, use 1 1/2 cups cooked and save some of the cooking liquid.
Use tapioca flour (or arrowroot flour) to keep these burgers grain free.
You can use semi dried tomatoes instead of sun dried, but you must rehydrate them in water before blending.
Make this without a food processor:
Finely mince the onion, garlic, tomatoes and basil.
Add the chickpeas to a large bowl and use a potato masher to breakdown the chickpeas. Add the minced ingredients and mash into a thick, paste. It will take more effort to fully mince and mash everything, but it's doable!
Nutrition Information
Yield:

6
Serving Size:
patty
Calories:

162
Total Fat:

32g
Saturated Fat:

2g
Trans Fat:

0g
Unsaturated Fat:

28g
Cholesterol:

0mg
Sodium:

188mg
Carbohydrates:

25g
Fiber:

6g
Sugar:

6g
Protein:

7g
This website provides approximate nutrition information for convenience and as a courtesy only. Nutrition data is gathered primarily from the USDA Food Composition Database, whenever available, or otherwise other online calculators.