Learn how to make crispy baked sweet potato fries at home! All you need is a little oil, a little starch and a few of your favourite herbs and spices to get started! Gluten Free, vegan, paleo and low FODMAP options all available!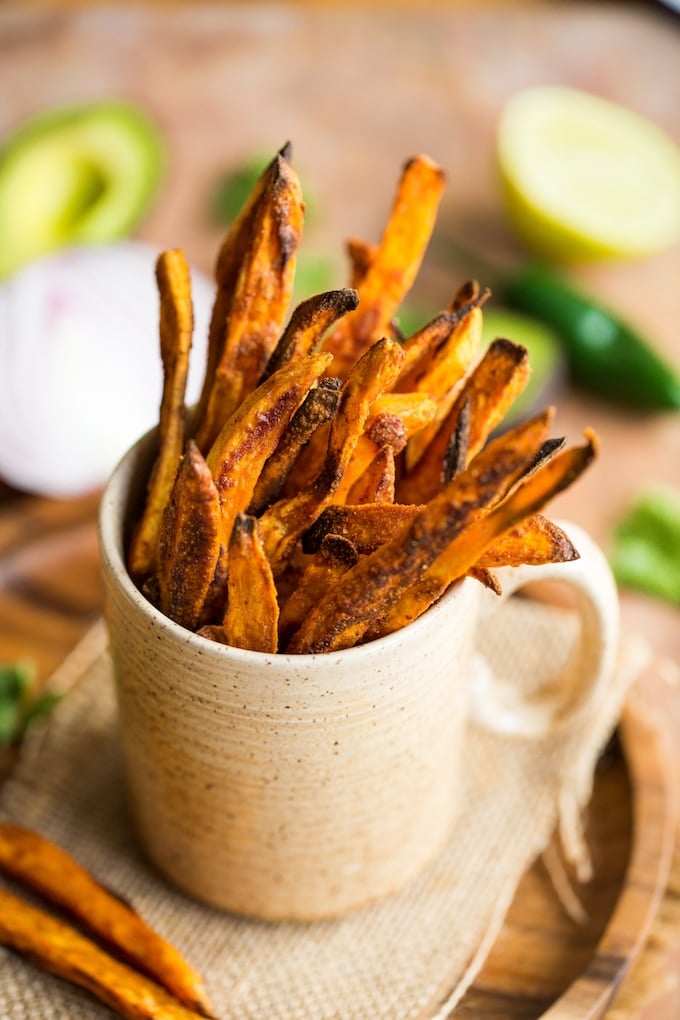 Get out of here with your soft and mushy sweet potato wedges.
While they are nice enough, and have their place on my dinner plate from time to time I'm all about the crispy, crunchy bite of a really kick ass sweet potato fry. Except these are baked and not fried so you can feel even better about polishing off a plate to yourself.
Now – I've made my fair share of sweet potato fries in the past every which way. For a long time I avoided it because it always seemed tricky. There were all these steps about soaking in water, double baking, frying , etc etc. It just felt like too much work and now I'm here to tell you that it honestly is too much work because you don't need to do any of those things to achieve truly crispy baked sweet potato fries.
Hallelujah!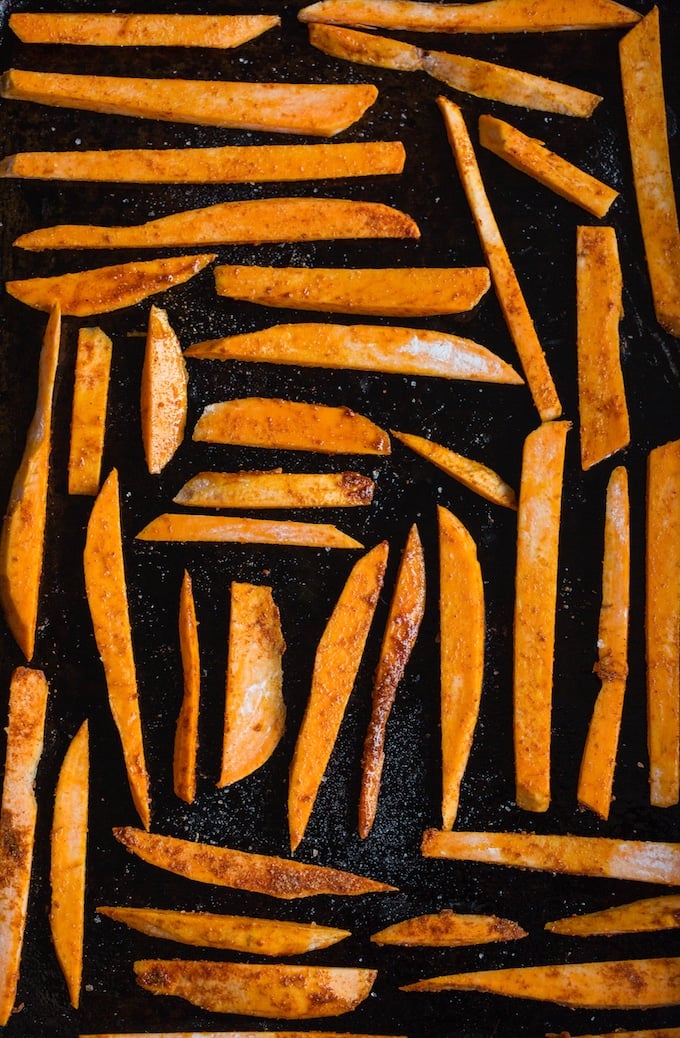 Tips for making truly crispy baked sweet potato fries at home:
While making sweet potato fries at home isn't rocket science you do need to keep a few things in mind for success:
Cut your fries into similar shapes & sizes. This isn't always possible when factoring in the ends of the sweet potato where they come in at the top (as you can see from my pic above). For the most part though, try to slice every thing up to be a similar width. The more even the fries are the more even they'll bake in the oven.
Toss the fries in starch before baking. You have a little flexibility here when it comes to the type of starch your use: tapioca or arrowroot are good options if you're looking for a grain free, paleo, whole30 option. Otherwise potato and cornstarch are also great options. The idea here is to basically dry out the potato a little bit and to create a crust that will crisp up even more while baking.
Salt at the end. Speaking of drying out the potatoes: you'll want to wait until after your fries are done to salt them. Adding salt to soon will draw moisture out of your potatoes making it more difficult for them to get crispy.
Spread them out on a baking sheet. This is possibly the most important thing to keep in mind. You need to space out your potatoes on a baking sheet otherwise they will steam up too much in the oven and become mush. Plain and simple. Leave a about a finger width of space in between each potato. If your baking sheet is too overcrowded then use a second tray.
Bake in the upper third of your oven. Sweet potatoes have a lot of natural sugars which is why they can easily burn while cooking. Moving an oven rack higher up in the oven takes the potatoes farther away from the bottom heat source and less likely to blacken.
Flip once. Don't be tempted to become overly fussy with your potatoes while they are baking. About halfway through remove your baking sheet from the oven to flip over each potato and then return to the oven with the sheet turned around. If you flip too much your fries won't have a chance to crisp up on the outsides.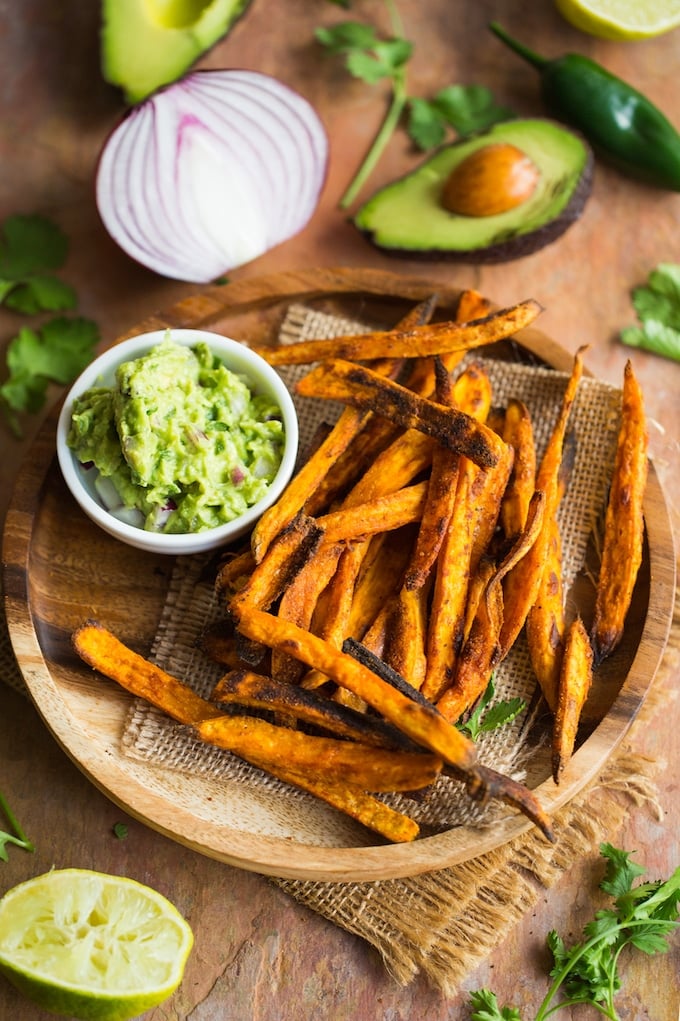 And that's it really! It's not really tricky but the first time around is can take a little extra time just to make sure everything is right. Once you've got it nailed you can start playing around more with different spices and serving sauces to go along with it.
Personally I'm always a fan of making these fries with a side of homemade guacamole.  It makes for the perfect lazy girl/treat-yo-self kind of dinner…especially when enjoyed with freshly made margarita. They also make a great burger side like these Sun Dried Tomato Chickpea Burgers!
Do you have any tips or favourite ways to eat sweet potato fries?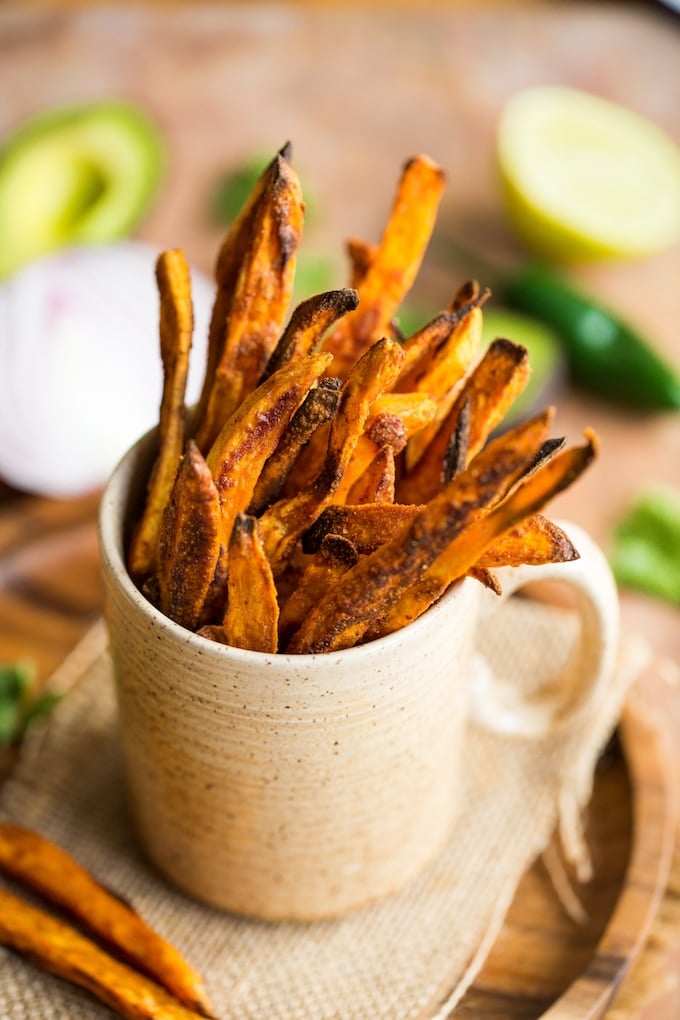 Recipe
Crispy Baked Sweet Potato Fries
Yield:
1 serving
Prep Time:
10 minutes
Cook Time:
40 minutes
Total Time:
50 minutes
Learn how to make crispy baked sweet potato fries at home! All you need is a little oil, a little starch and a few of your favourite herbs and spices to get started! Gluten Free, vegan, paleo and low FODMAP options all available!
Ingredients
1 medium sweet potato
1 tablespoon cornstarch, potato starch or tapioca/arrow for paleo version
1 tablespoon olive oil
1/2 teaspoon paprika, (I prefer using hot paprika for an extra kick but smoked or sweet will also work)
1/2 teaspoon garlic powder, leave out if you need this to be low FODMAP
1/2 teaspoon sea salt
Instructions
Preheat oven to 425°F/220°C. Place a cooking rack in the upper third of your oven. Lightly grease a dark, non stick baking sheet. Set aside.
Peel the sweet potato and slice into thin, fry shapes pieces. Try to cut the fries into equal sizes so that they cook evenly. Use a paper towel to blot away any excess moisture.
Add the potato to a large mixing bowl along with the starch. Toss to coat. Toss again in oil. Finally, add the paprika and garlic powder. Don't add the salt until the end.
Transfer the potatoes to the greased baking sheet. Spread the potatoes out so they are not touching - ideally you want about a finger sized space between each potato. If they are too close they'll steam while baking without crisping up.
Bake in the oven for 15 minutes. Remove the baking sheet to flip the potatoes and then return back to the oven to bake for another 15 minutes. After 15 minutes, turn off the oven and open the door for about 10 minutes. The fries will crisp up more in this time.
Sprinkle the salt over the baked potatoes and gently toss/mix around to coat. Enjoy as is or serve with your favourite dip.
Notes
Cooking oil sprays are also great options to use here to cut back on the amount of oil you use.
A rule of thumb for making sweet potato fries: use 1 medium sized potato per person
Low FODMAP: sweet potatoes are safe for low FODMAP consumption at 75 grams and under
Nutrition Information
Yield:

1
Calories:

162
Saturated Fat:

1g
Sodium:

1165mg
Carbohydrates:

9g
This website provides approximate nutrition information for convenience and as a courtesy only. Nutrition data is gathered primarily from the USDA Food Composition Database, whenever available, or otherwise other online calculators.