Make your own Chopped Cheese Sandwich in the comfort and ease of your own kitchen! This NYC favorite is made with sautéd onions, seasoned 'chopped' ground beef and melty cheese served on a toasted hero roll with sliced tomatoes and shredded lettuce. Simple, affordable & supremely satisfying!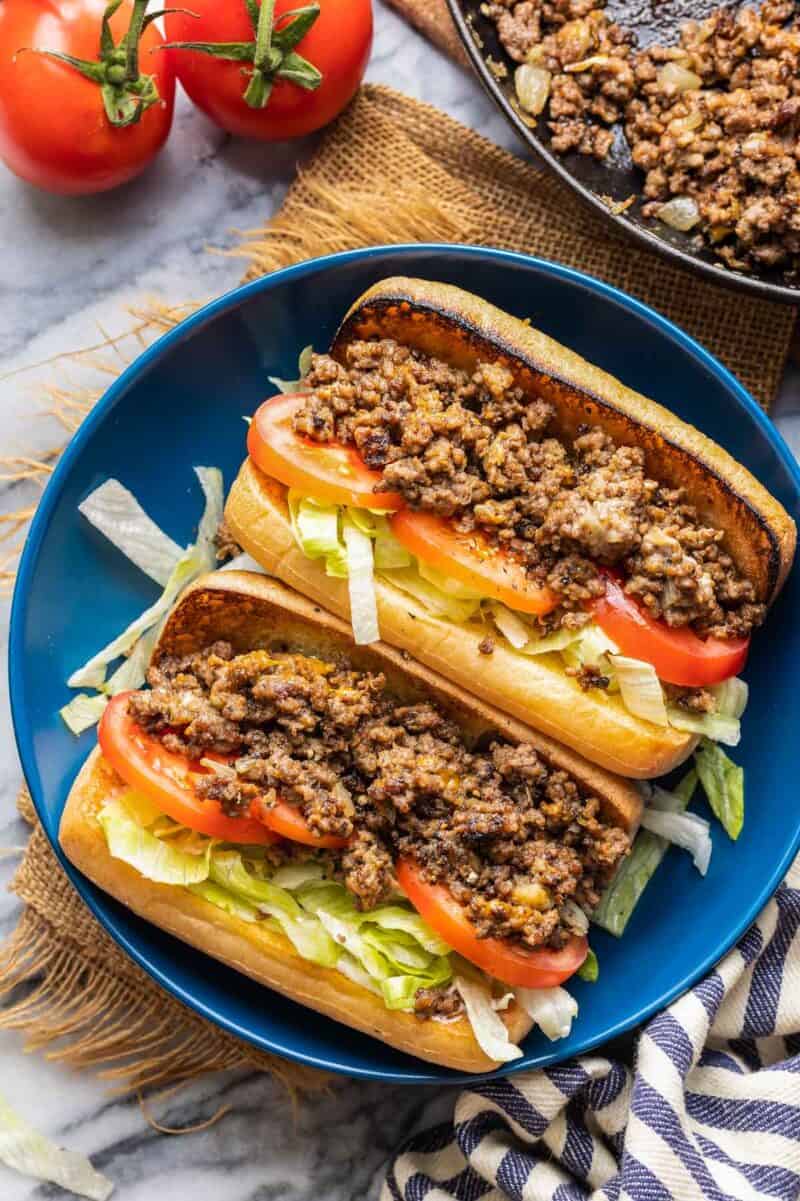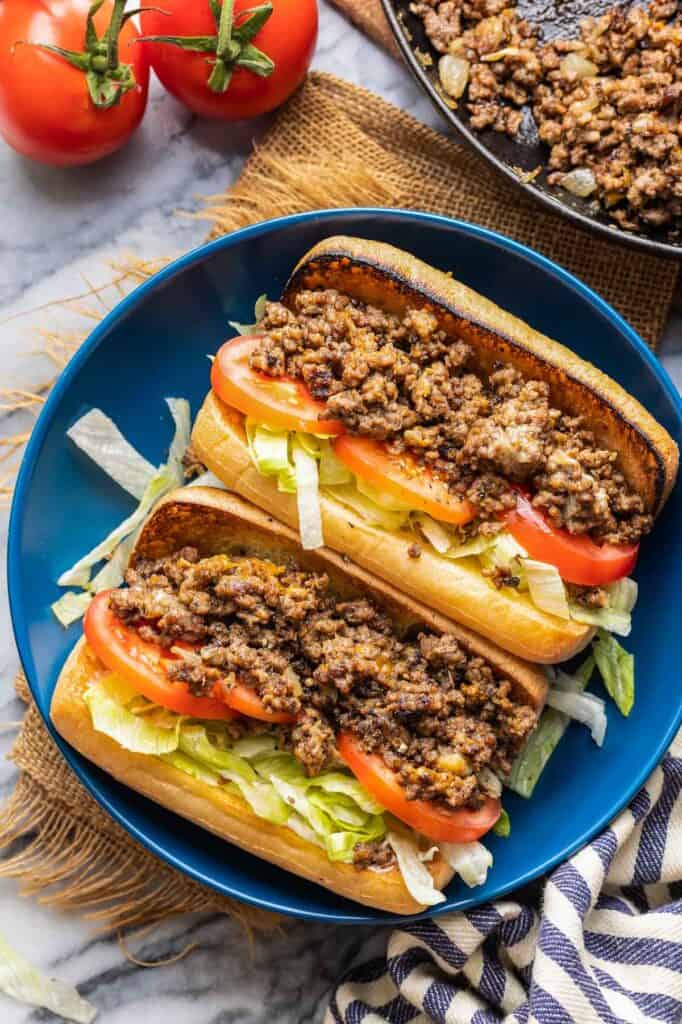 I don't know if this is blasphemy to say or not, but I just don't know how a chopped cheese sandwich gets the right to be so unbelievably good.
I mean…the ingredients are as basic as it gets: ground beef, onions, cheese slices, salt, pepper and garlic powder.
And the cooking process is a classic dump, cook and mix kind of method. Nothing fancy or drawn out.
And yet it's genuinely a super tasty sandwich!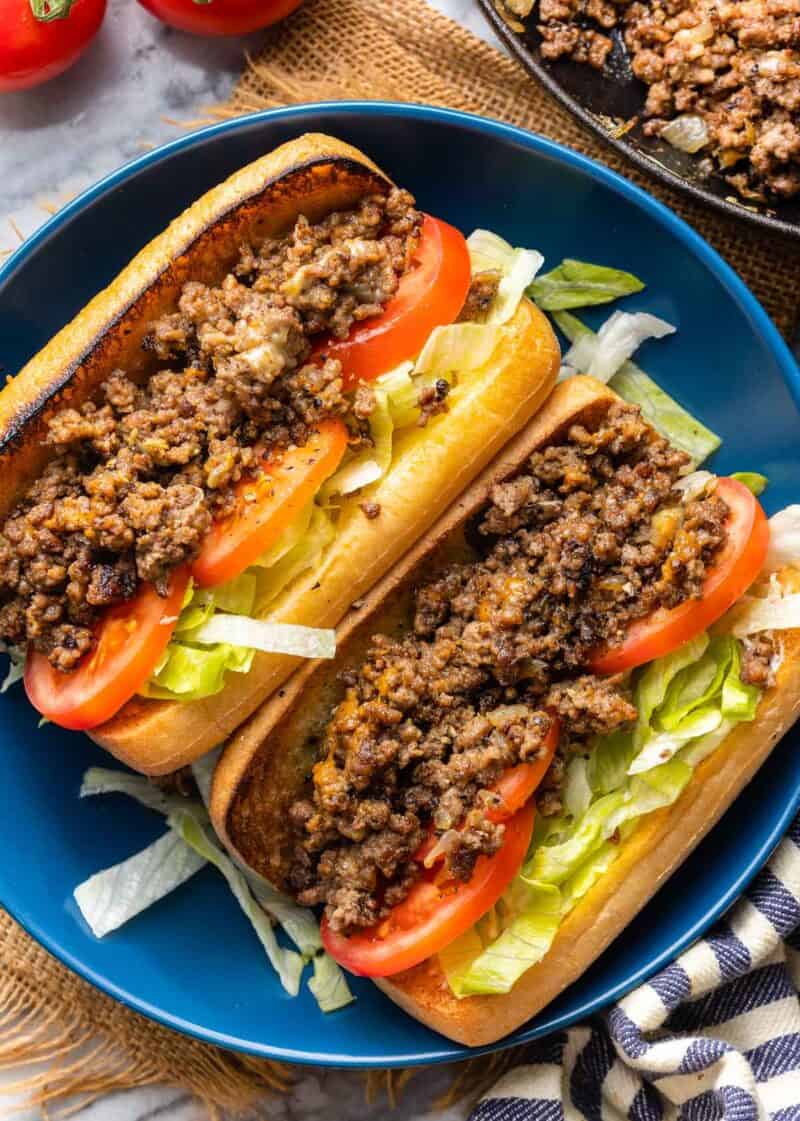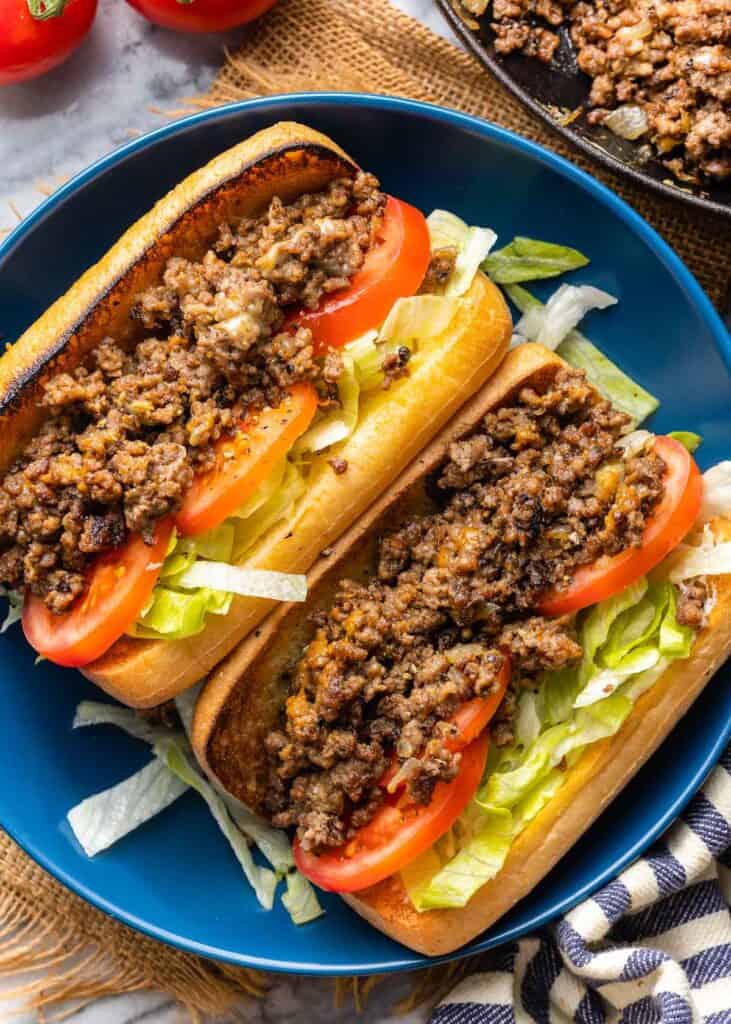 What is chopped cheese?
Great question!
Though still debated, the general consensus credits the birthplace of the chopped cheese to a New York City bodega in East Harlem in Upper Manhattan.
Chopped cheese (or just chop cheese) is a ground beef, onion and melted cheese sandwich. It's usually made by 'chopping' up a pre-formed beef patties into smaller pieces with a spatula on a griddle or flat top grill.
It's kind of like a deconstructed cheeseburger.
Instead of a traditional hamburger bun, it's served on a long toasted roll like a sub sandwich. Fillings will vary depending on place and preference, but shredded lettuce, tomato slices and mayo are typical inclusions.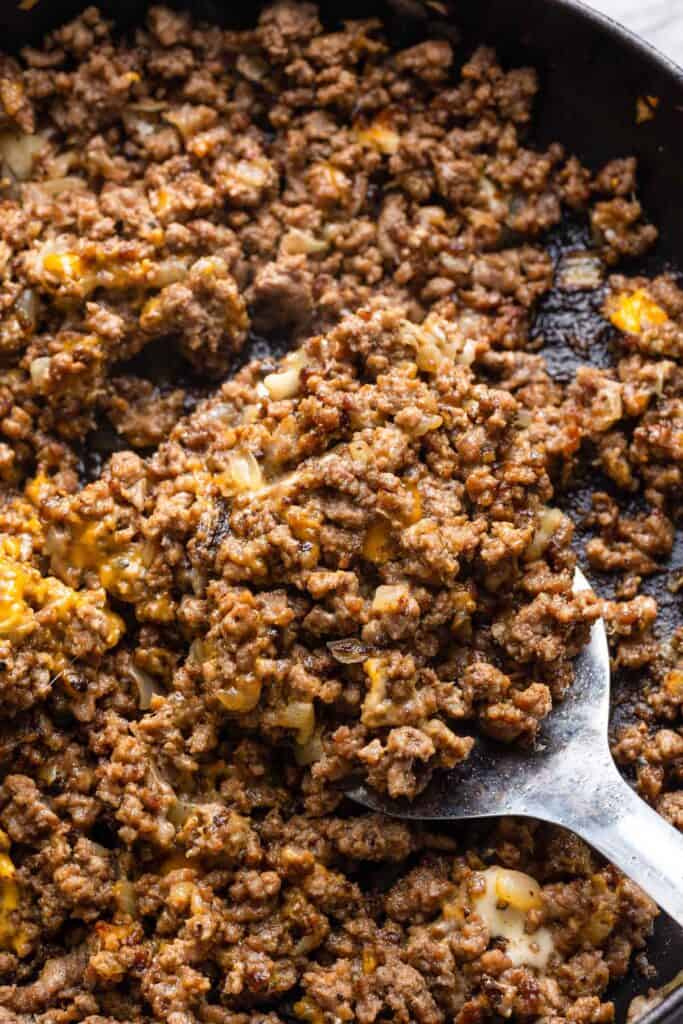 Chopped Cheese Recipe Steps
Summed up in simple steps:
Sauté 1 diced onion until soft over a medium heat in a large pan or cast iron skillet.
Add the ground beef to the sauteed onions and cook over a medium high heat until almost no pink remains.
Add salt, pepper and garlic powder to the meat and onion mixture and cook until the beef juices evaporate.
Lay cheese slices over the top of the beef. Leave a minute or two until melty.
Mix everything together to combine the cheese with the beef and onions.
Toast and butter the bread until golden brown, prepare your sandwich toppings as needed and fill with chopped meat.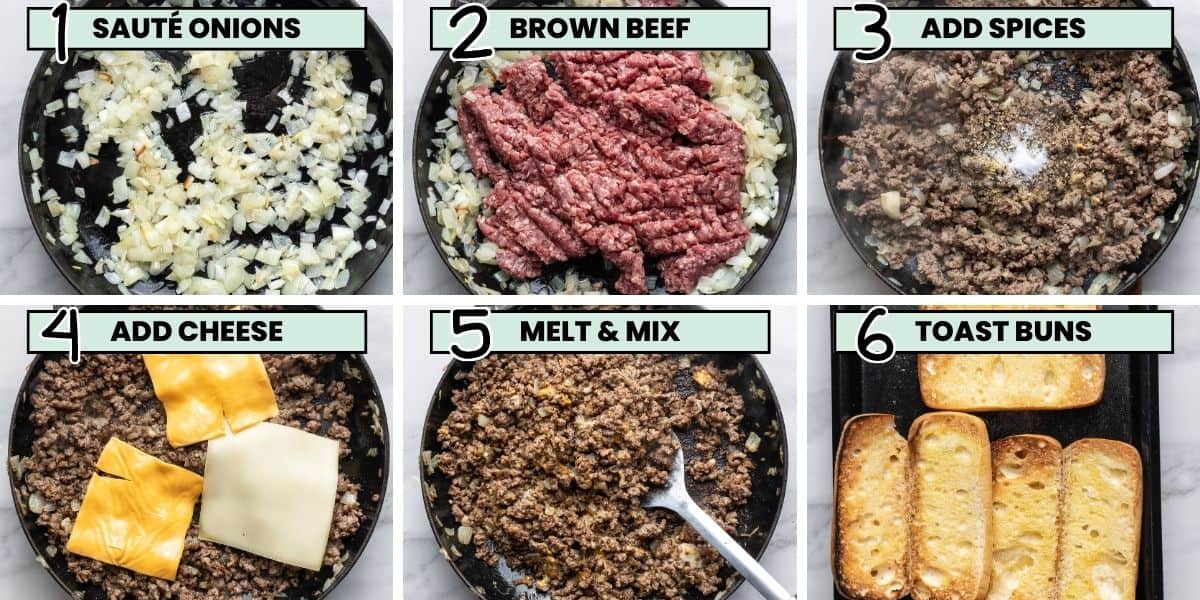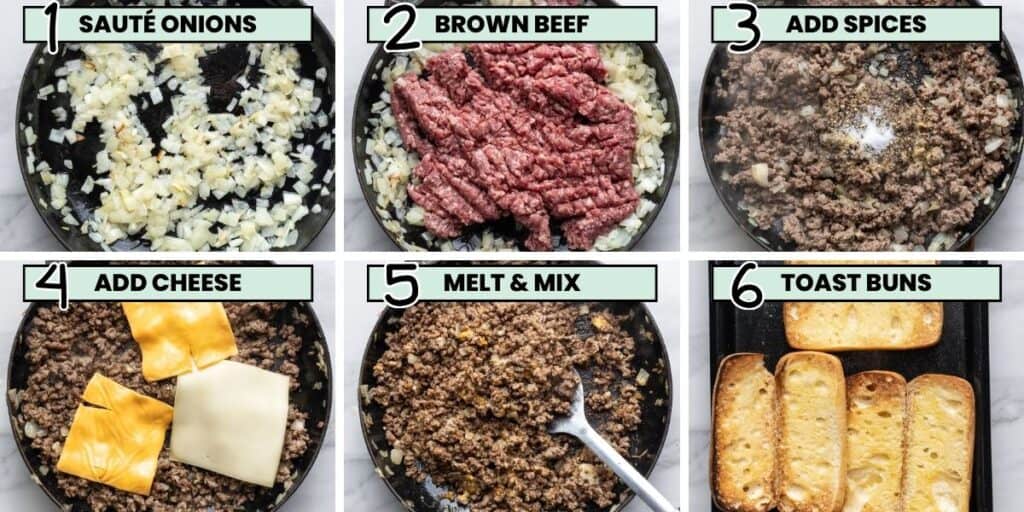 What type of bread to use?
Look for long bread rolls to make your chopped cheese.
Authentic chopped cheese sandwich recipes will call for hero rolls or hero buns which are just long sandwich buns. If you're in NYC it's a hero, in Philly you'd call it a hoagie or a sub and in New England it's a grinder.
I supposed living in England for nearly a decade now I shouldn't be so surprised to realise everyone has a different name for bread. People here love discussing the 'correct' term for bread in the never ending bap, bun, barm, etc debate.
Gluten Free Bread
Since this is a gluten free food blog, options were limited. That said, I found Schar's panini rolls to be perfect here.
If you can't find any gluten free rolls around, you can try burger buns instead. Just keep in mind that these sandwiches can be quite hefty, so make sure to choose a bread option that's sturdy enough to hold everything together.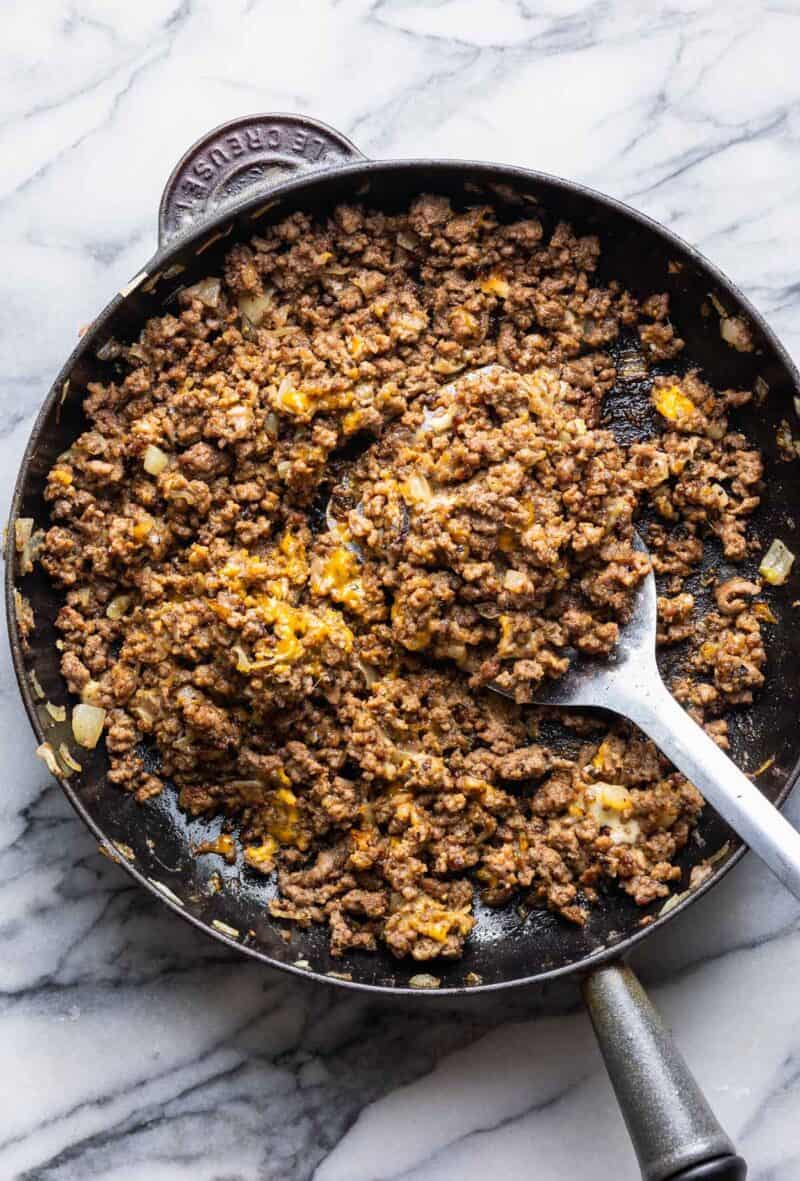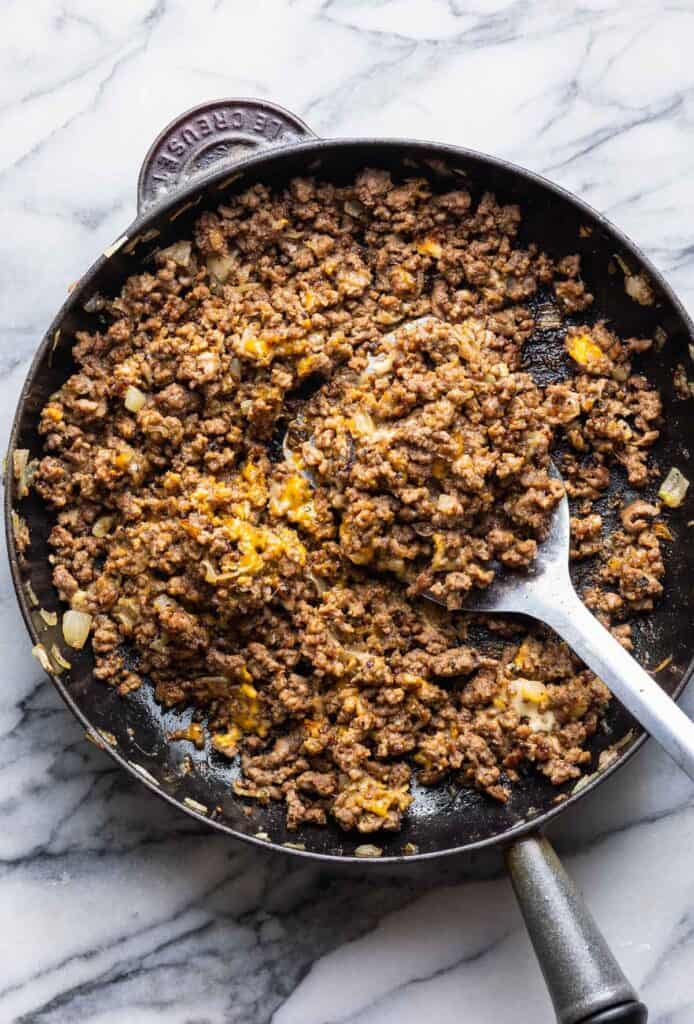 Recipe Tips
Beef
High fat beef mince is ideal.
The higher fat will keep the beef nice and juicy which also translates to better flavor. Choose 10-20% fat if possible. You can use a leaner beef, but you'll probably need to add more oil to the pan as it cooks.
Skillet or Gill
This recipe is perfect on flat top grill, but a well-seasoned cast iron skillet is also an excellent choice.
You want something that will allow you to cook your food evenly at got temperatures.
Cheese
They might look weird and shiny, but American cheese slices are made for burgers and chopped cheese! However, feel free to play around with the cheese options. Try it with cheddar cheese, provolone cheese, Swiss – whatever you like.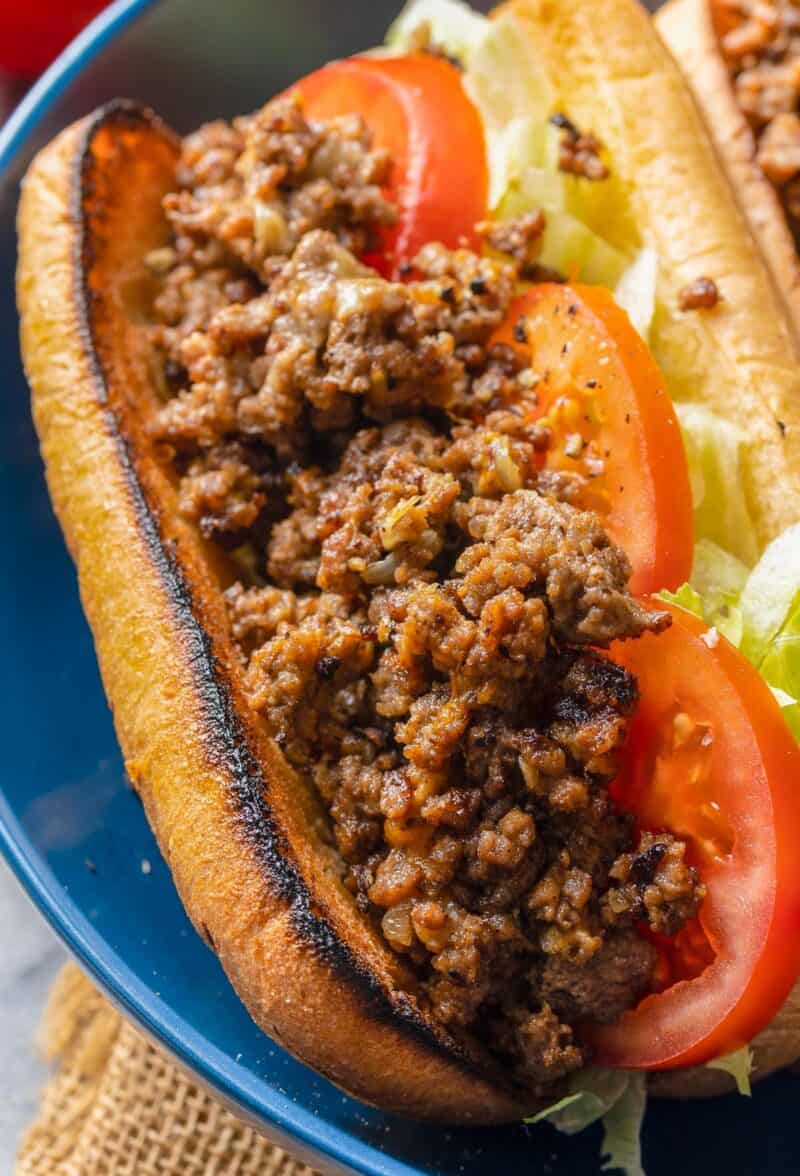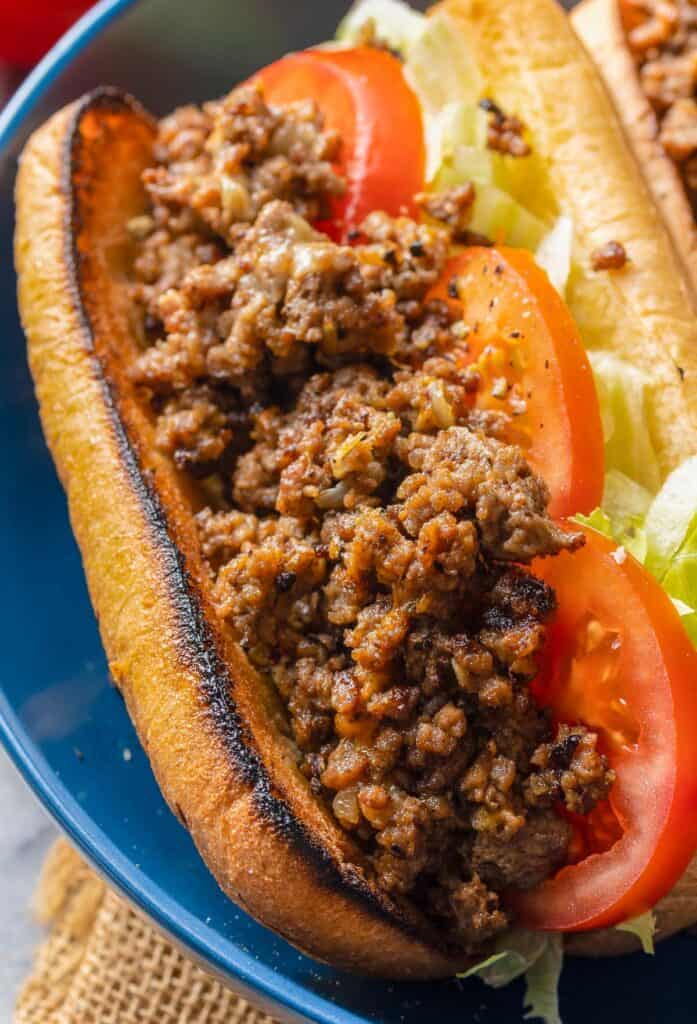 Serve & Enjoy
And that's it!
This is a really quick and easy recipe that comes together in no time. Serve it with a side salad to light up your plate. You also can't go wrong enjoying it with a side of french fries or potato chips.
Play around with the ingredients by adding your favorite condiments or toppings. I may be biased, but my chipotle mayo is excellent here. Sauté some green peppers or mushrooms. Fry up some crispy bacon or get fancy with this Bacon Jam.
Go nuts!
Let me know if you try this chopped cheese sandwich recipe! Leave a comment and a review with your thoughts. I always appreciate the feedback and serving suggestions that you come up with!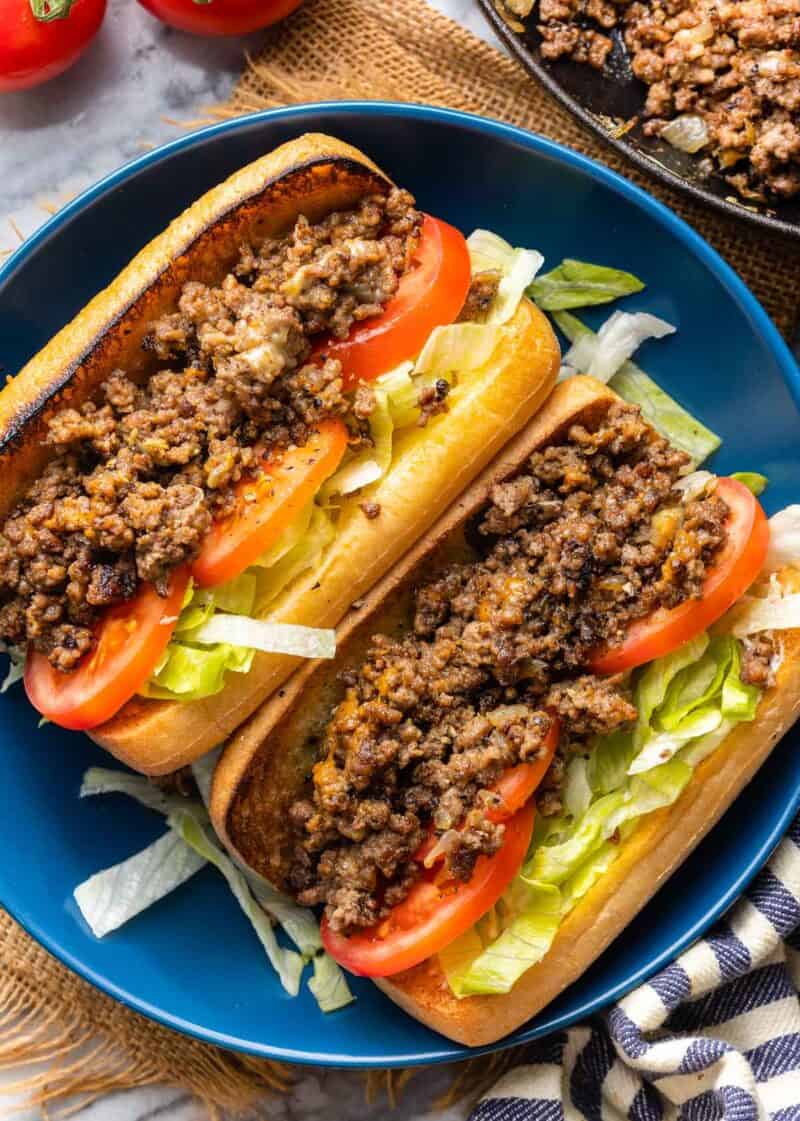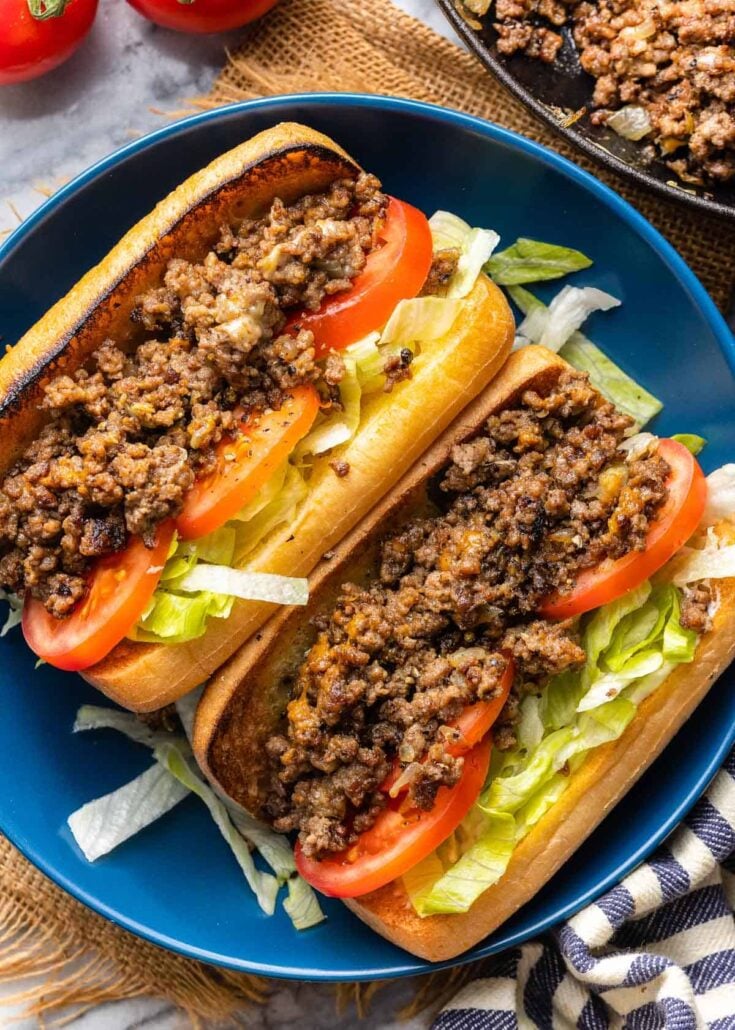 Recipe
Chopped Cheese Sandwich (Gluten Free)
Yield:
4 sandwiches
Prep Time:
10 minutes
Cook Time:
20 minutes
Total Time:
20 minutes
Sautéd onions, seasoned 'chopped' ground beef and melty cheese served on a toasted hero roll with sliced tomatoes and shredded lettuce. Simple, affordable & supremely satisfying!
Ingredients
1 tablespoon oil for frying
1 medium white or yellow onion, diced
1.25 lbs ground beef (570g)
1 teaspoon kosher salt or sea salt
1/2 teaspoon black pepper
1/2 teaspoon garlic powder
4 American cheese slices (or cheese slices of your choosing)
4 gluten free hoagie buns* toasted and buttered
1 cup iceberg lettuce, shredded
1 large tomato, sliced
mayo and butter for the bread
Instructions
Warm a large skillet or cast iron pan with 1 tablespoon oil over a medium heat.
Add the onions and a pinch of salt. Sauté about 4-5 minutes until soft.
Add the ground beef to the pan. Turn the heat up to a medium-high heat. Break up the beef into small pieces and cook until almost no pink remains.
Stir in the the salt, pepper and garlic powder into the meat mixture. Let cook without stirring a couple of minutes to cook out the beef juices.
Mix again, use the spatula to break down the beef. Add the cheese slices to the beef and cook another minute or two undisturbed to let the cheese melt.
Turn off the heat. Stir the cheese into the beef until mixed in well. Taste and season with more salt and pepper as needed.
Divide the beef between the four buns along with the lettuce, tomatoes and mayo.
Serve and enjoy immediately.
Notes
Any long bread roll will work - hot dog buns, pannini rolls, etc.
Use 15-20% fat beef.
Nutrition Information
Yield:

4
Serving Size:
1 sandwich
Calories:

652
Total Fat:

36g
Saturated Fat:

11g
Carbohydrates:

43g
Fiber:

7g
Sugar:

7g
Protein:

36g
Nutrition will vary depending on the type of bread you use.
This website provides approximate nutrition information for convenience and as a courtesy only. Nutrition data is gathered primarily from the USDA Food Composition Database, whenever available, or otherwise other online calculators.