Hello, hello!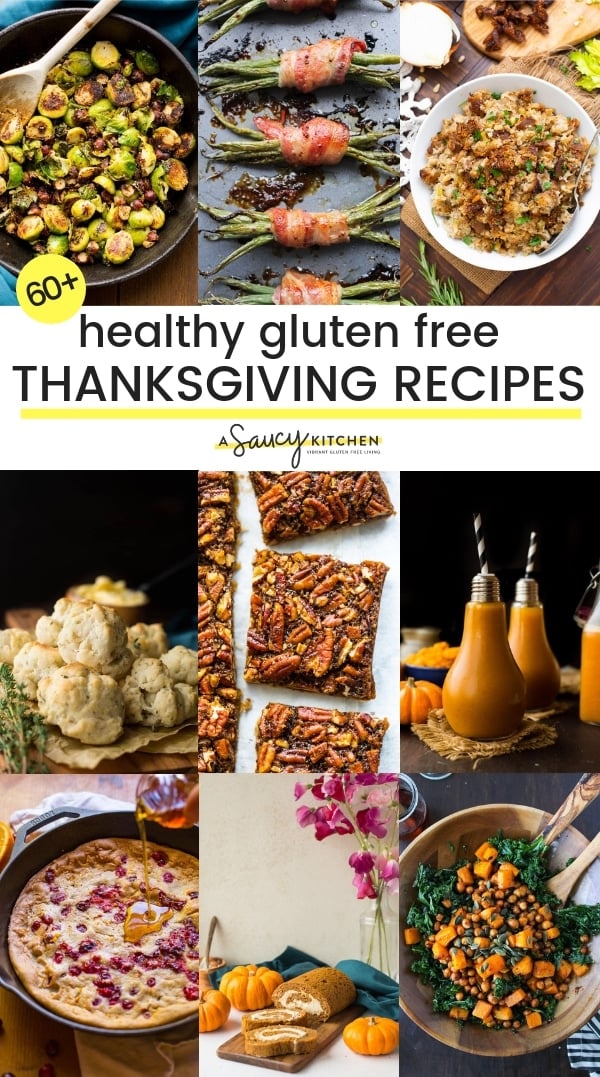 Originally shared November 23, 2016 – Updated November 19, 2018
Happy (almost!) Thanksgiving!
I'm sure I'll be running back and forth to the store between now and Thursday morning to get all my last minute grocery shopping done. No matter how many lists I make there's always something that I end up forgetting to buy and I can usually count on it always being the most important ingredient in my dish. Please tell me I'm not the only one who does that!
Instead of sharing another recipe today I thought I'd go back through some of my old posts and create this list of gluten free Thanksgiving recipes. It was fun to go back and look through some of my old posts that I've forgotten about including quite a few news ones since I first made this list a couple years ago.
So until next time – here are a few more healthy gluten free thanksgiving recipe ideas to get you through the day. I've got everything from breakfast to dessert covered here in case you need a little extra Thanksgiving inspiration.
Enjoy!
Breakfast

1. Spicy Kale Potato Breakfast Hash (paleo + vegan) // 2. Gluten Free Vegan Pumpkin Scones // 3. Paleo Cranberry Orange Dutch Baby // 4. Eggs In Squash Rings // 5. Banana Bread French Toast // 6. Cranberry Orange Baked Oatmeal // 7. Paleo Sweet Potato Pancakes //8. Bacon Kale & Sweet Potato Hash //9. Paleo Blackberry Apple Dutch Baby //10. Paleo Pumpkin Spice Donuts
Salads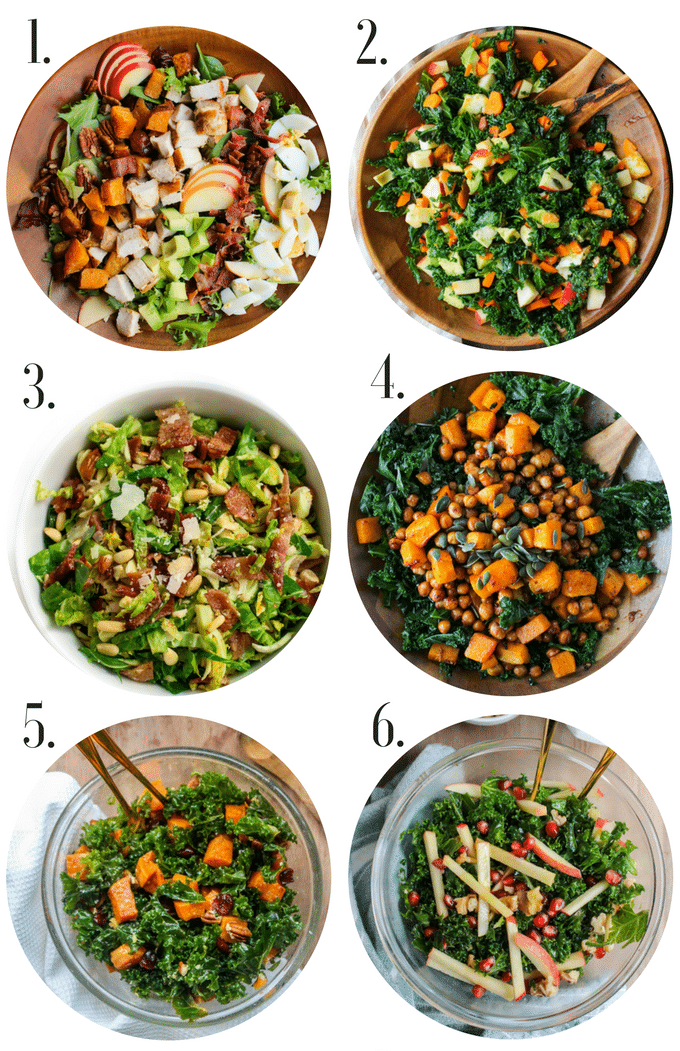 1. Autumn Cobb Salad // 2. Carrot Apple & Massaged Kale Salad // 3. Bacon & Brussels Sprout Salad // 4. Spicy Roasted Butternut Squash & Chickpea Kale Salad // 5. Spicy Sweet Potato & Kale Salad // 6. Winter Pomegranate & Apple Salad & Honey Mustard Dressing
Breads & Rolls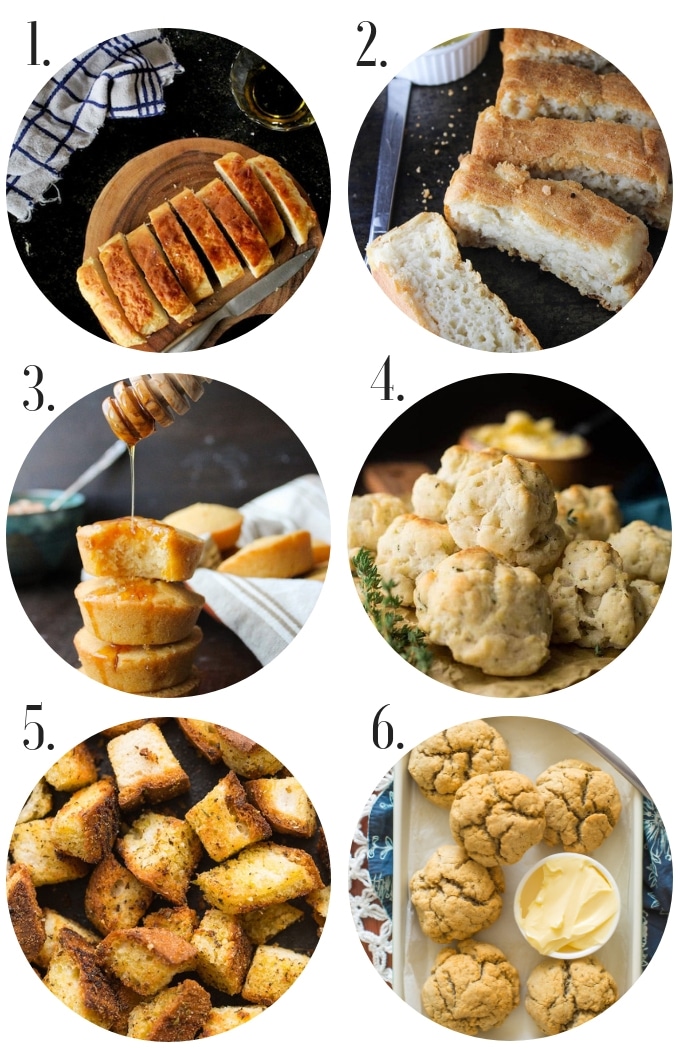 1. Easy Gluten Free French Bread // 2. Gluten Free & Vegan French // 3. Vegan Cornbread Muffins // 4. Herby Gluten Free + Vegan Biscuits // 5. Homemade Croutons // 6. Herby Paleo Biscuits
Sides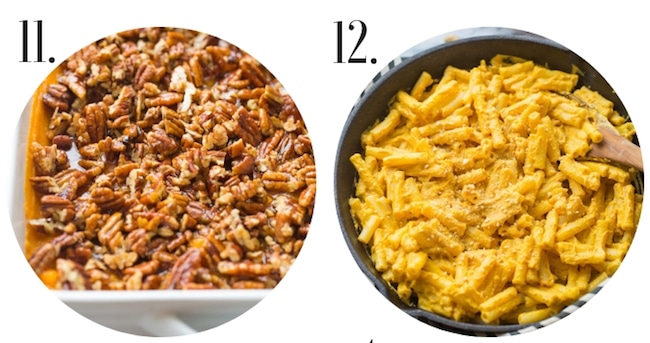 1. Bacon Wrapped Honey Mustard Green Beans //2. Low Sugar Cranberry Sauce // 3. Roasted Butternut Squash Slices with Walnuts & Parsley Pesto // 4. CrispyRoasted Bacon and Brussels Sprouts // 5. Creamy Cauliflower Mash // 6. Fig & Sausage Cauliflower Stuffing// 7. Scalloped Sweet Potatoes with Bacon Cream Sauce // 8. Sauteed Mustard Brussels Sprouts // 9. Lemony Feta Sweet Potato Mash// 10. Gluten Free Vegan Herb Stuffing 11. Paleo Sweet Potato Casserole// 12. Vegan Pumpkin Mac n Cheese
Desserts

1. Paleo Vegan Pecan Pie Bars // 2. Paleo Vegan Blackberry Apple Crumble // 3. Paleo Pumpkin Cake// 4. Cinnamon Baked Apples // 5. Paleo Pumpkin Roll // 6. No Bake Chocolate Peanut Butter Pie// 7. Cranberry Apple Crumble // 8. No Bake Paleo + Vegan Pumpkin Cheesecake Bars// 9. Vegan Coconut Flour Cake// 10. Paleo Coconut Flour Cake
Snacks & Baked Goods

1. Flourless Pumpkin Brownies// 2. Pumpkin Molasses Cookies // 3. Chai Spiced Pumpkin Snickerdoodles// 4. Paleo Pumpkin Swirl Muffins // 5. Pumpkin Gingerbread Muffins // 6. Vegan Pumpkin Chocolate Chip Cookies// 7. Double Chocolate Pumpkin Bread// 8. Paleo Pumpkin Bread// 9. Sweet Potato Breakfast Cookies// 10. Banana Nut Scones with a Maple Glaze
Drinks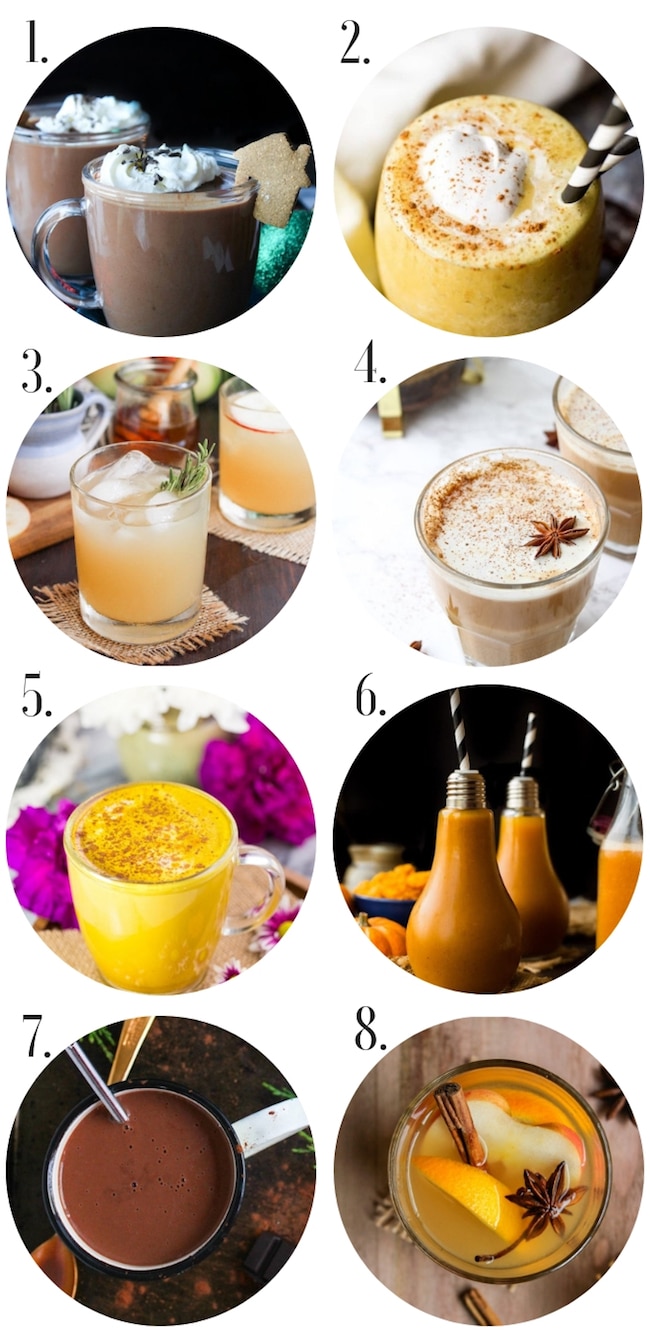 1. Gingerbread Vegan Hot Chocolate // 2. Golden Milk Frappuccino // 3. Apple Bees Knees // 4. Chai Tea Latter – Two Ways // 5. Golden Turmeric Latte //6. Harry Potter Inspired Pumpkin Juice // 7. Peppermint Hot Chocolate // 8. Crock Pot Apple Pear Cider