Hello, hello!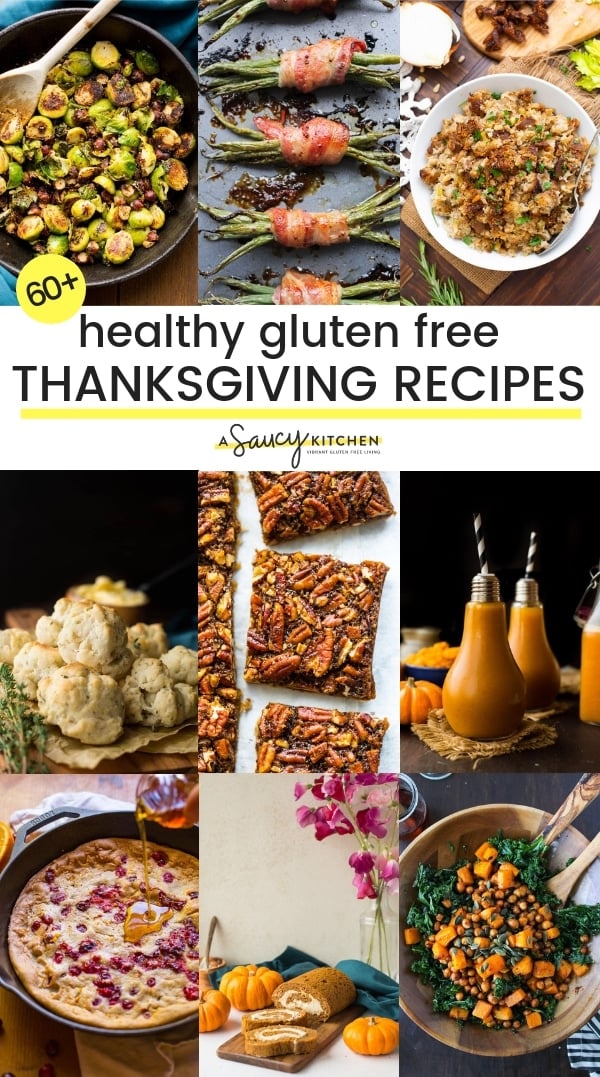 Happy (almost!) Thanksgiving!
I'm sure I'll be running back and forth to the store between now and Thursday morning to get all my last minute grocery shopping done. No matter how many lists I make there's always something that I end up forgetting to buy and I can usually count on it always being the most important ingredient in my dish. Please tell me I'm not the only one who does that!
Instead of sharing another recipe today I thought I'd go back through some of my old posts and create this list of gluten free Thanksgiving recipes. It was fun to go back and look through some of my old posts that I've forgotten about including quite a few news ones since I first made this list a couple years ago.
So until next time – here are a few more healthy gluten free thanksgiving recipe ideas to get you through the day. I've got everything from breakfast to dessert covered here in case you need a little extra Thanksgiving inspiration.
Enjoy!
Thanksgiving Breakfast Ideas
With all the cooking, preparing and cleaning required throughout the day - make sure you start your morning off with enough fuel to keep you going! This collection of gluten free thanksgiving breakfast ideas includes a wide variety of recipes to choose from. Find everything from single serve recipes you can prepare in minutes to casseroles and and skillets to feed your family!
Thanksgiving Salad Recipes
Make the most of all the delicious fall produce available this time of year with this collection of seasonal salads!
Gluten Free Thanksgiving Breads & Rolls
Load up with these delicious gluten free breads, rolls, biscuits and more!
Roasted Vegetable Thanksgiving Sides
Did you know that roasting veggies actually makes them taste better? That's because the dry heat from the oven caramelise the natural sugars which mellows out potential bitterness. Bringing out the natural sweetness also unlocks 'new aromatic compounds' which ultimately makes for a more concentrated flavor.
Gluten Free Thanksgiving Side Dishes
Stuffings, mash, casseroles and more!
Gluten Free Thanksgiving Desserts
Finish off the meal with one of these gluten free thanksgiving friendly desserts!
Thanksgiving Drinks
Cozy up with a hot drink or wind down with a seasonal cocktail!
Gluten Free Thanksgiving Snacks & Bakes
Tis the season for warm spices, baked goods and cozy treats!
Reader Interactions