Crispy roasted chickpeas, caramelised sweet potato, salty bacon pieces and crunchy apple all come together to make this tasty and filling fall inspired kale apple salad. This salad is not complete without the maple mustard vinaigrette – it's simple yet powerful with just the right amount of balance between punchy and sweet! | Gluten Free + Dairy Free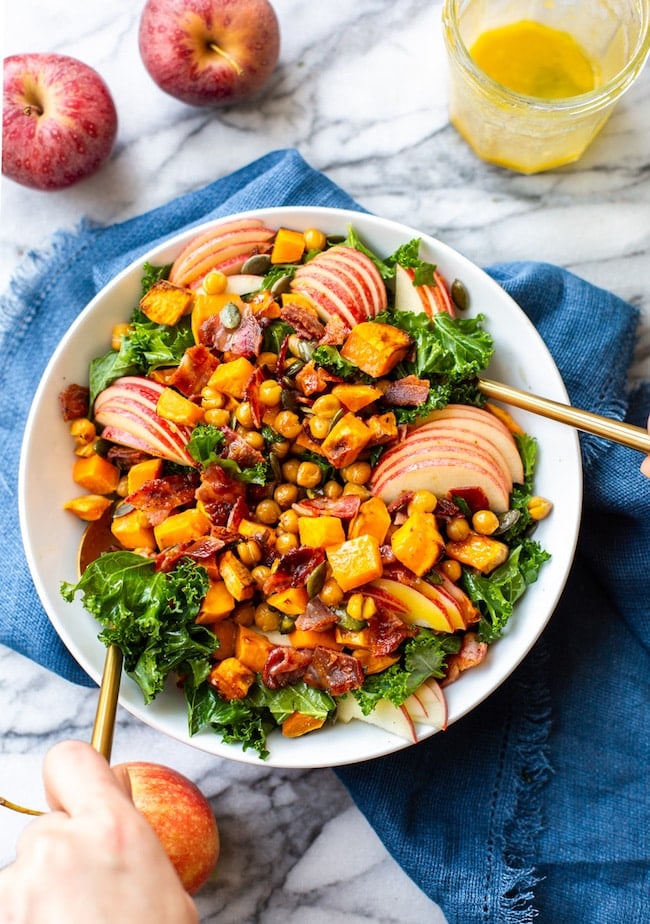 Coming at you today with my new fall favourite: this Roasted Sweet Potato & Chickpea Kale Apple Salad with Bacon! <— That title is a mouthful, just like this salad, but in the best possible way! It's
✓Sweet
✓Salty
✓Crispy
✓Crunchy
✓Punchy
✓Tangy
✓and just straight up delicious!
I could go on but then that would just get a bit excessive. So let's just get to it!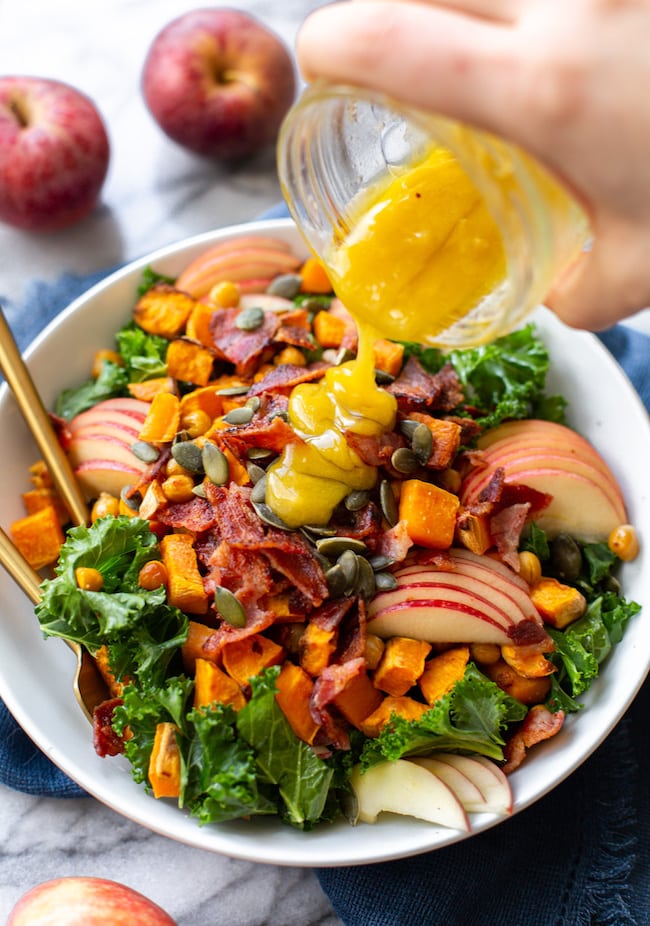 How to Make this Roasted Kale Apple Salad
Altogether this salad takes about 30 minutes to make. Even with all of its different components (roasted chickpeas & potatoes, massaged kale, bacon, & vinaigrette) I'd still consider it a fairly easy, uncomplicated salad to make. Once you make it one time you likely wouldn't need to refer back to the recipe much save for looking through the vinaigrette ingredients.
Roast
Start out by first prepping the sweet potatoes and chickpeas for roasting. Simply peel and dice your potatoes as needed. I recommend dicing the sweet potato into 1/4 inch -1/2 inch pieces. The smaller your potato pieces that faster they'll cook. When the potatoes are fork tender and the chickpeas are slightly crunchy you're all set with the roasting.
Salad Prep
While your potatoes & chickpeas are roasting, begin working on the other salad components. It's important to remember to 'massage' the kale here. I know it sounds kind of stupid and high maintenance for salad but I promise it's really easy to do and makes a world of difference when you're eating it! Gently rubbing the kale with a bit of oil before serving helps soft the hard leaves making them not only more tender but also less bitter. This will take no more than 2 minutes at most, but it makes a world of difference in the end.
Also take this time to cook your bacon and make mix your vinaigrette. These don't take too much effort – just cook your bacon strips until crispy and whisk all of the vinaigrette ingredients together until fully mixed. Taste and season as you see fit. Add a little more mustard for a more punchy dressing or maybe another drip of maple for something sweeter.
Adding it All Together
Once you've got everything ready, simply add everything to a large salad bowl: the roasted potatoes & chickpeas, bacon bits, apple slices and pepitas. Toss everything in with the kale and the pour the maple mustard dressing over the top and mix again until fully combined and that's it!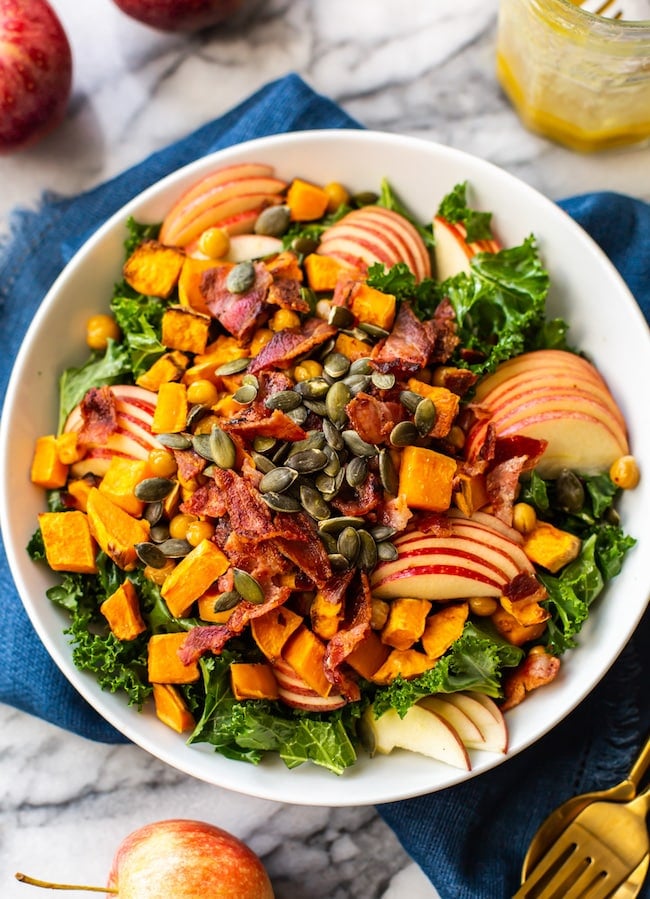 Like most kale salads this will keep well for 3-4 days at least. The apple pieces might brown a bit over time, but you can always add fresh slices if needed. I like making a big bowl of this on a Sunday or Monday and enjoy for lunch throughout the week. It's got enough fibre and protein to leave me more than satisfied for hours after.
FACEBOOK | INSTAGRAM | PINTEREST
Don't forget to #asaucykitchen on instagram if you try this Kale Apple Salad! We love seeing what you make! You can also post your pictures to my facebook page!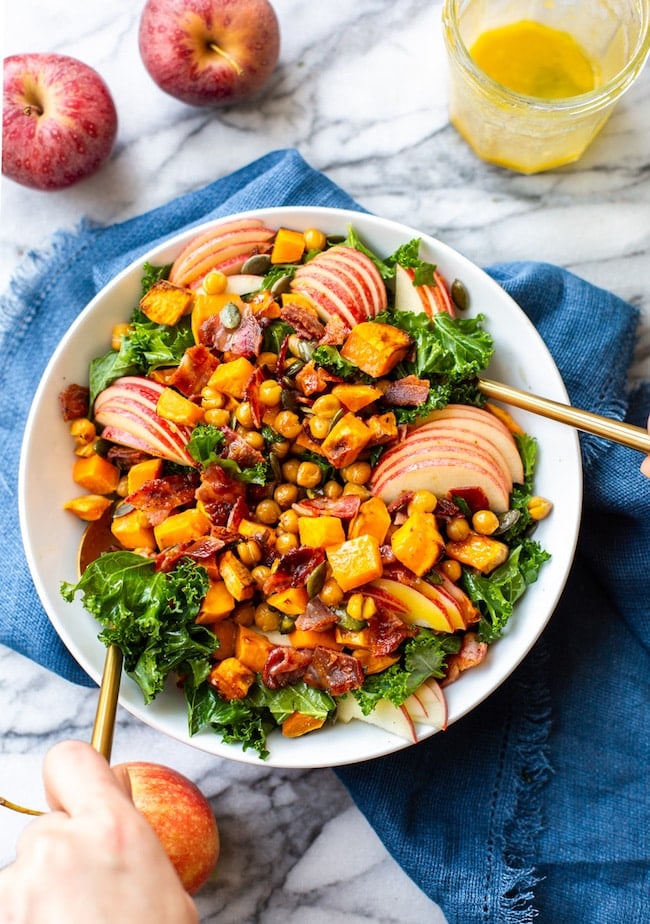 Recipe
Roasted Sweet Potato & Chickpea Kale Apple Salad with Bacon
Yield:
4 Servings
Prep Time:
5 minutes
Cook Time:
20 minutes
Total Time:
25 minutes
Crispy roasted chickpeas, caramelised sweet potato, salty bacon pieces and crunchy apple all come together to make this tasty and filling fall inspired kale apple salad.
Ingredients
1 large sweet potato, peeled and diced into 1/4 -1/2 inch chunks
1 (15 oz) can chickpeas, drained and rinsed
2 tablespoon (30 ml) olive oil, divided
Pinch of salt
6 cups kale, ribs removed and chopped into bite sized pieces
2 small honey crisp apples
1/3 cup pepitas (hulled pumpkin seeds)
4 strips bacon*
Vinaigrette
1/3 cup (80 ml) extra virgin olive oil
2 tablespoons maple syrup
1 tablespoon dijon mustard
1 tablespoon (15 ml) apple cider vinegar
1 small clove garlic, minced or finely chopped
1/2 teaspoon salt
Pepper to taste
Instructions
Preheat oven to 400°F/205°C. Lightly grease a large baking sheet.
Add the diced sweet potato and chickpeas to the baking sheet. Drizzle with 1 tablespoon olive oil and salt. Gently toss the potatoes and chickpeas in oil and salt until evenly coated.
Place in the middle of the oven and roast for 20-22 minutes or until sweet potatoes are tender.
In the meantime: Place the chopped kale in a large salad bowl along with 1 tablespoon olive oil. Scrunch handfuls of kale to massage. Keep scrunching until the leaves darken and soften about 1 minute.
To cook the bacon: lay the bacon strips out flat on a large, cold pan. Turn the heat on low and let the bacon cook for a few minutes before flipping and cooking the other side until crispy. Remove from heat and chop into little bite sized pieces.
To Make the Vinaigrette: In a small cup or jar whisk together all of the vinaigrette ingredients until well combined. Taste and season with salt and pepper as needed. Set aside.
When the potatoes and chickpeas are done roasting, add them to the salad bowl along with the kale. Add the apples, pepitas and bacon and toss together to combine.
Pour the vinaigrette over the top of the salad and toss once more to fully coat the salad in dressing.
Enjoy warm or cold. Leftovers will keep well for 3-4 days.
Notes
*Look for streaky bacon if you're in the UK
This website provides approximate nutrition information for convenience and as a courtesy only. Nutrition data is gathered primarily from the USDA Food Composition Database, whenever available, or otherwise other online calculators.
Other Fall Salads You Might Enjoy