Light & crisp Chocolate Hazelnut Cloud Cookies – egg whites whipped up and mixed in with melted chocolate and lightly roasted hazelnuts | Gluten Free + Grain Free + Paleo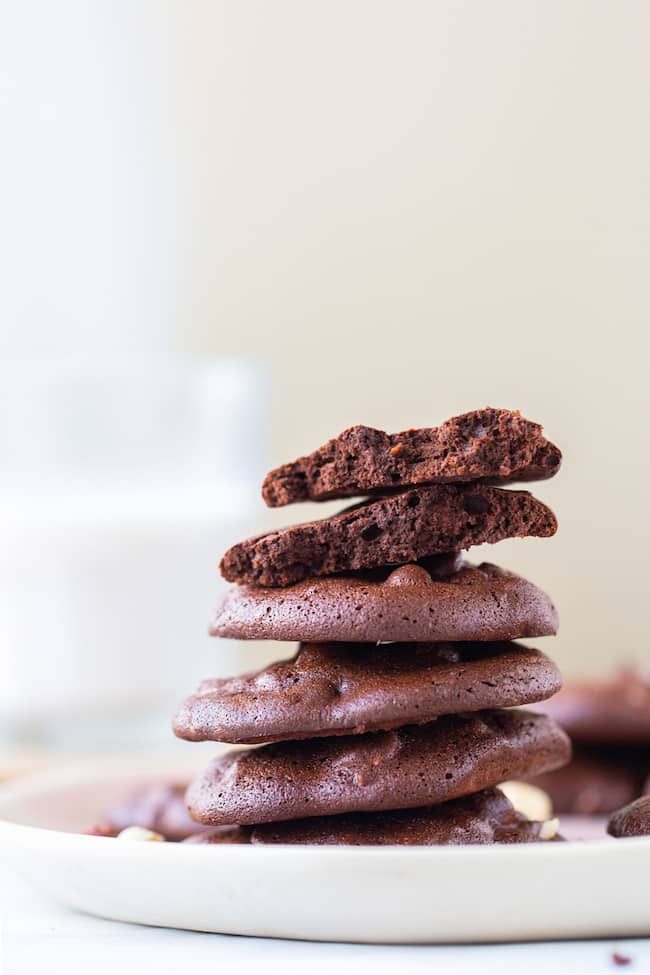 First things first: Roast Hazelnuts
Roasting your hazelnuts is a great way to unlock their nice and toasty natural flavour. Without it, they're fairly bland, chewy and not worth eating. Roasting also helps to loosen their skin which can also taste pretty bitter and generally unappetising.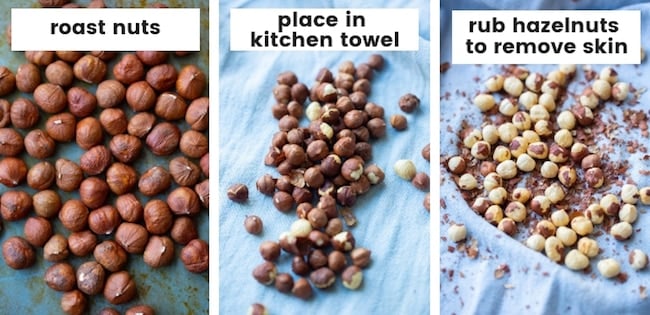 To roast: simply spread out your nuts across a large baking tray and pop them in the oven for about 10 minutes. After 10 minutes you should notice the skins starting to crack and the surfaces under the skins starting to turn a little golden.
When you're ready, remove the nuts from the oven and wrap them up in a kitchen towel. Rub the nuts through the towel for a minute or two. After you open up the towel you should notice most of the skin around the hazelnuts removed and in little flakes.
From here, you can move the nuts onto a chopping board and roughly chop into small pieces.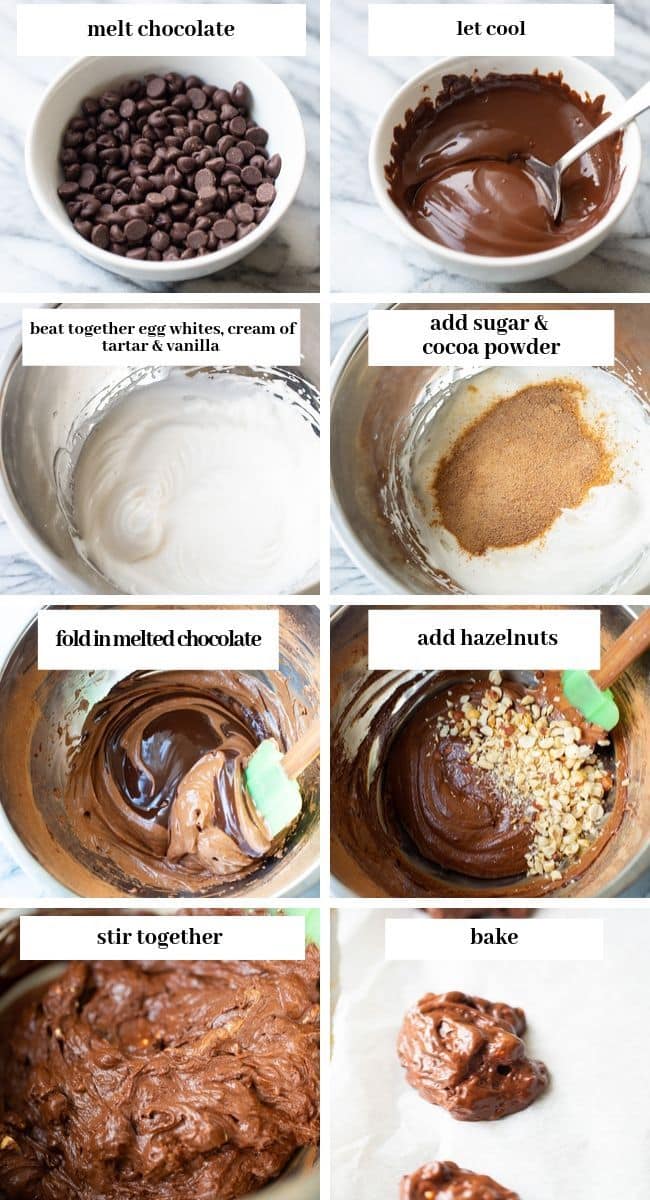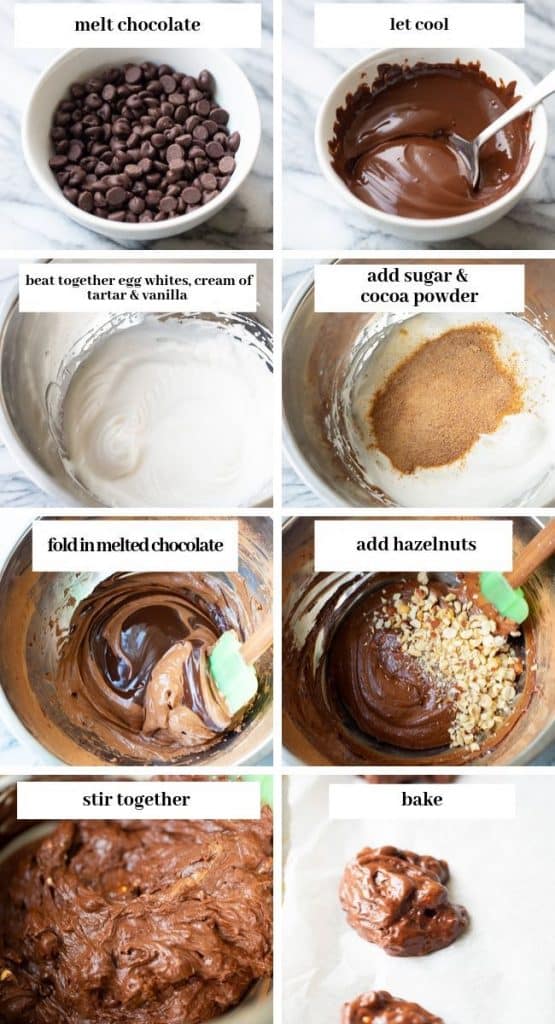 How to Make Cloud Cookies
You want to start off by melting your chocolate. Doing this first will give you plenty of time to let it cool down before adding it your batter later.
While your chocolate is cooling, go ahead and start whipping up the egg whites. Beat together the egg whites, cream of tartar and vanilla extract in a large bowl until soft peaks form. You're going to want to use an electric or stand mixer here or else the whipping up process is going to take a lot more time and elbow grease.
Once you've got soft egg white peaks, begin slowly mixing in the sugar. Keep mixing until stiff, glossy peaks form and then start adding the cocoa powder, 1 tablespoon at a time. The meringue-batter will be thick and stiff at this point.
Slowly drizzle in your cooled and melted chocolate into your batter and fold everything together using a rubber spatula. You want to be gentle in this stage to keep the meringue-batter nice and light.
Finally, stir in the chopped and roasted hazelnuts until combined and you're almost there.
When you're ready, scoop out spoonfuls of the matter onto lined baking sheets – leave about 3 inches in-between each cookie to allow room for spreading. Bake for 12-13 minutes and that's it! I recommend letting the cookies cool on the baking sheet for at least 5 minutes after removing them from the oven to let them fully set.
Quick Questions
Can I make these cookies egg free?
So far I've had no luck making these cookies egg free. The whipped up egg whites are important for giving these cookies their light and airy texture. I did try making these using aquafaba – my usual go-to for egg free baking – but unfortunately the end result was a tasty but very messy puddle of chocolate and nuts in the oven. If you need an egg free cookie I'm afraid these aren't for you.
Can I use regular powdered/icing sugar or white cane sugar instead of coconut sugar?
Absolutely! The cookies will no longer be paleo/refined sugar free if that's important to you, but other than that you should have no problems. I find that using icing sugar and white sugar make for glossier, lighter cookies.
Can I omit the hazelnuts?
Yes! If hazelnuts aren't your thing don't worry about it. You can just ditch them, replace them with another nut or maybe swap them out for chocolate chips.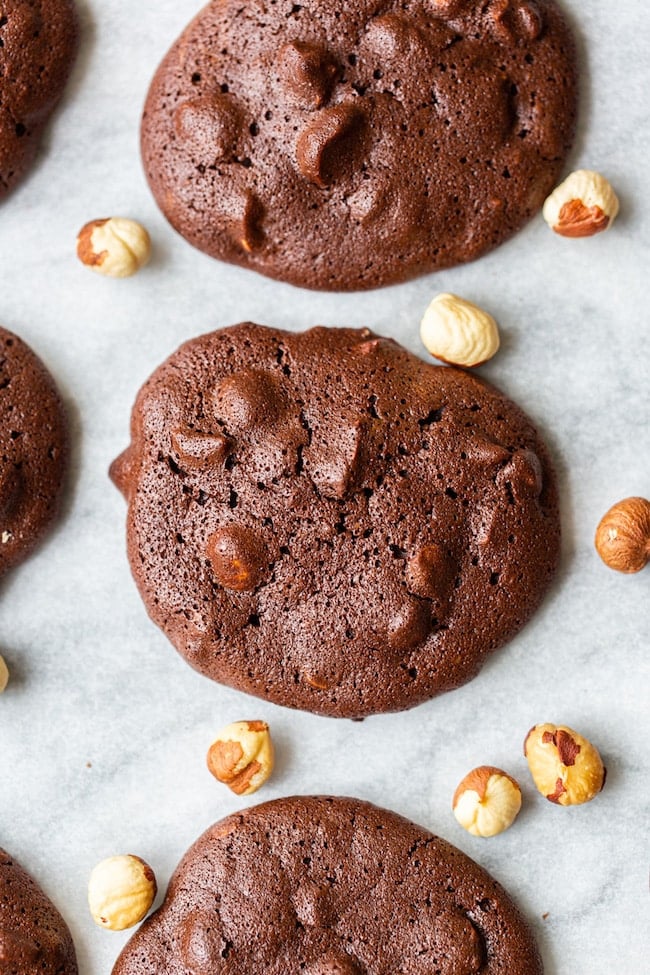 FACEBOOK | INSTAGRAM | PINTEREST
Don't forget to #asaucykitchen on instagram if you try these Chocolate Cloud Meringue Cookies! We love seeing what you make! You can also post your pictures to my facebook page – those are always fun to see!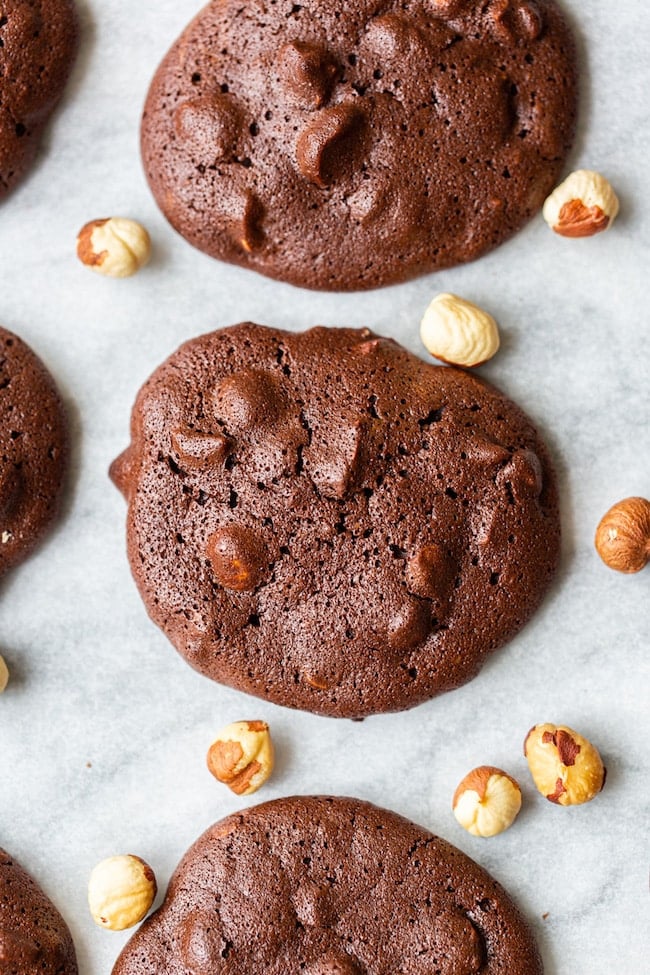 Recipe
Chocolate Hazelnut Cloud Cookies
Prep Time:
15 minutes
Cook Time:
13 minutes
Additional Time:
5 minutes
Total Time:
33 minutes
Light & crisp Chocolate Hazelnut Cloud Cookies - egg whites whipped up and mixed in with melted chocolate and lightly roasted hazelnuts | Gluten Free + Grain Free + Paleo
Ingredients
1/3 cup hazelnuts
4 oz dark chocolate or semi sweet chocolate chips
3 egg whites
1/8 teaspoon cream of tartar
1/2 teaspoon vanilla extract
1/2 cup powdered coconut sugar*
3 tablespoons cocoa powder
Instructions
Preheat oven to 350°F(176°C).
Spread the hazelnuts across a large baking sheet and roast in the oven for 10 minutes. The skins should be cracked and a little shiny.
Place the hazelnuts in the middle of a kitchen towel. Fold the towel in half, covering the hazelnuts and vigorously rub the nuts through the towel to remove the skins. When you're finished, most of the skin should be removed from the hazelnuts and the flaky bits left behind on the towel.
Transfer the nuts to a chopping board and roughly chop into small pieces. Set aside.
Cookie Prep
Line the baking sheet used to roast the hazelnuts with non stick paper and set aside.
Place the chocolate in a microwave safe bowl. Melt in 30 second increments whisking after each segment until the chocolate is completely melted and smooth. Once melted set aside to cool completely.
In a large mixing bowl: add the egg whites, cream of tartar and vanilla extract. Beat with an electric mixer on high until soft peaks form.
Beat in the coconut sugar and continue mixing until stiff, glossy peaks form. Mix the cocoa powder.
Pour the melted chocolate into the bowl and gently fold into the meringue mixture until fully incorporated. Stir in the hazelnuts.
Drop the cookies out on your lined baking sheet, about 1-2 tablespoons worth of meringue at a time. The cookies will spread a little as they bake so make sure to leave about 3 inches in between each cookie.
Place in the oven and bake for 12-13 minutes. The tops of the cookies will look shiny and possibly have cracks in a few places. Leave on the baking sheet for at least 5 minutes before transferring to a cooling rack.
Notes
*You can make powdered coconut sugar by simply blending regular coconut sugar up in a blender on high until soft and powdery. You can also just use regular powdered/icing sugar here instead.
This website provides approximate nutrition information for convenience and as a courtesy only. Nutrition data is gathered primarily from the USDA Food Composition Database, whenever available, or otherwise other online calculators.