Crunchy kale apple salad with strips of carrot and maple toasted nut and seed clusters topped with a simple shallot vinaigrette. | Gluten Free + Paleo + Vegan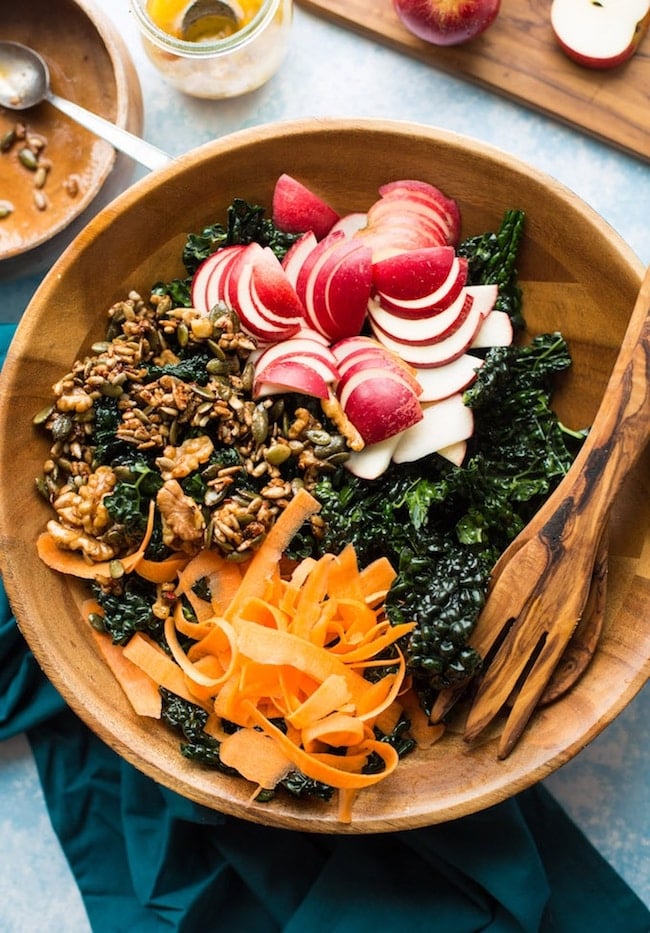 Do you ever have one of those days where you think to yourself: "Right. I'm going to eat super healthy today and fill up on lots of veggies!"……
And then proceed to eat what feels like actual buckets of mashed potatoes/general carbs?
That was all me yesterday. Fortunately I still had some of this kale apple salad waiting for me in the fridge by the time dinner rolled around and I was able to right a few wrongs.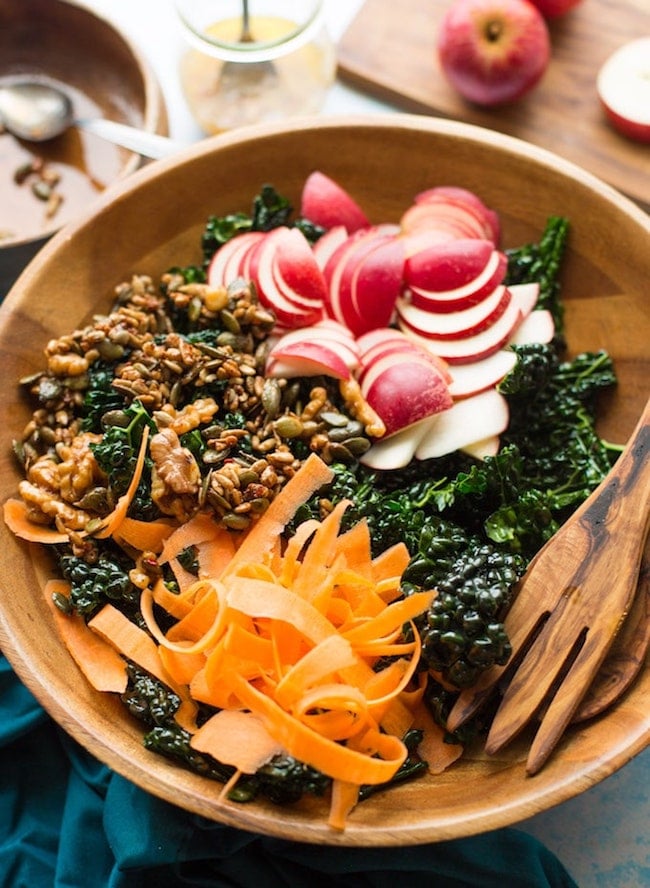 This is the type of salad that makes you wonder why you don't eat more salads. It's
✔️Filling
✔️Healthy
✔️Crunchy
✔️& Down Right Delicious!
Not to mention it's super easy to make and can be read in under 15 minutes!
How To Make Crunchy Kale Apple Salad & Toasted Clusters
Making this salad can be broken up into three main components:
1. The Salad
2. The Nut + Seed Clusters
3. The Shallot Vinaigrette
The basic salad here is pretty simple. It's just: kale, apple, and carrots. Nothing too fancy – just remember to message your kale with a touch of oil before eating. This will help soften the leaves and reduce their bitterness. It takes about 30 seconds to do and is not a step worth skipping.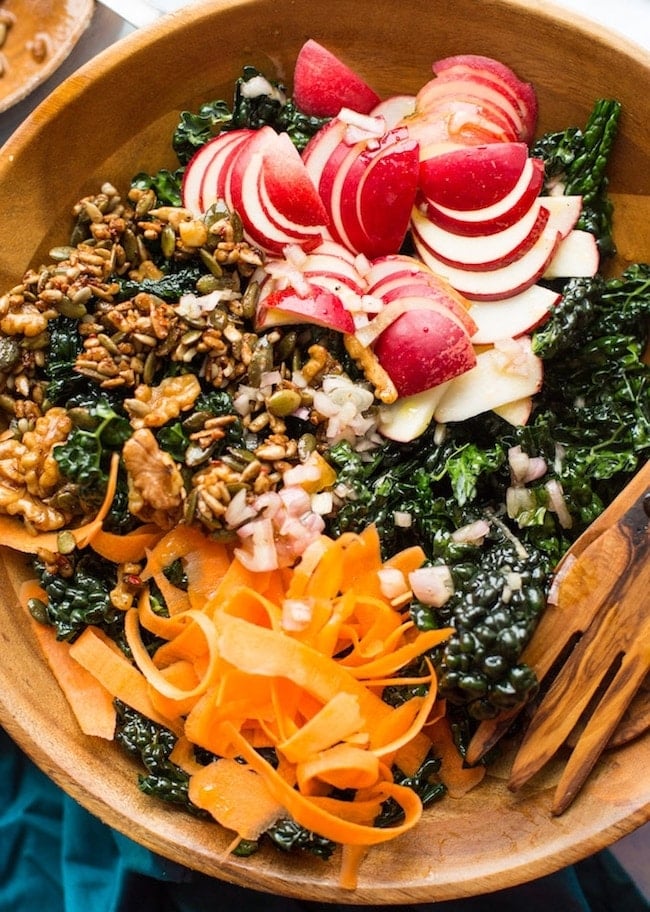 The nut and seed clusters are the real star of the show here. If you don't have these exact nut & seeds available feel free to mix and match whatever you have on hand: brazil nuts, cashews, pecans, almonds, etc. So long as you make the clusters you can't go wrong with this salad. Just mix together your nuts and spices along with a bit of maple syrup and quickly toast them on the stove top for a minute or two. As the nuts and seeds cool they'll harden up into sweet and spiced little clusters that really take this salad to the next level.
Finally, the dressing is a super simple mixture of sweet and punchy flavours. Just mix everything together in a little cup or jar until it emulsify's and your all set. Save the dressing until just before serving and then drizzle all over the salad to give it a little extra attitude.
And that is how you make a really kick ass salad in 15 minutes or less!
FACEBOOK | INSTAGRAM | PINTEREST  
Don't forget to tag @asaucykitchen on instagram if you try this Kale Apple Salad! We love to see what you make with it!  You can also post your pictures to our facebook page!
Yield: 4 servings
Kale Apple Salad with Maple Toasted Nut + Seed Clusters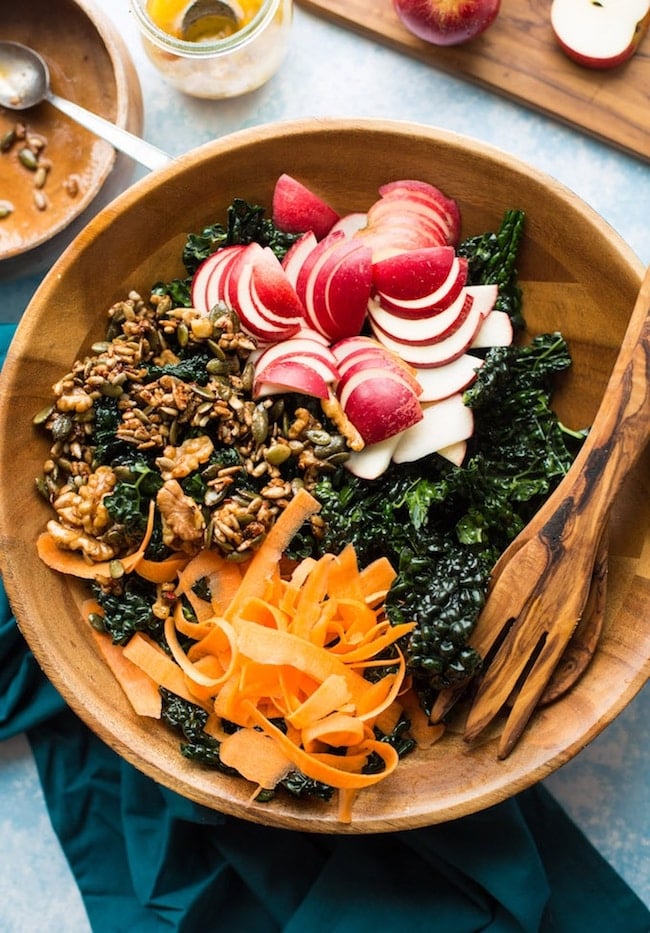 Crunchy kale apple salad with strips of carrot and maple toasted nut and seed clusters topped with a simple shallot vinaigrette. | Gluten Free + Paleo + Vegan
Ingredients
Nut + Seed Clusters
1 teaspoon coconut oil
2 tablespoons | 17 grams sunflower seeds
2 tablespoons | 18 grams hulled pumpkin seeds/pepitas
2 tablespoons | 12 grams walnuts, roughly chopped
1/4 teaspoon ground nutmeg
1/4 teaspoon smoked paprika
1/4 teaspoon red chili flakes
2 tablespoons | 30 ml maple syrup
Shallot Vinaigrette
1/2 small/medium shallot, minced
2 tablespoons | 30 ml apple cider vinegar
1/2 teaspoon dijon mustard
1 teaspoon | 5 ml maple syrup
1/3 cup | 80 ml extra virgin olive oil
salt to taste
Salad
4-6 cups Tuscan/Lacinato Kale, chopped into bite sized pieces & stems removed
1 tablespoon | 15 ml extra virgin olive oil
2 medium eating apples, thinly sliced (whatever type you like)
1 large carrot, peeled into long strips
Instructions
Nut + Seed Clusters
Melt the coconut oil on a small non stick pan on the stop top. Warm it on a low heat. 
In a small bowl toss together your sunflower seeds, pumpkin seeds, walnuts, nutmeg, paprika, chili flakes and maple. Toss until everything is sticky and coated in maple syrup.
Dump your nut + seed mixture out on to the hot pan and stir. Keep stirring and toasting for 1-2 minutes. The nuts + seeds will start to caramelise just slightly. Once that starts remove the mixture from the heat and let cool on a small sheet of baking paper. Let cool for a few minutes while you prep your salad. The nuts + seeds will harden into little clusters as they cool down.
Shallot Vinaigrette
In a small jar or cup mix together your minced shallot, mustard and maple syrup. Whisk in your olive oil until emulsified. Wait to dress your salad until just before serving. This keeps well in the fridge for a few days. 
Salad
Add the chopped kale to a large salad bowl. Pour the olive oil over the kale and scrunch handfuls of kale to massage. Keep scrunching until the leaves darken and soften. 
Add the apples and carrots to the kale along with the nut+seed clusters. Drizzle the shallot vinaigrette over the top and toss to combine everything. 
Notes
This salad will keep well in the fridge up for to four days.
Nutrition Information:
Yield:
4
Serving Size:
g
Amount Per Serving:
Calories:

394
Saturated Fat:

4g
Sodium:

42mg
Carbohydrates:

27g
Fiber:

4g
Sugar:

18g
Protein:

4g