Crunchy Carrot Apple & Massaged Kale Salad topped with halloumi, avocado, seeds and a mustardy almond butter dressing | grain free + gluten free + vegetarian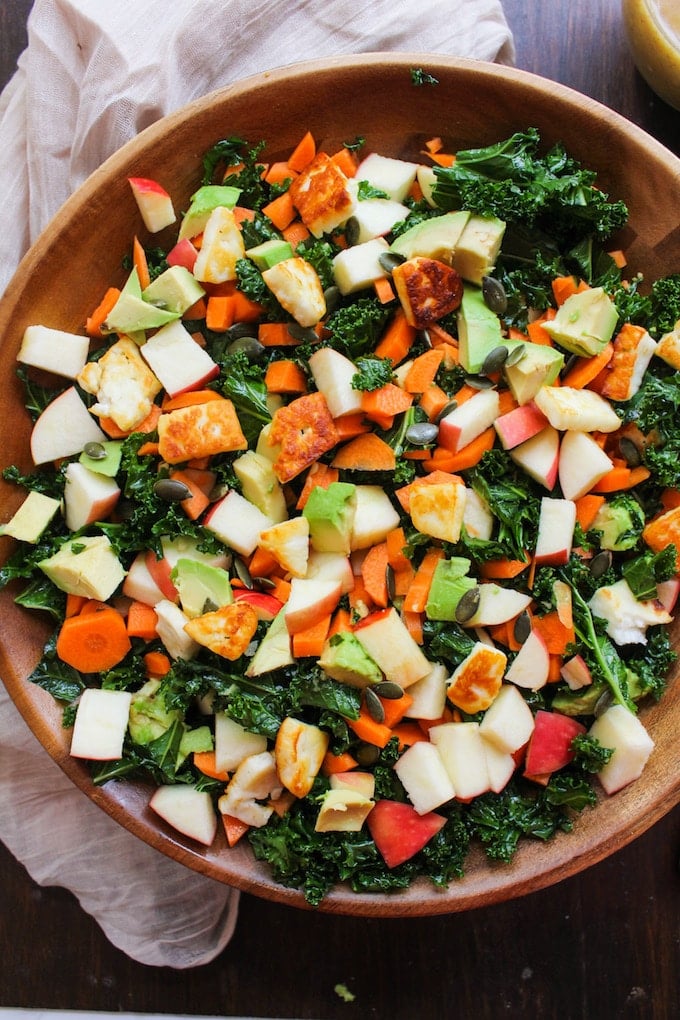 On a scale of 1-10 how lame would I be if I told you I've been craving salad nonstop lately. Not just any salad though – this halloumi carrot apple and massaged kale salad. The cheese makes it less lame, yeah?
My younger self would have pulled faces at the idea of a kale salad because
a) nobody cared about kale when I was little so I'd have no idea what it was and
b) because 'ew salad'.
Thankfully if there has been one thing that's matured in the past decade or so it's my tastebuds….can't say much for anything else though.
But wait! This salad isn't just good because I'm a fancy pants ~adult now. I'm not just pretending to like kale because that's a thing now. Nope!
This salad is an honest to goodness taste sensation. If I wasn't ranking high on the lameness scale before I certainly am now after using the phrase 'taste sensation'.
Who am I?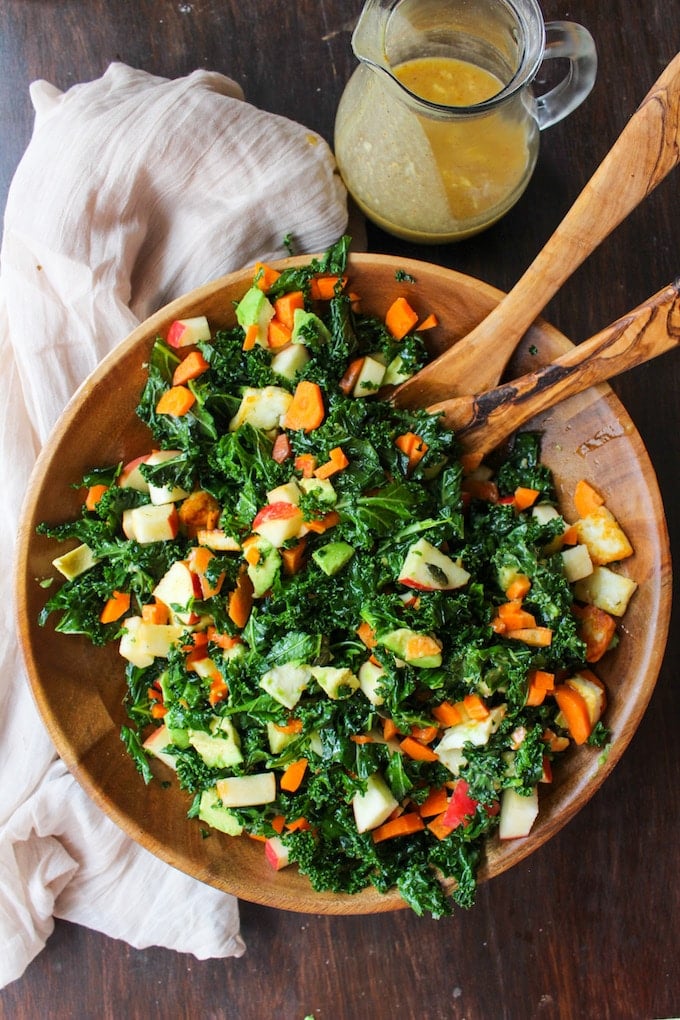 About This Recipe + Massaged Kale Salad Tips
The building blocks for this recipe are simple enough: apple, carrot, halloumi, avocado, pumpkin seeds and massaged kale. The dressing: a slightly sweet and tangy mustardy almond butter dressing. Truly the best.
Personally, I like to chop up the carrots and apples into small bites sized pieces that are better distributed throughout the salad. I like a little crunch in every bite, but you don't have to make the pieces so small if you don't want to. I would however recommend chopping up that kale into smaller pieces. As nice as kale can be you don't really want to take on more than you can literally chew in one bite. Chop it up and you'll thank yourself for it later.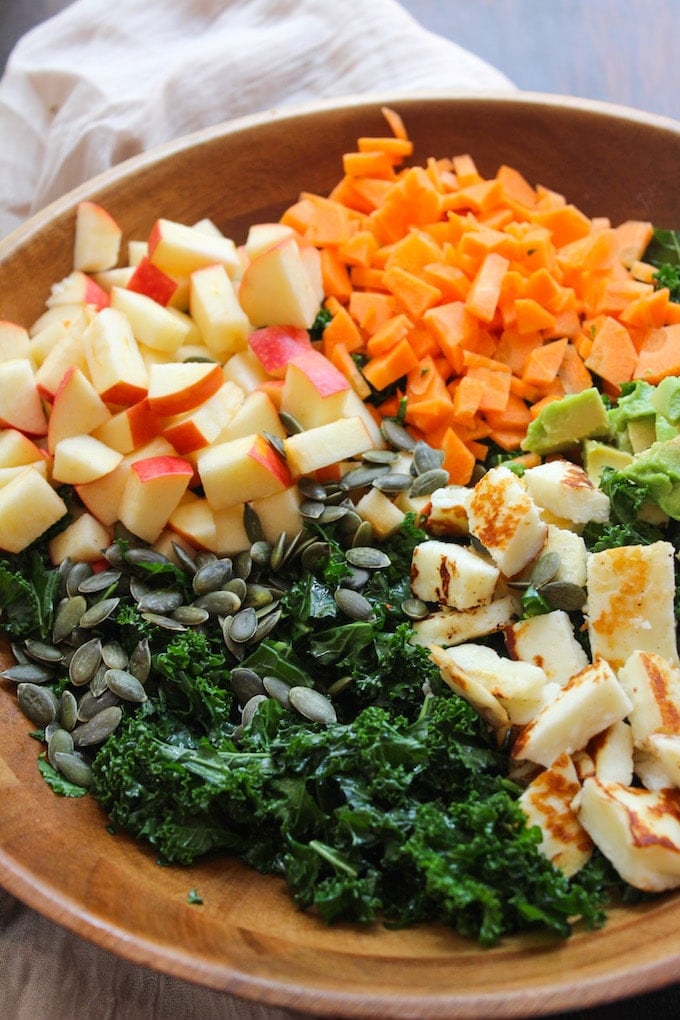 The key to a good kale salad is all in the massage. If you've never tried it before it may seem a bit OTT to give your veggies a proper rub down, but this step is absolutely necessary if you want to actually enjoy your food. Without it, your kale will remain tough and bitter and in no way enjoyable. Just reach into the bowl with clean hands and a little bit of olive oil + a pinch of salt get scrunching. Once your kale turns a dark green and you can feel the looseness in the leaves you know you're done. This step should only take about 30 seconds.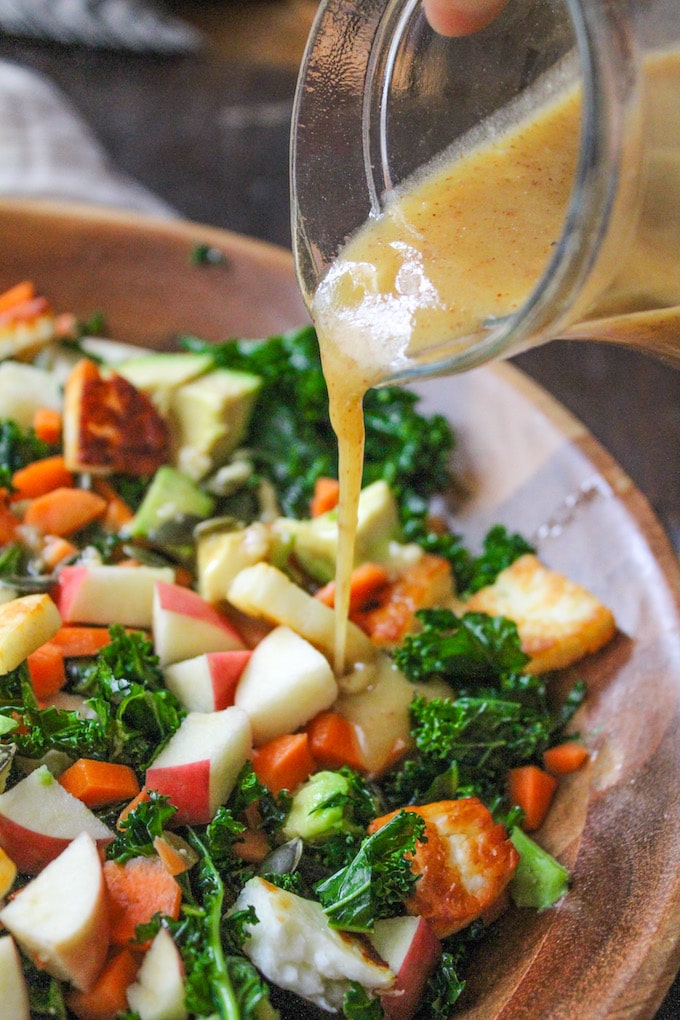 Another great thing about kale salads is that they last well in the fridge for a few days. Since the leaves are nice and firm they aren't prone to going sad and soggy like most other green salads. If you want to make this to have throughout the week I would recommend saving the avocado to add each time you make it. Otherwise you might end up with avocado chunks that look more like jabba the hutt than anything else. Gross.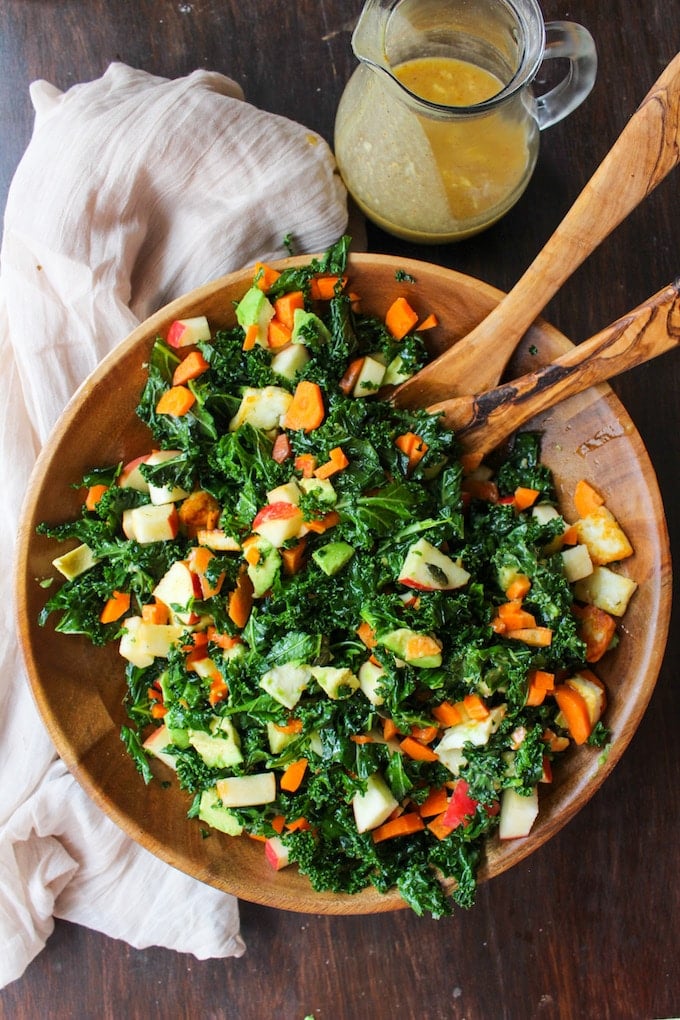 Recipe
Carrot Apple & Kale Salad
Yield:
6 servings
Prep Time:
15 minutes
Total Time:
15 minutes
Crunchy Carrot Apple & Massaged Kale Salad topped with halloumi, avocado, seeds and a mustardy almond butter dressing | grain free + gluten free + vegetarian
Ingredients
salad
2 very large bunches of kale
pinch of sea salt
1 tablespoon extra virgin olive oil
8 ounces halloumi*
2 honey crisp apples, diced
2 large carrots, chopped
1/4 cup pumpkin seeds
1 avocado
dressing
1/4 cup almond butter
2 tablespoon olive oil
2 tablespoons freshly squeezed lemon juice
1 tablespoons water
1 tablespoon dijon mustard
1 tablespoon raw honey
¼ teaspoon salt, more to taste
½ teaspoon garlic
Instructions
Begin with the salad by removing the kale from the ribs. The ribs are too tough to eat in salads like this, but you can save them to sauté for sides or stir fry's later if you want to reduce the waste.
Once the ribs are removed chop your kale into bite sized pieces Transfer the kale to a large salad bowl and sprinkle with a pinch of salt. Drizzle 1 tablespoon of olive oil over the leaves and begin scrunching the leaves until they become darker in color. You'll feel the leaves become softer as your rub - this should only take about 30 seconds.
Next you need to dry fry your halloumi. Slice the cheese as thin/thick as you'd like. Warm a skillet on a medium heat and lay the halloumi out on the frying pan. Use a little bit of oil if you're using a cast iron, but you don't need to if you're using a non stick pan. Let the cheese toast in the pan for 2-3 minutes without stirring. Once it's turned golden on one side flip it over and repeat on the other side.
Once toasted, transfer the cheese to a cutting board and chop it up into little pieces before adding it the kale along with the remaining salad ingredients.
In a small jar add everything needed for the dressing and stir together until combined. Drizzle the dressing over the salad and toss well to combine.
Notes
Halloumi is widely available here in the UK, but I don't remember seeing it much in the US. It's a salty Greek cheese with a very high melting point with makes it great for grilling and toasting. If you're having trouble finding it you may be able to find a similar type of cheese called Queso Para Frie (frying cheese) in Latin American markets. I've also heard that you can sometimes buy halloumi at whole foods. Alternatively, you can try substituting feta for the halloumi - no need to toast the cheese if you do use feta.
This salad will keep well in the fridge for about 3 days, but I recommend adding fresh avocado each time.
Nutrition Info for Salad without dressing: Calories: 284 Fat: 21 g Saturated fat: 9 g Carbohydrates: 17 g Sugar: 9 g Fiber: 5 g Protein: 16 g
Nutrition Info for Dressing: Serving Size: 2 Tablespoons Calories: 114 Fat: 10 g Saturated fat: 1 g Carbohydrates: 6 g Sugar: 4 g Fiber: 1 g Protein: 2 g
Nutrition Information
Yield:

6
Serving Size:
serving
Calories:

376
Saturated Fat:

8g
Sodium:

604mg
Carbohydrates:

20g
Fiber:

5g
Sugar:

11g
Protein:

13g
This website provides approximate nutrition information for convenience and as a courtesy only. Nutrition data is gathered primarily from the USDA Food Composition Database, whenever available, or otherwise other online calculators.
Kale Salad Recipes You Might Enjoy