This Winter Kale Salad is absolutely bursting with color and texture! Every bite is loaded up with bright and punchy flavors and seasonal ingredients. Massaged kale leaves topped with diced apple and pomegranate arils provide a simple salad base while the toasted nuts and seeds add an extra element of crunch. Top it all off with a sweet and fiery mustard vinaigrette! | Paleo and Vegan Friendly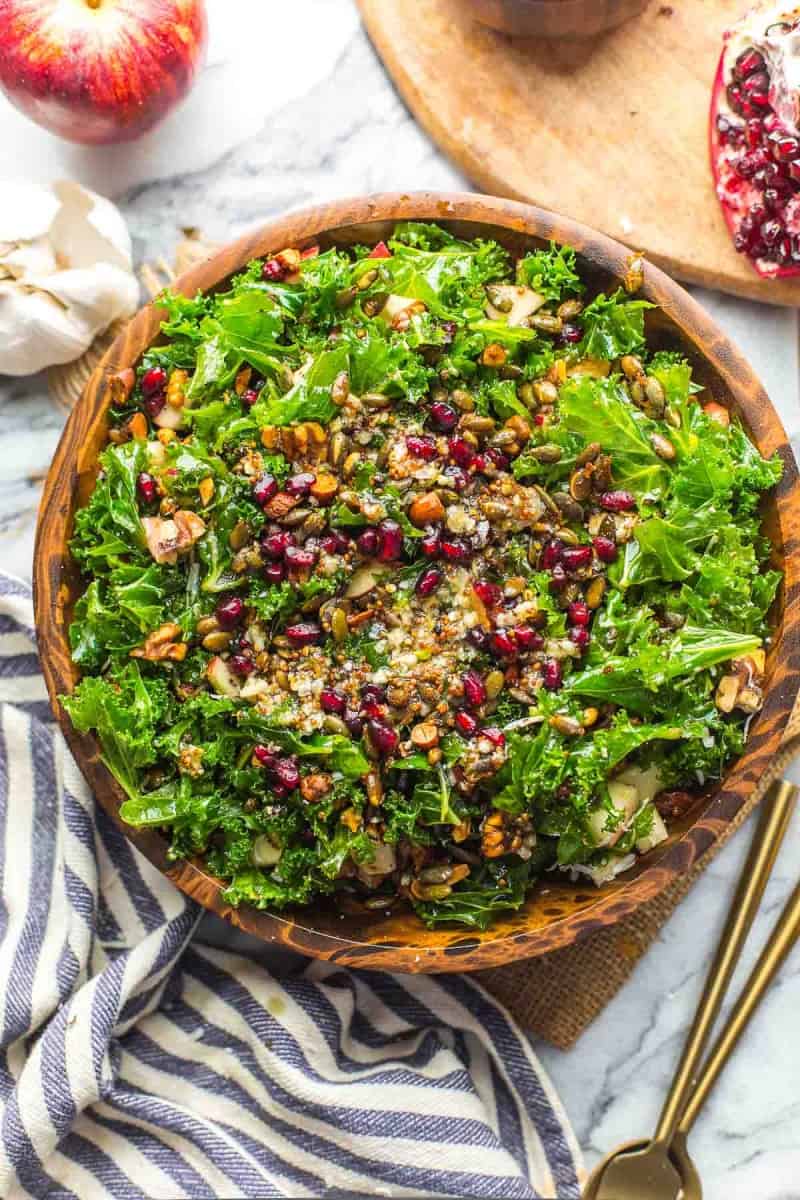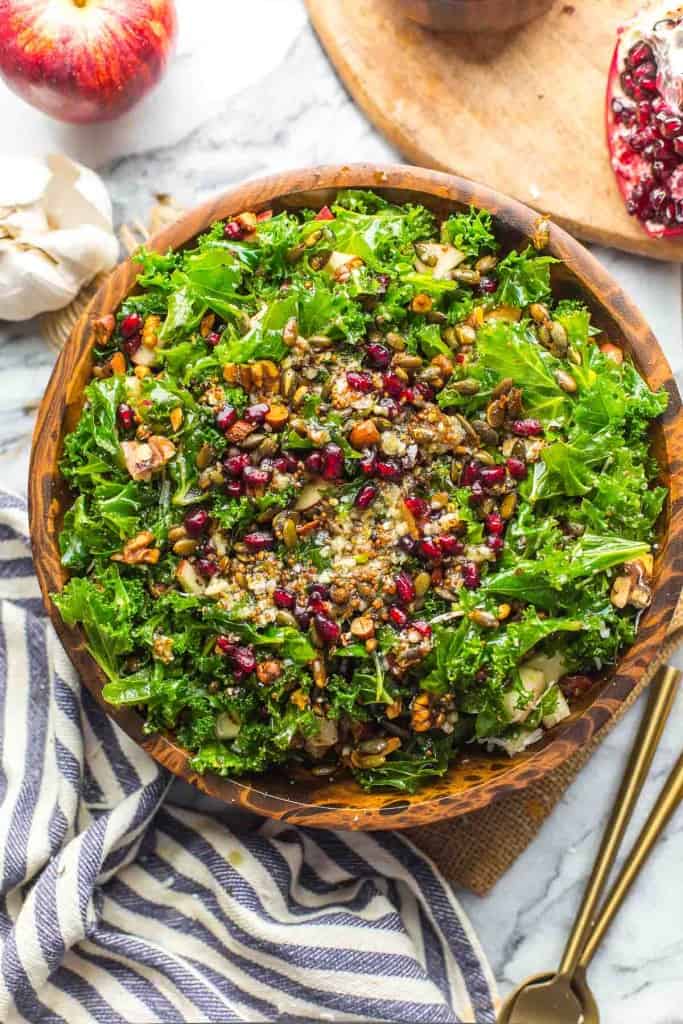 Whether you're looking for a new side dish to add to your holiday table or some healthy recipes to balance out all the Christmas treats – this Winter Kale Salad is just what you need!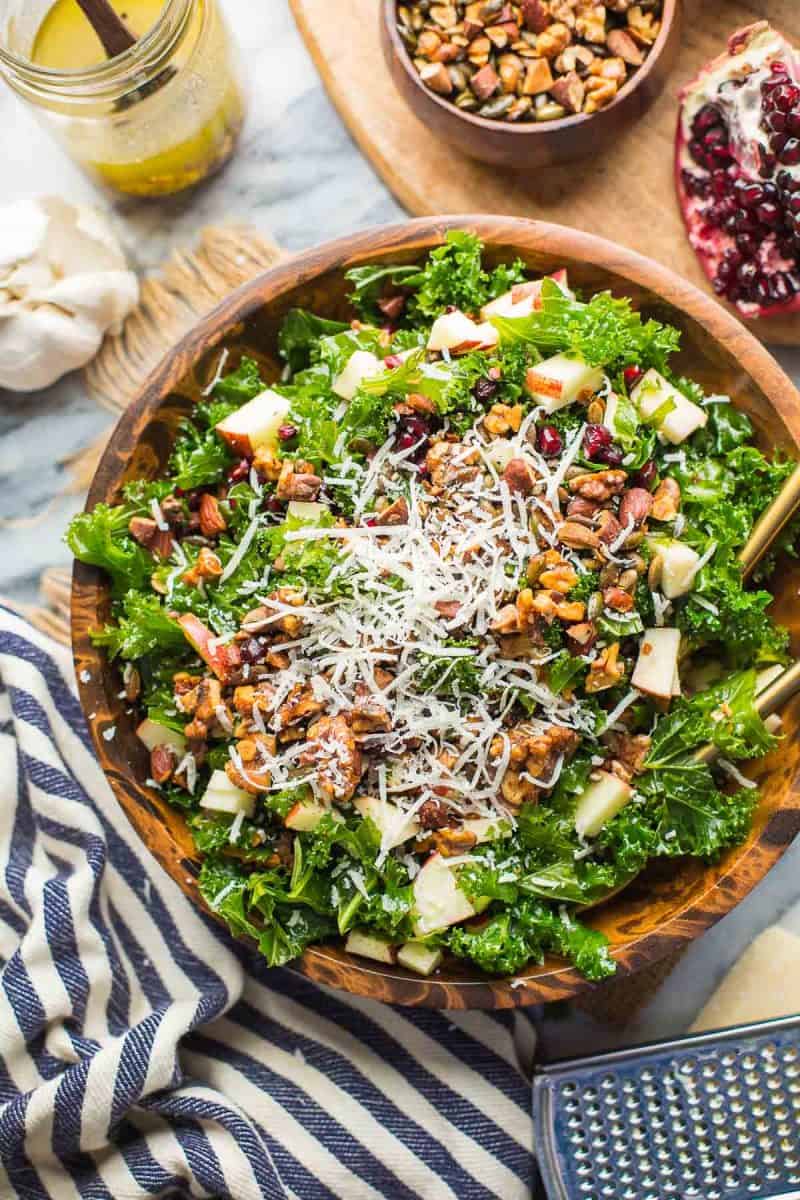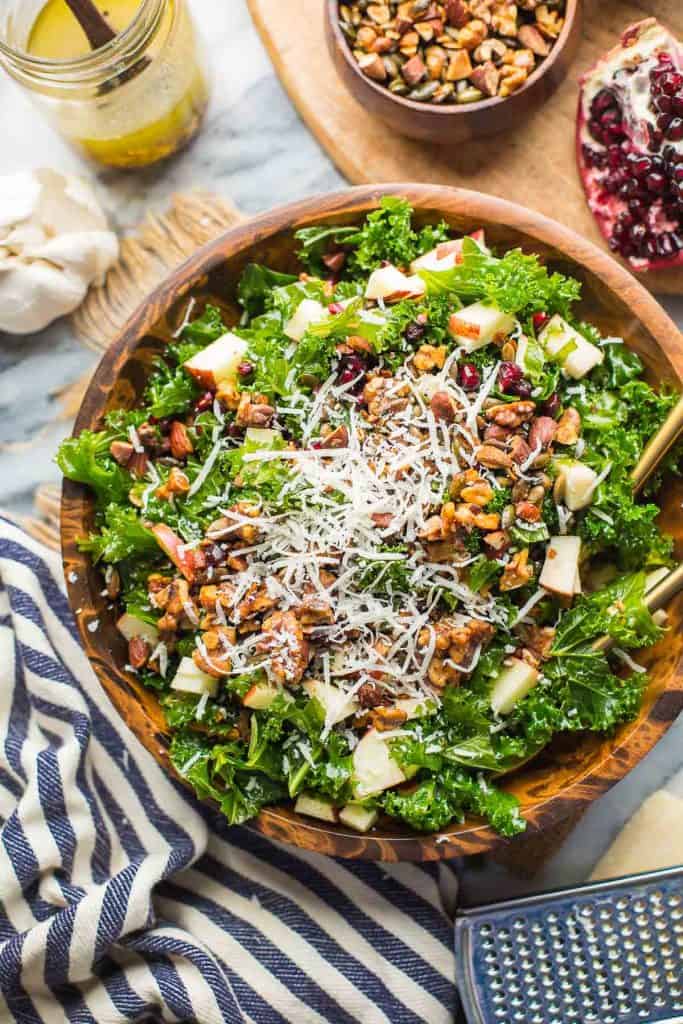 Do you have to massage kale for salad?
I know it may sound strange if you've never tried it before, but you should absolutely always massage your kale if eating it raw. You don't need to massage kale if you cook it, but raw kale recipes absolutely need this extra step of TLC. It's a total game changer that might just be the thing to change the mind of kale haters out there!
Gently rubbing kale leaves with a little olive oil and a pinch of salt for about 30-60 seconds really does wonders for your kale. It transforms the hard and scratchy leaves into a softer texture much more suitable for eating. Massaging also helps to tone down the naturally bitter flavors into a sweeter, more appetising leaf.
Without this crucial step, kale is barely edible.
What type of kale to use?
I used curly kale in my salad because the busy texture means there are more places for the vinaigrette to get lost in. That being said, you can make this with a variety of kale types. Most of the following kale types have a similar flavor and nutritional profile. The big difference will be the look and texture.
Types of kale to look out for in the grocery stores:
Curly Leaf Kale, Baby Kale, Lacinato Kale, Cavolo Nero , Tuscan kale, Italian Kale, Dinosaur Kale
How to Make This Winter Kale Salad Recipe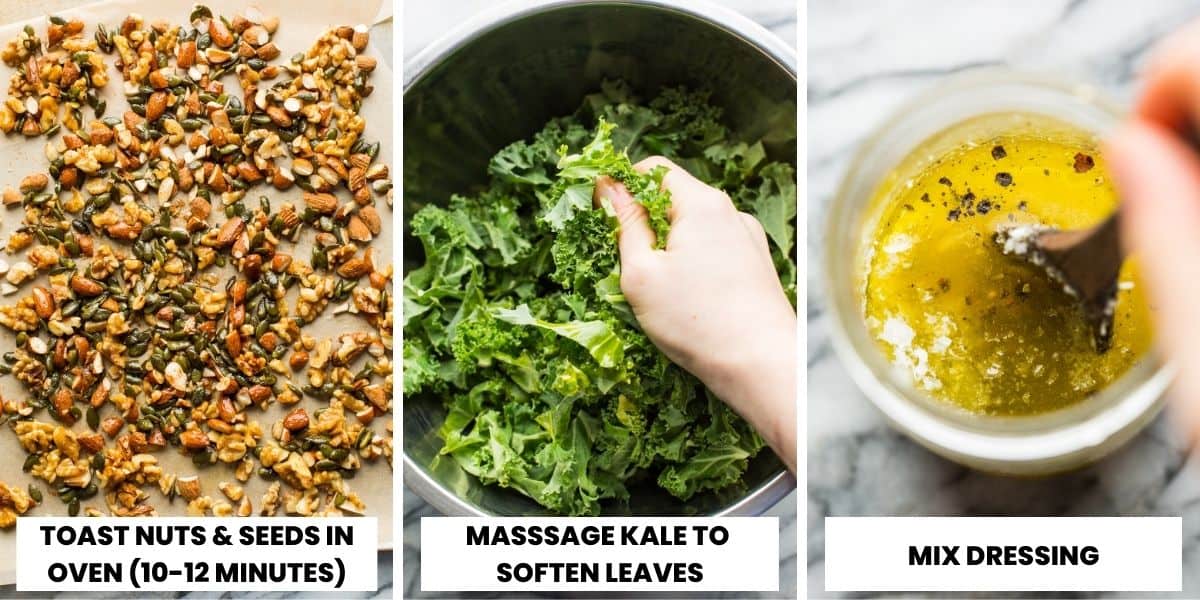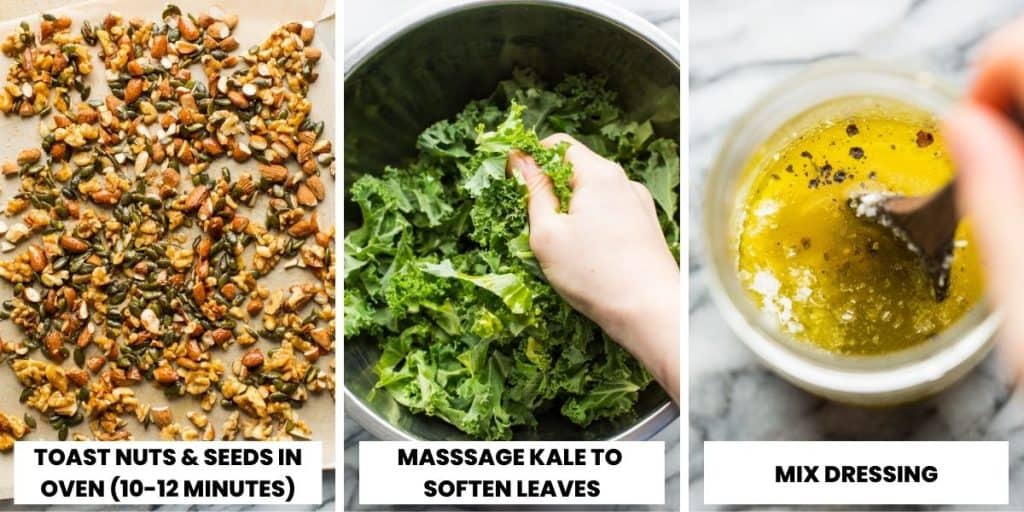 Even though this is a fairly loaded salad, the process is actually quite simple. Altogether, you can break down the steps to three main stages:
Toast the nuts and seeds.
Mix together the simple vinaigrette.
Prep the salad.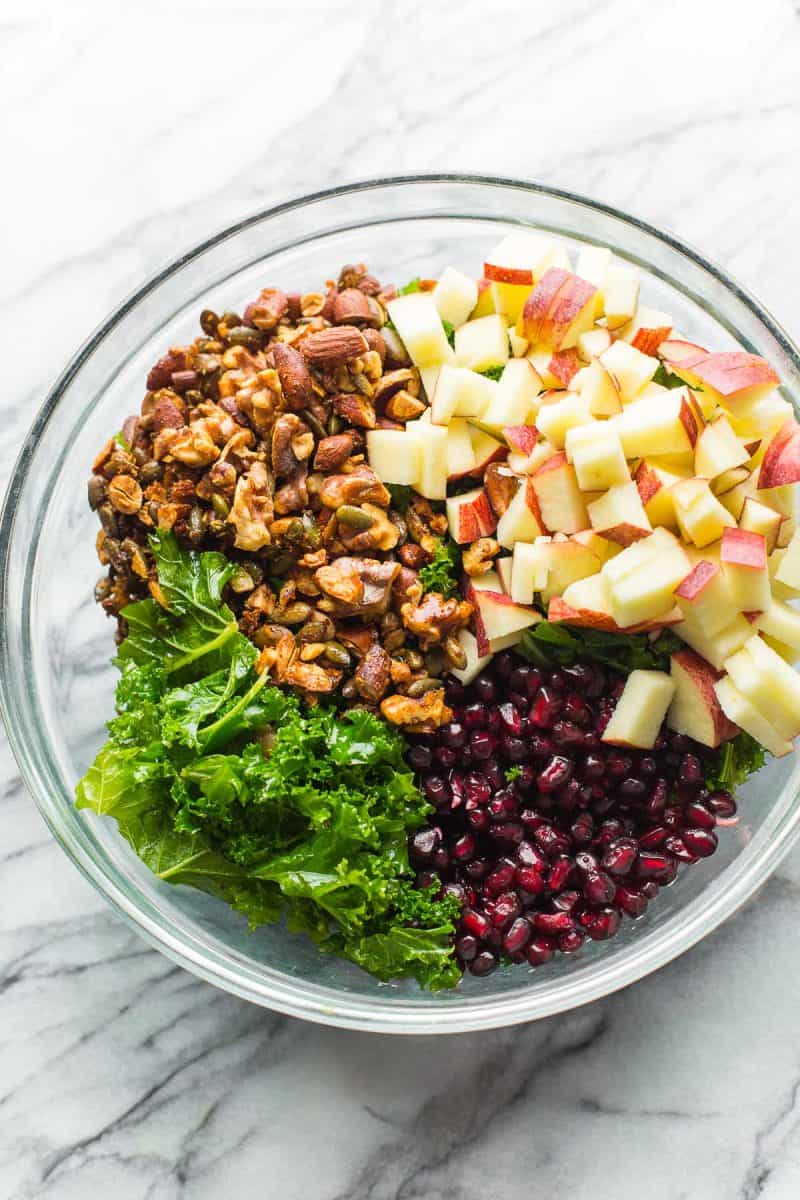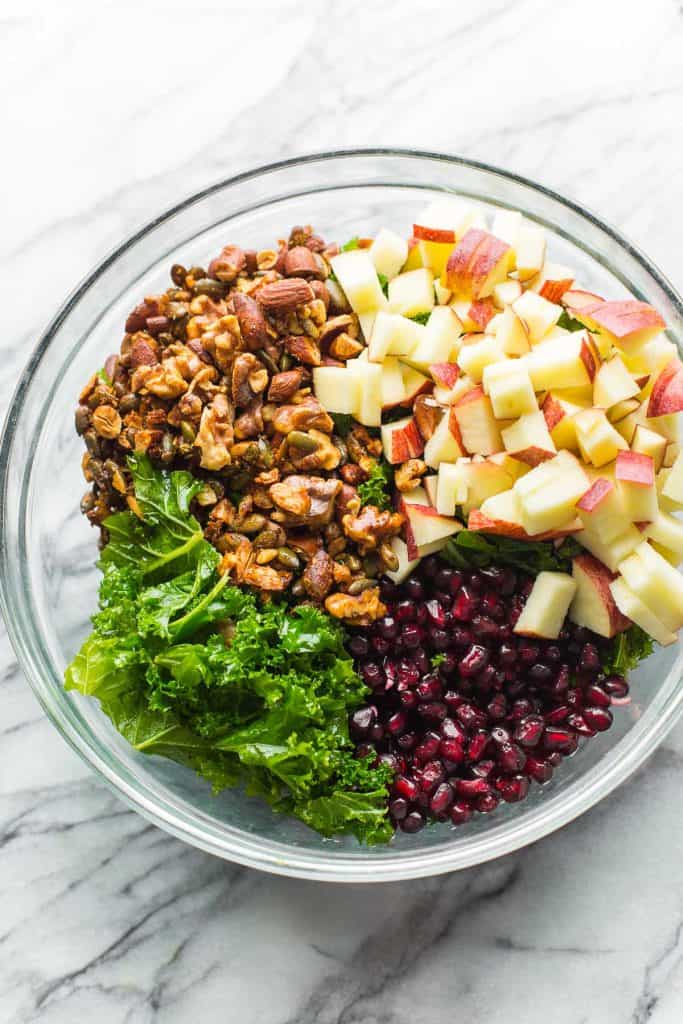 Substitutions and Additions
I don't know about you, but I simply cannot follow a recipe without trying to add a little extra something to it. Here are a few ways you can spruce up this salad to make it even more delicious to your and your personal preferences.
Nut and Seed Alternatives
Feel free to use other nut and seed combinations in place of the walnut, almond and pumpkin seed mixture. Just make sure they all add up to about 1 1/2 cup so you don't miss out on the crunchy texture.
Other nuts & seeds that would go with these flavors: pine nuts, sunflower seeds, pecans, pistachio and hazelnut.
Pear
Diced fresh pear would make an excellent addition or apple substitute. Typically in season from September through January it's a great winter fruit to add to add to this winter salad recipe. Pears can vary quite a bit in flavor depending on the variety (tangy, sweet, buttery or spicy). There are really no bad pear options to this salad so go with what you have!
Cheese
Grated parmesan and blue cheese will add a savory element to this salad while feta and goat cheese will add a creamy texture and tangy flavor. Whatever you choose is up to you and what you like!
If you need this salad to be at least vegetarian friendly, please check the label on your parmesan cheese. Technically, true parmesan cheese (officially labelled as Parmigiano-Reggiano) is not vegetarian as it must be made with calf rennet. Cheese labelled as simply 'parmesan' can however be made without animal rennet.
Beans or Legumes
Add 1-2 cups cooked chickpeas and legumes would add a really lovely creamy texture to this salad. It would also help to boost the overall protein and fibre which will ultimately make for a more filling dish.
Quinoa or Rice
Another great way to bulk up this salad is by adding 1-2 cups of quinoa or rice. Cook your grains in vegetable stock or chicken stock to infuse even more flavor into your salad.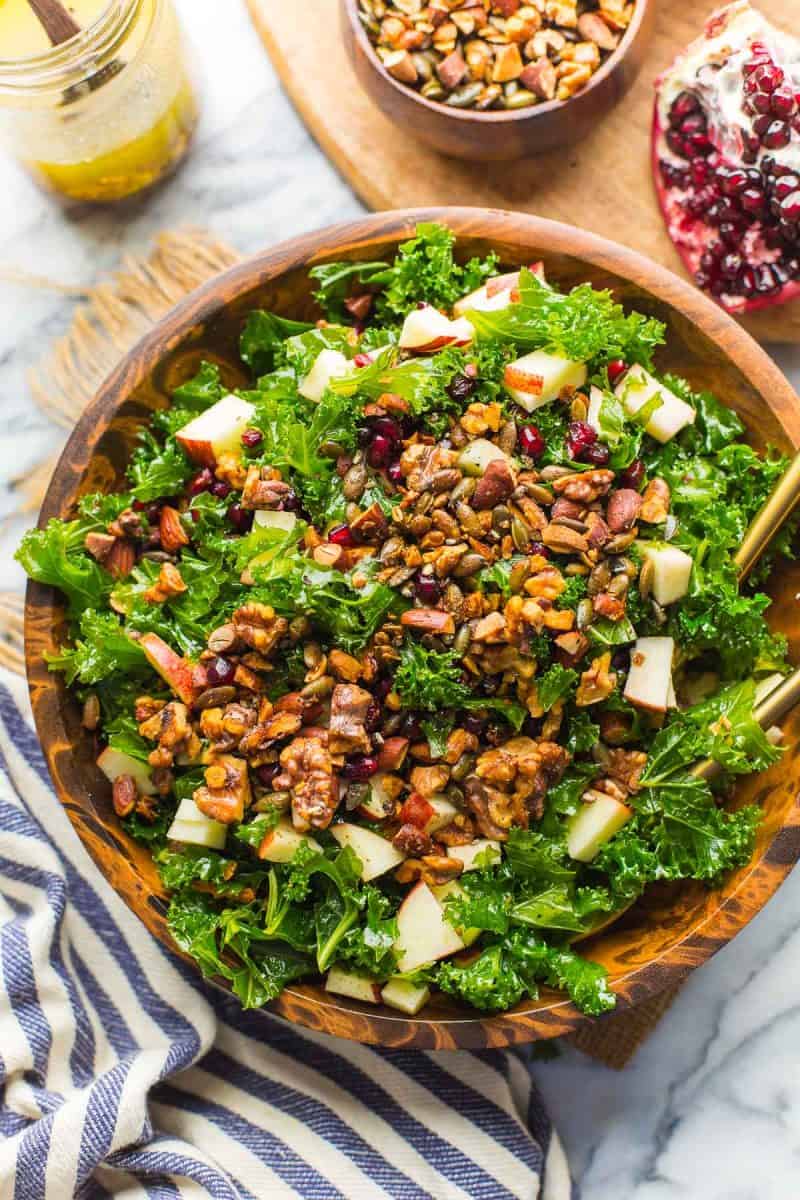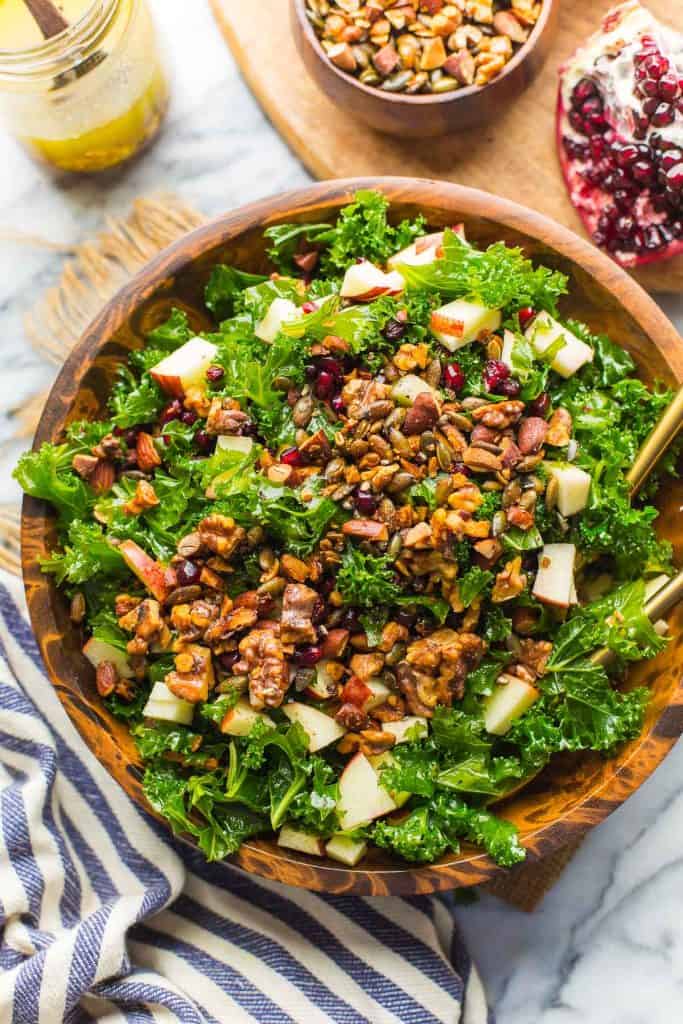 Leftovers & Storage
The great thing about kale salad recipes? Thanks to the hardy leaves, they keep much better and longer than regular, leafy salads! That alone makes this a great meal prep recipe to keep handy during the winter. Make a big salad one evening and enjoy as a side salad throughout the week.
Once finished, store your leftover salad in an airtight container and keep in the fridge for about 5-6 days. How long this keeps will mostly depend on how fresh the pomegranate seeds are.
Over time, the nut and seed mixture won't be quite as crunchy as fresh salad, but they will still make for a great texture.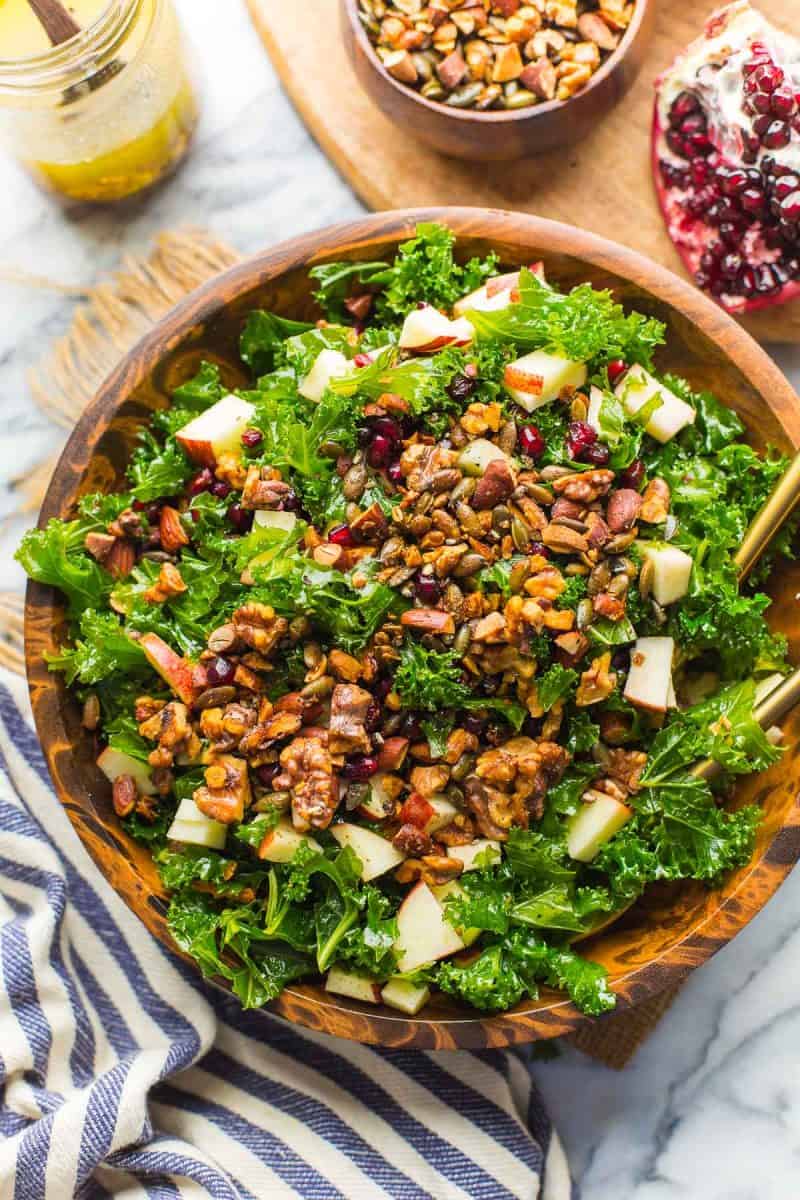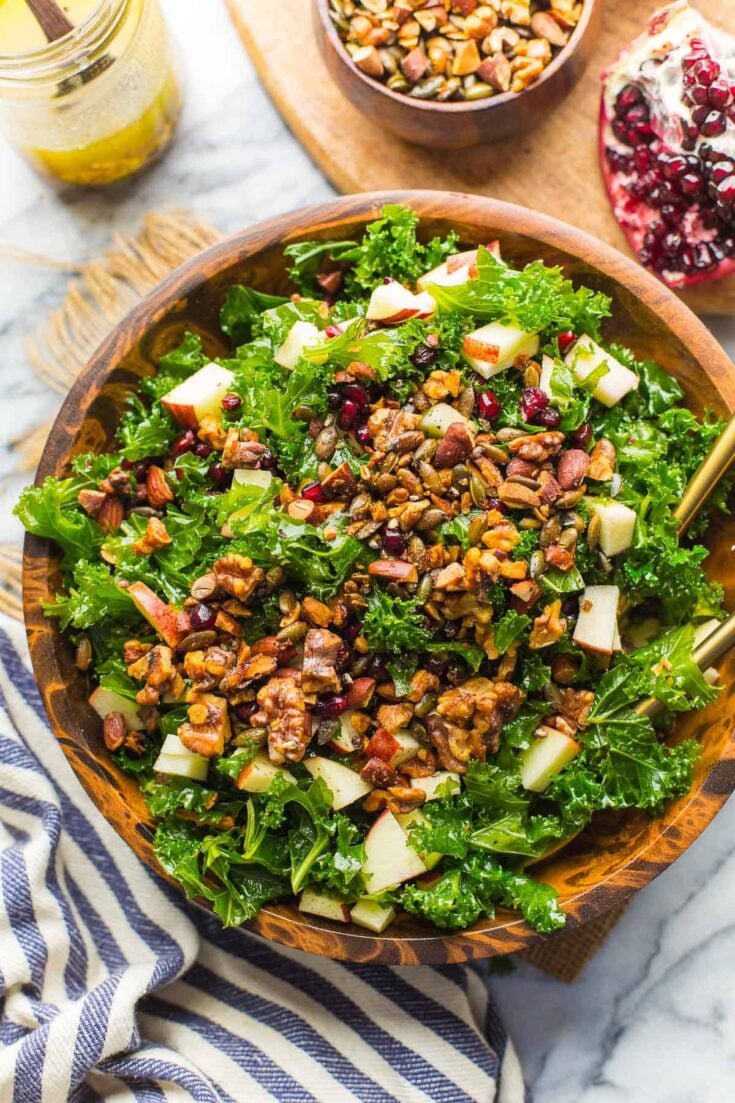 Yield:
4-6 servings
Prep Time:
10 minutes
Cook Time:
10 minutes
Total Time:
20 minutes
Massage kale leaves topped with diced apple and pomegranate arils provide a simple salad base while the toasted nuts and seeds add an extra element of crunch. Top it all off with a sweet and fiery mustard vinaigrette!
Ingredients
Nuts & Seeds
1/2 cup (58 g) walnuts, roughly chopped
1/2 cup almonds (60 g), roughly chopped
1/4 cup (37 g) shel-less pumpkin seeds (pepitas)
2 teaspoons olive oil
1/2 teaspoon paprika
1/2 teaspoon ground cinnamon
1/4 teaspoon salt
Salad
1 large bunch curly kale, hard stems/ribs removed and chopped into bite-sized pieces
1 tablespoon (15 ml) extra virgin olive oil
1 large apple, diced (your choice of apple type)
1 cup (187 g) pomegranate seeds
3 tablespoons (15 g) grated parmesan cheese (vegan if needed) optional*
black pepper
Dressing
1/3 cup (80 ml) extra virgin olive oil
1 tablespoon (20g) honey or maple syrup
1 tablespoon (15 ml) lemon juice
2 teaspoons whole grain mustard
1 large clove garlic, crushed or minced
1/2 teaspoon sea salt and pepper each or more to taste
Instructions
Toasted Nuts & Seeds
Preheat the oven to 350°F/176°C. Add the ½ cup (58 g) chopped walnuts, ½ cup (60 g) almonds and ¼ cup (37g) pumpkin seeds to a large baking sheet. Drizzle with the 2 teaspoons olive oil and sprinkle with ½ tsp paprika, ½ tsp cinnamon and ¼s tsp alt. Use your hands to mix the spices into the nuts & seeds. Spread everything out into a single layer.
When the oven has fully heated, place the baking sheet in the middle of the oven and toast for about 10-12 minutes until the nuts and seeds are lightly golden.
Vinaigrette
In a small cup or jar combine the vinaigrette ingredients: 1/3 cup (80ml) olive oil, 1 tablespoon honey or maple syrup, 1 tablespoon lemon juice, 2 teaspoon grainy mustard, 1 clove minced garlic and 1/2 teaspoon salt and pepper, each. Whisk together until fully combined.

Salad
In a large bowl: place the chopped kale in a large salad bowl. Drizzle 1 tablespoon of olive oil and sprinkle a small pinch of the salt over the kale. Use your hands to rub the hard kale leaves with your fingers by lightly scrunching big handfuls at a time. After about a minute the leaves will get softer and darker.
Add the remaining salad ingredients to the bowl: the toasted nuts and seeds, 1 diced apple and 1 cup (187g) pomegranate seeds. Toss together until mixed well.
Pour the vinaigrette over the salad and parmesan cheese (3 tbsp | 15 g) if using. Toss again until everything is well coated in the vinaigrette. Taste the salad and season with freshly grated black pepper and enjoy.
This website provides approximate nutrition information for convenience and as a courtesy only. Nutrition data is gathered primarily from the USDA Food Composition Database, whenever available, or otherwise other online calculators.
More Seasonal Salads You Might Like