Sweet, salty and savory – this Bacon Jam hits all of the right spots! It's made from crispy bacon pieces stirred into sautéed onion. While many bacon jam recipes used coffee to enhance the overall taste, this recipe uses coffee liqueur to add additional notes of vanilla and caramel which makes more a more intense flavor. All of these ingredients come together in happy harmony to make this mouthwatering and satisfying sticky bacon relish! Enjoy on crackers, sandwiches, burgers and more!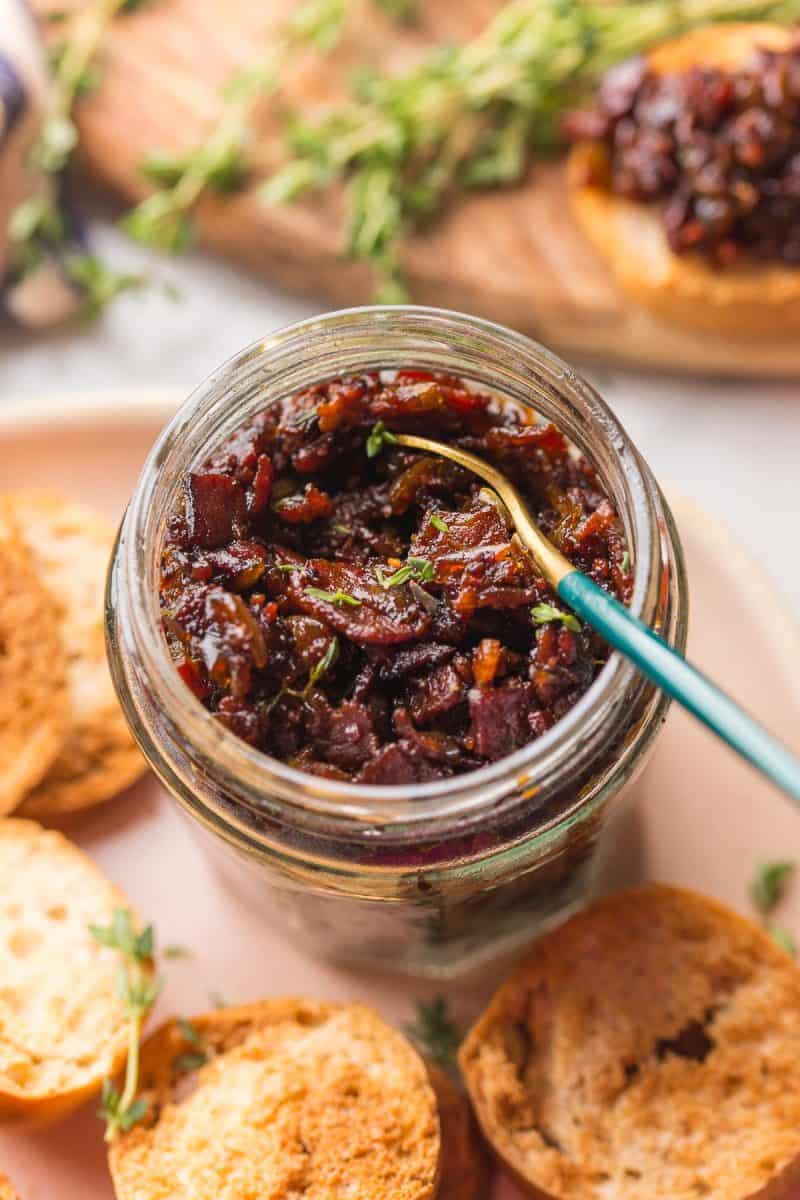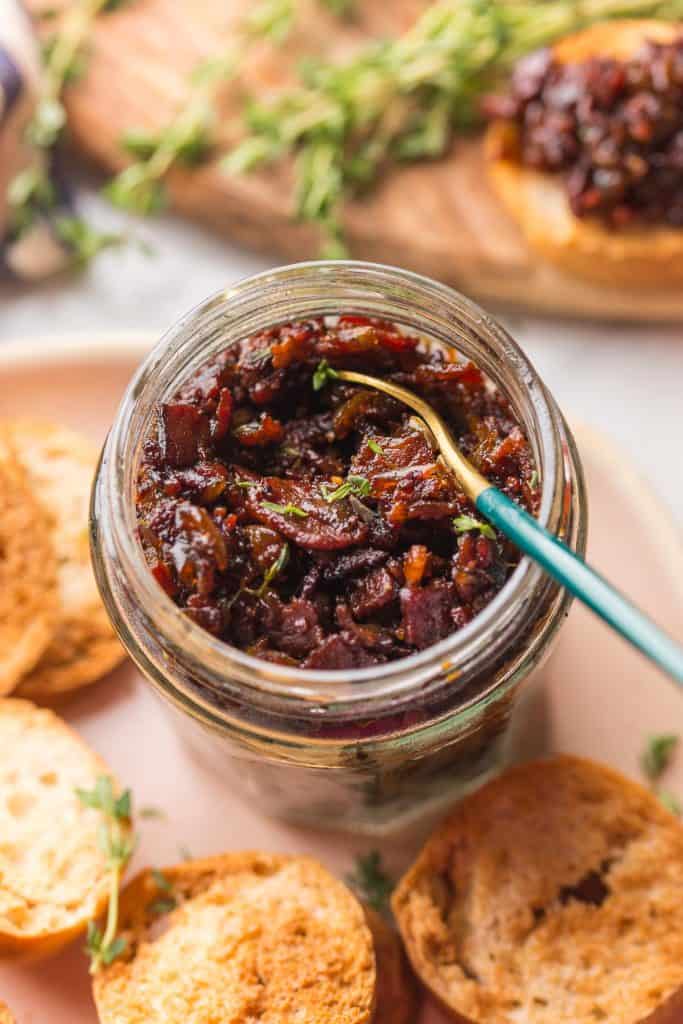 Bacon Jam – what is it?
Basically, bacon jam is a bacon-based relish. It's made up of sautéed onions and crispy bacons that have been seasoned and cooked with some sort of vinegar, sugar and a few herbs and spices. The end result is a thick and chunky, sweet and savory spread with a jammy consistency.
What does bacon jam taste like?
Despite the fact that it's made up of mostly bacon and onions, bacon jam tends to have a more sweet than savory flavor. It's got a rich, caramelised flavor not too dissimilar to BBQ sauce, but somehow not quite as overtly sweet.
Key Steps in Making this Bacon Jam Recipe
Cook the bacon until crisp.
Sauté the onions until soft and translucent.
Add the flavourings.
Bring it all together.
Step One: Cook Bacon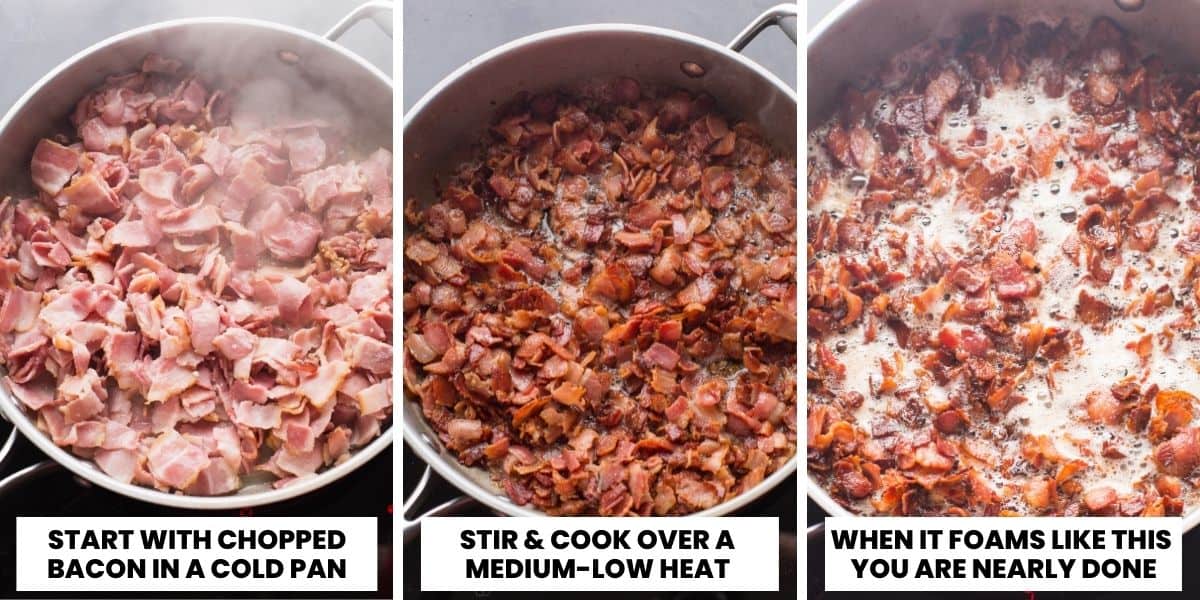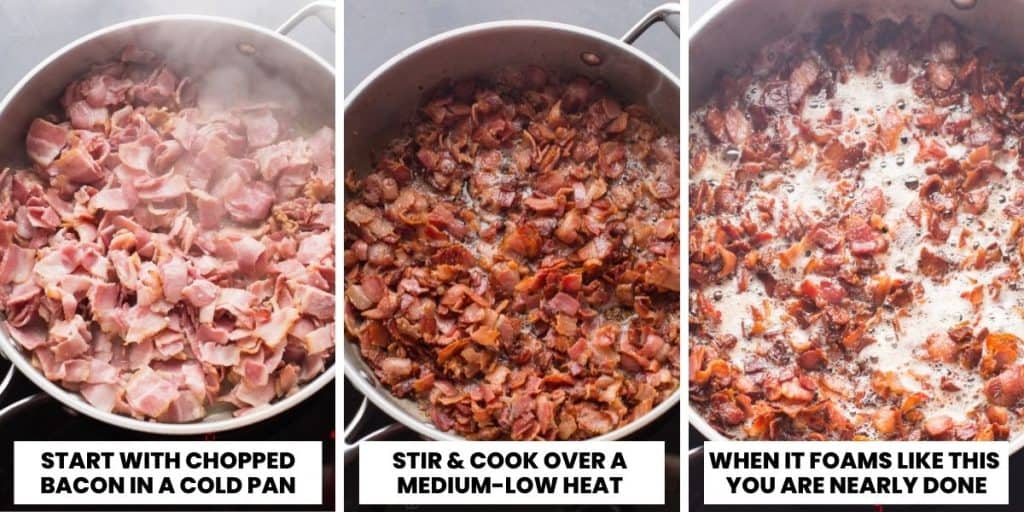 After you've drained the fat, set the bacon bits aside as you move on to prep the next stage of this bacon jam.
A few key things to keep in mind with the bacon:
Start out with a cold pan.

A hot pan will fry the bacon quickly which means the fat (flavor) renders too quickly which equates to less flavor.
You will also end up with more bacon drippings in the end which will be useful when frying the onions.

Cook on low and slow.

This will help eliminate excess grease splatter.
It makes for better tasting bacon (as mentioned above).

Watch for bacon foam.

What is bacon foam? Near the end of the bacon cook – you should notice a white foam start to cover the bacon. This foam is essentially water that's escaping the bacon. Less water = crispy bacon. Cook another minute or two once you reach this stage and you're all set. Transfer bacon to a strainer over a bowl to separate the fat.
You only need two teaspoons of the reserved bacon fat to fry the onions so you will likely have leftover fat.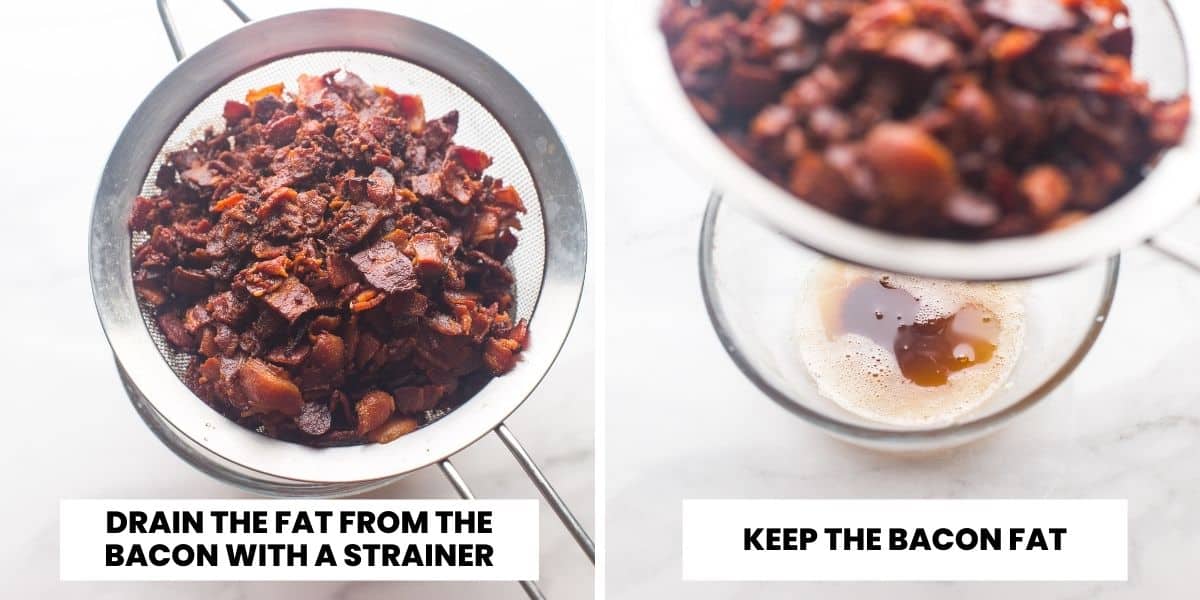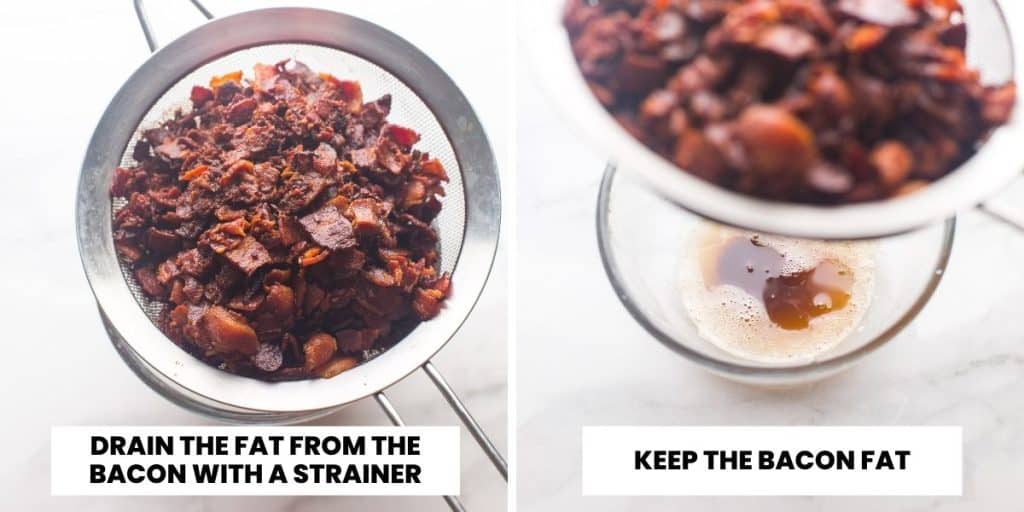 The Onions & Flavourings
Onions: In the same pan used before, fry the onions and 1 teaspoon salt in the leftover bacon fat. Cook on a medium-low heat for about 10-12 minutes until the onions look soft and translucent.
Flavourings: Add the thyme, black pepper, brown sugar, vinegar and coffee liqueur to the onions and mix until well combined.
Bacon & Water: Add the cooked bacon pieces back to the pan along with 1/2 cup water. Stir and cook another 10-15 minutes over a medium low heat. Cook until you have a thick, dark red-brown mixture.
Balsamic Vinegar & Thyme: A final drizzle of balsamic adds a final sweet and smokey punch of acid. Mix it all together and that's it. Set the jam aside to cool down.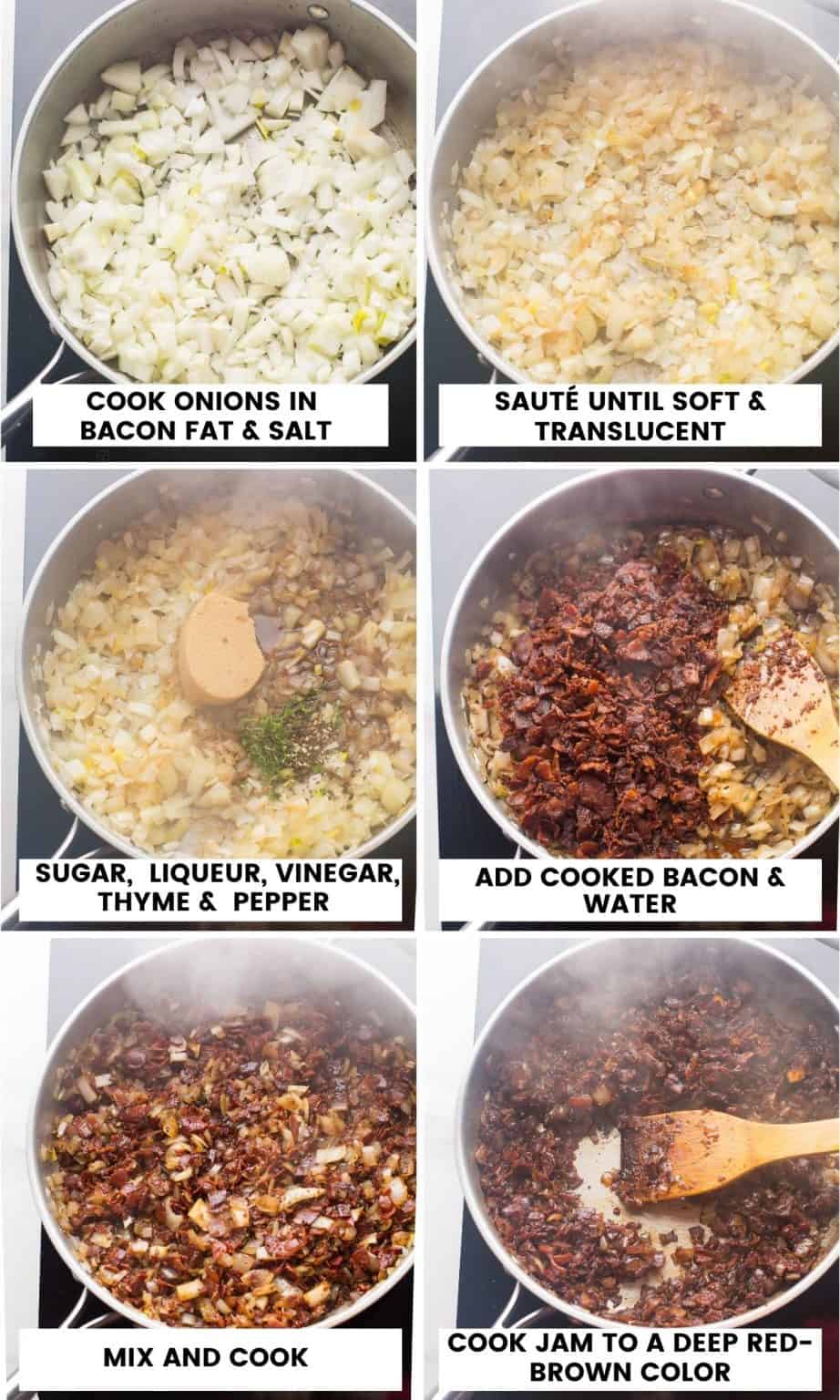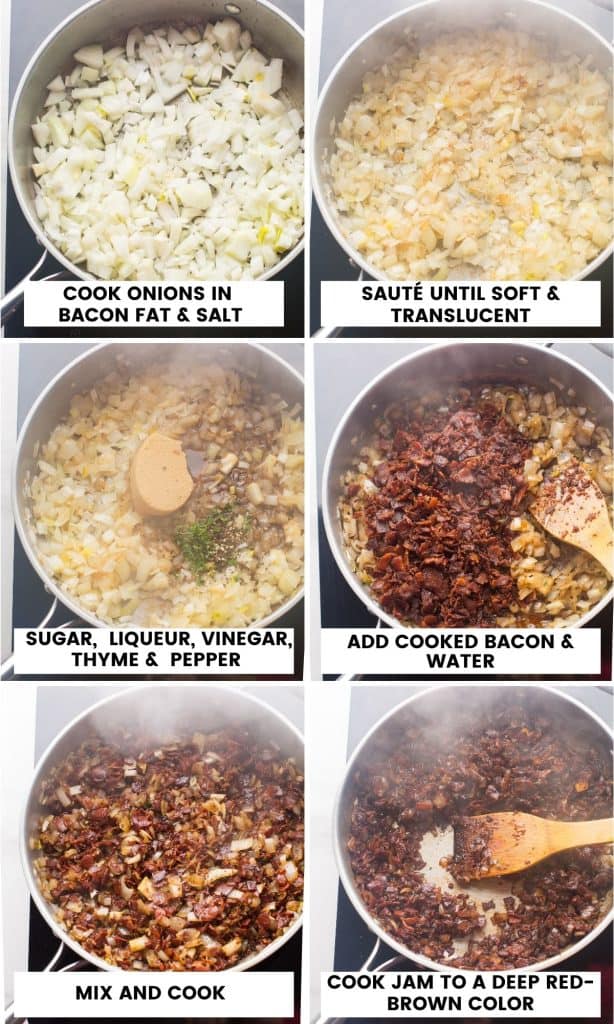 Quick Questions
Why add coffee liqueur?
Many bacon jam recipes include strong coffee in their ingredient list. This is because coffee is used as an overall flavor enhancer. While you can't actually taste coffee in bacon jam, you can taste the difference in recipes made with and without it.
I also found many recipes include things like bourbon or whiskey – again these additions are used to add more depth flavor.
Coffee liqueur is how you knock out two birds with one stone. It's adds a hearty, vanilla and caramel-coffee flavor with a bitter kick. This sweet and bitter combo works together in this recipe to make for a more interesting flavor.
Can I use coffee instead of coffee liqueur?
If you'd prefer to make this recipe without an alcoholic additions you absolutely can! To make this without the liqueur I recommend you:
Use sherry vinegar instead of coffee liqueur. More white wine vinegar or apple cider vinegar will also work.
Use 1/2 cup strong coffee instead of water.
How long will homemade bacon jam keep?
If stored in an airtight container you should be able to keep you bacon jam in the fridge at least 2 weeks.
I don't have any canning knowledge or experience though so I'm afraid I can't offer up any tips for canning.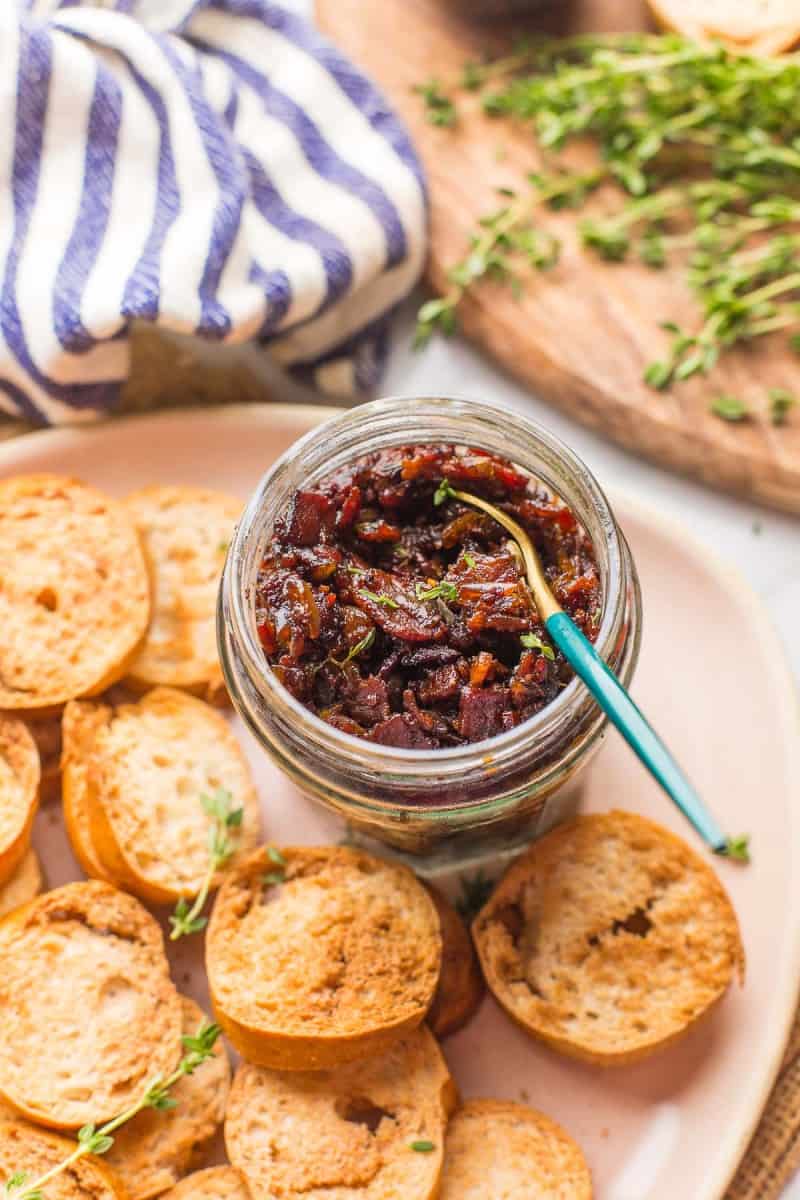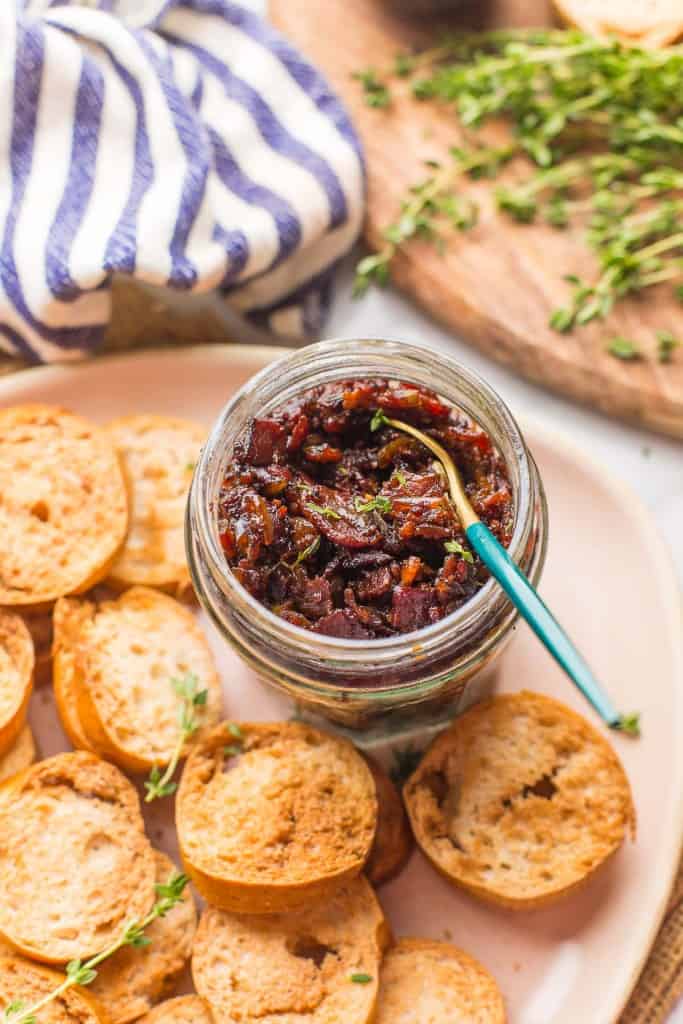 What to do with bacon jam?
This bacon jam makes for a great addition to charcuterie platters, on a cheese board or anywhere you might want a special dip for bites and nibbles.
It also makes as a fantastic spread to enjoy on burgers, hot dogs, sandwiches, etc. Keep in mind that a little goes a long way here! A few ideas to get you started:
Burgers or sandwiches – make an extra special grilled cheese sandwich or add this to a burger bowl.
Baked potatoes
Toast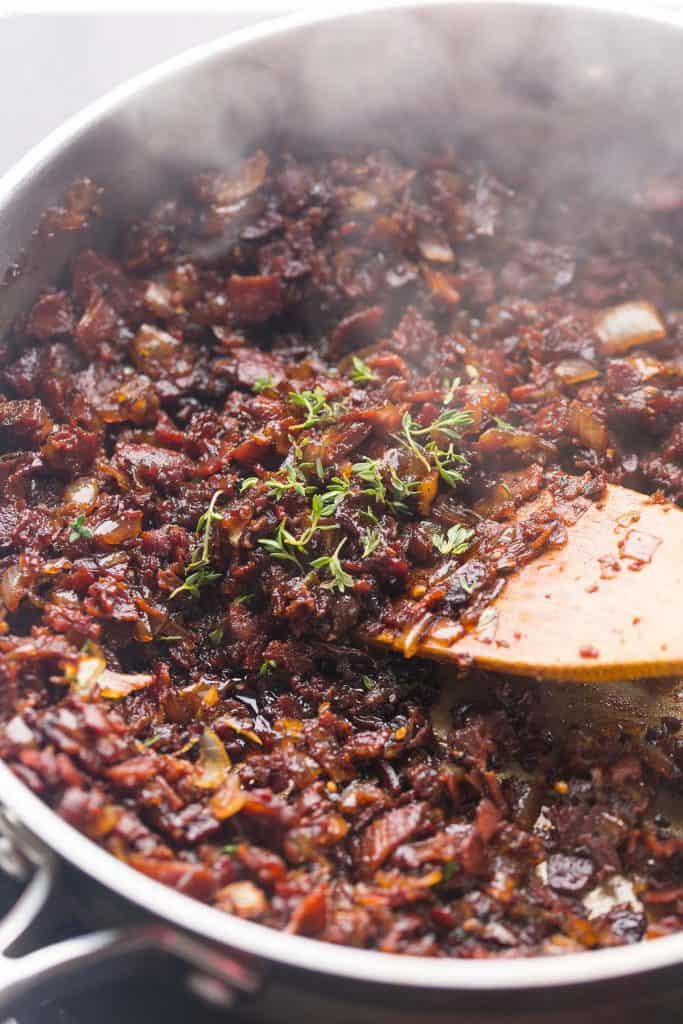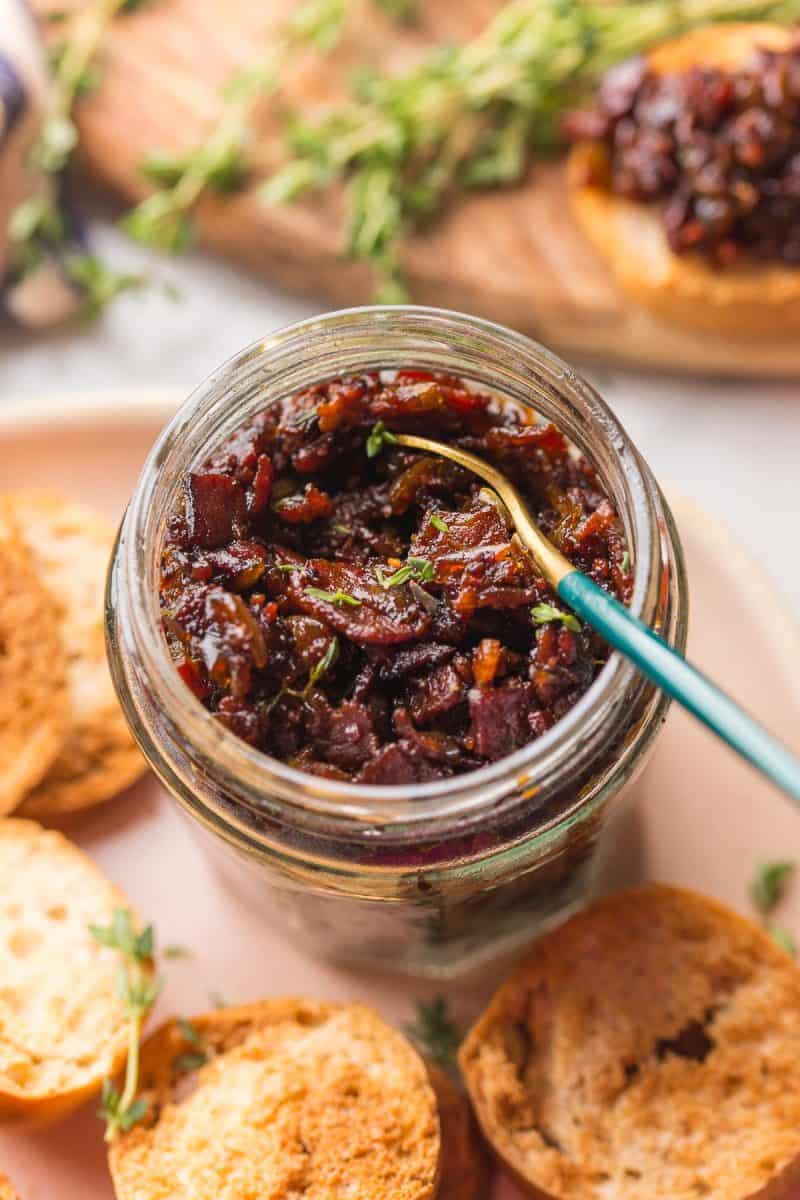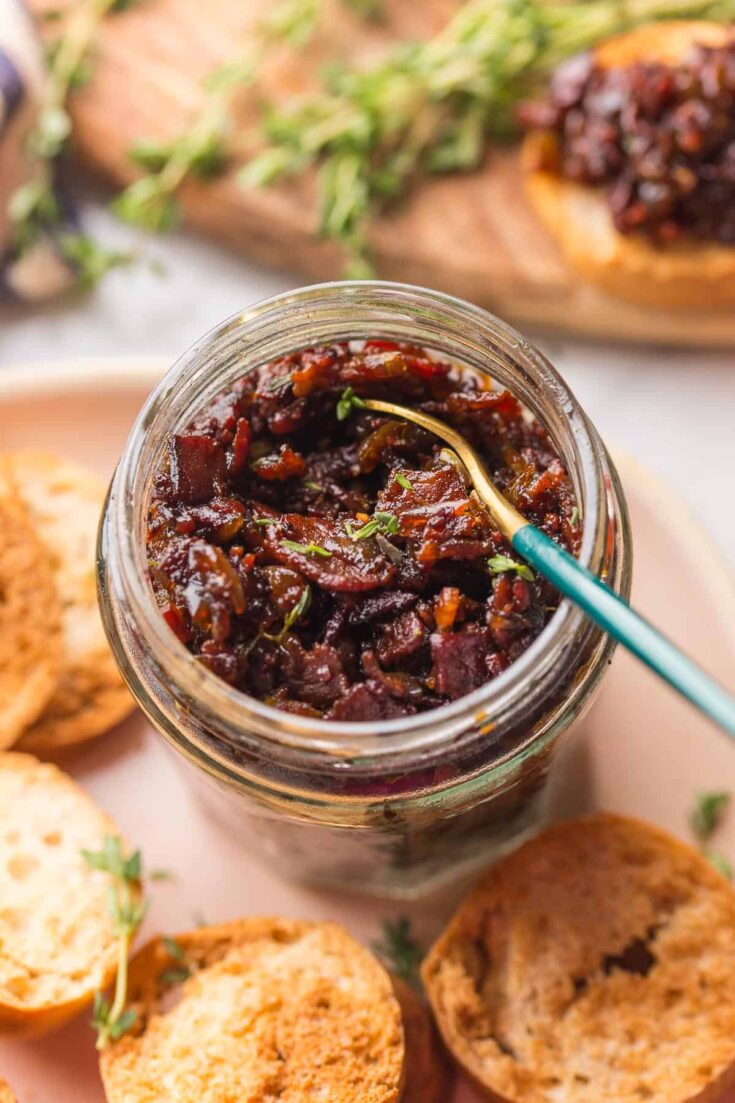 Yield:
about 2 cups or 500g
Prep Time:
10 minutes
Cook Time:
45 minutes
Total Time:
55 minutes
Sweet, salty and savoury - this Bacon Jam hits all of the right spots!
Ingredients
1.5 lbs (680g) smoked bacon, chopped
1 teaspoon salt + more to taste
2 large (about 1 pound) yellow onions, finely chopped
1/3 cup packed brown sugar
1 teaspoon freshly ground black pepper
2 teaspoons fresh thyme leaves, divided
1/4 cup (60 ml) coffee liqueur
2 tablespoons (30 ml) white wine vinegar
1/2 cup (120 ml) water
1 tablespoon (15ml) balsamic vinegar
Instructions
Place a fine mesh strainer over a small bowl and set aside for now.
Cook the bacon: Start with a cold pan/heat off. Add the bacon to a large, heavy bottomed pot or large skillet add turn to a medium heat. Cook about 10-15 minutes, stirring often until the bacon is crispy and the fat has rendered. The bacon is nearly ready when you notice a white foam covering the pan. When you get to this stage, keep stirring and cook another minute or two then turn off the heat.
Pour the bacon bits into the strainer and let all the excess bacon fat strain out into the bowl. Set aside the bacon.
Add two teaspoons of the bacon fat back to the pot/skillet and warm over a medium heat. Add the diced onion and 1 teaspoon salt. Cook about 10 minutes, stirring often until the onions are soft and translucent.
Add 1 teaspoon thyme, black pepper, brown sugar, vinegar and coffee liqueur to the onions and mix until well combined.
Add the bacon and 1/2 cup water to the onion mixture. Continue to cook another 10-15 minutes until you get to a thick and sticky mixture that is a deep red-brown color. Make sure to stir the pan every so often to prevent burning.
Once you've reached a jam-like consistency turn off the heat. Stir in the 1 tablespoons balsamic vinegar and 1 teaspoon thyme leaves. Mix everything together and set aside to cool down.
Serve warm or at room temperature. Store leftover jam in an airtight container in the fridge for up to two weeks.
Notes
If you're in the UK look for streaky bacon
Wipe down the bottom of the pot or skillet before cooking the onions if there are too many black and browned bits left from the bacon.
Recipe adapted from Chef John.
This website provides approximate nutrition information for convenience and as a courtesy only. Nutrition data is gathered primarily from the USDA Food Composition Database, whenever available, or otherwise other online calculators.