Creamy Mashed Cauliflower made without dairy – A great substitute for mashed potatoes if you're looking low carb options! Gluten Free + Vegan + Paleo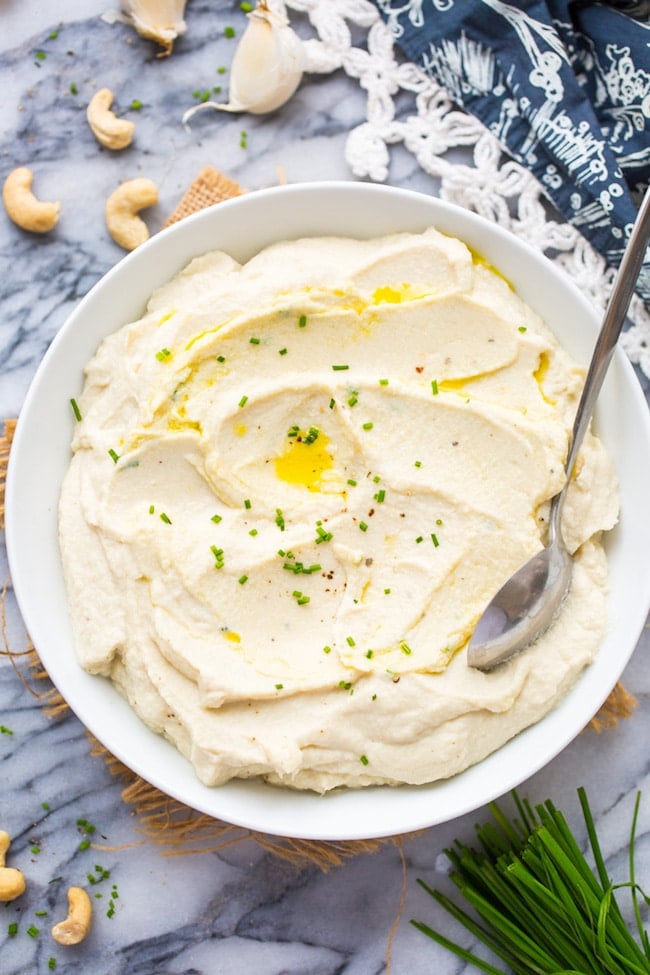 Where do you sit on the whole turning vegetables into carb based comfort foods thing?
I, for one, LOVE it.
Zucchini pizzas, sweet potato crackers, mashed cauliflower…I know it sounds ridiculous and maybe even a little bit obnoxious, but when it's done right it's total food heaven. It's flavour and comfort without the huge insulin spike and carb crash to follow. What a beautiful thing.
Onto the creamy veggie mash!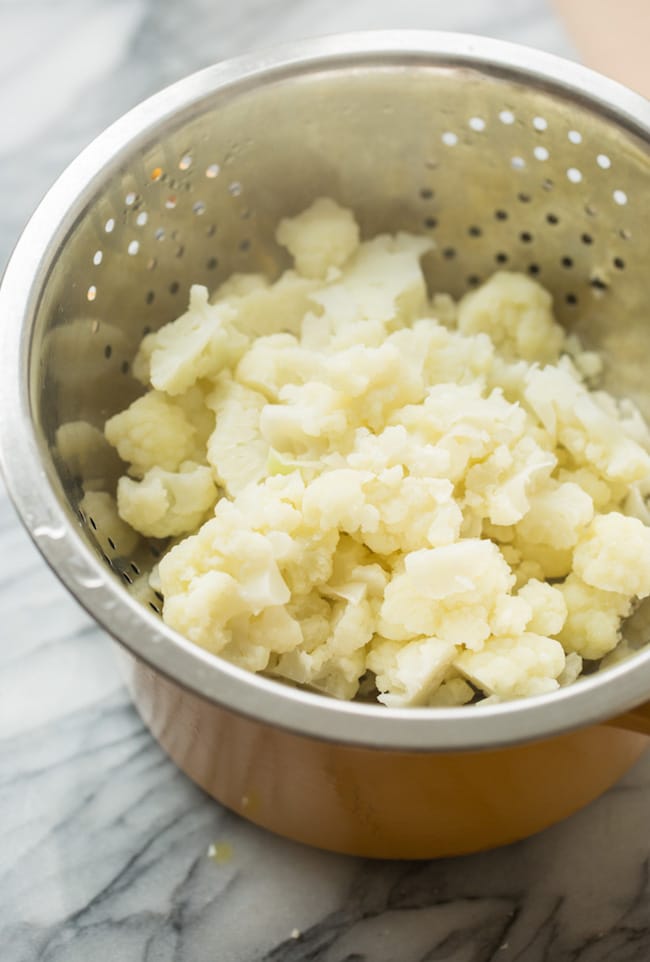 How to Make: Creamy Vegan Mashed Cauliflower
Altogether this recipe is super easy! It's made up of only 7 ingredients and unlike most other mashed cauliflower recipes out there's it's 100% dairy free.
Start off by simply steaming your cauliflower. You want to steam and not boil because cauliflower already has a pretty high water content. Boiling will just add more water which would result in a less thick and creamy mash.
So steam it over boiling water for about 10-15 minutes. You want the cauliflower to be extremely soft and tender before moving on to the next step.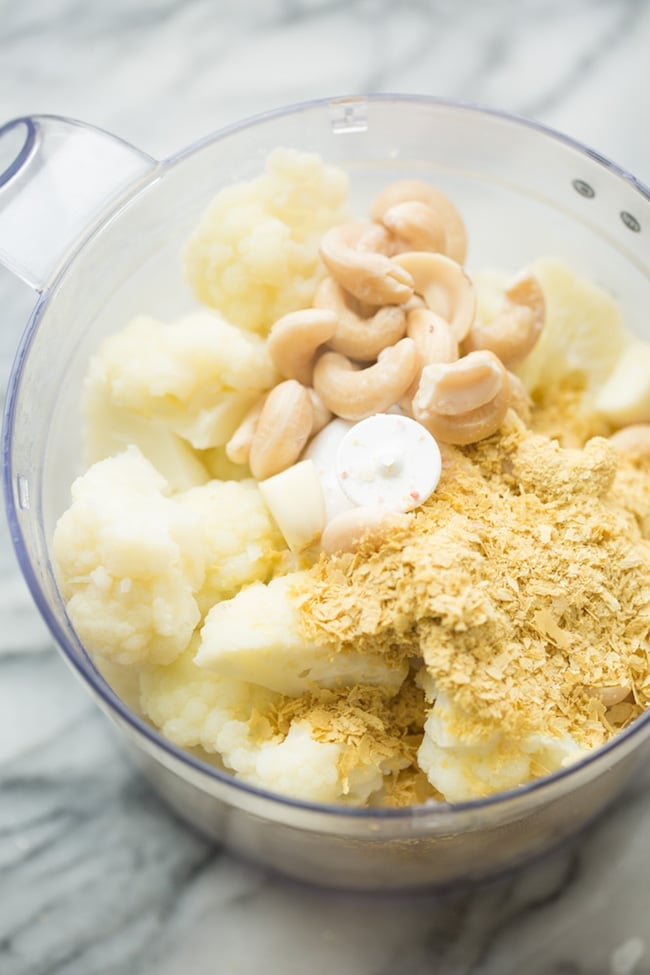 While the cauliflower is steaming, sauté your garlic in olive oil for 1-2 minutes. Cooking the garlic is important because it tones down its fieriness.
Once the cauliflower is ready, transfer the florets to a food processor or blender along with the remaining ingredients:
soaked cashews
lemon juice
salt
sautéed garlic
& nutritional yeast
As I noted above this mashed cauliflower is entirely dairy free. Instead of adding actual cream to it you're basically making a cashew cream with the five ingredients listed above. This is what makes this mash creamy.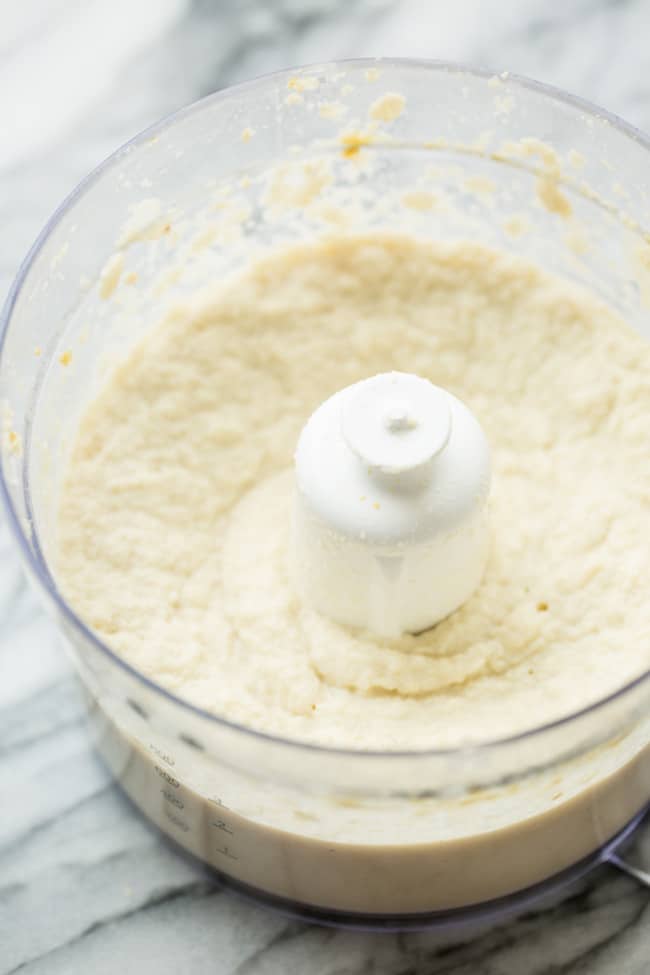 From here it's just a matter of blending it all up into a smooth puree. Taste and season with a little more salt as need. Top it off with freshly chopped chives to garnish along with any of your favourite toppings you'd normally add to mashed potatoes.
Feel free to add bacon bits, fresh herbs, butter, cheese – anything you'd like!
With the holiday's coming up this would make a great, low carb side for you and anyone who's looking for lower glycemic options.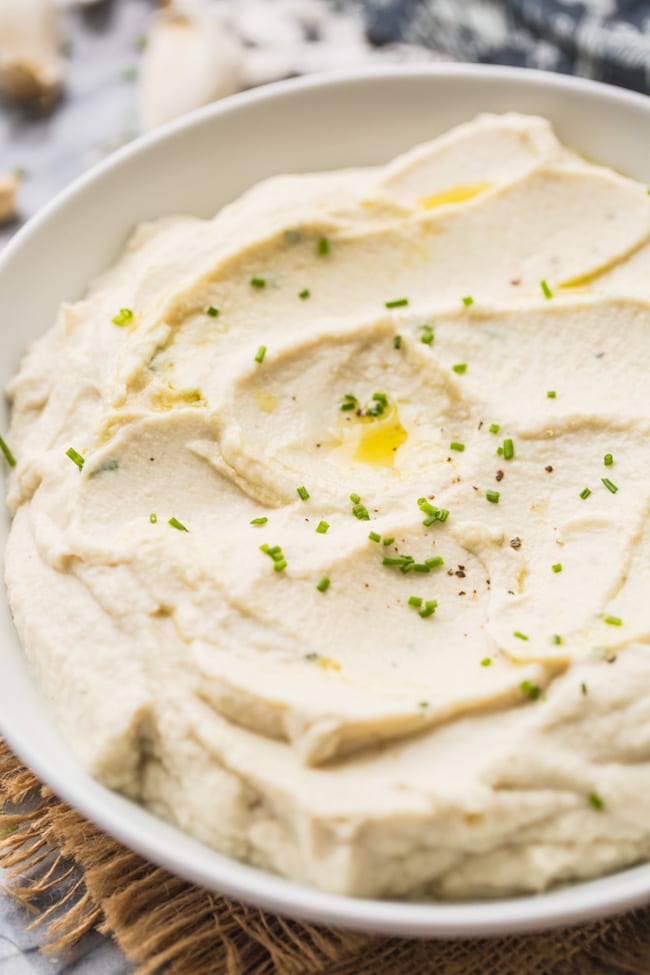 That all being said, if you're not quite ready to commit to a 100% Creamy Cauliflower Mash you might be interested in checking out my Mashed Potatoes with Cauliflower!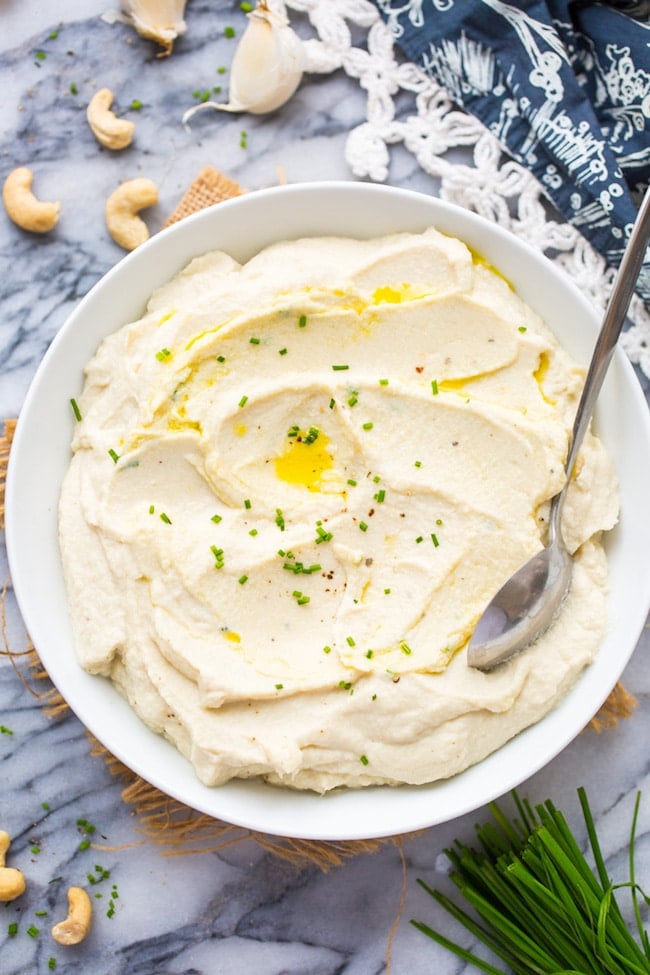 Recipe
Creamy Mashed Cauliflower
Yield:
4 servings
Prep Time:
10 minutes
Cook Time:
20 minutes
Total Time:
30 minutes
Creamy Mashed Cauliflower made without dairy - A great substitute for mashed potatoes if you're looking low carb options! Gluten Free + Vegan + Paleo
Ingredients
1 head cauliflower, cut into florets
1/2 cup cashews, soaked in water at least 4 hours or over night
1/2 teaspoon salt
2 teaspoons lemon juice
2 large cloves garlic,
2 tablespoons nutritional yeast
1 tablespoon olive oil
Instructions
Bring about one to two inches of water to a boil in a large sauce pot. Add cauliflower florets to a colander or to the steamer basket that fits over the sauce pot. Place a lid over the cauliflower and steam until the cauliflower is tender, 10-12 minutes until very tender.
While the cauliflower is steaming warm the oil oil in a small skillet over a medium heat. Add the garlic and cook for 1-2 minutes until golden and fragrant. Remove the garlic from the hot pan to keep it from cooking further.
Drain and pat dry. Add the cauliflower to a food processor or blender along with the soaked cashews, salt, lemon juice, garlic and nutritional yeast. Process/blend until smooth.
Taste and season with more salt and pepper as needed. Top with fresh chopped chives and serve immediately.
Optional toppings: feel free to add additional toppings as you would with mashed potatoes: butter, cheese bacon bits - whatever you like!
Nutrition Information
Yield:

4
Calories:

171
Saturated Fat:

1g
Sodium:

335mg
Carbohydrates:

13g
Fiber:

4g
Sugar:

3g
Protein:

7g
This website provides approximate nutrition information for convenience and as a courtesy only. Nutrition data is gathered primarily from the USDA Food Composition Database, whenever available, or otherwise other online calculators.