Cauliflower Tabbouleh – a Middle Eastern classic made gluten free | Fresh vegetables & herbs chopped, mixed and dressed in fresh lemon juice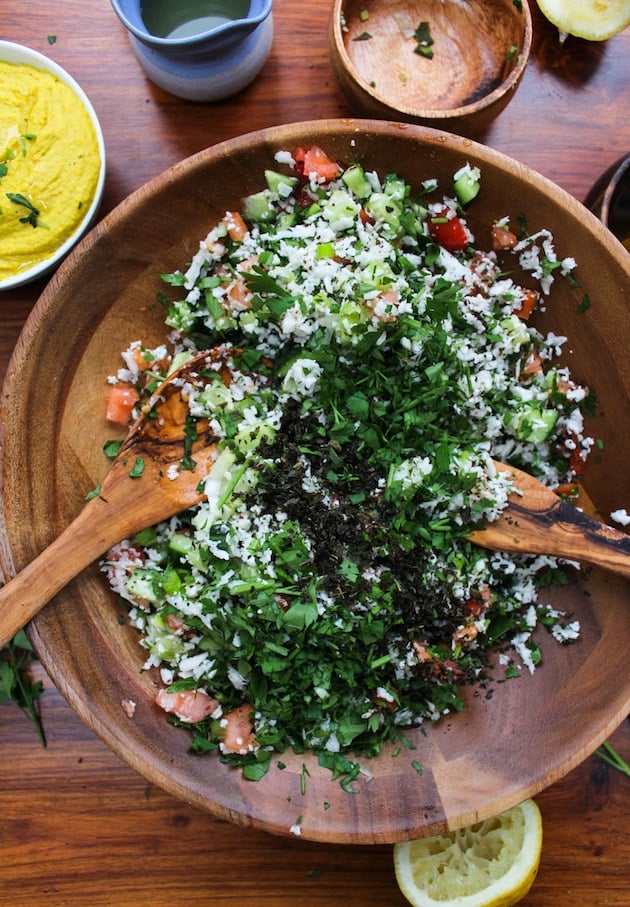 Ok so usually I like to eat the seasons and all that, but sometimes you you just gotta give into your food cravings, you know? You can take away my healthy food blogger card so long as I can keep this cauliflower tabbouleh to myself!
So let's pretend for a moment that we're not in the dead of winter here and tomatoes are still very much in season….as are cucumbers! Cool?
Maybe I'm just longing for the summer over here. With the exception of a couple of hours last Friday it's been grey for a solid week. I wish I were exaggerating. I wouldn't mind the weather if there was at least snow. Snow is at least pretty. It also reflects light back up so things don't look quite so bleak outside. I just feel like I'm in an episode of House of Cards where everything looks really grey & dark. It's driving me crazy!
*Side note* I accidentally wrote House of Carbs at first. Cauliflower tabbouleh aside…that also feels very true.
So yes. Think warm thoughts!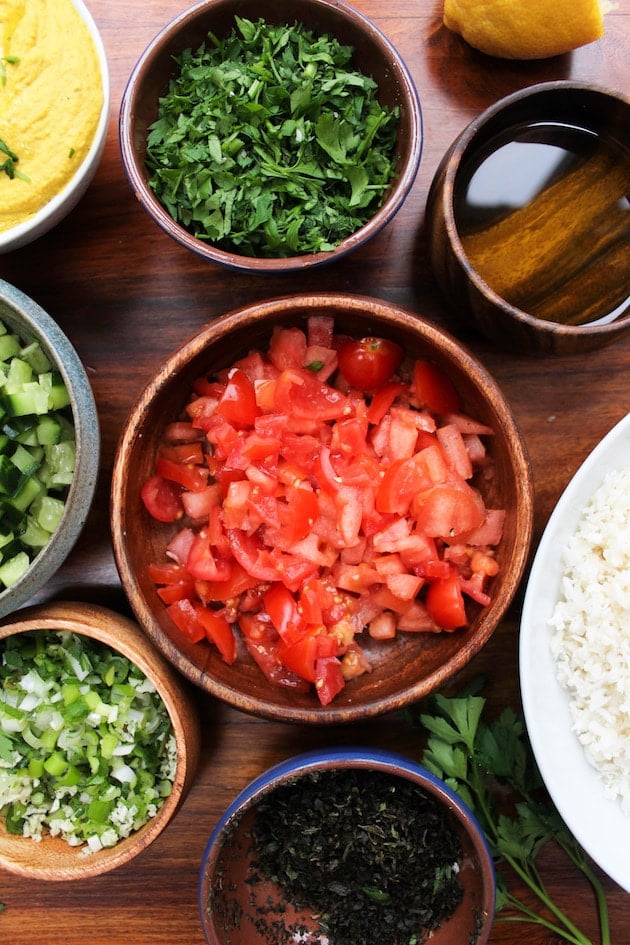 Cauliflower Tabbouleh
After I made this ginger & turmeric hummus last week – I just had to make tabbouleh to go along with it. It felt wrong to be eating hummus and pita bread without stuffing the pita with tabbouleh as well.
The only food (that I can think of) that I actually remember trying for the first time is tabbouleh. It has such a strong, distinctive smell. I was immediately taken back to my younger, smaller self sitting at the kitchen table at dinner trying to figure out what all the green stuff was.
As it turns out, they were herbs! Lots and lots of herbs. The key to any good tabbouleh is definitely the herbs. Fresh is a must here. Use mint and flat leafed parsley, diced up into tiny little pieces. The smaller it's chopped, the easier it distributes throughout the salad and the more flavor you get in every bite. The same goes for the veggies.
Traditional tabbouleh contains bulgur wheat which is a definite no-go in our house. Instead, we're using grated up cauliflower because that's how we do things here. You could grate the cauliflower up in a food processor or blender to speed things up a bit. Personally I find the extra five minutes of grating is preferable to cleaning blades on a blender, but to each their own.
After everything is grated and chopped to standard it's simply a matter of tossing it all together and dressing it in a little lemon juice & olive oil. Season with salt and pepper and serve.
There's so much bright and punchy flavors – it's great any time of year!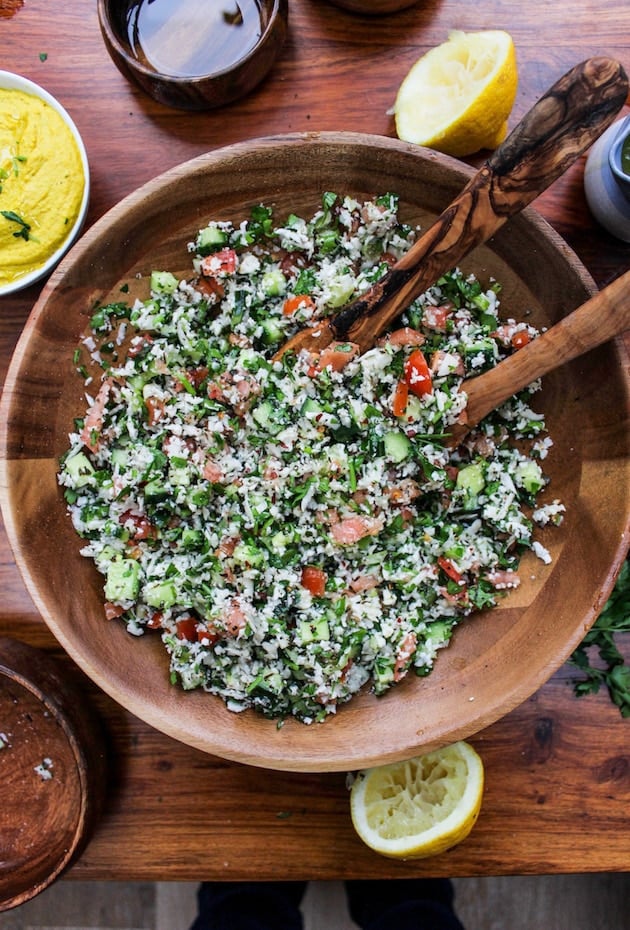 FACEBOOK | INSTAGRAM | PINTEREST
Don't forget to #asaucykitchen on instagram if you make this cauliflower tabbouleh. We love seeing what you make! You can also post your pictures to our facebook page!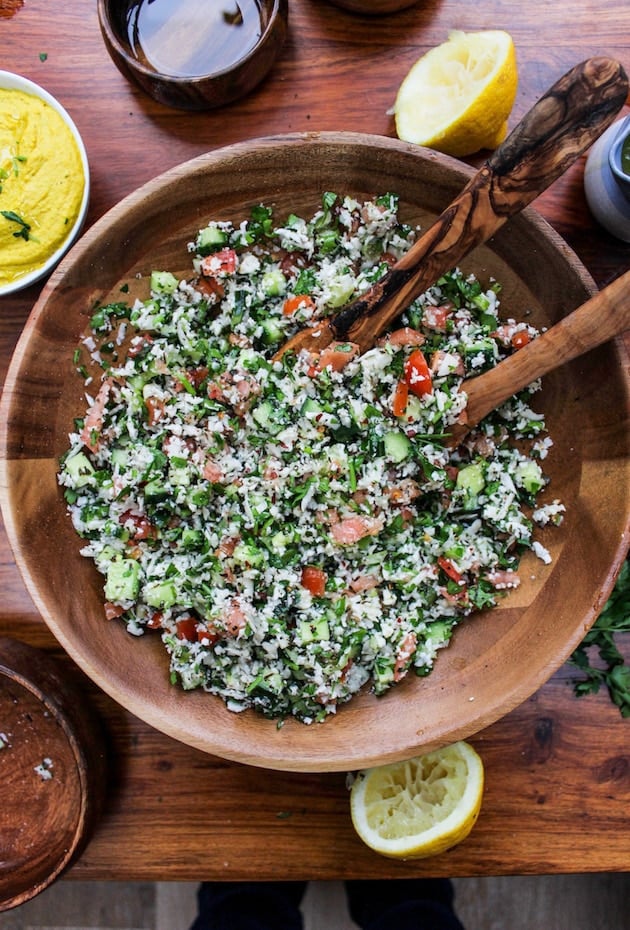 Recipe
Paleo Cauliflower Tabbouleh
Yield:
6 servings
Prep Time:
15 minutes
Total Time:
15 minutes
Cauliflower Tabbouleh – a Middle Eastern classic made gluten free | Fresh vegetables & herbs chopped, mixed and dressed in fresh lemon juice
Ingredients
2 cups | cauliflower, 1/2 a head
1/3 cup | chopped spring onions, about 3 large spring onions
1 cup packed | chopped parsley, measured after chopping with leaves & stems
1/4 cup | chopped mint leaves, measured after chopping
1 garlic clove, minced or crushed
1 cup | 3 plum tomatoes, chopped
1/2 large cucumber, diced into small pieces
3 tablespoons fresh lemon juice, one large lemon
4 tablespoons extra virgin olive oil
1/4 teaspoon crushed red pepper flakes
Instructions
Using a box grater to grate the cauliflower into grain sized pieces. Place the grated cauliflower in a large bowl.
Mix together the spring onions, parsley, mint, garlic, tomatoes, and cucumber with the cauliflower. Toss to combine.
Drizzle the lemon juice and olive oil over the top and sprinkle over the salt and red pepper flakes. Toss again until mixed well and serve immediately. Store up to one day in an air tight container.
Nutrition Information
Yield:

6
Calories:

105
Saturated Fat:

1g
Sodium:

20mg
Carbohydrates:

4g
Fiber:

1g
Sugar:

1g
Protein:

1g
This website provides approximate nutrition information for convenience and as a courtesy only. Nutrition data is gathered primarily from the USDA Food Composition Database, whenever available, or otherwise other online calculators.