Ginger & Turmeric Hummus – a classic dip with a healthy twist | Gluten Free + Vegan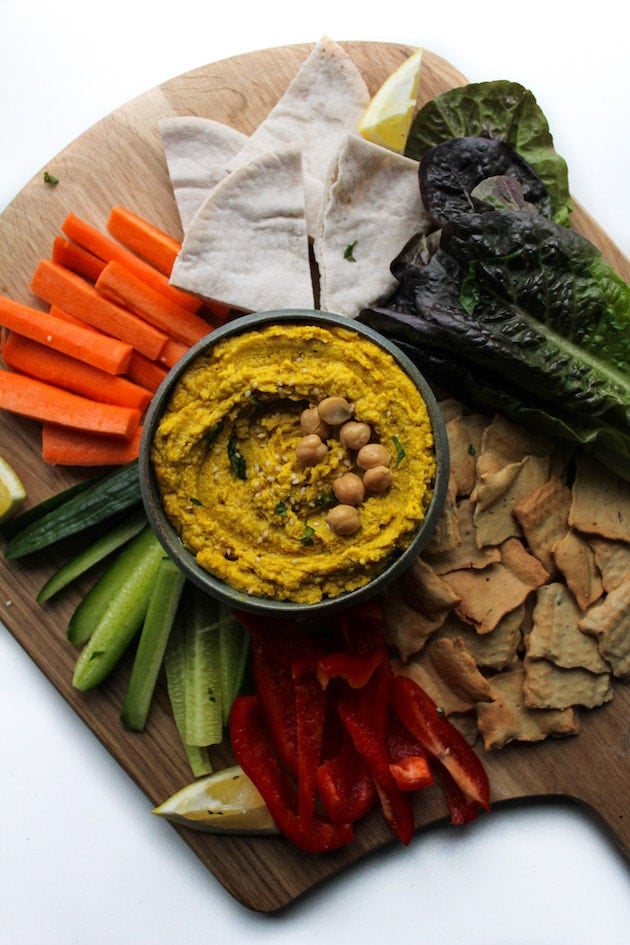 I think as far as food trends go – turmeric spiced everything is my new favorite.
If turmeric does even a fraction of what everyone and their yoga teacher claims it can do then I'm all for it. And even if it doesn't have all of of those miracle healing properties….well, then it still tastes good so there's that. Also it makes everything it touches a pretty golden color. Great in hummus. Not so great on counter tops. #WorthIt.
In all seriousness though, Mike & I first jumped on the turmeric bandwagon about six months ago. After reading all about it's health benefits relating to arthritis, inflammation, and disease we decided to start incorporating it more into our diet. Mike has pretty severe arthritis in his left hand that developed when he was about 15. It's left his thumb on that hand fused in place, but fortunately now it's mostly under control. As it turns out, his arthritis was triggered by his coeliac disease. Once he stopped eating gluten the flare ups in his arthritis subsided and he was able to stop taking his arthritis medicine.
I say it's mostly under control because he still gets the occasional flare up that seemingly come out of no where. Sometimes it really hard to know what exactly is triggering the arthritis.  Seasonal allergies? Lack of sleep? Accidentally eating something with gluten? It's just impossible to know sometimes.
So whenever arthritis starts playing up we always go back to cleaning up his diet. In an ideal world we'd be clean eaters all the time, but honestly, we're too young and love food too much to swear off cheesy fries forever. You understand?
The first things to go are usually grains, followed by dairy, refined sugars, and certain meats. Then we move on to adding more and more 'super' foods and probiotics to speed things along. This is purely anecdotal, so take it with a grain of salt, but I swear his arthritis pain improves when he starts eating/drinking turmeric. The last time he started experiencing flare ups in his hand I started making him golden milk and the pain went away in days. That could absolutely be coincidence, but I really don't think so. He was drinking it daily for awhile, but then we went on vacation and kind of forgot all about it. I've only recently remembered thanks to a comment someone left on another post suggesting we try eating more turmeric. On it!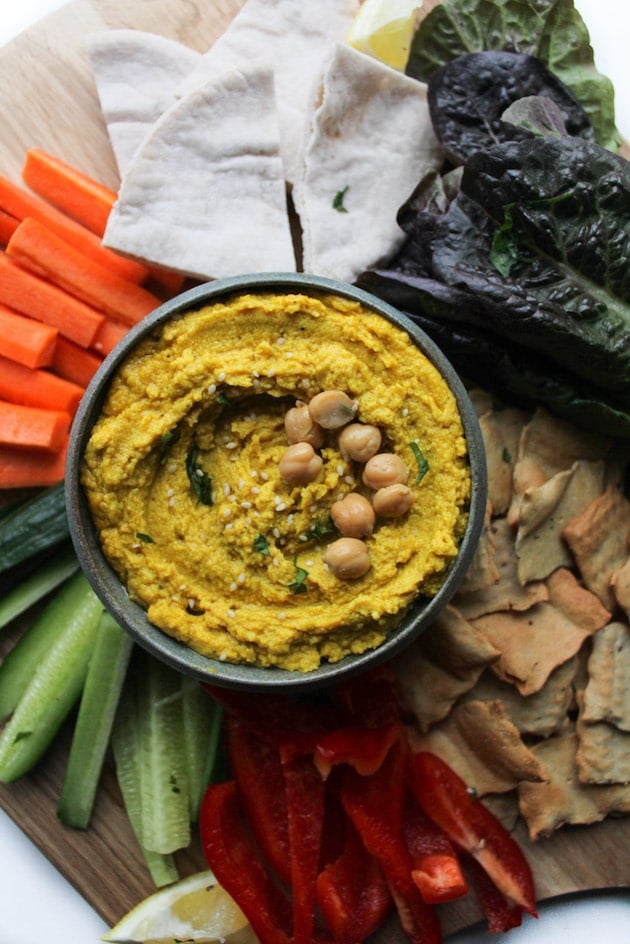 Ginger and Turmeric Hummus
The base of this recipe takes after a classic, simple hummus: chickpeas, tahini, garlic, and lemon juice. The main points of deviation here are the addition of ginger, turmeric, and black pepper. I can't make anything with turmeric without also adding ginger. You're also going to need one whole tablespoon of turmeric, but not without also adding in some black pepper. Black pepper helps increase the bioavailability of turmeric which helps your body actually absorb its nutrients….at least that's what I read on the internet so it must be true, right?
Super healing properties or not, I would still gladly eat this turmeric hummus every day because it's so good. Put in sandwiches, salads, or just off the spoon. If you love hummus, you'll love this. It's got all the garlicky punchy goodness or a regular hummus with  the earthy flavors of turmeric.
So yeah…yay for healthy trends that make for delicious foods!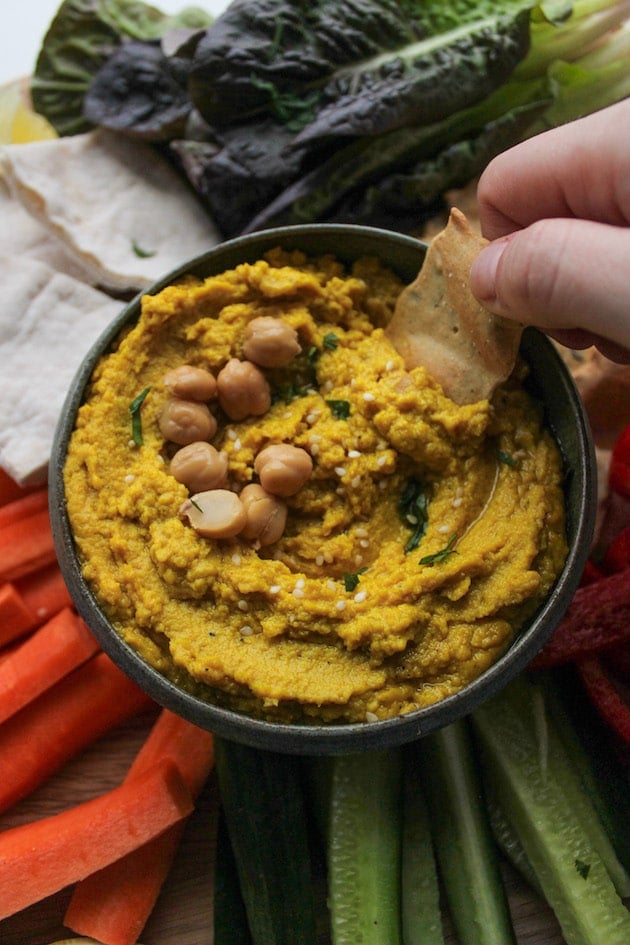 FACEBOOK | INSTAGRAM | PINTEREST  
Don't forget to #asaucykitchen on instagram if you make this turmeric hummus. We love seeing what you make!  You can also post your pictures to our facebook page!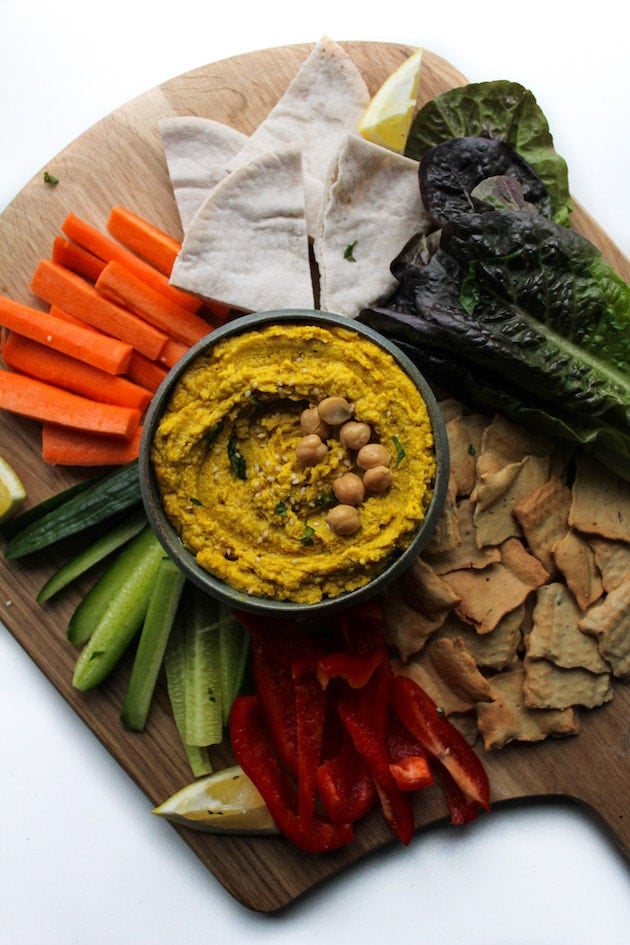 Recipe
Ginger & Turmeric Hummus
Yield:
8 servings
Prep Time:
5 minutes
Total Time:
5 minutes
Ginger & Turmeric Hummus - a classic dip with a healthy twist | Gluten Free + Vegan
Ingredients
1 can 15 ounces of chickpeas, drained & rinsed*
1/3 cup | 77 grams tahini, sesame seed butter
1/4 cup | 60 ml freshly squeezed lemon juice
2 garlic cloves
1 tablespoons turmeric powder
2 teaspoon ginger powder
2 tablespoons | 30 ml extra virgin olive oil
1 teaspoon sea salt
1 teaspoon ground black pepper
Instructions
Put the chickpeas, tahini, lemon, garlic, turmeric, and ginger in a food processor or blender and pulse until the mixture starts to become smooth. With the motor running, slowly pour the olive oil into the hummus. Add the salt and pepper and blend until smooth.
If the hummus is too thick for your liking, add water 1 tablespoon at a time until it's the right consistency.
Store leftover hummus in an airtight container for up to four days.
Nutrition Information
Yield:

8
Serving Size:
tablespoons
Calories:

141
Saturated Fat:

1g
Sodium:

442mg
Carbohydrates:

10g
Fiber:

3g
Protein:

4g
This website provides approximate nutrition information for convenience and as a courtesy only. Nutrition data is gathered primarily from the USDA Food Composition Database, whenever available, or otherwise other online calculators.