Mini Paleo Salmon Cakes made with a lemony herb aioli and notes on how to make this FODMAP friendly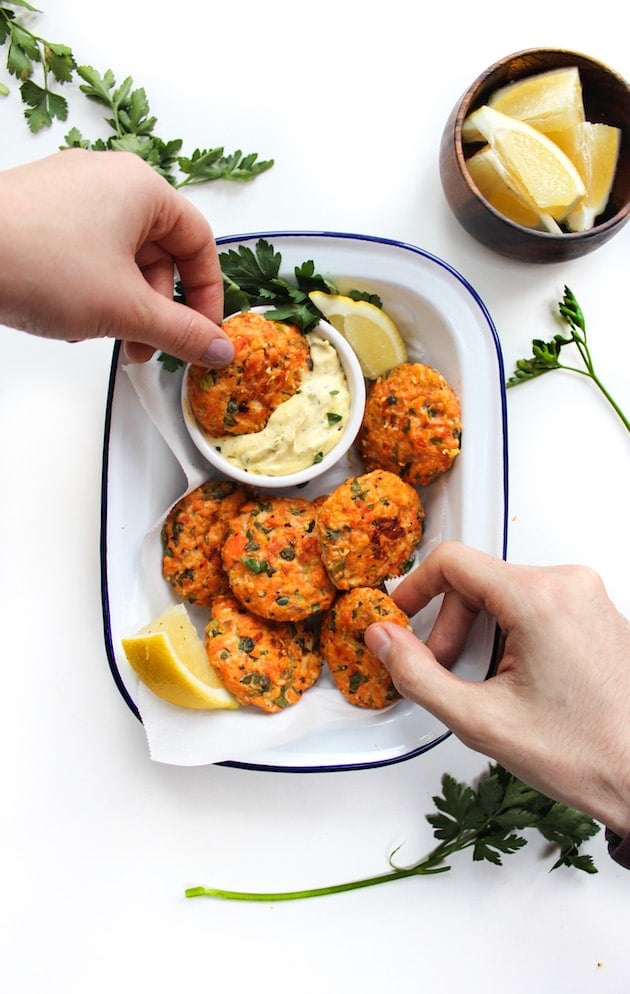 I'm sorry for being that person, but how are we already nearing the end of January? It feels like it was only last week that I was securing Mike's Heisenberg bobble head to the top of our Christmas tree. Now here I am in the last week of January brainstorming Super Bowl and Valentine's Day recipes. What gives??
But more on those recipes next week because I'm all about this mini paleo salmon cakes today! I even made a lemony herb aioli to go along with it because what are fingers foods without some sort of dipping sauce, am I right?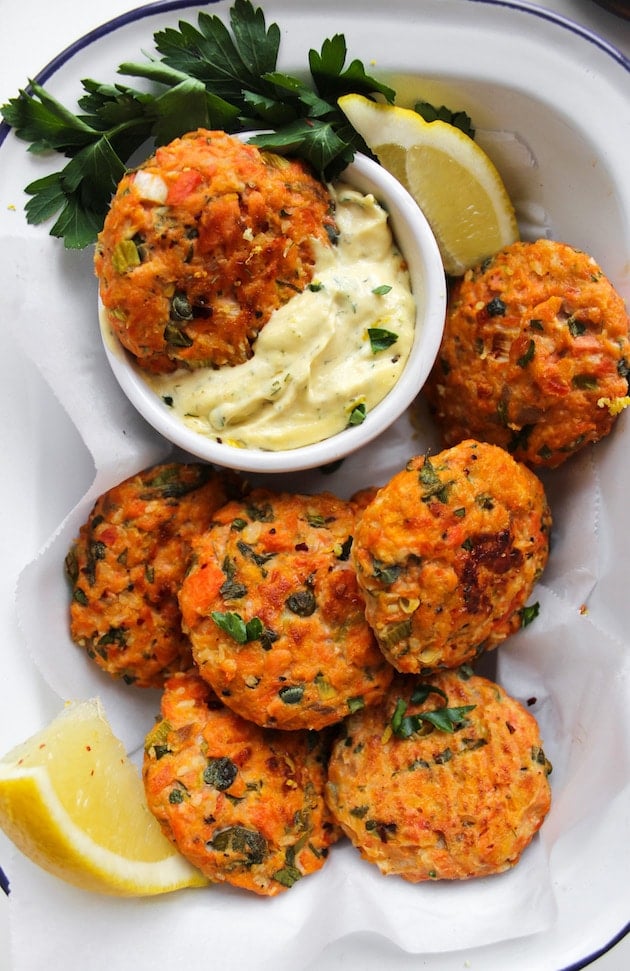 Paleo Salmon Cakes &  Herb Aioli
First things first – the salmon. You can used fresh or canned salmon depending on which you prefer. For the ones pictured here, I used fresh fillets I bought on sale that needed using quickly. If you do decide to use fresh salmon, make sure that  you weigh the fish after you cook it since fish loses moisture during the cooking process. Otherwise, canned salmon is still totally fine! They usually come in 6 oz sizes which is easy enough for this recipe.
The potatoes are also adjustable depending on what you want/have ready. I use mashed sweet potatoes here but feel free to go a more traditional route and use white potatoes instead if you'd prefer.
Low FODMAP Notes
If you're looking for a low FODMAP recipe, there are a few of things you can adapt to make this recipe work for you.
The salmon cakes are easy enough to work around. The only thing to keep in mind is to only use the green parts of the spring onions.
As for the aioli, I recommend using garlic infused olive oil so that you can still get the garlicky taste. The garlic flavour won't be as potent as a more traditional aioli but you still get the flavors without all the stomach issues later.
Sweet potato is something that can be considered high in FODMAPs, but under 1/2 cup is considered ok. This recipe only calls for 1/4 cup so we're well under the limit here.
Easy!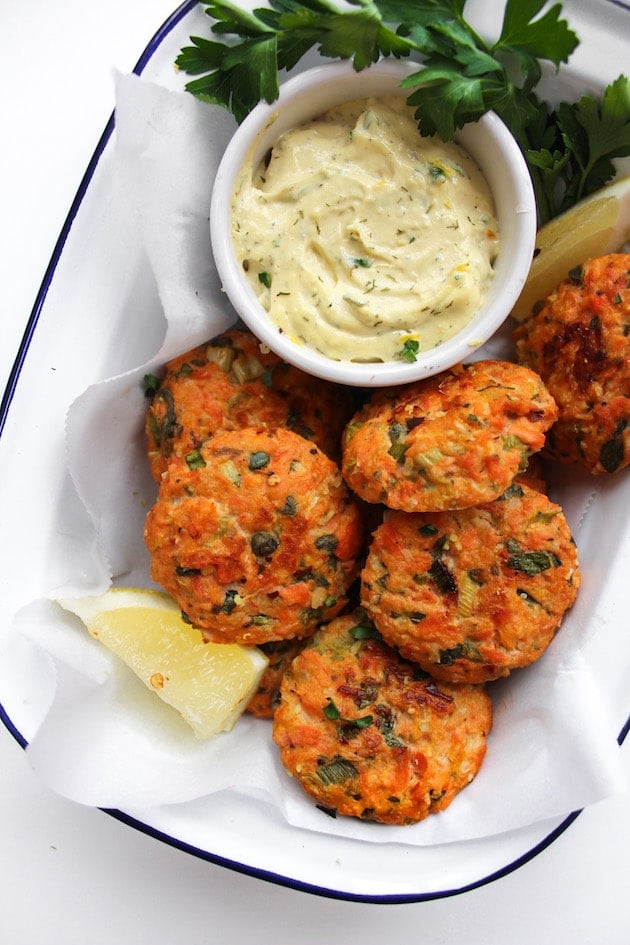 Eat these on their own with the lemony aioli or throw a few on top of your favourite side salad. You can form larger patties if you're in the mood for more of salmon burger. I may be biased but I think this aioli would make a really ace burger spread.
FACEBOOK | INSTAGRAM | PINTEREST  
Don't forget to #asaucykitchen on instagram if you make these paleo salmon cakes. We love seeing what you make!  You can also post your pictures to our facebook page!
This post contains affiliate links.  I only post links for products I personally use and believe in. If you make a purchase on Amazon after clicking one of my links, I receive a small commission and the price you pay is not affected.  Thank you!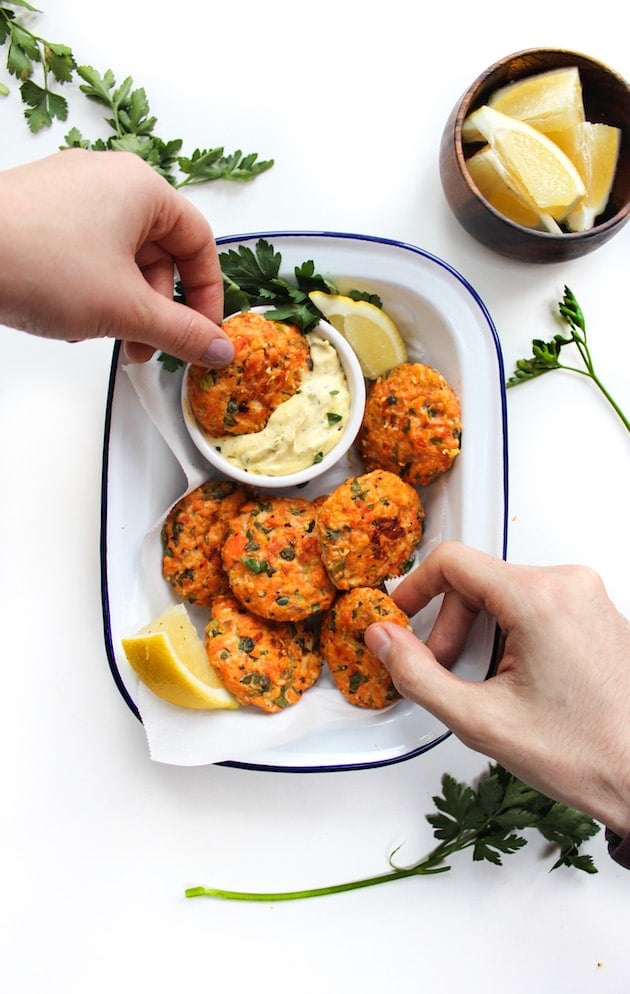 Recipe
Mini Paleo Salmon Cakes & a Lemony Herb Aioli
Yield:
10 mini salmon cakes
Prep Time:
15 minutes
Cook Time:
30 minutes
Total Time:
45 minutes
Mini Paleo Salmon Cakes & a Lemony Herb Aioli and notes on how to make this FODMAP friendly
Ingredients
2 1/4 cups | 12 oz. cooked salmon, flaked
1/4 cup mashed or pureed sweet potato or white potatoes, see notes
4 green onions, green parts only for low FODMAP, chopped
1 tablespoon fresh parsley, chopped
1 tablespoon dijon mustard
1 teaspoon lemon zest
1 tablespoon lemon juice
3 tablespoons capers, liquid drained
1 egg, beaten
3/4 teaspoon sea salt
1/2 teaspoon ground black pepper
Lemon wedges for serving
Lemon Herb Aioli
1 egg yolk
1 tablespoon fresh lemon juice
1/2 teaspoon dijion mustard
1/2 cup garlic infused olive oil for low FODMAP or regular olive oil
1 large clove garlic, omit for low FODMAP
1 tablespoons fresh parsley, chopped
1 teaspoon fresh dill, chopped
Instructions
Preheat the oven to 350°/180°C
In a large mixing bowl, add all of the salmon cake ingredients. Mix everything together with a fork util combined. Form mini patties, about 3 inches in diameter and place on the baking tray. Bake for 25-30 minutes or until firm and browned on the sides. Make sure to flip the patties over in the oven halfway through cook time.
Lemon Herb Aioli
While the salmon cakes are baking make the aioli. The easiest way to make this is with an immersion blender but you can also make this in a food processor, blender, or using an electric mixer.
Place the egg yolk, 1/2 of the lemon juice, and mustard in a small bowl or blender/processor. Start whisking/blending everything together until the mixture thickens. Then gradually pour in the olive oil. It's important to add the oil slowly because adding too much too soon will result in a runny or cuddled aioli. As the mixture thickens, add more oil until you have a thick, creamy mayo.
Add the remaining lemon juice along with the garlic, parsley, and dill and mix in by hand. Taste and season with salt if needed. Transfer the aioli to a small bowl and serve with the salmon cakes. Store left overs in an airtight container in the fridge for up to a week.
Notes
Makes 10-12 small patties
If you don't have any mashed potatoes on hand you can make it easily by peeling and chopping 1 large potato (white or sweet) and placing the chopped pieces in a small pan. Cover the potatoes in 1 inch of water and bring to a boil on a high heat. Reduce the temperature and cover. Let heat for 15 minutes of until you can easily pierce the potatoes with a fork. Drain the potatoes and place in bowl. Mash with a fork until no lumps remain.
Recipe adapted from paleo leap
Serving size tablespoon of the lemon aioli: Calories: 86 Fat: 10 g Carbohydrates: 0g Sugar: 0 g Sodium: 6mg Fibre: 0g Protein: 0g
Nutrition Information
Yield:

10
Serving Size:
serving
Calories:

61
Cholesterol:

35mg
Sodium:

281mg
Carbohydrates:

1g
Protein:

7g
This website provides approximate nutrition information for convenience and as a courtesy only. Nutrition data is gathered primarily from the USDA Food Composition Database, whenever available, or otherwise other online calculators.
MORE SALMON RECIPES YOU MIGHT ENJOY