Honey Lime Salmon| easy + healthy 15 minute dinner that's gluten free & paleo friendly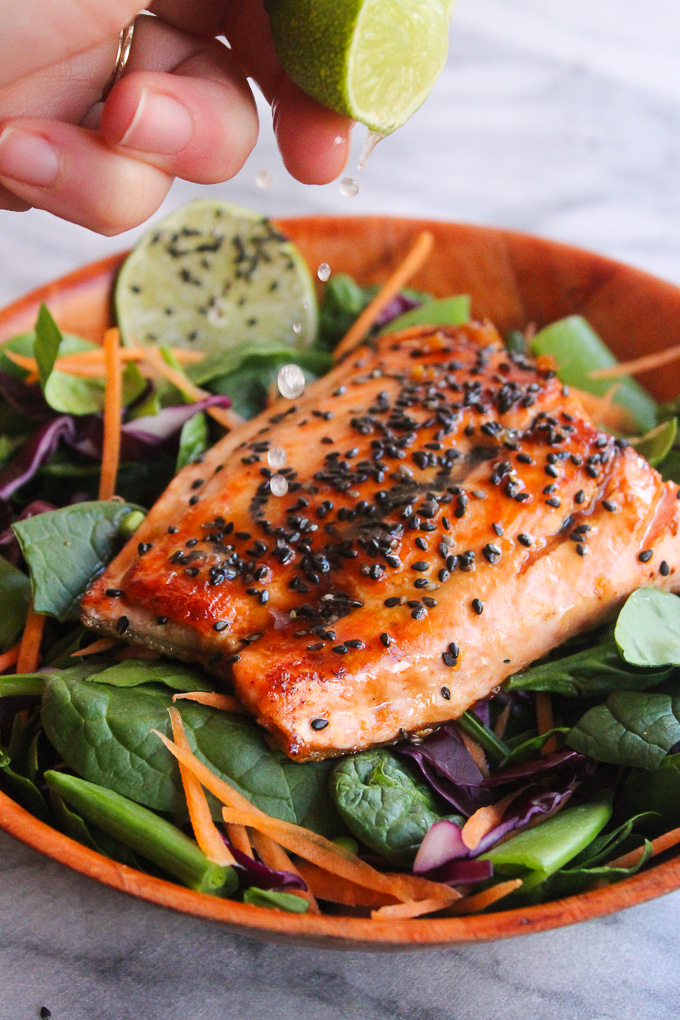 On a side note just before I get to the honey lime salmon that I'm sharing today — I made a video! I've been playing with the idea of making videos to go along with my recipes for a long time now and I'm finally finding the 'umph' to get them done. So yes…if you'd like to see more videos let me know and I'll get it done! Cool?
Now on to other things!
It's leap day today! Do people do things on leap day? Is that a thing? I'm pretty sure my last leap day was spent on a plane from Manchester back to Arizona after visiting Mike here in Sheffield for the first time. It feels like that was forever ago, and yet it feels like it was last month. Time is bonkers.
Enough with my musings – we're talking honey lime salmon today and it's currently my favorite thing in the world after this avocado tahini dip that I've been putting on absolutely e v e r y t h i n g . Don't you love it when you suddenly remember a food that you've forgotten you love?
Mike's been telling me to put this recipe up for weeks now. This is a recipe that I really should have shared a long time ago, but somehow it just kept getting pushed to the side for one reason or another. Procrastination will be my downfall.
We've been eating a lot more salmon here lately hoping to fill up on healthy omega 3 fats. Mike's arthritis has been playing up for some reason so I've been trying to make foods revolving around healthy fats and anti inflammatory foods to help combat the pain. Even if it doesn't do much to stop the pain, at least we'll have nice glowing skin from all the fish that we eat.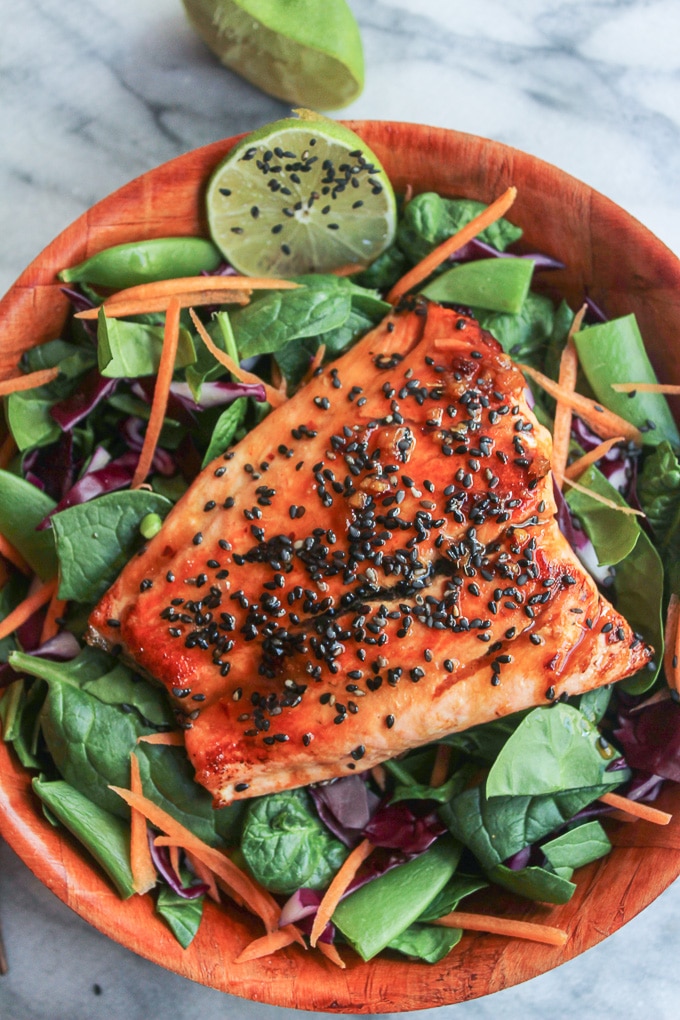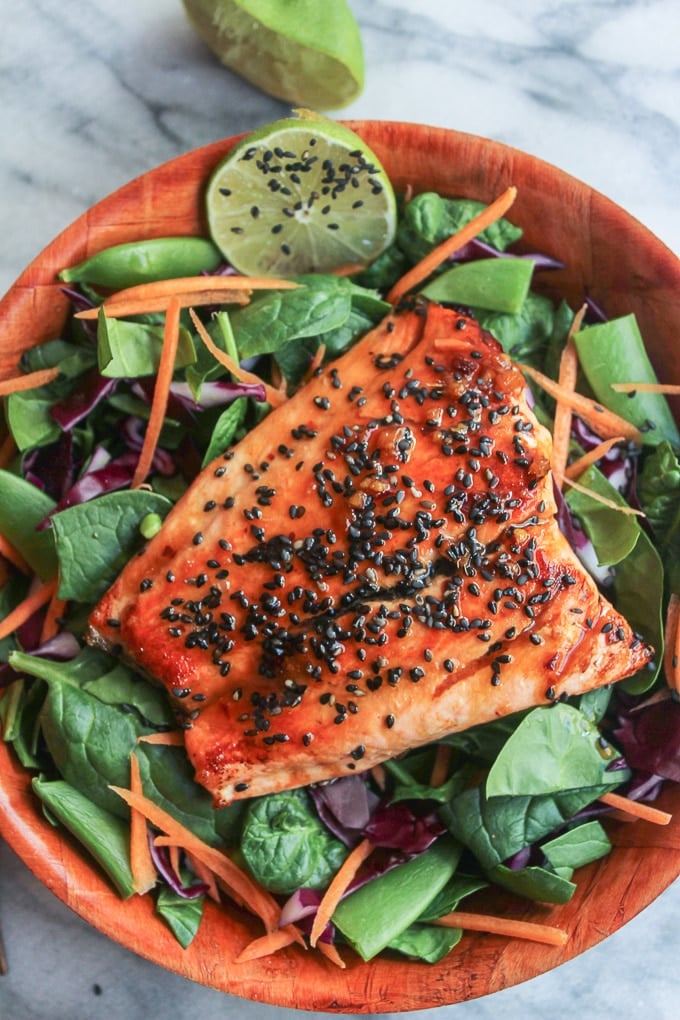 The salmon is pan fried quickly on the stove top with a five minute honey lime sauce that perfect for drizzling over a side salad or a bowl of sticky rice. All you need is about 15 minutes start to finish making it a perfect weeknight meal! Say hello to your new favorite salmon.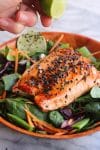 Honey Lime Salmon
15 minute honey lime salmon
Ingredients
1 1/2

tablespoon

coconut oil

divided

2

salmon fillets

8 oz total

1/4

teaspoon

red chili flakes

1

garlic clove minced

1

teaspoon

grated ginger

2

tablespoons

gluten free soy sauce/ tamari or coconut aminos

2

tablespoons

honey or maple syrup

juice from half a lime

1

teaspoon

cornstarch or arrowroot starch for paleo version

salt to taste

tablespoon

sesame seeds
Instructions
Begin with making the sauce by melting 1/2 tablespoon of coconut oil in a small sauce pot on a low heat. Add the ginger, the chili flakes, and the garlic and whisk together. Turn the heat up to medium and add the honey, the soy sauce and the lime juice and whisk. Allow the sauce to boil just slightly and then add the cornstarch and whisk to break up the clumps. Once the sauce has thicken remove it from the heat and move on to the salmon.

Melt one tablespoon of the coconut oil in a frying pan on a medium heat. Once the pan is hot and spitting slightly add the salmon fillets skin side down. Let the salmon fry for at least 2 minutes without moving it so that the skin gets crispy. Check how it's doing and allow it to fry another 1-2 minutes before flipping it and frying the other side.

Add a a couple spoonfuls of the honey lime sauce to the frying pan with the salmon and let everything cook for another minute before removing from the heat. Sprinkle with sesame seeds, serve immediately and enjoy
Recipe Notes
*Since coconut aminos have about 65% less sodium than soy sauce/tamari you may want to gradually add in a pinch or two salt to balance out the sweetness.
Calories: 229 Fat: 12 g Saturated fat: 9 g Carbohydrates: 19 g Sugar: 11 g Fiber: 0 g Protein: 24 g
She brains and reluctant dishwasher for A Saucy Kitchen