These Gluten Free Apple Fritters are easier to make than you might think – made with a simple gluten free donut batter with diced apples mixed in to every bite. They're quickly fried then coated in a quick icing-sugar glaze. | Gluten Free + Vegan Option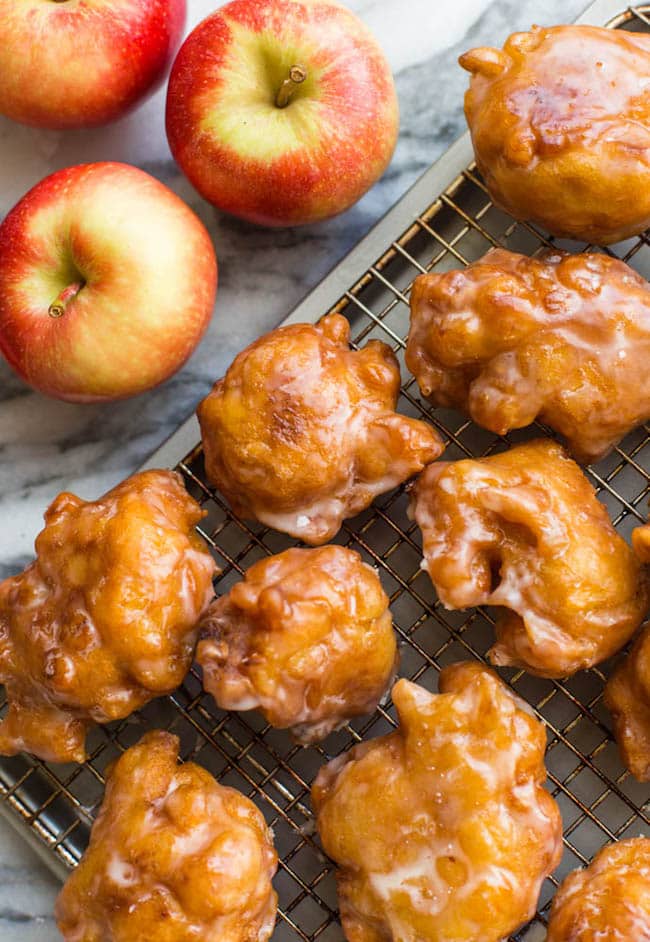 Four words: Gluten Free Apple Fritters
We're talking crispy, perfectly fried exteriors and soft and tender apple-studded interiors lightly spiced with cinnamon, nutmeg and ginger and then dipped in a simple yet delicious icing glaze.
These fritters are just so insanely delicious and I promise you wouldn't even know they were gluten free if you didn't know better. So let's get to it!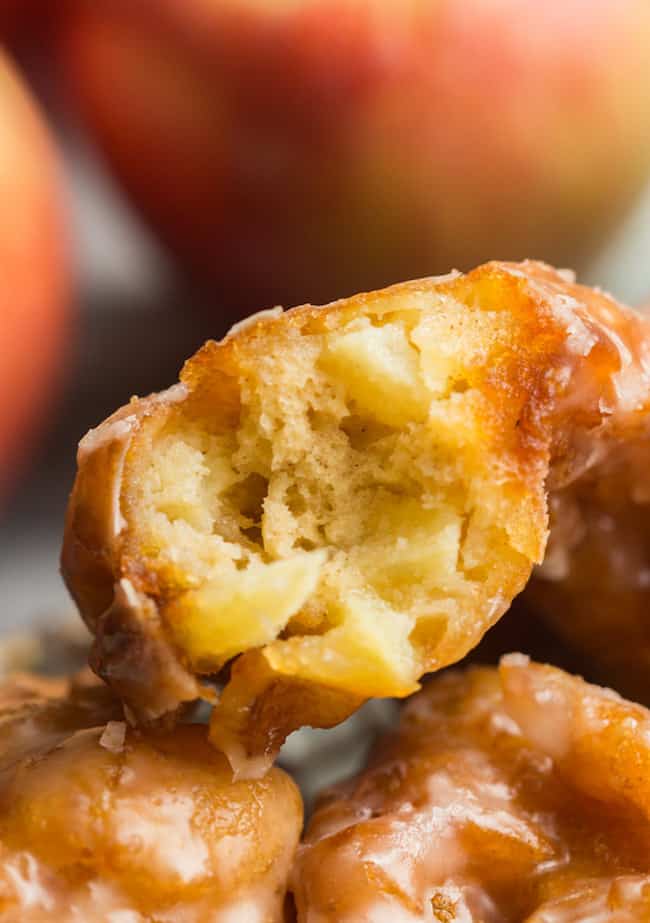 How to Make these Gluten Free Apple Fritters
Whisk together the dry ingredients: Simply whisk together a blend of gluten free all purpose flour, a few seasonal spices, salt, and a couple spoonfuls of brown sugar until combined.

Stir in the wet ingredients: In goes a little milk, a couple of eggs (read on below for an egg free option), vanilla extra and a small amount of oil.

Add the apple chunks: I recommend peeling your apples. As for what type of apple – it's really up to you. Ideally you don't want to use something like red delicious because it's soft and likely to for mushy. Granny smith, honey crisp and golden delicious are all great options but ultimately just use what you have.

Fry in oil: Ideally you want to use an neutral-tasting oil with a high smoking point like rapeseed, vegetable or peanut. Extra virgin olive oil and coconut oil are not suitable for frying because of their low smoke point.

Cool on a wire rack: Cooling on a wire rack allows the excess oil to drip off with a little airflow on the bottom of the fritters which will keep them from going soggy too soon.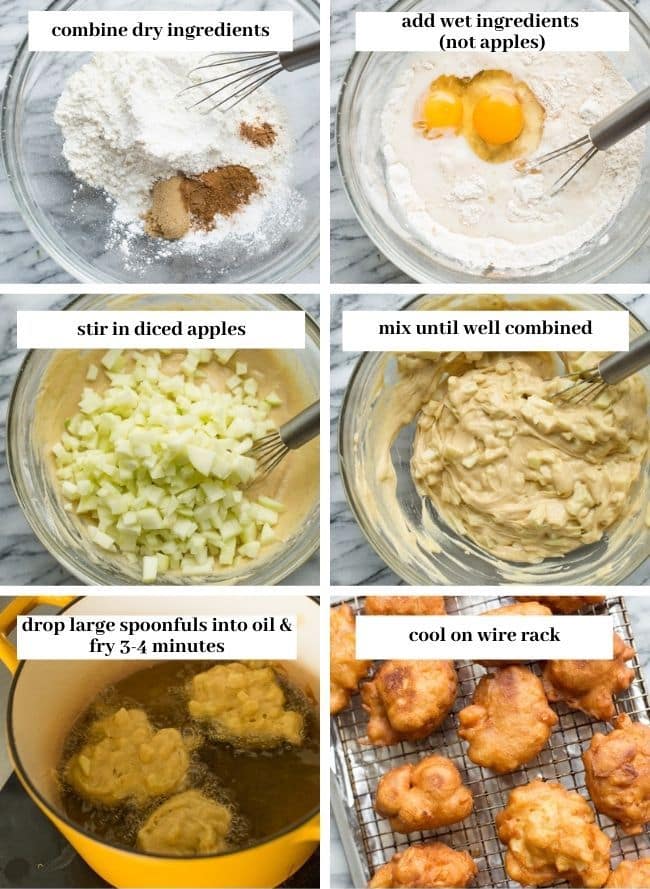 Once fried you can enjoy these gluten free fritters as is. They're not overly sweet at this point because there's not too much sugar in the dough. Depending on your personal tastes you might like these as they are, or prefer them with a little icing sugar.
To whip up a quick icing glaze, simple whisk together powdered (icing) sugar in with a little vanilla extract and milk. For a thicker glaze add less milk and for a thinner glaze add more.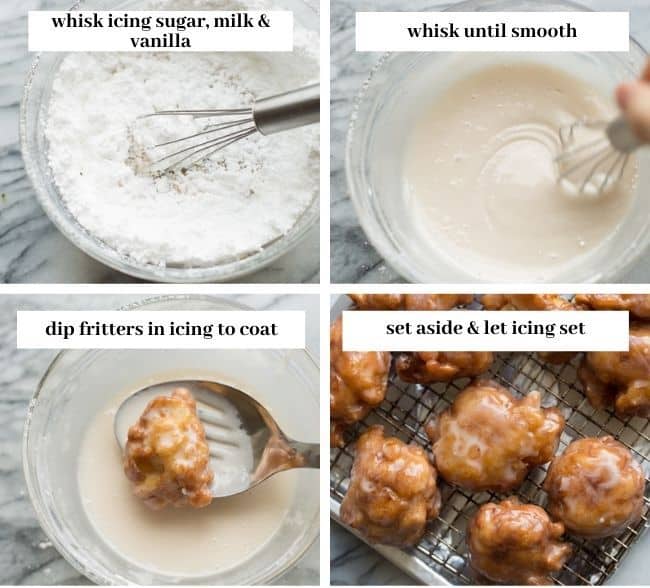 Tips & Variations
Make sure the oil is hot before frying.
Use a candy thermometer or meat thermometer if possible to check the correct temperature. Ideally you want the oil to be between 360-375°F (180-190°C) before adding the fritter dough. This is important for cooking the fritter quickly and evenly.
Use metal tongs to remove fritters from oil and to check if the batter is cooked on the inside.
If you're not sure whether or not your fritters are cooked on the inside, use a pair of metal tongs to squeeze the fritters open slightly. By doing this, you'll be able to actually see if the batter is cooked. You don't need to worry about breaking open the fritters because they are not uniform anyway. More breaks in the fritter just means more surface area that will crisp up in the oil.
Make this egg free with aquafaba.
If you're not familiar with aquafaba you can learn more about it in this Aquafaba Chocolate Mousse Recipe. Basically the gist of it is that aquafaba = bean water. Typically this refers to the goopy brine/water you find in cans of white beans (more specifically, chickpeas).
Since this recipe is based off of my gluten free donut recipe which also includes aquafaba as an egg substitute, I tested these fritters out with chickpea water and they worked perfectly!
Instead of using 2 chicken egg just use 6 tablespoons of chickpea water/aquafaba.
Sprinkle powdered sugar over the top instead of icing.
To save yourself a little time and mess, just sprinkle powdered sugar over the top when these are still warm – you'll end up with a fair-worthy funnel cake-like fritter.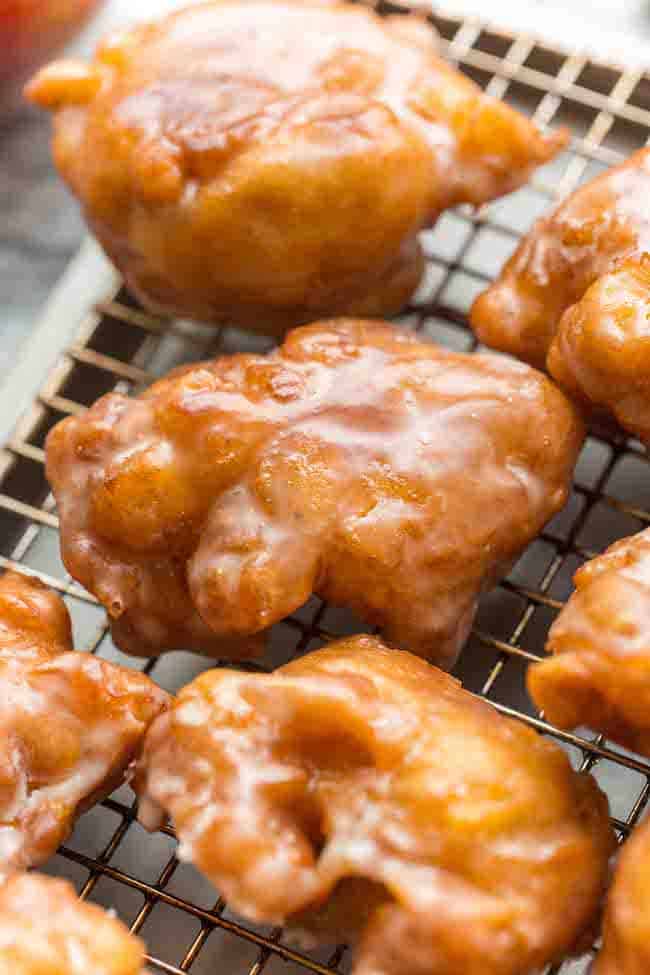 Who needs Dunkin Donuts?!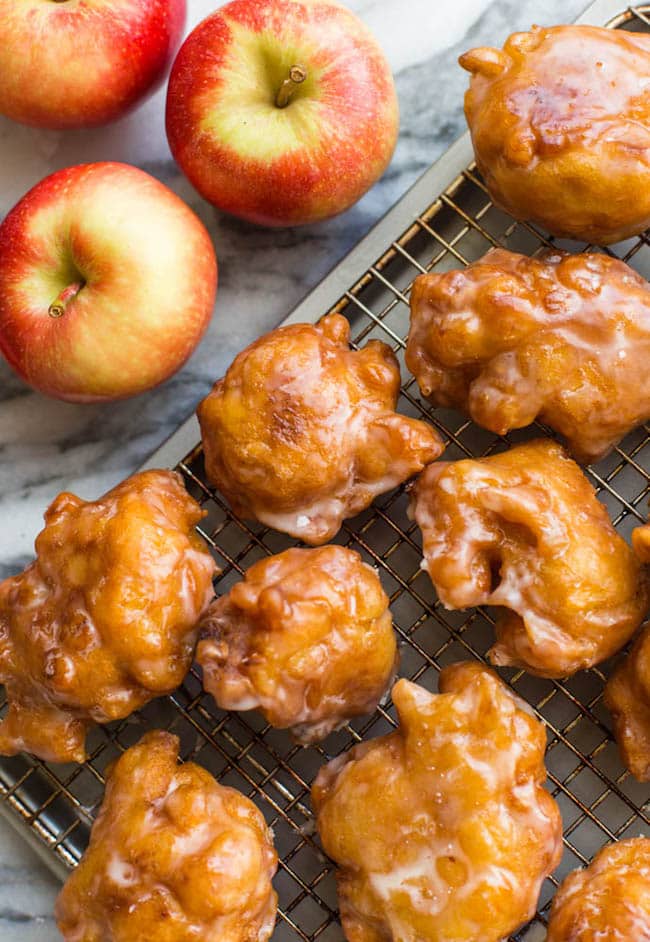 Recipe
Gluten Free Apple Fritters
Yield:
12-15 (depending on the size)
Prep Time:
10 minutes
Cook Time:
20 minutes
Total Time:
30 minutes
These Gluten Free Apple Fritters are easier to make than you might think - made with a simple gluten free donut batter with diced apples mixed in to every bite. They're quickly fried then coated in a quick icing-sugar glaze. | Gluten Free + Vegan Option
Ingredients
1 1/2 cup gluten free flour blend (210 g)
3/4 teaspoon xanthan gum (only add if your GF flour blend doesn't already contain xanthan)
1 teaspoons ground cinnamon
1/4 teaspoon ground nutmeg
2 teaspoons baking powder
1/2 teaspoon salt
2 tablespoons light brown sugar (28 g)
2/3 cup milk, dairy or non dairy (160 ml)
1 tablespoon oil (15 ml)
2 eggs or 6 tablespoons aquafaba (90 ml)
2 teaspoons vanilla extract
2 apples, peeled and finely diced
Icing Glaze
3 cups powdered/icing sugar (375 g)
3 tablespoons milk, dairy or non dairy (45 ml)
1/2 teaspoon vanilla extract
Instructions
Whisk together the flour, xanthan gum, baking powder, salt, cinnamon, nutmeg and sugar together in a large mixing bowl.
Stir in the milk, oil, eggs (or aquafaba) and vanilla extract. Whisk thick, smooth batter until no lumps remain.
Stir in the apples.
In a large skillet or pot add the frying oil so that it's about 1 1/2 - 2 inches deep. Turn the heat to medium-high and let the oil get hot. You want to oil to be about 360-375°F/80-90°C before adding the batter.
When the oil is hot, begin adding the batter. Using a big spoon, scoop out some batter (about 1-2 tablespoons worth) and drop into the hot oil. Make sure to carefully drop the batter into the oil so that it doesn't splash. Leave some space between each fritter so they cook evenly - how many you can fry at a time will depend on the size of your pot. You will likely be able to fit 3-4 at time. Let each fritter cook about 3 minutes on each side before flipping over and frying another 2-3 minutes. Repeat until all the batter has been used up.
When you're done, carefully remove the fritters from the oil and let cool on a wire cooling rack.
To make the icing: whisk the icing sugar, milk and vanilla together in a small bowl until a thick glaze forms. For a thicker glaze add more icing sugar and for a thinner glaze add more milk.
When the fritters have cooled slightly, dip in the glaze and then set back on the cool rack to let the excess glaze drip off. Coat each fritter in glaze and enjoy!
Notes
What type of oil?
Ideally you want to use a neutral-tasting oil with a high smoking point like rapeseed, vegetable or peanut. Extra virgin olive oil and coconut oil are not suitable for frying because of their low smoke point.

Make these egg free:
Instead of two eggs you need to use 6 tablespoons of aquafaba – the watery brine found in can of white beans like chickpeas. It sounds weird, but it works! Just make sure to use unsalted beans.

What type of gluten free flour to use?
This website provides approximate nutrition information for convenience and as a courtesy only. Nutrition data is gathered primarily from the USDA Food Composition Database, whenever available, or otherwise other online calculators.