Looking for a new way to use up ripened bananas? This homemade banana fritters recipe is quick, easy and made with basic ingredients! Simply mix, mash and fry into light and crispy, mouth watering, delicious bites of goodness. | Gluten Free + Vegan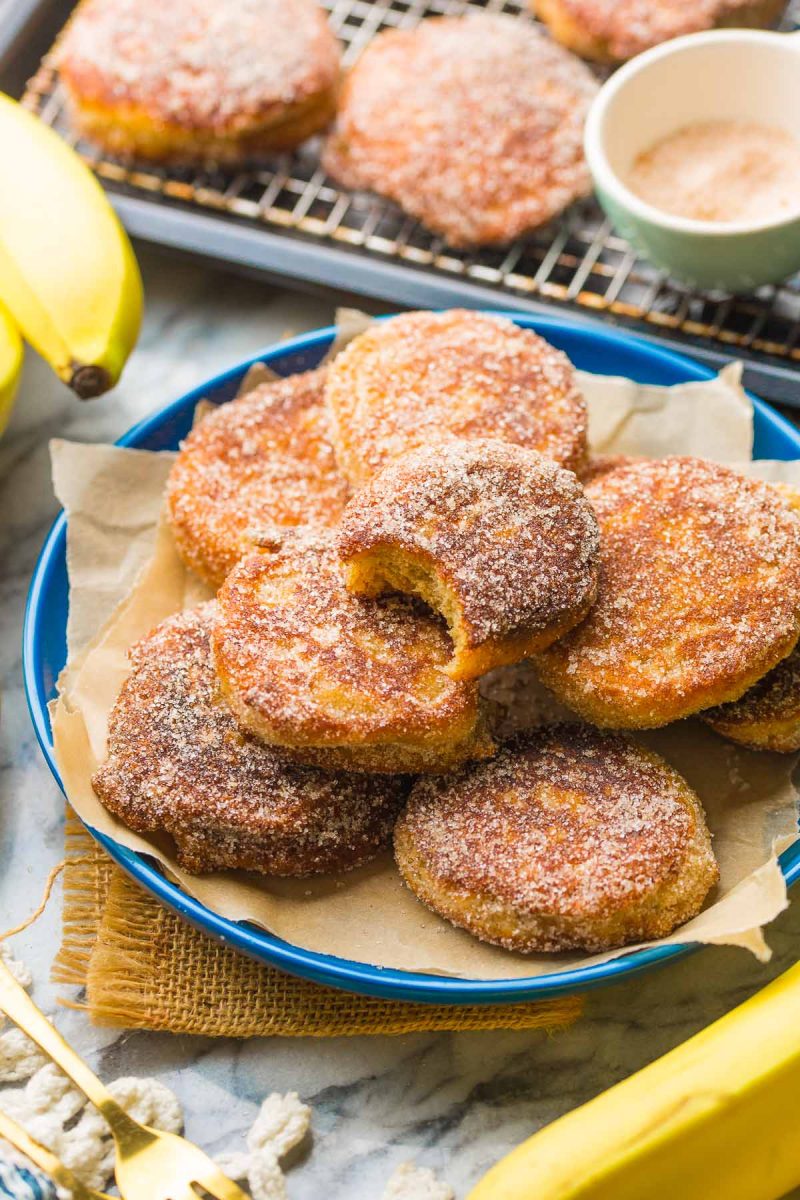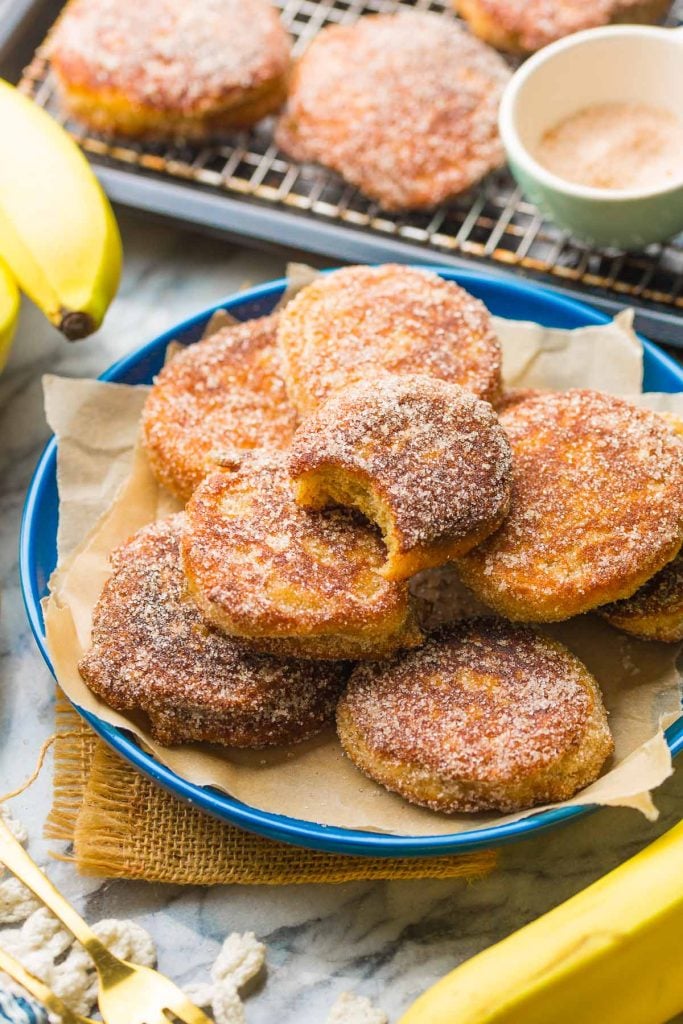 Sweet, simple and oh-so satisfying!
Banana fritters come in quite a variety of different shapes and sizes depending on where in the world you find them.
Recipes like the ones found in Indonesia (Pisang goreng) are often made by dipping banana slices into a thick batter before frying. Fritters in Thailand are usually served coated in sesame seeds. Filipino fritters are often fried without any batter at all and topped with a simple sugar glaze.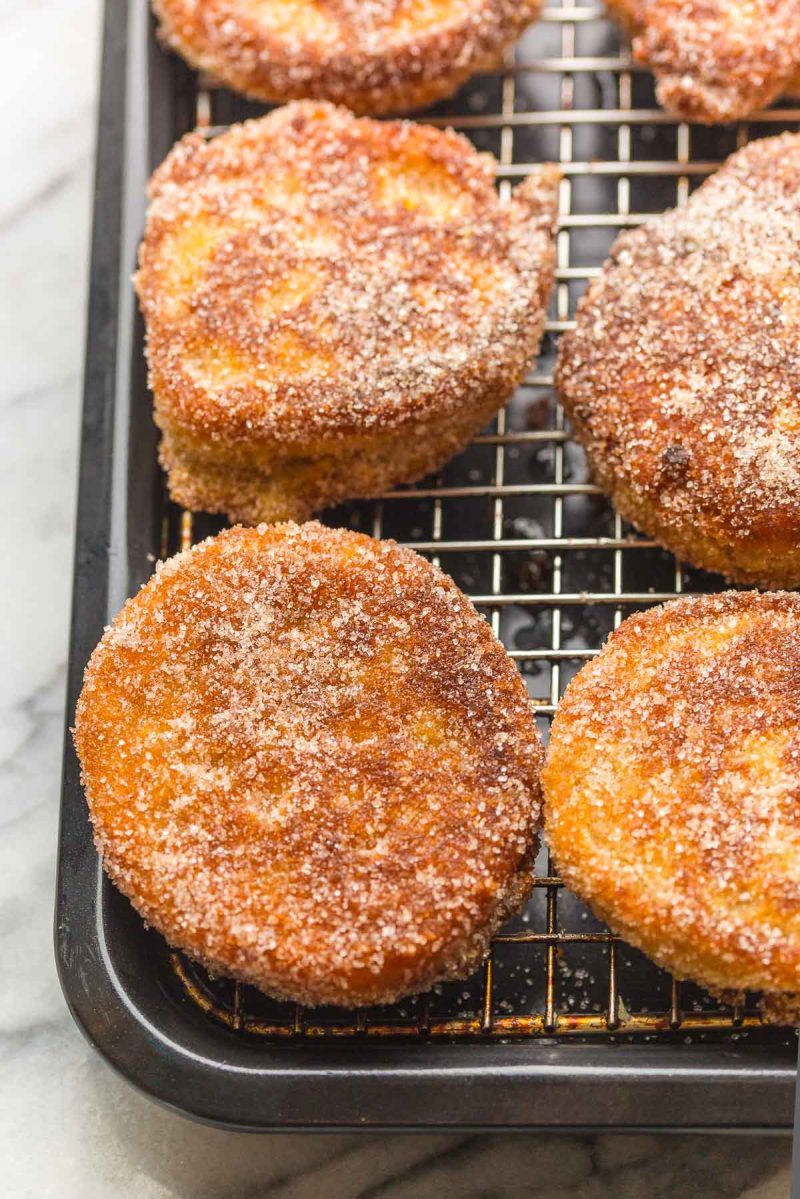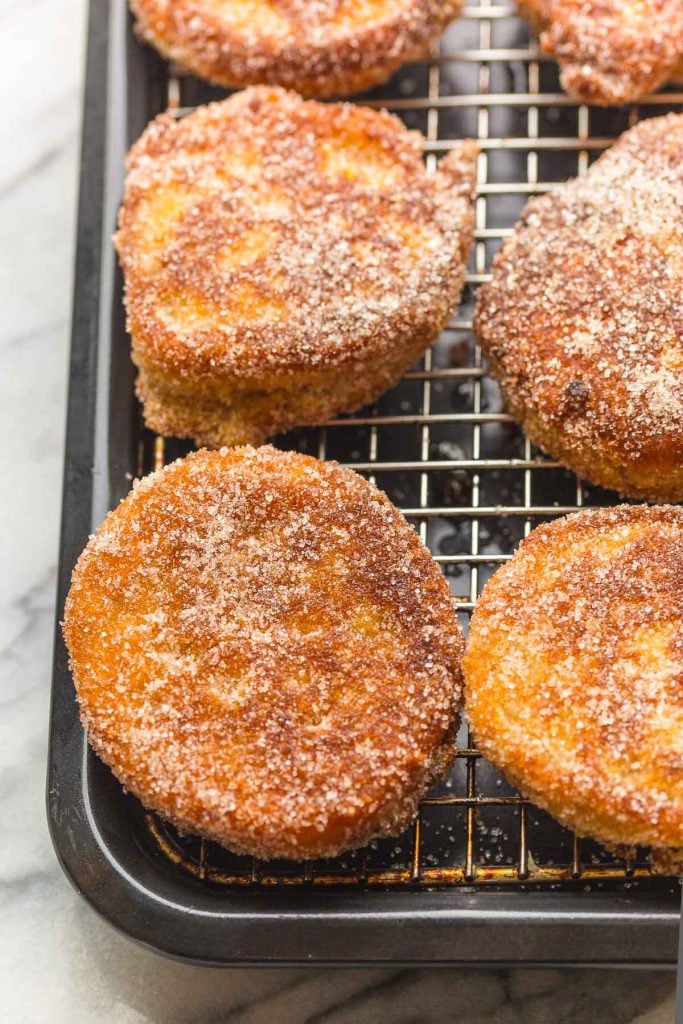 These fritters are most similar to Jamaican Banana Fritters consisting of ripe bananas mashed and mixed into a simple batter and fried until crisp. The end result is a light and airy fritter that's soft on the inside and crisp on outside. Think banana bread mixed with funnel cakes and you've got banana fritters!
How to Make Banana Fritters
Altogether this is a fairly easy recipe to make without too many ingredients or steps. To sum it up into basic steps: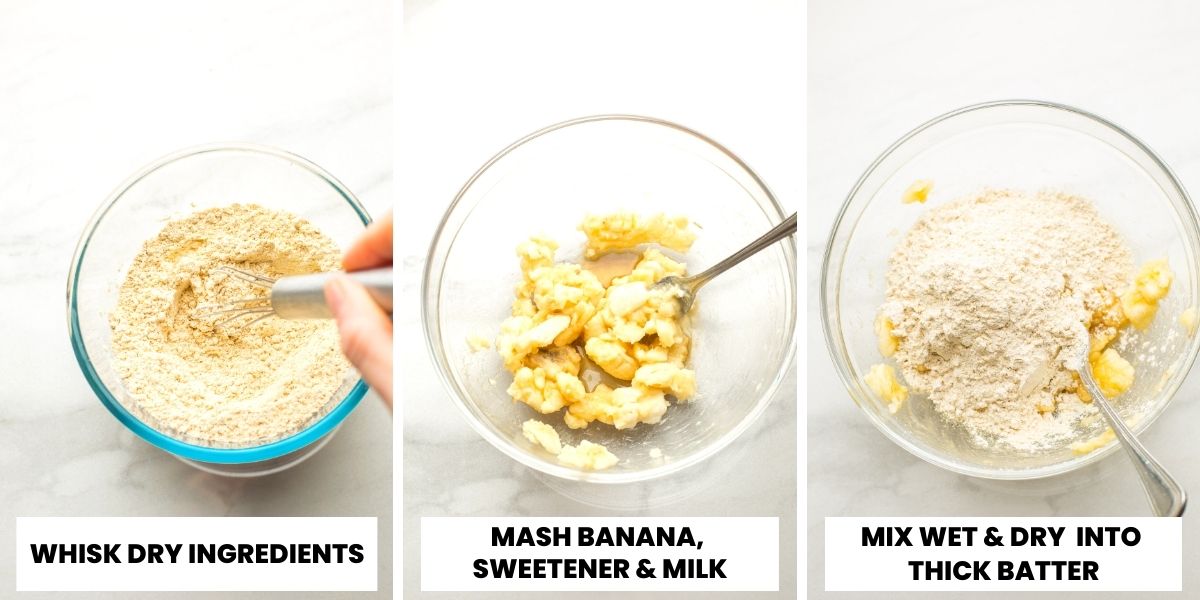 Make the batter:

Whisk together the dry ingredients in a large bowl.
Mash the bananas and mix in the milk (dairy free) and vanilla extract in a separate bowl.
Add the banana mixture to the flour mixture and mix into a thick, cakey batter.

Fry & cool:

Add small amounts of fritter batter to frying pan with hot oil and fry about 2-3 minutes on each side until golden brown.
Cool the freshly fried fritters on a wire rack.

Glaze or coat in a cinnamon-sugar mixture (optional*):

Mix together a small amount of cinnamon and sugar to dip the fried fritters into.
Alternatively you can make a glaze by whisking together a small amount of honey or maple syrup with icing sugar (also known as confectioners' sugar).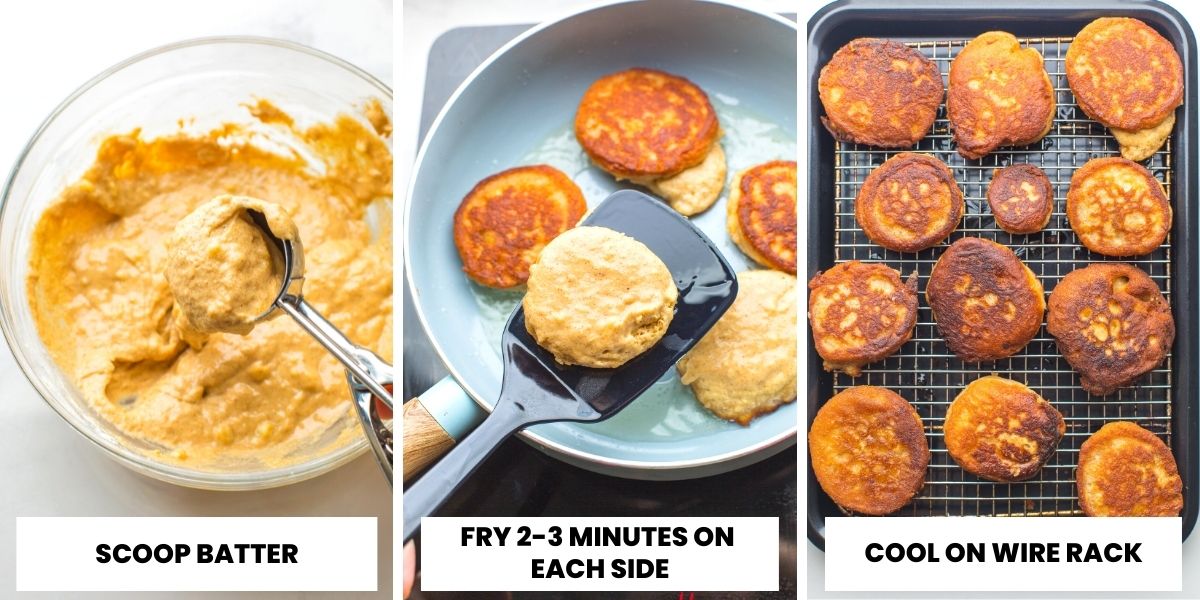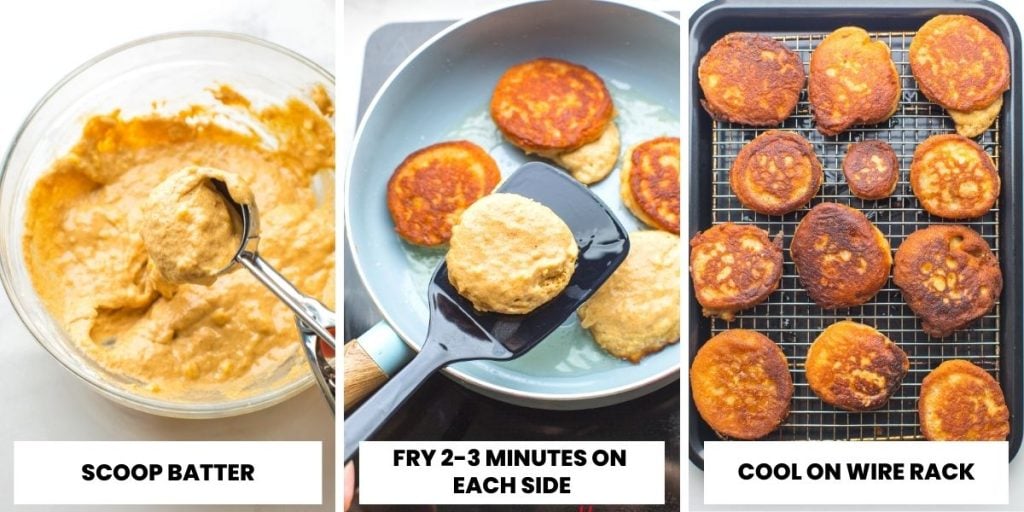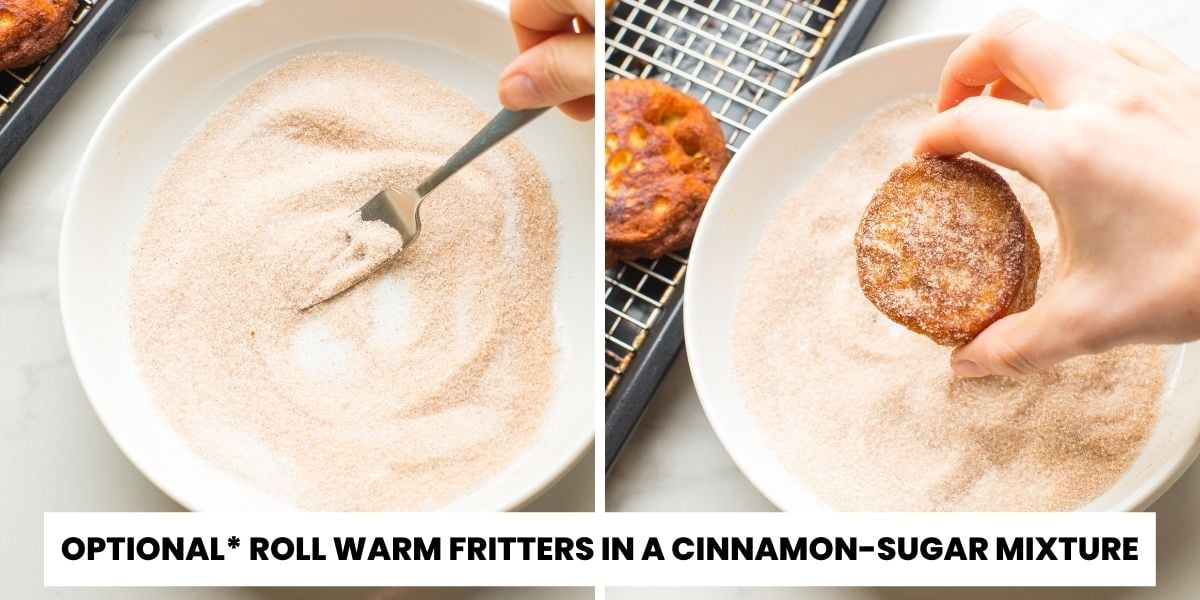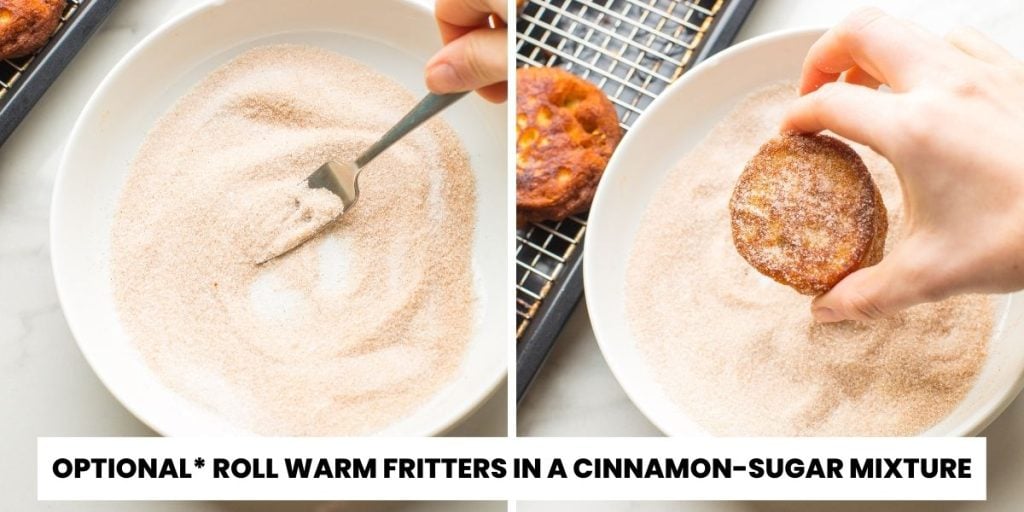 Key Ingredients
Chickpea Flour (also known as gram flour or garbanzo flour):

Chickpea flour is a fantastic gluten free flour that is particularly useful when it comes to vegan cooking thanks to its naturally binding nature. With chickpea flour you can often leave out other binding agents like eggs and xanthan gum.

Corn starch (known as cornflour if you're in the UK):

I decided to add cornstarch to the batter for an extra crispy, extra golden crust.
Cornstarch also helps to make for a lighter fritter. Chickpea flour is absorbent meaning it will soak in a good amount of oil while cornstarch blocks excess oil absorption.

Baking powder:

Baking powder releases carbon dioxide bubbles when exposed to heat. These bubbles expand when cooked allowing the fritters to puff up. Without the baking powder your fritters would be more dense and flat like a pancake.

Bananas:

Keep in mind that the more ripe the bananas, the sweeter the fritters.
You can mash the bananas up until entirely smooth, or leave large chunks intact. You can also chop or slice the bananas if you want more noticeable banana chunks after frying.
Tip: Don't eat the batter!
Raw chickpea flour tastes bad. Cooked chickpea flour on the other hand is totally fine. Once cooked, the bitter, bean-like flavour and smell goes away and the earthy, nutty flavor works well with the sweet banana flavors.
Questions & Tips
What type of oil to use?
Ideally you want to use a neutral-tasting cooking oil with a high smoking point like rapeseed, vegetable or peanut. Extra virgin olive oil and coconut oil aren't for frying at high temps because of their low smoke point. That being said, if you shallow fry these fritters over a medium heat you should be fine. I used coconut oil myself and didn't have any issues.
Deep Fry Vs Shallow Fry
Deep frying is when food cooks as it is fully submerged in oil. Shallow frying is when food is only partially submerged as it cooks. According the wiki article I found, the oil absorption rate is technically the same no matter which method you use. You can use either method here, each method has its own pros and cons:
Deep Fry: The fritters will have a crispier exterior with a juicier interior. They'll also cook much faster with less fussing (no need to turn and fry each side). You will need to use more oil.
Shallow Fry: You'll use much less oil and you'll be able to get away with using coconut oil if you prefer. It will take make a little more time to flip over each and every side.
More Recipes Made with Chickpea Flour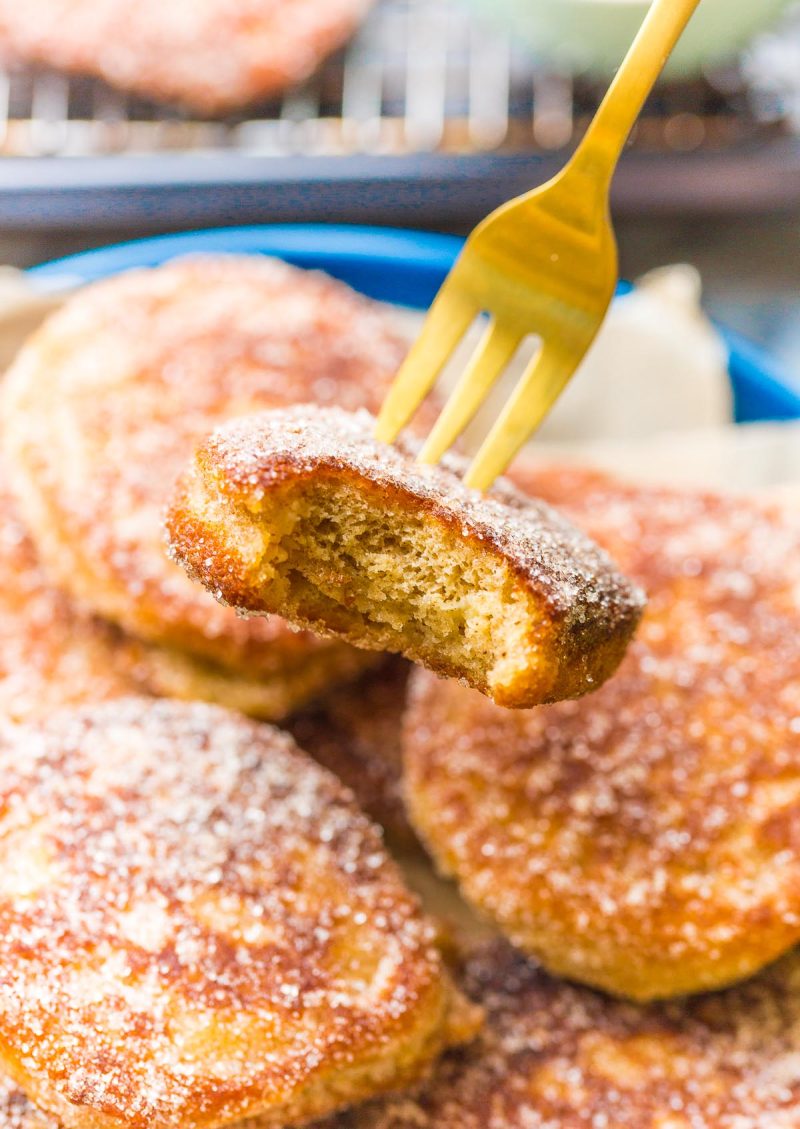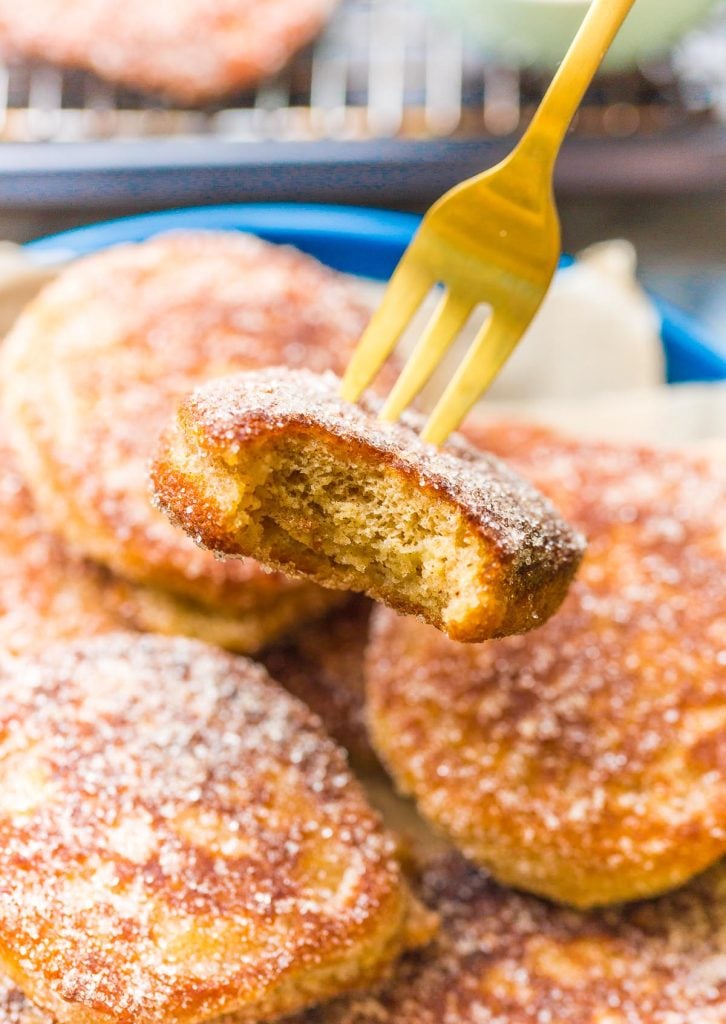 Tips
Make sure to fully heat oil before frying.

If you choose to deep fry the fritters: use a candy thermometer or meat thermometer if possible to check the correct temperature. Ideally you want the oil to be between 360-375°F (180-190°C) before adding the fritter batter. This is important for cooking the fritter quickly, evenly and less oily.
If you shallow fry: check that the oil has heated fully by wetting the tips of your fingers and then flicking the water droplets into the oil. If the water sizzles when it hits the oil – you're good to go.

Don't make the fritters too big.

Try to avoid adding too much batter to the oil at once. If your fritters are too big the outsides will cook much faster than the insides which could lead to an undercooked center. Large fritters will also be trickier to flip which is a pain in and of itself. I found the sweet spot to be about 2-3 tablespoons of batter at a time or 1/4 cup at most.

Cool on a wire rack and not paper towels.

Place a wire rack over a large sheet pan to catch the oil. As you remove the fritters from the skillet, transfer to the rack to cool. This will allow the excess oil to drip off while also getting a bit of airflow underneath which ensures your fritters stay crispier longer. If left on paper towels, the fritters will stay damp and oily.
And that's it! Light and crispy delicious fritters made in under an hour!
Enjoy
Let me know if you try this gluten free banana fritter recipe! Leave a comment and review with your thoughts. I always appreciate the feedback and serving suggestions that you come up with!
If you like these you may also be interested in trying my gluten free apple fritters and pumpkin fritters as well!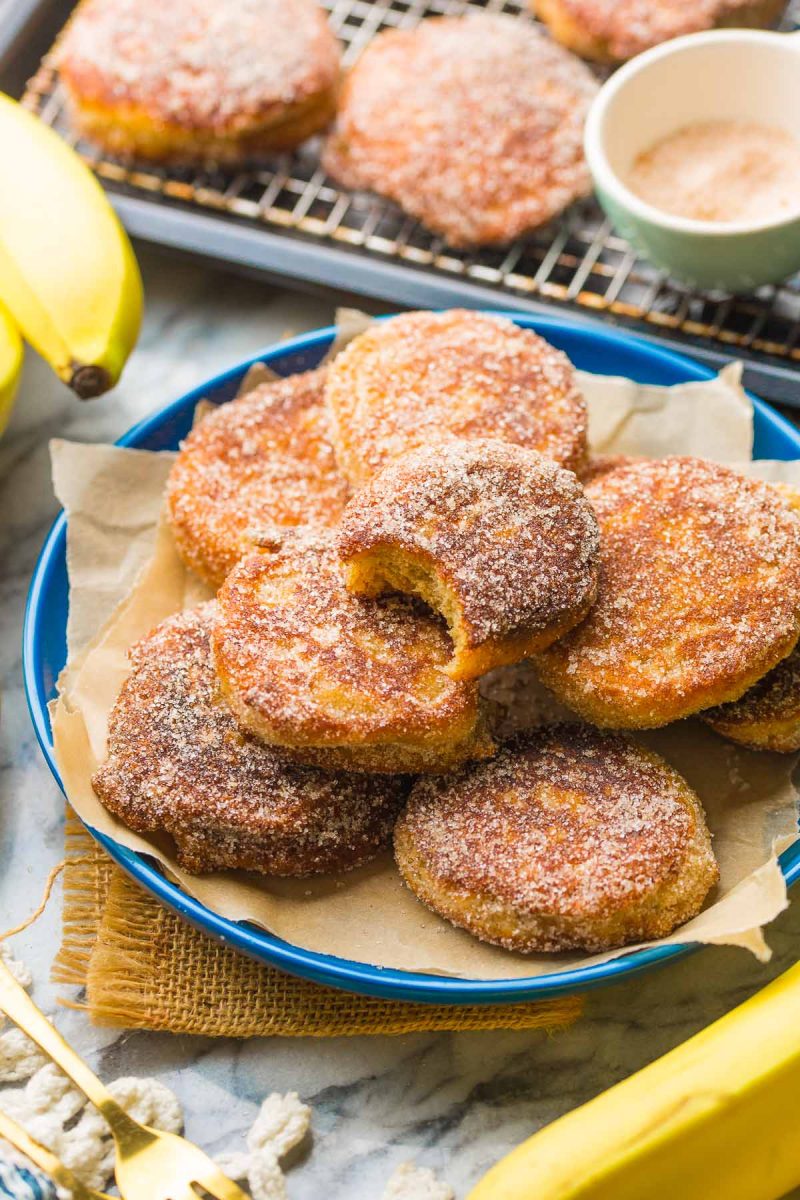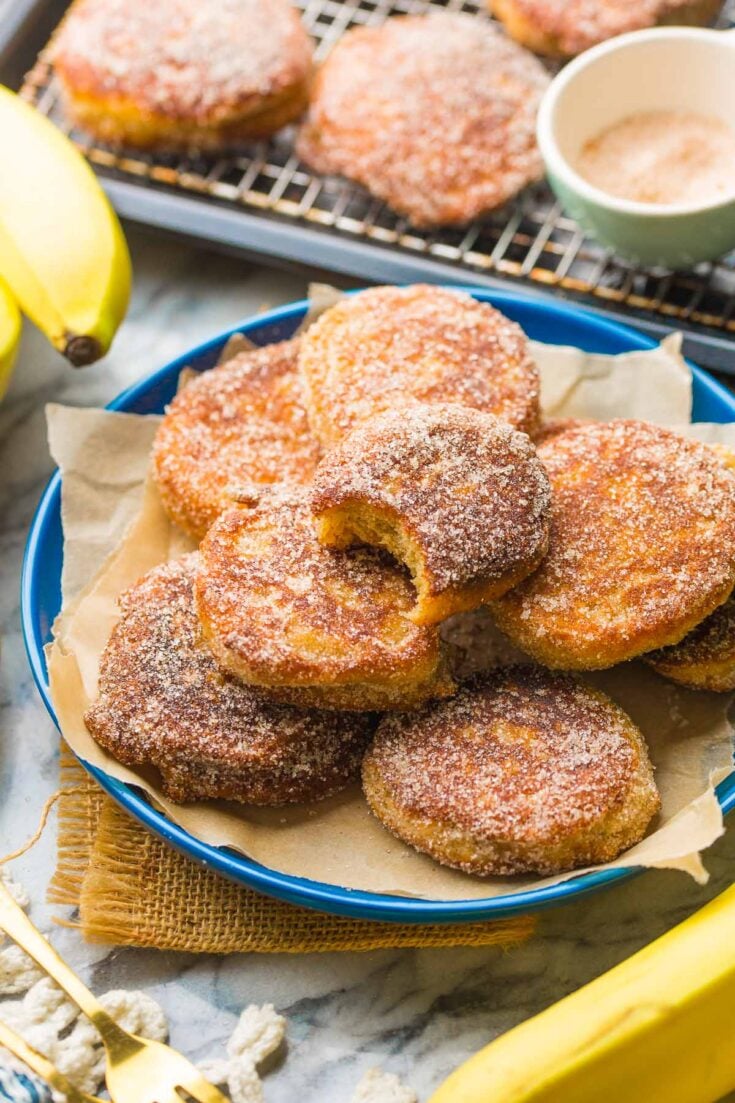 Yield:
9-12 fritters
Prep Time:
10 minutes
Cook Time:
20 minutes
Total Time:
30 minutes
Simply mix, mash and fry into light and crispy, mouth watering, delicious bites of goodness.
Ingredients
2 ripe bananas
1 tablespoon (15 ml) vanilla extract
2 tablespoons (30 ml) milk (dairy or non dairy)
3/4 cup (75 g) chickpea flour
1/4 cup (32 g) cornstarch (cornflour in the UK)
2 tablespoons sugar (white or brown sugar) optional - see notes
2 teaspoons baking powder
1 teaspoon ground cinnamon
1/4 teaspoon salt
Oil for frying
Optional Cinnamon Sugar Coating
1/3 cup (67 g) white sugar
1/2 teaspoon ground cinnamon
Instructions
In a small mixing bowl add the banana, vanilla extract and milk. Mash with a fork and mix until combined. You can mash up the bananas until smooth or leave it a bit lumpy - it's up to you.
In a larger mixing bowl whisk together the chickpea flour, cornstarch, sugar, baking powder, cinnamon and salt until combined.
Add the mashed banana mixture to the flour mixture. Mix into a thick batter until no pockets of flour remain. Set aside as you prep for frying.
Place a wire rack over a large baking sheet with a big sheet of foil underneath to catch the oil. Set aside.
In a large skillet or pot (non stick pot/pan highly recommended) add the frying oil so that it's about 1 1/2 - 2 inches deep and warm over a medium-high heat. You want to oil to be about 360-375°F (180-190°C ) before adding the batter.
When the oil is hot, begin adding the batter. Scoop out the batter (about 2-3 tablespoons worth at a time) and gently drop into the hot oil. Make sure to carefully add the batter so that it doesn't splash. Leave some space between each fritter so they cook evenly - how many you can fry at a time will depend on the size of your pot. You will likely be able to fit 3-4 at time. Let each fritter cook about 3 minutes on each side before flipping over and frying another 2-3 minutes. Repeat until all the batter has been used up.
As they cook (they should be golden brown on the outside) use a slotted spoon to lift and transfer the fritters to the wire rack to cool.
Optional Cinnamon-Sugar Coating: In a shallow plate or bowl, whisk together the cinnamon and sugar until combined. Dip the fritters while they are still a little warm into the cinnamon sugar mixture one by one until they have all been coated. Enjoy!
Notes
Potato starch can be used in place of cornstarch/ corn flour for the most similar results. You can use tapioca starch instead, but the fritters will be more chewy and less crispy.
I tested this recipe without chickpea flour. If you'd like to use gluten free all purpose flour instead I recommend you use 1 cup (140g) flour and only 2 tablespoons (16g) cornstarch and add 1/2 teaspoon xanthan gum.
Type of oil: Ideally you want to use an neutral-tasting cooking oil with a high smoking point like rapeseed, vegetable or peanut. Extra virgin olive oil and coconut oil aren't for frying at high temps of their low smoke point. That being said, if you shallow fry these fritters over a medium heat you should be fine. I used coconut oil myself and didn't have a problem with the oil.
The sweetness of your fritters will largely depend on how ripe/sweet your bananas are. Without any added sugar you might find these boarding on being too savoury depending how your personal taste. If you don't add a glaze or roll the fritters in sugar at the end I do recommend adding the sugar.
This website provides approximate nutrition information for convenience and as a courtesy only. Nutrition data is gathered primarily from the USDA Food Composition Database, whenever available, or otherwise other online calculators.
More Ways to Use Up ripe bananas