Simple, crunchy and delicious! This homemade chocolate granola recipe is easy to make and much healthier than store-bought granola. It's not only tasty and satisfying, but made with real ingredients including nuts, seeds, cocoa and fruit. The mashed banana adds a unique twist to traditional granola! | Gluten Free + Vegan
Crunchy granola with a rich chocolate flavor made with ingredients you might already have in your own kitchen?
What's not to love about this chocolate granola?!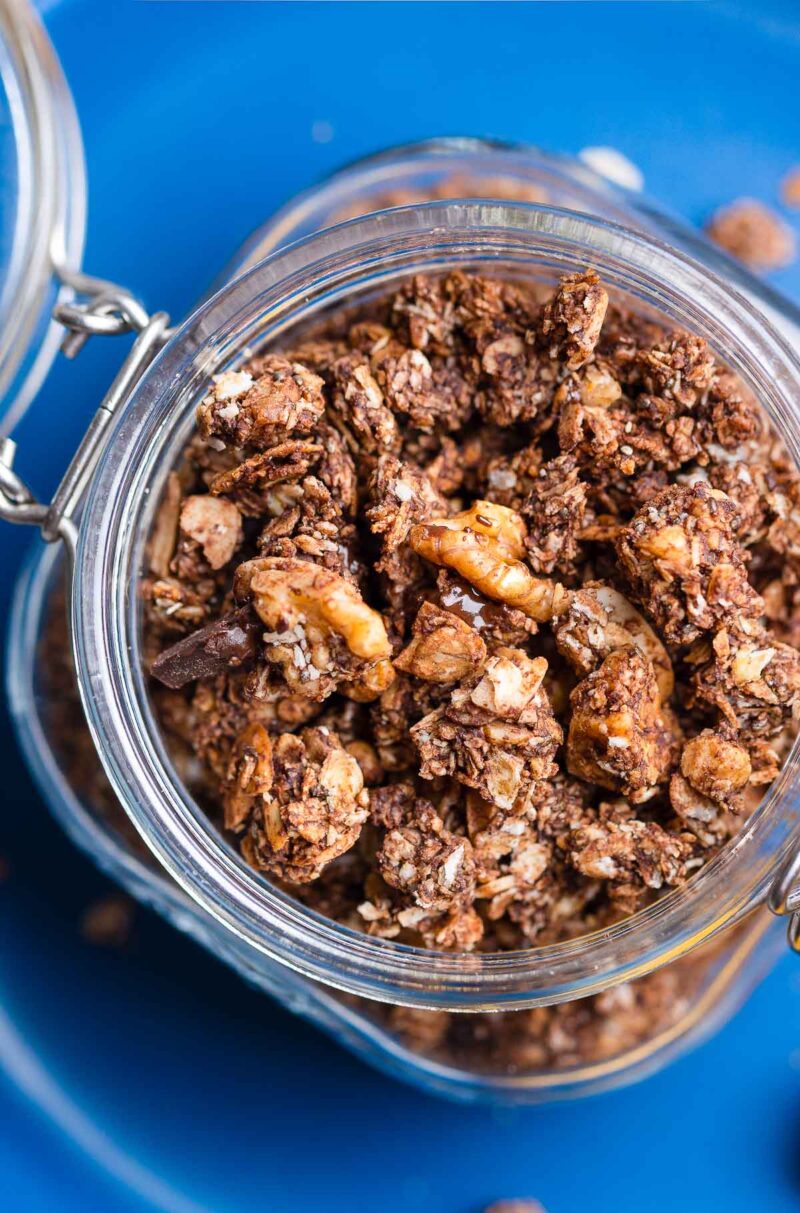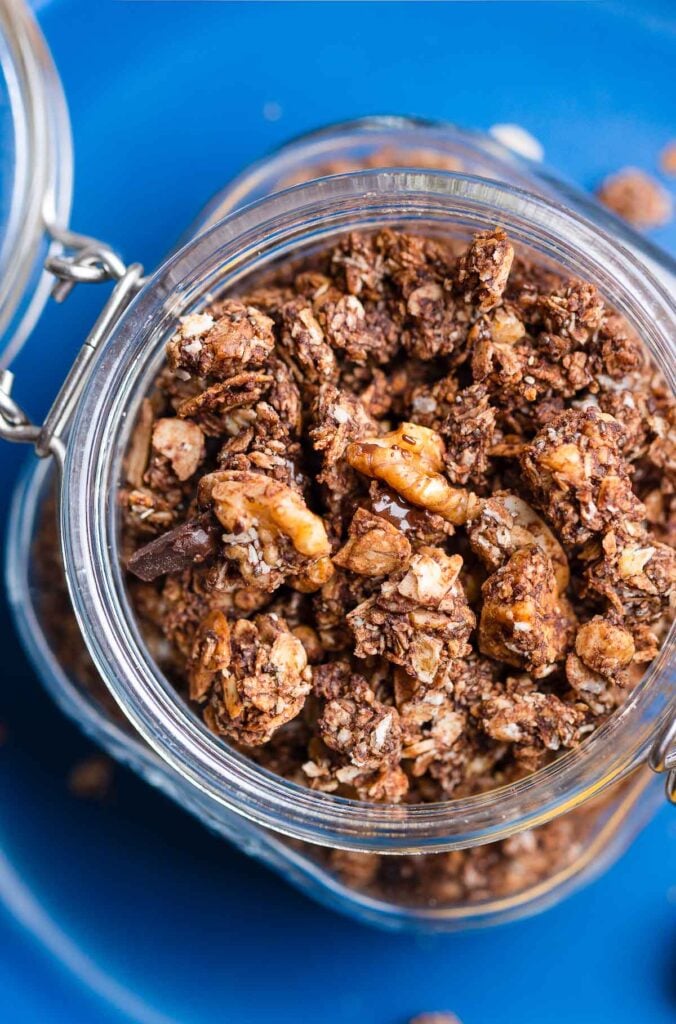 More Gluten Free Granola Recipes
Banana & Chocolate Granola Steps
This recipe is fairly easy to make. The ingredient list isn't too crazy and comes with plenty of room for substitutions and adaptions – more on that below.
Summed up in a few steps:
Mix together the chocolate and banana mixture.
Mix the gluten free oats, nuts and seeds.
Combined the wet ingredients (chocolate mixture) with the dry ingredients (oat mixture).
Bake, stir, bake then rest.
Mix in chocolate chunks and enjoy!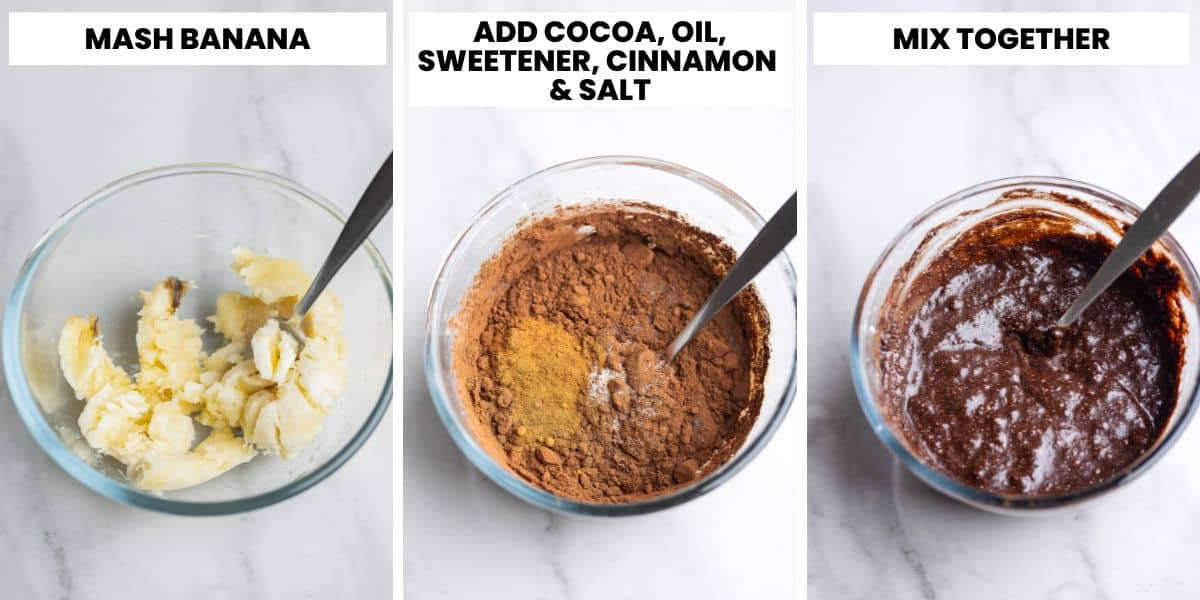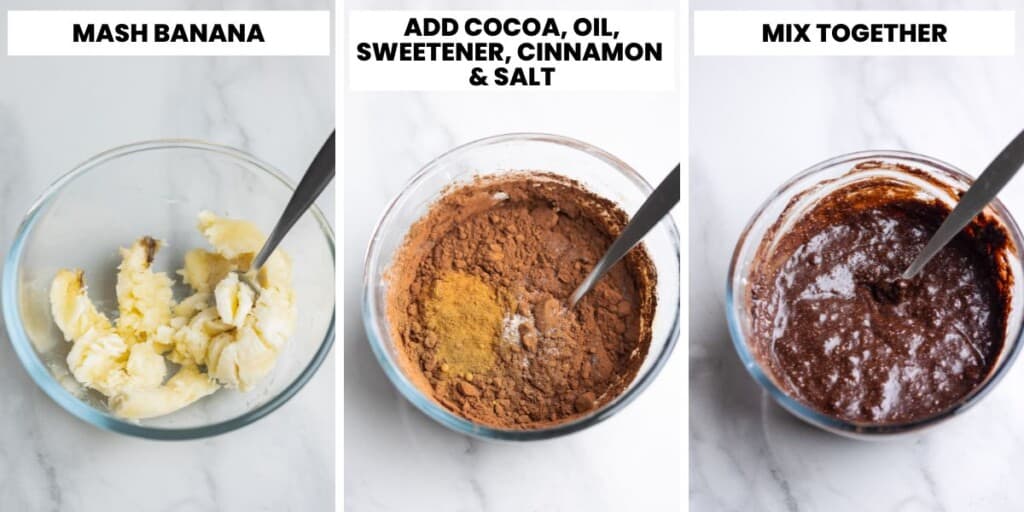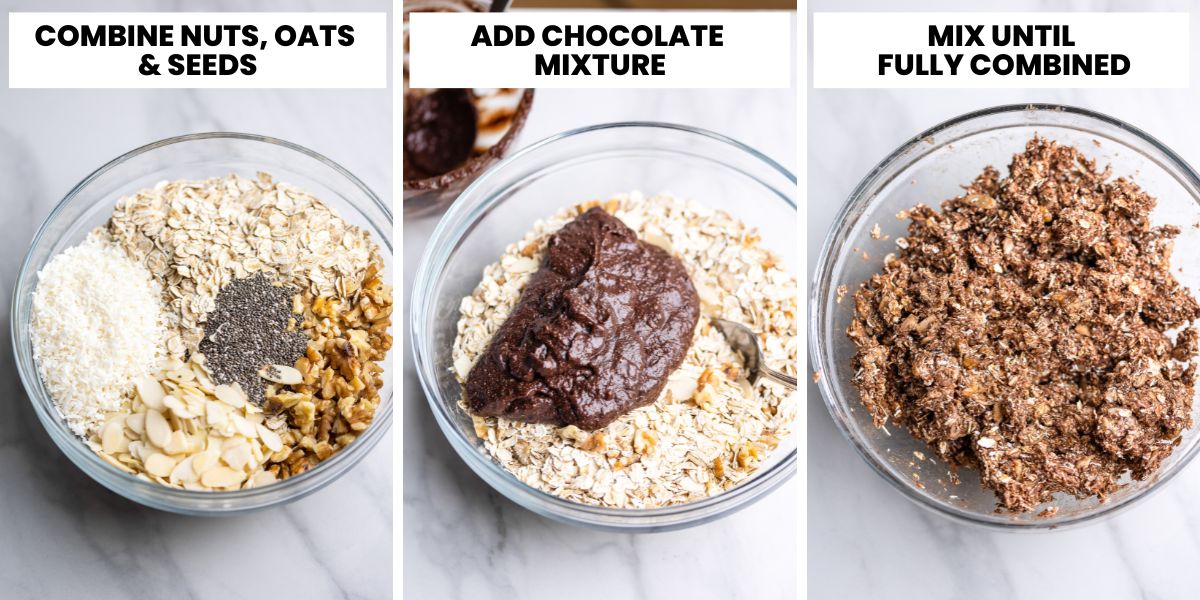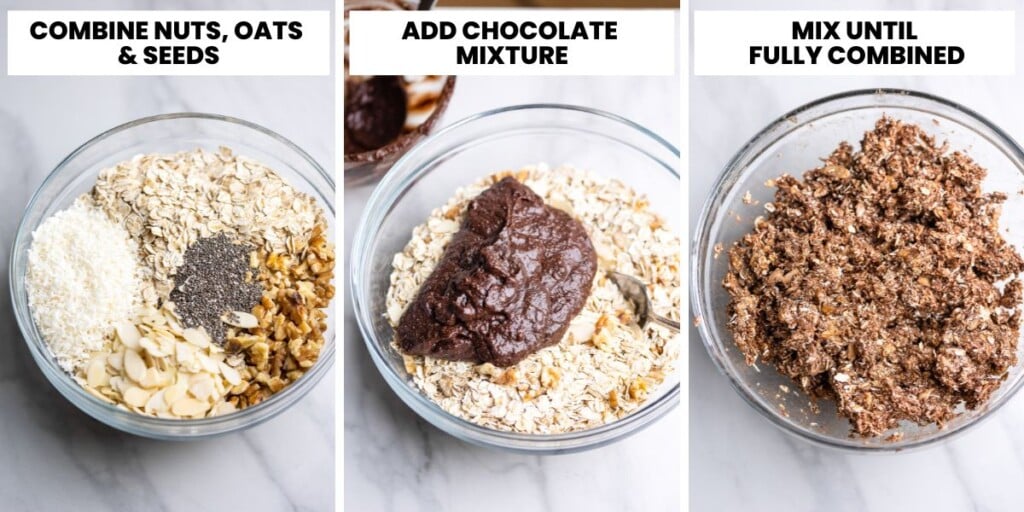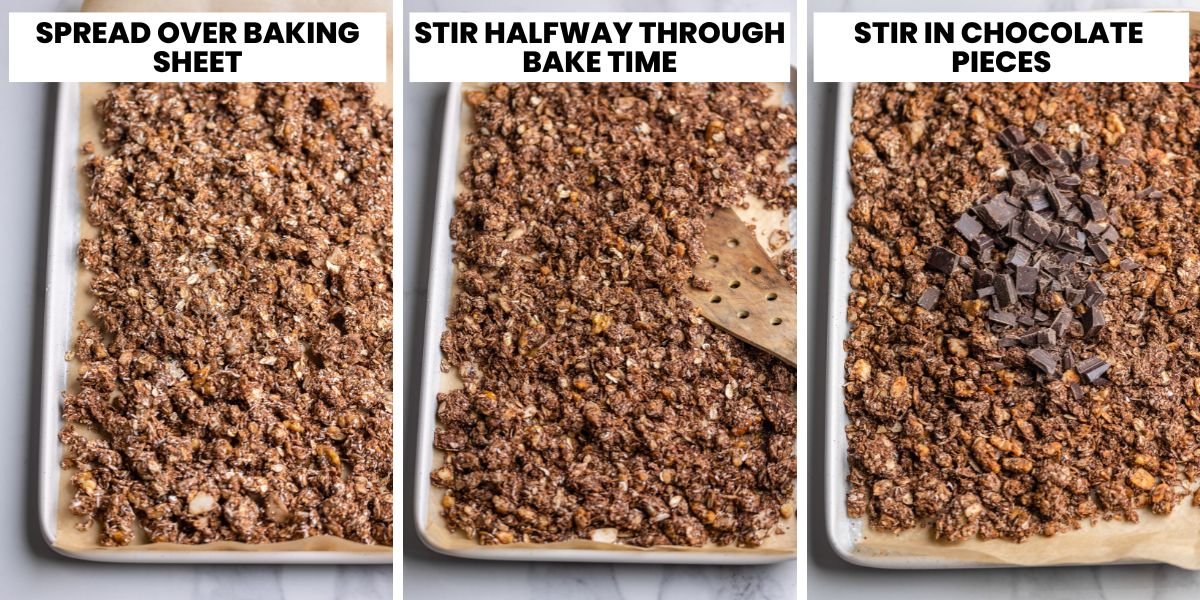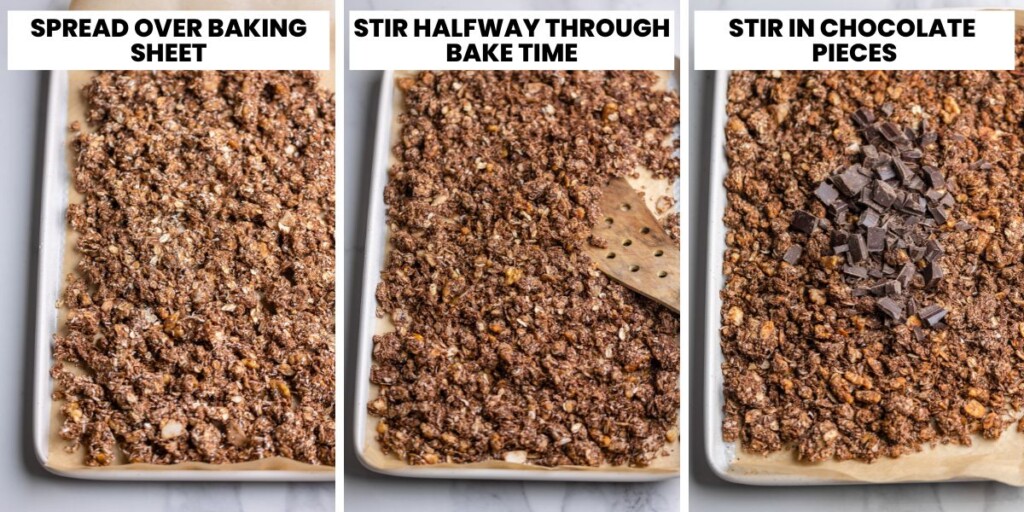 Substitutions and Adaptions
This chocolate granola, like most granola recipes, is super easy to play around with!
Feel free play add or swap out things here and there depending on what you have in and what you like. Try not to go too overboard with the adaptions unless you're confident with your baking abilities as results may vary.
Nuts: Instead of walnuts and almonds you could swap those out for equal amounts of different nuts like pecans, hazelnuts, macadamia nuts, brazil nuts, etc.
Seeds: Replace 1/2 cup of nuts with pumpkin seeds or sunflower seeds.
Cacao Nibs: Instead of chocolate chips, add cacao nibs (aka cocoa nibs) for a slightly healthier option as they're higher in antioxidants with less sugar. Just keep in mind that cacao nibs taste more like coffee beans than chocolate chips.
Dried Fruit: Dried cherries, blueberries, apricots, chopped dates, etc. Dried fruit will add a little extra natural sweetness and texture. I recommend you add the dried fruit after you've mixed the oat mixture with the chocolate mixture.
Sweetener: Instead of honey or maple syrup you can use agave syrup or another liquid sweetener. Just make sure to use a liquid sweetener that can be used as a 1:1 substitute in amount. You will need to use 1/4 cup of whatever sweetener you use to maintain a balance of wet to dry ingredients.
Oil: Make this with avocado oil or vegetable oil instead of coconut. You can also use olive oil – just note it will impart a stranger flavor than avocado and vegetable.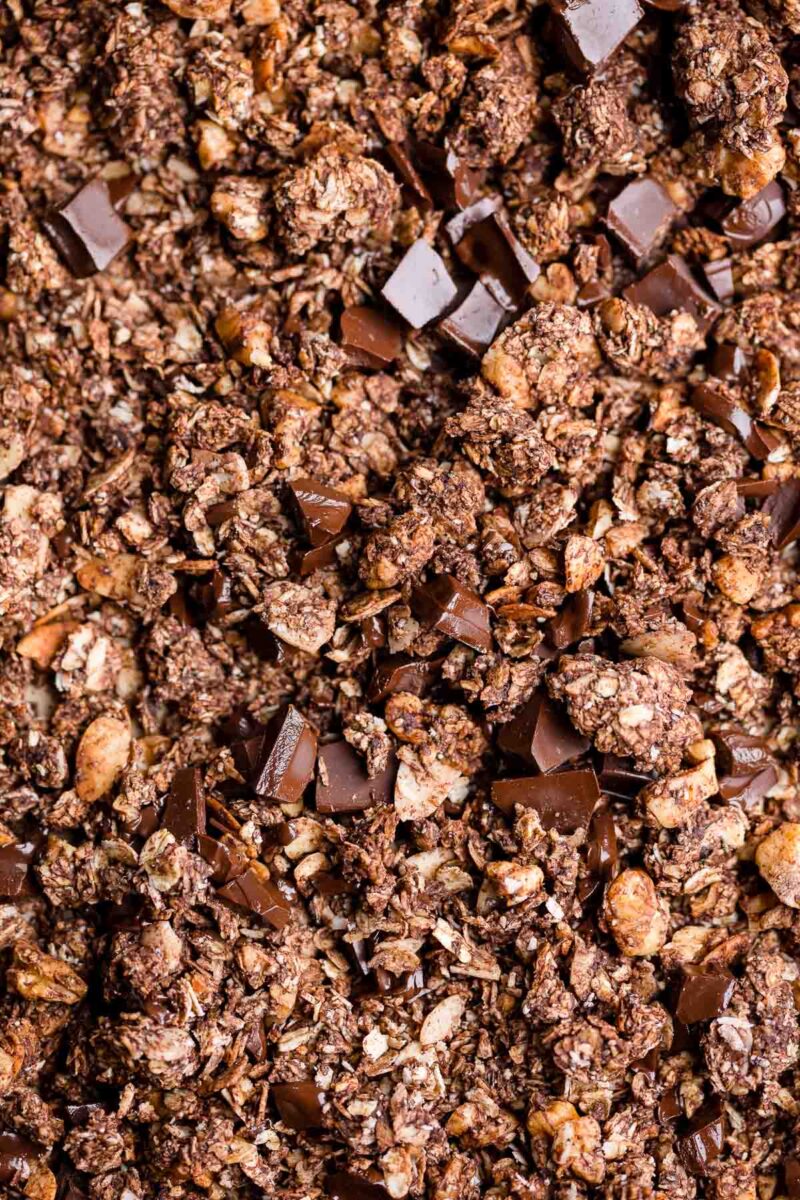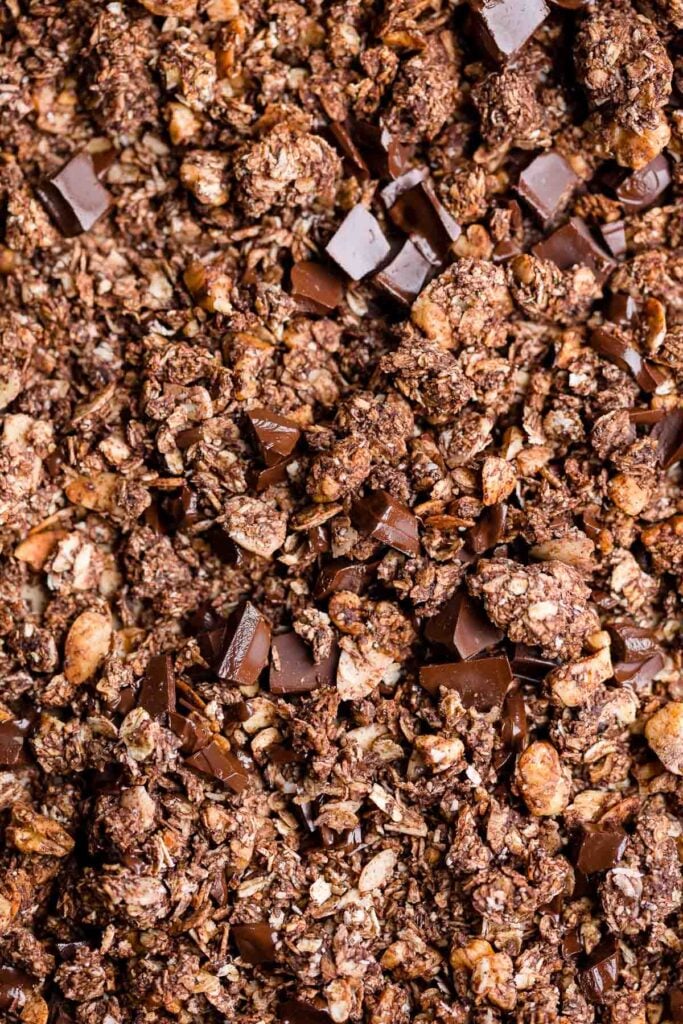 Storage
And that's it!
Make sure you give plenty of time to let the granola cool completely before storing. Once cooled, pack up in an airtight container and keep at store at room temperature in cool, dry place. This should keep up to two weeks if sealed properly. However you typically store your breakfast cereal should be fine.
Alternatively, you can store this chocolate granola in a freezer-safe bag or container and keep it in the freezer up to 3 months. Any longer and the flavors will diminish. Let the granola sit out at room temperature over night, then enjoy.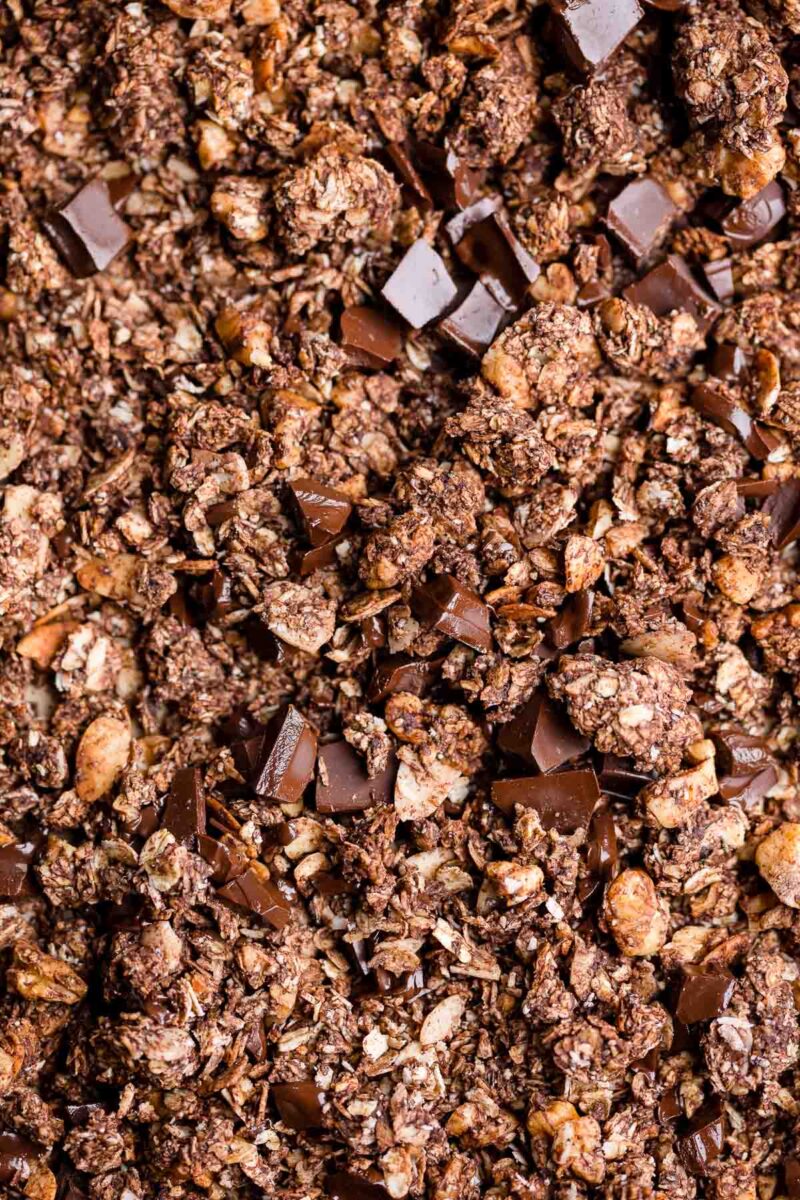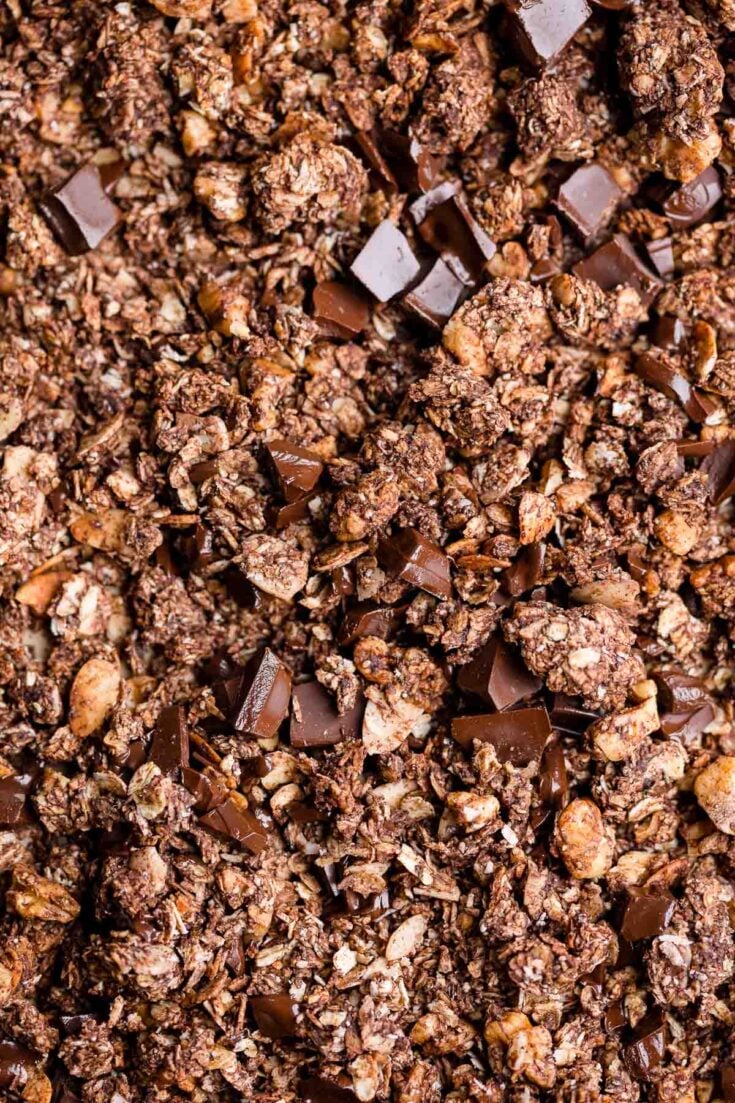 Recipe
Crunchy Banana & Chocolate Granola
Yield:
about 6 cups
Prep Time:
10 minutes
Cook Time:
40 minutes
Additional Time:
15 minutes
Total Time:
1 hour
5 minutes
Simple, crunchy and delicious! This homemade chocolate granola recipe is easy to make and much healthier than store-bought granola. It's not only tasty and satisfying, but made with real ingredients including nuts, seeds, cocoa and fruit. The mashed banana adds a unique twist to traditional granola!
Ingredients
1/3 cup ripe banana, mashed (80g)
1/4 cup coconut oil, melted and cooled
1/4 cup maple syrup or honey (80g)* - use maple to keep this recipe vegan
3 tablespoons cocoa powder (20g)
1 teaspoon vanilla extract
1/2 teaspoon ground cinnamon
3 cups certified gluten free rolled oats (270g)
1/2 cup roughly chopped walnuts (60g)
1/2 cup flaked or sliced almonds (50g)
1/2 cup unsweetened shredded or desiccated coconut (50g)
2 tablespoons chia seeds, optional (20g)
1/3 cup chopped dairy free chocolate or chocolate chips (60g| 2 oz)
Instructions
Adjust an oven rack to be in the middle of the oven. Preheat to 325°F/160°C. Line a large baking sheet (12in x 17in [30.5cm x 43cm]) with parchment paper. Set aside.
In a medium sized mixing bowl mix together the mashed banana, melted coconut oil, maple/honey, cocoa power, vanilla extract and ground cinnamon. You should end up with a thick, pourable chocolatey mixture. Set aside.
In a large mixing bowl add the oats, nuts, coconut, and chia seeds (if using). Mix until combined.Pour the chocolate mixture over the oat mixture and stir until everything is coated in chocolate. (You can do this with a mixing spoon, but I found it faster and easier to use my hands).
Spread the chocolate-oat mixture across the prepared baking sheet in a flat, even layer. Place on the middle rack and bake for 20 minutes.
Remove the pan from the oven and use a spatula to give the granola a good and thorough stir. Do your best to move the granola around the perimeter of the baking sheet towards the centre and visa versa. Spread it all out in a single layer again then bake another 15 minutes.
Turn off the oven. Take out the pan to stir once more then return it its place in the oven. Leave the oven door open (oven is off!) and leave the granola 15 minutes untdistirbed. This final time in the hot oven as it cools will dry out the granola so it gets nice and crispy.
After resting in the oven, stir in the chocolate pieces and that's it. Let the granola cool completely to room temperature before storing in an airtight container up to 2 weeks or sealed in a freezer safe bag or container up to 3 months.
Notes
This recipe makes about 600 grams of granola - one serving size is about 1/2 cup or around 50 grams.
Substitutions
Instead of sliced/flaked you can use roughly chopped whole almonds (1/3 cup | 50g).
Feel free to swap out the walnuts and/or almonds listed with other nuts of your choosing (pecans, brazil nuts, cashews, macadamia nuts, hazelnuts, etc).
Use avocado oil or olive oil in place of coconut oil.
Nutrition Information
Yield:

12
Serving Size:
1/2 cup
Calories:

252
Total Fat:

16g
Saturated Fat:

7g
Trans Fat:

0g
Unsaturated Fat:

3g
Carbohydrates:

25g
Fiber:

5g
Sugar:

8g
Protein:

6g
This website provides approximate nutrition information for convenience and as a courtesy only. Nutrition data is gathered primarily from the USDA Food Composition Database, whenever available, or otherwise other online calculators.
And that's it!
Give this chocolate granola a go for a healthy breakfast or snack that's tasty, satisfying and delicious!
More Gluten Free Ways to Bake with Oats