Easy, delicious and good for you! This Turmeric Ginger Tea is bold, slightly spicy yet incredibly soothing. Keep warm during the cold winter months with a hot mug of tea or sip it cooled and iced as a refreshing tonic in the heat. Either way, enjoy the immune boosting benefits and medicinal properties of ginger and turmeric in this delicious drink!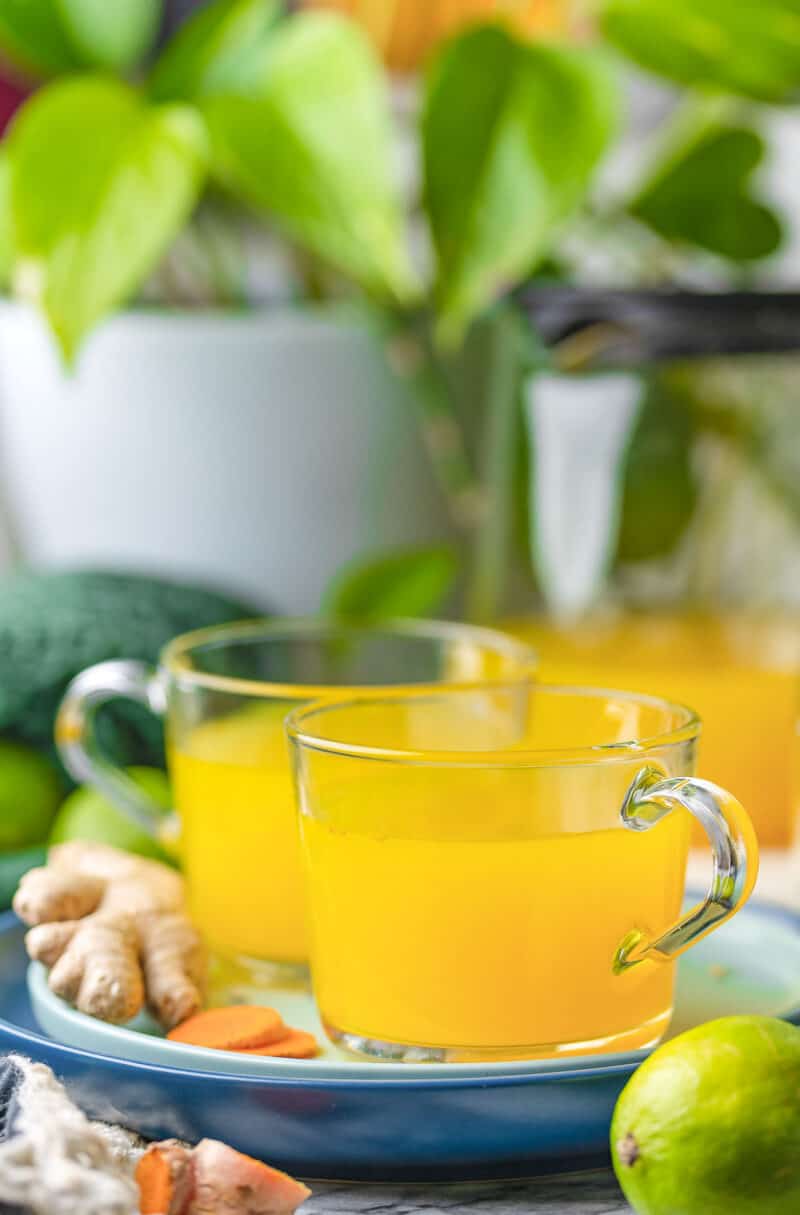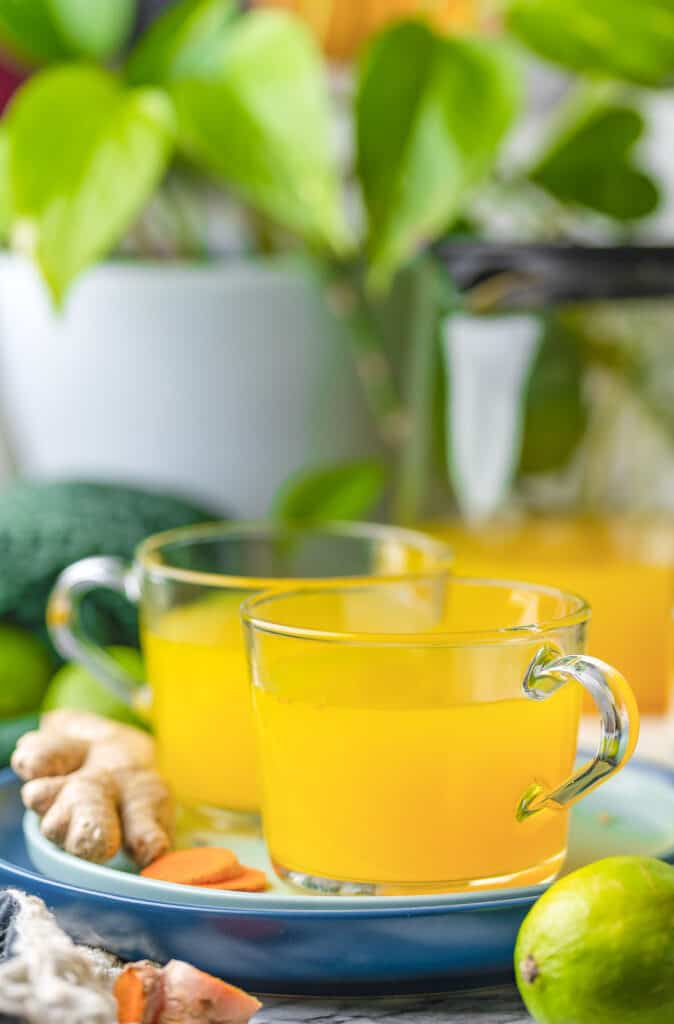 Homemade herbal teas (aka tisanes) are a fantastic way to give yourself a little extra TLC from time to time – especially ones like this Ginger Turmeric Tea!
Made with only a handful of fresh ingredients and whole spices seeped in hot water – it's simple, soothing and fiery!
More Delicious Ways to Hydrate
Potential Health Benefits of Ingredients
Homemade Ginger Turmeric Tea Steps & FAQ's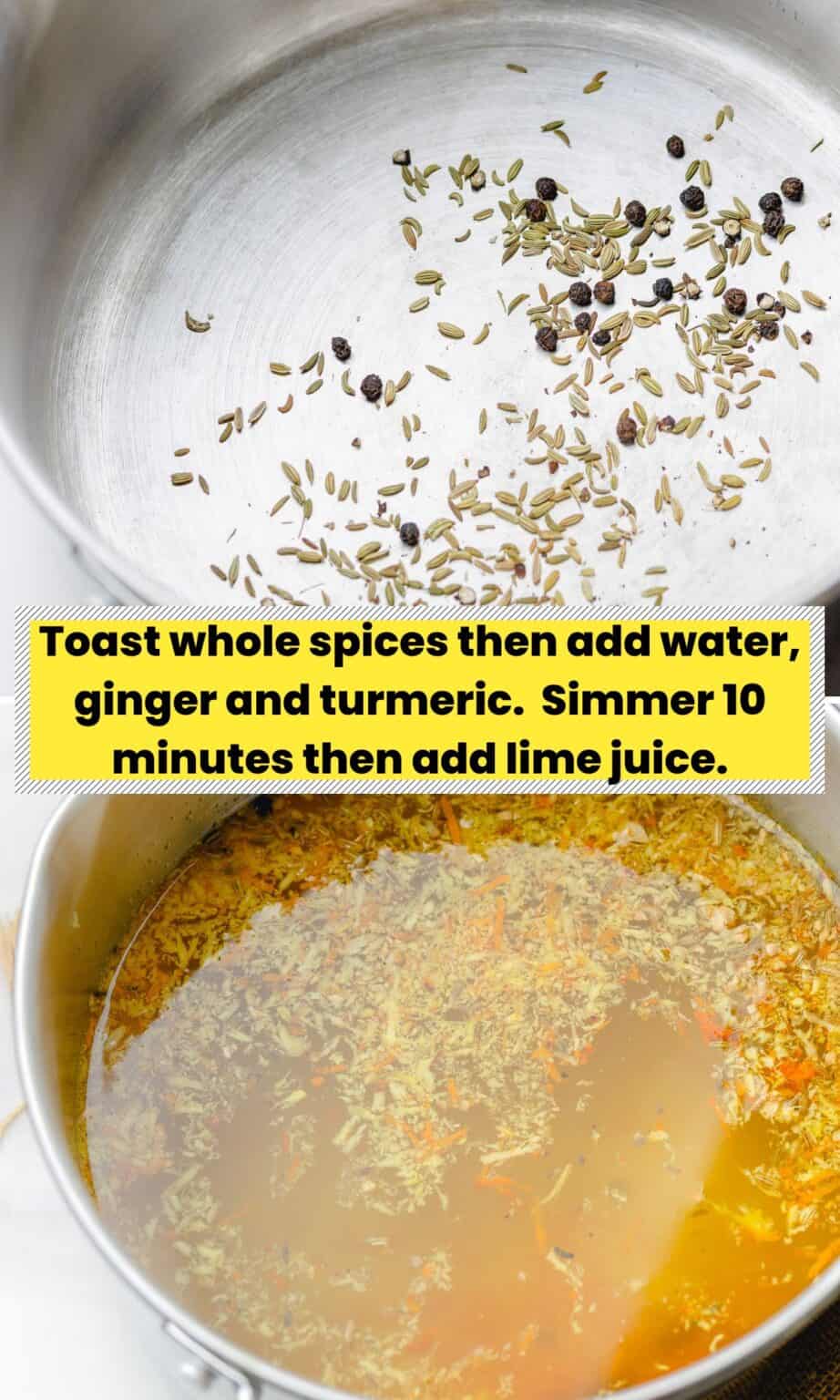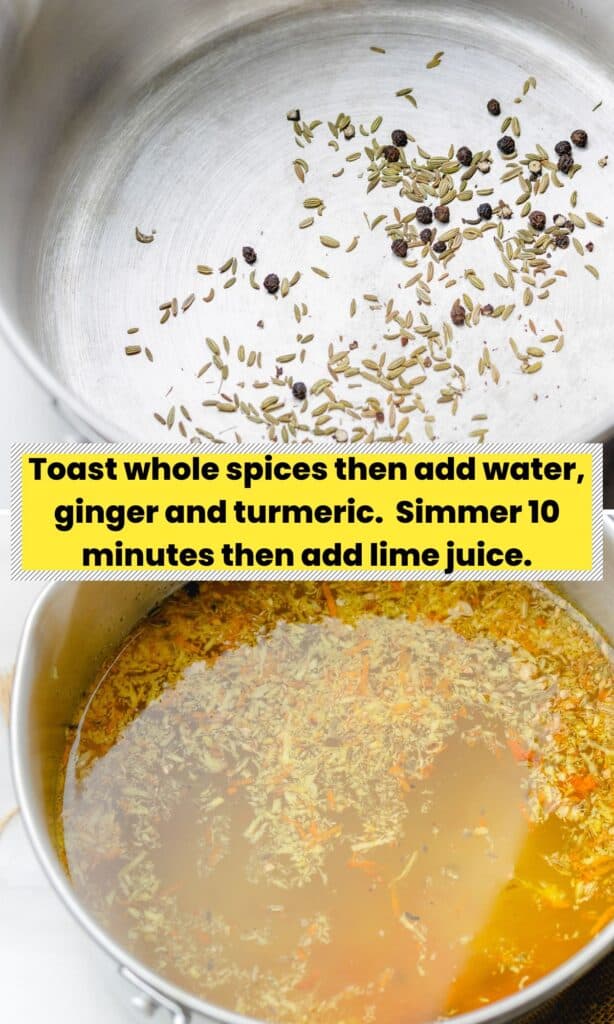 Toast the fennel seed and black pepper for a few minutes.

Why toast the seeds?

Toasted seeds enhance flavor by unlocking some of its essential oils in the heat. It's a small way to give your tea an extra boost of flavor.

Can I skip the toasting?

Add four cups of water, grated ginger and turmeric to the pot. Bring to a boil then reduce the heat and simmer about 10 minutes.

Why grate the ginger and turmeric?

Grating the ginger and turmeric unleashes even more flavor into the water for a more intensely infused tea.

Can I chop or bash the ginger and turmeric instead?

Yes! If you'd prefer to roughly chop or bash up the ginger and turmeric instead that's totally fine. You won't get as much flavor out of them, but it will still make for a delicious tea.
Can I use ginger or turmeric powder instead?

Yes, but if you're interested in enjoying this tea partially for the health benefits, fresh ingredients are better. If you simply want a tasty tea – no problem at all!

Just keep in mind that powdered spices won't dissolve fully and don't strain out easily. You may end up with a bit of sediment at the bottom of your mug. Your tea also won't be quite as flavorful in the end.

Turn off the heat then stir in the lime juice.

Why add the lime juice after simmering?

Vitamin C breaks down in high, prolonged heat. Mixing the lime in after simmering leaves you with more vitamins.

Can I use lemon juice instead of lime juice?

Absolutely! The main reason this isn't a recipe for a lemon ginger turmeric tea is the fact that I didn't have any lemons on hand when testing out the recipe. Lime juice is quite sour compared to lemon, so you may even prefer its more gentle flavor. Orange juice works too.

Strain through a fine mesh strainer to remove the solids and enjoy.

Can I add sweeteners to my turmeric tea?

Sure thing! I don't tend to add sugar to my herbal teas, but this comes down to preference. If you'd like to sweeten your tea with raw honey or maple syrup, add it after straining while it's still warm. The heat will help the sweetener dissolve fully into the water.

Should I drink it hot or cold?

Enjoy this as a hot tea right away or cool to room temperature first – your choice!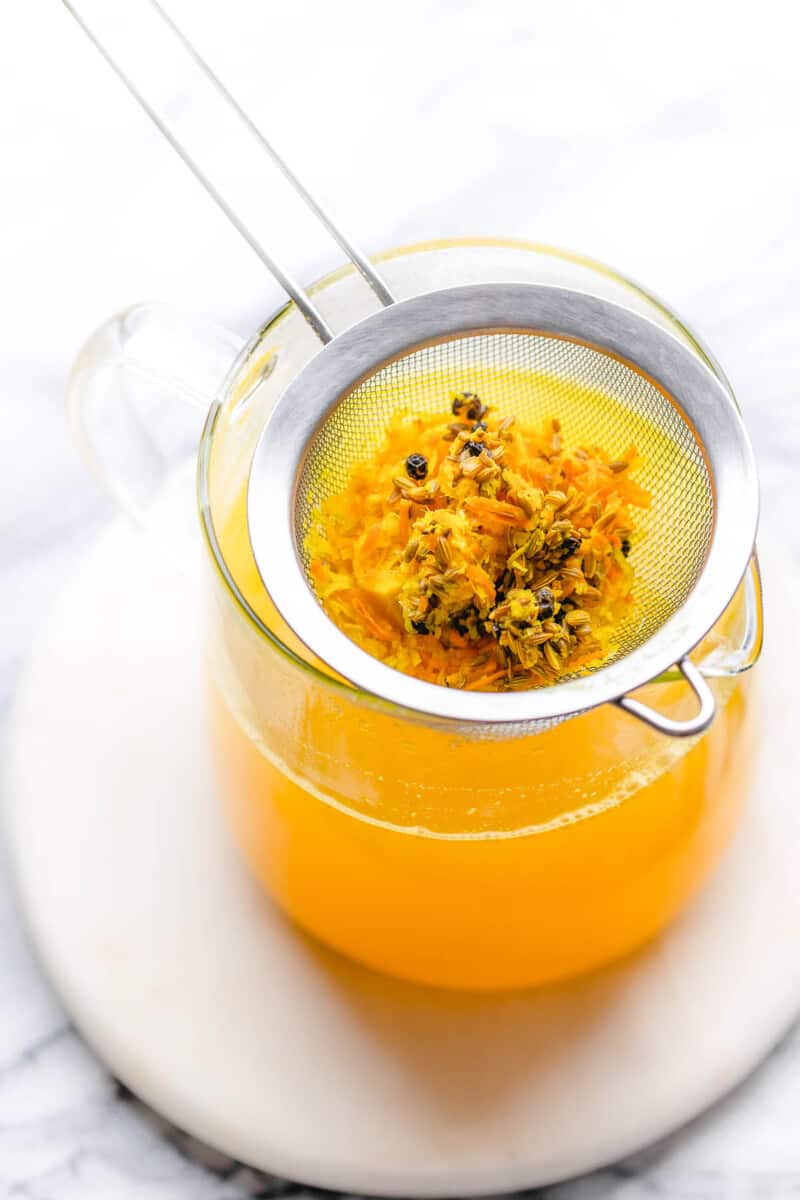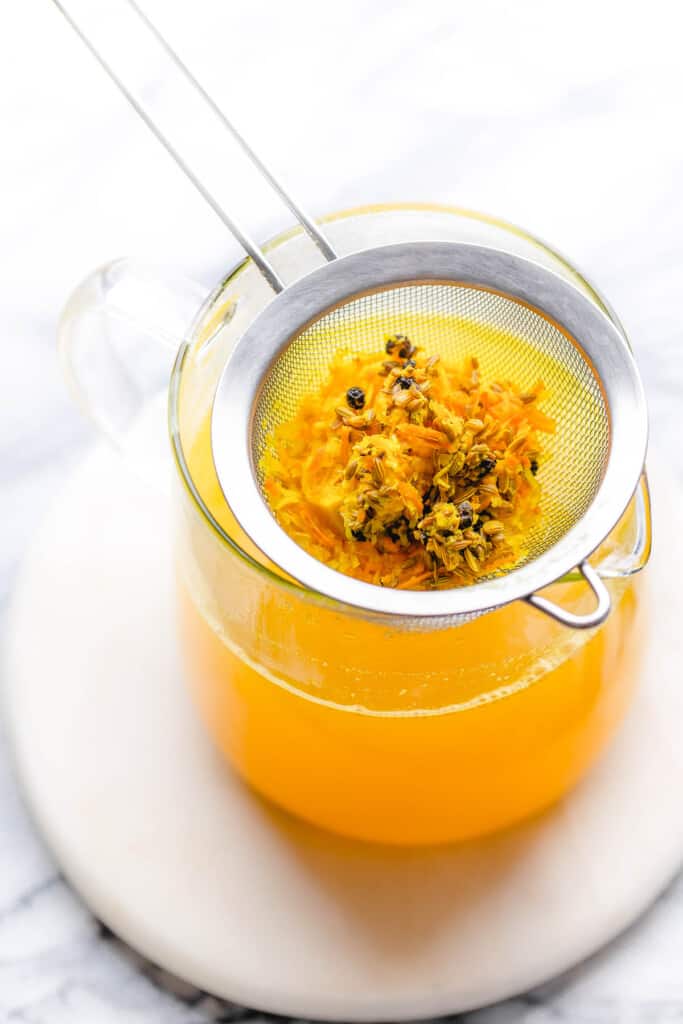 Final Notes
I really love this turmeric tea and I hope you do too! Between the ginger, turmeric and lemon, it's quite fiery, earthy and tangy. It's got a unique flavor with a lot of interesting notes blending together.
I actually recommend you dilute the tea with added water each time you pour yourself a mug. This not only stretches out how long the tea lasts, but it gives more control on how flavorful you want it.
Left undiluted and its quite zesty – great in the morning for a wake-up boost. In the evening though, I like adding more water for a more gentle hum of spice.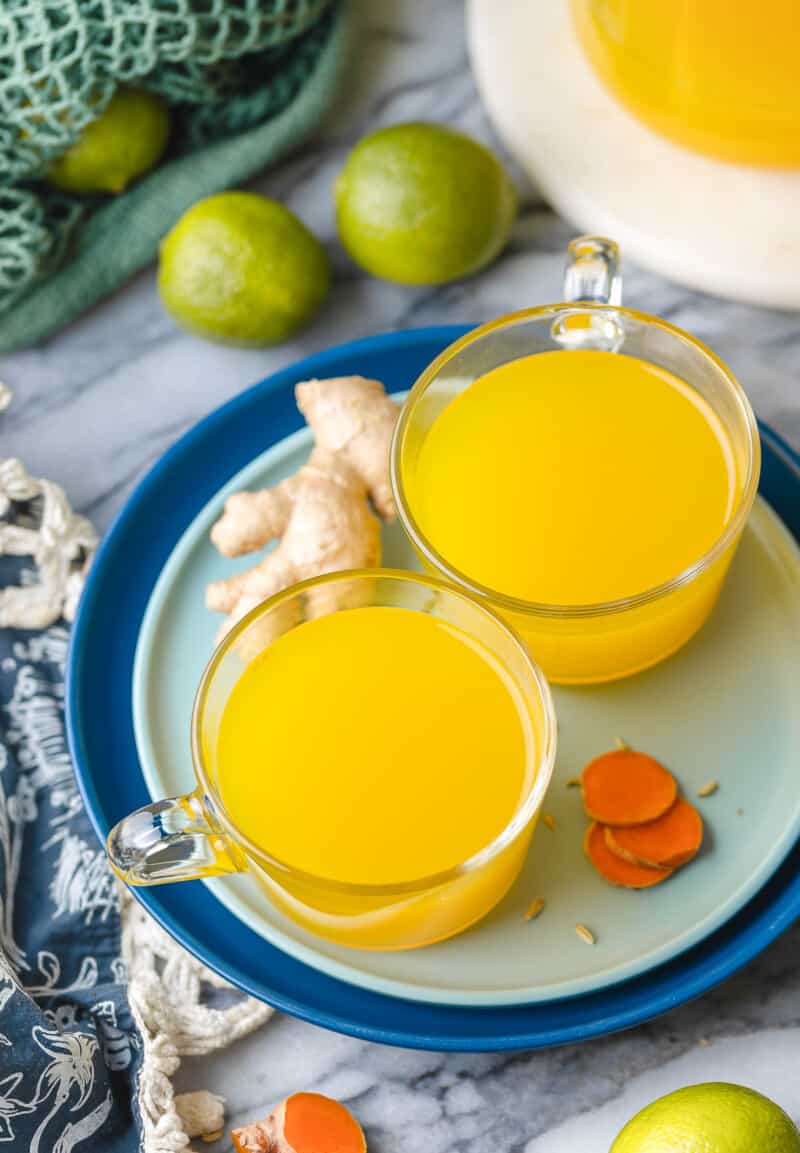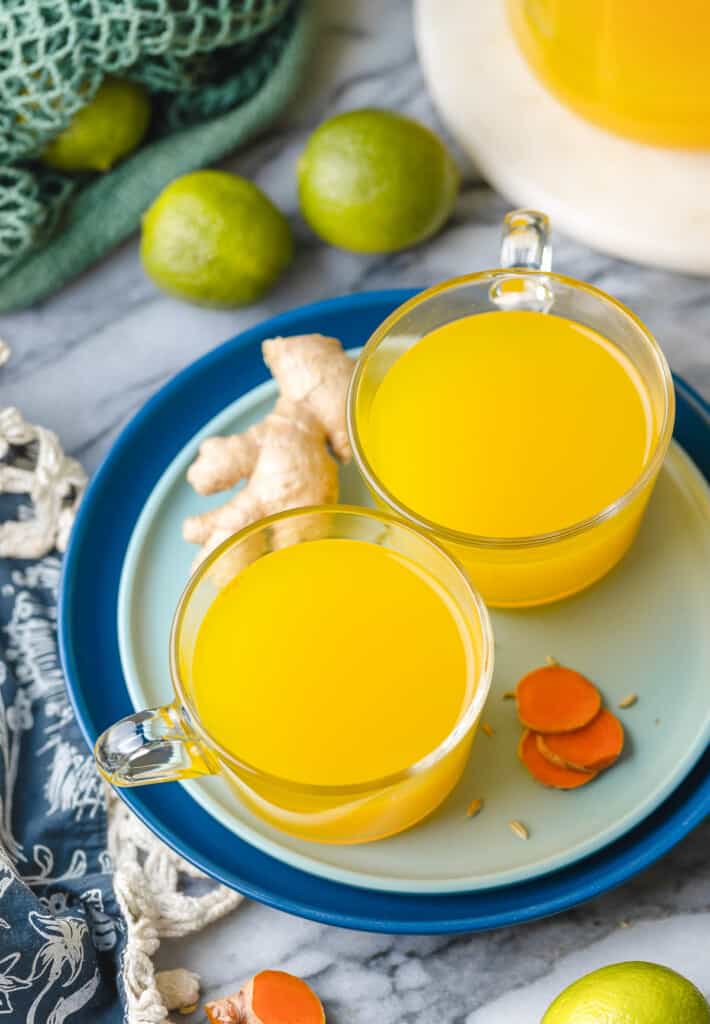 More Turmeric Recipes You Might Like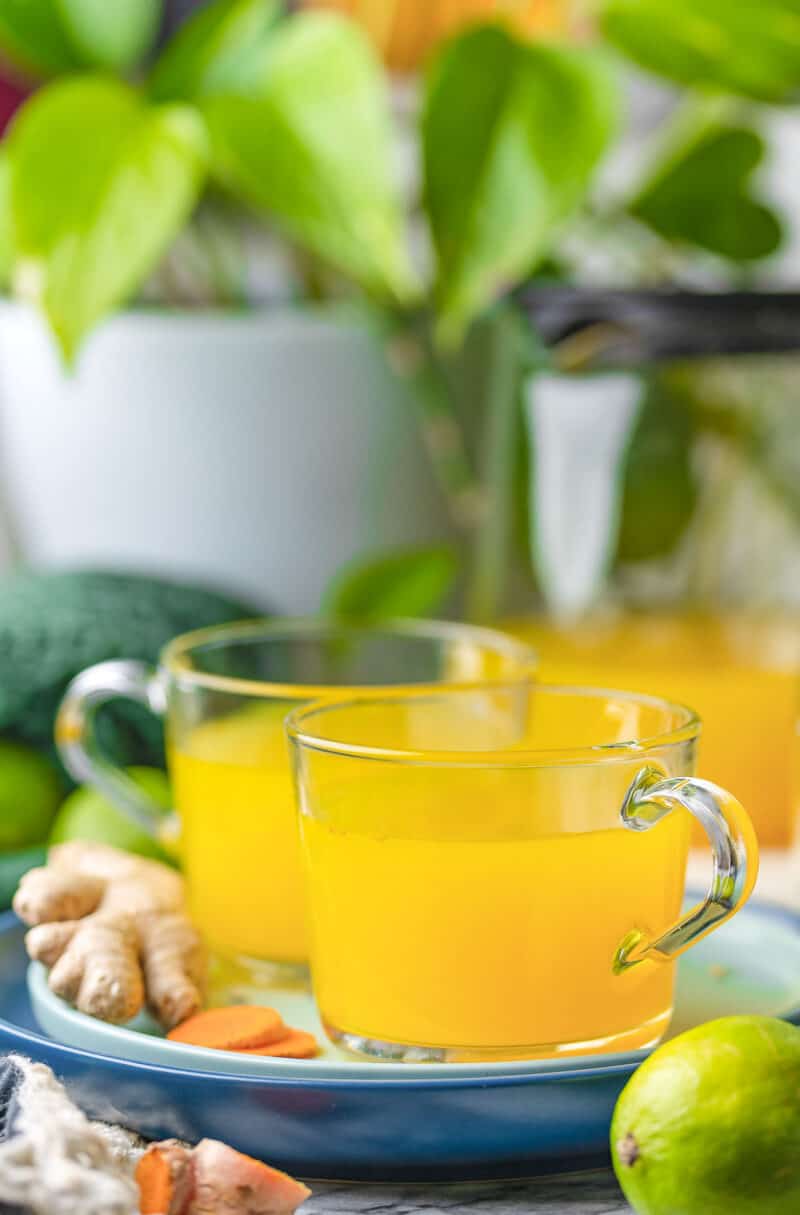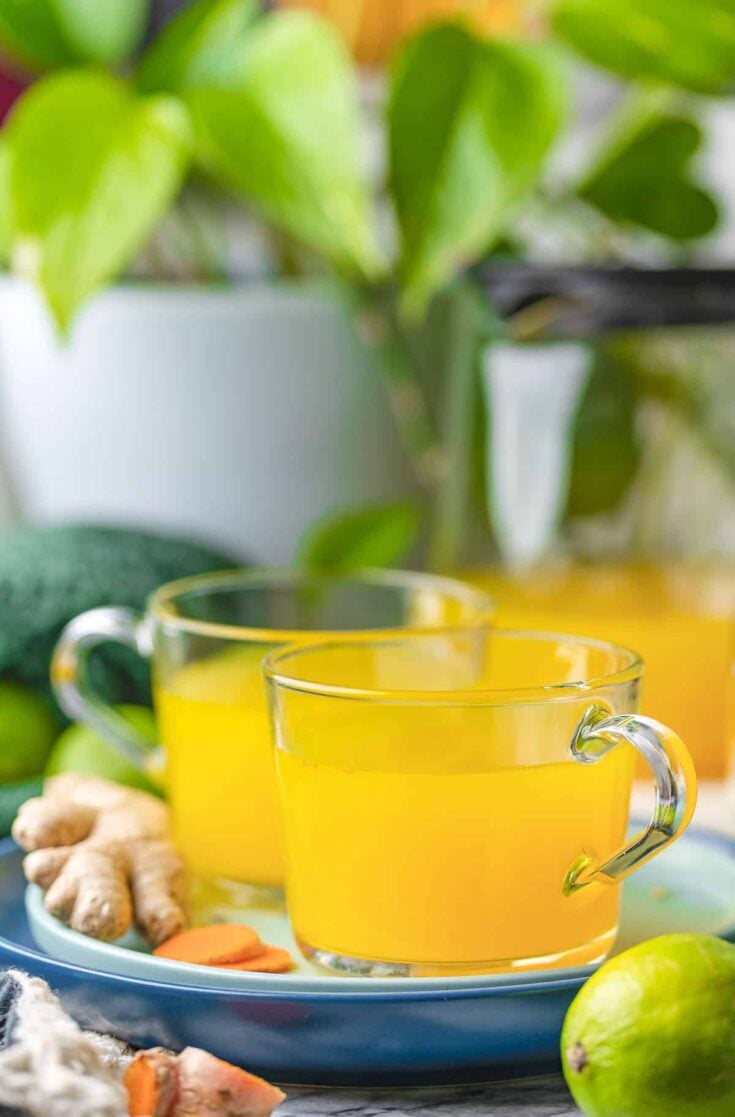 Recipe
Ginger Turmeric Tea with Lime
Yield:
4 cups
Prep Time:
5 minutes
Cook Time:
15 minutes
Total Time:
5 minutes
Easy, delicious and good for you! This Turmeric Ginger Tea has a unique flavor that is bold, slightly spicy yet incredibly soothing.
Ingredients
1/2 teaspoon fennel seed, gently bashed (optional)
1/4 teaspoon freshly ground black pepper (or whole peppercorn, gently bashed)
4 cups filtered water (960 ml) + more water as needed
1 tablespoon fresh ginger root, grated (about 1 inch piece)
1 tablespoon fresh turmeric root, grated (about 1 inch piece)
1/4 cup lime juice (60 ml)
Instructions
Place a dry, medium sized sauce pot and warm over a medium heat. Add the fennel and black pepper and toast for 2-3 minutes. Shake the pan every so often to keep them from burning.
Add water, ginger and turmeric to the pot. Bring to a boil, then reduce the temperature to maintain a gentle simmer. Let simmer 10 minutes.
Remove the pot from the heat source and stir in the lime juice.
Place a fine mesh strainer over a large heat-safe jug or bowl. Pour the turmeric tea into the strainer and filter out the seeds and solids.
Taste and add more water to your tea as desired. I like to dilute my tea by adding about 1/2 cup water to about 1 cup of prepared tea. This helps tone down the intensity and makes it last longer.
Serve while it's still warm, or cooled with ice. Keep leftover tea stored in an airtight container in the fridge up to 3 days. You can reheat it on the stove or enjoy cold out of the fridge. Alternatively: pour leftover tea into ice cube moulds and freeze for later to use in place of regular ice.
Notes
Substitutions
You can use 1/2 teaspoon of turmeric powder in place of fresh if needed.
You can substitute the lime juice for fresh lemon juice or orange juice.
If you'd like, feel free to add sweetener to suit your tastes. Depending on what you like, I recommend adding 1-3 teaspoons maple syrup or honey. Just make sure to add the sweetener when the tea is hot so it evenly mixes and dissolves into your drink.
Turmeric Notes
Curcumin is a fat-soluble nutrient meaning that is should be consumed with a bit of fat so that it is more easily absorbed by your gut. This is why golden milk and turmeric drinks often contain added milk or oil. If you're interested in this tea for its potential health benefit, you can add a small amount of oil (like avocado oil, coconut oil or MTC oil) to your mug. You can also just drink this with a snack.
Turmeric stains! Make sure to brew this in stainless steel pot or something that cleans easily.
This website provides approximate nutrition information for convenience and as a courtesy only. Nutrition data is gathered primarily from the USDA Food Composition Database, whenever available, or otherwise other online calculators.