Finely shredded and sautéed Brussels sprouts seasoned with toasted whole spices, gently fried garlic and creamy, crumbled feta cheese – the end result is a simple, yet stunning dish that's both nourishing and delicious! | Gluten Free + Vegetarian + Nut Free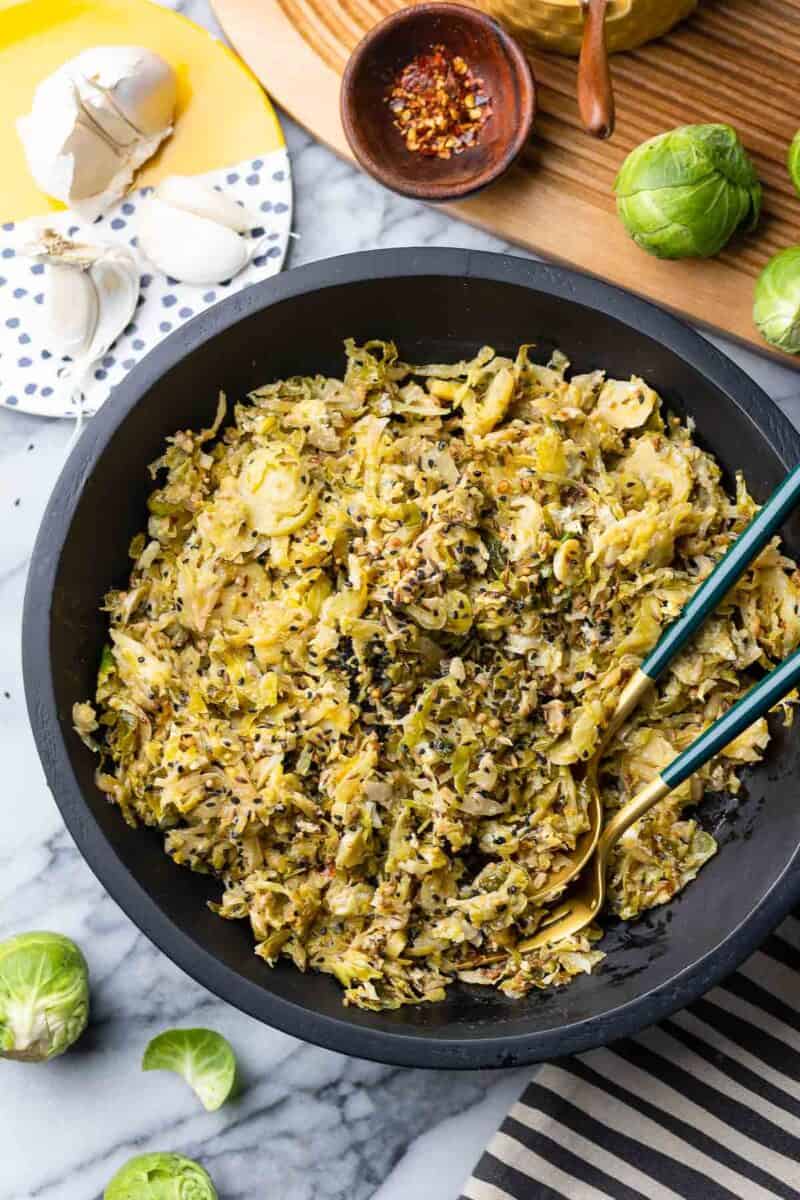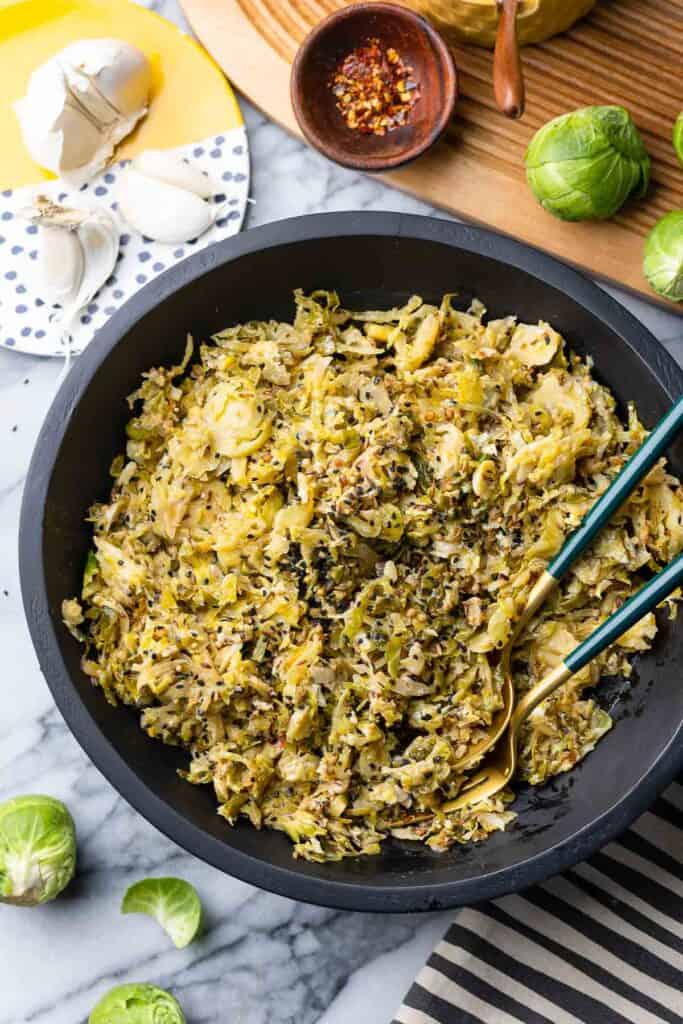 Looking for a new way to enjoy fresh brussel sprouts? Maybe one that doesn't include bacon bits, pine nuts or any of the other usual suspects often found lurking in the salad bowl?
No hate to the classic bacon and Brussels sprouts combination, by the way! I'm personally a big fan of this duo as evidenced by the numerous recipes found here on A Saucy Kitchen.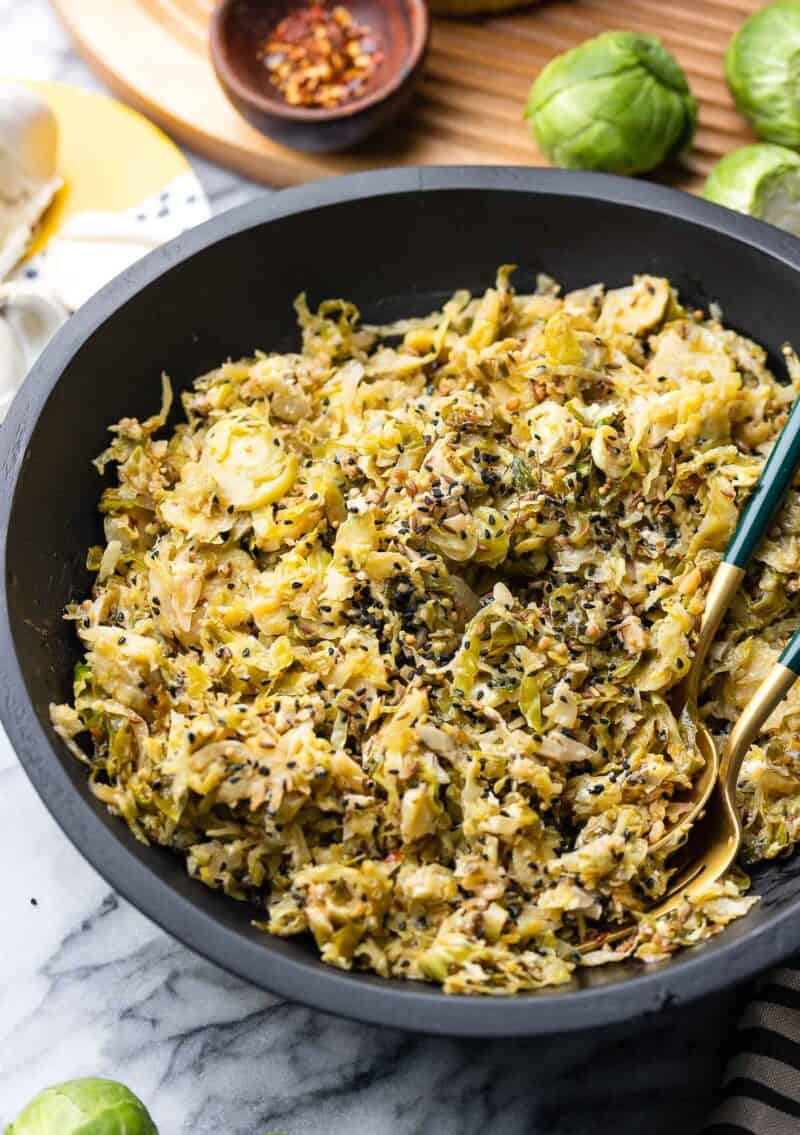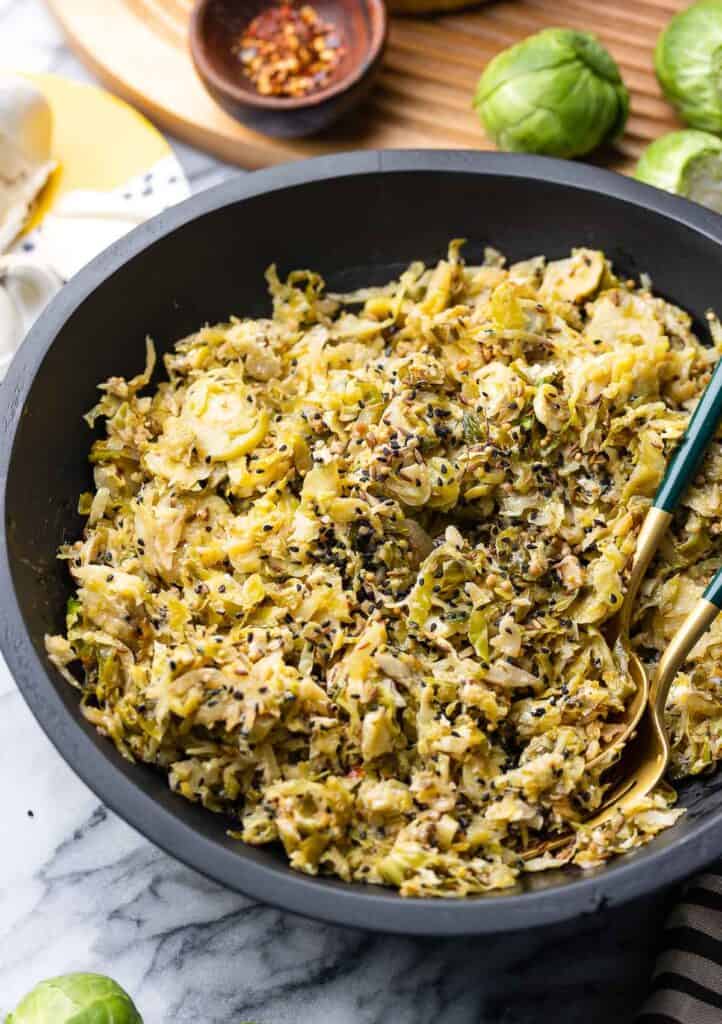 A New way to Enjoy Sautéed Brussels Sprouts
Inspiration for this sautéed brussels sprouts recipe comes from the cookbook Feasts: Middle Eastern Foods to Savor & Share by Sabrina Ghayour. A fantastic cookbook purchase, in case you're wondering!
The original recipe is actually made with savoy cabbage instead of sprouts and greek yoghurt instead of feta. Kind of the same. Kind of different. Both delicious down to the last bite!
While the feta and sprouts differ from the original, the recipe largely stays the same. The toasted whole spices and gently fried garlic add so much flavour to the sauteed sprouts in a few easy steps and little more than a handful of ingredients!
Key Ingredients
While this truly is an easy recipe you might run into a slight hiccup when it comes to the ingredient list. That being said, a well stocked grocery store really should carry the whole spices in the spice section (or possibly the international food aisle).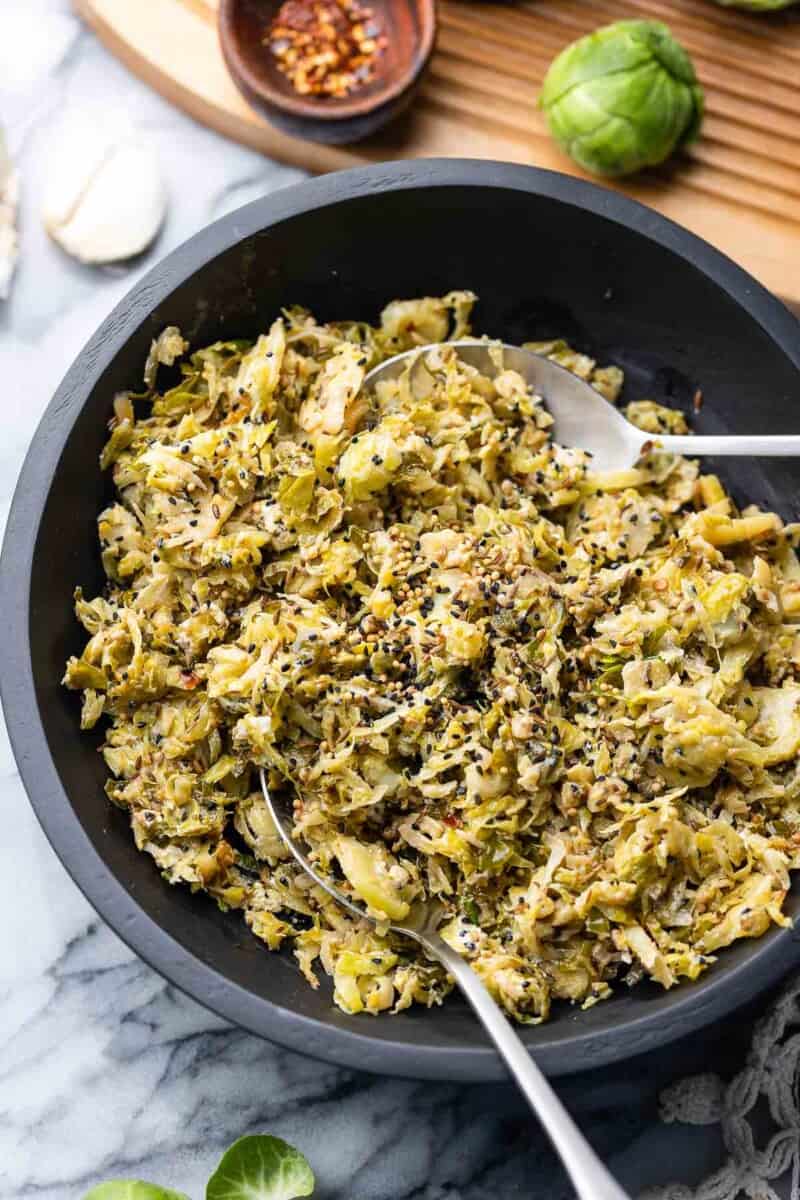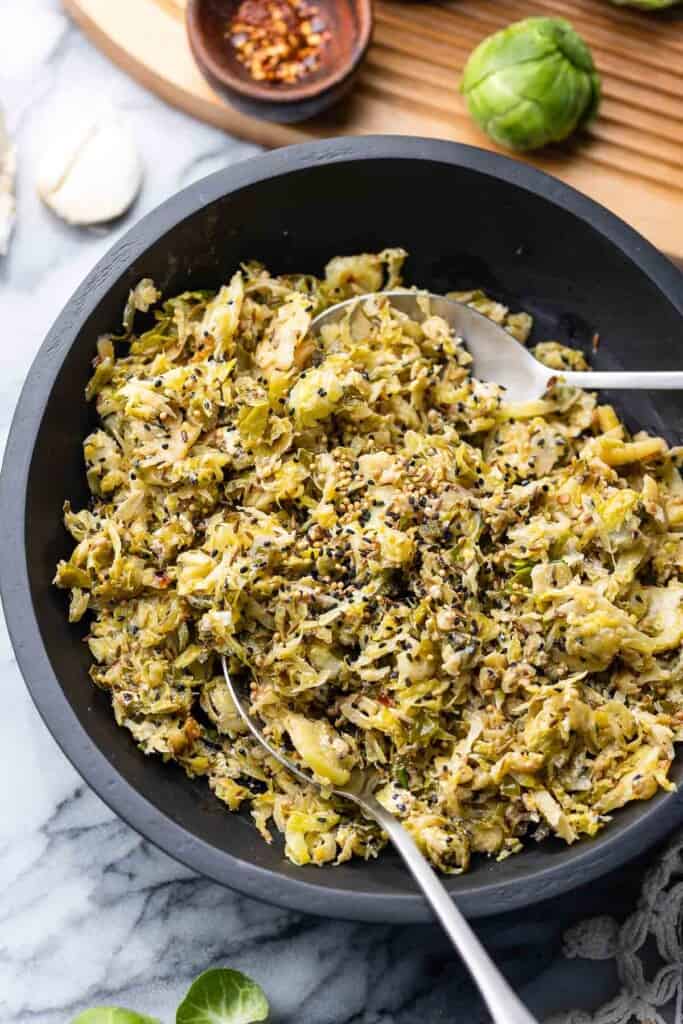 Nigella Seeds
Also known as black cumin seeds, black caraway, Kalonji seeds and black onions seeds – just to name a few. Nigella seeds have been enjoyed for thousands of years for its potential health benefits in addition to its culinary uses.
They are peppery, onion-y and a bit oregano-like which ultimately produces a flavor that's somehow punchy yet mild. Think charred, sautéd onions with a bit of black pepper thrown in. Delicious!
Possible Substitutes: If you don't have any nigella seed on hand there are still a few options for you!
Add 2 teaspoons oregano and 1/2 teaspoon onion powder – for a similar flavor profile.
Add black sesame seeds or poppy seeds – for a similar look. These will also add a lovely crunch and nutty flavor to the sautéd Brussels sprouts.
Add an extra teaspoon cumin seed. They're not totally the same (black cumin seed has a bit more citrus to it), but they do taste similar enough to sub it with regular cumin.
Cumins Seeds
Also known as Roman caraway or Jeera. Compared to nigella seed (aka black cumin seed), cumin has a more musky, woody aroma. It's a staple spice in many cuisines around the world, much appreciated for its earthy, pungent flavor.
Possible Substitutes: cumin powder
If using cumin power you will need to add a bit of oil to the pan to fry the powder instead of toasting it. Whole seeds contain natural oils which is why you can dry toast them.
Mustard Seeds
Mustards seeds come in white, brown and black varieties. White seeds are mild – likely what you'll find sold in major grocery stores. Brown seeds are more spicy and commonly used in Indian cooking. Black seeds are punchy and spicy, but not as common. In this recipe you'll need white mustard seeds, but brown will work too.
Possible Substitutes: ground mustard
I recommend only using 1 teaspoon ground mustard in place of whole mustard seed. Ground spiced are more concentrated in flavor which can produce an overly pungent dish if used too liberally.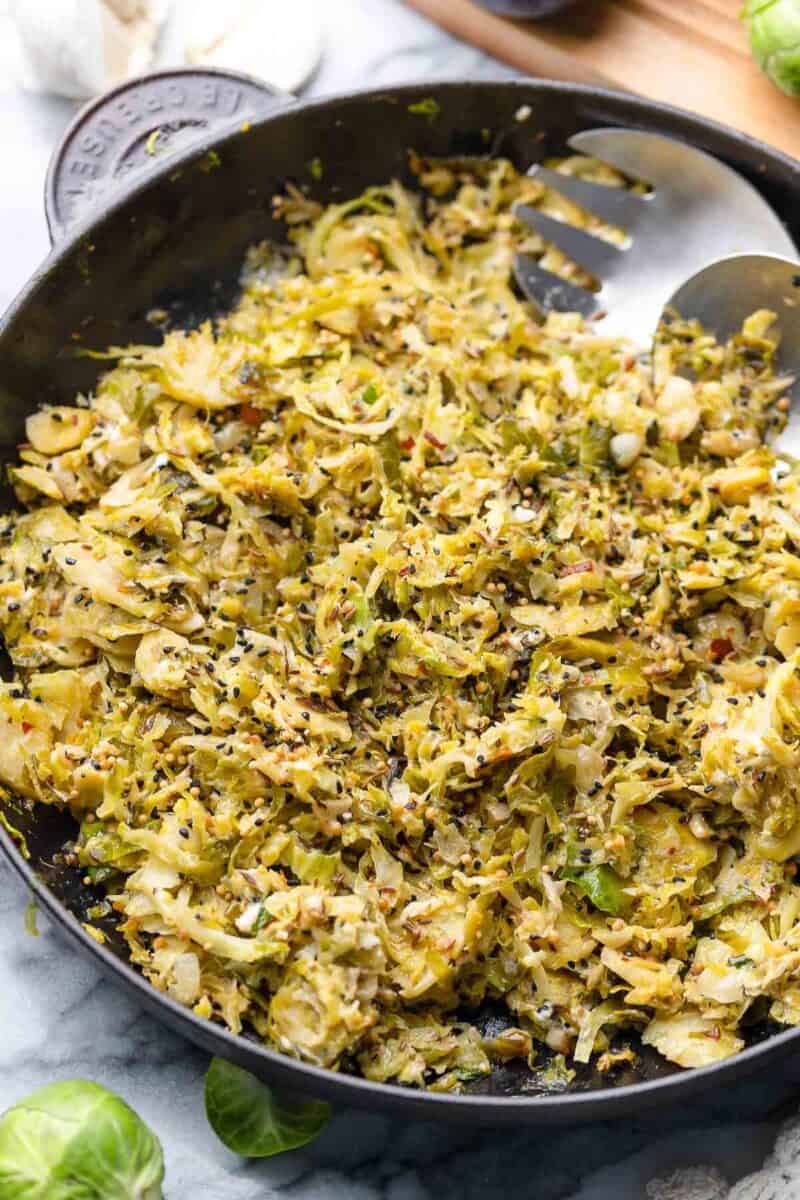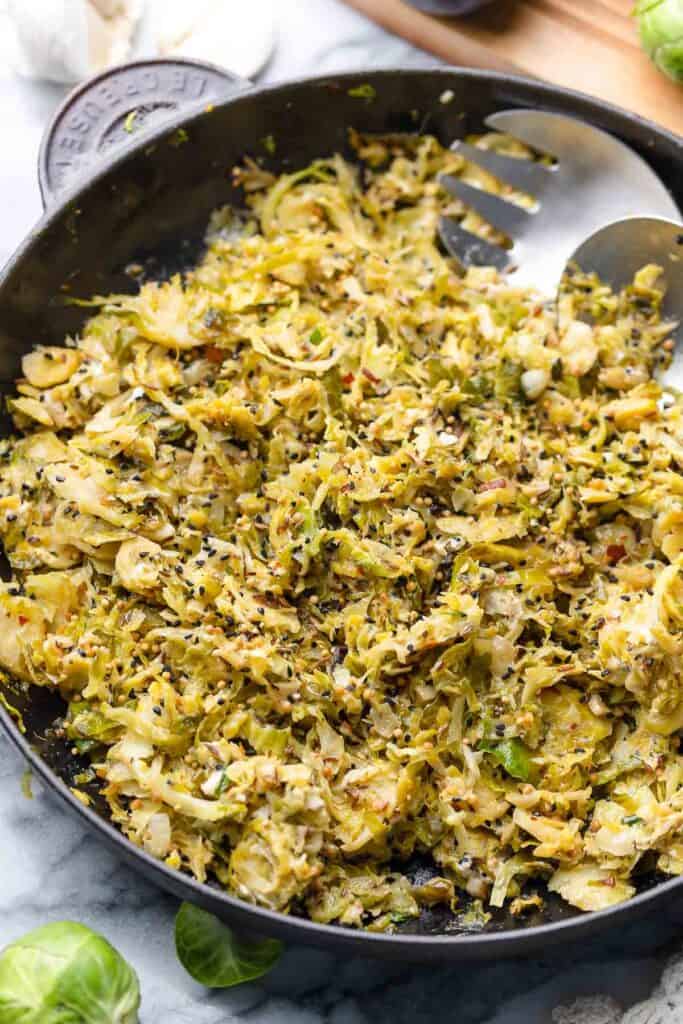 Enjoy
I highly recommend you try these sauteed brussels sprouts using whole spices if possible. They really do add so much in such small amounts!
In easy under 30 minutes you're left with an easy side dish simple enough to prepare any day of the week and delicious enough to serve during your next holiday meal.
Enjoy!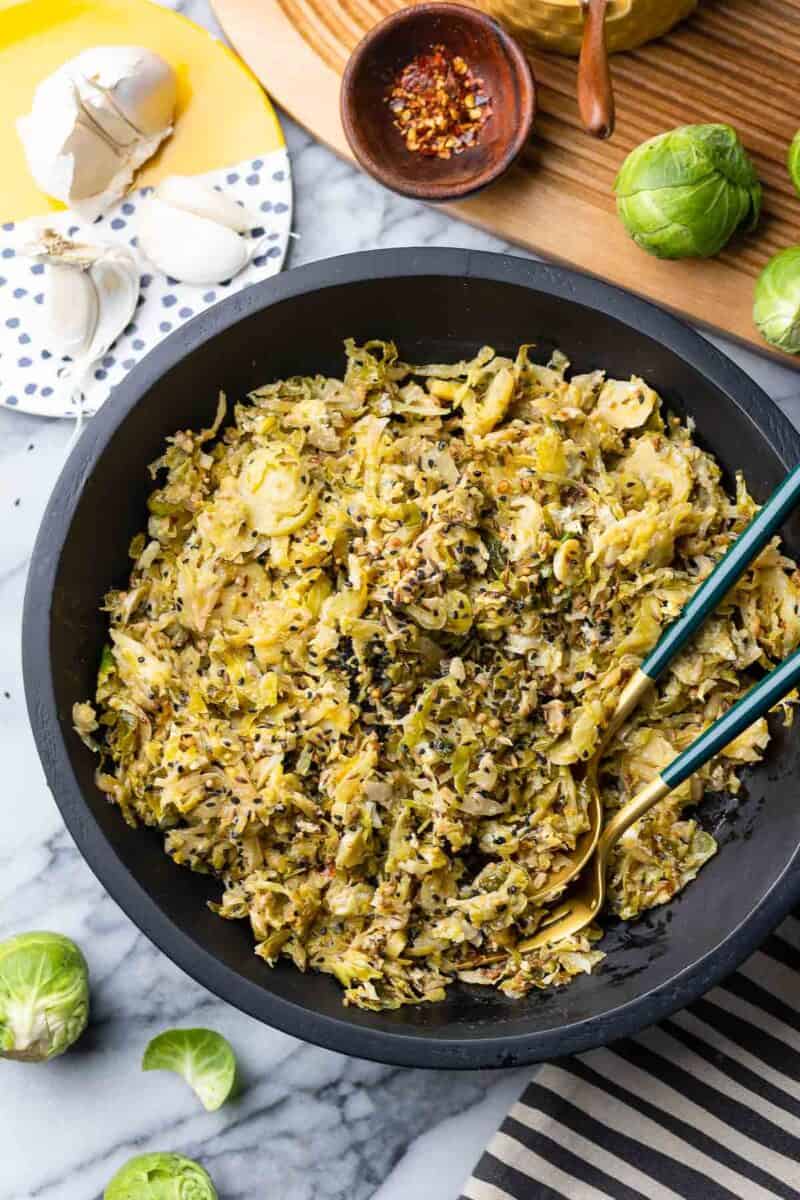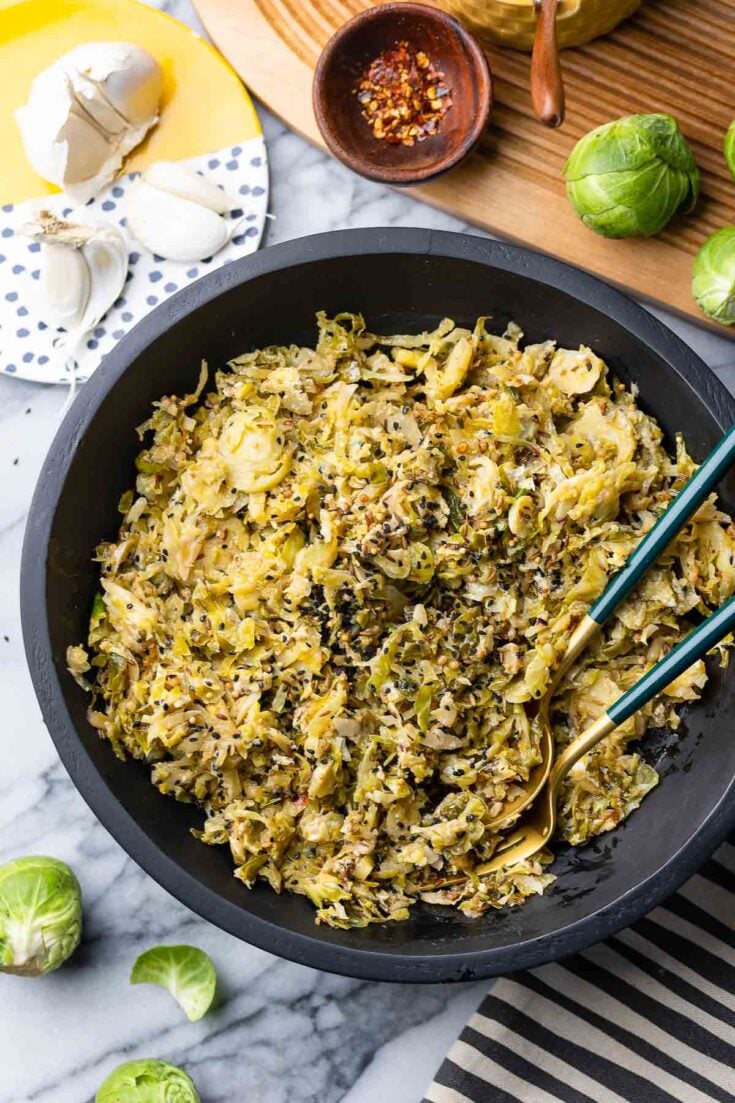 Recipe
Spiced Garlic Sautéed Brussels Sprouts with Feta
Yield:
4-6 servings
Prep Time:
15 minutes
Cook Time:
10 minutes
Total Time:
25 minutes
Finely shredded and sautéed Brussels sprouts seasoned with toasted whole spices, gently fried garlic and creamy, crumbled feta cheese
Ingredients
1 pound of Brussels sprouts, hard ends trimmed (450g)
2 teaspoons cumin seeds
2 teaspoons mustard seeds
2 teaspoons nigella seeds
1 teaspoon red pepper flakes
3 tablespoons olive oil or avocado oil (45 ml)
4 large garlic cloves, sliced
2/3 cup feta, cubed or crumbled (100g | 3.5 oz)
1/2 teaspoon salt and ground black pepper, each + more to taste
Instructions
Brussels Sprouts Prep
Cut off the tough ends of the sprouts with a sharp knife and remove any browning outer leaves. Slice them as through thinly as possible and then roughly chop the sliced spouts to make them even smaller. Alternatively you can do this easily using a food processor by dropping them through the opening with the slicing blade attached.
Once the sprouts are chopped and sliced, place in fine mesh strainer/colander and rinse under cold running water to wash out dirt hiding between the leaves. Shake out the excess water and set aside.
Stove Top
Heat a large skillet or frying pan (choose a pan with a fitted lid) over a medium-high heat. Add the whole spices: cumin, mustard seeds, nigella seeds and chili flakes and dry-toast for 1 minute. Gently shake the pan every so often to stir.
Add a tablespoon olive oil to the pan. Lower to a medium heat and add the sliced garlic to the hot skillet. Cook another minute, stirring often.
Add the shredded Brussels sprouts to the pan along with the salt and pepper. Stir everything together. Drizzle the remaining 2 tablespoons olive oil over the top. Cover the pan with the fitted lid and let cook 3-4 minutes undisturbed. The sprouts will steam as the cook, softening the leaves.
Remove the lid and cook another minute or two, stirring often.
Add the feta and stir everything together. The feta should melt somewhat into the sprout mixture as it mixes in. Taste and add more salt and pepper to the sautéed brussel sprouts if needed. If the sprouts still feel a bit hard, cover and cook another minute.
Serve warm and enjoy. Store leftovers in an airtight container and keep up to 4 days. You can enjoy this cold, but I recommend reheating it on the stove top with a little butter or oil. Some of the leaves get nice and crispy after reheating.
Nutrition Information
Yield:

4
Serving Size:
1 cup
Calories:

237
Total Fat:

17g
Saturated Fat:

5g
Cholesterol:

22mg
Carbohydrates:

16g
Fiber:

6g
Sugar:

5g
Protein:

9g
This website provides approximate nutrition information for convenience and as a courtesy only. Nutrition data is gathered primarily from the USDA Food Composition Database, whenever available, or otherwise other online calculators.
More Healthy Veggie Sides You Might Enjoy