Bacon and brussels sprout salad loaded with crunchy almonds and creamy pine nuts and topped with a lemon-garlic vinaigrette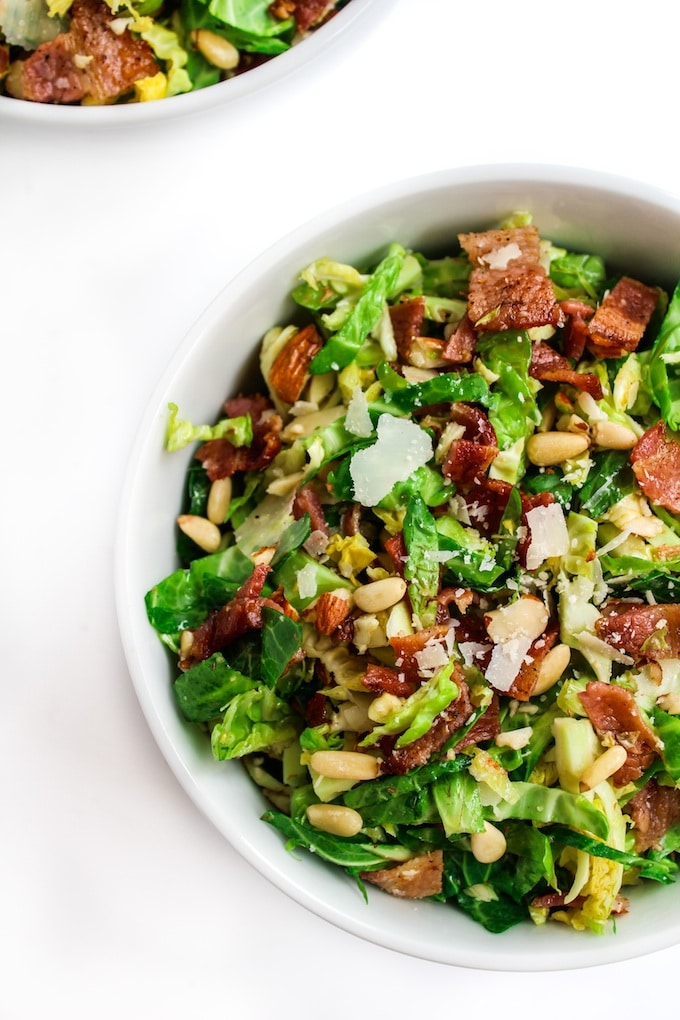 When your new favorite lunch involves brussles sprouts, that means you're an adult now, right?
I wish being an adult was as easy as eating brussles sprouts. There are so many aspects of being a ~real person that I have yet to conquer. Talking on the phone, filing taxes without have a breakdown, and separating my whites from my darks while doing laundry fall into that category of things I need to work on. Maybe I should put over-sharing my life on the Internet onto that list as well.
Anyways.
Being the sophisticated adult that I am, I thought it was time to whip out the mini cabbage and make this bacon and brussels sprout salad because nothing says TGIF like shaved brussels sprouts. Ammirite? I hope the sarcasm there is obvious there.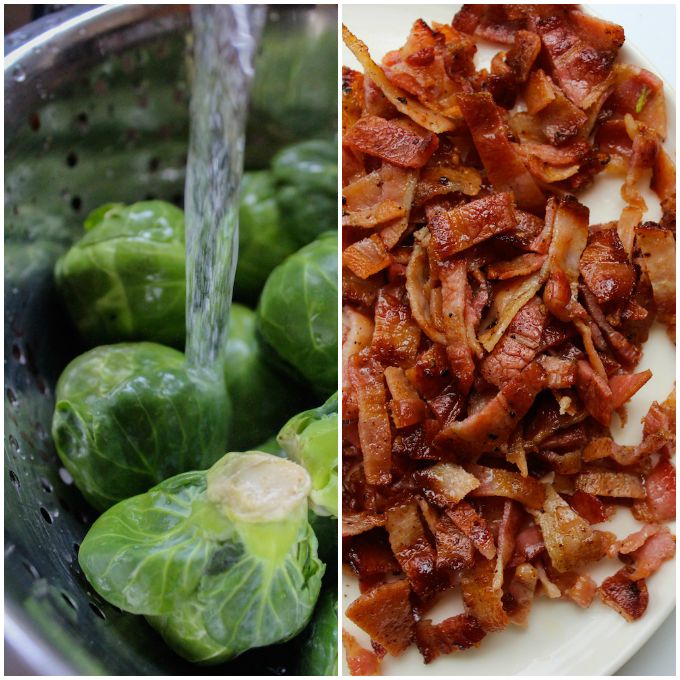 One thing I am most certainly not sarcastic about (right now) is how crazy I am about this salad. It's crunchy, nutty, salty, savory, and tangy all at the same time. The best part about it is that every single bite is loaded with a bacon, almonds, pine nuts, and cheese all dressed in a garlic and lemon olive oil based vinaigrette. I'm actually surprised I've never posted this dressing on its own before because I put it on almost all of my salads. There is rarely a time that I don't have a bottle ready made in the fridge because I love it that much.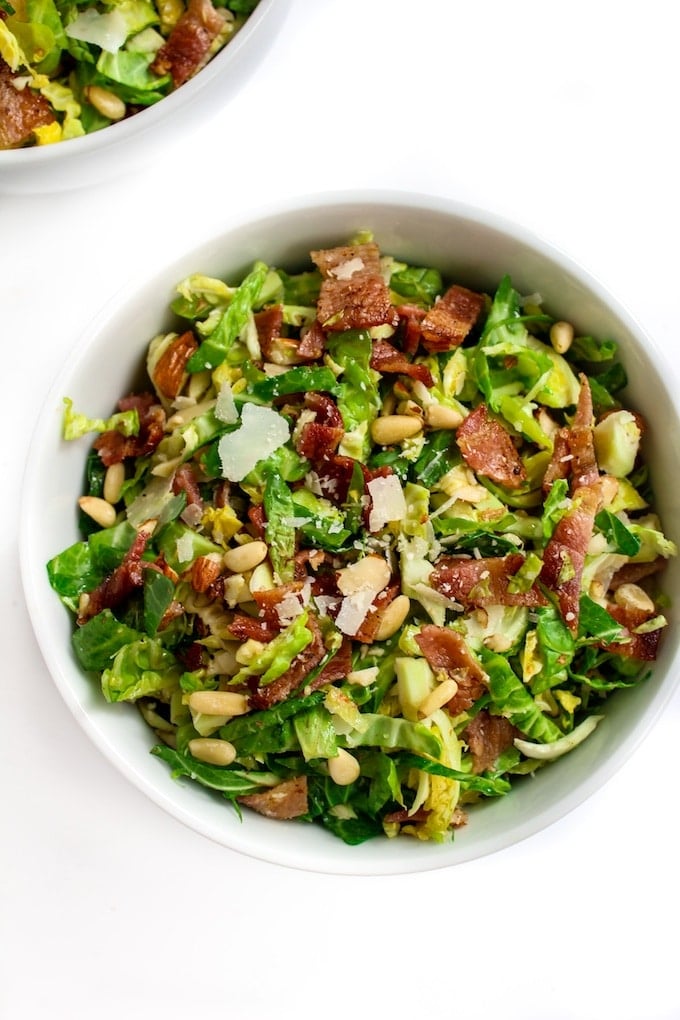 If you are like me and have neither a food processor or a mandolin, you'll have to whip out the cutting board and do that part manually. Yes, it's a bit more laborious than throwing it in a processor to do the work for you, but on the plus side you have less sharp objects to clean up at the end. I'd take less clean up and more time spent cooking any day, but maybe that's just me. Just put some music on and and try not to reach for the cooked bacon too much as you chop away. I found this youtube video here to be helpful in figuring out the best way to shave those sprouts. It also covers how to work the mandolin and a food processor if you're not sure how.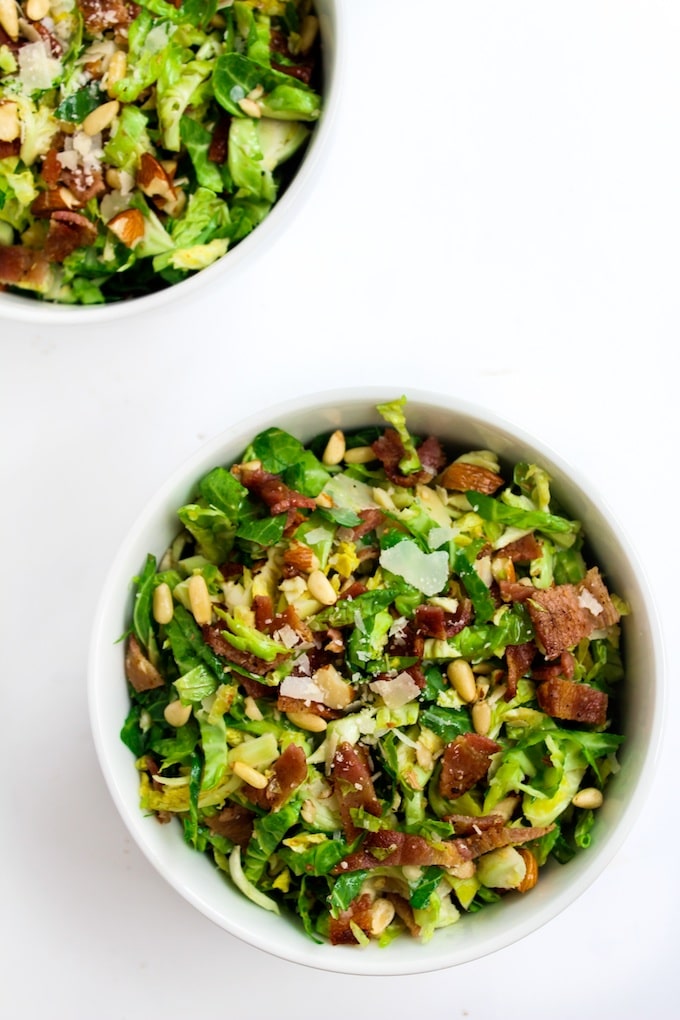 So maybe I haven't quite levelled up to adulthood yet. I'd bet my life savings that there will never be a time where I actually feel like I've got things all figured out, but I am totally ok with that. Life is more interesting that way.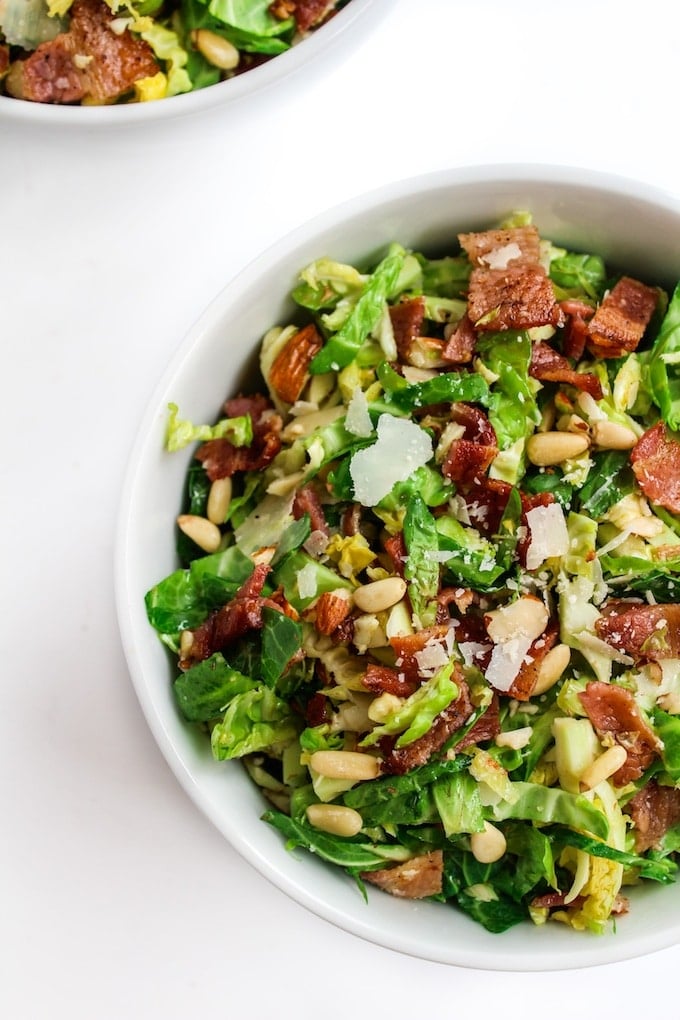 Recipe
Bacon and Brussels Sprout Salad
Yield:
8 servings
Prep Time:
20 minutes
Cook Time:
5 minutes
Total Time:
25 minutes
Bacon and brussels sprout salad loaded with crunchy almonds and creamy pine nuts and topped with a lemon-garlic vinaigrette
Ingredients
For the dressing
3/4 cup (177 ml) extra virgin olive oil
1/2 cup (125 ml) lemon juice
1-2 garlic cloves crushed
1/2 teaspoon salt
1/2 teaspoon pepper
For the salad
500 grams brussels sprouts*
8 bacons strips cooked and crumbled
1 cup (96 grams) almonds chopped
1/2 cup (70 grams) pine nuts
1 cup (88 grams) grated parmesan cheese optional
Instructions
In a small jar with a lid add the oil, lemon juice, crushed garlic, salt, and pepper. Cover the jar and shake until combined and then place in the fridge until you're ready to use it.
Cook the bacon as your normally would and set it aside to cool.
Prepare the brussels sprouts by using a mandolin (watch your fingers!) or food processor if you have either of those tools. If you are doing it manually, hold onto the stem and carefully slice the sprouts into thin pieces to shred.
Roughly chop your almonds, or if you don't mind getting something else dirty, throw them into a blender for 10 seconds to get them nice and crumbly.
In a large salad bowl, toss together the sprouts, most of the almonds, pine nuts, bacon bits, and cheese. Drizzle the dressing into the salad and toss again. Top with the remaining almonds, bacon, nuts, and cheese and serve.
Notes
*This will probably be around 4 dozen sprouts
This will keep in the fridge for up to three days
Calories are listed without optional Parmesan included.
Nutrition Information
Yield:

8
Serving Size:
g
Calories:

431
Saturated Fat:

5g
Cholesterol:

9mg
Sodium:

262mg
Carbohydrates:

11g
Fiber:

4g
Sugar:

2g
Protein:

9g
This website provides approximate nutrition information for convenience and as a courtesy only. Nutrition data is gathered primarily from the USDA Food Composition Database, whenever available, or otherwise other online calculators.