Take your roasted sprouts up a notch with this Roasted Brussels Sprouts Quinoa Salad! Simply roast the onions and sprouts until nearly cooked, then add a handful of chopped walnuts for extra crunch. Continue roasting until charred and crispy before mixing into a bed of fluffy quinoa. Finally, finish off with the rich and savory sun dried tomato vinaigrette. The end result is a hearty seasonal salad that's as tasty as it is satisfying! | Gluten Free + Vegan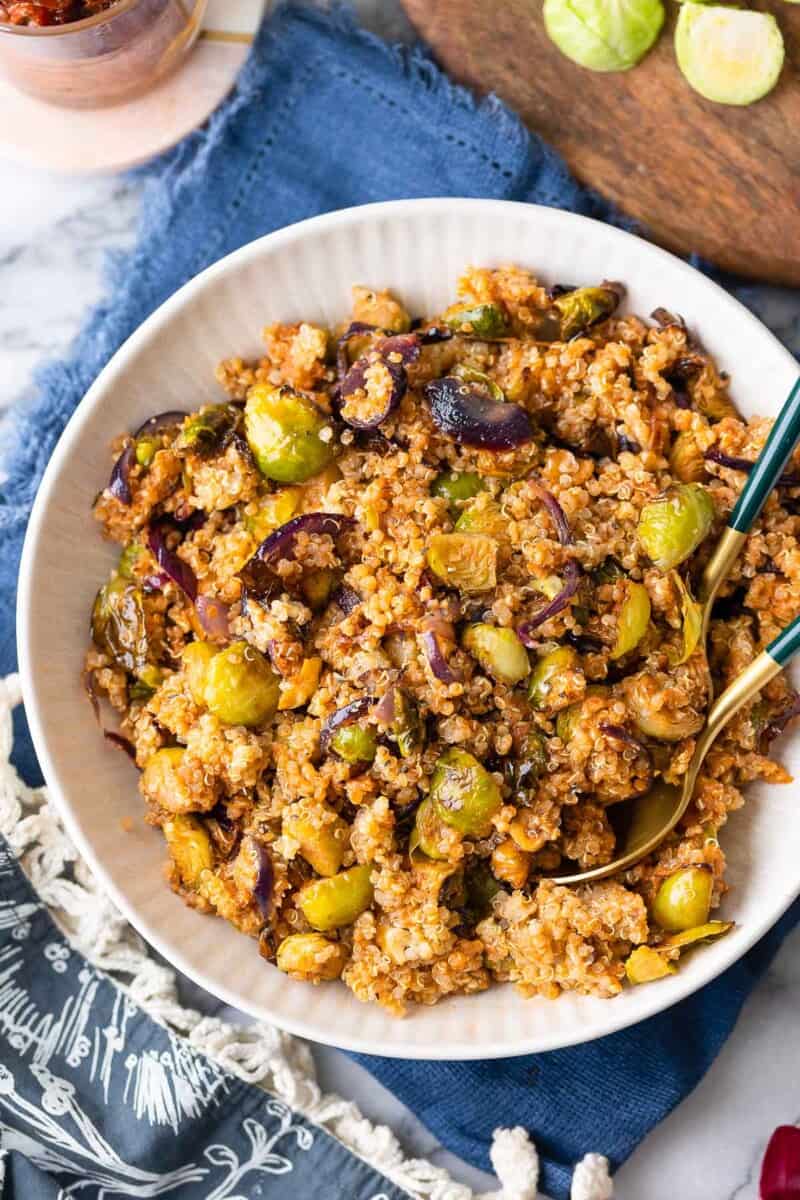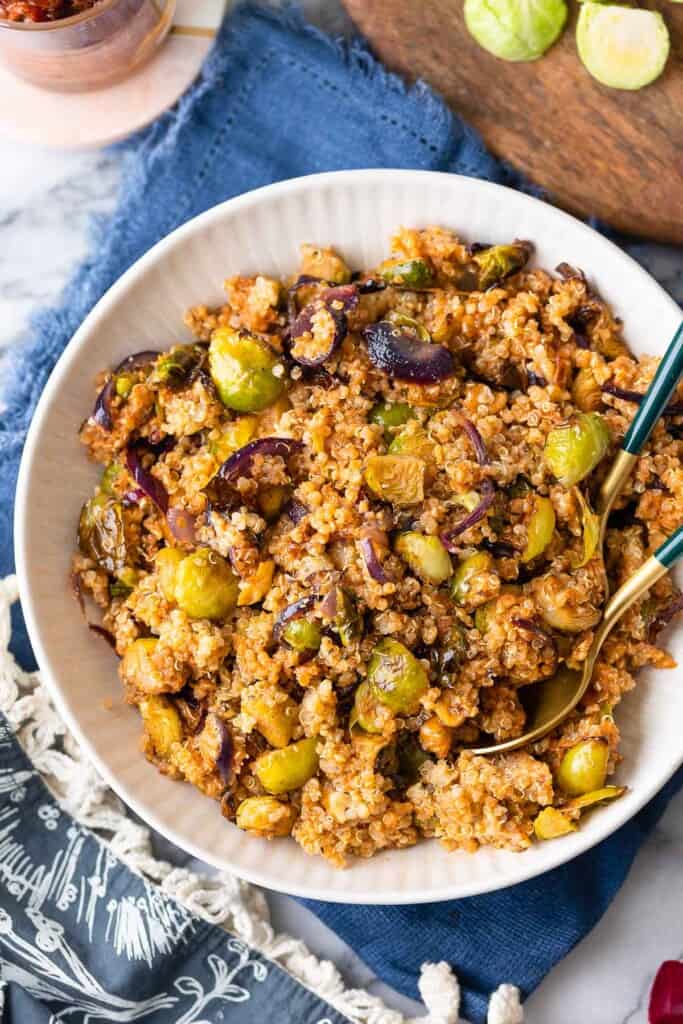 Roasted Brussels Sprouts truly don't need much more than salt, pepper and a little oil to come out tasting delicious, but this roasted Brussels sprouts and quinoa salad really kick things up a notch thanks to the sun dried tomato pesto vinaigrette!
How to Make this Roasted Brussels Sprouts Quinoa Salad
While there is a lot going on in this salad, once you break it down into the three main components (quinoa, veggies and vinaigrette) you'll see that it's actually quite simple!
Step One – Prep the Quinoa
First step in creating this Roasted Brussels Sprouts Quinoa Salad – make the quinoa!
One cup of dried quinoa will take about 15-20 minutes to cook which is just about the same amount of time you'll need to roast the veggies.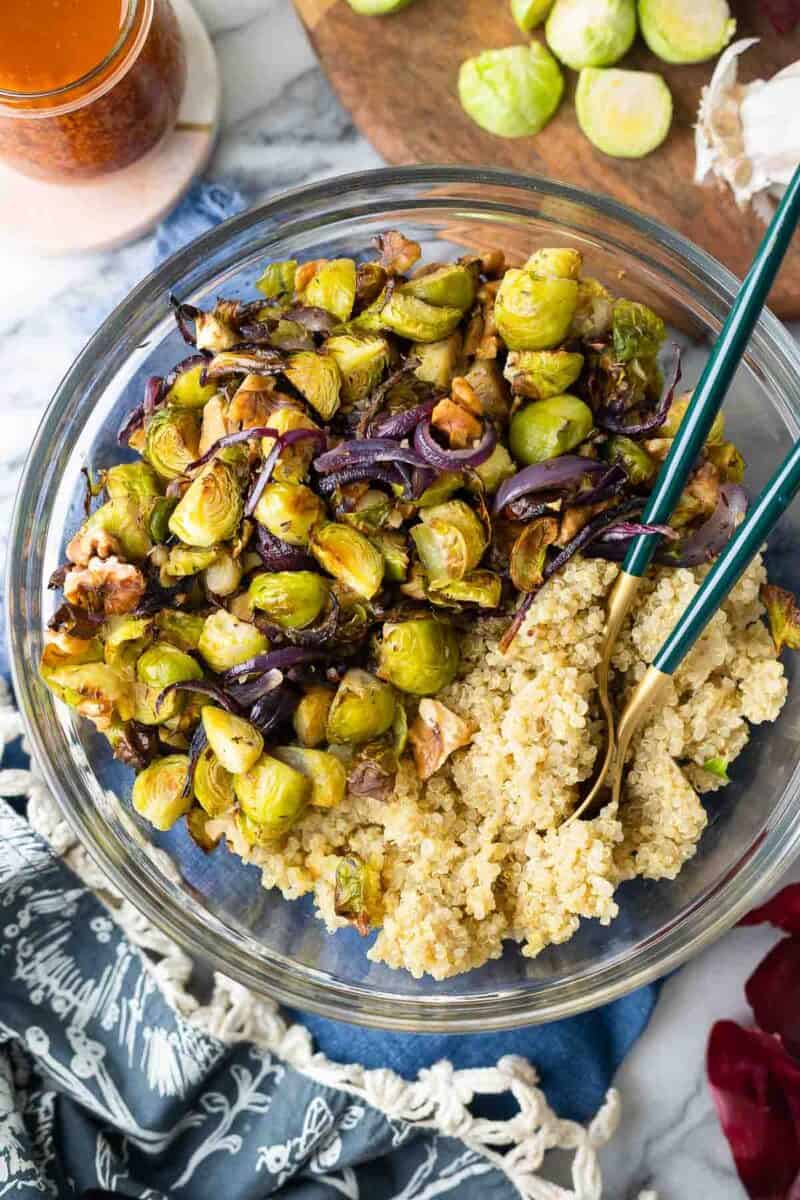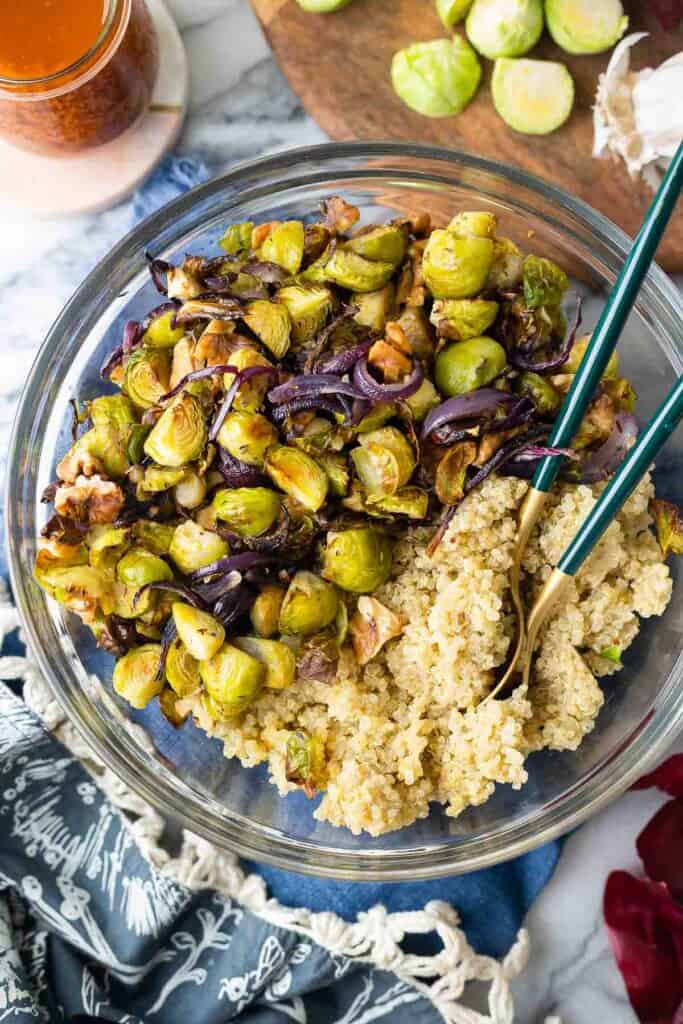 As a general rule of thumb you need about twice as much liquid as you do quinoa. In this case: 1 cup of dry quinoa needs 2 cups of water. Place quinoa and water in a small saucepan, bring it to a boil then simmer on low until all the water has been absorbed.
Leave the quinoa uncovered as it cooks so the excess moisture and steam cooks out (quinoa = more fluffy and less mushy).
Once cooked, fluff up the quinoa then remove the pot from the heat. Set aside and let rest while you finish up with the remaining salad prep.
Flavor Tip!
Instead of water, cook the quinoa in vegetable stock! Omit the added salt and cover with veggie stock (or chicken if this doesn't need to be vegetarian) to infuse even more flavor into the quinoa.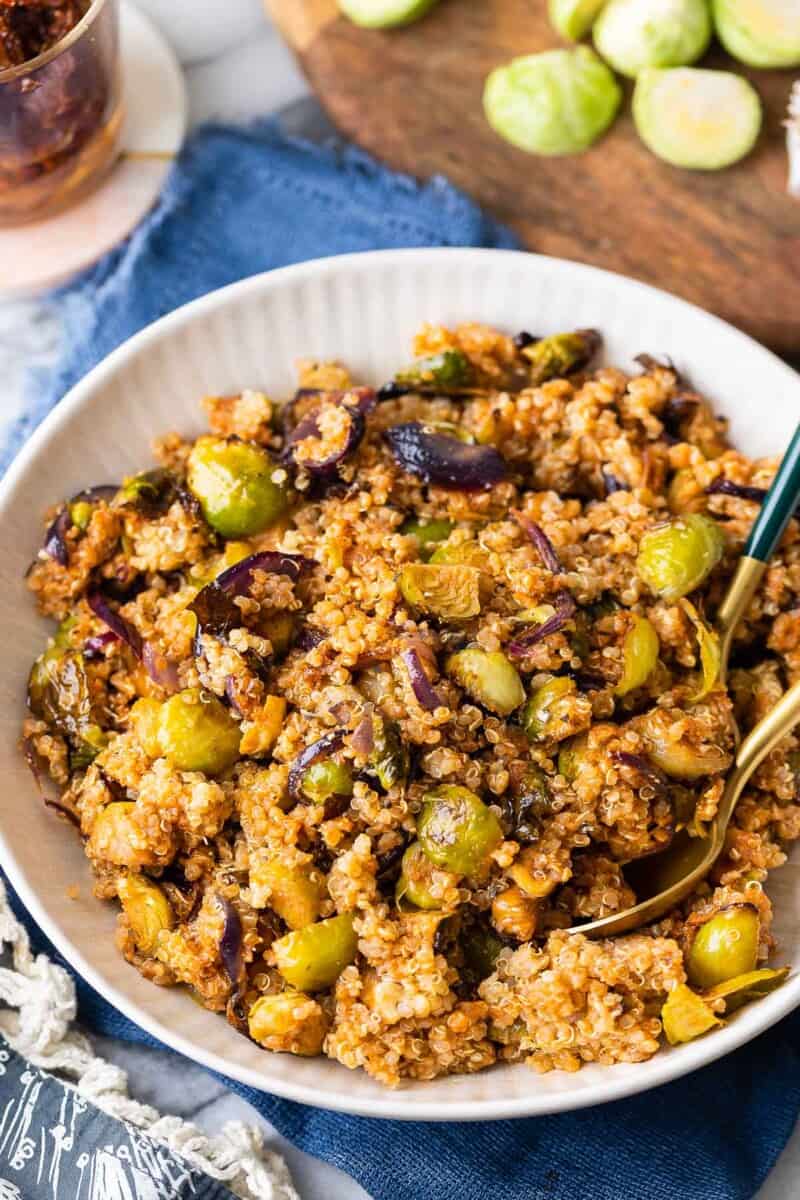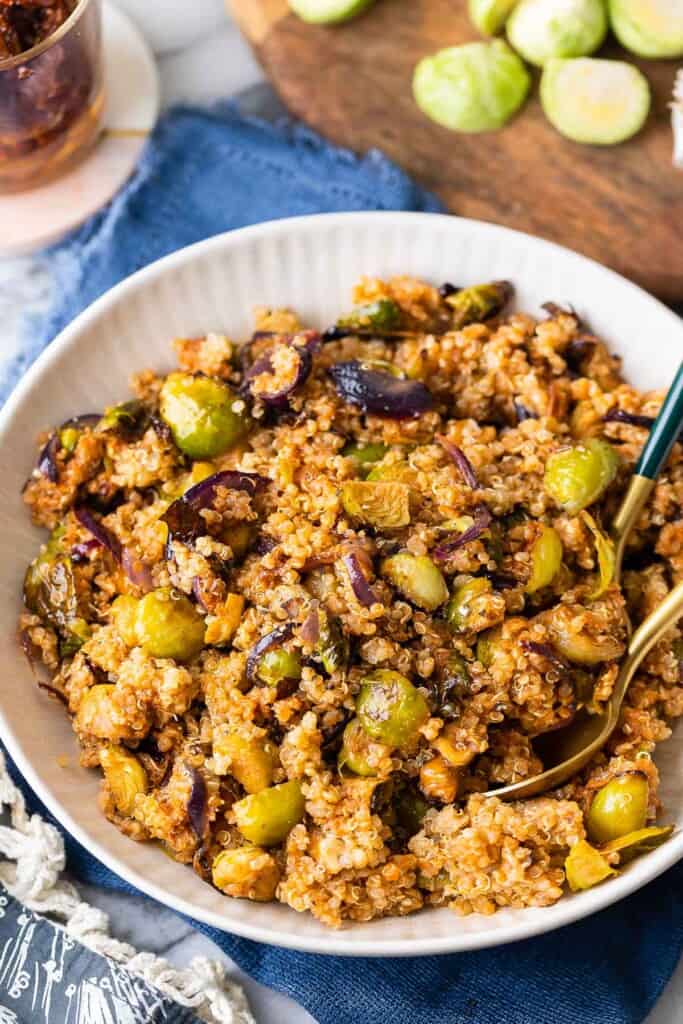 Step Two – Roast the Veggies (and Walnuts)
Prep the Brussels sprouts as needed: cut off the hard ends then quarter the sprouts. Add the sprouts to a large baking sheet along with sliced red onion. Drizzle a tablespoon of oil over the veggies and sprinkle the dried herbs and salt on top.
Use your hands to toss the sprouts and onion in the herbs and oil. If you don't want to get your hands messy, feel free to mix everything together in a large mixing bowl (if you don't mind the extra dirty bowl!).
Once everything is well coated, spread the sprouts and onion slices across the pan in a single, even layer. Try to ensure the sprouts aren't overlapping each other too much.
Place the pan in the oven and roast for about 10 minutes. Take out the pan, stir everything together and add the roughly chopped walnuts. Return the sprouts to the oven one more time and continue roasting another 15 or so minutes.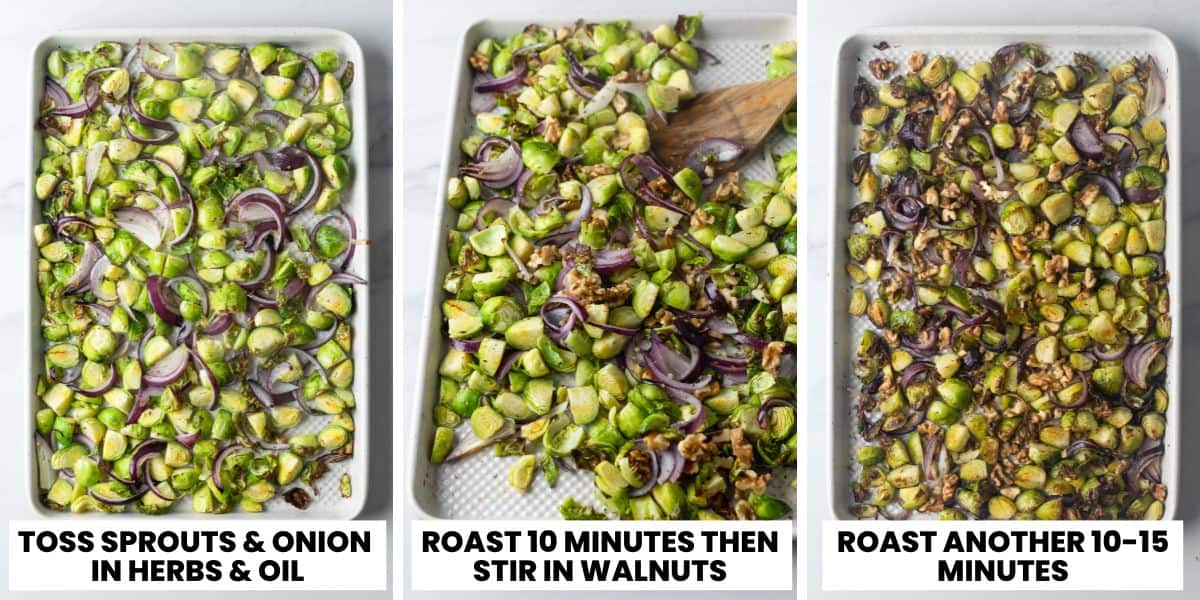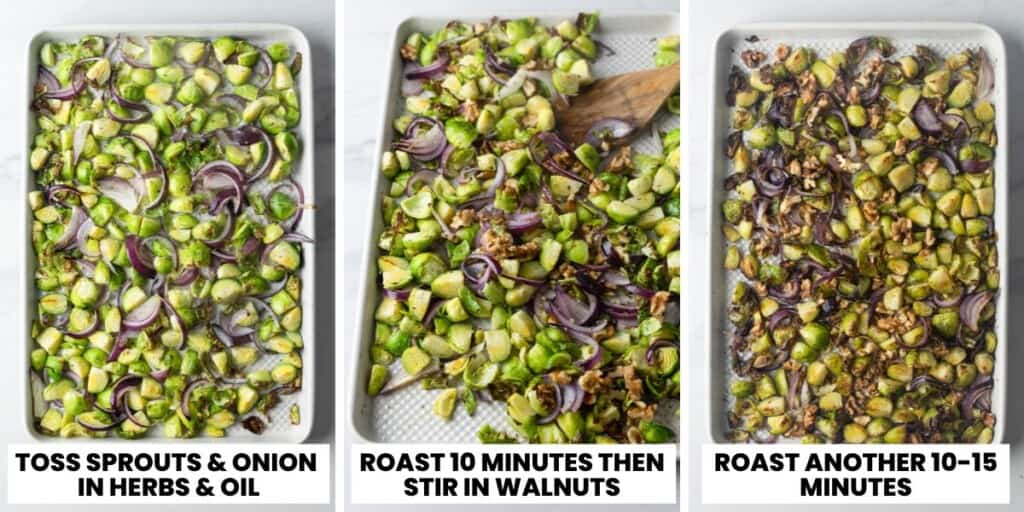 Step Three – Sun Dried Tomato Vinaigrette
Taking inspiration from my sun dried tomato pesto (Pesto Rosso), this vinaigrette blends together quickly and easily with just a handful of ingredients.
Olive Oil – Extra virgin olive oil is ideal here
Sun-Dried Tomatoes – Use either jarred sun dried tomatoes packed in oil or dry packed sun dried tomatoes that you rehydrate before blending.
Tomato Paste – Tomato paste adds both richness or flavor and color. A tablespoon here packs in an extra layer of umami.
Garlic – Crush or smash the garlic beforehand to enable it to blend up into the vinaigrette easier.
Nutritional Yeast – A dairy free/vegan friendly way to impart a cheesy flavor. Nutritional yeast also often comes fortified with essential nutrients so it's a great way to boost the potential health benefits of your food!

Feel free to use regular parmesan (parmigiano reggiano) if you don't need this recipe to be vegan/vegetarian.

Red Wine Vinegar – If needed you can use apple cider vinegar, sherry vinegar, white wine vinegar, balsamic vinegar or even lemon juice. Keep in mind the different types of acid will alter the overall flavor slightly.
Dried Oregano – Adds a little earthiness to the more punchy and savory flavors in this vinaigrette.
Salt – As always, taste and season with a good pinch of salt to make the flavors really pop!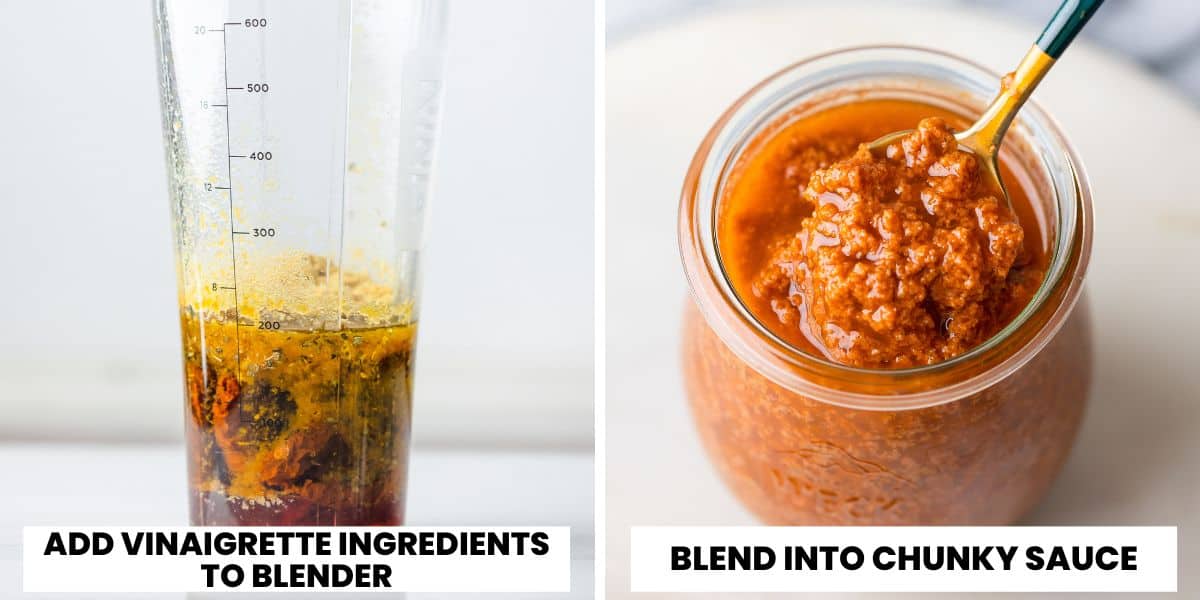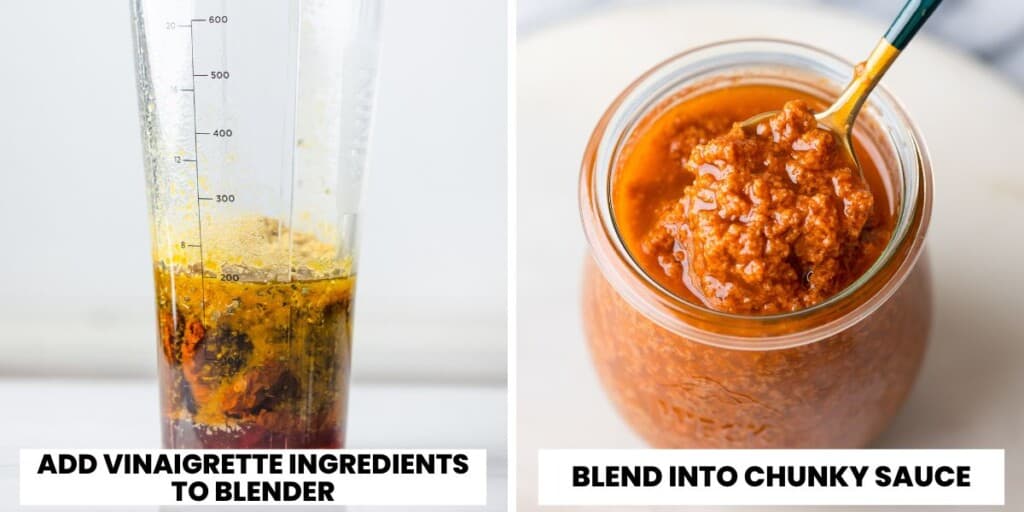 Assemble & Enjoy
After everything has been cooked, roasted and blended as needed simply add everything to a large salad bowl and toss together until well combined.
You can enjoy this salad hot while it's still warm or later after it's chilled in the fridge.
Feel free to spruce it up with extra bits as you like. Crumbled feta or goats cheese taste great here! Roasted broccoli is another great option if you don't have or don't care for Brussels sprouts. Swap out the walnuts for pecans, almonds or even pine nuts. If needed you can even leave them out for a nut free salad!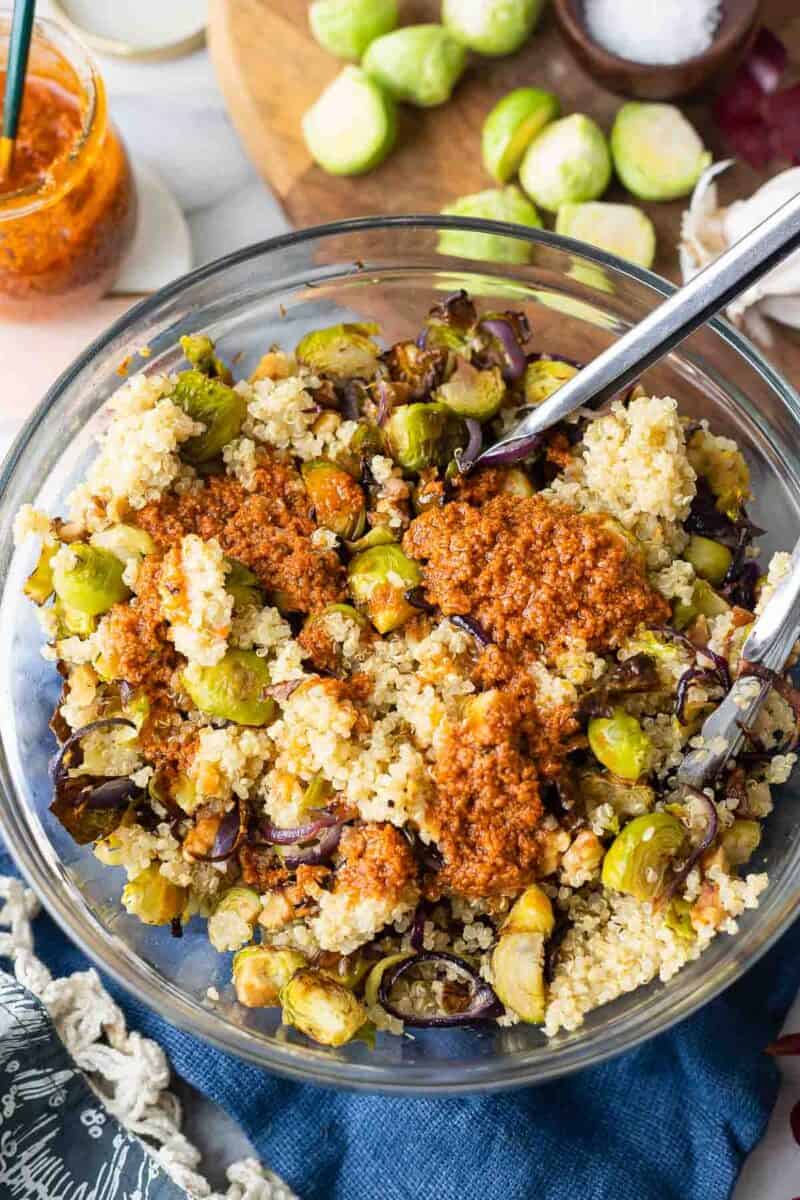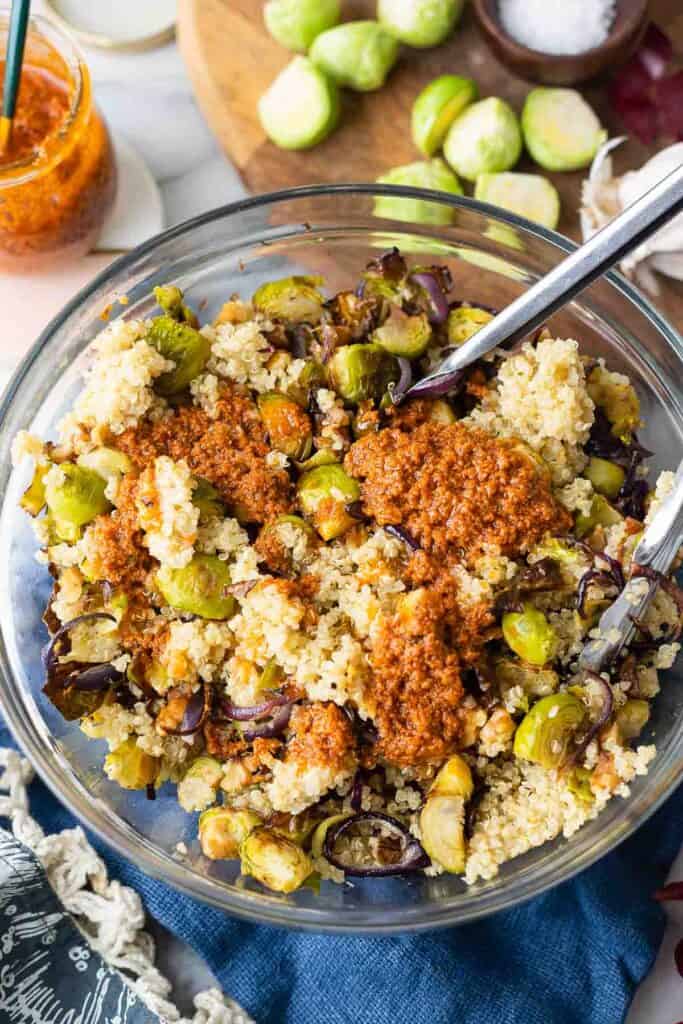 And that's it – a fiber-packed, protein-rich, and nutrient-dense winter salad that's satiating and satisfying! Enjoy!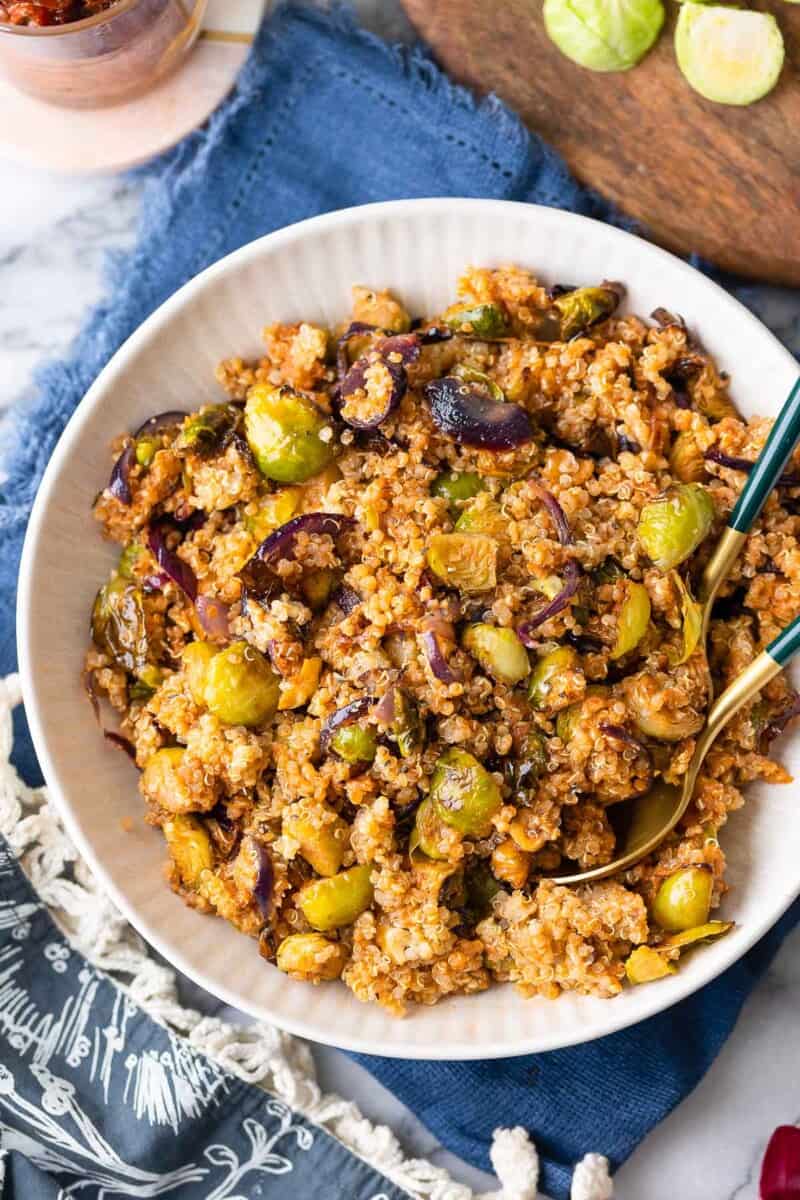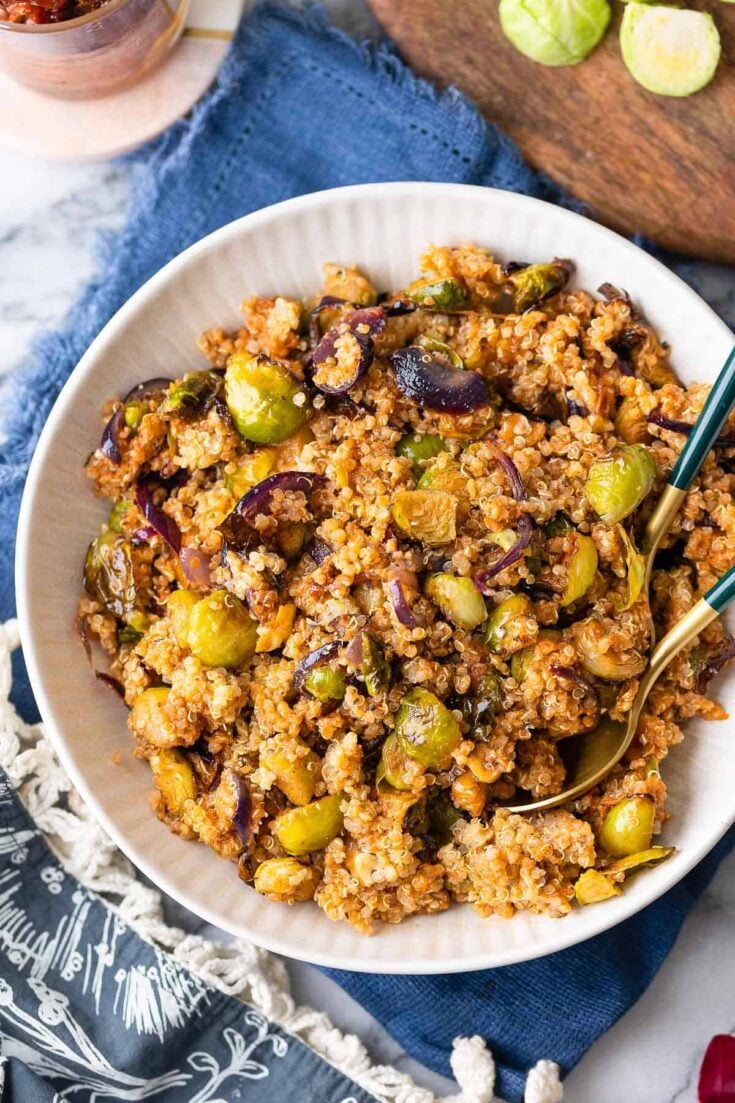 Recipe
Roasted Brussels Sprouts Quinoa Salad with a Sun Dried Tomato Vinaigrette
Yield:
6-8 servins
Prep Time:
15 minutes
Cook Time:
30 minutes
Total Time:
45 minutes
Roasted onions, sprouts and walnuts mix into a fluffy quinoa salad coated with a savory sun dried tomato pesto
Ingredients
1 cup dried quinoa (180g)
2 cups water (480ml)
1 pound Brussels sprouts, hard ends trimmed off and cut in half (470g)
1 red onion, sliced
2 tablespoons neutral flavored roasting oil like avocado or vegetable (30ml)
1 teaspoon dried oregano
1 teaspoon dried thyme
1/2 teaspoon salt
1/2 cup walnuts, roughly chopped (60g)
Sun Dried Tomato Vinaigrette
7 tablespoons extra virgin olive oil
5 sun dried tomatoes (in oil or rehydrated)
1 tablespoon tomato paste (16g)
1 large clove garlic
1/4 cup nutritional yeast (30g) or grated parmesan
2 tablespoons red wine vinegar (30ml)
1 teaspoon dried oregano
salt to taste
Instructions
Quinoa

Add the quinoa to a medium sized sauce pan and cover with water and add a pinch of salt. Bring the pot to a boil over a medium-high heat then reduce the temperature to maintain a gentle simmer. Cook until all the liquid has been absorbed, about 15-20 minutes. Once cooked, remove from the heat source and set aside.
Roasted Sprouts & Onions
Preheat oven to 425°F/220°C. Lightly grease a large baking sheet or line with foil.
Add the prepared sprouts and onions to the baking pan. Drizzle with oil, and sprinkle the dried herbs and salt. Use your hands to mix everything together until well coated in herbs and oil (do this in a large bowl with tongs if you don't want to get your hands dirty). Spread everything out in an even layer.
Roast for 15 minutes then remove the pan from the oven. Add the chopped walnuts. Stir everything together then smooth back in an even layer. Roast another 10-15 minutes until the onions are slightly charred and the out leaves on the sprouts crispy.

Sun Dried Tomato Pesto

Add everything required for the vinaigrette to a blender or food processor and blend into your desired consistency. For a thinner vinaigrette, feel free to add an extra tablespoon or so of water or oil. Taste and season with more salt or vinegar if needed.

Salad

Add the cooked quinoa to a large mixing bowl. Add the roasted sprouts, onions and walnuts and toss together. Pour the vinaigrette over the top and toss again until everything is well coated.
Serve hot or cold. Keep leftovers refrigerated up to 4 days and enjoy.
Notes
You can swap out the nutritional yeast with parmesan if need. If you need to keep this salad vegan/vegetarian make sure to check the label to ensure it's vegetarian friendly or use a vegan parmesan.
Cook the quinoa in vegetable stock (or chicken stock if it doesn't need to be vegetarian) instead of water to infuse even more flavor into your salad.
Nutrition Information
Yield:

6.5
Serving Size:
1 cup | 170 grams
Calories:

412
Total Fat:

29g
Saturated Fat:

4g
Carbohydrates:

31g
Fiber:

8g
Sugar:

5g
Protein:

11g
This website provides approximate nutrition information for convenience and as a courtesy only. Nutrition data is gathered primarily from the USDA Food Composition Database, whenever available, or otherwise other online calculators.
More Ways to Enjoy Winter Veggies