Roasted Tenderstem Broccoli makes for a perfect side dish to almost any meal! It's easy to prepare, requires minimal ingredients and cooks in only 15 minutes. Spruce up your broccoli with additional herbs and seasonings or enjoy it with nothing more than a little salt and pepper!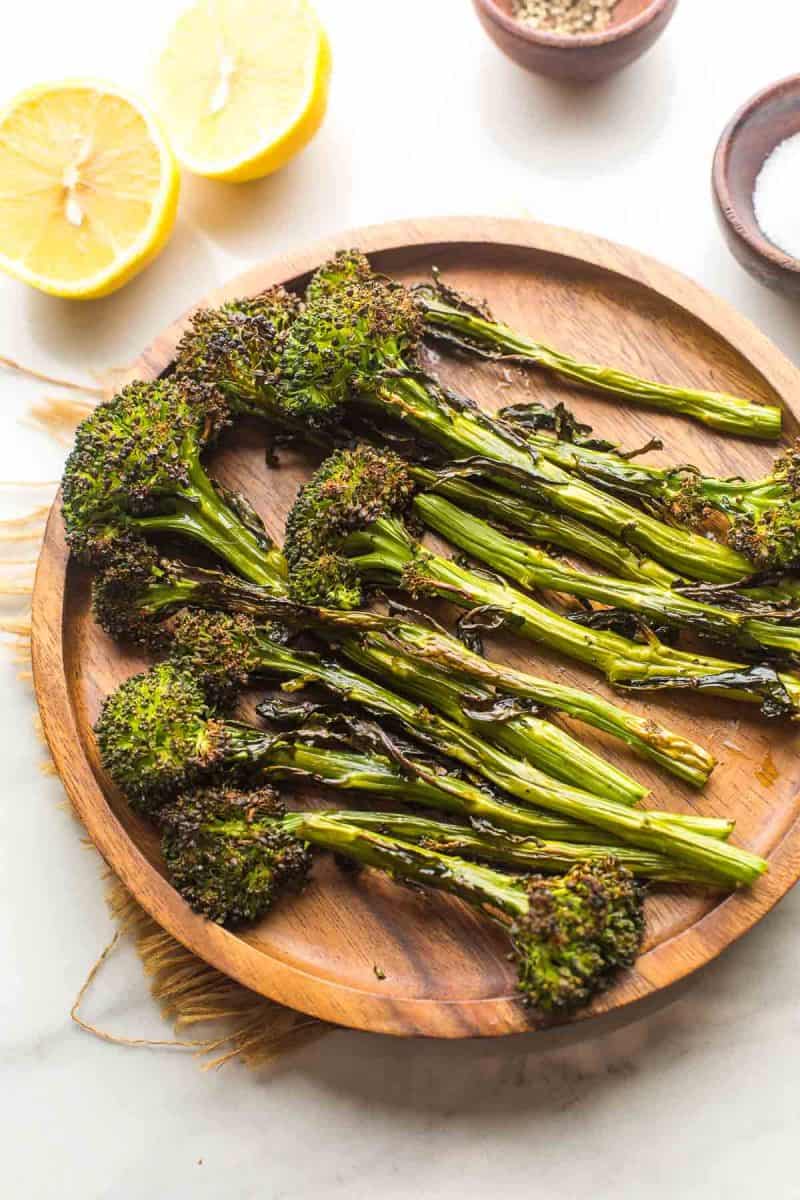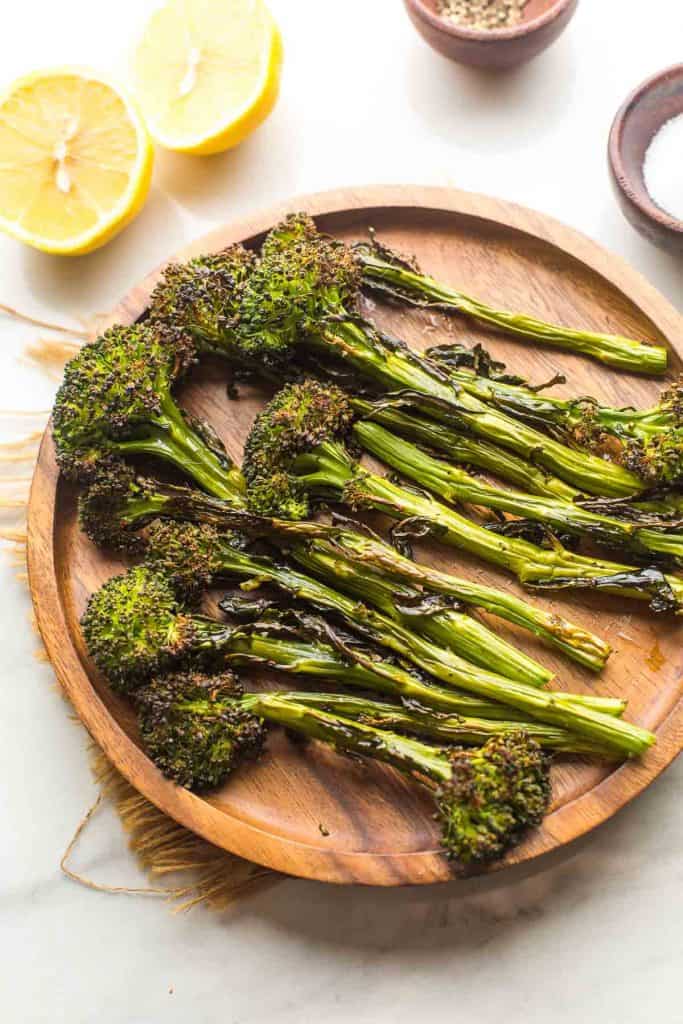 What is Tenderstem Broccoli?
Though it is sometimes referred to as baby broccoli, tenderstem broccoli is actually a hybrid of two different types of broccoli: Chinese broccoli (gai lan) and standard broccoli.
Chinese broccoli is long and leafy with hard stems and small florets. It looks closer to kale in appearance which is why it's also known as Chinese kale.
Tenderstem broccoli combines the long, leafy characteristics of Chinese broccoli and the familiar florets of regular broccoli to create a leafy, long stem broccoli that's sweeter and more delicate than regular broccoli. When it comes to taste, texture and appearance – tenderstem broccoli is almost like asparagus with a small broccoli floret on top.
It's not a genetically modified vegetable, but a cross-breed. Chinese broccoli and regular broccoli share many similar traits and DNA since they both belong to the cruciferous family. This means that they can be selectively grown to be softer, sweeter, long broccoli.
Is tenderstem broccoli the same as broccolini?
Yes! Tenderstem broccoli and broccolini are both different trademark names for this hybrid of broccoli. Depending on which country you're in – you might find it sold under either name. The UK seems to sell Tenderstem broccoli while North American usually uses 'Broccolini'.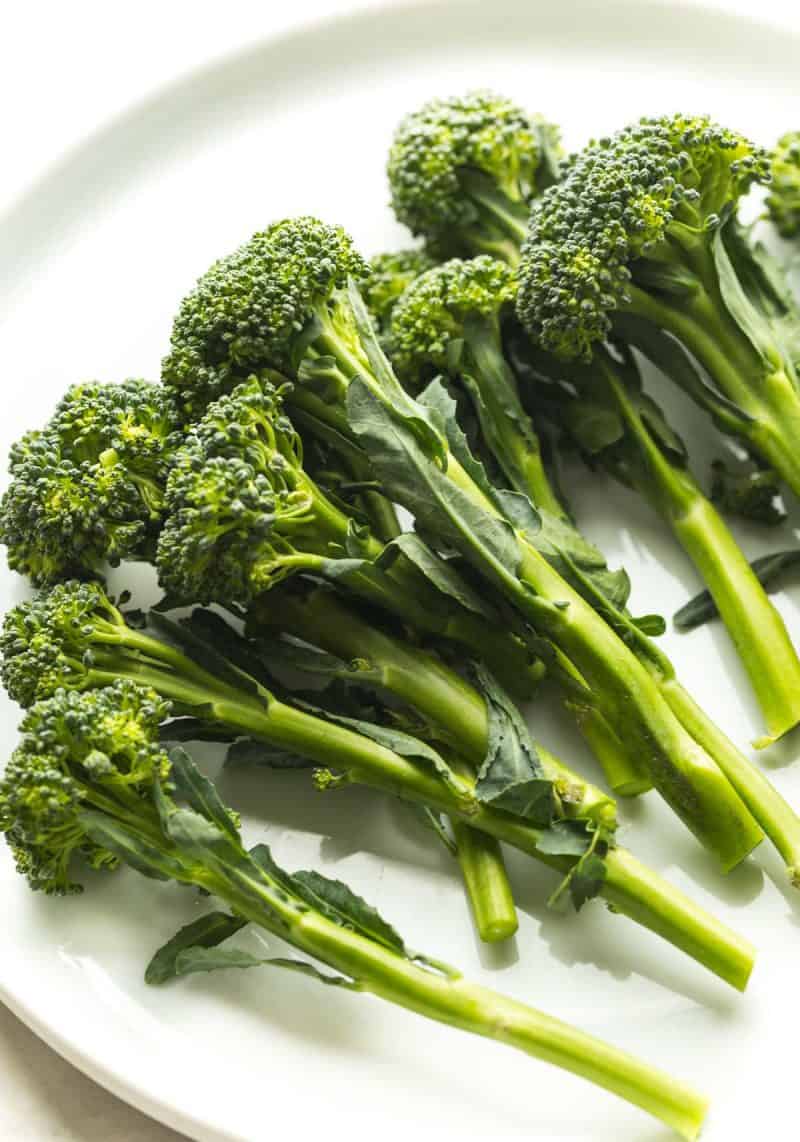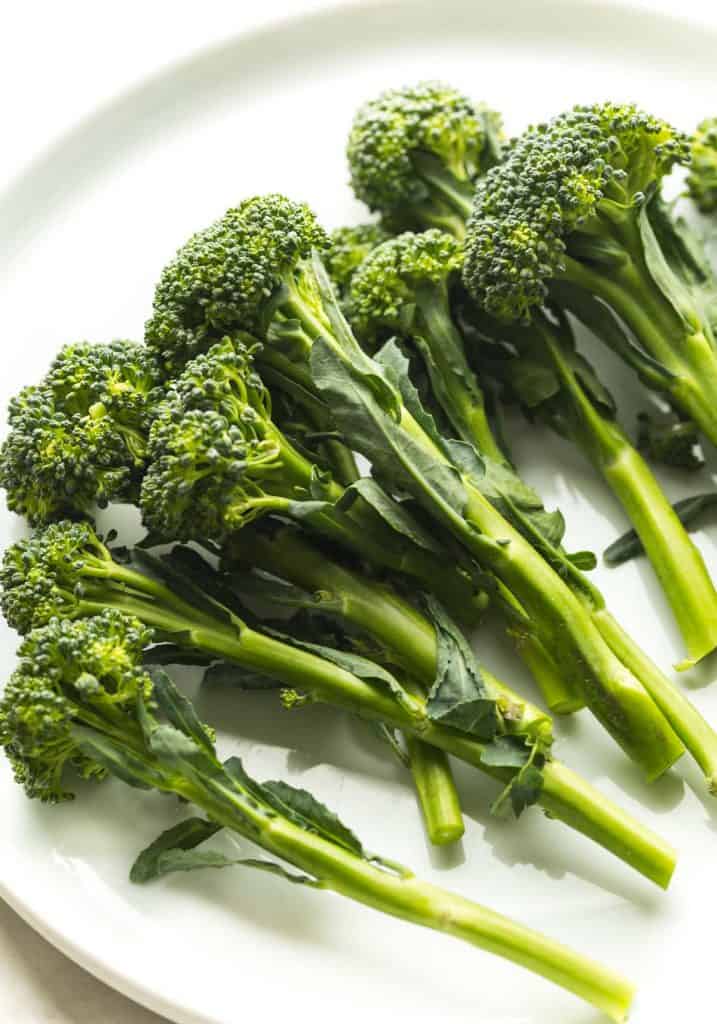 What about Purple Sprouting Broccoli?
Since broccolini and tenderstem broccoli are trademarked, they can only be grown and sold by specific companies. Purple sprouting broccoli is very similar to tenderstem broccoli (with purple florets) and can be sold and grown by anyone. It also has long, tender stem and a sweet taste than normal broccoli. You can use purple sprouting broccoli in recipes that call for tenderstem broccoli and broccolini.
Is it the same as broccoli rabe?
No. Though they do look similar, broccoli rabe is more leafy, bitter and tastes quite different from regular broccoli. It's actually closer to a turnip or mustard greens. Broccoli rabe usually needs more cooking to soften the hard stems and strong flavours to work with its bitter notes.
How to Make Crispy Roasted Tenderstem Broccoli
Just like regular roasted broccoli this is an extremely easy recipe that takes very little prep and time. In fact, roasted tenderstem broccoli is actually faster and easier to make. The thinner stems cook in less time and the naturally sweet flavour requires less seasoning. The prep can be done in a matter of minutes. The rest of the cook time is completely hands off.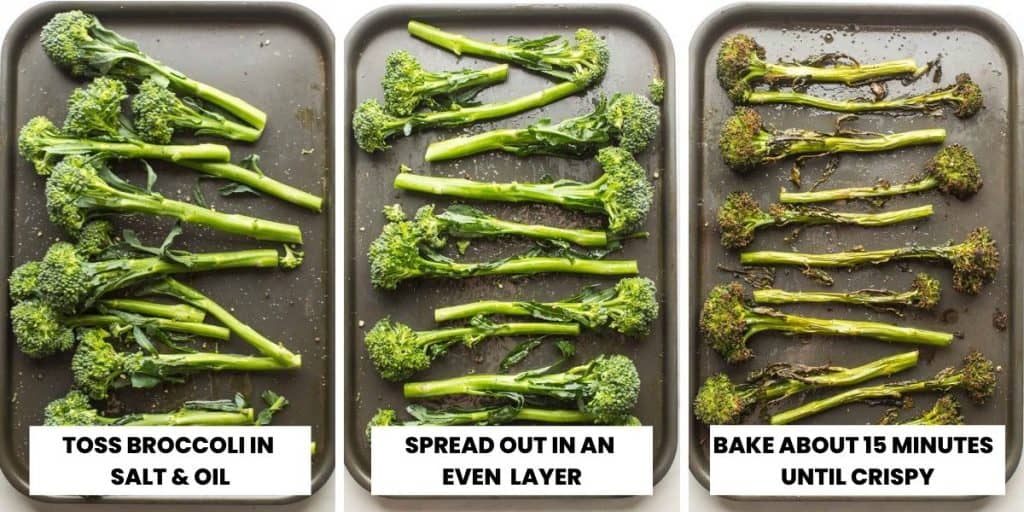 All you need is a couple tablespoons of olive oil, a pinch of salt, pepper and you're good to go. You can even prepare everything all on one large baking tray for an even easier clean up.
Steps
Add fresh broccoli to a large baking sheet or roasting tin.
Drizzle with 1-2 tablespoons of extra virgin olive oil. Sprinkle over a bit of sea salt and freshly ground black pepper. Use your hands to toss the broccoli florets in oil and seasoning. Make sure to evenly coat the broccoli..
Spread florets out in an even, single layer.
Place the sheet pan in the middle of a hot oven and bake for about 15 minutes. The edges of the roasted broccoli should be crispy and slightly charred in places.
Tip!
To ensure you end up with perfect, crispy roasted tenderstem broccoli: make sure to leave a bit of space in between each and every piece of broccoli on the baking sheet. If the broccoli is too crowded in the oven it will steam which will prevent the edges from crisping up. If you need – use an extra baking sheet.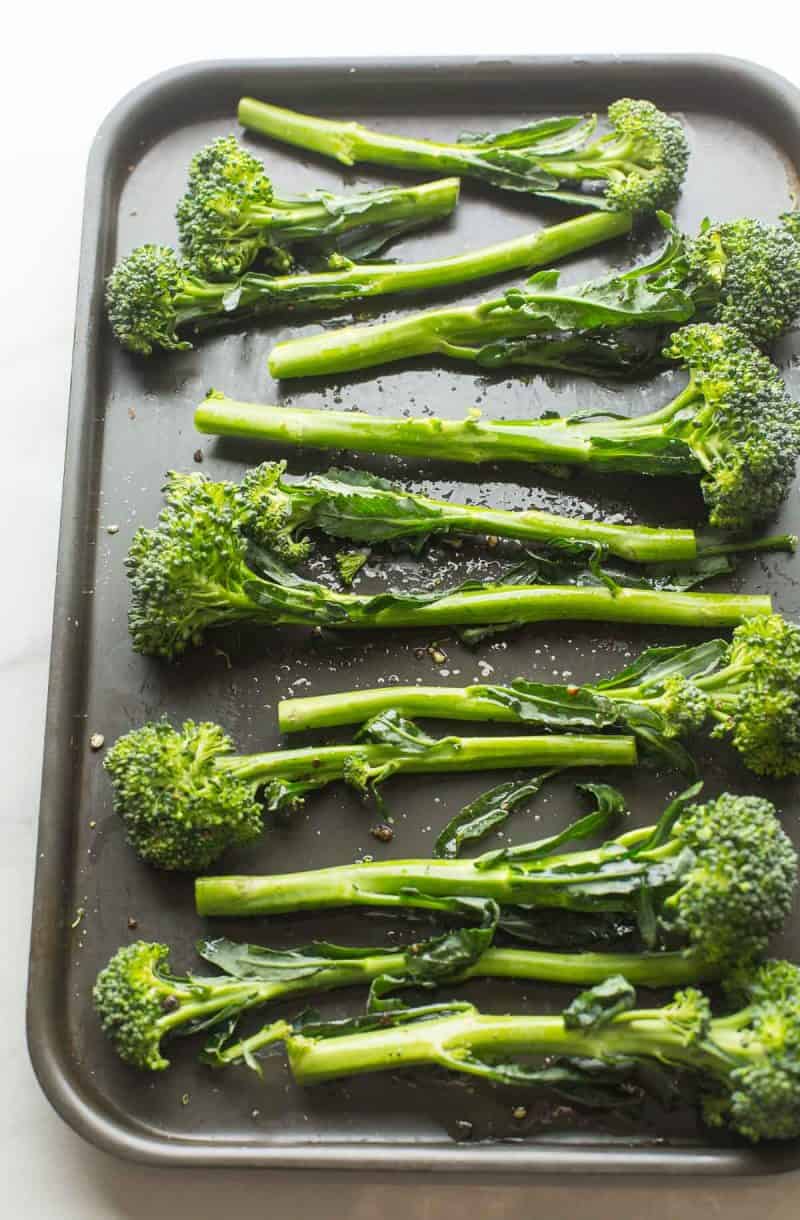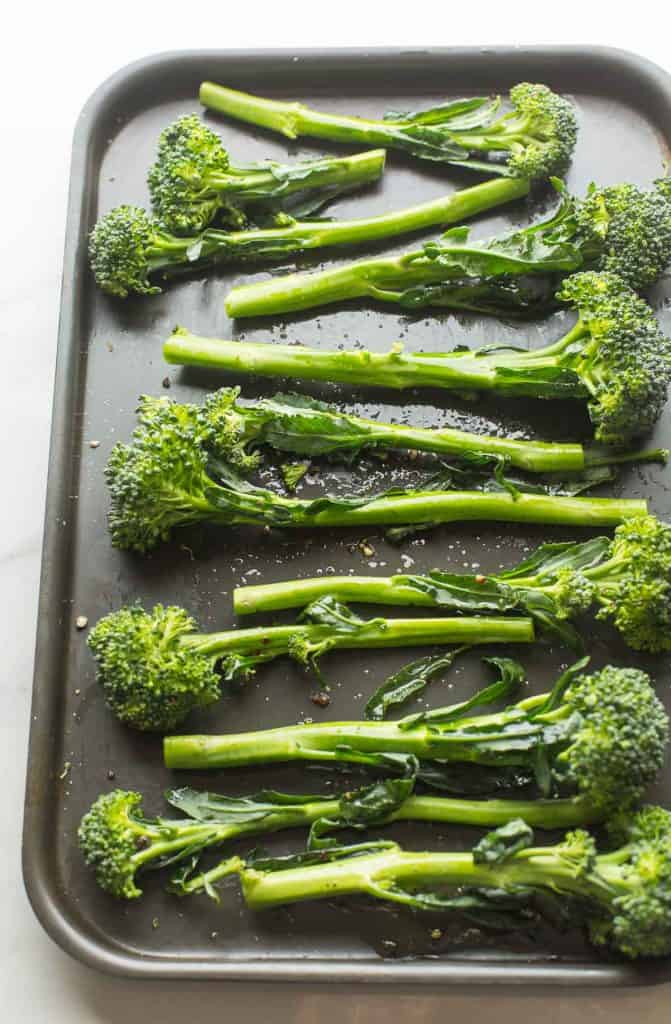 More Commonly Asked Questions
Can you eat the stems on tenderstem broccoli?
Yes! One of the great things about tenderstem broccoli/broccolini is that every part of the broccoli is edible and easy to eat without any extra cooking or preparation.
Is tenderstem broccoli low fodmap?
According to the Monash University app, only the stalks of tenderstem broccoli are considered low fodmap (in a one cup serving). The stems are low fodmap and the florets are high fodmap. Overall, tenderstem broccoli is considered a high fodmap food.
If you need to follow a low fodmap diet, you're better off eating regular broccoli. Regular broccoli stems are considered high fodmap, but the florets (in a one cup serving size) are low.
Is tenderstem broccoli healthier than normal broccoli?
While tenderstem broccoli and broccolini both offer very similar nutrients and health benefits, broccoli provides greater amounts of certain vitamins (like vitamin A and vitamin C). Though tenderstem doesn't provide quite as much nutritionally speaking, both are still great and healthy options to include in your diet.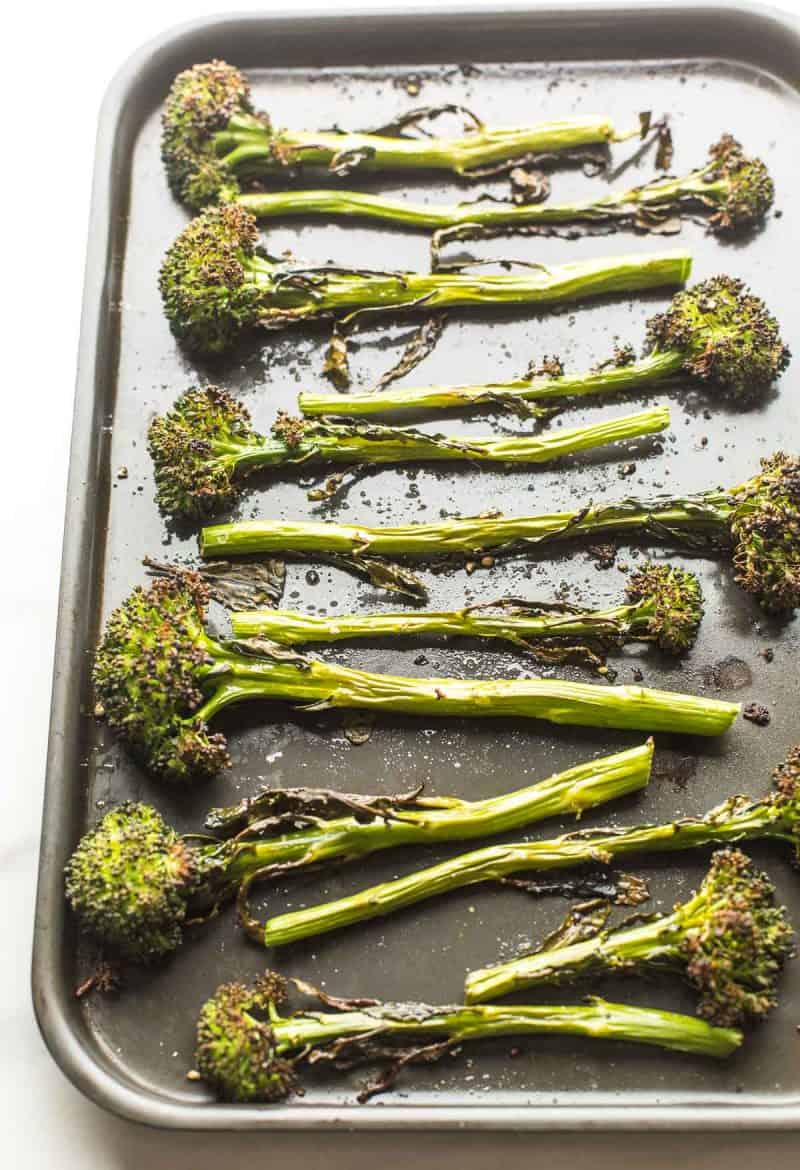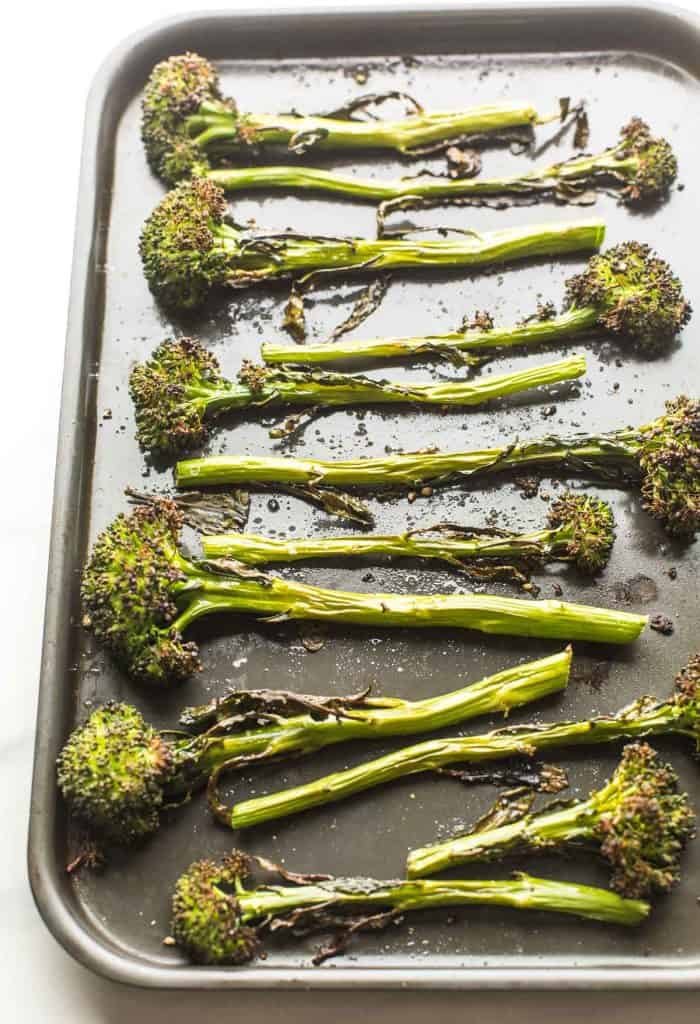 Ways to Spruce up your roasted broccolini:
You truly don't need much more than salt and pepper to season this broccoli, however there are so many different ways to pack in an extra punch of flavour!
Add a bit of lemon zest to the broccoli before roasting. Finish it off with a squeeze of fresh lemon juice just before serving.
Sprinkle a pinch of red pepper flakes for an extra kick of spice.
Grate parmesan cheese over the top before adding it to the oven.
Throw in a couple garlic cloves or some garlic powder.
Flaked almonds or hulled pumpkin seeds (pepitas) can be mixed in for extra crunch.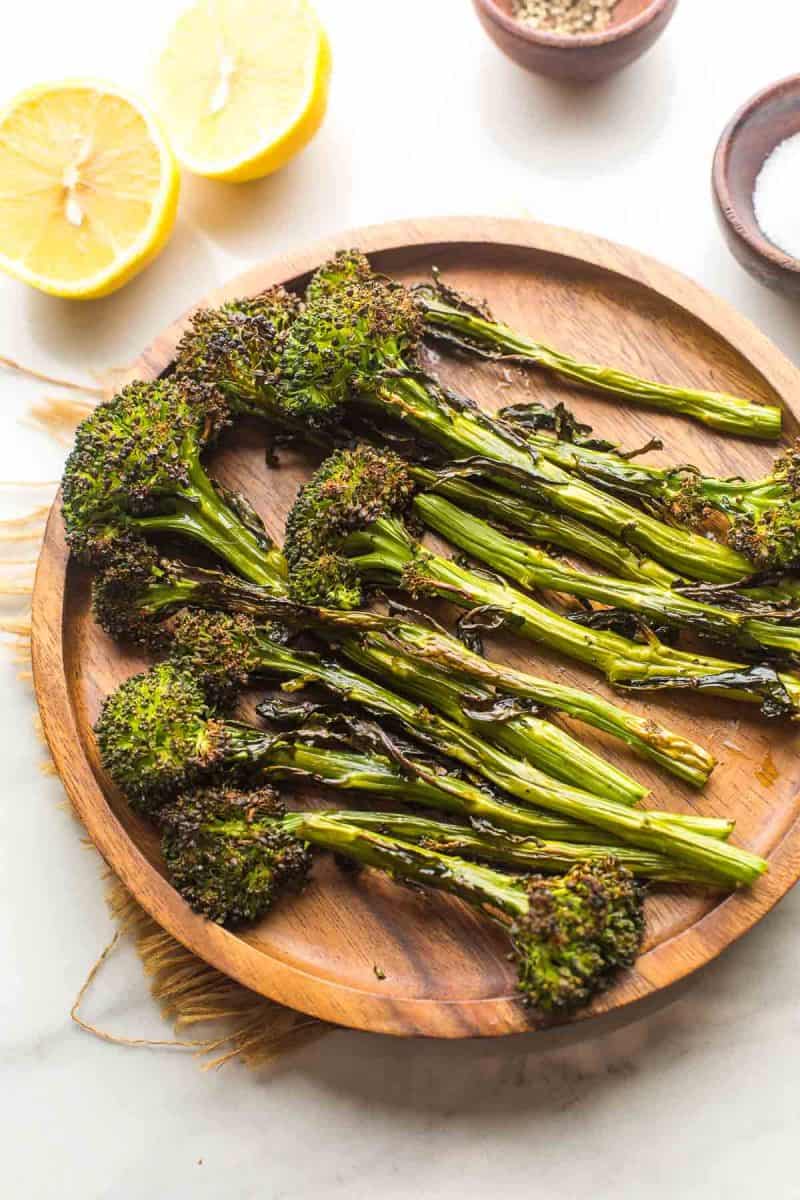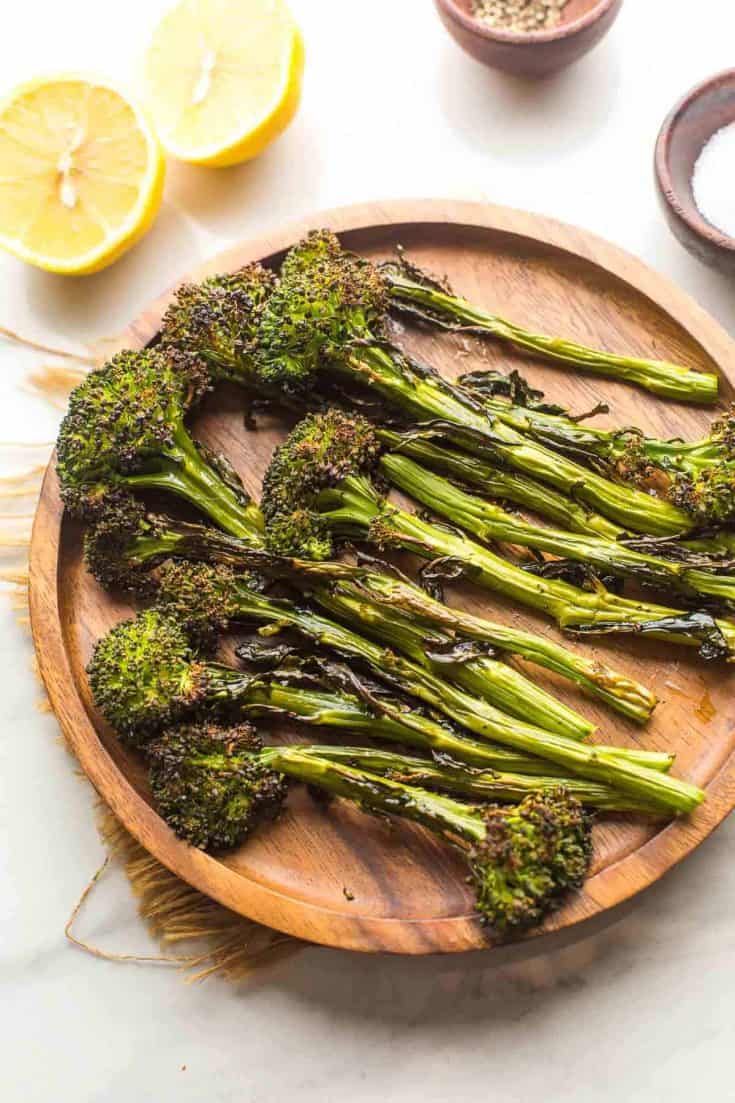 Recipe
Roasted Tenderstem Broccoli (Broccolini)
Yield:
4 servings
Prep Time:
5 minutes
Cook Time:
15 minutes
Total Time:
20 minutes
Roasted Tenderstem Broccoli makes for a perfect side dish to almost any meal! It's easy to prepare, requires minimal ingredients and cooks in only 15 minutes.
Ingredients
16 ounces (450 g) tenderstem broccoli (broccolini)
2 tablespoons extra virgin olive oil
1/4 teaspoon sea salt
1/4 teaspoon freshly ground black pepper
Instructions
Preheat oven to 425°F/220°C. For easy cleanup: line a large baking sheet with foil or parchment paper, if desired.
Place broccoli on baking sheet. Drizzle oil over the top. Toss until each floret has been lightly coated in oil. Spread out in an even layer across the baking sheet. Sprinkle with salt and pepper.
Place in the middle of the oven and bake for 15 minutes until the edges have slightly charred.
Season with additional salt and pepper if desired and serve immediately.
Notes
Make sure to spread the broccoli out in a single layer. If the baking sheet gets too crowded and the broccoli overlaps it will steam up in the oven and not get crispy.
Optional Additions
Add 2-3 tablespoons grated parmesan before roasting.
Add a pinch of chili flakes along with the salt and pepper.
Squeeze fresh lemon juice over the top just before servings.
Add flaked almonds or pepitas for additional crunch.

This website provides approximate nutrition information for convenience and as a courtesy only. Nutrition data is gathered primarily from the USDA Food Composition Database, whenever available, or otherwise other online calculators.