One pan, six ingredient Roasted Broccoli Salad – crispy, charred broccoli florets tossed with hot feta and toasted pine nuts. Low FODMAP + Vegetarian + Low Carb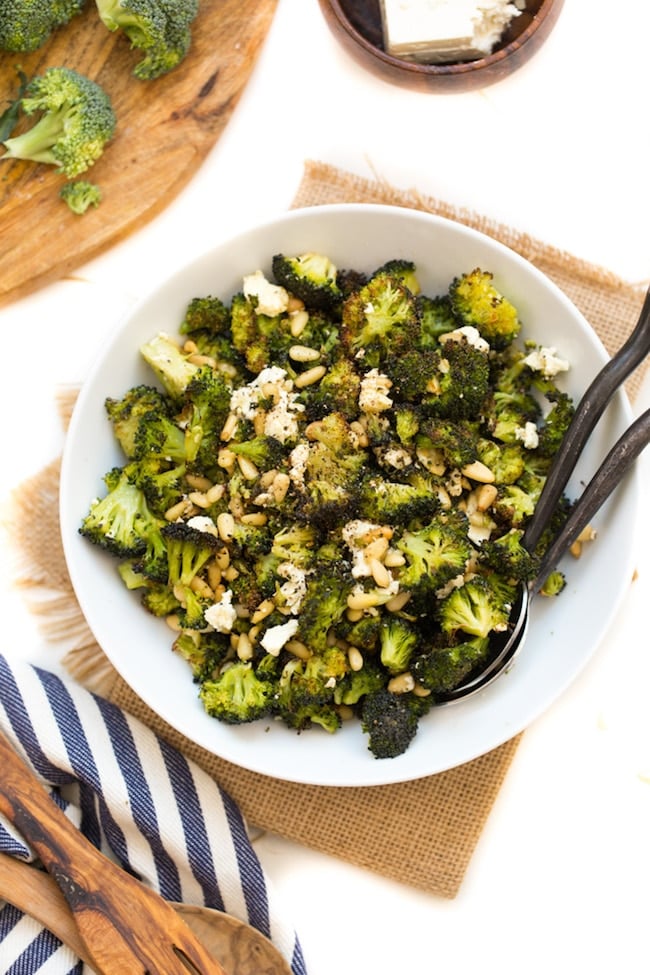 Anyone who claims to not like broccoli clearly hasn't tried is roasted.
What's not to love about crispy, charred broccoli pieces seasoned with just the right amount of salt and pepper to bring out it natural, delicious flavours? In fact, a little time in the oven does wonders for most veggies because the dry heat from the oven caramelises the natural vegetable sugars, mellowing out bitterness and adding a new depth of flavour.
If life were a game, roasting vegetables to make them more appealing and palatable would be like some sort of cheat code….or maybe I've just been playing too much Zelda recently.
At any rate, this side dish is easy as it is sophisticated and is absolutely worth making as soon as possible. It's made up of only six basic ingredients and can be prepped all on one pan. The most difficult thing here is to not eat too much straight off the pan.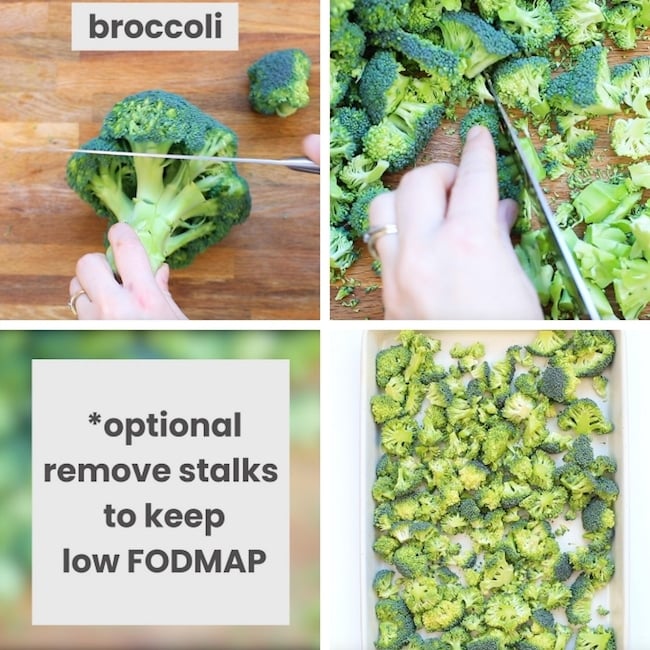 Roasted Broccoli Salad Notes
Is broccoli low FODMAP?
Yes and no. Fructose is the main FODMAP found in broccoli and is mostly found in the stem.
Basically the head/florets are low FODMAP but the stalks are considered higher FODMAP. The being said you can still comfortably consume up to one cup of stalks before running into any trouble if you're sensitive to fructose.
If you need to keep this dish FODMAP friendly then make sure you cut out as much of the stalks as you can just to be on the safe side.
One serving size of this roasted broccoli salad is 1 cup. Even if you don't worry about cutting out every last stem you'll still be eating under the recommended limit of broccoli stem.
Can I roast the broccoli from frozen?
Yes! Just keep in mind you may need to add a about five or so minutes in the oven to fully cook through. Also keep in mind that your broccoli pieces probably won't get as crisp. Frozen broccoli naturally has a higher water content, so it's going to steam more in the oven.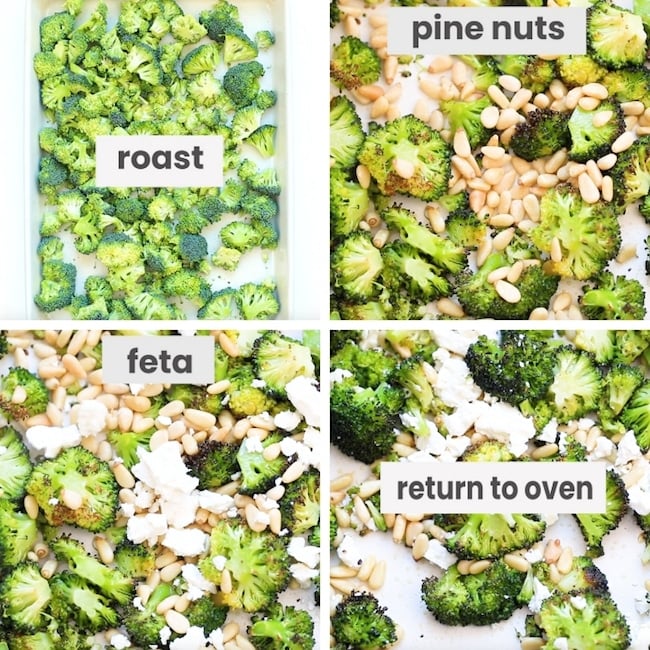 Tips on Roasting
I recommend chopping up the broccoli into flat, bite-sized pieces before roasting. Chopping the broccoli up this way will do two things:

Flat pieces of broccoli equals more surface area of broccoli in contact with the hot baking sheet which will make for a crispier final product.
Small pieces of broccoli will cook faster.

Don't overcrowd the pan. If you need, spread the broccoli out across two baking sheets. If they're too crowded together the broccoli will steam and not crisp.
Make sure your oven is properly preheated before adding the broccoli otherwise it won't get hot enough to become crisp and tender in the time needed.
This roasted broccoli feta salad would make a great, simple side to a pasta main. You can roast in the oven while you cook your main dish on the stove. It would pair well with:
Enjoy!
FACEBOOK | INSTAGRAM | PINTEREST
Don't forget to #asaucykitchen on instagram if you try this Roasted Broccoli Feta Salad! We love seeing what you make! You can also post your pictures to my facebook page!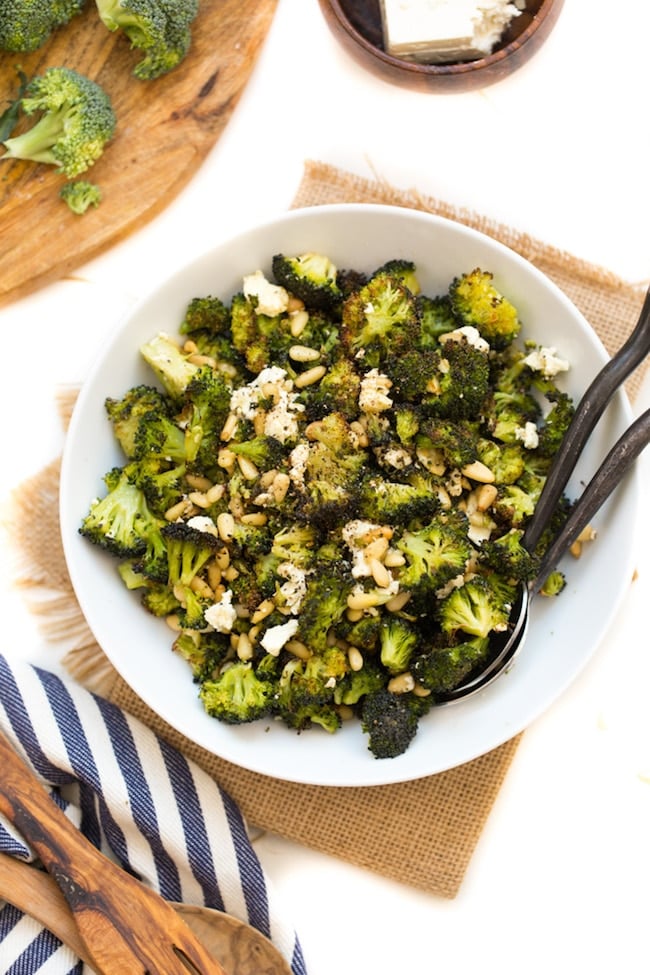 Recipe
Roasted Broccoli Salad with Feta and Pine Nuts
Yield:
6 servings
Prep Time:
5 minutes
Cook Time:
25 minutes
Total Time:
30 minutes
One pan, six ingredient Roasted Broccoli Salad - crispy, charred broccoli florets tossed with hot feta and toasted pine nuts. Low Carb + Low FODMAP 
Ingredients
2 large heads broccoli, chopped into bite sized florets*, (about 6 cups)
2 tablespoons olive oil
1/2 teaspoon salt + pepper each
1/4 cup pine nuts
1/3 cup feta, crumbles
Instructions
Preheat oven to 425°C/220°C.
Take your broccoli and remove the florets from the stems. Cut the florets into small, bite sized pieces. Make sure to remove as much of the broccoli stems as possible if you want to keep this salad low FODMAP.
Transfer the broccoli to a baking sheet. Drizzle olive oil over the broccoli and sprinkle with black pepper and salt. Toss the broccoli to combine and evenly mix. Spread the broccoli out in a single layer. Try not to crowd the sheet too much or the broccoli will steam as it cooks. Use two baking sheets if necessary.
Roast in the oven for 15 minutes until the edges are crispy and the stems are tender. Take out of the oven and add the pine nuts and feta to the pan. Stir and then place back in the oven another 10 minutes.
When the broccoli is done remove it from the oven and tip the broccoli into a large salad bowl. Taste and season with a little more salt and pepper if needed and serve.
Nutrition Information
Yield:

6
Serving Size:
cup
Calories:

132
Saturated Fat:

2g
Cholesterol:

7mg
Sodium:

317mg
Carbohydrates:

7g
Fiber:

2g
Sugar:

2g
Protein:

4g
This website provides approximate nutrition information for convenience and as a courtesy only. Nutrition data is gathered primarily from the USDA Food Composition Database, whenever available, or otherwise other online calculators.