Chorizo & Roasted Veggie Pasta Salad- packed with fresh herbs, mozzarella, and garden vegetables!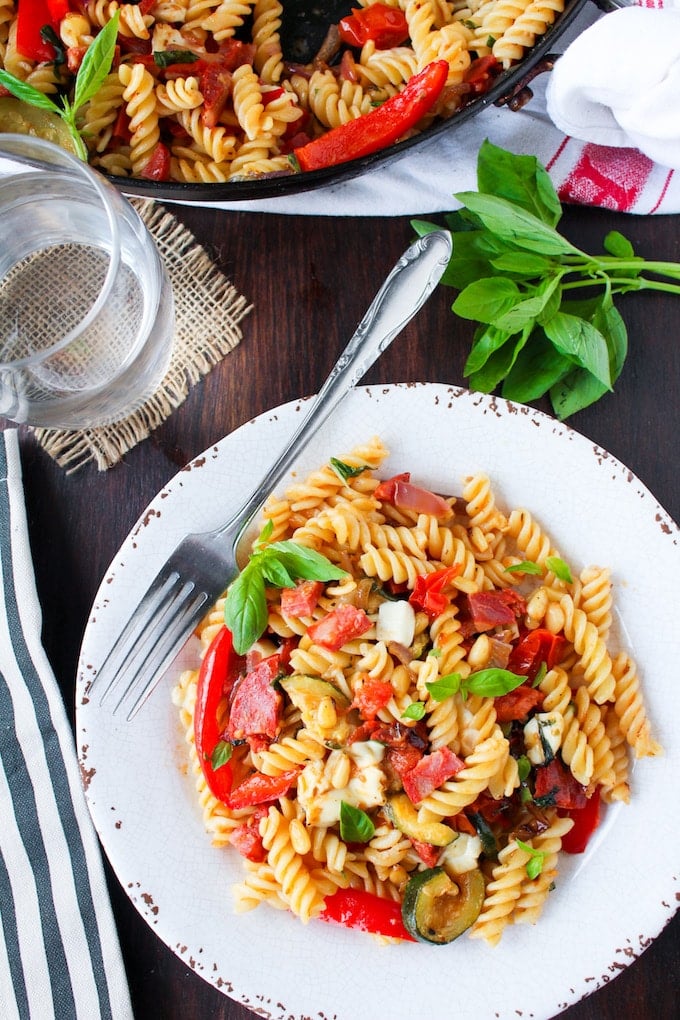 Pasta!
Oh sweet glorious pasta. If you were to ask me what my favorite food was as a child I would have told you it was pasta. Before you could even finish asking the question, that's what I would have said.  Pasta. And cheese! Cheese and pasta. Pasta and cheese. Always and forever amen.
And yet I've been doing the whole blog thing for about a year and a half, I've shared 166 recipes on and I don't have a single pasta recipe. I've got you covered in the vegetable noodle department, but as far as actual grain based pastas – I've got nothing.
What is my problem????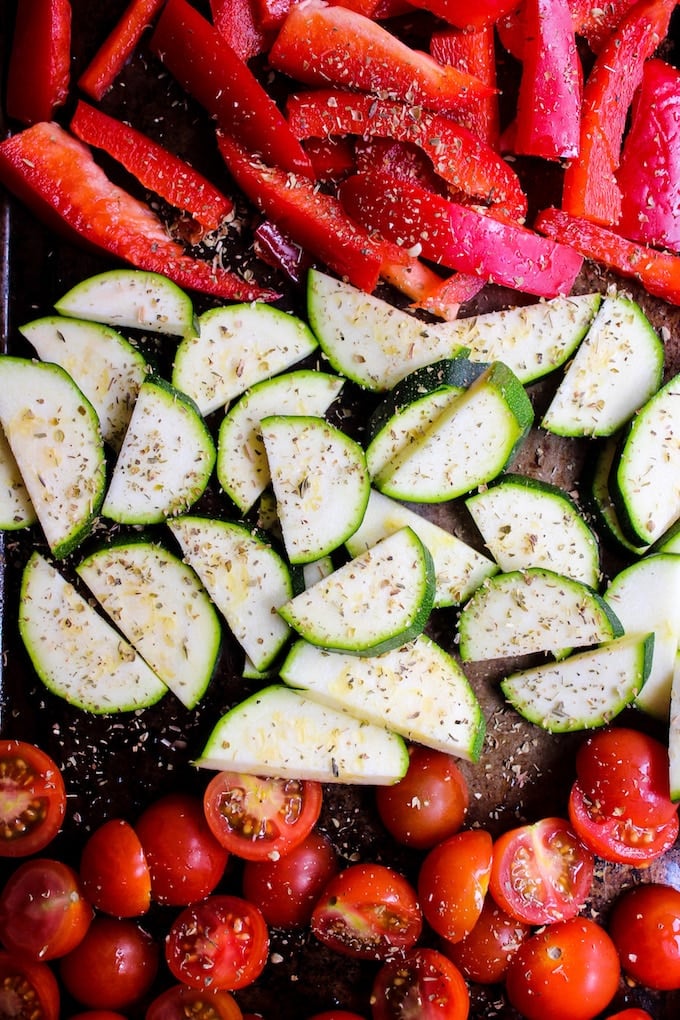 Don't get me wrong. I'm all about masquerading my veggies as noodles and calling it a day. Healthy, low carb dinners are my jam. Sometimes, though, you need a little Pasta with a capital P because carbs make life worth using.
Like this Chorizo and Roasted Veggie Pasta Salad.
And just look at all those veggies! Veggie carbs cancel out pasta carbs, yes? I'm going to go ahead and say yes to that one. #Math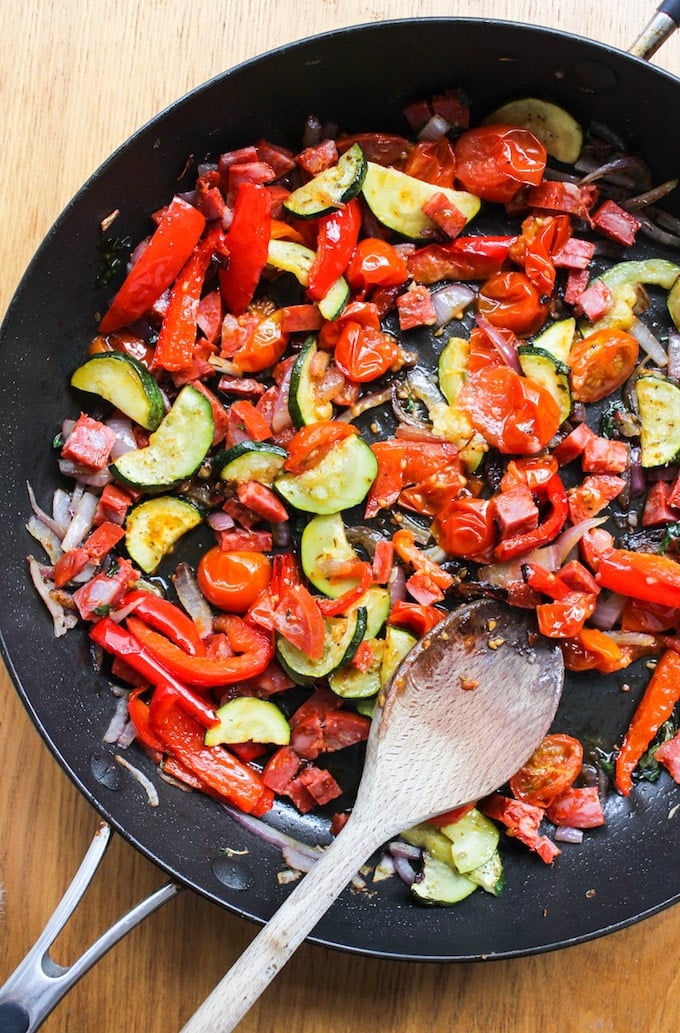 About this Recipe: Chorizo & Roasted Veggie Pasta Salad
I've got my mother-in-law to thank for this recipe. She made this for lunch the other day as I was upstairs trying to get some work done. It was midday, I hadn't had any breakfast yet, and the smell of roasted red peppers and chorizo was floating around upstairs. Needless to say I had to quickly finish what I was doing so that I could go down to investigate the smell. In no time I polished off everything that was left.
 Since then I've made this nonstop. You know…for recipe testing purposes.Even Mike's asked for this twice this week already and he doesn't usually like pasta.
Since we're still loaded up on zucchini  this season I decided to throw some of that in there as well because additional roasted veggies are always a good idea. If you've got any other garden vegetables laying around that needs to be used, this pasta lends itself well to all sorts.
While you can't go wrong serving this hot with melted bits mozzarella, I've had this for breakfast and lunch a couple of days and it's still great cold. It's the type of meal you look forward to making because you know to leftovers are just as good as the original meal. I imagine this would be great to take to a potluck or picnic because everyone loves this. It's simple, it's tasty, and it's a sure definite crow pleaser!
Hope you like!
FACEBOOK | INSTAGRAM | PINTEREST  
Don't forget to #asaucykitchen on instagram if you try this chorizo & roasted veggie pasta salad! We love seeing what you make!  You can also post your pictures to my facebook page!
Recipe
Chorizo & Roasted Veggie Pasta Salad
Yield:
6 servings
Prep Time:
5 minutes
Cook Time:
25 minutes
Total Time:
30 minutes
Chorizo & Roasted Veggie Pasta Salad- packed with fresh herbs, mozzarella, and garden vegetables!
Ingredients
2 small or 1 large zucchini, ends trimmed and cut into chunks
1 red pepper, seeds removed and diced
2 cups cherry tomatoes, cut in half
1-2 tablespoons olive oil
1 teaspoon sea salt, divided
1/2 teaspoon red chili flakes
2 teaspoons oregano, divided
1 pound guten free fuseli
1/2 large red onion, sliced
small handful fresh basil, chopped
8 oz chorizo, diced
8 oz fresh mozzarella cheese, cut into little chunks
1/4 cup pine nuts
Instructions
Preheat the oven to 200°C/400°F.
Arrange the zucchini, red pepper, and cherry tomatoes on a large baking sheet. Sprinkle 1/2 teaspoon salt, 1/4 teaspoon chili flakes, and 1 teaspoon oregano over the top. Drizzle 1 tablespoon olive oil over the vegetables and stir to coat. Add the vegetables to the oven and let roast for 15 minutes.
While the veggies are roasting begin cooking the pasta according to the packaged instructions. Once the fusilli is fully cooked, drain it and set aside until you need it later.
In a large skillet, warm the remaining 1 tablespoon olive oil over a medium heat. Add the red onions and sauté until soft for about 5-7 minutes. Add the diced basil and chorizo and stir to combine. Turn the heat down to low. At this point the vegetables in the oven should be done roasting so add the zucchini, pepper, and cherry tomatoes to the skillet. Add the remaining seasonings (1/2 teaspoon salt, 1/4 teaspoon pepper flakes, 1/2 teaspoon oregano). Stir it all together.
Stir in the cooked pasta. Add the mozzarella and pine nuts. Mix until the pasta is completely coated and the cheese starts to melt slightly.
Add any additional seasoning/garnish you might like and enjoy!
Nutrition Information
Yield:

6
Serving Size:
serving
Calories:

391
This website provides approximate nutrition information for convenience and as a courtesy only. Nutrition data is gathered primarily from the USDA Food Composition Database, whenever available, or otherwise other online calculators.