Honey Roast Parsnips make for a delicious side dish, perfect for almost any occasion! With only a handful of ingredients, this recipe is simple yet satisfying. Use maple syrup instead of honey to make this recipe low fodmap and vegan friendly!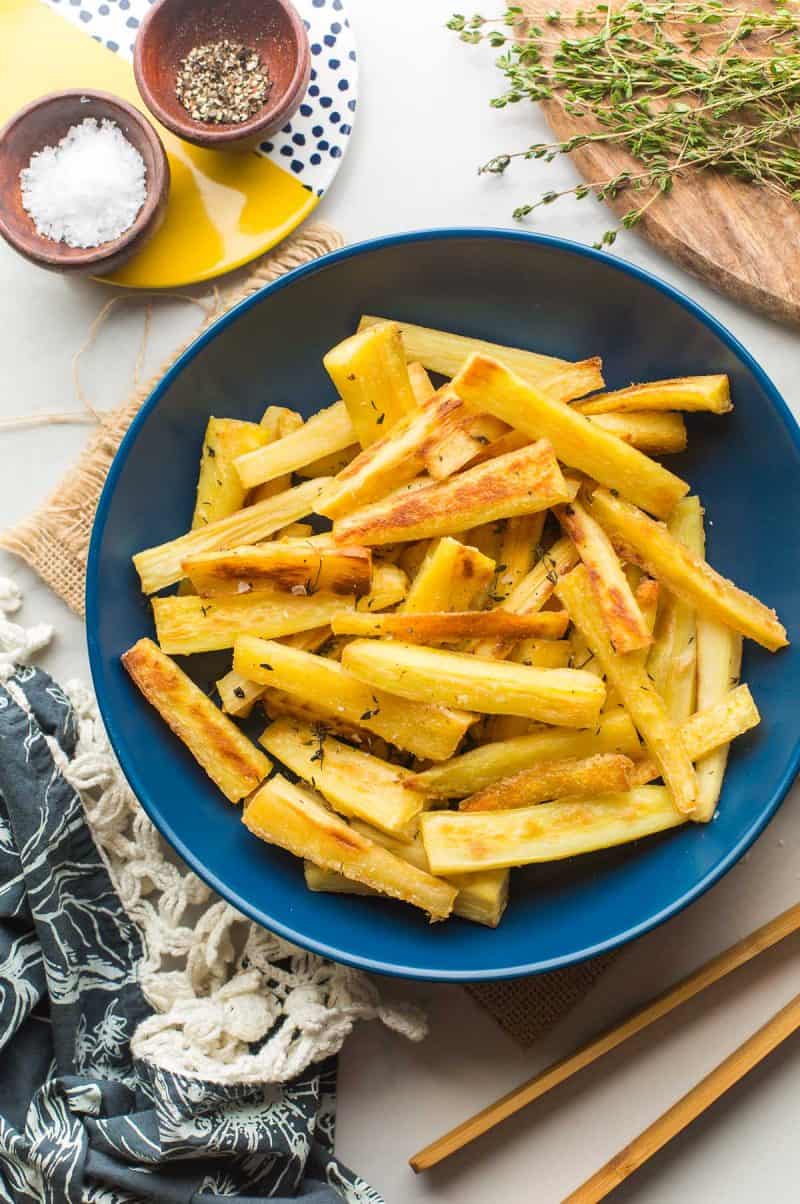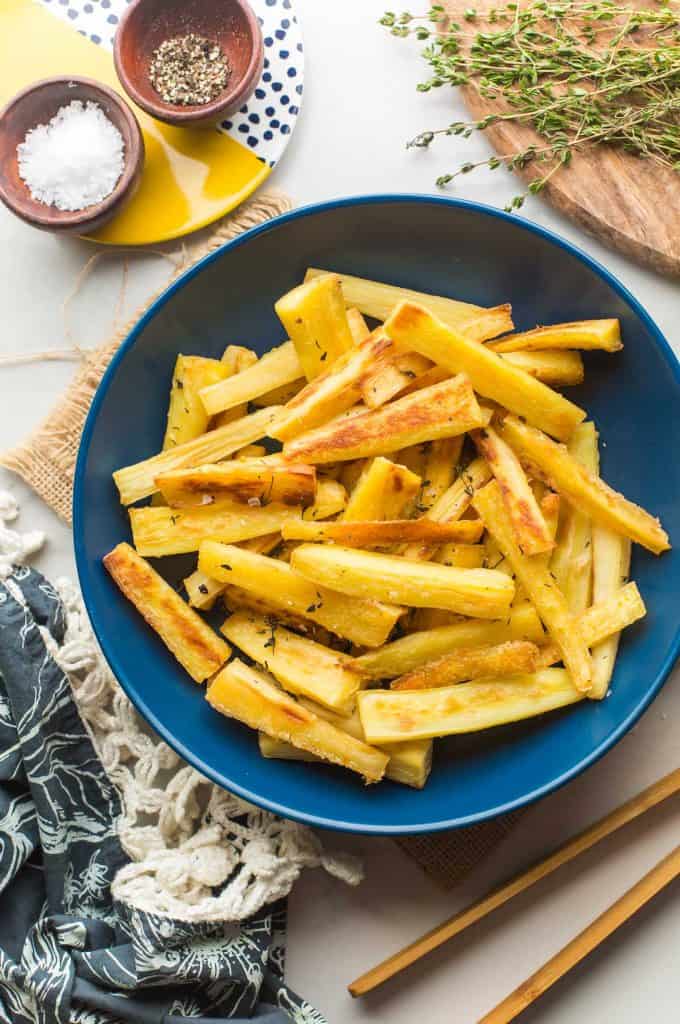 Parsnips – yay or nay?
Up until a few weeks ago, I didn't know that I liked parsnips. Though they did make an occasional appearance in a few recipes here and there, like in my Roasted Root Vegetable Stew, I don't think I ever gave them much thought as an individual veg.
It wasn't until I saw a bag of honey roast parsnips sitting on a shelf while browsing the freezer section of the grocery store that I thought to give them a go. As it turns out – parsnips (especially roasted parsnips) are delicious!
Taste and texture-wise, they're like a cross between a potato and a carrot. Parsnips are often described as being earthy, but also bright with a natural sweetness to them (which makes sense considering they're related to parsley).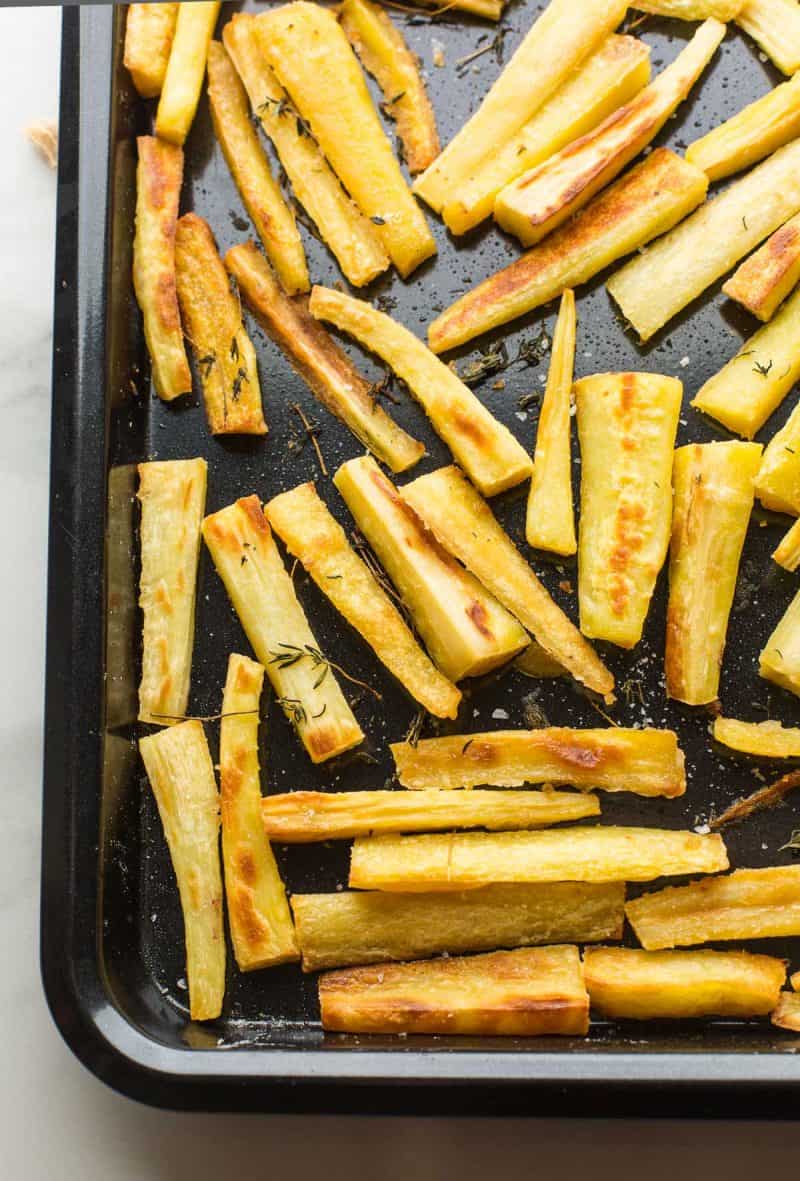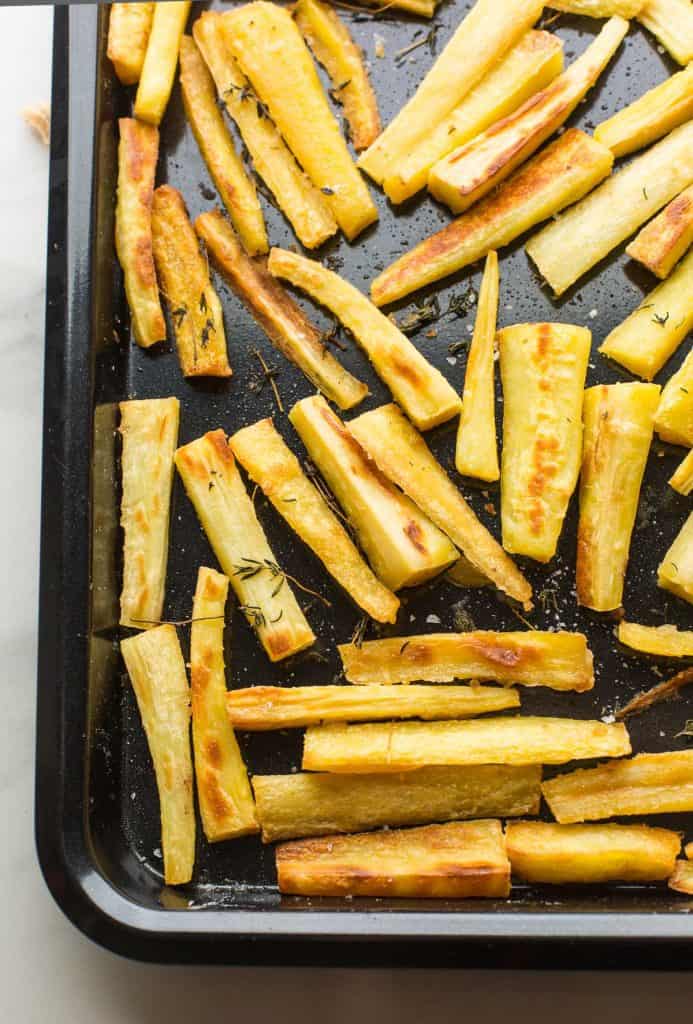 How to Make Honey Roast Parsnips
Roasted vegetables are a breeze to prepare, and these parsnips are no exception. That being said, they do require a little extra prep to ensure that you end up with a perfectly crispy exterior with a fluffy interior.
The Prep:
Wash or peel the parsnips then cut into equal-sized pieces.
Parsnips cut into a similar size will cook more evenly than mismatched shapes and sizes. I chose to cut my parsnips into fry-like shapes, but you can make your thicker, shorter – whatever you like. Just make them even. Also keep in mind that thicker-cut veggies will need more time to roast in the oven.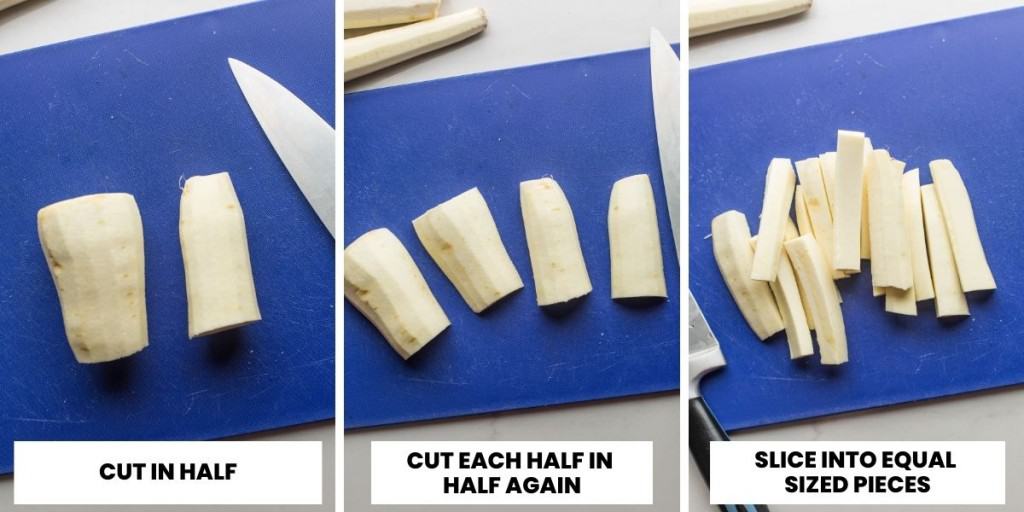 Next up, parboil.
Place the parsnips a large pot, cover with water and boil about 5 minutes. Technically, this step is optional, but it does make for better roasted parsnips. Parsnips that are parboiled will be less dry and chewy than without.
After boiling, pour the parsnips into a large colander to drain away the water. Place the colander over the hot pot to steam dry. You want the parsnips to be completely or almost completely dry before the next step.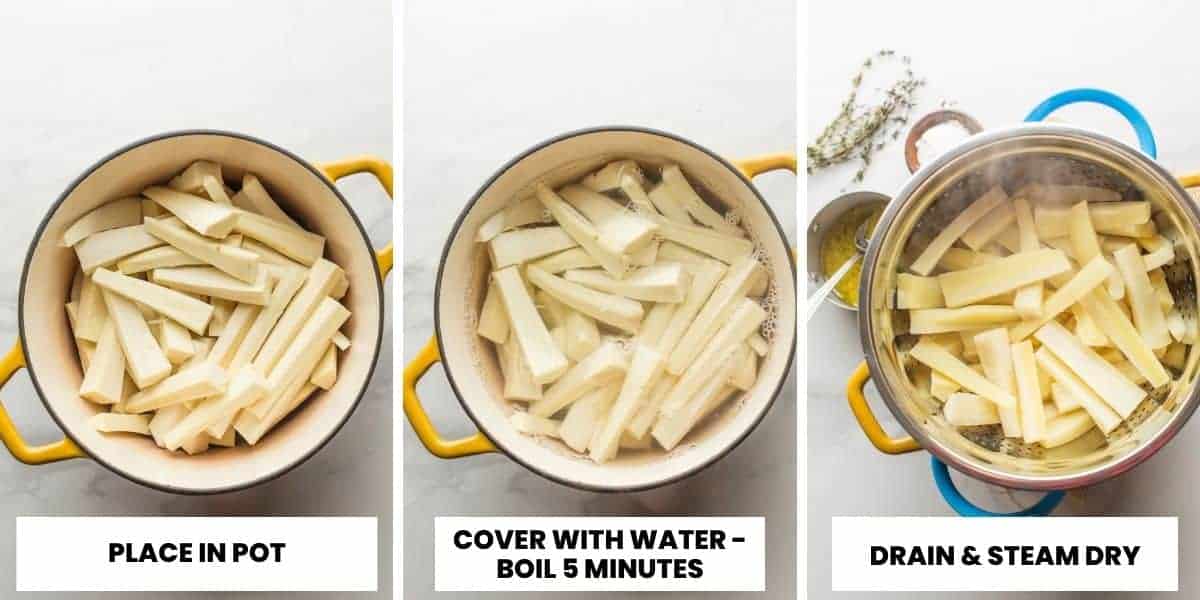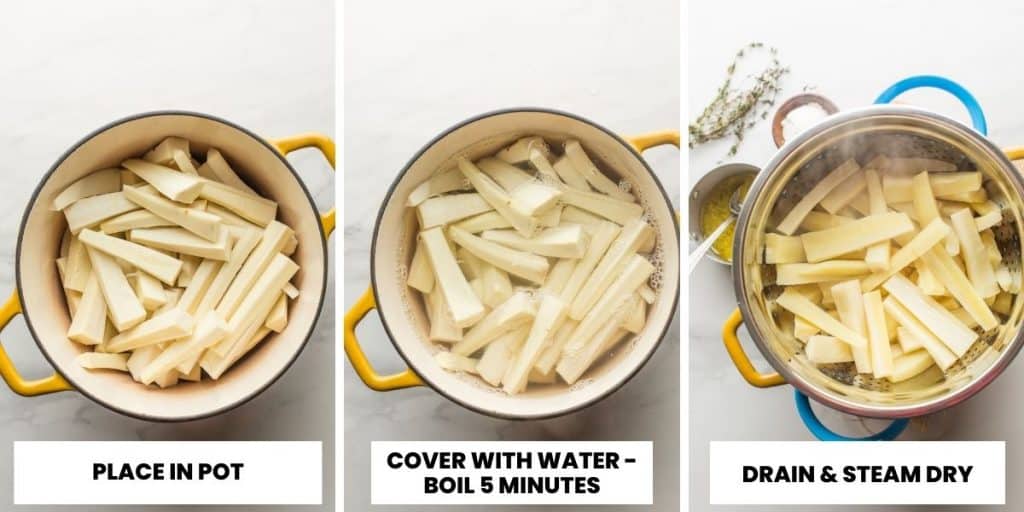 Coat in flour or starch.
Add the parsnips to a large tray or roasting pan along with a couple tablespoons of flour and toss to coat the parsnips. Again, this is an optional step but it will make for a better final result. The flour does two things:
Parsnips coated in flour/starch will hold on to more of the honey glaze.
Flour/starch also helps to make the outsides more crispy.
Finally, add the flavourings.
I like to combine the herby-honey mixture in a small bowl or cup first. This ensures that the spices, oil (or butter) and honey are evenly combined. You can, of course, add everything directly to the parsnips and simply mix well.
What's in the salty, sweet glaze?
runny honey (though maple syrup can be used to make this low fodmap and vegan friendly)
fresh thyme springs
melted butter or olive oil
sea salt and black pepper
Once coated in the honey glaze, spread the parsnips evenly across the baking sheet (use a couple baking sheets if needed) place in the preheated oven and roast! About halfway though the cook, take out pan and flip the parsnips over.
After about 40 minutes you should have perfectly golden and crispy roast parsnips. Season with additional salt, pepper and thyme leaves or an extra drizzle of honey if desired and enjoy.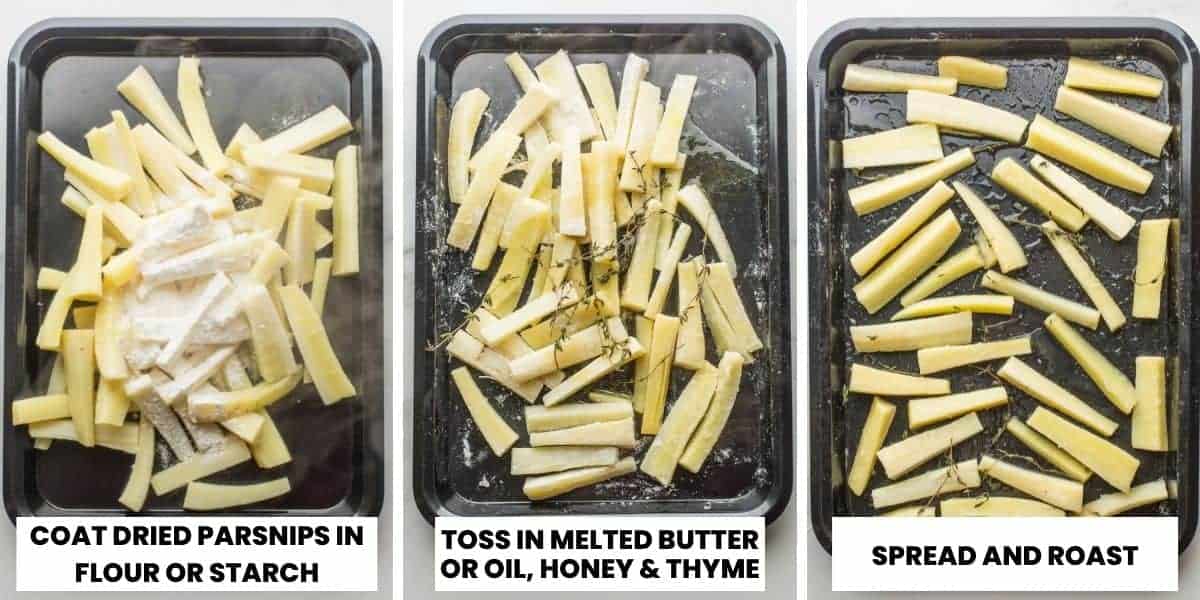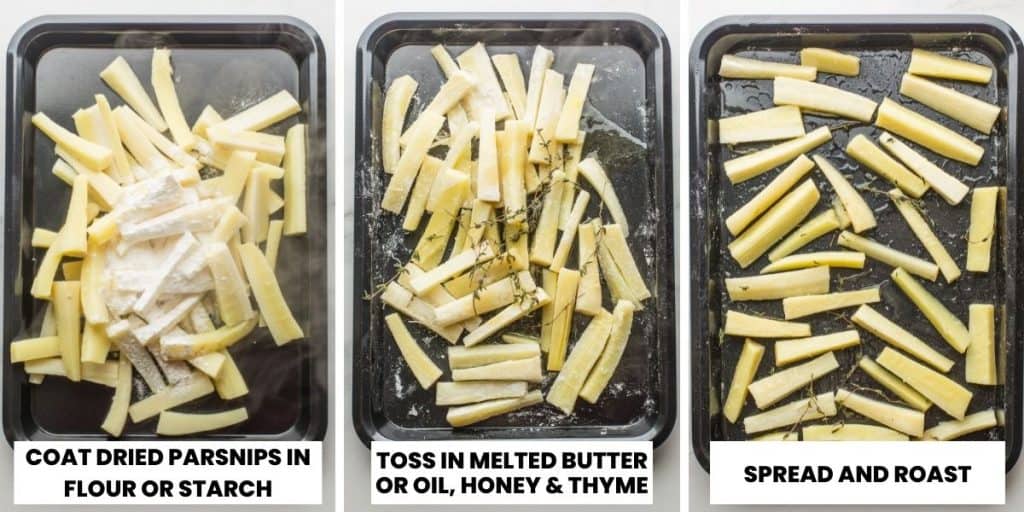 Honey Roast Parsnips Questions & Tips
Can I make honey roast parsnips without boiling?
Yes, but your parsnips might come out more dry and chewy than if you skip the par boiling. I have tried this both ways. You can notice the difference in chew, but they're still good enough without boiling that I don't mind skipping this step depending on how lazy I am that day. It's up to you!
Do I have to peel the parsnips before roasting?
Again – up to you! If you wash your parsnips well enough, you can skip the peeling. If you're using older parsnips that might be a bit past their best I recommend you peel them. Older parsnips will have softer skins which can come out a bit chewier than fresh parsnips.
Don't overcrowd the pan:
Make sure to spread the parsnips evenly across the pan in single layer. Use a very large roasting pan or baking tray. If needed, use a couple of pans to roast the vegetables. Overly crowded vegetables will steam in the oven which will make it difficult, if not impossible, for them to caramelise and crisp.
What do I serve this with?
Simple, yet delicious. Honey roast parsnips make for the perfect side dish to enjoy on a busy weeknight, Sunday roast dinner or a holiday meal.
Freeze for Later
Like most roasted root vegetables, you can easily freeze these leftover roast parsnips to enjoy at a later date! They are also great to make for meal prep. Roast ahead of time and pull out of the freezer to enjoy as an easy side dish for weeknight dinners.
The process is super simple and straightforward, but here are a couple things to keep in mind:
Allow the parsnips plenty of time to cool down naturally. They should be room temperature before you toss them in the freezer.
Store the parsnips in a freezer bag or container. If you're not sure if your container/bag is freezer safe you can wrap the parsnips up in foil, then place in your container or bag.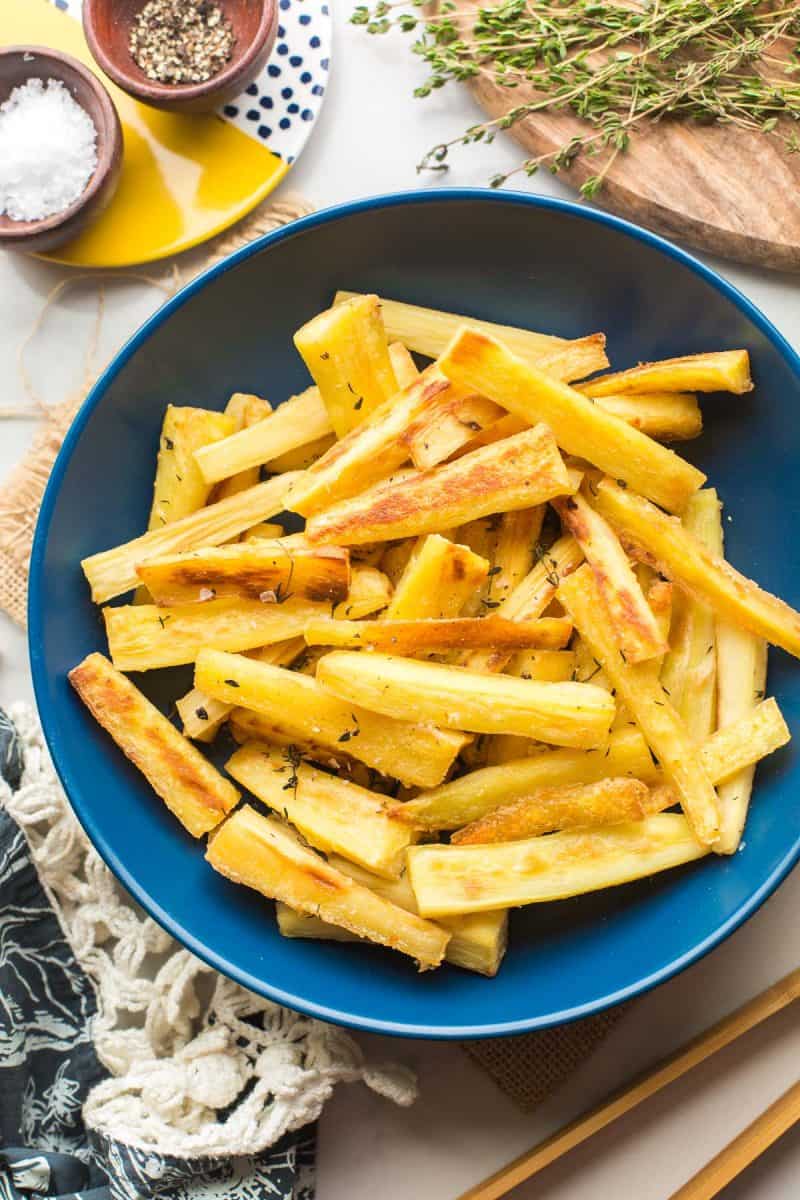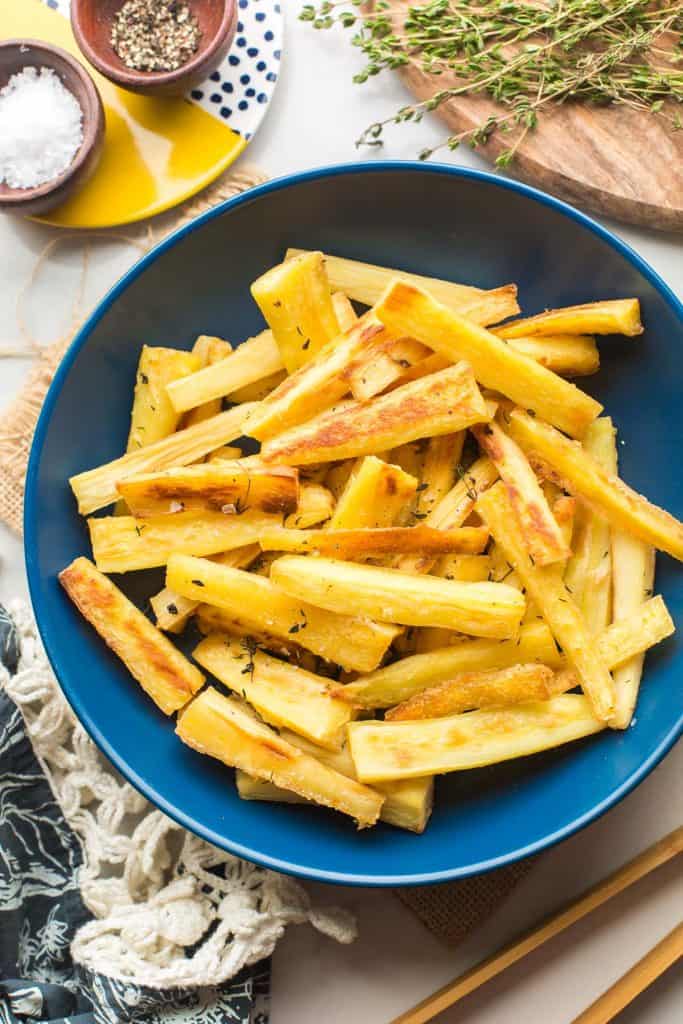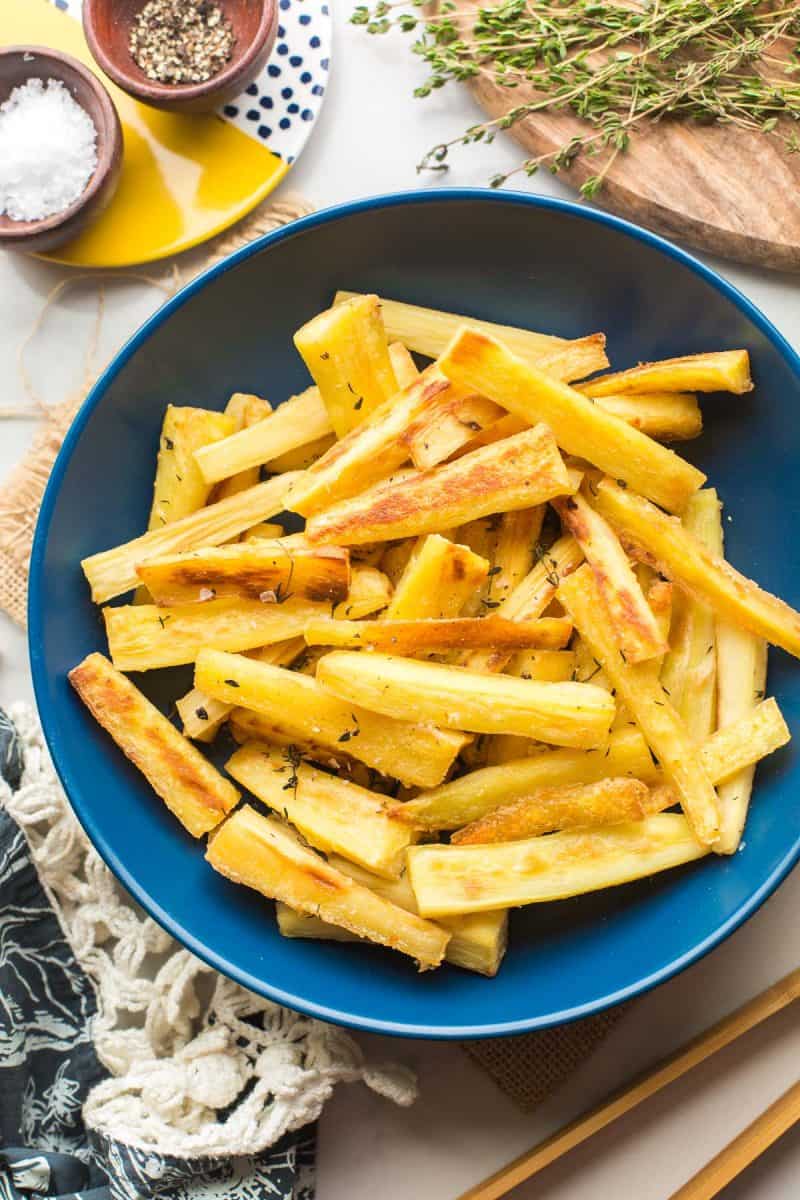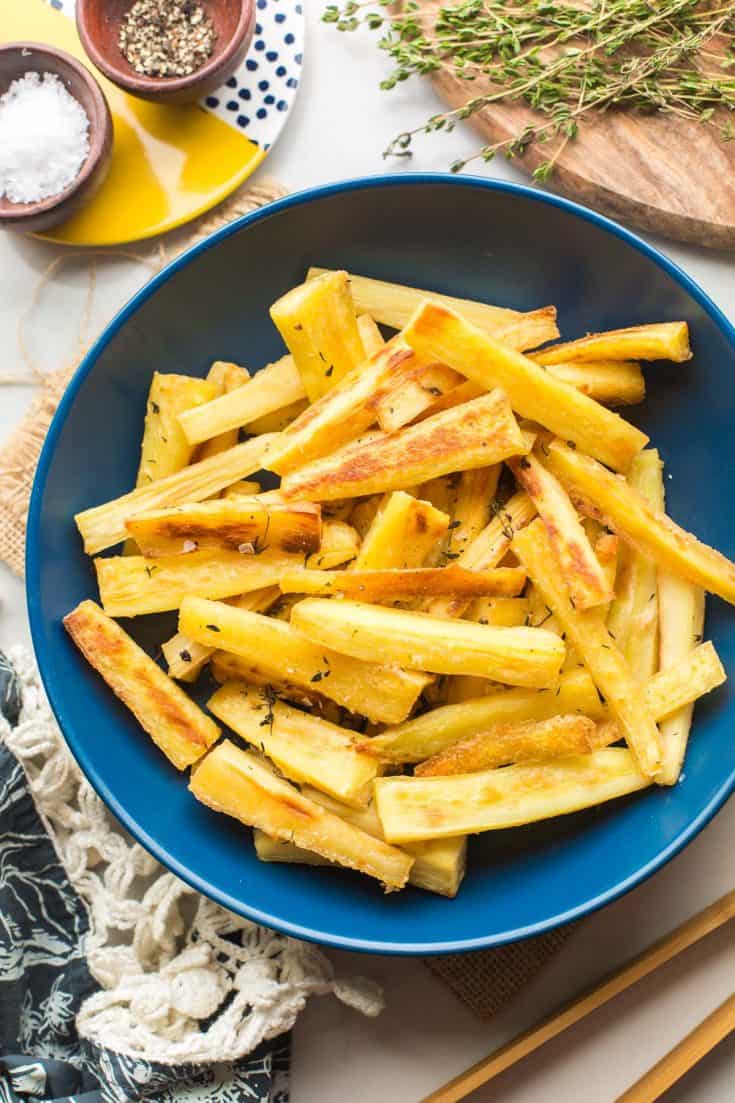 Recipe
Honey Roast Parsnips
Yield:
4-6 servings
Prep Time:
15 minutes
Cook Time:
45 minutes
Total Time:
1 hour
With only a handful of ingredients, this recipe is simple yet satisfying. Use maple syrup instead of honey to make this recipe low fodmap and vegan friendly!
Ingredients
4 parsnips, washed or peeled with ends removed
1 tablespoon gluten free all purpose flour
2 tablespoons olive oil or melted butter
1 tablespoon runny honey
fresh thyme
salt
Instructions
Preheat oven to 425°F/220°C.
Cut the parsnips in half into roughly equal sized pieces (about 3 inches long and 1/4 inch thick).
Place in a large pot. Cover with water. Add a 1/2 teaspoon of salt. Bring the water to a boil. Let boil five minutes to par boil.
Drain the water using a colander. Place the pot back on the stove top (heat turned off) and place the colander over the top. Let the parsnips steam dry over the hot pot (About 5 minutes.)
Add the steam dried parsnips to a large roasting pan. Sprinkle the flour over the top then toss well to lightly coat. Add the thyme springs.
In a small bowl combine the melted butter or olive oil with honey and salt. Pour the honey mixture over the parsnips. Toss again to coat the parsnips well. Spread out evenly across the roasting tin in an even layer. If needed, use a second baking sheet or roasting pan.
Place in the oven and roast for 20 minutes. Take out the pan and flip each parsnip over to ensure an even crisp. If using two pans, switch up their position in the oven.
Bake another 20-25 minutes until the edges are golden then parsnips fork tender.
Season with additional salt and fresh thyme if needed. Crack freshly ground pepper over the top if desired and serve warm.
Notes
Make it vegan: use maple syrup in place of honey. Use dairy free butter or olive oil.
Make it low fodmap: use maple syrup in place of honey.
You can skip the boiling, but the parsnips might come out more chewy after roasting without.
Don't overcrowd the pan. If needed, use two baking sheets to ensure the parsnips crisp up.
This website provides approximate nutrition information for convenience and as a courtesy only. Nutrition data is gathered primarily from the USDA Food Composition Database, whenever available, or otherwise other online calculators.