Crunchy roasted chickpeas perfectly seasoned for a healthy wholesome snack
Chickpeas are magical.
Seriously. You can make just about anything with them: hummus, brownies, burgers. Eat them hot, cold, or whatever way you like them.
And they're cheap. I love cheap, and I'm not afraid to say it. But then – don't we all? God knows eating clean can be a burden on our wallets, so it's nice to have a few versatile ingredients that don't compromise health or flavor.
Possibly the easiest thing you can do with them? Make roasted chickpeas.
Wash
Dry
Season
Roast
It doesn't get much easier than that if you're looking for a guilt free snack with a crunch.
My inspiration for these healthy and addictive roasted chickpeas came about as I was trying to think of things that Mike & I would be able to take with us when we go to Holland in a couple weeks for a wedding. I wanted to make something portable and salty for Mike to be able to snack on when he needs. People like Mike with POTS or general dysautonomia have issues with low blood volume which results in feeling dizzy, faint, nauseas and a whole other host of unfortunate symptoms. One of the ways people with POTS can manage and reduce these feelings of discomfort is to increase their sodium intake to help them retain water. I talk about this more at length in this post here if you're interested in learning more about it – just scroll down to the end.
Roasted chickpeas are best to have the day you make them because they do begin to go soft after a while. Store in an airtight concealer.
As much as I love these roasted chickpeas, I'm still looking for ideas for other travel friendly snacks for the future. If you guys have any recommendations for grain free, travel friendly snacks, please leave a comment and let me know because I'd love to try some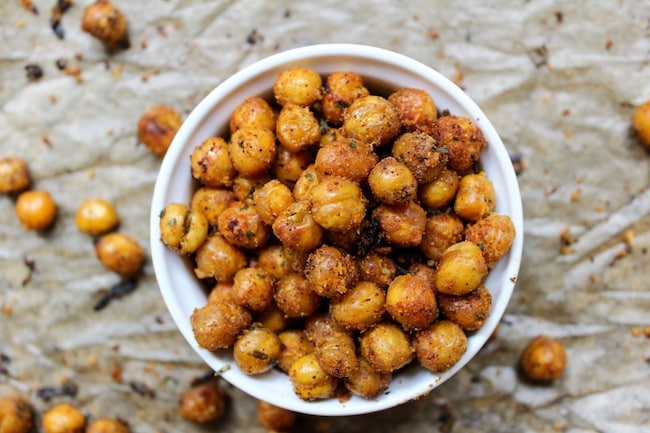 Recipe
Cool Ranch Roasted Chickpeas
Yield:
4 servings
Prep Time:
5 minutes
Cook Time:
1 hour
Total Time:
1 hour
5 minutes
Crunchy, roasted chickpeas perfectly seasoned for a healthy, wholesome snack
Ingredients
1 can (15 oz) chickpeas (garbanzo beans)
1 tablespoon extra virgin olive oil or coconut oil
2 tablespoons nutritional yeast
1 teaspoon dill
1 teaspoon parsley
1 teaspoon chives
3/4 teaspoon paprika
3/4 teaspoon salt
1/2 teaspoon garlic powder
1/2 teaspoon onion powder
Instructions
Preheat the oven to 400°F/200°C. Drain and rinse the chickpeas.
Dry the chickpeas completely by placing them in a single layer between two towels and rubbing them gently.
In a small bowl mix together all of your spices and set aside. In another small bowl, add the 100% dried chickpeas and drizzle the oil over the top coating each one. Pour the cool ranch seasoning over the chickpeas and stir to coat each one.
Line the chickpeas on a baking sheet lined with parchment and roast in the oven for 30-35 minutes. If your oven has hot spots, make sure to rotate the baking sheet about halfway through and stir the chickpeas slightly to get an even cook.
When the chickpeas are fully roasted, turn the oven off, but leave the chickpeas inside the oven with the door wide open and allow them to cool for about 20-30 minutes. Allowing the chickpeas to cool in the hot oven crisps them up even more.
Nutrition Information
Yield:

4
Serving Size:
g
Calories:

222
Sodium:

444mg
Carbohydrates:

31g
Fiber:

9g
Sugar:

5g
Protein:

11g
This website provides approximate nutrition information for convenience and as a courtesy only. Nutrition data is gathered primarily from the USDA Food Composition Database, whenever available, or otherwise other online calculators.