Learn how to make oven roasted chickpeas that are actually crispy and stay that way! All you need is a can of chickpeas, a tiny bit of oil and seasoning of your choice. | Gluten Free + Vegan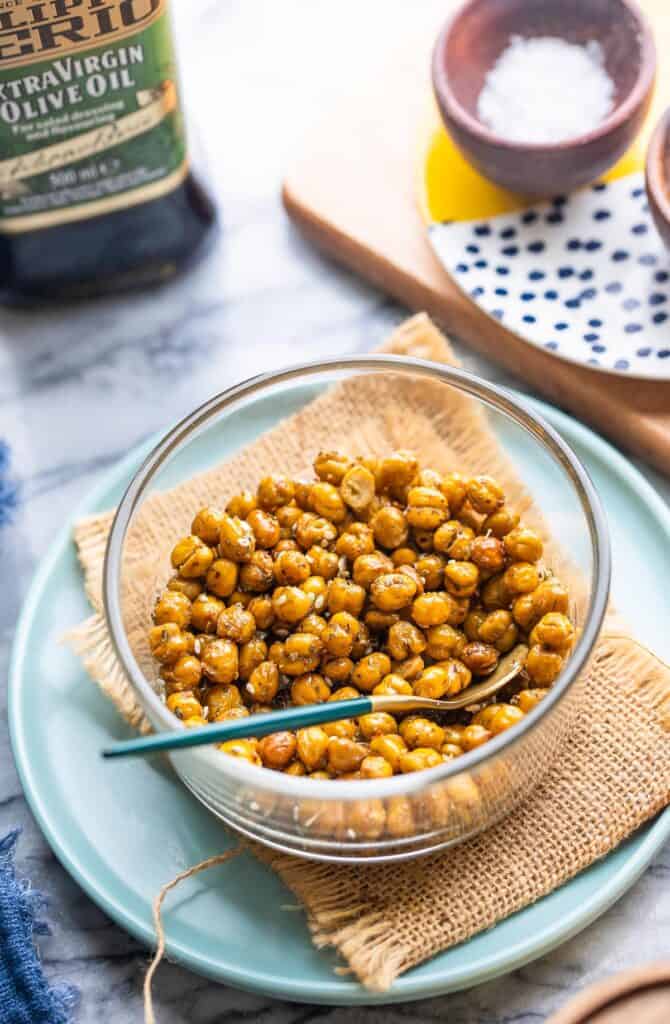 Originally shared this recipe on June 29, 2015 – Updated July 1, 2022 with improved photos, recipe, tips and ingredient explanations.
I'm currently on a mission to make gluten free vegan vanilla cake using aquafaba instead of eggs. I feel like I'm close, but I still need to do a few more tests before the recipe is fully ready.
So as you can imagine – I've been going through a LOT of canned chickpeas.
Fortunately, I'm a big fan of chickpeas (as you can see from the many chickpea recipes I've shared). They're cheap, filling and highly versatile – just like these roasted chickpeas.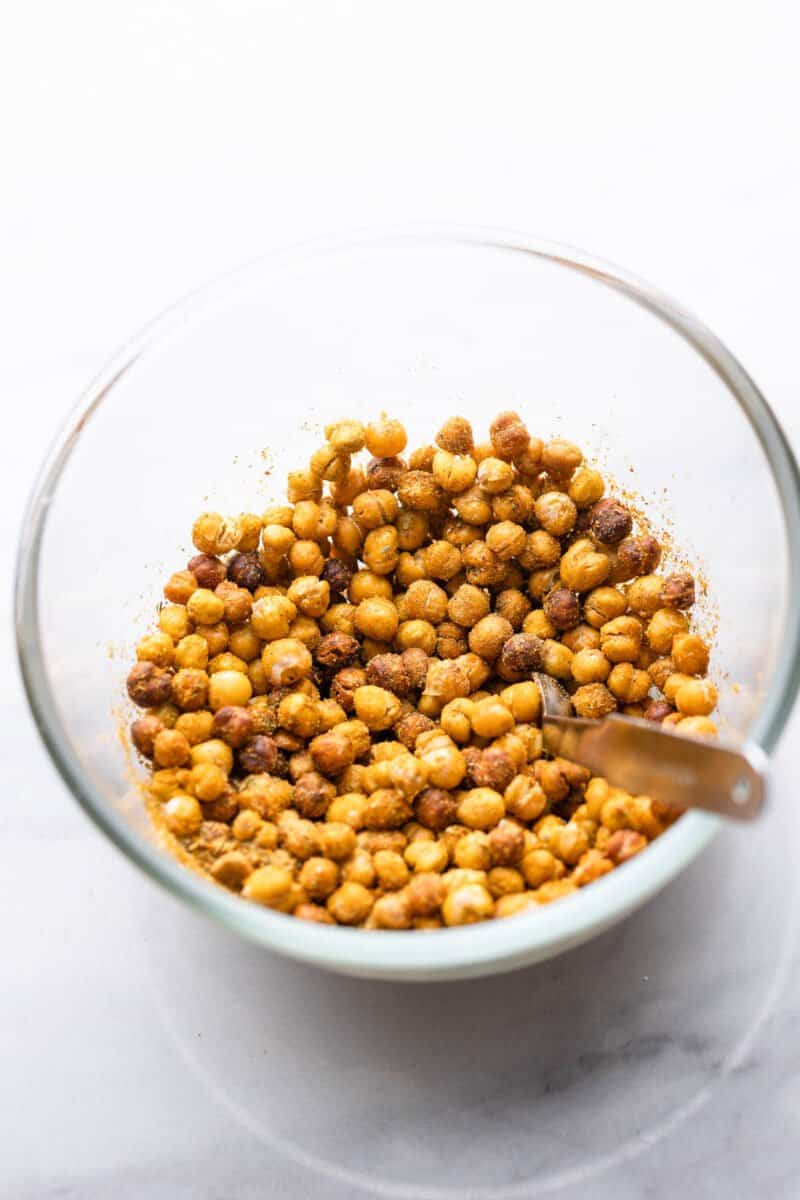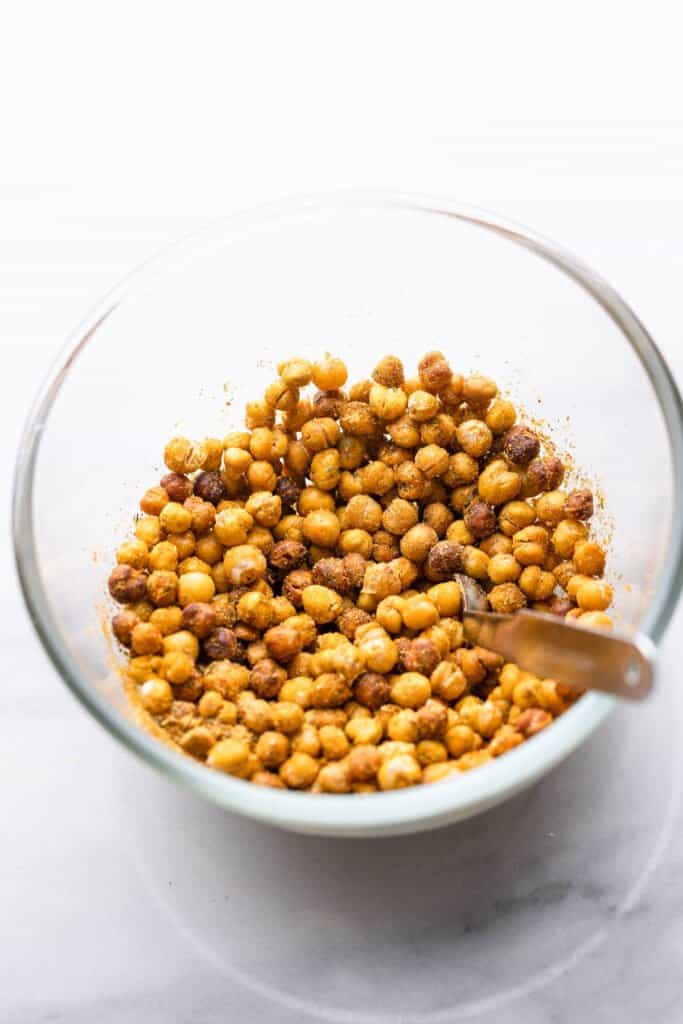 How to Make crunchy roasted chickpeas
Altogether this is a very basic recipe made with basic ingredients in a few simple steps.
Drain and dry the canned chickpeas.
Spread the chickpeas across a large rimmed baking sheet.
Dry roast until golden-brown and crunchy.
Season with your preferred spices.
Enjoy!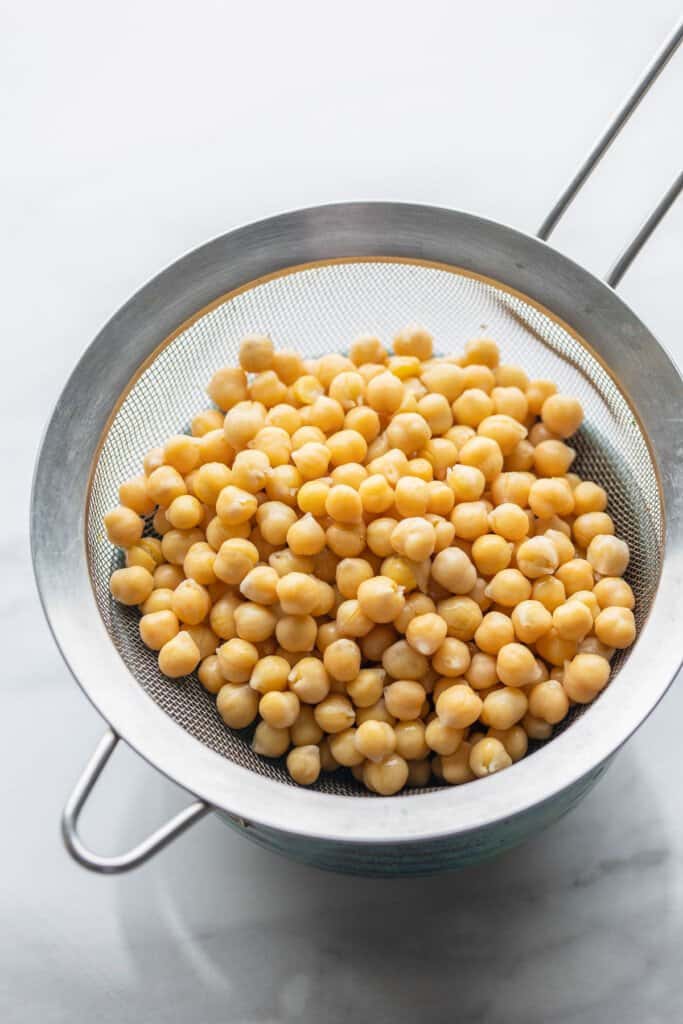 The key to truly Crispy Chickpeas
Dry Chickpeas = Crispy Chickpeas
The main challenge I see people run into when roasting chickpeas is that they can't seem to get them crunchy enough OR they lose the crunch too soon.
Residual water or too much moisture left on the chickpeas or under the chickpea skin before roasting will delay and prevent them from properly crisping up.
If you want your chickpeas to get crispy and stay crispy then I recommend you go the extra mile here and try to remove as much of the chickpea skin as possible.
I found that the chickpeas that I skinned then roasted stayed crunchy for days. The chickpeas that I left the skins on were more varied in their texture and lost their crunch after a day.
At the very least you want to try to get rid of the obviously loose skins just to keep them from popping off in the oven.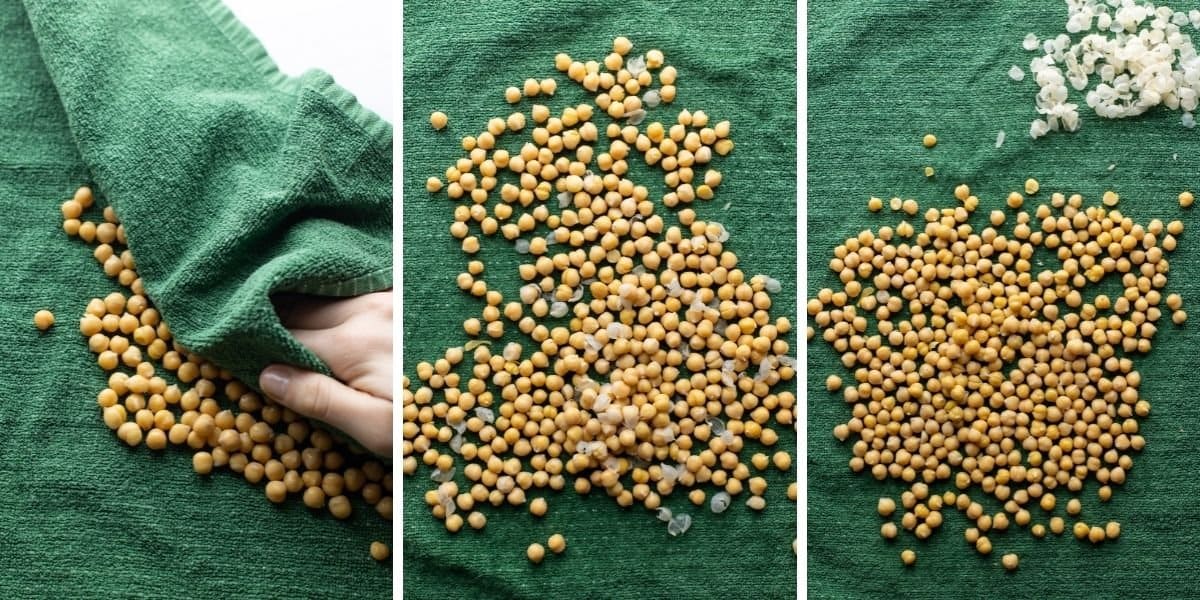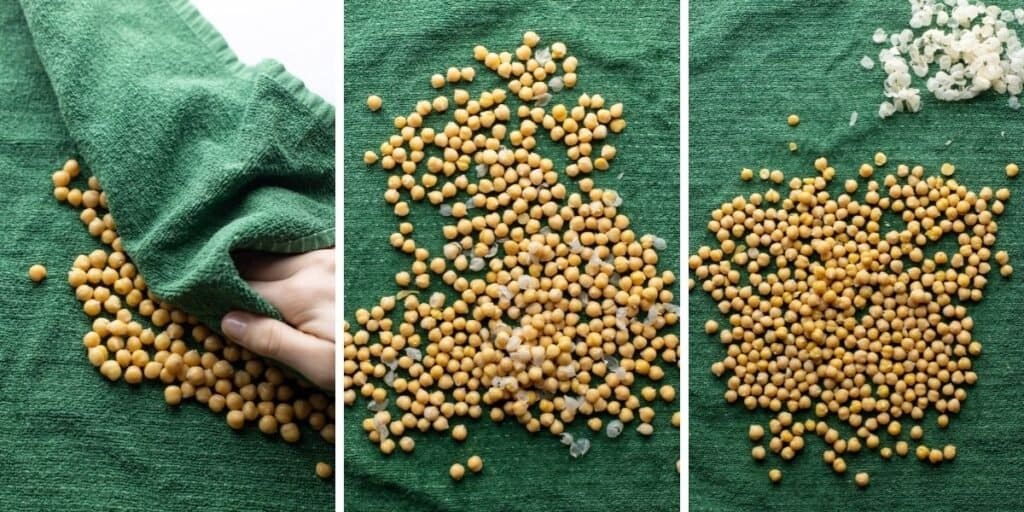 Spread the dried chickpeas over one half of a clean dish towel, fold the other half over and gently rub. The friction will help loosen up the skin making it easier to separate.
You won't be able to get all the skin off this way, but it will help with the more obvious loose skin.
To remove the more stubborn skin, take a single chickpea and gently pinch the sides. The skin should stay in your grip while the chickpea itself slides out. It's a tedious task for sure, but will make for a longer lasting crunchy snack later.
Don't feel like you need to do this to every last chickpea. I just recommend removing the skins from the ones that you can see are a bit loose already at the very least.
Dry Roast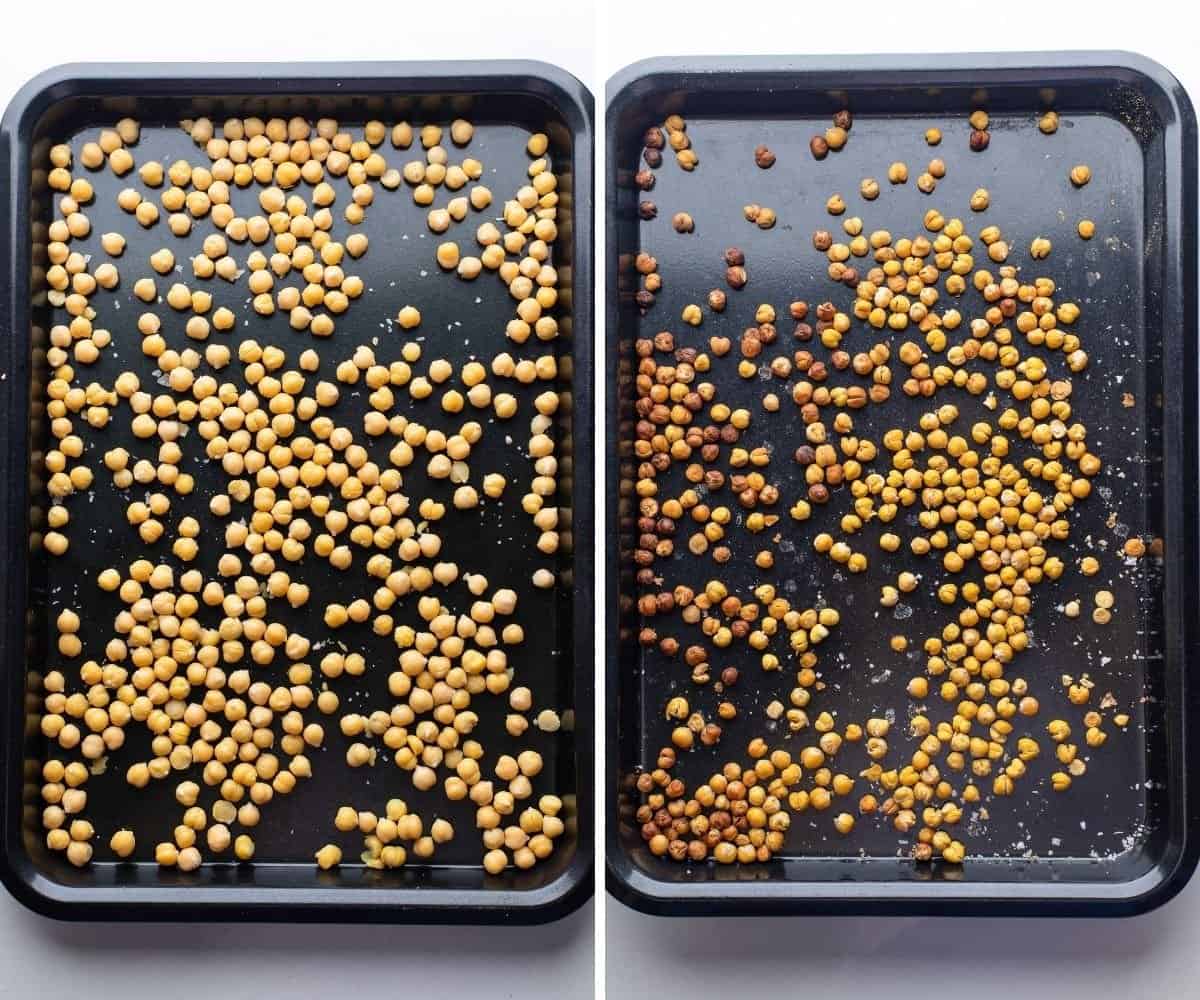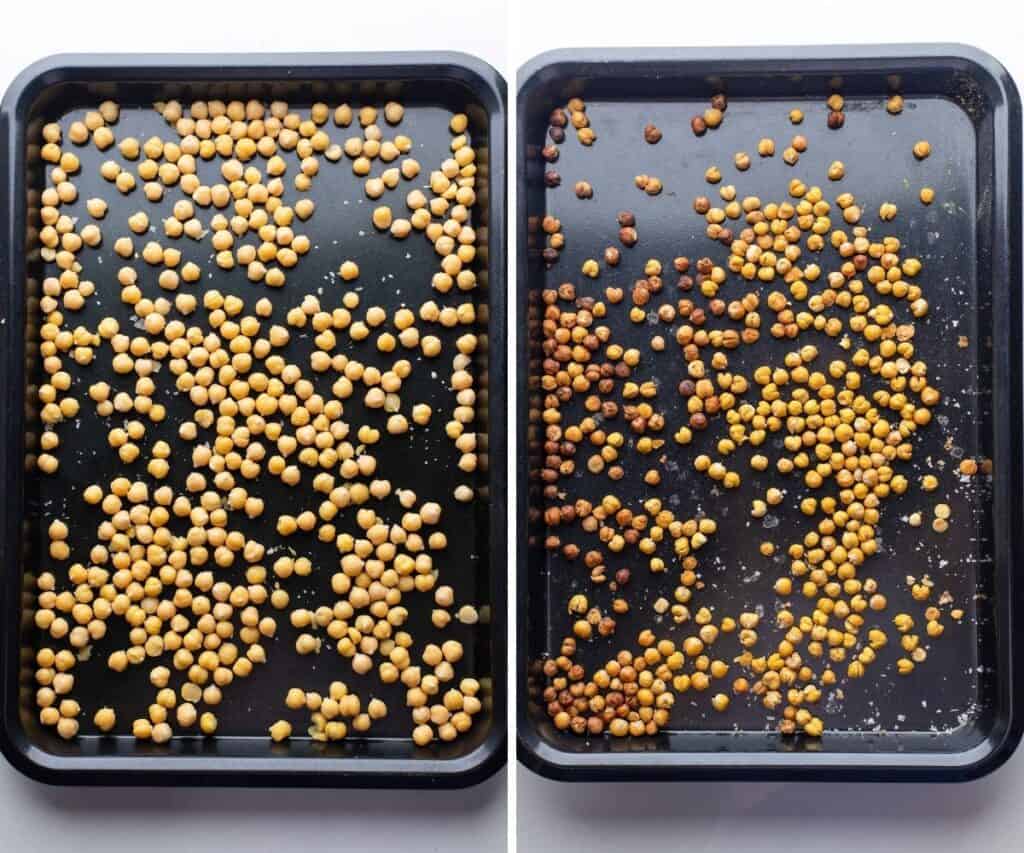 The next major tip for crunchy chickpeas: dry roast them! Don't add oil until after they cook.
Spread the chickpeas across a large baking sheet and sprinkle with a pinch of salt. Make sure it's rimmed so the chickpeas can't slide off as you move them in and out of the oven.
I like to rub the chickpeas with a paper towel one last time before roasting just to really make sure they are as dry as can be.
When you're ready, place them in your preheated oven and cook for about 15 minutes in a high temperature. After 15 minutes, take out the pan and give it a good shake then return for another 15 or so minutes. Since oven temperatures can vary quite a bit, you'll need to keep an eye on your oven in the final 5 minutes of cooking.
Season After Roasting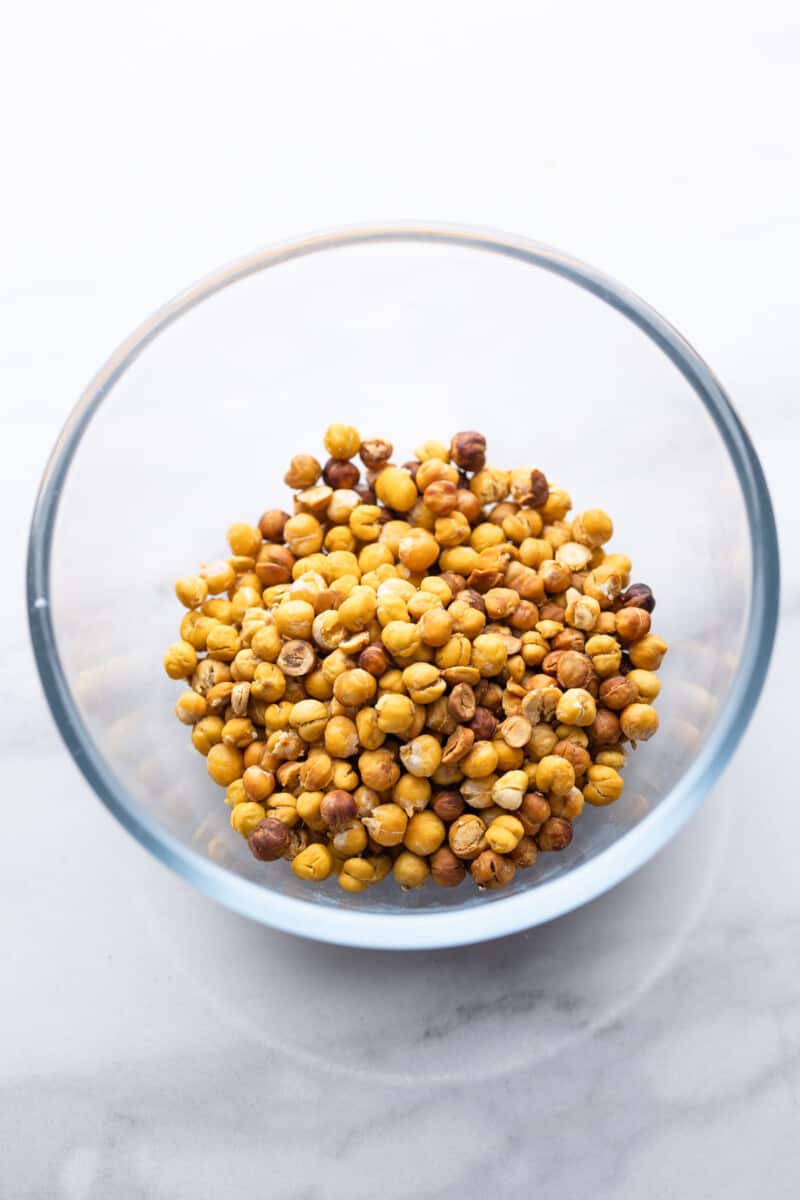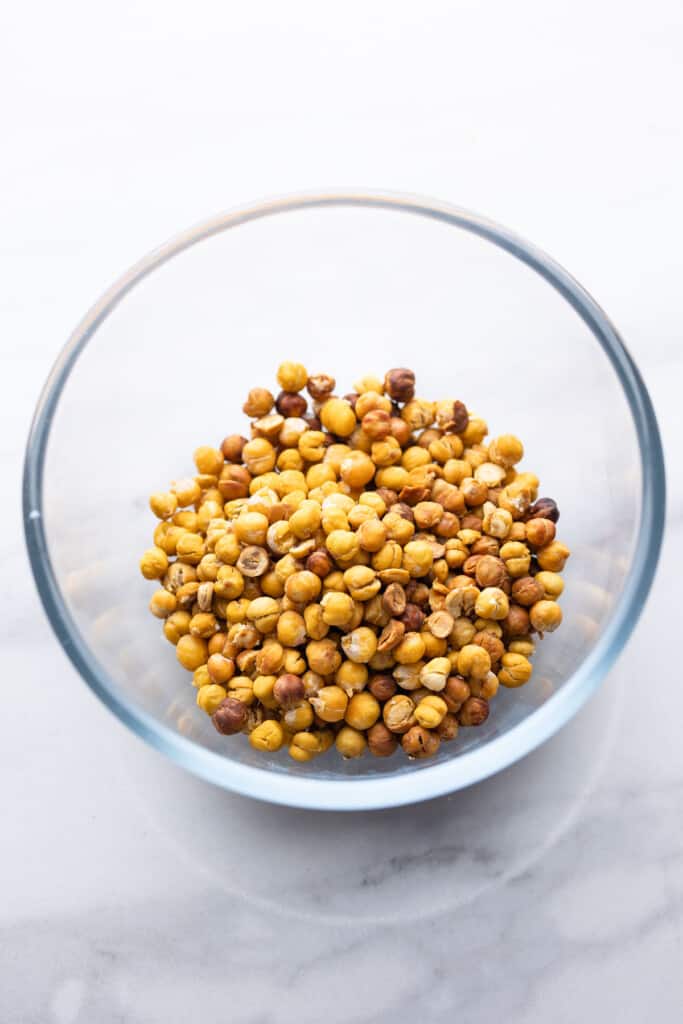 Tip the chickpeas into a medium sized mixing bowl as soon as you take them out of the oven. Toss with 2-3 teaspoons of oil to coat the chickpeas then follow up with your choice of spices.
The amount of spice you need will depend on the kind of spice you choose. I recommend you start with 1-2 teaspoons of spice, taste and then add more as you see fit.
There are so many different flavors you can choose. Here are a few ideas you can yourself:
Pre Made Spice Blends that can be made or bought:
Za'atar Spice – Za'atar spice and chickpeas go hand in hand and the sesame seeds add some extra crunch. This is currently my favorite way to enjoy these.
Ras el Hanout – a Moroccan spice blend
Taco Seasoning
Curry Powder
Everything Bagel Seasoning
Instead of using a pre made blend you can also mix up your own spices based on what you have in and what you enjoy. Mix and match garlic powder, onion powder, cayenne, nutritional yeast, salt, lemon zest, parmesan, etc.
I recommend you use extra virgin olive oil for savory flavors and melted coconut oil if you're trying to make a sweet snack.
Chickpeas are naturally earthy and savory so they take on savory spices more easily than they do sweet/sugary flavors.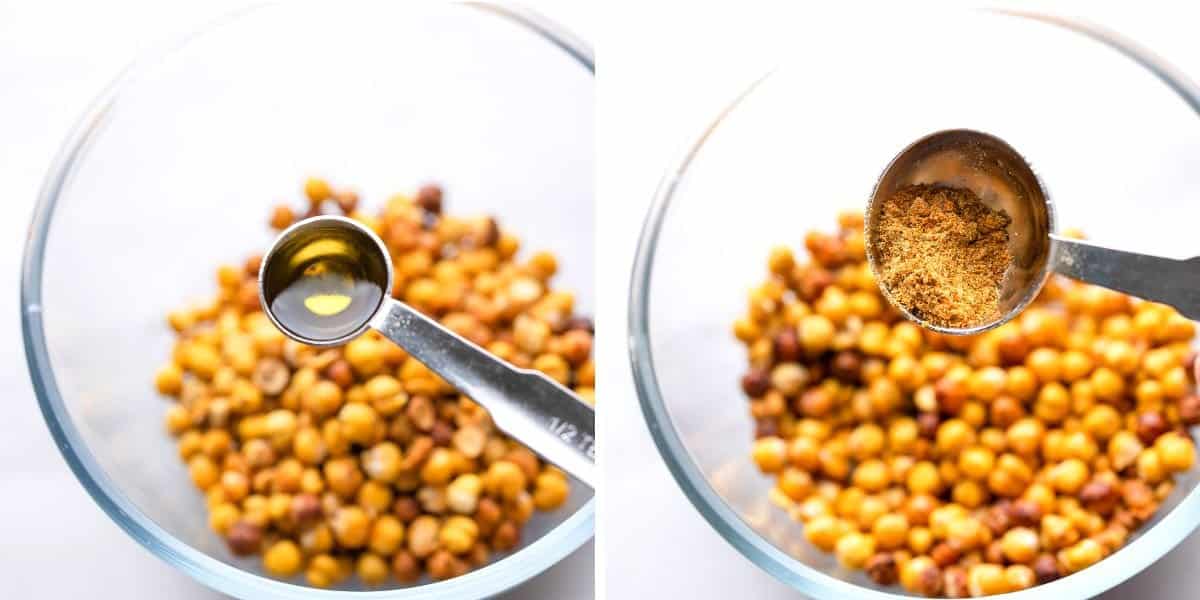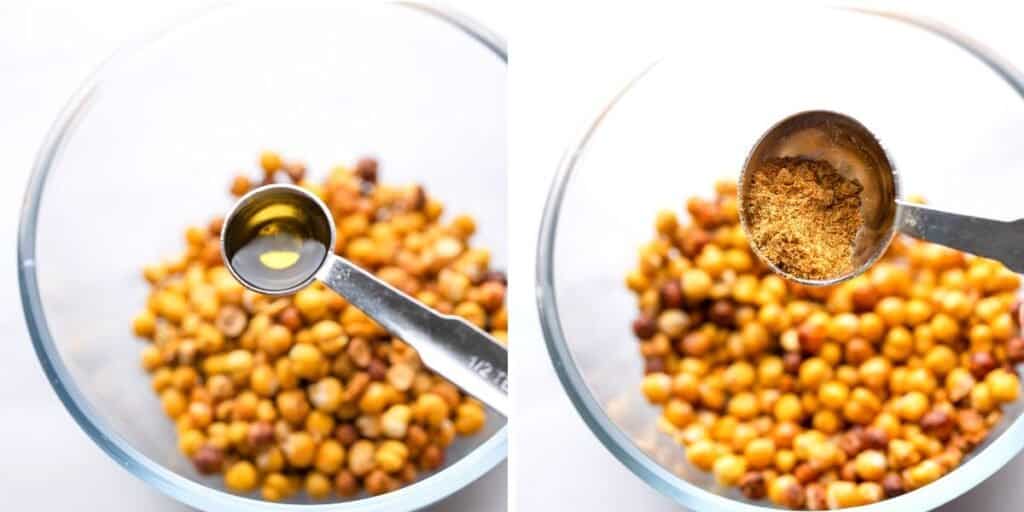 What can you do with roasted chickpeas?
So many things! Here are a few different ways you can enjoy your chickpeas:
Enjoy a salad topper.

Instead of croutons, add chickpeas! Crispy roasted chickpeas make a great addition to so many different types of salads.

Enjoy as a healthy, savory snack.

Chickpeas are a great source of plant protein that are also high in fibre. They're filling, delicious and good for you!

Add to soups for addition crunch/texture.
Add to dips and sauces for extra crunch.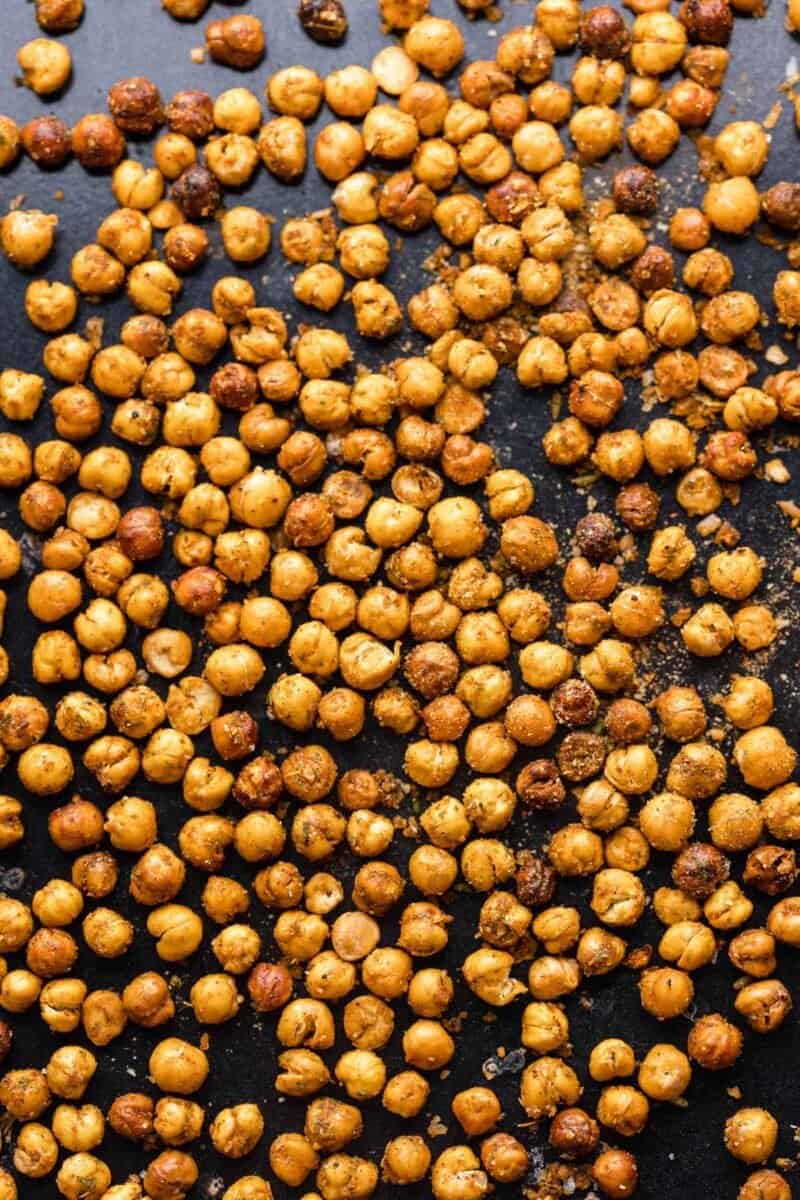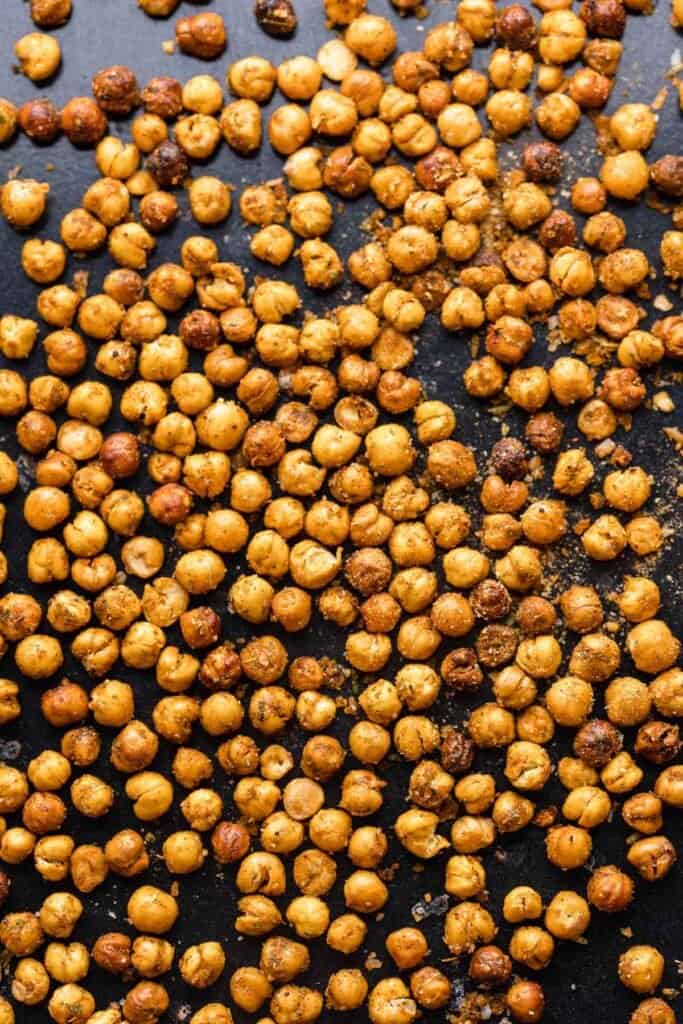 Final Tips
Dry the chickpeas completely before roasting. Remember: dry chickpeas equal crunchy chickpeas!
If you can tolerate the tedium – remove the chickpea skins.
Cook the chickpeas directly on the baking sheet or a baking sheet lined with foil (no parchment paper). The direct contact to the heat helps them get crispier.
Add oil and seasoning after they cook. Oiling them first adds too much moisture which delays the crisp and the spices will likely burn in the oven.
Preheat the oven fully before roasting.
Store leftovers at room temperature loosely covered with foil.
If you find your chickpeas lose their crispiness after a few days, cook them again in a hot oven for 2-3 minutes to crisp back up.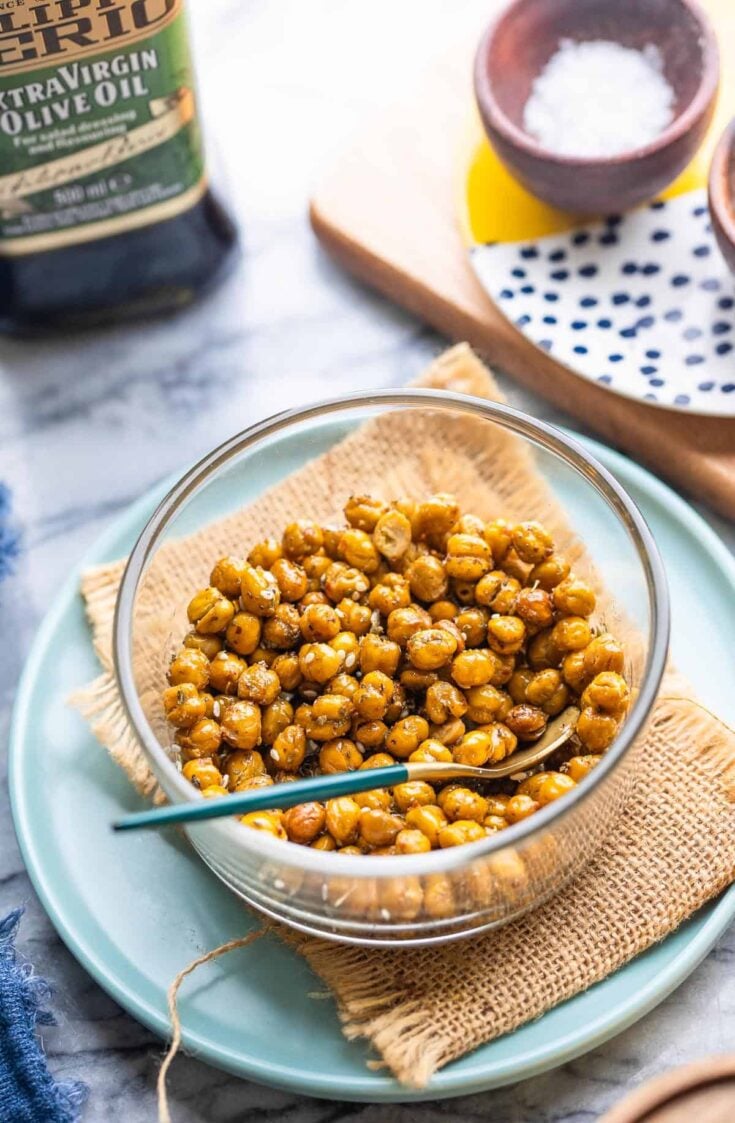 Recipe
Crispy Roasted Chickpeas
Yield:
1 1/2 cups
Prep Time:
10 minutes
Cook Time:
30 minutes
Total Time:
40 minutes
Learn how to make oven roasted chickpeas that are actually crispy and stay that way!
Ingredients
1 can (15 oz) chickpeas or 1 1/2 cup cooked chickpeas, drained and rinsed
2 teaspoons extra virgin olive oil or melted coconut oil (add more if needed)
2-3 teaspoons seasoning of your choice (or more to taste)
additional pinch of salt if you spice blends don't already contain salt
Instructions
Preheat oven to 425°F/220°C.
Spread the drained/rinsed chickpeas over a clean kitchen towel. Pat dry then gently rub the chickpeas in the towel to loosen up the skins. You don't have to remove all loose skin, but the more you remove the crispier your chickpeas will be.
Add the dried chickpeas to a large, rimmed baking sheet. Pat the chickpeas once more with a paper towel.
Roast in the middle of the oven for 15 minutes. Take out the baking sheet, gently shake to mix up the chickpeas then roast for another 10-15 minutes until golden brown and crispy. Oven temps can vary quite a bit so you may need to keep on eye on your chickpeas in the final 5 minutes.
Remove from the oven and transfer the chickpeas to a small bowl while still hot. Add 2 teaspoons of oil and toss. Once the chickpeas are coated well in oil, add 2 teaspoons of your preferred spices. Taste and season with more spices or salt as you see fit.
Store leftovers at room temperature loosely covered with foil or a paper towel.
Notes
Chickpeas can also be found at the grocery stored labelled 'garbanzo beans'.
For extra crispy chickpeas (crunchy like corn nuts) roast 30-35 minutes. For chickpeas that are crunchy on the outside but a little soft on the inside roast 25-30 minutes.
Cook time might vary slightly depending on how well you dried the chickpeas.
Leftover roasted chickpeas should stay crispy at least 2-3 days. If they go soft before you've finished them you can re-crisp them in the oven by cooking them again 2-3 minutes at 425°F/220°C.
Nutrition Information
Yield:

3
Serving Size:
1/2 cup
Calories:

203
Total Fat:

10g
Saturated Fat:

4g
Trans Fat:

0g
Unsaturated Fat:

4g
Cholesterol:

0mg
Sodium:

2102mg
Carbohydrates:

23g
Fiber:

7g
Sugar:

4g
Protein:

7g
This website provides approximate nutrition information for convenience and as a courtesy only. Nutrition data is gathered primarily from the USDA Food Composition Database, whenever available, or otherwise other online calculators.
What to do with leftover aquafaba?