Easy, tamari roasted pumpkin seeds. Salty, crunchy, and ridiculously moorish.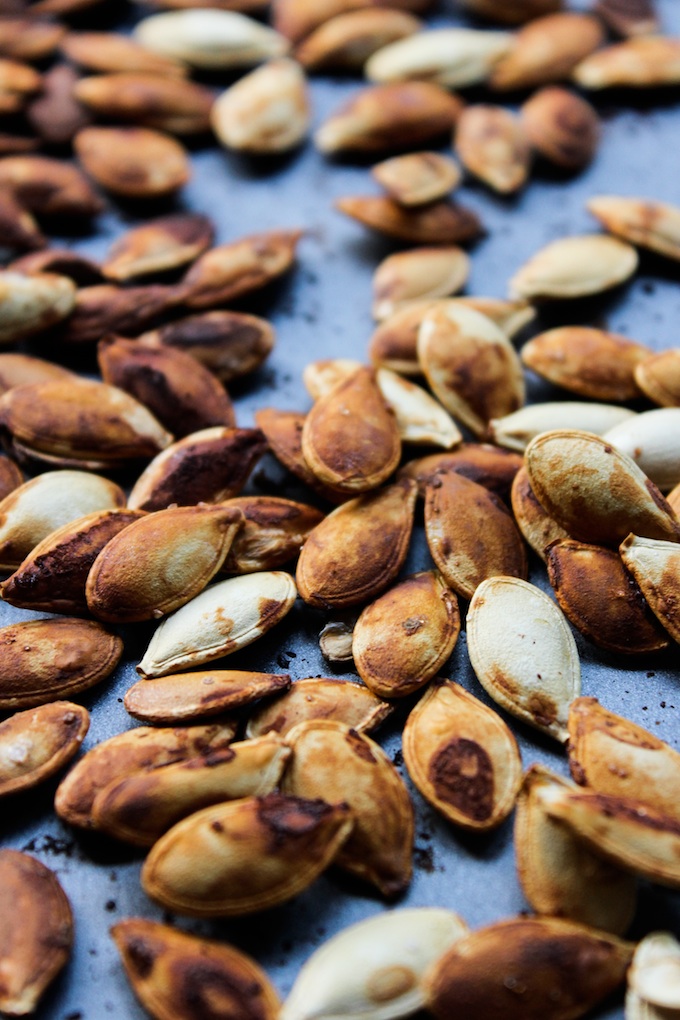 Who's already carved a pumpkin this year? I'm jealous of you if you have. What's not to love about scooping the slimy guts out of a pumpkin and dangerously hacking out a face in its side with a dull blade? It's the best.
When I was younger I used to really love the lead up to Halloween. In hindsight I think I enjoyed the anticipation more than the actual night of knocking on doors and demanding candy from strangers. Pumpkin patches, school carnivals, mapping out which houses supply kind sized candy bars with my best friend – it was all so exciting. And of course, Halloween is just the start of the holiday season with Thanksgiving and Christmas following soon after. Christmas is great, but it's another time in which the anticipation was greater than the actual day. Even as a kid it always felt a little underwhelming to be excited for one special morning that was over and done before you know it. Winter isn't quite as sparkly and romantic once the holidays pass. Just cold, wet, and still really cold.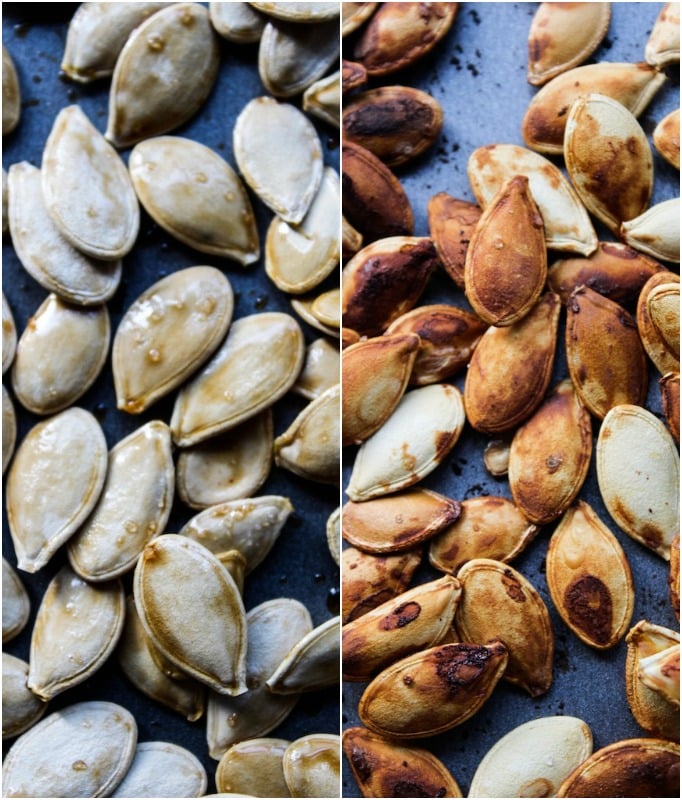 One of my favorite treats during that lead up to both Halloween and Thanksgiving wasn't actually the snickers bars or the tootsie rolls (though I practiced no self restraint in the candy department). What I always looked forward to most was my mom roasting the pumpkin seeds that we saved from carving pumpkins. Salty, crunchy, and ridiculously moorish. I always find that I have to eventually cover the seeds and walk away because I can't help but constantly reach for another small handful…or two.
There are so many different ways you can spice your pumpkin seeds salty or sweet, but for me I usually like to keep at least one snack salty this time of year to balance out all the sweet treats around me which is why I chose to make tamari roasted pumpkin seeds. Typically in cases where tamari or soy is used I reach for my coconut aminos for a soy free alternative. Since you only need a small amount of this recipe and because coconut aminos are a bit pricey I decided to go with the tamari sauce for a savory, salty, and slightly tangy flavor.
Because the amount of seeds you get varies from pumpkin to pumpkin, the amounts that you need to season and roast the seeds will too. The idea is that you want to coat the seeds in just enough to dress them in oil/sauce without making them swim in too much liquid. Your cooking time will also vary depending on how big your seeds are: bigger seeds = more time in the oven. All things considered, roasting pumpkin seeds is still one of the easier culinary tasks, and in the and in the end it's definitely worth it.
So whatever you do – don't throw out the seeds!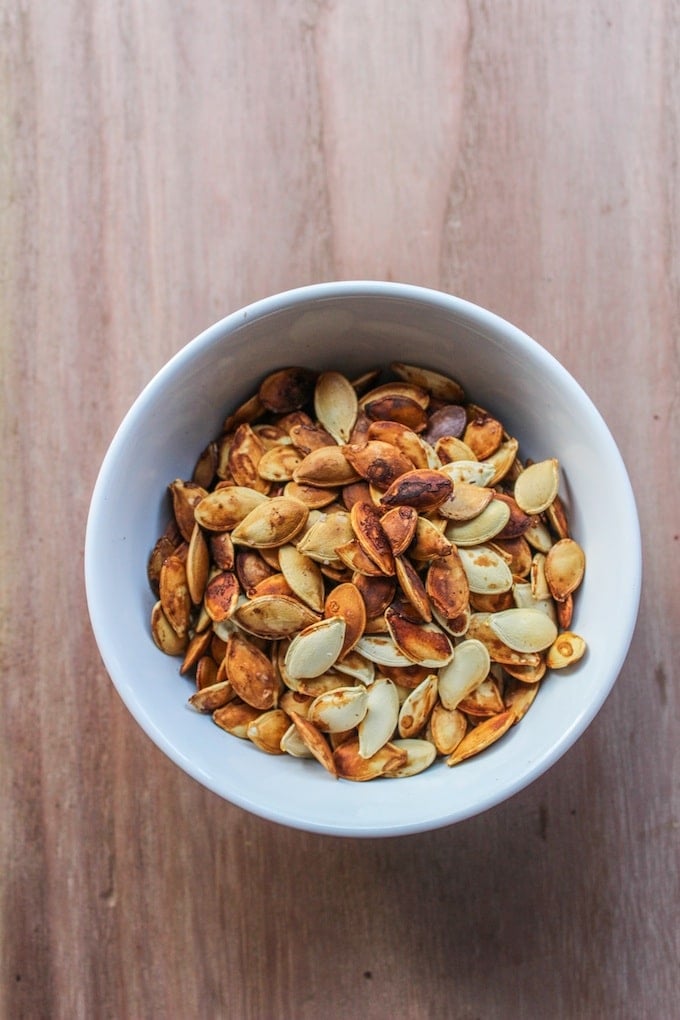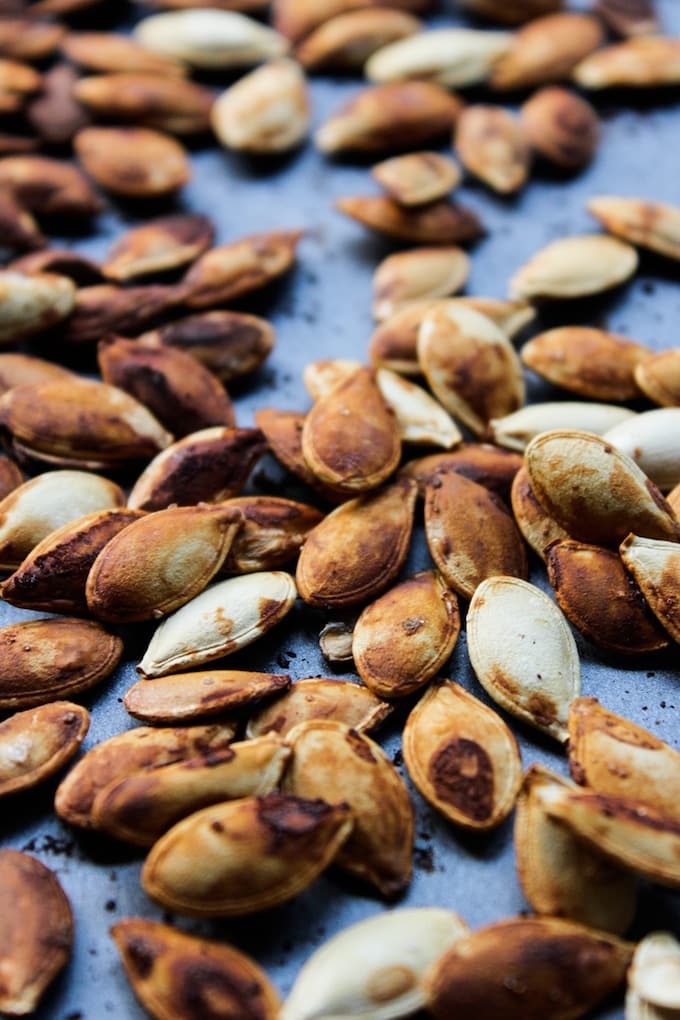 Recipe
Tamari Roasted Pumpkin Seeds
Yield:
8 servings
Prep Time:
5 minutes
Cook Time:
20 minutes
Total Time:
25 minutes
Easy, tamari roasted pumpkin seeds. Salty, crunchy, and ridiculously moorish.
Ingredients
The seeds from one medium/large pumpkin
olive oil
Tamari sauce or Coconut Aminos, (or gluten free soy sauce)
Instructions
Heat oven to 325°F/160°C
If you haven't already completely clean your pumpkin seeds. Make sure to remove any/all pumpkin guts and rinse the seeds and pat them down with a paper towel. They don't have to be completely dry because the oven will dry them out.
Place the seeds on a baking tray and drizzle a bit of olive oil over the top. Stir the oil and seeds coating everything and then drizzle a tiny bit of tamari sauce (or soy/coconut aminos) over the top of the seeds. Once again stir to coat the seeds.
Spread the seed out in an even layer and bake for 10 minutes. Remove the tray from the oven after 10 minutes, stir the seeds one more time so that they cook evenly and then bake for another 5-10 minutes. The larger your pumpkin seeds are the more time they will need to roast.
After baking remove from the oven and let them cool for a few minutes before eating and enjoy - shell and all!
Notes
Amounts will vary depending on how big your pumpkin is.
Nutrition Information
Yield:

8
Serving Size:
g
Calories:

106
Saturated Fat:

1g
Sodium:

126mg
Carbohydrates:

1g
Protein:

5g
This website provides approximate nutrition information for convenience and as a courtesy only. Nutrition data is gathered primarily from the USDA Food Composition Database, whenever available, or otherwise other online calculators.