Baked eggs in squash rings topped with bits of bacon and thyme make for the perfect easy and healthy breakfast that's sure to impress!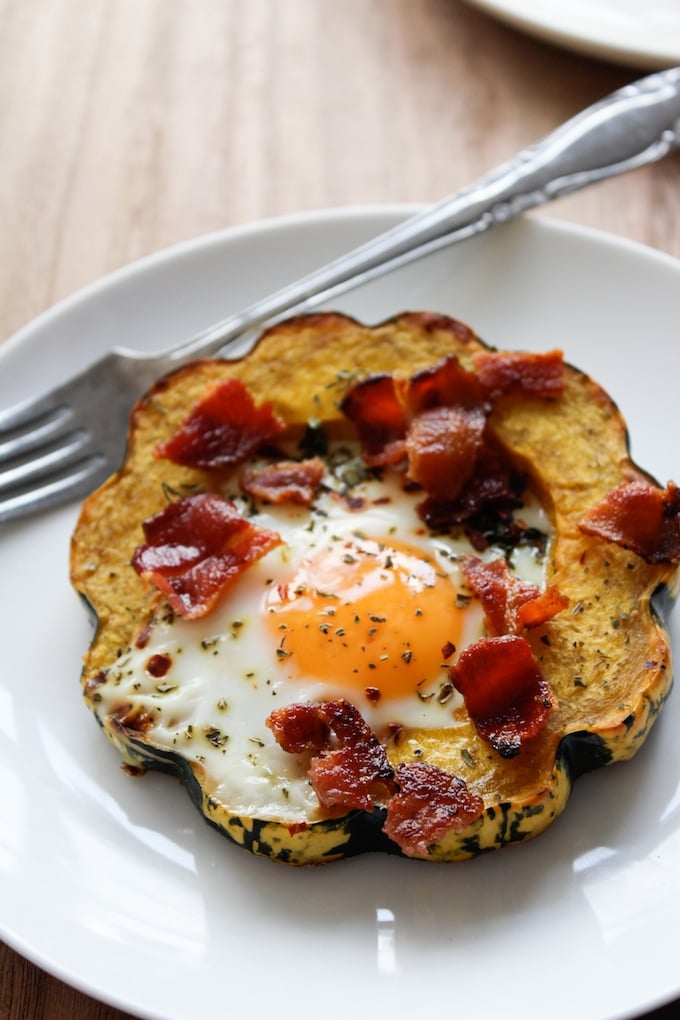 One month from now I'll be back in Arizona sitting in my parents kitchen drinking coffee from one of my favorite mugs. My parents know how to buy coffee mugs. They always get the really big, thick cups that are basically soup bowls which are perfect for getting in maximum amounts of caffeine in the morning. There's just something especially comforting about sitting with a big mug bowl of warm coffee in the morning. Just thinking about it is soothing enough.
If it weren't for the fact that Mike won't be joining me in two weeks visit to Arizona I'd be over the moon about it. The 16 hour journey via plane is just a bit too much for his immune system to handle at the moment, so I'll be spending another Thanksgiving without him. That's life, I guess.
That's not to say I'm not thrilled about it. It's been almost a year since last seeing my friends and family (not to mention my dog, Bosco, who I'm absolutely enamored with). I already know that the trip back home will be a much needed revival to my aching heart. I wouldn't say I'm homesick exactly, just nostalgic. I love Sheffield, but I don't have the same ties to it like I do for my  hometown. Making friends as an adult isn't easy – especially when my work requires staying in and working on the computer. I don't get the same amount of interaction that I'm used to which is entirely my fault. I bounce back and forth between wanting to go out and socialize and wanting to stay in and lounge around in sweats and just read a book. It's a problem. I'm a problem. Spending time with family and friends never fails to set me straight again.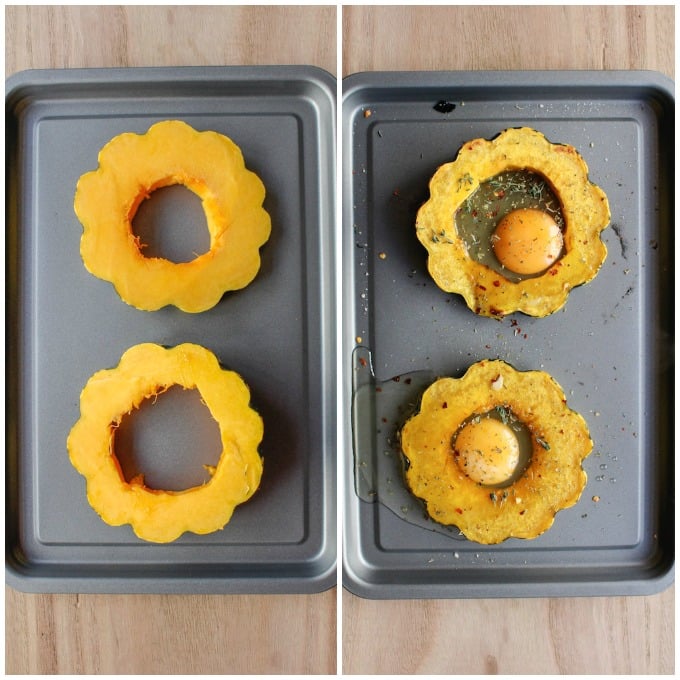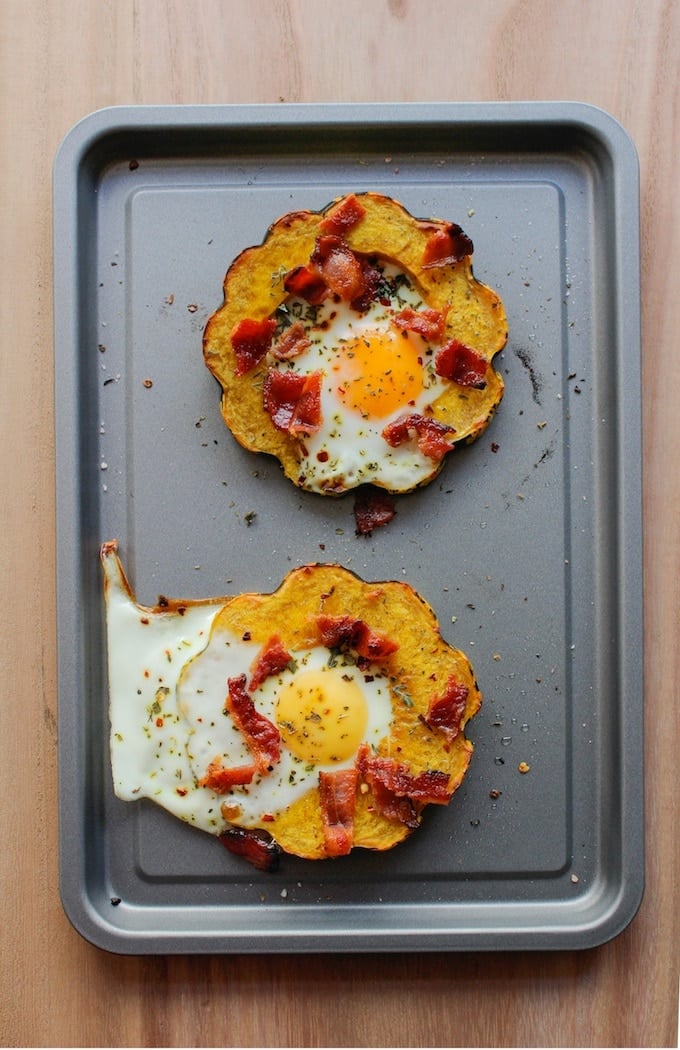 The next few weeks I'm going to be a bit swamped getting everything ready. Between recipe testing, writing posts, daily chores and just getting myself organized with life in general I know I'm going to be scrambling around trying to get everything done and sorted before I leave. Thanksgiving is probably my favorite holiday and I don't want to waste a single second worrying about anything other than what I'm going to be making for dessert. #Priorities. Not to mention my 7 year old little brother, Matthew, has been planning what things we're going to bake together for the past month or so. We've got many important things to work on together and I'm not about to let anything else get in the way of that.
Before the baking festivities (read: sugar spike) begin, I thought it might be in my best interest to focus on making more savory foods. I've got a sweet potato chili that I'm looking forward to sharing with you next week and the sausage, fennel and pepper roast from the other day that is amazing, but today I wanted a more savory breakfast to throw into the mix. I remember seeing Becky from A Calculated Whisk post a recipe for baked eggs in squash rings that I thought looked amazing so I thought I'd try it out for myself, but with a bit of bacon and a few added herbs.
I used a carnival squash for mine which will give you 2-3 servings depending on it's size.  You can also use acorn squash if that's easier for you to find and you'll probably get a bit more out of it. I originally bought this squash to use as a prop for some of my fall themed recipes, but it's made for an even better breakfast that I'd have hoped for.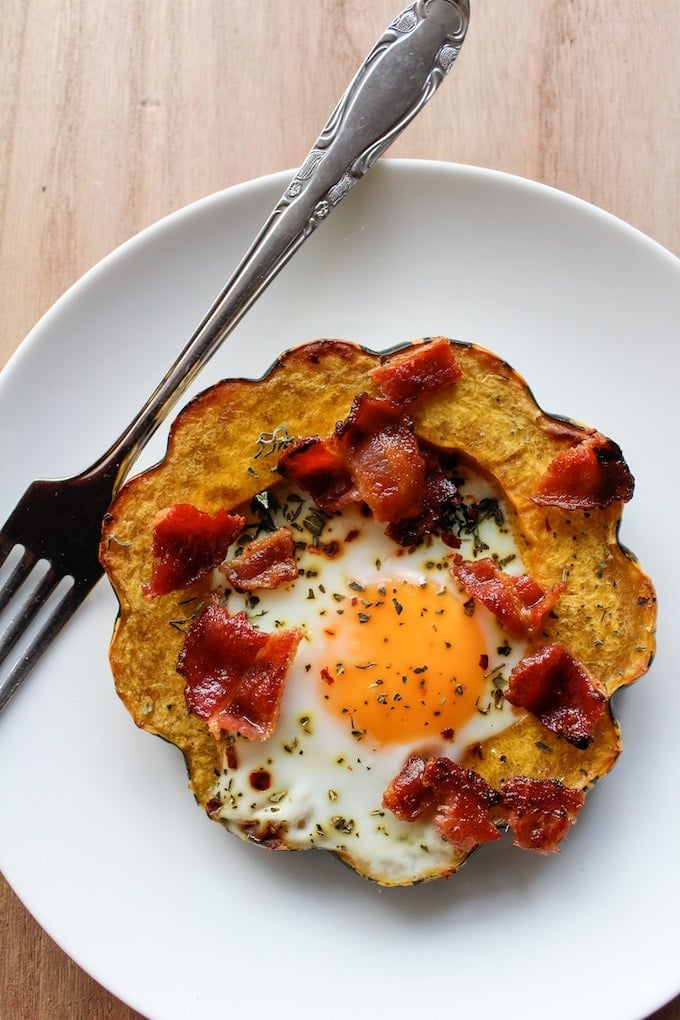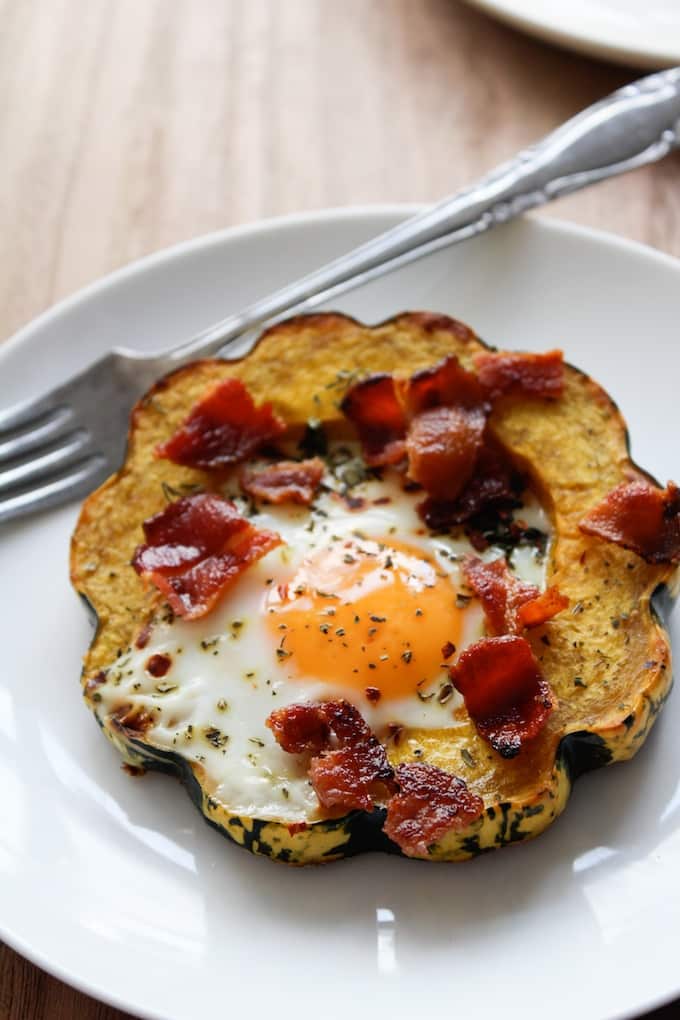 Recipe
Eggs in Squash Rings
Yield:
4 servings
Prep Time:
5 minutes
Cook Time:
25 minutes
Total Time:
30 minutes
Baked eggs in squash rings topped with bits of bacon and thyme make for the perfect easy and healthy breakfast that's sure to impress!
Ingredients
1 carnival or acorn squash
1 tablespoon extra virgin olive oil
2-4 eggs, (depending on how many squash rings you make)
2-4 slices of bacon, (one for each ring)
crushed red pepper
dried oregano
a couple thyme twigs
salt
Instructions
Preheat your oven to 425°F/220°C
Cut off both ends of the squash and discard. Cut the remaining middle part of the squash into 1 inch thick slices and scoop out the seeds.
Brush both sides of the squash with olive oil, sprinkle with salt and place the squash on a baking sheet in the oven and roast for about 15 minutes.
After 15 minutes, remove the squash from the oven, crack an egg in the middle of each ring. Sprinkle over the squash rings with a bit of the crushed red pepper, oregano, and thyme. Lower the oven heat to 350°F/180°C and bake the squash rings for an additional 10 minutes.
While the eggs are baking cook your bacon until crispy.
Remove the eggs from the oven after 10 minutes, crumble one slice of bacon over the top of each ring, sprinkle with additional oregano and thyme if you like and enjoy!
Nutrition Information
Yield:

4
Serving Size:
g
Calories:

139
Saturated Fat:

2g
Cholesterol:

69mg
Sodium:

93mg
Carbohydrates:

11g
Fiber:

1g
Protein:

4g
This website provides approximate nutrition information for convenience and as a courtesy only. Nutrition data is gathered primarily from the USDA Food Composition Database, whenever available, or otherwise other online calculators.
Yum