You're only one bowl, a few simple ingredients and less than an hour away from enjoying a slice of this delicious, homemade gluten free cornbread! With its crispy, golden crust and its soft and crumbly interior, this recipe is a must make for gluten-free folks everywhere! Make sure to skim through the recipe notes and post to find suggestions and tips on how to make this recipe egg-free, dairy-free and even xanthan gum-free.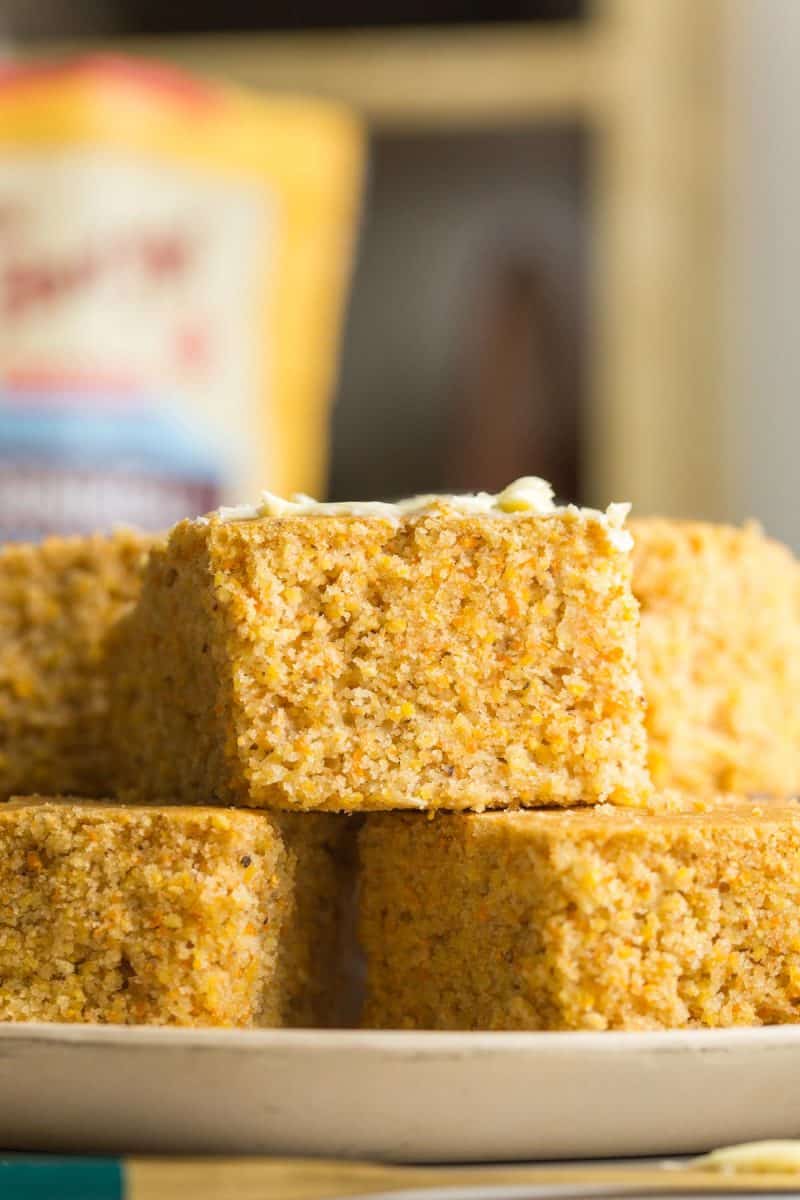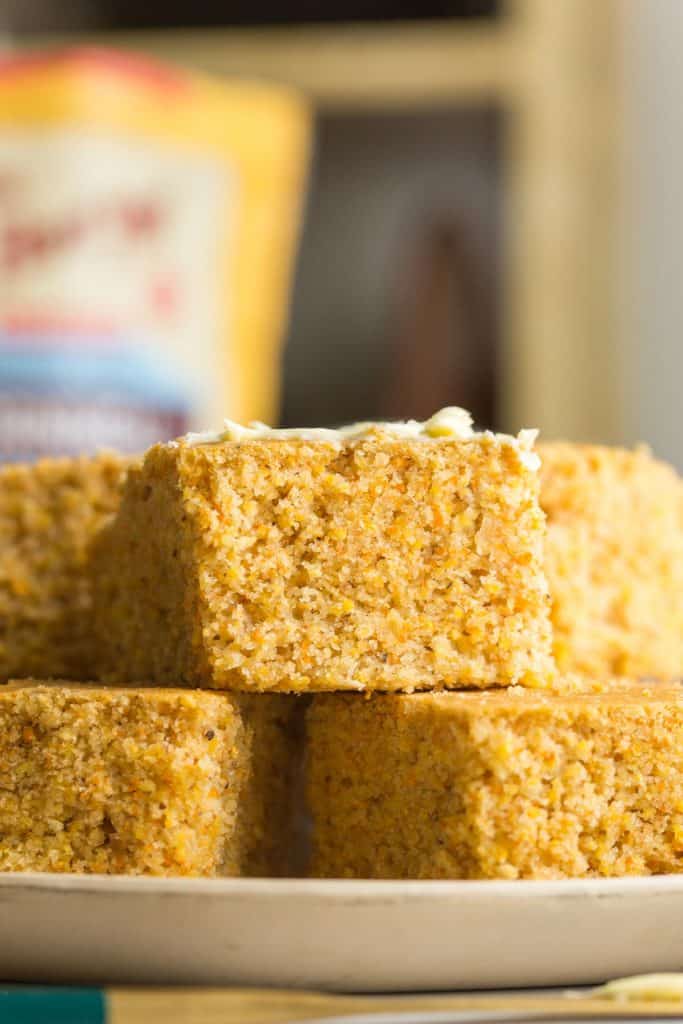 The Best Gluten-Free Cornbread Recipe Tested For You
When it comes to cornbread there's really not that much to it. At its core, cornbread is a very basic, perfectly imperfect recipe that can be enjoyed in a number of different ways.
When making this particular recipe, I started out with a couple of goals:
Come up with an easy gluten free cornbread with ingredients that you probably already have in.
Find a way to make the recipe more allergy friendly with both egg-free and dairy-free options as well.
With these goals in mind I tested this recipe a few different ways with different ingredient combinations. Altogether I tested this recipe four different ways: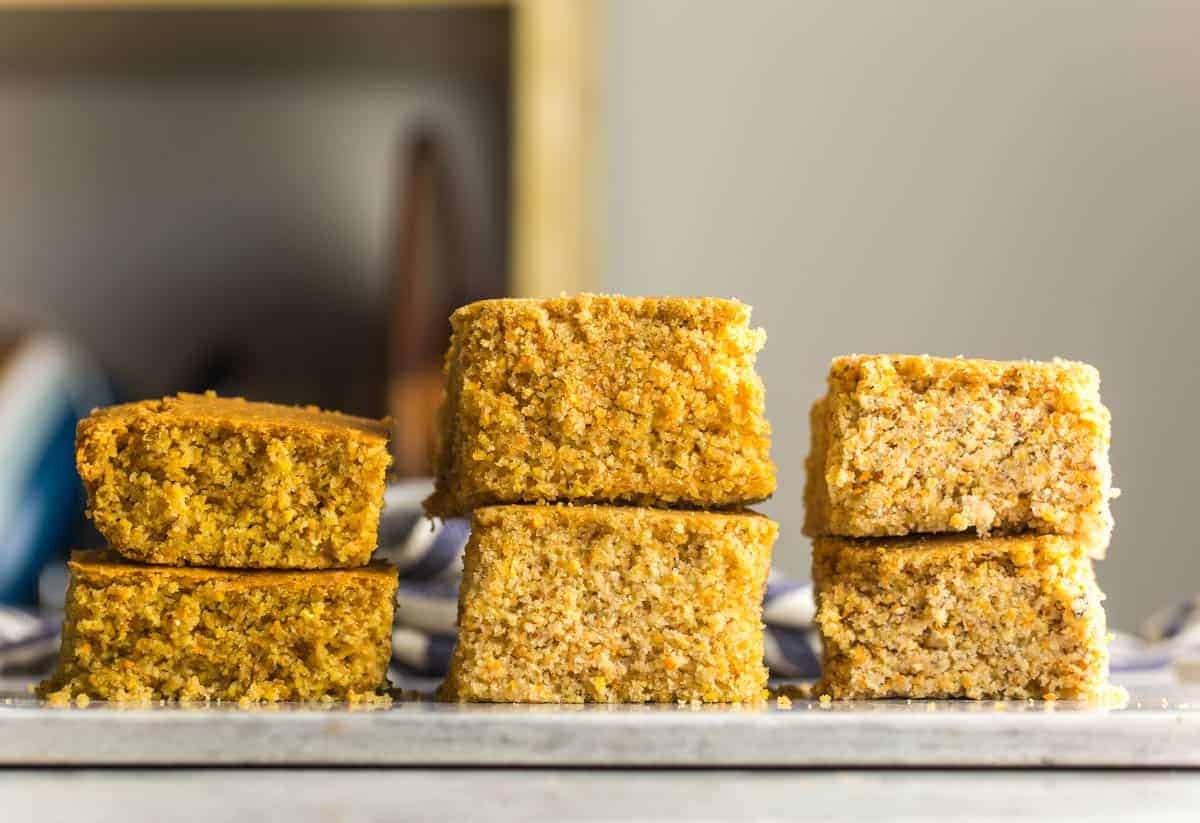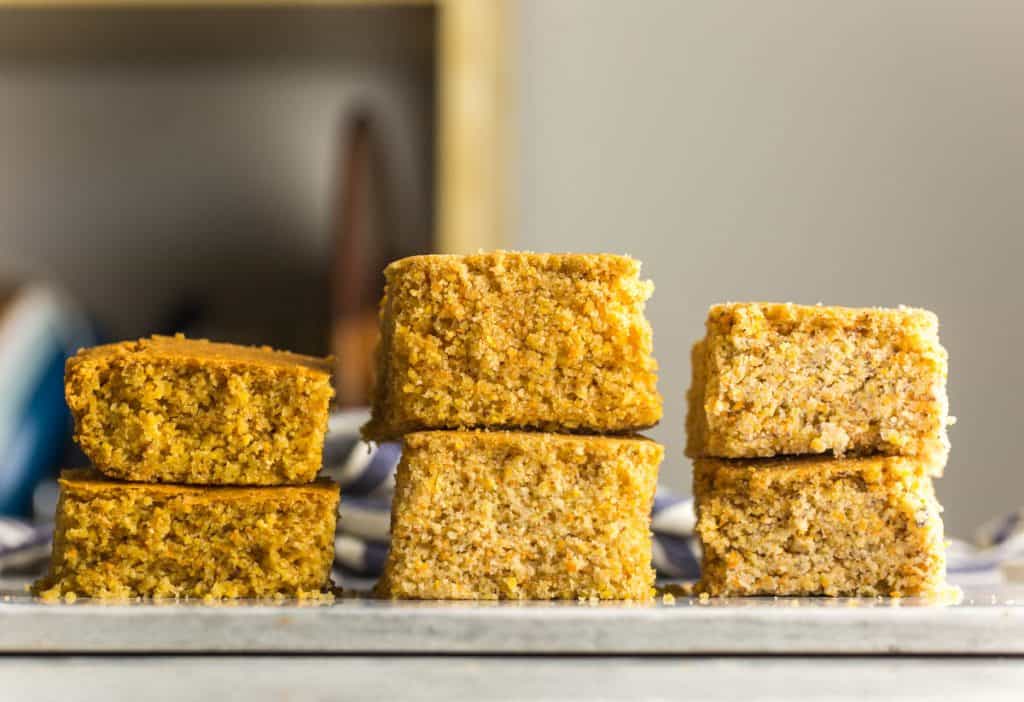 Not pictured: Basic gluten free corn bread. This one was made with dairy (real milk and melted butter), eggs and a generic all purpose gluten-free flour blend. This was my foundational, control cornbread from which I based the recipe testing on.
Left: An egg free version made with chickpea flour. Chickpea flour has a lot of natural binding powers meaning you can often go without adding an additional egg substitute. There was a definite bean-taste that shone through the cornbread, but I actually think it worked well in this context. The chickpea flour cornbread didn't rise as much as the other two but as far as egg-free options goes I think this one had the best texture. If you're looking for a traditional cornbread flavour – this option isn't for you.
Middle: Dairy free cornbread – made with a homemade dairy free buttermilk and oil in place of butter. This recipe was made with a generic gluten free all purpose flour blend and contained eggs. The oil actually made for a more moist texture, however it didn't rise quite as much without the dairy proteins (compared the the control cornbread). Make sure to check out my guide on non dairy milk substitutes to find the best non dairy milk to use here.
Right: Vegan cornbread made with flax eggs. This only real difference between this cornbread and the dairy free cornbread is that it was made with two flax eggs in place of the chicken eggs. It rose well, but it did have a much softer texture on the inside.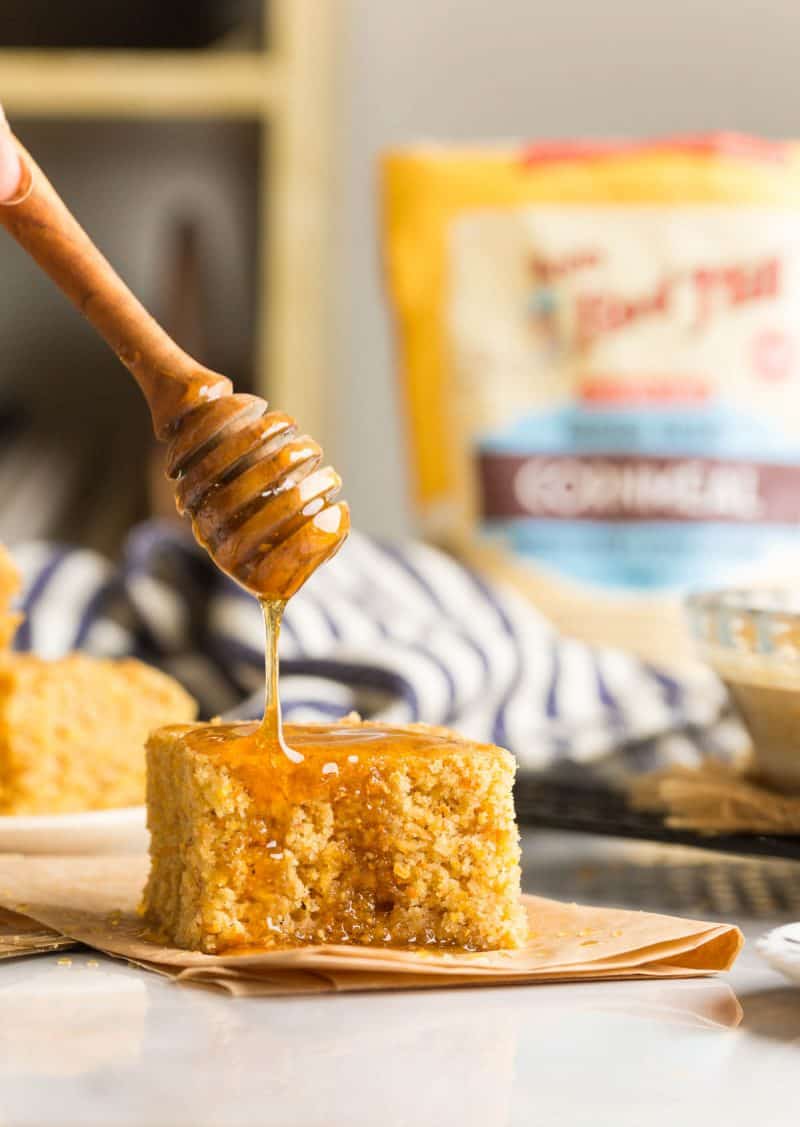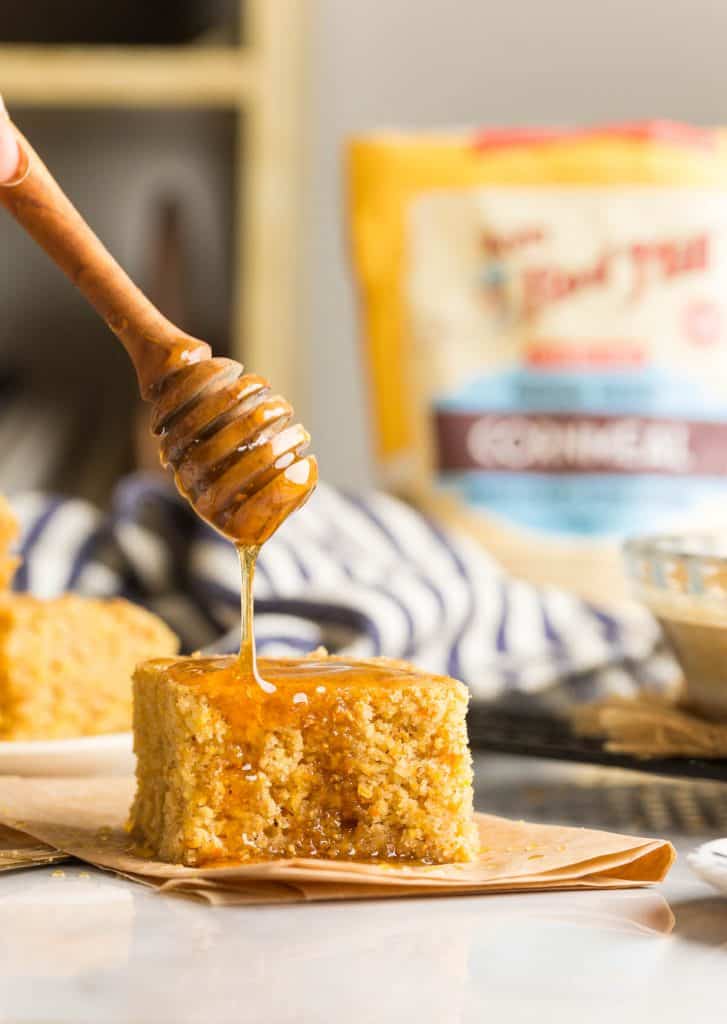 Sweet Cornbread Versus Savoury Cornbread
A question for you: Do you prefer your cornbread, sweet or savoury? When it comes to cornbread and how it should be made there's quite a lot of debate on sugar and whether or not it belongs anywhere on, in or around cornbread.
Traditional cornbread recipes (Southern Cornbread) are typically made without any added sweetener at all because it's meant to be enjoyed as a side to a savoury meal. Think cornbread topped with butter and served with a bowl of chili.
On the other hand, many modern day recipes are made with added sugar (also known Northern Cornbread or sweet cornbread). The added sugar makes for a sweeter bread with a more cake-like texture. Sweet cornbread is often enjoyed on its own (like these gluten free blueberry cornbread muffins) and is served with a drizzle of honey.
So what about this recipe?
This gluten free cornbread recipe does contain sugar; however, I would argue that you can make this cornbread appropriate for sweet or savoury purposes depending on how you serve it.
Altogether – there's only 1/4 cup light brown sugar in this recipe. That might sound like a lot, but when you divide up the recipe you're only getting about 3/4 teaspoons of sugar per slice.
I do not recommend omitting or reducing the sugar in this recipe because it does two things:
The small amount of sweetener adds balance to the savoury flavours. Without any sugar whatsoever, this cornbread can taste a little too one-note.
The sugar helps mask the metallic taste of baking soda (sodium bicarbonate) and baking powder.

Have you ever noticed that many gluten free and dairy free recipes usually call for larger amounts of baking powder and baking soda than recipes that contain dairy and wheat flour? That is because they are both immensely helpful in leavening gluten free, egg free and dairy free baked goods. Without them, your baked goods would be flat and dense.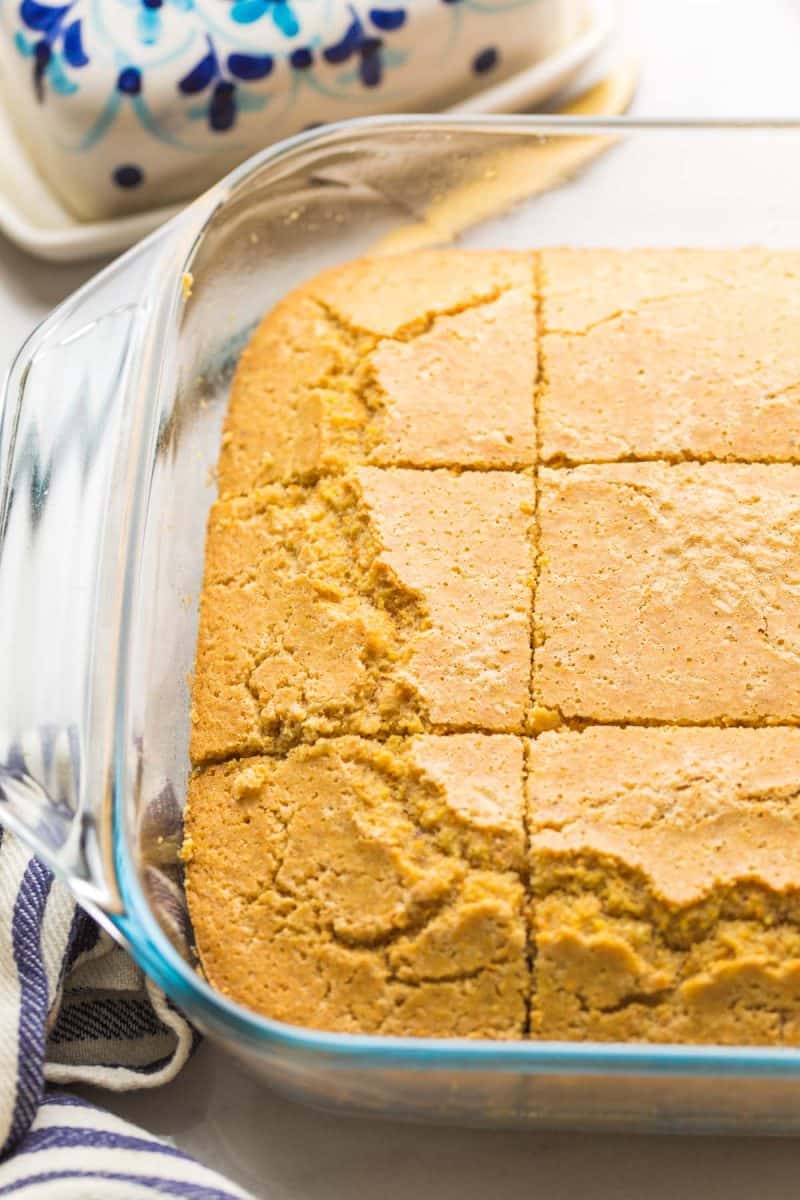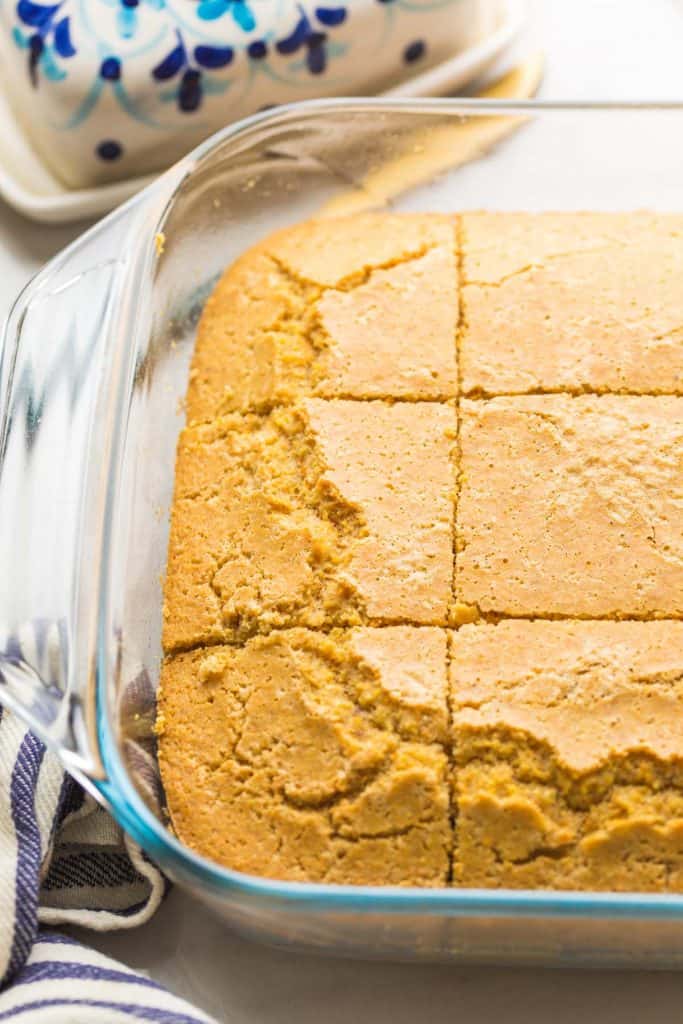 Is Cornmeal Gluten Free?
The answer here might seem obvious (especially if you've gotten this far into the post) but it's actually an important question to consider for those with celiac disease or gluten allergies.
Cornmeal is made from ground up corn kernels. While corn is inherently gluten free, cornmeal is often processed alongside wheat and other gluten containing grains (much like oats and oat flour) making it unsafe for celiac consumption.
When making cornbread or anything that contains corn products (like corn tortillas) it's always a good idea to check the labels of your flour to ensure that the product you're using is in fact gluten free.
What type of cornmeal should I use?
I tested this recipe using Bob's Red Mill gluten free cornmeal which is a yellow cornmeal with a medium grind.
As a general rule of thumb, yellow cornmeal is usually best when making homemade cornbread because it has a slightly sweeter, more pronounced corn-flavour.
When it comes to the type of grind – look for a medium grind. The medium-grind will add texture to your cornbread without being too gritty.
That being said – feel free to use white, yellow, fine or coarse cornmeal if it's what you prefer!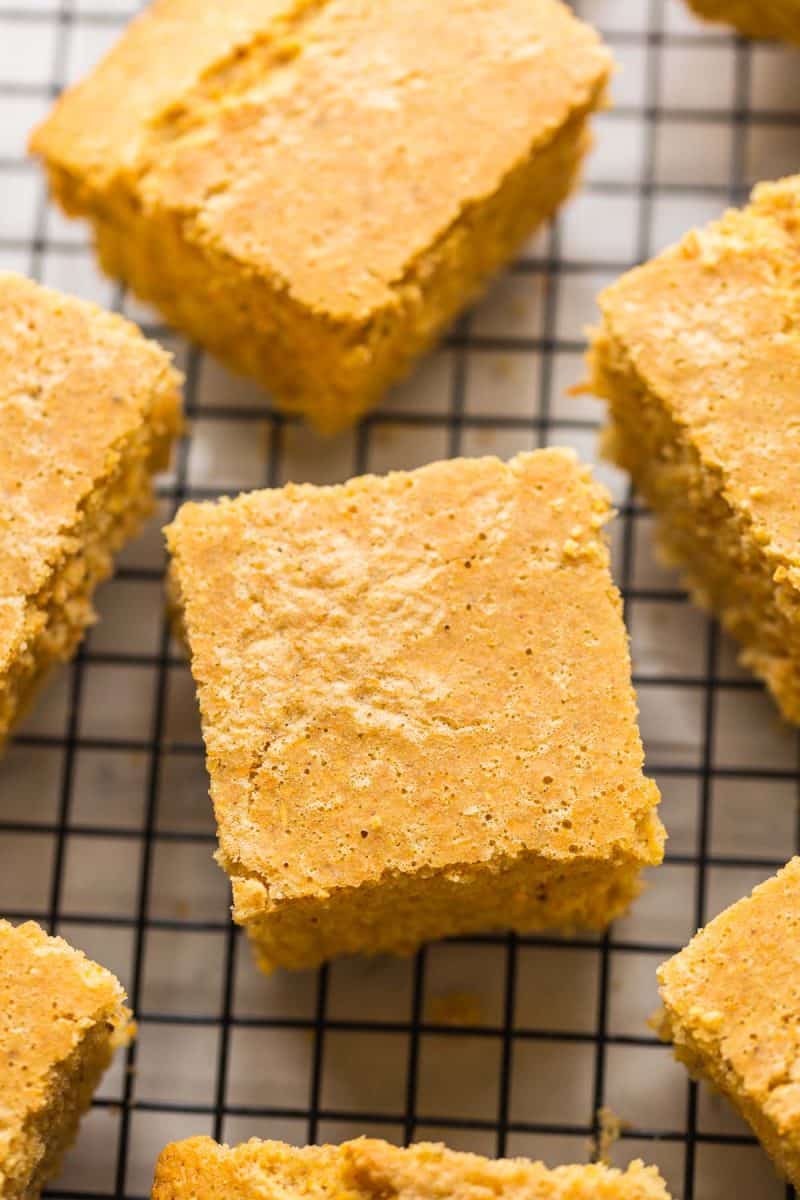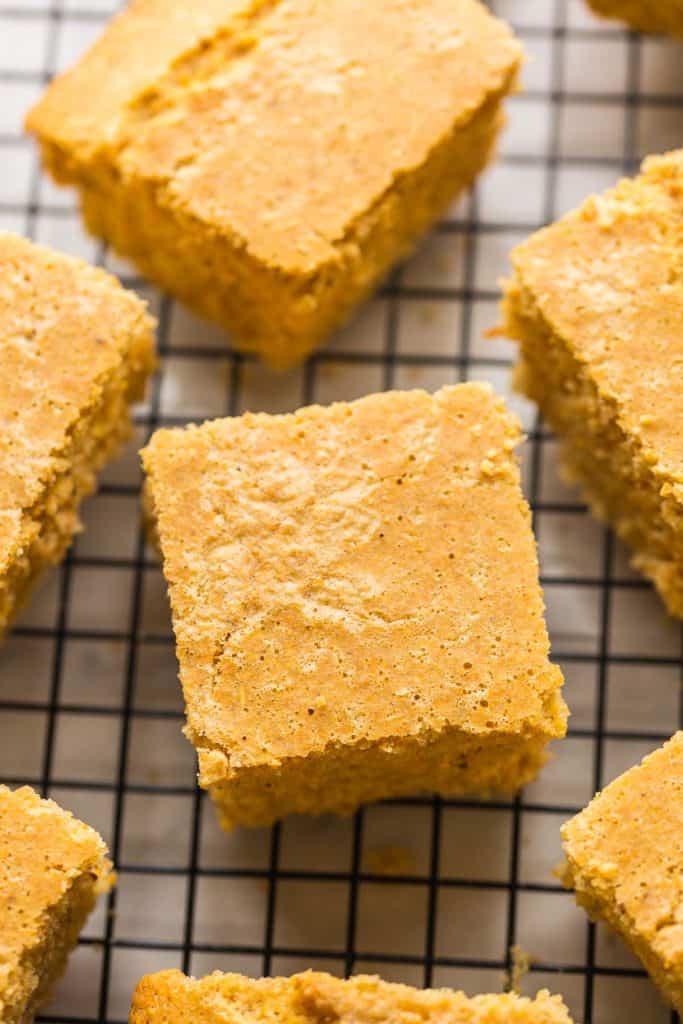 Steps
Altogether, the steps for making this homemade cornbread are simple and straightforward.
Whisk together the dry ingredients.
Add the wet ingredients.
Mix everything together into a lump-free batter.
Bake, cool and enjoy!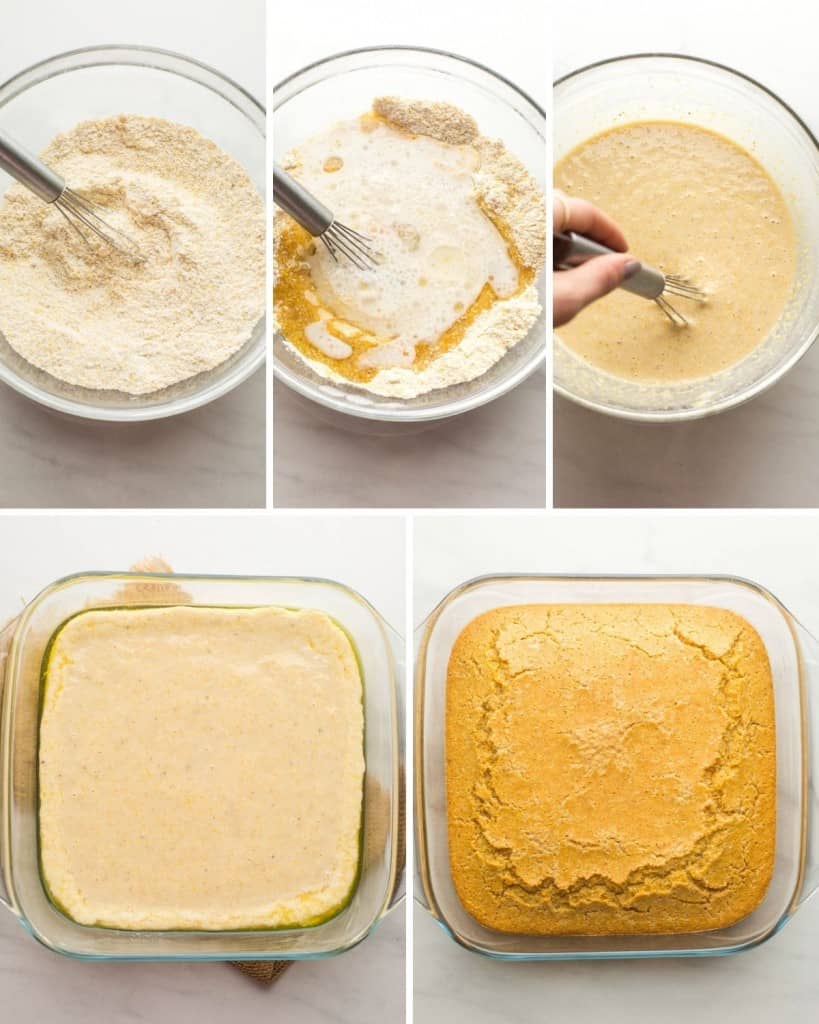 What Type Of Dish Is Best?
For ultra crispy edges – use a well seasoned cast-iron skillet. The heat from the iron helps create a crunchy crust along the bottom and edges of the cornbread.
Springform pans are great for easy removal. You don't need to worry about flipping over your baking dish or carefully scooping out each slice. Glass dishes or cake pans might need a bit more patience but are also great options.
Leftovers and Storage
Store this cooled, leftover gf cornbread in an airtight container at room temperature or in the fridge. Your cornbread should keep well for about 2-3 days. Like most gluten free quick bread recipes, it will go stale if left out too long.
I haven't tried freezing this particular recipe yet, but from what I understand you can freeze cornbread. I'll report back after I've tried it myself!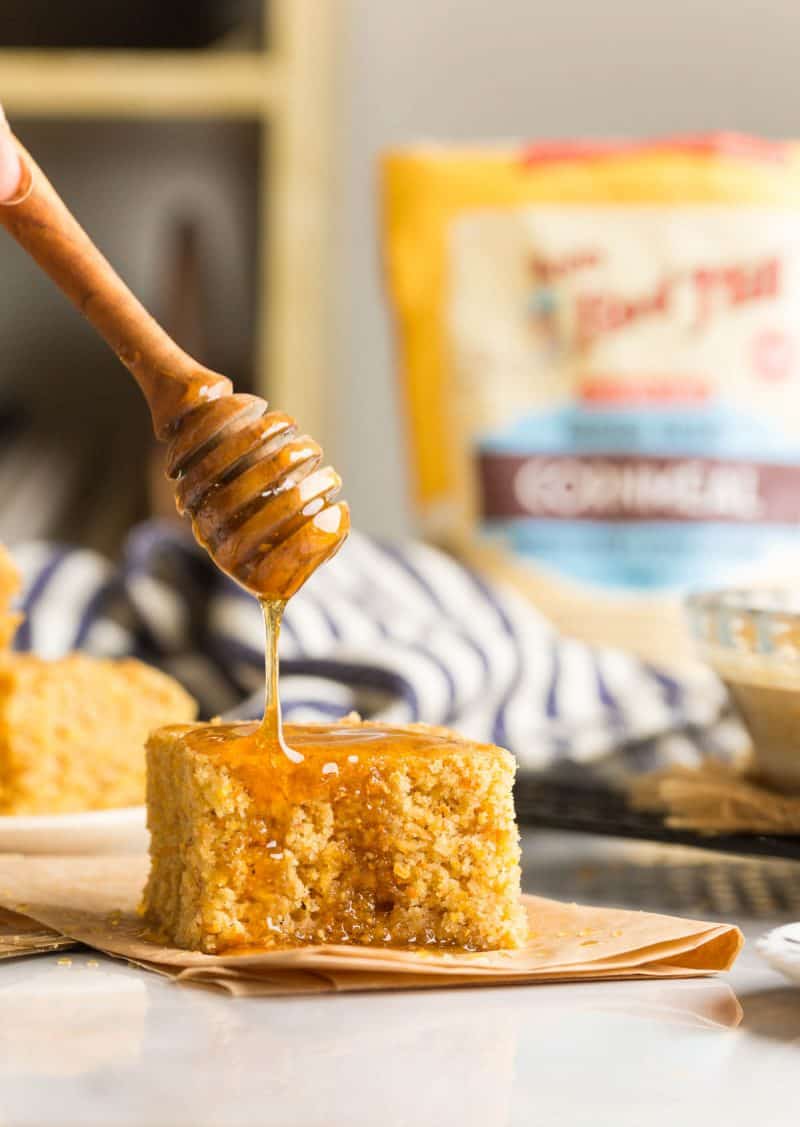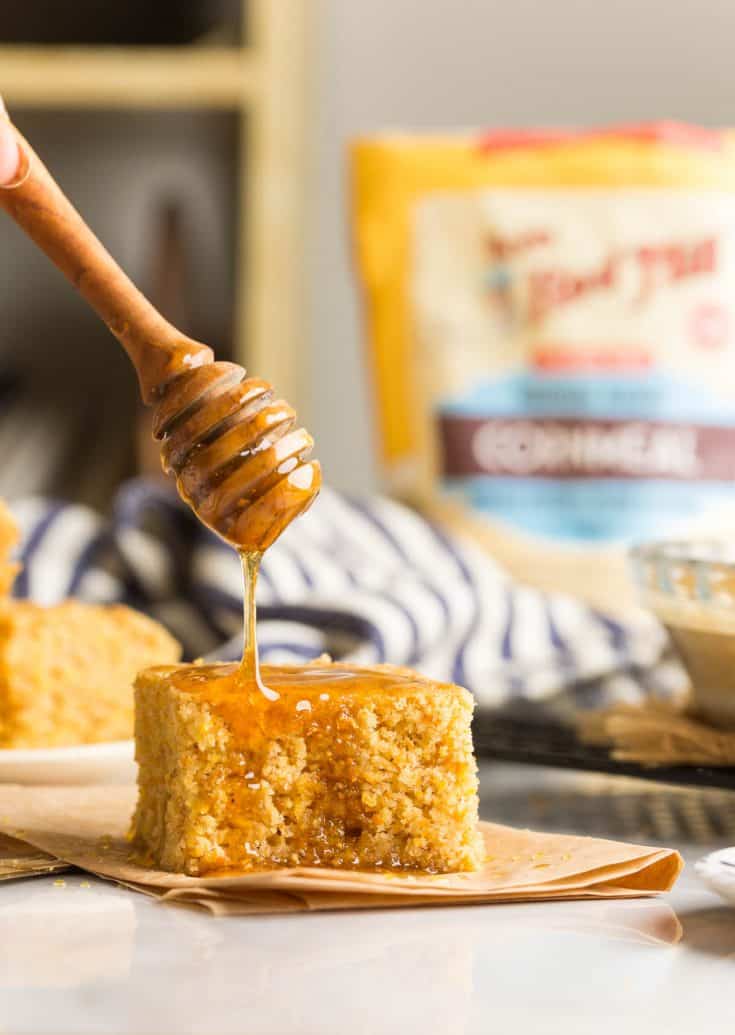 Recipe
Gluten Free Cornbread
Yield:
9 slices
Prep Time:
10 minutes
Cook Time:
25 minutes
Total Time:
35 minutes
With its crispy, golden crust and its soft and crumbly interior, this recipe is a must-make for gluten free folks everywhere!
Ingredients
1 cup | 155 g yellow, medium grind cornmeal (ensure gluten free)
1 cup | 140 g flour gluten free all-purpose flour blend
1/2 teaspoon xanthan gum (only add if your flour blend doesn't already contain xanthan)
1 tablespoon baking powder
1 teaspoon baking soda
1/2 teaspoon salt
1/4 cup | 60 g light brown sugar
1 cup | 240 ml milk (or unsweetened dairy free milk)
1 tablespoon white vinegar or lemon juice
2 eggs or 2 prepared flax eggs (see notes)
1/3 cup vegetable oil or melted butter (can use vegan butter)
Instructions
Preheat oven to 400°F/205°C. Lightly grease a 9 inch baking dish or cast-iron skillet. It can be square or round. Set aside.
In a large mixing bowl: whisk together the dry ingredients until fully combined.
Add the wet ingredients. Mix until no lumps remain.
Pour the batter into your prepared baking dish. When the oven has fully preheated, place the baking dish in the middle of the oven and bake for 23-25 minutes. The top should be golden and the edges crispy.
Let cool in the baking dish about 10 minutes before slicing and serving. The cornbread will be more delicate (especially if you don't use xanthan gum) when hot.
Notes
The milk + vinegar mixture is basically working as a buttermilk. You can simply use 1 cup of buttermilk instead of milk + vinegar if you like.

Make it Egg Free
You can use chickpea flour 1 1/4 cup (123 g)instead of an all purpose flour blend. Keep in mind that the cornbread won't rise as much, and it will have a more distinct bean flavour.
You can replace the eggs with flax or chia eggs: Whisk together 2 tablespoons of ground flax or chia seeds with 5 tablespoons water. Mix together and set aside for 10-15 minutes until the mixture thickens up into a gel-like consistency.
Add an extra 2-3 minutes to the overall cooking time.

Make it Without Xanthan Gum
Xanthan gum helps to bind the ingredients together so that it's not an over crumbly cornbread. If you'd like to make this recipe without any xanthan: add 1/4 cup (38 g) of cornstarch (called cornflour in the UK) to your dry ingredient mixture. You don't need to add any xanthan gum if you make this with chickpea flour instead of an all purpose flour blend.





This website provides approximate nutrition information for convenience and as a courtesy only. Nutrition data is gathered primarily from the USDA Food Composition Database, whenever available, or otherwise other online calculators.