Gluten Free Blueberry Cornbread Muffins – Lightly sweet and simple muffins bursting with juicy blueberries. These muffins have a soft texture with bit of added texture from the cornmeal. Enjoy as an easy snack, a grab-and-go breakfast or simple dessert! | Dairy Free + Low FODMAP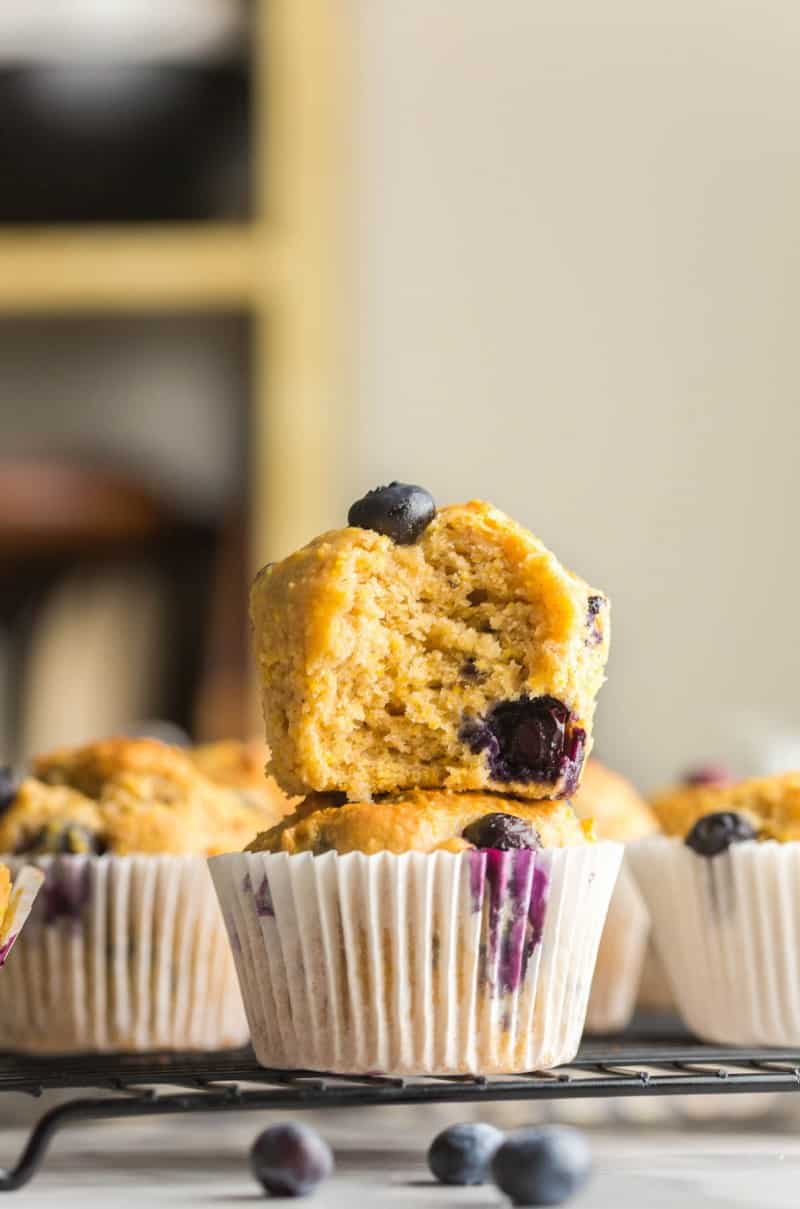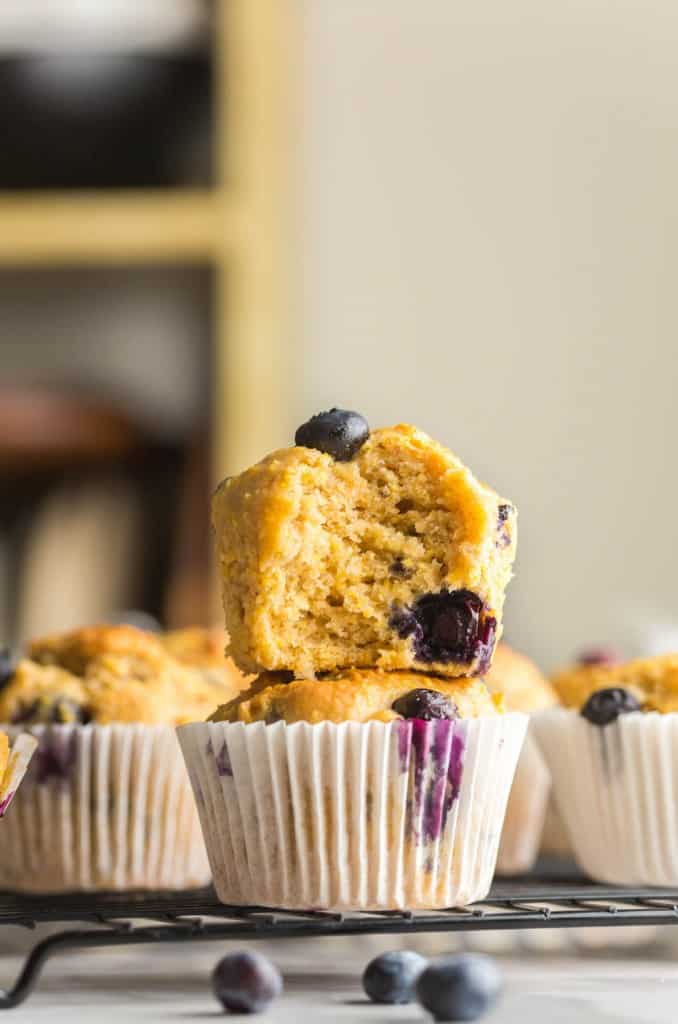 Originally posted 11 August, 2017 – Updated 19 September, 2021 with an improved recipe, new photos and tips for success.
Make the most of berry season (while it lasts!) with these super simple and satisfying gluten free blueberry cornbread muffins!
After perfecting my gluten free cornbread recipe a few weeks back, I decided to revisit this recipe with the tips and knowledge gained from all of recipe testing for that recipe. While this recipe is based off of my plain cornbread, there are a few key differences here. This recipe contains more gluten free all purpose flour to create a more cake-like muffin texture. These muffins also have more sugar (regular cornbread is usually more neutral or only lightly sweetened).
What's new and improved about these gluten free blueberry cornbread muffins compared to the previous recipe?
Gluten Free All Purpose Flour instead of Oat Flour: While you can buy certified gluten free oat flour, there are still many celiac's and gluten intolerant people who don't react well to oats. Plain gluten free flour is simply a safer, more accessible option.

Feel free to use oat flour in place of the AP flour if you can tolerate oats on a gluten-free diet.

Light brown sugar instead of Honey and Coconut Sugar: Light brown sugar is more affordable and accessible. It's also safer to enjoy on a low fodmap diet than honey. Brown sugar also makes for a softer muffin.
Baking Powder instead of Baking Soda + Vinegar: Gluten free baked goods simple do not rise as easily as gluten/wheat based baked goods.Vinegar + baking soda is a decent way to leaven baked goods when it comes to grain free baking. Baking powder, on the other hand, is the real MVP of gluten free bakes that rise. One tablespoon may sound like a lot, especially if you're not used to gluten free/dairy free baking, but it's what allows these muffins to puff up beautifully.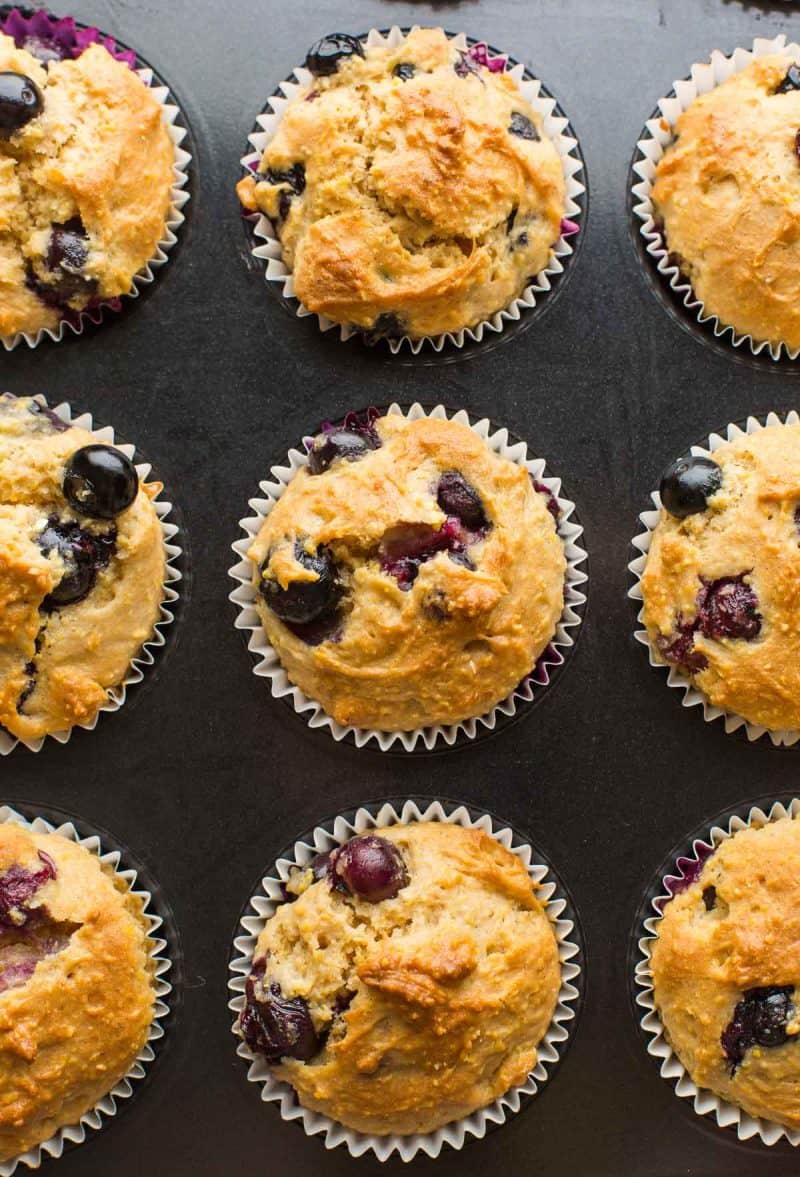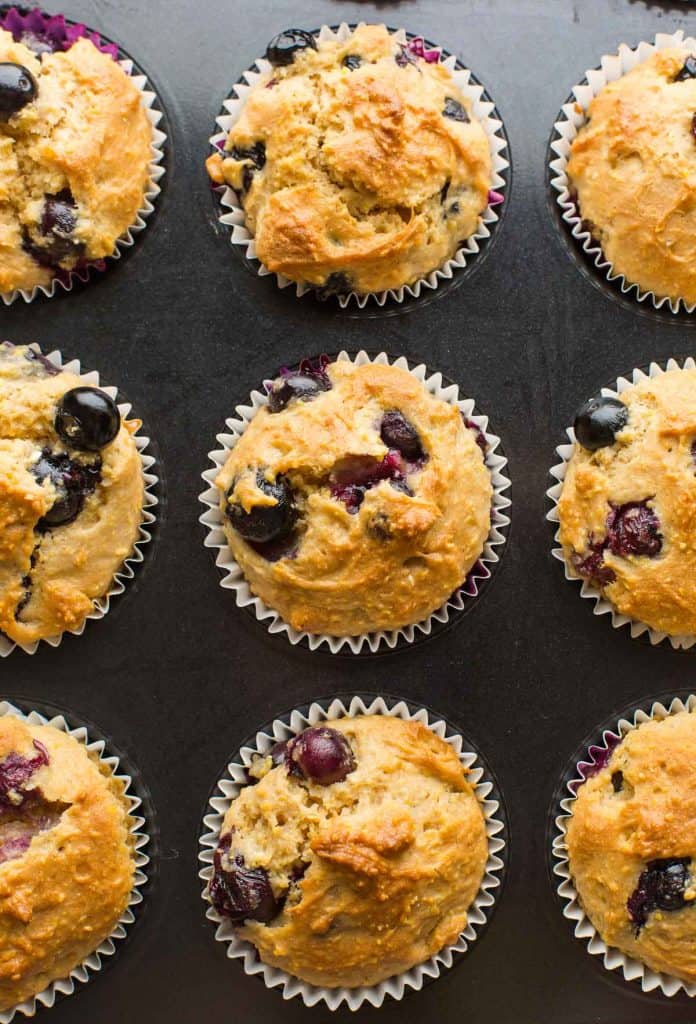 What type of cornmeal should I use for gluten free cornbread?
Cornmeal is made from ground up corn kernels. While corn is inherently gluten free, cornmeal is often processed alongside wheat and other gluten containing grains (much like oats and oat flour). This can easily make it a tricky flour when it comes to gluten free baking.
I recommend you double check the label of your cornmeal to ensure it's safe for celiac consumption. I personally like using Bob's Red Mill gluten free cornmeal because it is clearly labelled.
How to Make these Gluten Free Blueberry Cornbread Muffins
Altogether, the steps for making these muffins are simple and straightforward. You'll need a couple mixing bowls, a whisk and a 12 cup muffin to get started.
In a large mixing bowl, whisk together the dry ingredients until well combined.
In another mixing bowl or mix jug, whisk the wet ingredients.
Pour the wet ingredients into the dry – mix everything together until a thick batter forms.
Add the blueberries to the bowl and gently fold in until evenly combined.
Add batter to your prepared muffin pan and bake for about 20 minutes until puffed, golden brown and baked through.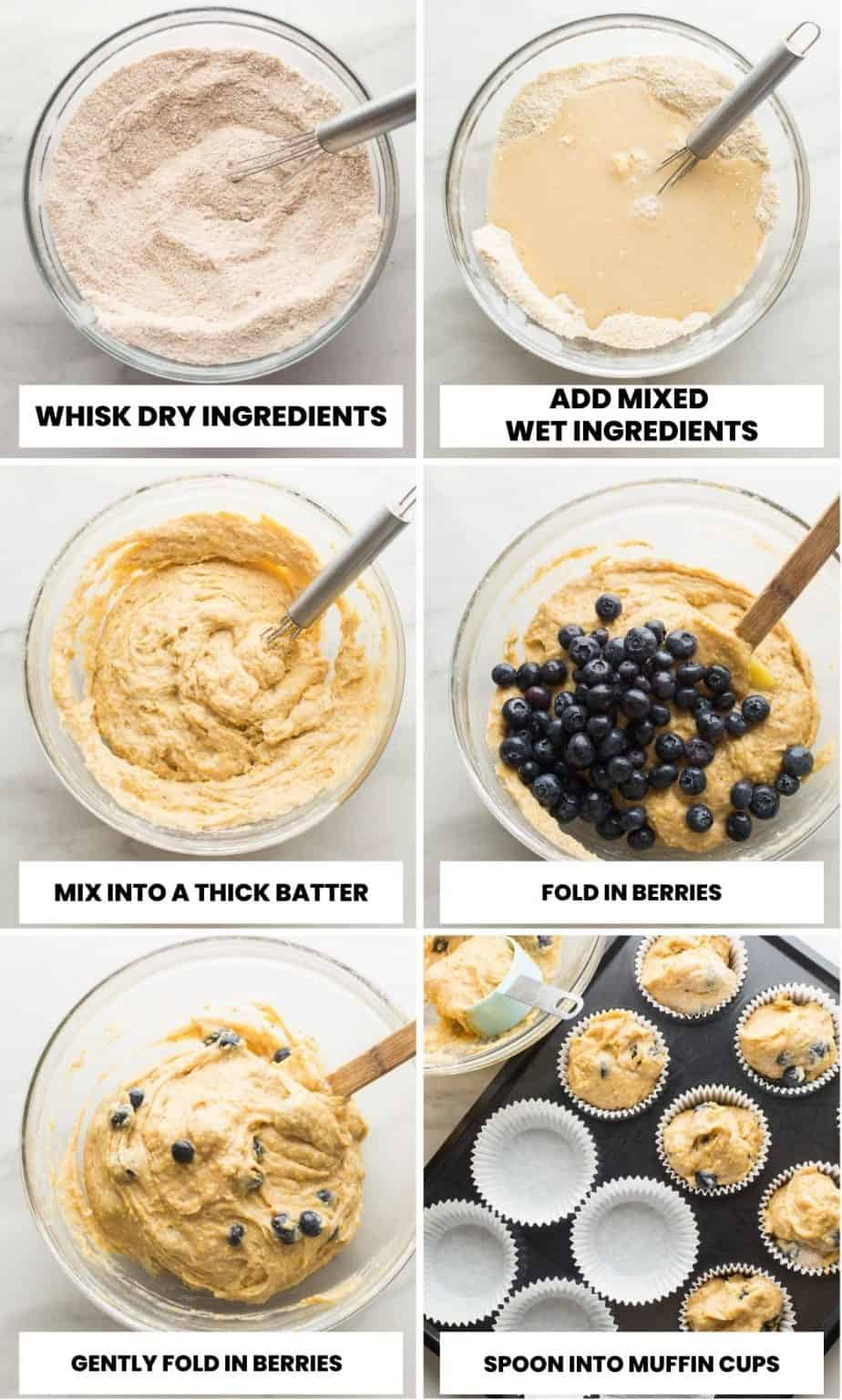 Tips and Questions
Can I use frozen blueberries?
Yes! Don't defrost your frozen blueberries – bake straight from frozen. You will also need to add about 5 minutes on to the total baking time to ensure the muffins bake through all the way.
Do I need to line my muffin pan?
No, but I recommend it. You can skip the muffin liners if you grease the muffin cups well enough. The coconut oil in the batter makes the muffins easy to remove from the pans. The problem is that the blueberries can sometimes make the muffins stick when the bake and burst. So while it's not 100% necessary, leave out the liners at your own risk.
Can I use another type of oil or butter?
Yes! You can use a vegetable oil in place of the coconut oil if you prefer. You can also use melted butter (vegan if needed). Keep in mind that oil muffins will be more moist.
Can I make these muffins egg free/vegan?
I have not yet tested these muffins with an egg replacement, but I do think you could use a couple of chia or flax seed eggs. You will also probably need to add an extra two tablespoons milk to the batter.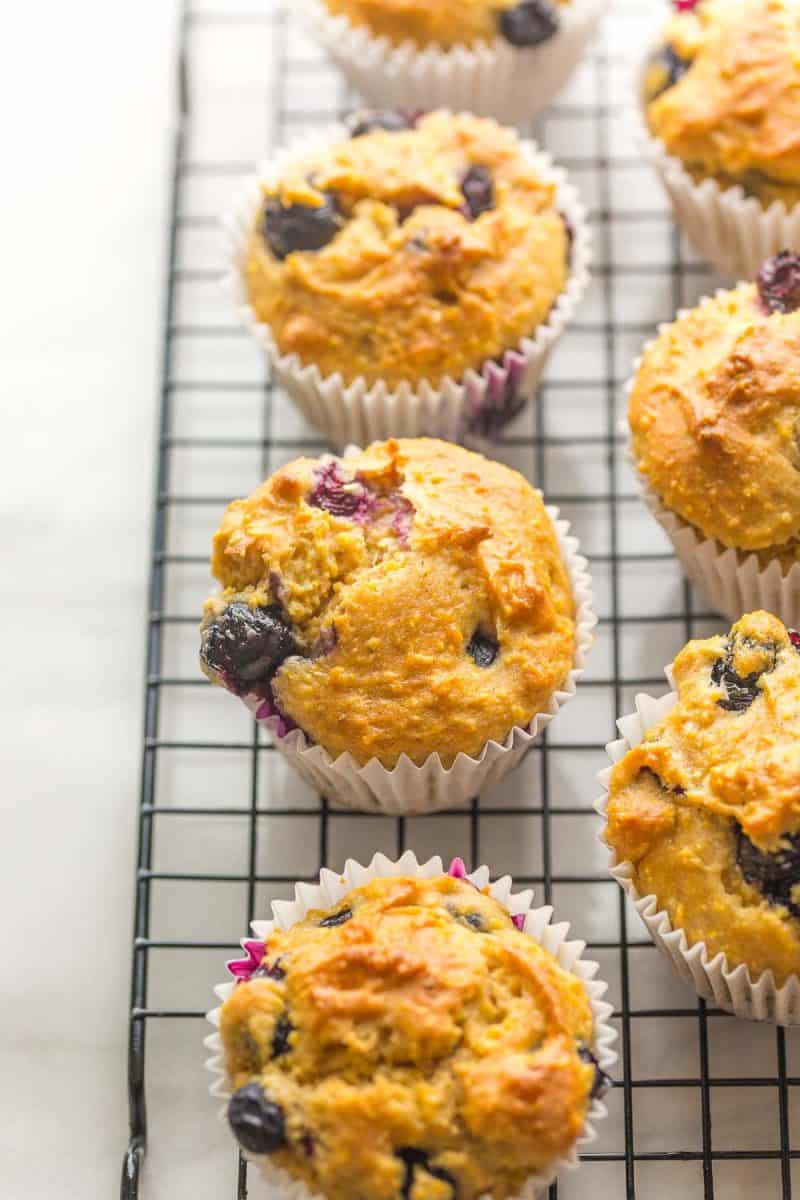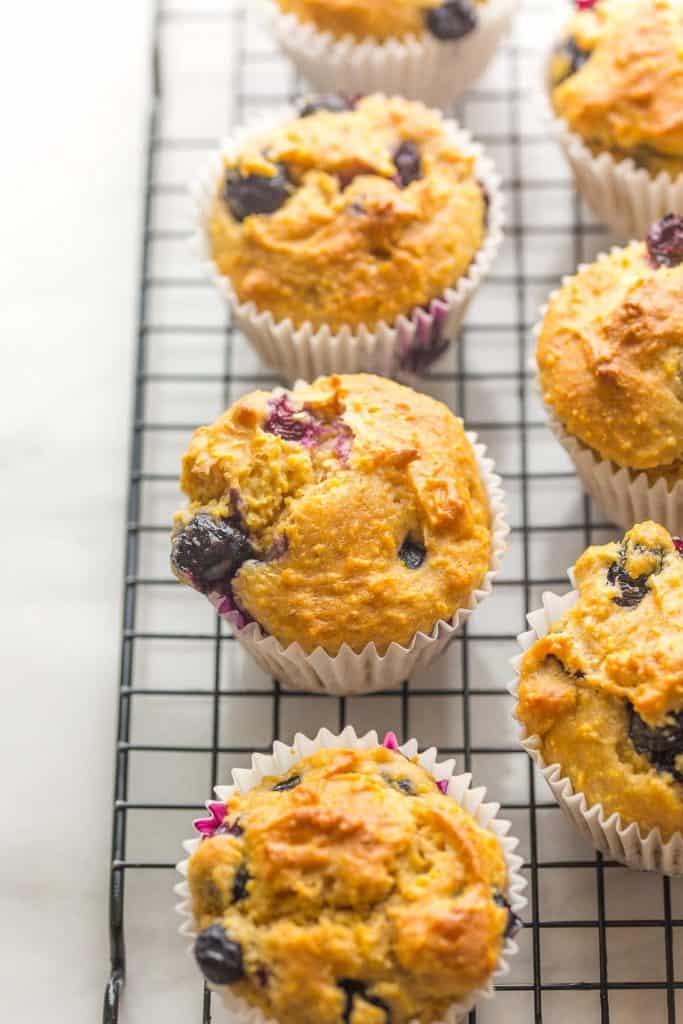 Leftovers and Storage
These muffins keep best stored an airtight container or individually wrap up in plastic wrap.
On the counter/at room temp these muffins will 1-2 days. Keep them stored in the fridge to last 5-6 days.
Tip: Pop these in the microwave for about 20 seconds before eating so that they're feel and taste like they're fresh from the oven.
Freeze for Later
Let the muffins cool completely on a wire rack. Once fully cooled, wrap up well in plastic wrap and/or foil OR secure them in a freezer safe bag. In the freezer: store the muffins in a single layer where they won't get squished.
You can keep muffins stored in the freezer up to three months before the dry out. When you're ready to defrost, thaw in the fridge overnight or pop in the microwave for 10 second intervals until warmed through and enjoy.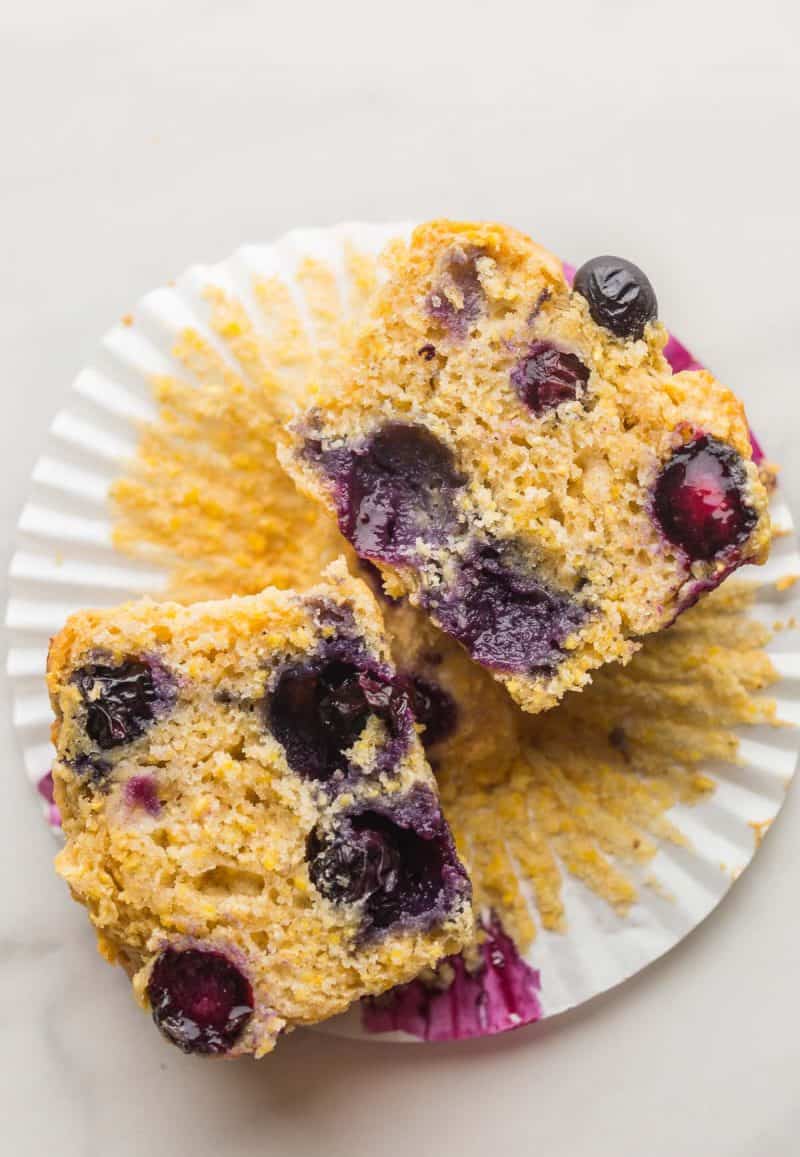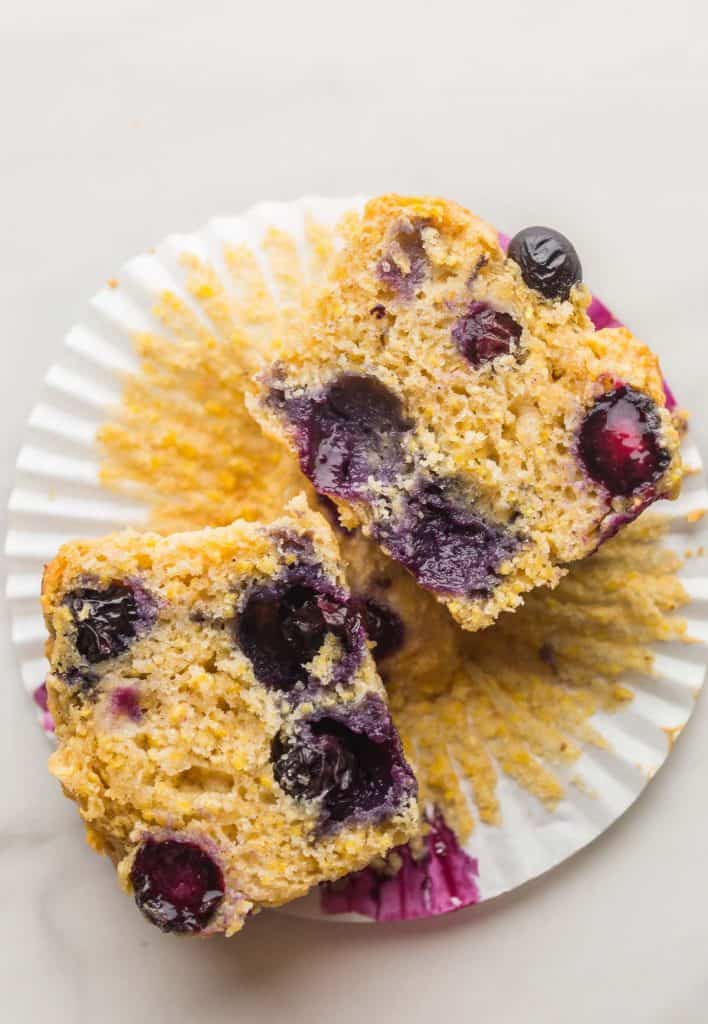 Enjoy!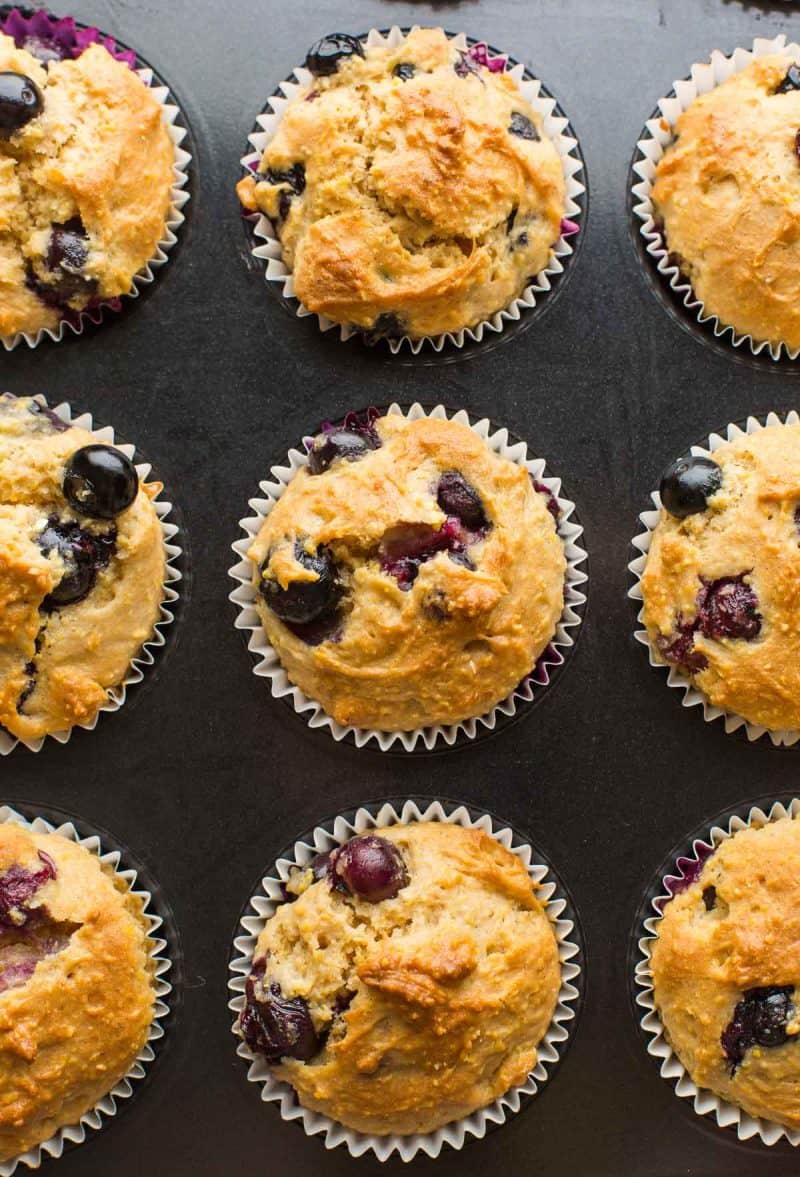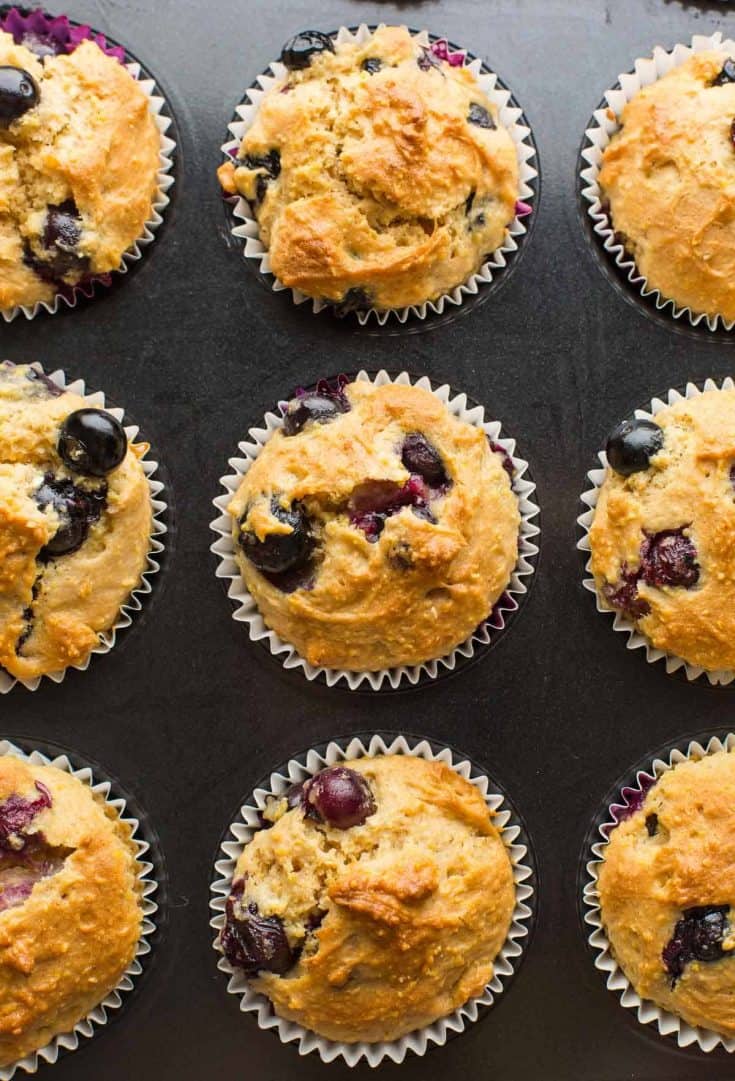 Recipe
Gluten Free Blueberry Cornbread Muffins (Dairy Free)
Yield:
12 Muffins
Prep Time:
15 minutes
Cook Time:
20 minutes
Total Time:
35 minutes
Gluten Free Blueberry Cornbread Muffins - Lightly sweet and simple muffins bursting with juicy blueberries.
Ingredients
1 cup | 160 g cornmeal
1 1/4 cup | 175 g gluten free all purpose flour
1/2 teaspoon xanthan gum (only add if you flour blend doesn't contain xanthan
1 tablespoon baking powder
1/2 teaspoon salt
1/2 teaspoon ground cinnamon
1/2 cup | 110 g grams light brown sugar
2 teaspoons | 10 ml vanilla extract
3/4 cup | 180 ml dairy free milk of your choice
1/2 cup | 104 g coconut oil, melted
2 large eggs
2 tablespoons | 40 g maple syrup, optional*
2 cups | 250 grams fresh blueberries
Instructions
Preheat oven to 375°F/190°C. Line or grease 12-count muffin pan and set aside.
In a large mixing bowl whisk together the cornmeal, flour, xanthan gum, sugar, baking powder, salt and cinnamon.
In another mixing bowl whisk together the wet ingredients: vanilla extract, milk, melted coconut oil (maple if using) and eggs.
Pour the wet ingredient mixture into the dry ingredients. Mix together until no lumps remain. Add the blueberries and gently mix until evenly distributed throughout the batter.
Spoon about 1/3 cup batter into each muffin cup. Place in the middle of the oven and bake for 20-22 minutes.
Let the muffins cool in the tray for 5-10 minutes then transfer to a wire wrack to cool fully. Enjoy!
Notes
These muffins aren't overly sweet. Add 2 tablespoons of maple syrup (or honey if you don't need these to be low fodmap) to add a bit more sweetness to the overall muffin. This is a good idea if your blueberries aren't particularly sweet.
Feel free to use vegetable oil or melted butter (dairy free if needed) instead of coconut oil.
The original recipe used gluten free oat flour instead of all purpose flour. Feel free to use oat flour here if you can tolerate oats on your gluten free diet.
Nutrition Information
Yield:

12
Calories:

245
Total Fat:

11g
Saturated Fat:

8g
Trans Fat:

1g
Unsaturated Fat:

1g
Cholesterol:

31mg
Sodium:

248mg
Carbohydrates:

35g
Fiber:

3g
Sugar:

12g
Protein:

13g
This website provides approximate nutrition information for convenience and as a courtesy only. Nutrition data is gathered primarily from the USDA Food Composition Database, whenever available, or otherwise other online calculators.
More Muffin Recipes You Might Enjoy