Soft, buttery and utterly delicious – these gluten free blueberry crumb bars are calling your name! Sweet and juicy blueberries surrounded by a simple, oat free gluten free cookie crust. Low FODMAP + Vegan Option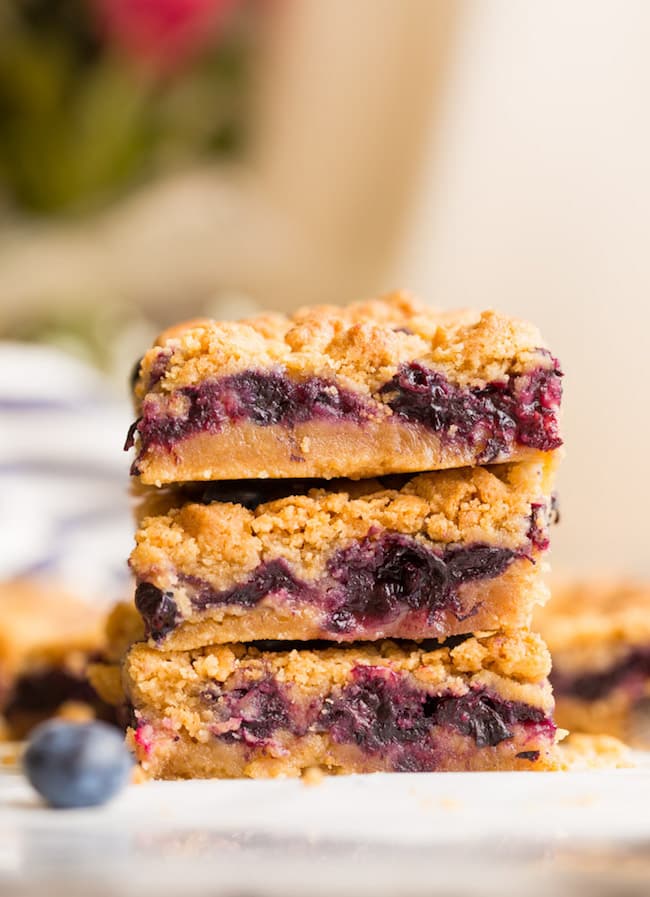 How to Make these Gluten Free Blueberry Crumb Bars
Altogether these bars are super easy to make. They're made with only 11 basic ingredient – most of which you're very likely to have on hand already.
They're based on my raspberry crumble bars, with a few tweaks here and there to make them oat free. While you can technically find gluten free oats, many people with gluten intolerances still find them triggering and need to avoid them. Fortunately making an oat-free version of those bars is simple enough and just as delicious!
The process here can be broken up into two main steps:
Make the filling.
Make the crust/topping
First things first: prep the filling. The filling here consists of only four ingredients: blueberries, corn starch, sugar and lemon juice. Simply mix everything together in a bowl until the berries are lightly coated in everything and then set aside while you prep the crust.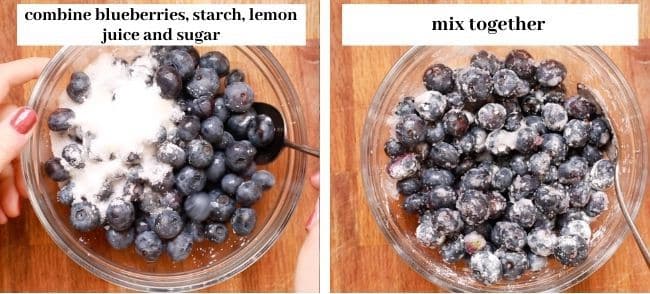 The Crust
The crust is easily made by first whisking together your dry ingredients (flour, baking powder, cinnamon, salt and sugars) and then stirring in the melted butter and vanilla extract. Mix everything together until a soft, crumbly dough forms and that's it!
Press half of the dough into a prepared baking pan to form the crust. Top with the blueberry mixture and then sprinkle the remaining crumb topping over the blueberries.
At this point, all you need to do is place the baking tin in the oven and bake for about 50 minutes and that's it! The most challenging part in all of this will likely be waiting for the bars to cool before diving into at the end.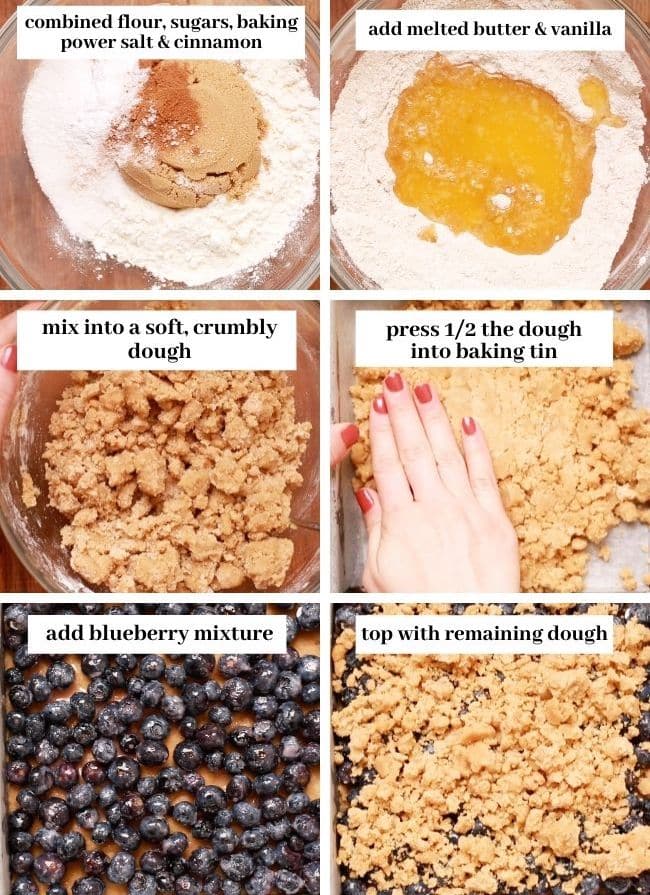 Quick Tips and FAQ's Before you Begin
Do I need to use corn starch? What does it do?
Corn starch (also known as corn flour in the UK) helps to thicken the blueberry filling. By lightly coating the berries in starch before baking you ensure that the juicy filling thickens up as the bars bake. Without the starch your blueberry filling will end up more like blueberry soup. You cannot omit using starch in this recipe.
You can use 1 tablespoon arrowroot starch OR 2 tablespoons gluten free all purpose flour OR 2 tablespoons rice flour to replace the cornstarch if needed.
Can I use frozen blueberries?
Yes! Frozen blueberries can be used but you will need to increase the overall cook time by about 5-10 minutes because the cold berries will slow down the cook.
Can I use another type of berry/filling?
Absolutely! Strawberries, raspberries, blackberries – use whatever is in season for you! You can also dice up 3-4 baking apples to use in place of berries if you wish.
How do I store these bars?
First it's important to note that you'll need let these bars cool down first. Between the fruity filling and the buttery crust these bars are very soft and delicate straight out of the oven. Wait about 30 minutes before attempting to slice and serve or else the bars might fall apart.
Store these bars at room temperature for up to 4-5 days or in the fridge for 7-10 days. If it's really hot outside keeping them in the fridge is best.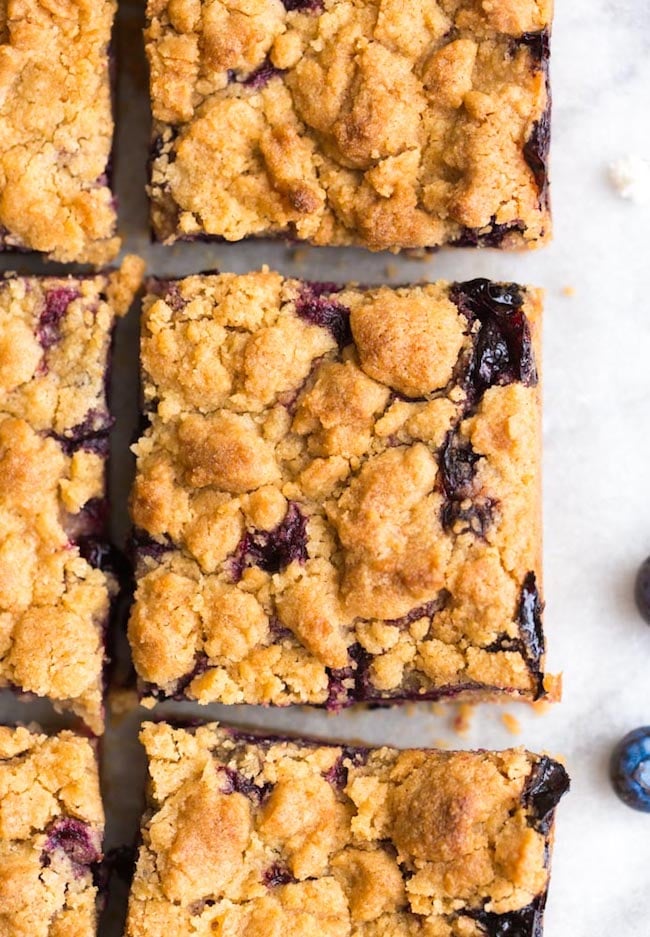 Once you're all set, just slice, serve and dig in! If you really want to revel in the summer vibes, enjoy one of these bars warmed up with a generous scoop of vanilla ice cream on top. If you're looking for a dairy free/vegan option I can personally attest to how well this coconut milk vanilla ice cream goes along with one of the gluten free blueberry crumb bars!
More Gluten Free Crumb Bars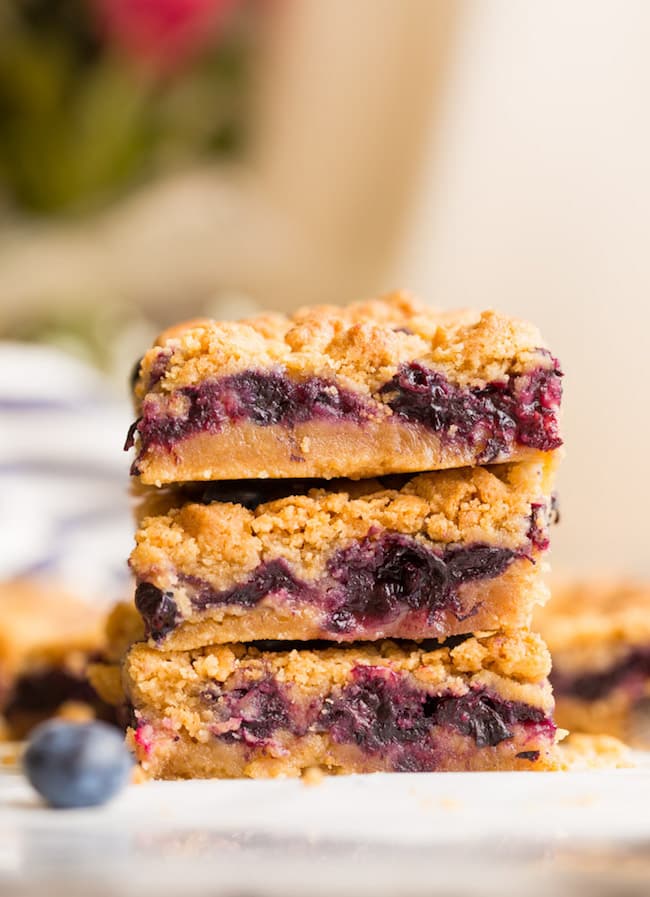 Recipe
Gluten Free Blueberry Crumb Bars
Yield:
9 squares
Prep Time:
10 minutes
Cook Time:
50 minutes
Total Time:
1 hour
Soft, buttery and utterly delicious - these gluten free blueberry crumb bars are calling your name! Sweet and juicy blueberries surrounded by a simple gluten free cookie crust. Low FODMAP + Vegan Option
Ingredients
Berry Filling
2 cups fresh blueberries (300 g)
3 tablespoons white caster sugar (36 g)
1 tablespoon lemon juice (15 ml)
1 tablespoon cornstarch*
Cookie Crust + Topping
2 cups gluten free all purpose flour (280 g)
3/4 cup light brown sugar (165 g)
1/4 cup white caster sugar (50 g)
1 teaspoon baking powder
1 tsp ground cinnamon
1/2 teaspoon salt
3/4 cup melted butter, dairy or non dairy (170 g)
1 teaspoon vanilla extract
Instructions
Prep & Filling
In a medium-sized bowl mix together the blueberries, lemon juice, sugar and cornstarch until combined. Set aside.
Preheat oven to 350°/180°C. Lightly grease or line an 8x8inch (20x20cm) baking tin. Set aside.
Crust & Topping
In a large bowl, whisk together the flour, sugars, cinnamon, baking powder and salt.
Stir in the melted butter and vanilla and mix until a soft dough forms.
Press 1/2 of the dough in an even layer into the prepared baking pan.
Spread the blueberry mixture evenly over the top of the crust.
Sprinkle the remaining half of the dough over the blueberries.
Place the baking pan in the middle of the oven and bake for 45-50 minutes until the crumb topping has goldened. Large, juicy berries will need closer to 50 minutes to cook.
Remove from the oven and let cool 30 minutes before removing from the pan and slicing into squares.




Notes
Corn starch is known as corn flour in the UK
You can replace the corn starch with 1 tablespoon arrowroot starch OR 2 tablespoons gluten free all purpose flour OR 2 tablespoons rice flour if needed.
You can use frozen blueberries, just make sure to add another 5-10 minutes to the overall cook time.
You can make these bars using all brown sugar or all white sugar in the crust. Using all brown sugar will make for a softer crust while the white sugar will make for a crispier crust.
This website provides approximate nutrition information for convenience and as a courtesy only. Nutrition data is gathered primarily from the USDA Food Composition Database, whenever available, or otherwise other online calculators.