Make sure to save a spot for this Mushroom & Artichoke Chicken dish in your weeknight dinner rotation! Lightly coated chicken pieces are cooked, crusted and then mixed in with sautéed mushrooms and artichokes swimming in light and zesty white wine and lemon sauce. | Gluten Free + Dairy Free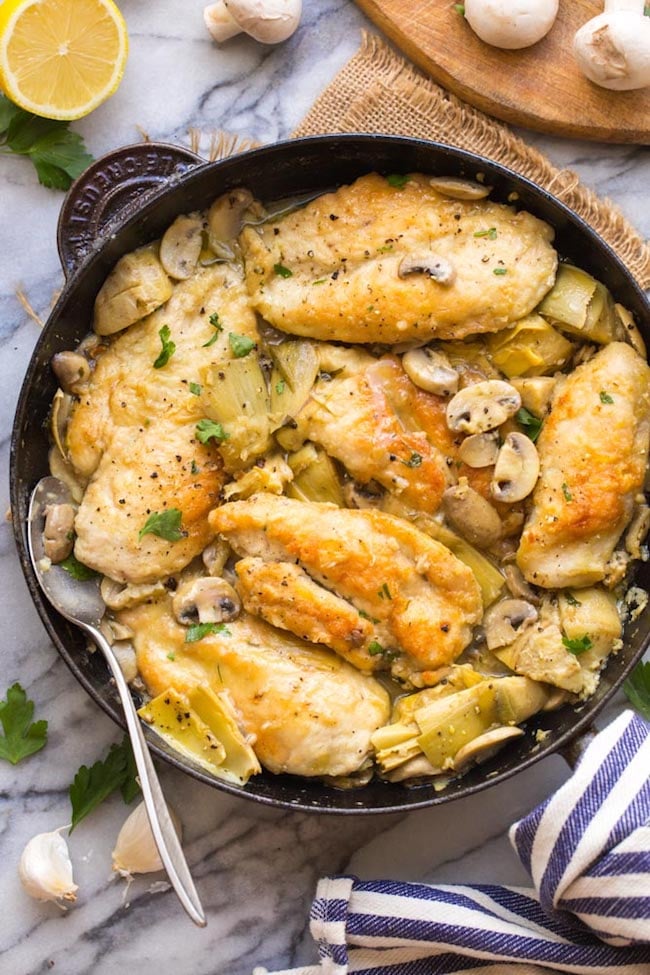 How to Make: Mushroom & Artichoke Chicken
Altogether this chicken dish is fairly easy to make. It's all prepped in one pan with just over 10 ingredients and cooks up in about 30 minutes. The process can be broken up into three main steps:
Prep the chicken
Prep the sauce
Bring it all together
Prepping the Chicken
First things first: prepare your chicken breast. Start out by cutting each chicken breast in half horizontally. The idea is to end up with six, thin chicken breasts pieces. Cutting them in half will allow them to cook both faster and more evenly.
After cutting the chicken into thinner pieces, lightly coat each piece in a little bit of flour seasoned with salt and pepper. Once coated, add the chicken breasts to a hot, oiled skillet and cook for 4-5 minutes until the underside of the chicken has crusted. Flip over and cook until that side has also crusted. Once the chicken has cooked/mostly cooked through, remove it from the pan and set aside for the time being.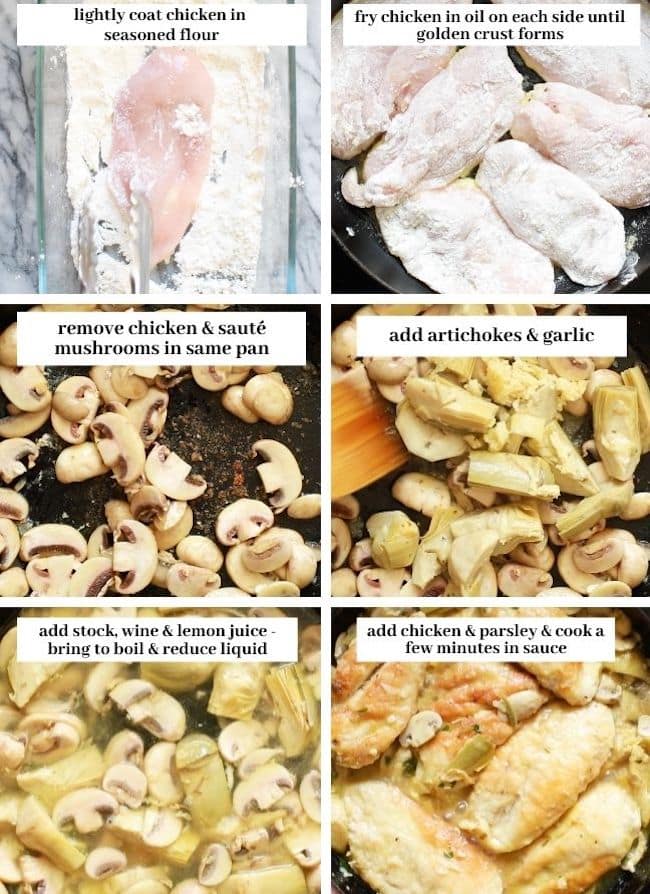 Making the Sauce
Add the mushrooms to the same pan you used to cook the chicken for a few minutes before adding the artichokes and garlic. Cook another minute or so and then add the chicken stock, wine and lemon juices. Bring your pan up to a simmer and let cook for about 10-15 minutes until the liquids have reduced down.
Finally, stir in the fresh parsley followed by the precooked chicken pieces. Let the chicken cook in the sauce for a few minutes to soak up the sauce and that's it! The sauce will thicken more when the breaded chicken pieces are added making for a thicker, silkier sauce in the end.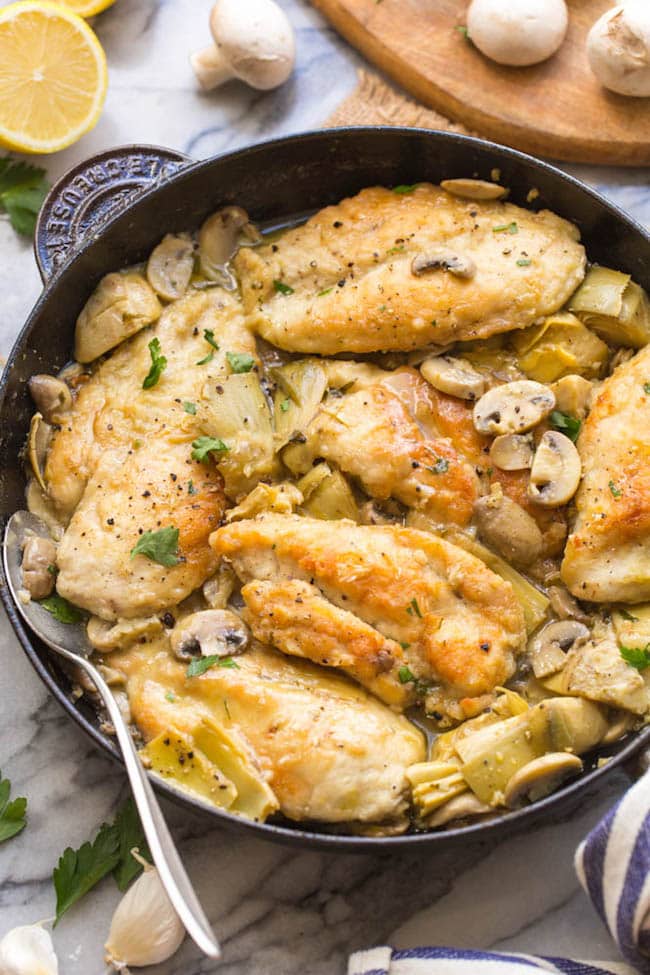 Artichoke Chicken Tips & FAQ's
Make sure your pan is HOT.
The key to forming a good crust around you chicken is to make sure that you're adding the chicken to a hot pan. To test if the pan is hot enough: lightly wet the tips of your fingers and flick the excess water into your pan. If the water sizzles then you're ready to go. If it doesn't wait a minute before adding the chicken.
Can I use a different flour to coat my chicken?
Yes! Rice flour is another easy option. You can use almond flour or arrowroot starch if you're looking for a grain free alternative.
Do I have to use white wine? Can I use something else?
Absolutely! Instead of adding 3/4 cup white wine increase the lemon juice to 1/4 cup and the chicken stock to 1 1/2 cups.
What do I serve this artichoke chicken with?
I recommend serving this chicken with a rice or mashed potato side – something that to soak up all the extra sauce hanging around.
If you'd like a low carb option – we've been enjoy this chicken over a bed of cauliflower rice. You can also check out my Creamy Mashed Cauliflower for another good alternative.
FACEBOOK | INSTAGRAM | PINTEREST
Don't forget to #asaucykitchen on instagram if you try this Mushroom & Artichoke Chicken! We love to see what you make with it! You can also post your pictures to my facebook page!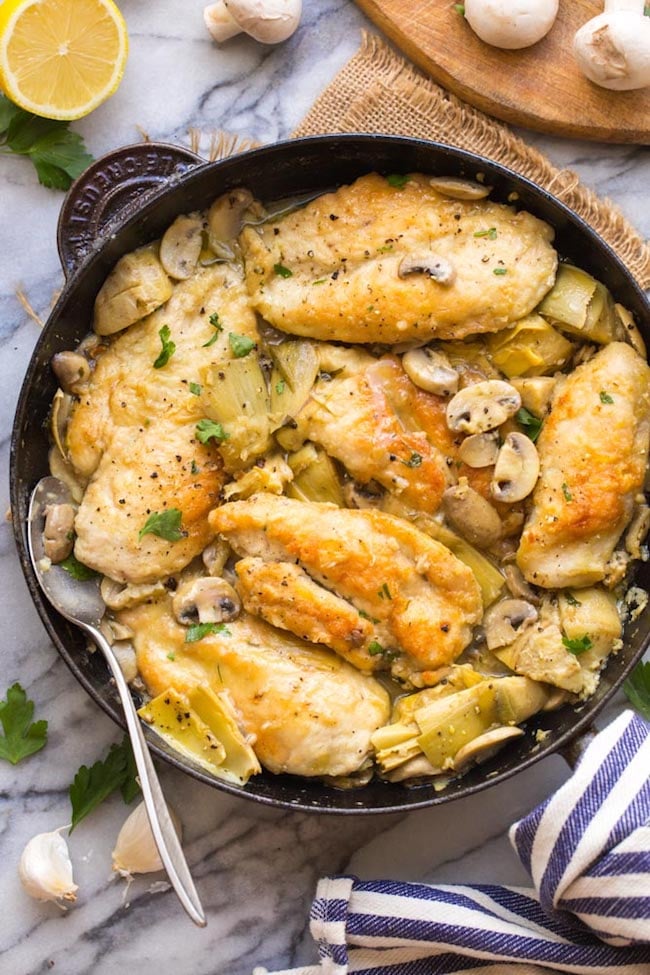 Recipe
Mushroom & Artichoke Chicken
Yield:
6 servings
Prep Time:
10 minutes
Cook Time:
30 minutes
Total Time:
40 minutes
Lightly coated chicken pieces are cooked, crusted and then mixed in with sautéed mushrooms and artichokes swimming in light and zesty white wine and lemon sauce.
Ingredients
3 large boneless, skinless chicken breasts
1/2 cup gluten free all purpose flour*
1/2 teaspoon salt and pepper, each
3 tablespoons olive oil, divided (45 ml)
8 oz white or brown (cremini) mushrooms, sliced
6 oz jar artichoke hearts drained and patted dry (185 g)
1 tablespoon minced garlic, about 3 cloves
1 cup chicken stock (240 ml)
3/4 cup dry white wine (180 ml)
2 tablespoons lemon juice (30 ml)
Small handful fresh parsley, chopped
Instructions
Cut the chicken breasts in half horizontally so that you end up with six, thin pieces of chicken.
Whisk together the flour, salt & pepper in a shallow dish until combined. Add the chicken breasts one at a time lightly coating in the seasoned flour.
Add two tablespoons of olive oil to a large skillet over a medium heat.
Once the oil is hot, add the chicken to the skillet and cook on each side for about 5 minutes or until golden crust forms. Remove the chicken from the pan and set aside. You don't need to fully cook the chicken at this point because you will be returning it to the pan later.
Lower the heat down to medium-low and add the remaining 1 tablespoon olive oil to the pan along with the mushrooms. Cook about 3-4 minutes, then add the artichoke hearts and garlic and cook another minute or two until the garlic is fragrant.
Add the chicken stock, wine and lemon juice to the pan, stir and bring the mixture to a simmer. Let simmer about 10 minutes to reduce the sauce down and the liquid has reduced. The sauce may look thin still at this point but will thicken when the chicken is added.
Add the parsley, taste the sauce and season with salt or additional lemon juice as you see fit.
Return the chicken to the pan, turn the heat down low and let cook five minutes until cooked through. Make sure to rotate the breasts to coat fully in the sauce. Top with additional parsley and serve.
Notes
Instead of all purpose flour you can also use rice flour, arrowroot starch or almond flour.
This website provides approximate nutrition information for convenience and as a courtesy only. Nutrition data is gathered primarily from the USDA Food Composition Database, whenever available, or otherwise other online calculators.
More Chicken Dinners You Might Enjoy